Every once in a while you run an SEO campaign that changes the way you do everything.
The lessons you learn, the challenges you face, and the results you achieve inspire you to rewrite your whole SEO gameplan.
This is the story of one of those SEO campaigns.
As you might already know, I'm a director of a very talented SEO agency called The Search Initiative (TSI).  Since coming on, we've encountered many wins and this case study is one of them.
In a few months, we lifted their algorithmic penalty and increased traffic by 9,109%.  You're about to learn the exact steps we took to achieve this.
You'll learn:
A detailed onsite, offsite, and technical SEO audit process
How to repair algorithmic penalty problems
A safe link building strategy for 2023
Conversion rate optimization strategies for fast growth
Fair warning: the strategies detailed ahead are intense but worth it.
Here's the success one reader found after following this case study:
Case Study: From 1,036 to 95,411 Organic Visitors Per Month
This is the story of a campaign for a social media marketing website.
Our client monetizes their website by selling monthly subscriptions to achieve better social proof on Facebook, Instagram, and other social networks.
If you've ever been in this niche before, you'd know it's not an easy one.  It's one of the hardest niches there is.
The Challenge
The client joined The Search Initiative with a heavy algorithmic penalty. Traffic at the time had decreased significantly to almost 1/10th of the previous volume.
If you've ever had an algorithmic penalty before, you can directly connect with the frustration and annoyance of such a disaster.
The main challenge was to determine what type of a penalty hit the site and to take action on getting it lifted.
General Approach
We started by thoroughly analyzing the data based on the tools available to us and the details provided by the client. The initial analysis included looking into:
Google Analytics
Google Search Console
Keyword tracker (Agency Analytics)
Cloudflare
Server settings
Previous link building reports and audits
Once we determined the most probable cause of the penalty, we put together a plan of action.
We created a comprehensive onsite, offsite and technical audit before building the overall domain authority through our own link building strategies and traditional outreach to relevant blogs and sites.
How We Did It
The Dynamic Start: Backlink Review
The link profile of the domain included a lot of spammy, low-value domains.
Since a previous automated backlink audit (most probably done using Link Research Tools) had been performed before the client joined our agency, we started by reviewing its results.
We decided that we could perform a much more careful, deep assessment; therefore our own link audit was completed – this time manually.
At TSI we know that if it comes to potential link penalties, especially the algorithmic ones, we have to be very thorough with the link reviews. To start the analysis, we downloaded all the link data from the following sources:
Ahrefs – it is our go-to and best 3rd party tool when it comes to links. Their database is an absolute beast and the freshness of the data is also outstanding. To gather all link data, go to Ahrefs, type in your domain and select Backlinks. Now you're good to Export it to an Excel file: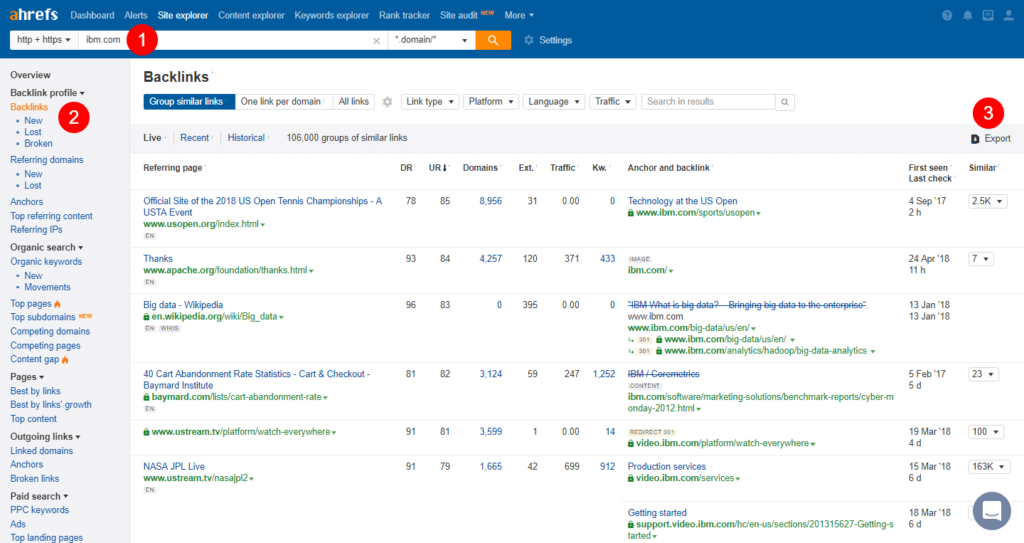 By the way, make sure you select the Full Export option, otherwise, you'll be exporting only the first 1000 rows with the Quick Export:
Majestic – even though their crawler might not be as complete as Ahrefs, you still want to have as many link sources as possible for your audit. With Majestic, you'll have to type in your domain → Select "Root Domain"→ Export Data.
Now, because of the link memory (AKA ghost links – links that are deleted, but Google still "remembers"), we export the data from both, Fresh and Historic indexes. Also, ensure to set the tool to "Show deleted backlinks".
Moz and SEMrush – Similarly to Majestic, with these two we just want to have as many links as possible and complement the database, in case Ahrefs missed some.
How to get links data in Moz Open Site Explorer: Your site → Inbound Links → Link State: All links → Export CSV

How to get links data in SEMrush: Your Site → Backlink Analytics → Backlinks → Export. Please make sure to select "All links" option.
We had all the data now, so it was time to clean it up a bit.
There's no real secret in how to use Excel or Google Sheets, so I'll just list what you'll have to do with all the link data prior to analyzing it:
Dump all Ahrefs data into a spreadsheet. If you're wondering why we start with Ahrefs, it's explained in step 4.
Add unique links from GSC into the same spreadsheet.
Add unique links from all other sources to the same spreadsheet.
Get Ahrefs UR/DR and Traffic metrics for all the links (Ahrefs data will already have these metrics, so you're saving time and Ahrefs' credits).
Spreadsheet ready!
With the spreadsheet, we started a very laborious process of reviewing all the links. We classify them into 3 categories:
Safe

– these are good quality links.

Neutral

– these are links that are somehow suspicious and Google might not like them that much – although they're quite unlikely to be flagged as harmful. We always highlight these in case we were to re-run the link audit operation (for example if the penalty did not get lifted).

Toxic

– all the spammy and harmful stuff you'd rather stay away from.
Some of the main criteria we're always checking:
Does it look spammy/dodgy AF?
Does it link out to many sites?
Does the content make sense?
What is the link type (e.g. comment spam or some sitewide sidebar links would be marked as toxic)?
Is the link relevant to your site?
Is the link visible?
Does it have any traffic/ranks for any keywords? Ahrefs' data helps here.
Is the page/site authoritative? Ahrefs' DR helps here.
What's the anchor text? If you have an unnatural ratio, then it might be required to disavow some links with targeted anchor texts.
Is the link follow/nofollow? No point disavowing nofollow links, right?
Is it a legit link or one of these scraping/statistical tools?
Is it a link from a porn site? These are only desirable in specific cases, for example, you're a porn site.  Otherwise, its disavow time.
If it is likely that the whole domain is spammy, we'd disavow the entire domain using "domain:" directive, instead of just a single URL.
I'm personally not a great fan of disavowing, but in the case of penalties, they are usually inevitable to help a quick recovery.
Here's a sneak peek of how the audit document looked like once we finished reviewing all the links:
Then, we compared the results of our audit and current disavow file and uploaded a shiny new one to Google Search Console.
We disavowed 123 domains and 69 URLs.

Additionally, we also used our in-house, proprietary tool to speed up the indexing of all the disavowed links. Something quite similar to Link Detox Boost, but done through our own tool.
Here's a little screenshot from our tool:
Crucial Stage 2: The Onsite Audit
The next step taken was a full, comprehensive onsite audit.
We reviewed the site and created an in-depth 30-page document addressing many onsite issues. Below is a list of elements covered in the audit:
Technical SEO
Website Penalties
First, we confirmed what the client has told us and established what kind of penalty we're dealing with. It has to be emphasized that there were no manual actions reported in GSC, so we were dealing with a potential algorithmic penalty.
We searched Google for the brand name and did a "site:" operator search.
If you were able to find your brand name ranking number 1 in Google (or at least among your other profiles, e.g. social media accounts, on the first page) and it's no longer there, you know you're in trouble. Basically, if Google devaluates or de-ranks you for your own brand, this is a very strong indicator that you've been hit with a penalty.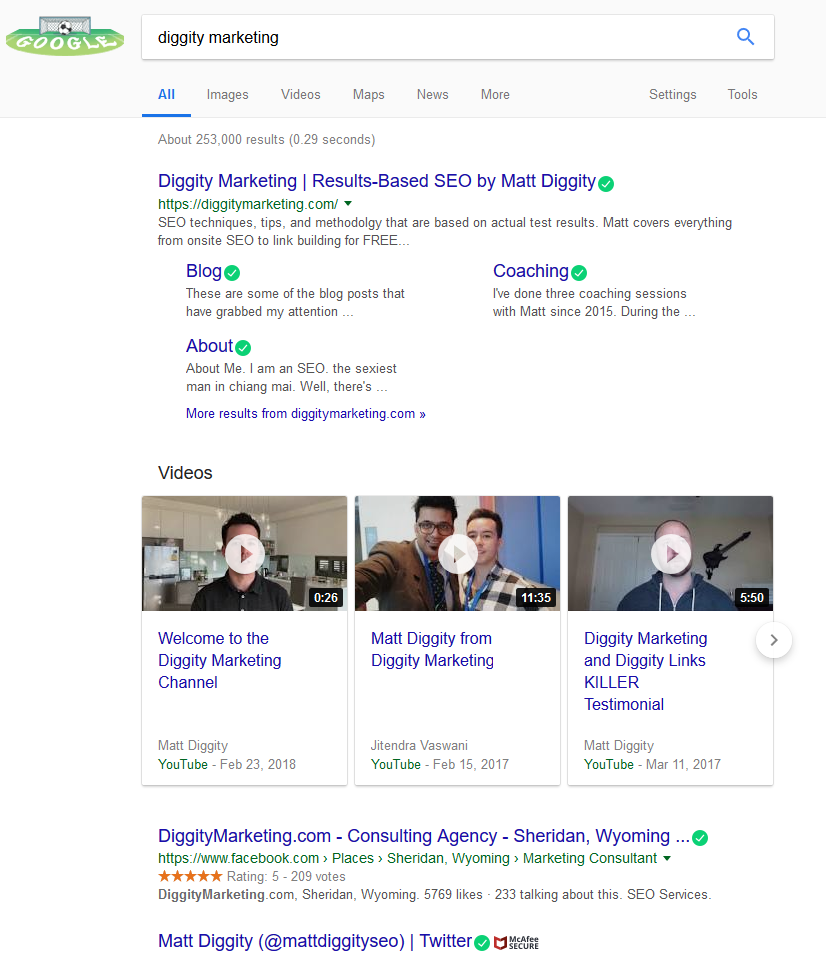 With the site: operator search it's a bit more tricky. However, as a rule of thumb, you could expect to have your homepage show as a first result returned for a simple query: "site:domain.com" in Google.
Another way of confirming the content devaluation is to copy and search for a fragment of the text on your core pages. In the example below I do a Google search of 2 sentences from one of my articles (right-click to bring up a search of the text you highlight):
As you can see below, Google finds it on my page and shows as a first result:
If it was not the case and Google did not show me first or at all, then it would be a very strong indication that the article page or site is under a heavy devaluation or even a penalty.
HTTP / HTTPS Conflicts
At this point, it is also a good idea to make sure Google has only indexed the preferred protocol for your site. To do that, run another simple site search: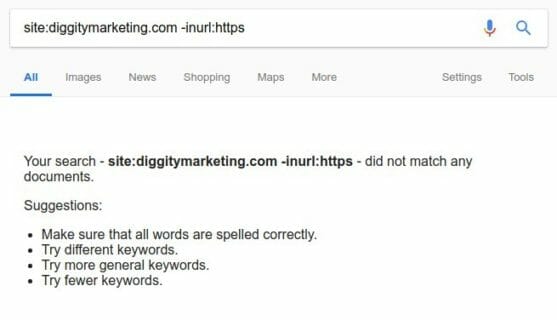 You don't want any http results to come up if you're using https or vice versa. If it happens, you most probably do not have correct redirects in place.
To ensure a 301 redirect from http to https on WordPress, you can try using a combo of these 2 plugins:
We describe https conflicts in more detail further down this case study.
Indexed Content
In this section, we focused on everything that was indexed but shouldn't be.
As Rowan from TSI already discussed in his article The 4 Pillars of Mastering Google Website Crawl, you don't want Google to crawl stuff that does not represent any value for the search engine. Here are some examples of such pages:
Product comparison pages
Session IDs (plenty of examples)
Empty categories – best not to have them
Login and Registration (examples)
You can find them by running "site:" operator searches, usually combined with the "inurl:" operator. Make sure to explore the supplemental search results, too, as Google will try to hide stuff from you:
You may be surprised how much of an issue it can really be. In the above case, only 3 URLs were revealed in the normal search, but 145 are really sitting in the supplemental index:
Site Speed Optimization
Site speed optimization is a fundamental part of modern SEO, and a fast loading time has an immediate and significant effect on rankings, with Google actively suppressing the rankings of sites with a slow loading time. To reduce server response time aka load speed, click the previous link.
Anything under 2 seconds is considered an acceptable load speed, but we recommend reducing speed as far as possible.
I go through it in more detail below.
3XX Redirects
If there are any internal pages that are using a 301 redirect from one URL to another, they should be linked directly with a status code 200 to prevent unnecessary load time or loss of authority.
4XX Errors
Very similar to 3XX Errors. You should avoid having any internal 4XX Errors.
Make sure to not only rely on Screaming Frog (or other crawlers) but, first of all, check your Google Search Console.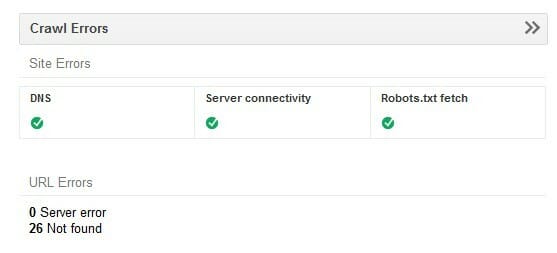 Site Structure
The site structure plays an important part in helping Google determine the authority of each page and is broken into levels (or distance) from the homepage.
As a general rule, the homepage is most likely to rank for large broader terms, with deeper pages naturally gravitating towards fewer keywords that are more specific.
Level 0 – Homepage
Level 1 – Pages linked directly from homepage
Level 2 – Pages linked directly from Level 1
:
I go through how we improved the Site Structure in more detail below.
Robots.txt
This section of the audit covered a review of robots.txt and its improvements.
Unwanted sections of the site discovered during "indexed content analysis" (in this case it was the Cart and Author pages), which Google was not supposed to even attempt to visit, were excluded in robots.txt.
Additionally, we made sure that XML sitemap was being referenced in robots.txt file.
Make sure to always use an absolute path to reference your sitemap XML in robots.txt file!
Here's an example robots.txt file similar to the one we suggested:
User-agent: *
Disallow: /cart/
Disallow: /author/

Sitemap: https://domain.com/sitemap.xml
WHOIS
Google is particularly interested in sites that do not drop and rarely swap ownership, this is because it's a sign of trust that you are a legitimate site.
I recommend that you always consider renewing your domains for 2 – 3 years at a time since this is a good sign of trust and might be considered a very small ranking factor (note: I have not tested this).
Internal Linking
We evaluated the way the navigation was set up and advised the changes with the top menu to ensure better flow of link juice.
You should also look to change your internal anchor text so that links to the homepage have a more brand focus and internal pages are more targeted with Exact Match, Partial Match, and Topical anchor text. Read my article "A Complete Guide to Anchor Text Optimization" for more info on balancing these ratios.
Mobile Formatting
There were some formatting issues with the way the site was displaying on mobile devices. Although not so much of the ranking factors, cosmetic layout issues might be annoying and scare your potential users away. Who'd want to buy from a site that looks abandoned?
Schema Markup
We reviewed the markup errors Google Search Console has revealed:

Structured Data is a great tool, however, it might be easily messed up by just a simple typo in the code. In this case, the issue came up for a number of author pages, which we wanted to remove anyway, so once we did so, all the issues were gone.
Accelerated Mobile Pages
Similarly to Schema Markup, we also reviewed AMP issues reported in Google Search Console:
AMP, exactly as Structured Data, is very sensitive. In this case, we had to fix an issue marked as "The attribute 'type' may not appear in tag 'li'".
Here's exactly what was causing an issue:
To fix it, we simply had to remove the "type" attribute.
More about fixing the most common AMP validation issues can be found here.
Content SEO
Thin Content
Thin content can quickly bring down the overall ranking of a site, as Google decides whether the site is able to deliver useful information to its users.
Once we crawled the site with Screaming Frog, we pulled all pages with less than a 1000 words and suggested to bulk it up:
What you should remember is that Screaming Frog provides a very naive word count. It includes all static on-page elements, such as: menu, footer, header, sidebar, etc. For this reason, 498 words reported in Screaming Frog might, in reality, be only 189 words of primary content.
Also, do not get caught up with this "I have to have 1000 words of content on every page".
Google is after juicy content more than waffle, therefore if you can fully cover the subject and make it 100% on-topic within only 700 words, then I do not encourage you to be adding some random stuff only to hit the desired 1000 words.
Google won't appreciate that. It's better to leave it with 700 and see what happens.
Alternatively, research the subject more and add some relevant information there.
Recently we had an emergency plumbing site with city-specific pages talking about festivals in the area and showing some statistical data about the city.
You might have already guessed it – Google would not rank these pages for terms like "emergency plumber [city]".
However, they ranked very well for keywords like "[city] population", "festivals near [city]", etc.
Why? Because the content was irrelevant to the promoted services and Google found absolutely different search intent for these pages.
Duplicate Content
Duplicate content can quickly bring down the overall ranking of a site, as Google decides whether the site is able to deliver useful information to the users.
We run a Siteliner crawl to see the "DC ratio" and where the most of the duplicated content was. Here's how the tool looks like while scanning my site:
The recommended maximum amount of duplicated content is 10%. Some pages will be way over this mark, which might be quite normal. You should review each individually to ensure that the content there is, in fact, OK to be duplicated.
Some of the duplicated stuff in this case study came from the /author/ pages mentioned earlier and needed to be ROBOTS.TXT blocked.
By cleaning up the index, you are also able to get the duplicate content ratio down!
Page Title Optimization
Page titles (title tags) signal to users (and Google) a summary of your page and what they will find within.
When the page title includes a core keyword it is normally highlighted to users in the SERPs and can also compel users to click-through.
However, long page titles are often truncated and do not look professional, so it is wise to create tidy titles that will entice users to read more from your website and include your targeted keywords to feed the Google algorithm information that it needs to establish relevancy.
Once you crawl your site with Screaming Frog, make sure to review each element under the Page Titles section and act accordingly to the issue:
Also, make sure you read Ahrefs' guide on How to Craft the Perfect SEO Title Tag to up your page titles game.
In this case, we also later used page titles to fight some keyword cannibalization issues, which I talk about a bit more below.
A very easy win for you could be just to extend the shortest page titles within your site by enriching them with some of your core keywords.
However, while building the page titles, be careful not to cause cannibalization issues or over-stuffing the title tags.
Heading Optimization
Headings are an important way to signal to Google more than just site structure, but also relevancy of content on a page.
We recommended that the client included a single H1 tag per page and used H2 tags for SEO relevant headings, and H3 tags for non-SEO-relevant headings.
This is a big relevancy signal to Google that could be well optimized on your site.
Similarly to Page Titles, Screaming Frog should help you while reviewing all your headings.
Having a combined list in front of you, you can notice some optimization issues (too long, too short or not unique headings) and rectify all them. Headings, especially H1 and H2 are often an overlooked optimization element. Just by improving their readability, adding some keywords in or making them more relevant to the page content, you can get some very quick wins.
Meta Description Optimization
Meta descriptions don't contribute to a site's rankings, but relevant, compelling meta descriptions can encourage more people to click through from the SERPs.
Since meta descriptions are just a snippet of text, it's important to include vital information about whether you are going to fulfil a person's needs, giving them a good reason to click through.
I would recommend that you write a description that includes keywords you are targeting for each page and summarizes what your page is going to provide. When the meta description is too short or non-descriptive, Google uses random text from the page that doesn't always encourage users to click through.

This site had a lot of pages with missing or poorly auto-generated meta descriptions. Even though it's not always efficient to manually do all your page descriptions, you should still do that for your core pages.
Image Optimization
Image alt attributes are used to make it easier for Google to understand what your images present. They also help you to show up in the Google Image Search.
Alt attributes also provide a place where you can include your core keywords, helping Google to get a better understanding of your page contextually, whilst also helping you to improve your keyword density.
Be careful not to over-optimize though.
Proper image optimization, however, should also focus on decreasing the size of images. As you can see in the above screenshot, there were many images above 1 MB on our site. This meant that not only we looked at missing, over-optimized or too long alt text, but also at all images above an average size of 100-150 KB.
In WordPress you can use many plugins that will automatically optimize your images:
Another Discovery: Potential Cloudflare Issue
In the meantime, while creating the audit, the Campaign Manager spotted a serious Cloudflare configuration issue, which might have had been causing Googlebot crawlability issues. The setting was amended immediately and crawl speed in Google Search Console increased in order to force a re-crawl on the site as soon as possible.
If you use Cloudflare, it might be worth looking at the below option: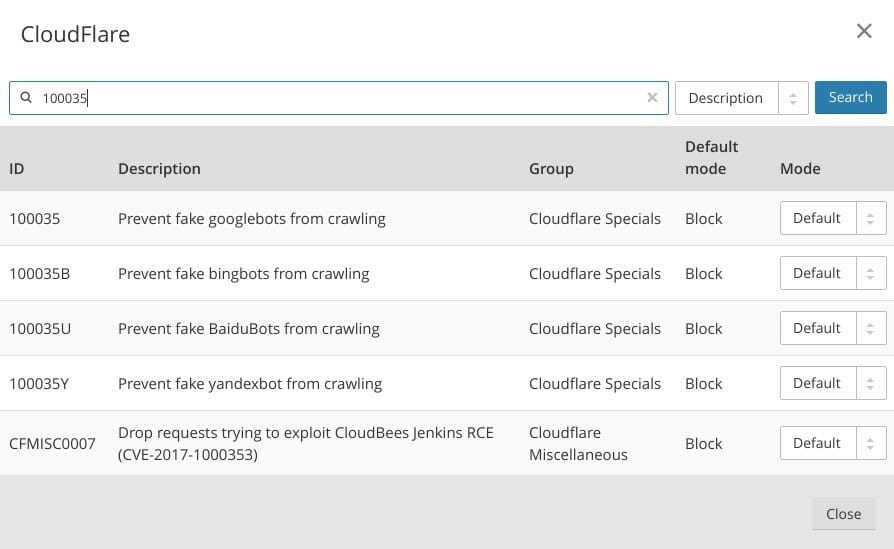 It's located under "Firewall → Package: Cloudflare Rule Set → Advanced → 100035 Prevent fake googlebots from crawling".
As far as I know, it's a part of Web Application Firewall (WAF).
By the way, my colleague, friend, and director of SEO at TSI, Rad Paluszak (also one of the speakers at Chiang Mai SEO Conference) told me of some cases of cr*ppy hosting providers who were blocking Google and other search engine bots just to save money on the traffic and internet bills.
I know, right…WTF?!?
Campaign Goals Breakdown
Our audits actually check for many more website shortcomings, but these are the main issues that we uncovered for this client's site.
We then put together a custom strategy to not only recover from the penalty but to get high levels of traffic back into the site.
We outlined the core campaign goals of the strategy as follows:
Get the penalty lifted, otherwise, all other changes would have no impact.
Push core keywords into the index. We noticed a lot of low hanging fruits, however, the keywords with the highest search volumes were not within the first 100 search results.
Bring keywords on the first 3 pages to page 1. Specifically terms with 1,000+ monthly searches.
Improve CTR of the site once traffic returns to normal.
Work on the conversion side of the site, as we were predicting that with great visibility, the site might still suffer from a lack of decent conversion rate.
Success: Algorithmic Penalty Lifted
We executed the onsite audit and assisted with additional support during the very early stages of the campaign.
Within a month since starting the campaign, the penalty was lifted and traffic reached pre-penalty levels.
Even for us, it was a bit complicated to point out a definite trick we did to lift the penalty because we had taken a fair number of actions at the early stages, however, we would point our finger at the link profile as the most likely cause.
Let's have a look at other key areas we worked on AFTER the penalty removal.
More Technical Discoveries
Other than what I already described above, there were many interesting technical developments once we audited the site. Below are a few of them:
Page Speed
We discovered and advised on some basic (and advanced) page speed optimization strategies, including deferring JavaScript, improving time-to-first-byte (TTFB) times and using of sprites.
The guys started at 41/100 Low (Mobile) and 71/100 Medium (Desktop) for the site. Now it looks like this ?
Don't know about you, but it already looks quite good to me.
However, we're still planning to tweak it even more with Critical CSS Path optimization and improving (or actually getting completely rid of) render blocking scripts. One nifty tool they use for that is https://criticalcss.com/
HTTPS Conflicts
The site was using one particular HTTPS certificate for the login page and different one across the other pages of the site, which was creating a conflict in some cases with the browser highlighting a change in the certificate.
| | |
| --- | --- |
| Cert #1 | Cert #2 |
| | |
As you can see, there were 2 completely different SSL certificates installed. This might not make much of a difference to Google, but since Chrome's becoming more and more paranoid about security, we wanted it unified.
Site structure and Internal Linking
We suggested a better approach to siloing the site's content. We also gave recommendations regarding improved internal linking strategies.
Very basic stuff to show Google the site's hierarchy: Homepage → Category → Subcategory → Product.
This is how it looked before:
Notice there was only 1 edge (connection) between the homepage and one of the most important core pages linked with all the other categories, products and services. Additionally, the connection went through another unimportant page. This obviously messes up with the site flow and negatively impacts the site's crawlability.
And here's how it looks now:
In case you're wondering why there are fewer vertices (pages) in the "after" graph, it is because we also did some serious cleaning and trimmed the site a lot.
By the way, if you don't know this tool, the graphs were generated using Sitebulb – new but one of the most favorite toys in TSI's toolbox.
LSI Keyword Research
We also suggested to the client that the best approach to the keyword research was to target LSI terms. This has later improved the content relevancy and decreased content cannibalization issues.
Couple of the tools we used to get LSI keywords and inspirations were: LSI Graph and AnswerThePublic.
Ongoing Work: Link Building
A big part of our efforts once the penalty was removed, was the link building element.
Considering that the site had almost certainly been penalized with regards to its link profile, we knew that we needed to work towards getting very good quality links. We achieved this through our natural outreach activities supported by an engineered link building element (e.g. guest posts).
During the course of the campaign, we leveraging high traffic guest posts from my guest post service Authority Builders. Here's an example of Ahrefs metrics for one of them:
With our manual, custom outreach, we started by finding a huge list of relevant websites and blogs.
Once we assessed each one of them in terms of traffic, SEO value, relevancy and quality, we started contacting them through the contact details available on the sites or via contact forms.
If you want to learn more about TSI's vetting process, it's quite similar to how Authority Builders approaches its link prospecting criteria – check out the article here.
All the blogs that responded, were then provided with high-quality content, relevant to our client's site. The content usually included a link back to a selected page within the client's website or a mention of the client's brand.
Here's Ahrefs graph showing an example of healthy link growth:
An average number of unique links we're building every month is between 10 and 25 fresh domains.
More Adjustments: Keyword Relevance and Cannibalization
During the campaign, we went through a few Google updates requiring us to shift the goal focus slightly. Some of the things we adjusted were onsite page titles, meta descriptions and the structure of headings for the core pages.
For example, one of the core pages was heavily cannibalized against the homepage, causing Google to juggle between them. This always results in dipping rankings for both pages. Therefore, we suggested a new page title for both pages with new core keyword focus and relevance.
The solution was really simple and can be described in 2 steps:
De-optimize the colliding page by removing the keyword from its page title.
Example Before: Our Core Keyword and Some Other Social Media Related Keywords – Brand
Example After: Synonym To Our Core Keyword and Other Social Media Related Keywords – Brand
Move the focus keyword to the front of the homepage and write a better-optimized page title.
Example Before: Something, something, Our Core Keyword – Brand
Example After: [BEST] Our Core Keyword from $9.99 a month – Brand
We got lucky as the keyword was quite short – only 12 characters – and we could easily improve the page title on the core page. Also, we could replace the term with a synonym on the homepage without affecting the sound or meaning of the page title.
We did the same with the meta descriptions and headings.
In effect, Google was no longer getting confused by choosing between these 2 pages and the page we were targeting the core keyword with, leaped over 20 positions and started ranking on the first page.
We (and the client) had a beer for this one.
Below is how a cannibalization issue can look like on a timeline and how the URLs behaved:
Please bear in mind that the positions above are the calculated average for each month. Almost on a daily basis, they can be swaying up and down of up to 25 spots.
Also, you need to be aware that when you're fixing cannibalization issues, you may see a dip in the overall number of keywords your site is ranking for. It does not mean you're losing visibility! 
It means that if you had 5 URLs ranking for 1 keyword, tools like SEMrush would count it 5 times. Once you resolved cannibalization, you will only have 1x URL counted in the tool, but you should see increased rankings and, shortly after, the traffic ($$$).
Content Improvements
During the course of the campaign, we suggested creating new articles regarding their topic (social media) and the use of individual platforms for the business's benefits.
We used our specialized copywriting team to create 5 cornerstone articles which could be published on the site and be a base content for further blog posts.
Cornerstone articles are usually explainers; relatively long articles combining insights from different blog posts.
It's important to review competitors and other industry leaders and their blogs, not just their competing pages. By doing research into your competition's link building strategy you can often find reliable link opportunities and content topics that can work.
Take, for example, the payday loans website called "Quick Quid". They're using an infographic outreach strategy for their links. The majority of their blog content is around cooking, food, and healthy living – but with finance tied into it.
These are industries that have much higher volumes of bloggers and link opportunities, and through internal linking, they are building up lots of links.
While this link baiting approach isn't the best tactic for every site; it's an important reminder that a functioning blog is crucial for success.
Conversion Rate Optimization: Increased Leads by 7.5x
A few months after we managed to remove the penalty and had continued building high-quality links, we installed Hotjar tracking code in order to create a comprehensive Conversion Rate Optimization (CRO) audit.
Hotjar took a couple of months to get all the data required, while we have been feeding the site with authority and tweaking up the relevancy signals.
Our CRO audit was focused on providing the best user experience while improving the % of the visitors who were becoming customers.
We created a 20-page document including the below contents:
User Journey
SERPs
Landing Page

Hotjar Analysis
We performed a review of each of the Hotjar click & heat maps to determine which elements were getting the most engagement and on what devices.
UX Designing for Big Screens
Here we made a reference to typical screen sizes and used

Screenfly

to show differences on most popular devices. Since the site had a decent mobile version, we only made suggestions regarding the use of buttons and popular Javascript tabs. The tabs in our case were not aligned properly on mobile, which could have had an impact on how users interacted with the pages. This change was also to lift some of the content above-the-fold. We improved the engagement by ~50% just by fixing the tabs layout.
Above the Fold Content
In this case, we found that most mobile users could only see a huge headline above the fold of the homepage, which might have looked like there was nothing past the headline text. We suggested redesigning the header to accommodate this and make the headline smaller while also including product links right below it, expecting at least 15% improvement in the time on page.

Product Pages
In this case, we discovered that the pricing table was too cluttered with too many elements and ~40% of users were not even getting to read all of the listed features. Additionally, there were some additional features and information listed below the pricing table (e.g. How the order gets delivered) which less than 30% of users were scrolling down read. We suggested to declutter the pricing table and only focus on the elements differentiating each of the packages in the table. Additional information was added as a visible button, so users interested in the process could quickly access the details. A pricing table clean up could be a quick win for your site, too!
Unfortunately, I can't share the domain URL or screenshots of the site with you and since all the heatmaps would include the screenshot, I can't share them either.
What I can tell you, other than what I already did above, is that we also looked at some other cool stuff, like this statistic of a typical mobile device usage by Adobe.
If I was to give you a quick hint as to where you could start the CRO analysis of your site with only Google Analytics, I'd suggest having a look at your Behavior Flow report (GA → Reports → Behaviour → Behaviour Flow):
The Behavior Flow report visualizes the path users travelled from one page or event to the next.
This report can help you discover what content keeps users engaged with your site. The Behavior Flow report can also help identify potential content issues.
At TSI we usually pick the route with the most traffic (the widest one – as highlighted in the screenshot above) and dig into each step of the way to check where the most of the drop-offs happen.
You can see the percentage of drop-offs when you hover over each page. When users are dropping-off, it clearly suggests there's something wrong with the page or funnel and it's worth analyzing what it is.
Make sure to read my articles Conversion Rate Optimization (CRO) for SEOs and Guide to Content for CRO and SEO, where I give more examples of simple CRO improvements and tests that can become game-changers.
Here are some other tools which may help with the testing:
Great collection of case studies, practical guides, and design recommendations can be found at Google Design.
The Results (AKA Traffic Boner)
Since implementing the strategies below, the site has seen traffic continuously grow month-on-month.
Below is a keyword visibility graph from Ahrefs:
Overall we saw a 388.48% revenue increase, 1,186.99% ROI increase, 7,610.70% leads increase and 377% CTR increase.
Comparing against the starting month, we've gained the following results:
15,644.04% increase in search traffic from 1,308 to 205,932 sessions a month.
9,109.56%  increase in search traffic from 1,036 to 95,411 users a month.
431.58% increase in average monthly CTR from 3.8% to 16.4%.
2,022 total positions increased across 33 keywords tracked in our tracking tool.
Average monthly position increase from 24.4 to 8.6
Organic Traffic Improvements
By implementing our overall strategy of auditing the website in the first month, onsite implementations and links built, we saw over a 17 fold number of users by the third month compared to the start of the campaign.
The number of users from organic traffic has gone up from 1,308 in the first month to 22,497 by the end of the third.
At the same time, the number of sessions went up from 1,308 to 30,265.
By the tenth month mark, once link building effects were in full force and CRO audit performed, the traffic was as follows:
Users up from 1,036 to 95,411
Sessions up from 1,308 to 205,932
Client Testimonial
"We apparently had gotten a Google Penalty, losing 6,000 Keyword positions overnight. Naturally we wanted to recover as fast as possible. After talking with many people in the SEO community we decided to work with https://thesearchinitiative.com/.


Not only did we get a full Penalty recovery but our traffic has since tripled and our income doubling. We've seen a consistent month over month growth in traffic and positions. Looking forward to gaining more positions and higher rankings in more terms."
Conclusion
Hopefully, this shares some insight into removing penalties, and how building long-term strategies can pay off in a big way.
You've learned strategies on performing detailed onsite, offsite, and technical audits – and how to implement them.
You've also learned some link building and conversion techniques that will significantly grow the top-line of your website.
At this point in time, I'll leave you with this, but if you're still having trouble then contact The Search Initiative so we can discuss how to get explosive and lasting results for your (or your clients') sites as well.
And one more thing…
We just had a recent core algorithm update.  How's the client's site doing now?
I'll leave this here:
Get a Free Website Consultation from The Search Initiative: