Choosing a solid affiliate network is a crucial part of being a successful affiliate marketer, whether you're starting as a new affiliate or just diving into a new niche.
There are thousands of affiliate programs offered by merchants to market their services or products. I've tried most of them.
No matter which type of affiliate programs you like or what types of affiliate products or services you promote, you can find a variety of reliable affiliate networks to suit your needs.
According to multiple surveys in our Affiliate Lab community (and my own affiliate network experience) here are the best affiliate marketing platforms to catapult your success.

The Best Affiliate Network in 2023
Below is a list of my list of top affiliate networks for 2023. These cater to various products, services, and industries. All of them are worth a look.
And after that, I'll discuss how you can find the perfect one for you and your affiliate marketing goals.
ShareASale is close to the largest U.S. affiliate network. Doing a quick search, it currently boasts over 3900 merchant programs on its affiliate platform and over 1.2M registered publishers participating.
This affiliate network is based out of Chicago, IL, and has been operating since 2000 with an outstanding reputation as a fair and honest business.
In January 2017, global affiliate network Awin acquired ShareASale to provide further international affiliate opportunities to domestic advertisers and publishers.
ShareASale is a great affiliate network for people getting into affiliate marketing to promote physical products and looking for an Amazon Associates alternative.
I've earned a lot of income with the ShareASale affiliate marketing network.
Quick Look:
Niche strengths: Home & Garden, Fashion, Green, and Business
Payment method: Check; Direct Bank Deposit
Minimum payment amount: $50
Programs offered: CPA, CPL, CPS, CPC
---
2. FlexOffers
FlexOffers is a massive affiliate network with a large variety of advertisers and offers to explore. Those who sign up to this affiliate platform can choose from over 10,000 of them covering products ranging from seasonal items to consumer electronics.
Due to the large number of offers in the affiliate network, most kinds of programs (CPA, CPI) are represented. Major featured brands on the site have included SKECHERS, Kohls, Macy's, and Barnes & Noble.
Most of those who have tried it out say good things about the dashboard, the customer support, and the quality and variety of offers. We can't say anything bad either.
There's a tier 2 program where you can earn even by sharing affiliate links with other advertisers.
Quick Look:
Niche strengths: Automotive, Entertainment, Electronics, Lifestyle
Payment method: PayPal, Payoneer, Wire Transfer
Minimum payment amount: $25
Programs offered: CPA, CPS, CPI (Depending on advertiser)
---
3. MaxBounty
This is a CPA affiliate network, which means each advertiser pays for a specific action. It is one of the top affiliate marketing networks out there, in our opinion.
This affiliate network offers lots of models, including CPA, CPL, and mobile. They work with advertisers involved in market research, diet, dating, and real estate.
That action could be a sale, form submission, download, or any other action performed by the visitor. All of them can be tracked and then paid for by the advertiser.
There are certain web services (such as software downloads or file sharing) that generate much more affiliate income for a dedicated account manager when using a CPA program—as opposed to premium affiliate networks such as CJ or ShareASale.
If you're an ace at conversion rate optimization this is where you want to be.
MaxBounty has been around for over a decade and is consistently considered one of the best and most reliable CPA affiliate networks. And we can confirm that.
Quick Look:
Niche strengths: Dieting, Dating, Real Estate
Payment method: Check, Direct Bank Deposit, Wire Transfer, PayPal, Payoneer, Bitcoin
Minimum payment amount: $100
---
4. MoreNiche
MoreNiche is a reliable affiliate network that was established in 2002.  While they don't have many affiliate marketing programs to choose from, the products are quite good, with most of them offering high commissions (30%-40%).
One of the key aspects that sets them apart from other top affiliate networks is how they treat their people. Their dedicated affiliate manager personnel provide proactive support, giving up-to-date SEO advice, website audits, and CRO suggestions.
They also hold affiliate marketing mastermind events, which I've attended and spoken at.  They're great.
Affiliates are not just income generators – each dedicated account manager wants to generally get to know their customers and build long-lasting relationships. This is the best approach you could ask for from your affiliate network.
Quick Look:
Niche strengths: Bodybuilding, Weight Loss & Health
Payment method: Direct Deposit, Payoneer, Skrill & BitCoin
Minimum payment amount: $100
Programs offered: CPS
---
5. Affiliaxe
Affiliaxe is an affiliate platform that rates itself as the best option for experienced affiliate enthusiasts.
In keeping with that drive for exclusivity, it has an invitation-only approval process that some reviewers have found frustrating.
Those that get in do enjoy great benefits and high commissions. Those benefits include 700+ offers in profitable niches to choose from, including wellness, entertainment, dieting, and mobile content.
Their dedicated affiliate manager personnel (shout out to Pavel) are reported to offer a lot of guidance on the creation and improvement of digital marketing campaigns.
I've found them to be reasonable when it comes to negotiating commission bumps (try that with Amazon Associates).
Pavel and I worked together to get a single product to $60k/month at its peak, resulting in my best single-product money-maker of the year.
When I asked Pavel, "What makes Affiliaxe special?", he replied…
"All our offers are whitehat and we work with big brands such as Norton, Mcafee, Marley Spoon, Omega XL (presented by Larry King), TruthFinder, etc.  We work hard on making our landing pages compliant while getting campaigns approved as fast as possible."
Pavel Maister
Sr. Affiliate Manager
Finally, the platform is pretty solid. It has a good collection of features and is intuitive to figure out.
If you are experienced and have a lot of weight to throw around, this may be the top affiliate network for you, but first, you'll have to get through their qualification process.
Quick Look:
Niche strengths: Health, Digital Entertainment, Mobile
Payment method: Payoneer, Paypal, Check, Wire
Minimum payment amount: $100
Programs offered: CPA, CPL, CPS
---
6. Rakuten
Formerly Buy.com, this is another popular affiliate network for e-commerce focusing mostly on physical goods. It's another decent alternative to Amazon.
Rakuten represents a variety of different industry-standard brands, including Walmart, Sephora, New Balance, etc.
While their platform is smaller than some other top affiliate networks with around 1,000 partners, they are one of the oldest affiliate networks, and dedicated to premium technology.
These guys offer a ton of creatives to choose from.  Optimizing sales is made easier through the use of technology such as rotating ads and flexible linking options.
Conversion rate optimization (CRO) junkies like myself will get the most out of Rakuten's slick optimization features that this program provides.
Fun fact: Rakuten helped me get my greatest affiliate month ever in December.
Quick Look:
Niche strengths: Retail Goods, Physical products
Payment method: Check; Direct Deposit; PayPal
Minimum payment amount: $50
Affiliate program types offered: CPA, CPL, CPS, CPC
---
7. Clickbank
This large and longstanding affiliate network breaks away from the pack by focusing on digital information products, product launches, and other internet marketing products.
They market over 6 million unique lifestyle products created by digital entrepreneurs. In short, they specialize in digital products and currently reach over 200 million customers.
ClickBank is likely the first program you'd be recommended when you're first getting into digital products, email marketing, or other "making money online" endeavors.
Are they the top affiliate program in the entire industry for digital products? That's up to the individual, but I've got no complaints. There are plenty of ClickBank alternatives to choose from.
I've never offered any digital products to publishers through an affiliate network, but this is likely where I'd go if I did.
Quick Look:
Niche strengths: Digital Products, Dating, Self-Improvement
Payment method: Check, Direct Deposit, Wire Transfer
Minimum payment amount: $10
Referral program: Yes
---
8. Px.com
If rank and rent lead generation is your game, then this affiliate network is not one to be overlooked.
PX specializes in the industries of insurance, home services, and financial verticals in global markets.
They offer a full-service platform that focuses on using superior technology to fully automate lead generation.
Customizers will have a great time with this affiliate network because, with lead scoring and verification technology, they enable you to maximize your revenue and earn higher lead conversions.
---
9. CJ Affiliate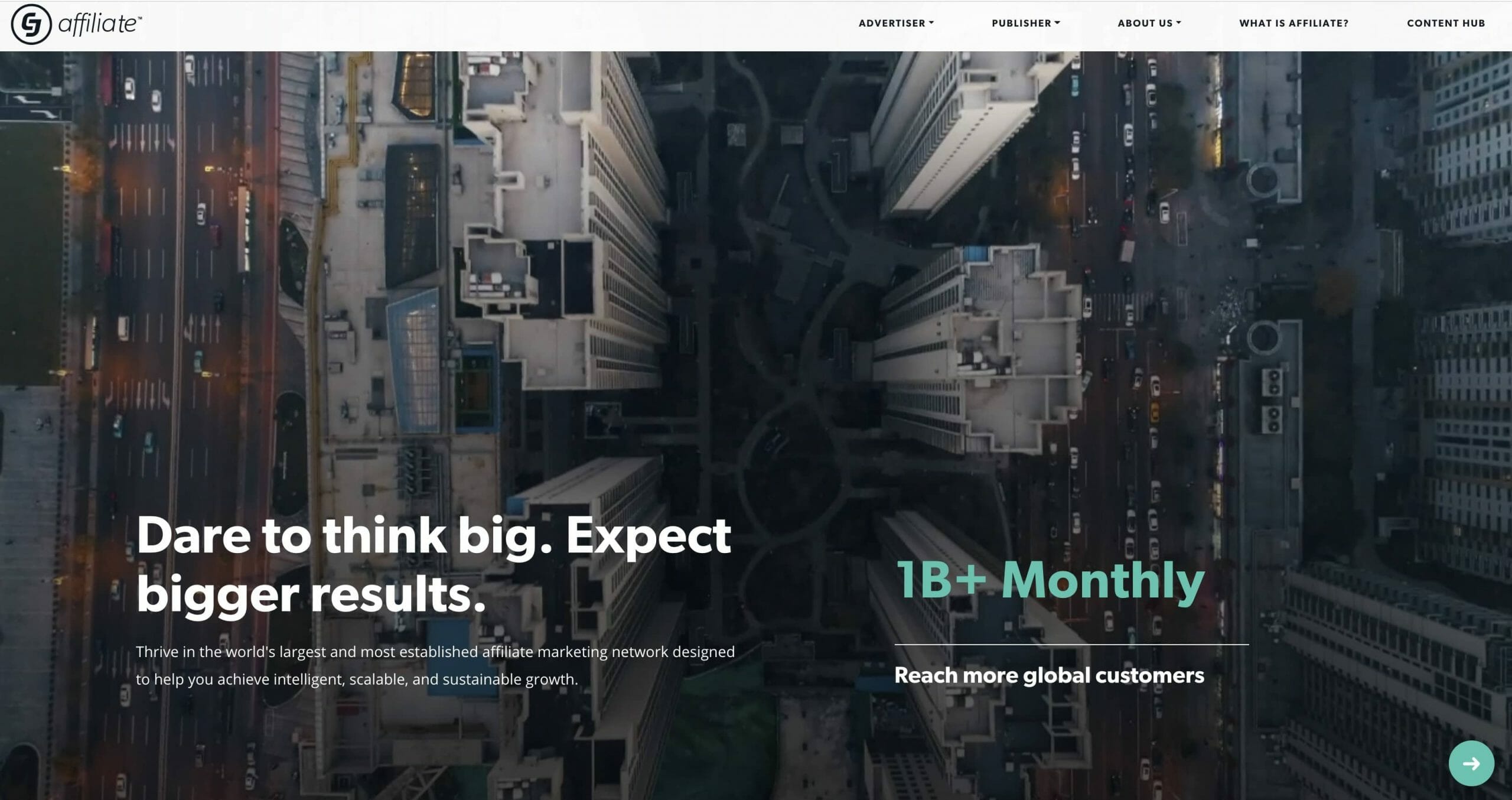 Formerly Commission Junction, the CJ affiliate marketing network specializes in pay-for-performance affiliate programs. CJ affiliate is considered to be one of the largest affiliate networks online.
A simple search can send you down a rabbit hole of different offers.
They operate globally and have programs for some of the world's most recognized and specialized retailers.
CJ Affiliate has attracted a "who's who" of premium partners including Home Depot, Apple, TurboTax, and Zappos.
I like CJ Affiliate for its high-end, powerful reporting tools as well as reliable and timely payments.
That said, they do like to cancel accounts with little to no explanation—similar to Amazon Associates —which we'll discuss in an upcoming section.
Quick Look:
Niche strengths: Online Retail, Digital Products, Software
Payment method: Check; Direct Deposit
Minimum payment amount: $100 Check; $50 Direct Deposit
Affiliate marketing programs offered: CPA, CPL, CPS, CPC
---
10. 2checkout
2checkout specializes in global eCommerce of software, digital products, and SaaS solutions.
Their partners include over 4,000 digital businesses in over 180 countries. Strong support from their publisher community has given this partner network a big boost in rankings.
Quick Look:
Niche strengths: Digital Products, Software, Software-as-a-Service
Payment method: Check, Wire Transfer, PayPal
Minimum payment amount: $100
---
11. Market Health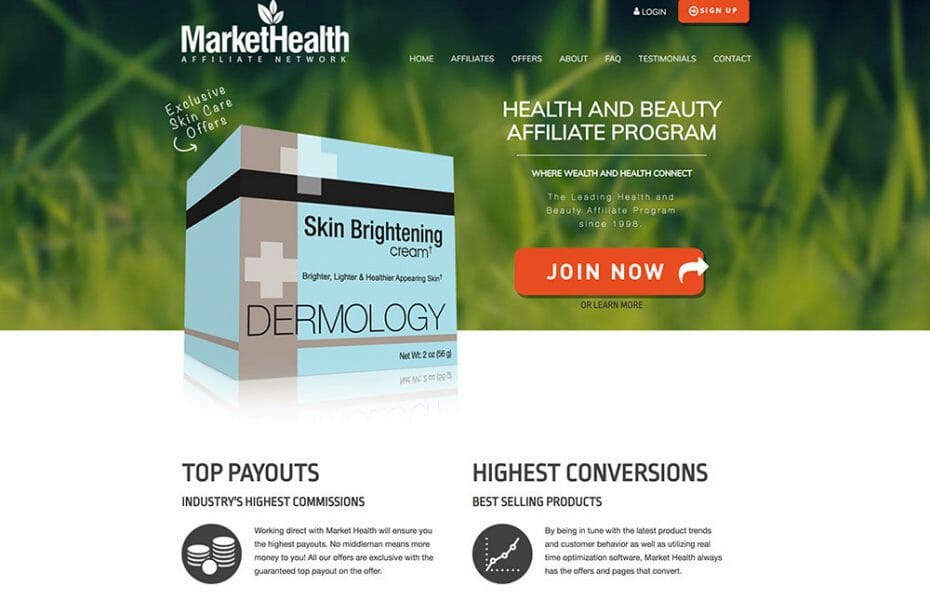 This is amongst the top affiliate networks that specialize in health and beauty products, including more than 200 they manufacture themselves.
This is a friendly affiliate network if you're marketing health and wellness products and operating outside the US. It's also got the best makeup affiliate program for those in the beauty niche.
I've done at least $200,000 with Market Health affiliate programs, and a share of that has to do with their eagerness to reward good partners with better rates. It's easy to negotiate price bumps as soon as you can do better than 20 sales/day.
They have a global reach of more than 100 countries, and many programs come complete with localized language and payment processing.
Affiliate marketers of this network also receive access to a range of high-quality perks, including robust tracking software powered by Has Offers and free advertising resources including landers and banners.
Quick Look:
Niche strength: Health, Beauty, Physical Products
Payment method: Check by Mail, Bank Wire, Skrill, Pre-Paid Debit Cards
Minimum payment amount: $20
Programs offered: CPA, Profit-sharing
---
12. Pepperjam
Pepperjam is one of the top affiliate networks that claim to offer something new by eliminating the distance between publishers and advertisers.
Publishers (the affiliates) choose to disclose the methods they use to promote products and decent brands, such as Ebates, RetailMeNot, and Honey can directly communicate (and offer personalized incentives) with them.
This open communication philosophy extends to the support team, which promises to end the practice of banning partners without warning or appeal.
Affiliate marketers are offered the chance to meet directly and network with one another once a year at a conference that also includes the Pepperjam team.
As for offers, they claim to have more than 1000 of them. If you focus on working with a particular program and desire a direct relationship with the merchants who make it, this affiliate network could be the one for you.
Quick Look:
Niche strengths: Coupons, Digital Services
Payment method: Paypal, Check; Direct Deposit
Minimum payment amount: $25
---
13. Avantlink
This network has 10 years of history and a great track record for attracting premium merchants who deal with catalog products. It can be a good alternative if you have problems with Amazon or the eBay partner network.
In addition to outdoor suppliers, they connect affiliate partners to offers involving everything from major appliances to vacations. There are a lot of beginner friendly affiliate programs to choose from with this network.
AvantLink has a reputation for transparency that exists because they allow members to view details about each affiliate program before they sign on.
Everyone can appreciate the transparency, but they have several features that will appeal directly to more experienced or more technically-minded publishers.
They have a highly customizable setup that allows you to play with the API or add either third-party or your proprietary apps. The tracking program is also easily customized.
Expect a bit of a process if you want to join their network, however. They're proud of the fact that only ⅓ of the applicants are invited to join.
You'll likely need to show traffic numbers before admittance.
Quick Look:
Niche strengths: Outdoor, Physical Products, Large Retail Products
Payment method: Check
Minimum payment amount: $25
Programs offered: CPS
---
Best Affiliate Networks for Beginners
1. Amazon Associates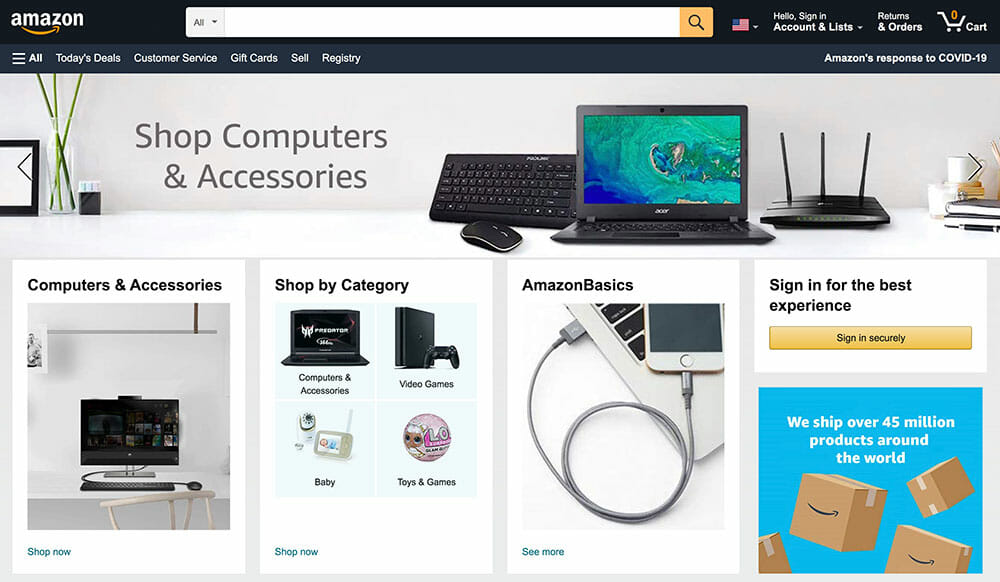 Amazon is the biggest and most well-known online retailer in the US. So, it should come as no surprise that they have the largest and most popular network.
They offer you the opportunity to advertise over a million products to customers, including some that don't have a lot of attention from advertisers yet.
One of the biggest attractions to this affiliate program is its ease of use and the wide range of physical goods and brands that you can market.
Consider that this program offers you the possibility of marketing not only your chosen product but also all accessories and most products related to it.
From experience, 80%+ of the affiliate marketers I know are in Amazon. Many in that group have hit 5 and even 6-figure monthly levels, despite Amazon having commissions nowhere near the industry highs.
Enough traffic will make any program lucrative.
It's not all upside, though. New members should beware as Amazon has very strict terms of service that they rigidly enforce.
They will not hesitate to permanently kick people out of the program for violations, and they don't care much how much that costs you.
If you're willing to toe the line though, Amazon Affiliates can be a profitable partner for almost any industry. The eBay partner network we'll be looking at next is an alternative if you get banned.
Quick Look:
Niche strengths: Retail Products (all of them), Physical Products, Digital Products
Payment method: Check, Direct Deposit, Amazon.com Gift Certificates
Minimum payment amount: $10
60-day hold on the payment
---
2. eBay Partner Network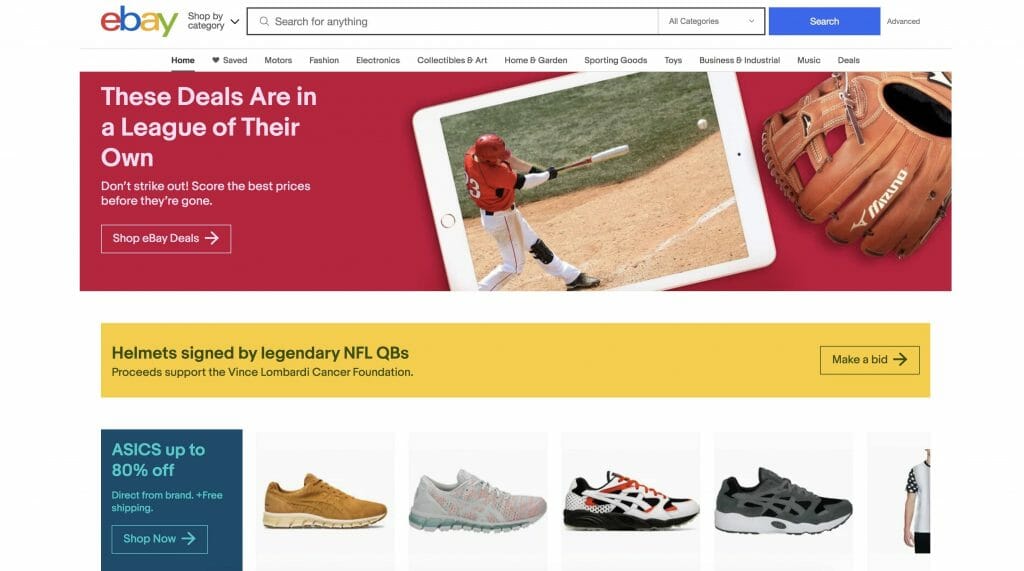 Ebay. You know what it is, but did you know that the eBay partner network is one of the biggest out there? This global marketplace has 1.3 billion listings attracting 182 million active buyers.
This network sells to a global market operating in 13 countries around the world. While it doesn't control as much of the retail market as its behemoth competitor, Amazon, it does offer some impressive incentives for affiliate marketeres.
Through this affiliate network, you can use simple tools to create affiliate links, share products via social media, track sales and view easy-to-understand reports and analytics to help you make money.
Quick Look:
Niche strengths: Retail Products (all of them), Physical Products, Digital Products
Payment method: Direct Deposit; PayPal
Minimum payment amount: $10
---
What is An Affiliate Network, and How Does It Work?
An affiliate network is a platform that facilitates transactions between businesses, marketers, and affiliates. It works by allowing companies to recruit affiliates. The affiliates then promote the business's products or services in exchange for a commission. 
Businesses can then set their commission structures and review performance data from the network.
---
What Makes a Good Affiliate Network?
1. Size
If you're a merchant, you need an endless supply of affiliates (and the traffic they bring). Likewise, if you're an affiliate, you need affiliate offers to promote.
Having access to the greatest number of partners is always going to work out better for you for several reasons:
Not every merchant and affiliate is going to be a good match for each other. More affiliate products mean more choices.
A massive community is a show of quality. Bad affiliate networks bleed both merchants and publishers. People stay if they get paid.
I don't mind smaller operations if they're focused on specific offer types (for example, pay-per-sale), or niches. However, I steer clear of the programs that are generalized and smaller.
The only time I'd consider them is if I'm struggling to earn decent commissions from established / larger names. Starting on a smaller network more desperate for players can be a good way to build credibility.
Of course, some are only small because they deal with a very specific product. These often have better credibility with merchants in those niches. Small networks can be beneficial if you're a specialist.
2. Experience
Running an affiliate network is complicated. There are a lot of moving parts and the online business requires plenty of cash flow, to say nothing of strict legal requirements.
Entire affiliate networks can disappear overnight—sometimes with the help of the FTC and the FBI—and leave partners on both sides without any way to claim money that's owed.
Choosing an aged network is something of an insurance policy. Anyone who has been walking in this minefield for a while is less likely to get into trouble.
Don't be a guinea pig and don't put your commissions at risk.
For the protection of your affiliate marketing efforts and your income streams, look for partners that have been running for more than five years.
3. Reputation
Reputation can be a difficult thing to research, but you'll get a good feeling about it if you gather enough reviews. Speaking of reviews, this is my stand on Amazon.
The Amazon Associate Program is by far the most comprehensive affiliate opportunity online, but it doesn't treat affiliates well and has lower commissions.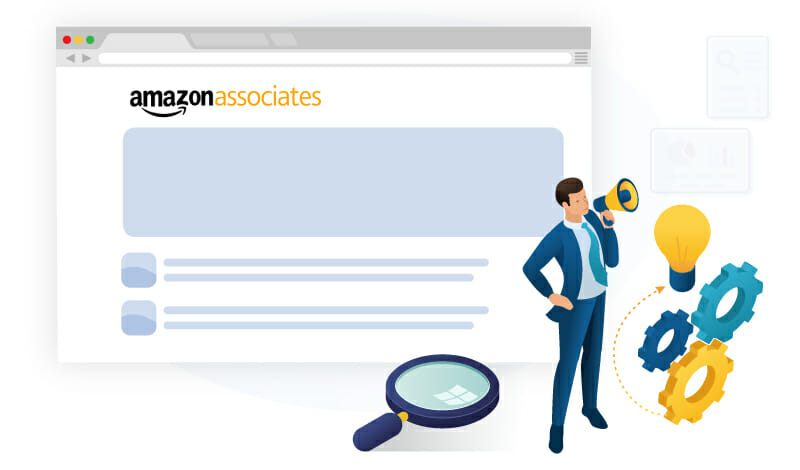 I have heard more than a few horror stories from 6-figure top affiliate marketing networks that are killing it one day, only to be banned by Amazon the next.
No reason was given, no appeal was offered, and no chance to come back. Myself included.
If Amazon (the most recognized program in the affiliate marketing industry) can treat affiliates this poorly, you can be sure that smaller operations can do the same.
I'd recommend you check all the related affiliate marketing forums and Facebook groups. When you do, give special attention to the problems that could cost you money. Look for complaints about payments, skimming clicks, or sign-ups.
In other words, do your due diligence.
---
FAQs
Which Affiliate Network Is Best for Beginners?
The best affiliate network for beginners is Amazon Associates. It offers a wide range of products and services, making it easy to find something that fits your niche. Plus, Amazon Associates' user-friendly platform makes it a great option for those starting. This is not true for many other affiliate marketing networks.
How Do I Find Affiliate Marketing Networks?
You can find affiliate marketing networks by an online search for networks that specialize in the products or services you want to promote.
Additionally, many industry-specific review websites and blogs can provide reviews and ratings of the various affiliate networks.
Read these reviews to select an affiliate network that fits your needs and provides an effective way to generate revenue.
---
Start Using the Affiliate Network That Suits Your Needs
With all this information, you will have a much easier time finding the right affiliate network and affiliate partner for you.
It's as easy as choosing one from the list that matches your niche, your level of affiliate marketing experience, and your need for security and support.
Do you still have questions about affiliate networks or niche marketing?
Register for your FREE webinar here, and find out how you can get consistently get powerful SEO results and TRIPLE your affiliate income.
Want to Become a PRO Affiliate?
Comprehensive lessons
Niche Grading tool
Step-by-step website building guide
Regular updates


Private Facebook community
Bonus courses
Lifetime course access