Web technology, such as video conference software, has helped businesses scale in ways they never considered possible. Collaboration tools for video conferences and online meetings have been influential in transforming businesses.
If you are looking for a video or audio conferencing solution, you have heard of GoTo Meeting & Webex. They are some of the best-known video conferencing software in the market. 
We have spent months using both tools to determine which offers better features, pricing, and more. This article will discuss this two software to help you choose the best video conferencing for your business.
Quick Summary
Both Webex and GoToMeeting offer screen sharing with video and audio.

Webex has a "Call Me" feature that allows attendees to enter a meeting on their device instead of having to enter a passcode.

GoToMeeting provides overall better video quality than Webex; however, this depends on the participant's bandwidth and hardware.
Webex Vs. GoToMeeting: Product Overview
Webex was created in 1996 under the name ActiveTouch and was bought by Cisco in 2007. Webex is a video conferencing software now part of the more extensive Cisco collaboration suite [1].
GoToMeeting was founded later in 2004 by an enterprise software vendor. GoToMeeting is also a part of the larger Citrix collaboration suite, which includes GoToAssist, GoToWebinar, GoToTraining, and more [2].
Technology is dramatically changing how people work by facilitating 24/7 collaboration with colleagues across multiple time zones, countries, and continents.
– Michael Dell, Founder, Dell
Video And Audio Conferencing
Both Webex and GoTo Meeting offer web-based systems with screen-sharing capabilities to communicate with others via video and audio.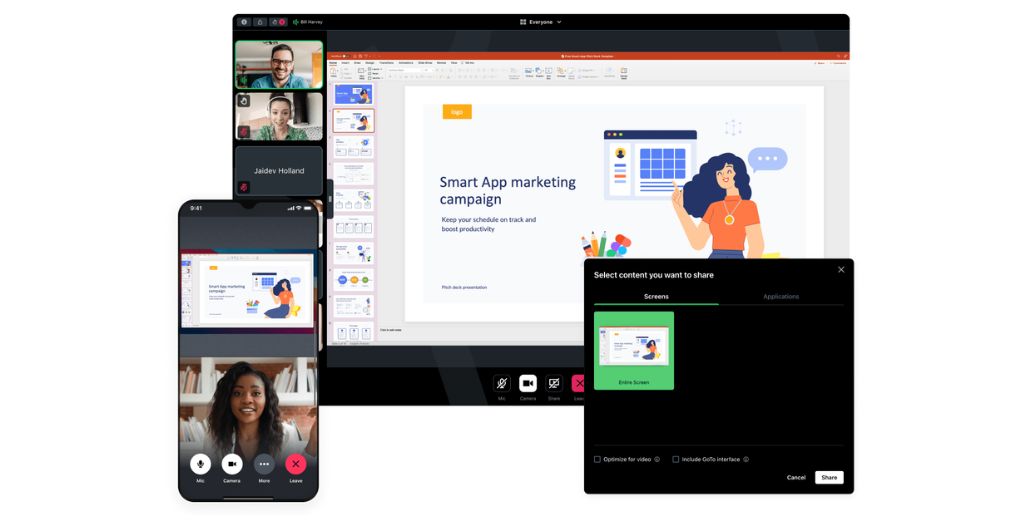 You can create and join meetings on Webex in several ways. You can create your own personal meeting room with a unique URL for Webex events, invite attendees from the web app by entering email addresses, or start a meeting from a program such as Microsoft Outlook for Webex users.
Attendees for Cisco Webex meetings can dial in with VOIP, a toll-free number, or directly from their laptop using Skype, Polycom, or another business messaging application. Webex also has a Call Me feature with specific plans where an attendee can enter the call directly on their device rather than dial in and use a passcode.
For video support, meeting participants can call from their computer or mobile device and decide whether or not to use their camera. The number of attendees allowed varies with their business plans.
GoTo Meeting also allows you to schedule meetings from several locations by using an available web address, scheduling meetings from the web app, or launching from an integrated application. 
GoToMeeting doesn't offer the same interoperability as Webex, so users who want to use the screen-sharing feature to share live videos must install a plugin. GoToMeeting allows you to choose between VOIP, toll-free numbers, or a toll-based number for audio conferences. A meeting participant can join by computer, landline, or mobile device.
GoToMeeting supports six simultaneous video fees while Webex allows seven; however, GoToMeeting provides higher quality at 640 by 480p. However, the video quality will also depend on the bandwidth and hardware of the invited participants. 
Features Comparison
Real-time video and audio aren't all the features that these tools provide. Both tools offer several advanced features to communicate and share information.
Webex
Desktop sharing and selective application sharing 

Markup tools and whiteboard

Meeting recording

Instant messaging and file transfers

Event and webinar hosting
GoToMeeting
Desktop or application sharing

Mouse-sharing and keyboard sharing

Meeting cloud recording

Drawing tools

Instant messaging and file sharing 

Events/webinars
As you can see, the features when you compare Webex vs. GoToMeeting are relatively similar, with a few differences. GoToMeeting allows users to share control of their mouse and keyboard, while Webex allows you to attach downloadable files to a meeting from the web interface.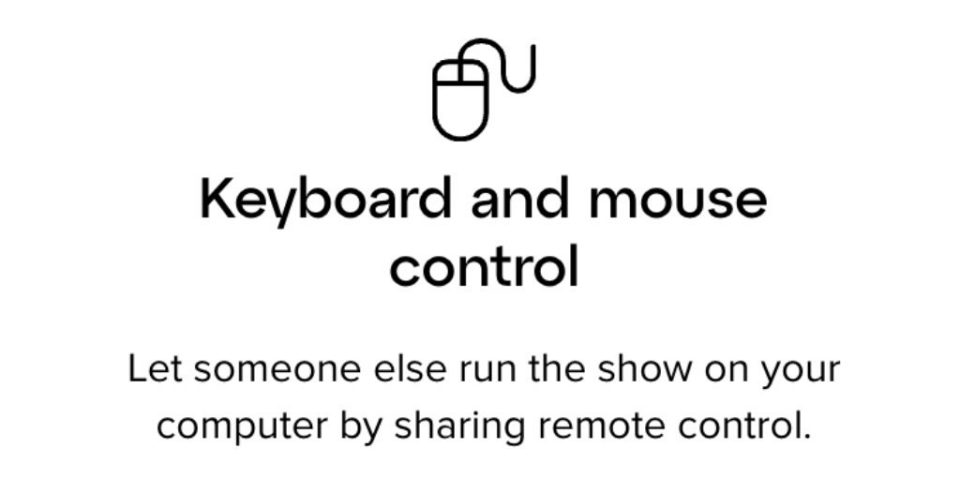 Webex also allows you to upload files so attendees can download them directly. GoToMeeting will allow Youtube to share files, but you can only view them, not download them.
Systems And Pricing
When it comes to pricing, Cisco Webex includes a free option and paid options. All paid options offer the same features but support a different number of meeting participants.
The free version has a 40-minute meeting limit, allows up to 100 participants, an interactive whiteboard, a secure lobby, and more. 
The Meet plan is $14.50 per month per license and includes a meeting length of up to 24 hours, up to 200 participants, live polling and Q&A, the ability to sign one or more co-hosts, and captions in English, French, German, and Spanish. Their enterprise plan is a custom price but must have a minimum of 100 licenses used.
GoToMeeting also offers a free version plus three paid plans. The GoToMeeting free plan includes a meeting limit of 40 minutes, up to three participants, live chat, screen sharing, and more. The Professional plan starts at $12 per month and includes up to 150 participants, and a Business plan for $16 monthly and up to 250 participants. They also offer custom Enterprise pricing plans.
All of GoToMeeting's paid plans offer the Call Me feature, screen sharing, unlimited meetings, secure meetings, 24/7 customer care, mobile cloud recording, and more. GoToMeeting also offers a 14-day free trial.
FAQs
What Is The Main Difference Between Webex And GoToMeeting?
The main difference between Webex and GoToMeeting is that Webex has more features, making it a better option for advanced meetings. GoTo Meeting offers a 14-day free trial, while Webex does not.
Do I Need To Download Anything To Join A Meeting With GoToMeeting?
No, you don't need to download anything to join a meeting with GoToMeeting. This can be beneficial in helping users having trouble installing the app or for those who can't download the software.
Is GoToMeeting HIPAA Compliant?
Yes, GoToMeeting is HIPPA compliant. They provide extra security features that adhere to HIPPA requirements for the healthcare industry. They also offer technical, physical, and administrative safeguards for online meetings.
Is Cisco Webex HIPAA Compliant?
Yes, Cisco Webex is HIPPA compliant. They incorporate administrative and technical safeguards that meet HIPAA standards; however, the entity using Webex needs to ensure it is configured correctly and used in a method that is compliant with HIPAA rules.
Can Webex Be Used For Free?
Yes, Webex can be used for free. Webex offers a free version that includes up to 100 participants, HD video, messaging, an interactive whiteboard, and more.
Can Anyone Go To A Webex Meeting?
Yes, anyone can go to a Webex meeting. You don't need an account to join any meetings you are invited to. You need an email invitation that gives you instructions on how to join the meeting.
Cisco Webex Vs. GoTo Meeting: Which Should You Choose?
Whether you choose Webex or GoTo Meeting depends on your business needs and requirements. Webex is more likely to be helpful to a larger team than GoTo Meeting. GoToMeeting is a better tool for small businesses. Webex also tends to offer more interactive features than GoToMeeting. 
Although both options offer valuable tools for webinar hosting, Demio is the best webinar tool you can find, with a wide range of exceptional features.
Its simple interface allows you to create webinars with ease and host as many people as you want, all at an affordable price. You can also customize your webinars and create different types of virtual events, so if you want to immerse in an outstanding webinar experience, try Demio today.
Our #1 Recommendation: demio
---
References:
https://www.cnet.com/reviews/webex-meeting-center-review/
https://www.cnet.com/reviews/citrix-gotomeeting-2-0-review/
https://pricing.webex.com/
https://www.goto.com/pricing/meeting