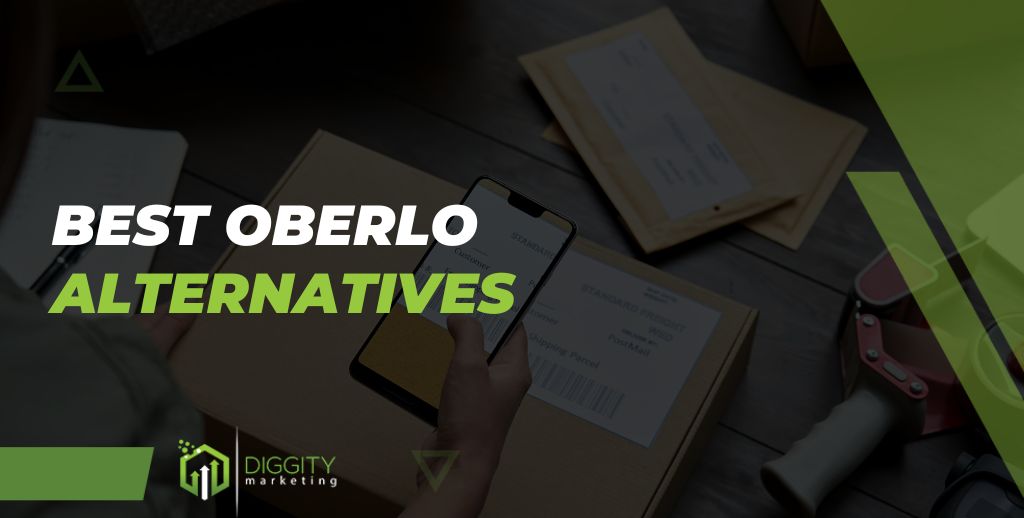 Searching for Oberlo alternatives among the multiple available options can be challenging. As an SEO expert, I have seen many people struggling with finding an alternative to Oberlo and I decided to do a deep dive on this topic.
Drawing upon my in-depth knowledge and months of exploring dropshipping platforms, I have thoroughly evaluated various alternatives to Oberlo.
After dedicated research and testing, I will guide you through my top selection of the best Oberlo alternatives on the market.
1. Dropship.me
Dropship.me is one of the popular dropshipping tools that easily integrates with WooCommerce and WordPress.
It has a straightforward interface that allows you to find products by either keyword search or category.
You can easily and quickly import selected AliExpress products with product image galleries, edited titles, and descriptions into your WordPress site with a few clicks.
This means that each product is pre-optimized in terms of CRO and SEO, allowing you to locate and import high-quality products from the best sellers quickly.
It has more than 50,000+ handpicked products from AliExpress reputable sellers, a free WordPress plugin, provides Done-For-You Dropshipping stores, and requires suppliers to pass 23 criteria to be in the DropshipMe database.
One of the things that stood out about Dropship.me is that it has a recommended pricing markup formula that is automatically applied to products; therefore, pricing was not my primary concern.
Pros
Easy to install WordPress plugin

Professionally edited product information

Import product ratings and reviews

Ready-made products to import
Cons
AliDropship is needed
Our Rating
Features: 4.9
Pricing: 4.8
Customer Support: 4.9
User-friendliness: 4.9
---
2. Spocket 
Spocket is another potent Oberlo alternative that lets you sell the best products from multiple dropshipping suppliers around the world.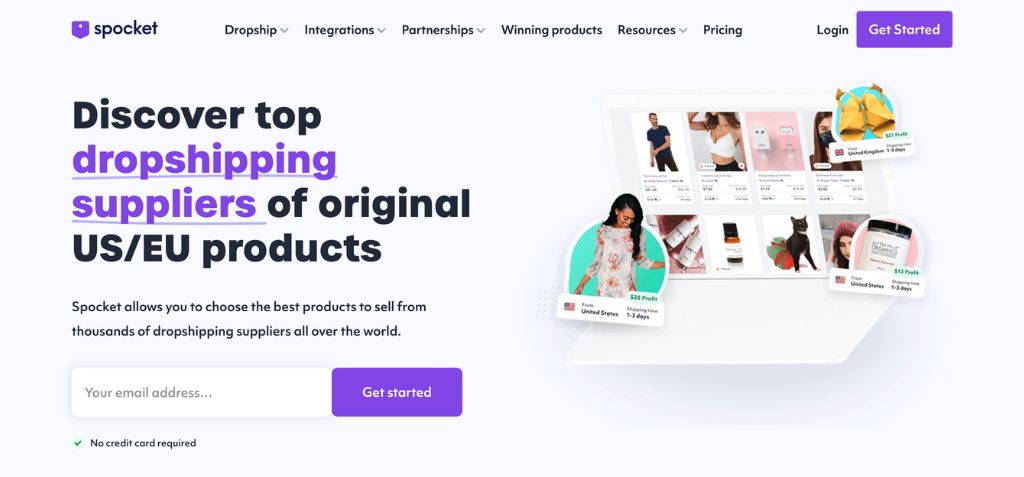 It integrates with various e-commerce platforms, including Shopify, Wix, BigCommerce, and WooCommerce.
This dropshipping app allows you to order samples with a few clicks and test them yourself.
It allows you to boost your e-commerce stores' performance by offering branded invoicing to help you create your brand identity and offer a 30% discount on dropshipping products.
Also, it offers automatic order processing, which prevents you from manually sending orders from your online store to the appropriate Spocket supplier.
Spocket automatically updates inventory levels; therefore, you are not caught up selling discontinued or sold-out products.
I found it impressive that when I add products to my online store through Spocket, they automatically convert to my Shopify store's currency.
Pros
Easily integrates with e-commerce platforms

Customization options

Allows you to request product samples
Cons
Telephone and chat support is only available for paid plans
Our Rating
Features: 4.8
Pricing: 4.7
Customer Support: 4.8
User-friendliness: 4.8
---
3. Dropified
Dropified is a key dropshipping app that allows to import and publish all product titles, descriptions, and images with one click. You can quickly source products from AliExpress, Alibaba, eBay, and other platforms.
This Oberlo alternative provides its users with two options: dropship through product sourcing or private label on demand. The second option is more favorable for entrepreneurs who are looking to dropship.
Other Dropified features include automatic order placement, a profit dashboard to track profits, an AliExtractor research tool to find profitable products, product reviews from AliExpress to increase conversion and credibility, and 60-day e-commerce training and responsive support.
I liked that you could map multiple suppliers to one product and assign each to a different variant, allowing a diversified audience. It also alerts you every time a new product is available.
Pros
Easy integration to Shopify or WooCommerce store

Automated order fulfillment

Wide product import options
Cons
Unfriendly user interface
Our Rating
Features: 4.7
Pricing: 4.6
Customer Support: 4.6
User-friendliness: 4.5
---
4. Beeketing
Beeketing is a potent WooCommerce extension to boost your sales.
This dropshipping automation software is enabled by AI, which helps you to track customers' behavior, know what they are interested in, and send follow-up emails to increase engagement.
It integrates with various third-party systems, including Weebly, BigCommerce, and WooCommerce.
It offers a sales countdown timer to create urgency, customizable product templates, automated cross-selling and upselling with product bundles, and a loyalty program allowing users to enjoy discounts.
It has a sales pop extension that is really helpful when boosting social proof.
Pros
Upsell and cross-sell tools 

Effective automated email campaigns

Discounts, gifts, and free shipping codes
Cons
Expensive
Our Rating
Features: 4.6
Pricing: 4.5
Customer Support: 4.5
User-friendliness: 4.4
---
5. WooDropship
WooDropship is a great WordPress plugin that allows you to easily add unlimited AliExpress products to your online stores.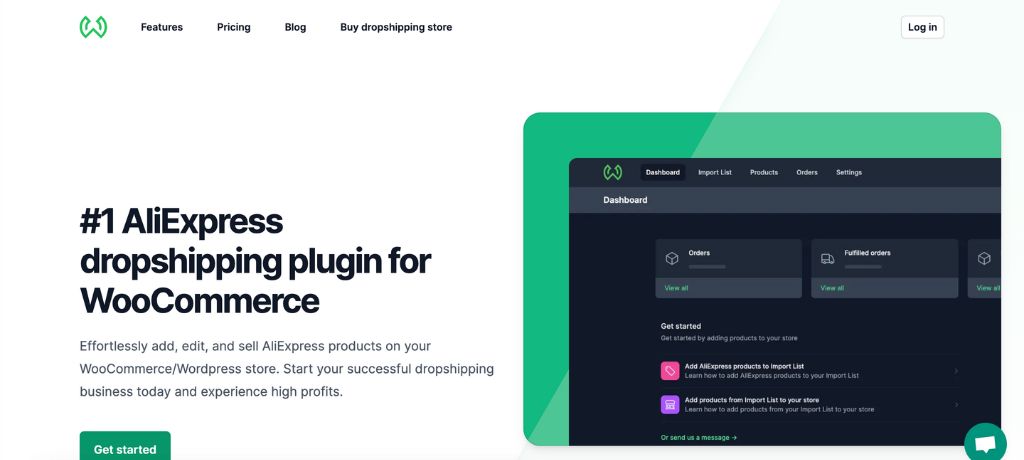 It offers two options: you create a WooCommerce dropshipping store, or you let WooDropship create one for you.
This Oberlo alternative integrates with the Aliexpress inventory allowing you to know when a product is out of stock and when the prices change.
Additionally, it allows you to edit titles and descriptions of your products, add images, and set the pricing.
WooDropship has an inbuilt image editor that helps you remove any watermarks from your images so that they can align with your brand requirements.
It also has a Chrome extension that can be utilized when importing products to your store. It decides your currency and shipping method.
This Chrome extension is impressive since it saves time, and you do not have to use the web app repeatedly.
There is nothing really cool or fancy about the products that I launch but it's just because I learned the way to properly market them, that's why they work.
– Vlad Gasan, Lead Product Manager at Dropbox
Pros
Simple image editor

Easy inventory management

Customized invoices
Cons
Does not come as a WordPress plugin
Our Rating
Features: 4.5
Pricing: 4.4
Customer Support: 4.5
User-friendliness: 4.3
---
6. Spreadr
Spreadr is one of the best Oberlo alternatives, allowing you to dropship Amazon products to your Shopify store with one click. It also integrates with other e-commerce stores, including BigCommerce and WooCommerce.
You can easily edit the title and description of your import products. It also auto-updates the availability of products and their prices on Amazon. 
You will earn a 10% commission on every purchase when you sign up for the Amazon Affiliate Program with Spreadr. It allows you to track orders and commissions on your dashboard.
However, there is no guidance on affiliate rules violation; therefore, I found this very confusing, and you can easily miss out on the commission.
Pros
Customizable product titles and descriptions

Easy single-click import of Amazon products

Responsive customer service
Cons
No free plan
Our Rating
Features: 4.4
Pricing: 4.2
Customer Support: 4.4
User-friendliness: 4.2
---
7. Importify
Importify is among the user-friendly Oberlo alternatives that allow entrepreneurs to import the best-selling products to their e-commerce store.
It is compatible with multiple e-commerce platforms such as Wix, Shopify, and WooCommerce. It lets you import from several suppliers from Aliexpress, Amazon, Alibaba, Etsy, Gearbest, and Walmart, among others. 
It offers an in-built editor that lets you edit the title, tags, category variants, and product descriptions.
It also comes with order automation with just a single click, from changing product vendors when the stock runs out to populating customer addresses on your checkout page.
The research tools enable you to find the best products at the best price.
However, it is not fully automated. Therefore, you will be required to place an order with AliExpress suppliers each time, which can be time-consuming.
Pros
Easy-to-use interface 

Allows custom product listing

Quick customer support
Cons
Automation features only for the highest-priced plan 
Our Rating
Features: 4.2
Pricing: 4.1
Customer Support: 4.3
User-friendliness: 4.0
---
8. Dsers
Dsers is one of the AliExpress dropshipping apps that allows entrepreneurs to manage their products in one place, automate orders, and track shipments.
Dsers integrates with Shopify, Wix, and WooCommerce and comes with a Chrome extension that facilitates importing products from AliExpress into your store.
It is the official dropshipping partner of AliExpress. Therefore, they developed the bulk order feature early, and users can make huge orders in seconds.
This platform has a great PayPal order tracking service. You can automatically sync the tracking information on your PayPal.
Pros
PayPal order tracking service

Official partner of AliExpress

Affordable pricing
Cons
Order processing can't be handled on a mobile phone
Our Rating
Features: 4.1
Pricing: 4.0
Customer Support: 4.11
User-friendliness: 3.8
---
9. AutoDS
AutoDS is a dropshipping app that was started by dropshippers in 2016. It is extremely user-friendly and takes just a few clicks to get started.
It has a product research tool that allows you to find trending and best-selling products. Also, it has automated order fulfillment, thus, you don't have to spend much time manually fulfilling orders.
Besides, this Oberlo alternative offers automatic tracking number updates to your customers once the tracking information is available from your dropshipping suppliers.
Other features include the fulfilled by AutoDS option, which helps to set the maximum order price, Hipshipper support, and one-click returns, among others.
However, you have to create a paid account to see what products they were offering. Also, the auto finder keeps repeating items, which is time-consuming.
Pros
Excellent product research tool

User friendly

Monitors prices from different sites
Cons
Expensive
Our Rating
Features: 3.9
Pricing: 3.7
Customer Support: 4.0
User-friendliness: 3.8
---
10. SaleHoo
SaleHoo comes with research tools and automation features that save time.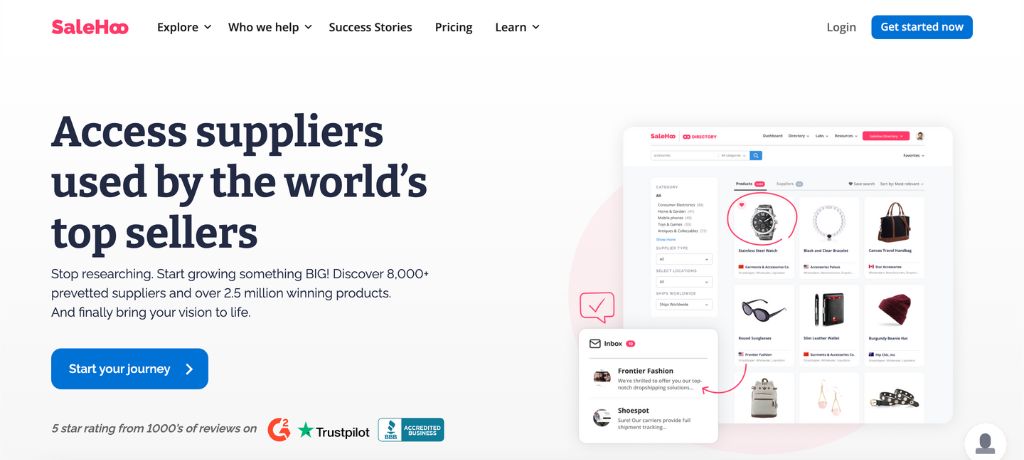 It has a user-friendly dashboard to navigate and spot what you need easily. It integrates with Shopify with a single click.
Its market-guided research tool allows you to narrow down the products that your customers need by providing information such as competition rates, trends, sale rates, and average selling prices to allow you to make informed choices.
However, their supplier network is not too reliable. SaleHoo has trouble with various outdated suppliers that do not update their product listings.
Also, it will not allow you to check its suppliers or products before joining. This is a major drawback since you can not tell the availability of products before committing.
Pros
Excellent market research

Great customer service

User friendly
Cons
Only works through Shopify
Our Rating
Features: 3.7
Pricing: 3.6
Customer Support: 3.8
User-friendliness: 3.4
---
Buyer's Guide
When searching for the best Oberlo alternatives, you need to consider various factors to determine whether a platform is a good choice for you or not.

1. Integrations
You need to evaluate if the alternative tool integrates well with your e-commerce platform.
Look out for alternatives that not only integrate with Shopify but also WordPress and WooCommerce, because even if you are just using one of them at the moment, you may want to grow your business.
2. Customer Service
Customer service is another key factor you should look out for when running an e-commerce store. You need a dropshipping tool with reliable support and fast responsiveness.
3. Product Research Tools
A dropshipping business heavily relies on the quality of the products you choose to sell. The right products will yield better returns.
Analyze product research tools when looking for an Oberlo alternative to help choose the best and most trending products and analyze user behavior.
4. Product Information Management
You need to prioritize product information management when looking for an alternative. You need dropshipping solutions that let you edit your supplier's title and descriptions of the product, as well as images to match your brand requirements. 
5. Automated Pricing
When running a dropshipping business, you need the freedom to set prices for the products you sell. Evaluate pricing automation features in dropshipping apps to help you create pricing markup rules and be able to update prices across various marketplaces.
FAQs
Can I Dropship Without Using Oberlo?
Yes, you can dropship without using Oberlo. You can use various Oberlo alternatives depending on the products you want to sell that integrate with Shopify.
They support import from multiple suppliers with one-click import, product monitor, and auto order, among other features. 
Why Use a Dropshipping Automation Tool?
You should use a dropshipping automation tool to match your store to the right suppliers, manage inventory, handle bulk orders, automate orders, and help you figure out competitor, marketing, and price analytics.
Which Oberlo Alternative Should You Choose?
While there are multiple excellent alternatives to Oberlo, after thorough testing, I highly recommend Dropship.me as the top choice. 
Dropship.me offers the best inventory for your dropshipping store. It provides 50k+ products from AliExpress with a proven track record of trustworthy suppliers, sales, and high ratings. 
Its straightforward interface makes it easy to find products by keyword search or category. The platform boosts efficiency with the already customized product descriptions, titles, images, and variations.
If you are looking for a reliable Oberlo alternative, then I believe you could give a shot to Dropship.me.