What is the difference between affiliate and referral marketing?
Both marketing options rely on incentives to generate revenue.
However, their underlying strategies and techniques vary considerably.
Referral and affiliate marketing programs are similar as they both utilize incentives to create new customer revenue.
But each strategy has nuances that depend on digital marketing tactics, consumer motivations, and overall product or market fit.
Since I have a lot of experience in both, I'll gladly go through all of these nuances with you.
Affiliate Marketing Meaning
Affiliate marketing is a marketing technique that rewards actual bloggers, brand ambassadors, influencers, and other partners (called affiliates) for any new customers they bring in.
Affiliate Program rewards are often cash-based.
How Does Affiliate Marketing Work?
Affiliate marketing revolves around a business relationship between an affiliate and a brand.
The affiliate is paid to promote the brand.
They are then rewarded for each customer or visitor gained through their marketing efforts. Affiliate marketing success depends on locating skilled affiliates who can reach and promote your brand to your target audience.
Customers will not know the affiliate advocates personally, which significantly explains the distinction between affiliate marketing and referral marketing.
Referral Marketing Meaning
Referral marketing is a marketing technique that offers existing customers and users an incentive each time they invite someone to make a purchase.
The incentives are usually a one-time discount, service upgrade, or gift card.
The primary participant in referral marketing is the customer (referrer).
How Does Referral Marketing Work?
Referral marketing focuses on the shared relationship between your customers, their associates or friends, and your brand.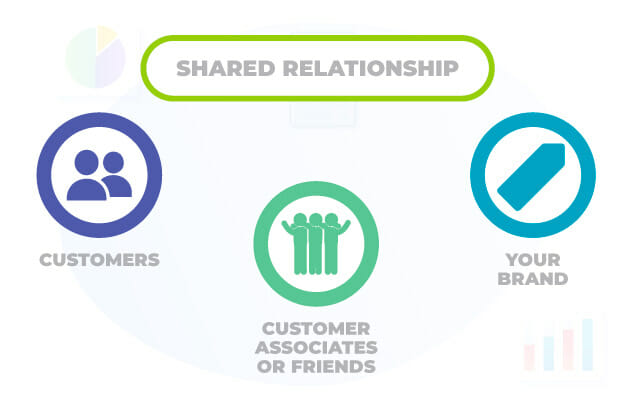 Current customers exclusively promote your brand to new users to receive rewards for themselves and their friends. A successful referral program prompts customers to share your brand with their associates, friends, and family directly and naturally.
Encouraging happy clients to become active brand ambassadors is easy. Hence, referral marketing sets your business up for sales and conversions while recompensing users for their participation.
Explore The Similarities And Differences Between Affiliate Marketing And Referral Marketing
At a glance, referral and affiliate marketing are similar strategies. Both models have a lot in common: the power of word-of-mouth, referrals, and bonuses.
Thus, you can easily get confused when selecting the ideal business model for your brand. So, how are they similar?
How are they different?
How Are Affiliate Programs And Referral Programs Similar?
Affiliate and referral programs are similar in various ways:
Reliance On social currency
Both affiliate and referral programs are based on inviting people to become new customers. It naturally involves risk, whether the invitation comes from an affiliate or an existing customer.
What happens if the referred customer does not like the service/product?
If things do not flow smoothly, a certain amount of social currency is lost from the referring party.
In an affiliate program, visitors click on the affiliate link placed on a public platform based on the trust and reputation of the affiliate.
In a referral program, customers refer their friends, family, and business associates to try out a product or service. This can prove highly successful since the potential customer knows that the referrer has tried your product or service and benefitted.
Both Are Repeatable Strategies
Referral and affiliate programs strive to achieve consistent growth. They depend on other parties to generate word-of-mouth, advocate their business, and help acquire new leads and sales.
Referral programs build long-term, meaningful relationships with customers, invite them to share with friends, and reward them for their efforts. On the other hand, affiliate programs incorporate their links in engaging content such as social media posts or high-traffic blogs.
How Are Affiliate Programs And Referral Programs Different?
While both programs aim to generate sales and conversions, there are various ways affiliate programs are different from referral programs.
The Person Recommending Customers
An affiliate can be anyone interested in earning money by promoting a brand.
People sign up to join the affiliate program or are directly contacted by the company. Once approved, an affiliate gets their trackable affiliate link and includes it on their channels.
On the other hand, referral programs typically target brand advocates or current happy customers. It is a kind of word-of-mouth marketing that provides customers with a unique referral link and rewards them for every successful referral or recommendation.
The Relationship With The Potential Client
An affiliate program has no direct relationship between the affiliate and the customer. The new user does not need to know the affiliate personally.
In a referral program, there is an existing relationship between the referrer and the customer. Successful referrals are often friends, family, or business associates.
The existing relationship and trust between both parties often lead to a successful referral.
How The Program Is Shared
The strategy for sharing the reward programs differs. An affiliate program is easily shared across general networks, social media, newsletters, or the affiliate marketer's website.
Conversely, a referral program has a more specific, intentional approach. Most messages in a referral program are sent to direct contacts through one-to-one communication like social media messages, text, email or word of mouth.
The Types Of Rewards
Rewards vary significantly between an affiliate and a referral program. Many affiliate programs offer cash-based incentives, such as a percentage of each sale made or a flat fee. Referral programs often offer discounts, cash back, gift cards, store credit, or coupons as an incentive.
The CLV (Customer Lifetime Value)
The customer lifetime value points out what you will potentially earn from a client throughout their relationship with your business.
Referral programs work well with various products and services. Since they are based on loyal customers and trust, referral programs work well for products/services with a higher CLV.
On the other hand, affiliate programs often work well for businesses with a lower CLV. Affiliate programs pay for each new client; hence the affiliate partners focus more on quantity and scale.
Pros And Cons Of Referral Marketing And Affiliate Marketing
Referral and affiliate programs rely on incentives to increase revenue organically.
Both strategies aim to attract as many customers as possible. Nonetheless, there are merits and demerits of using either referral or affiliate programs.
Advantages Of Using An Affiliate Program
Low Startup Costs 
Starting an affiliate marketing program is very simple and easy.
There are plenty of affiliate networks on which you can promote your product. The beauty of affiliate marketing is that you only have to part with your money after a sale.
Little Expertise Needed
These days it's relatively simple to start an affiliate program. Many plugins and affiliate networks take care of the main technical setup and walk you through the setup process.
Increased Reached
You aren't limited to your pool of existing customers. You can have as many or as few affiliates as you would like, so long as you put in the work to connect with them. This means an unlimited opportunity for your business to attract more customers continuously.
Advantages Of Referral Programs
Build trust
Customers believe referrers.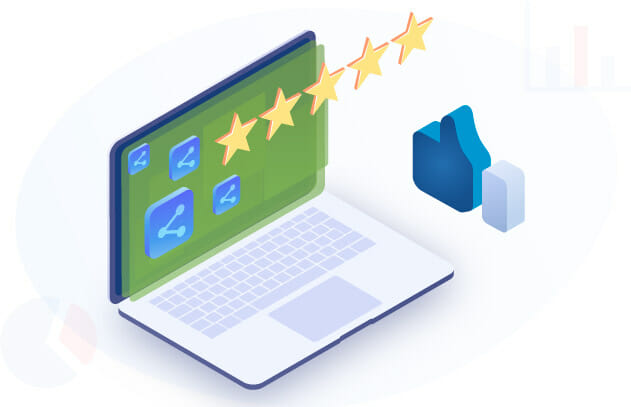 You are most likely to trust your favorite blogger's reviews or friend's recommendations than a random stranger.
Save Costs
Referral marketing is based on word-of-mouth; thus, marketing costs are exponentially reduced. Why? Searching for new clients is challenging and costly, especially in a niche market. Nevertheless, a significant part of your marketing efforts toward existing customers is less expensive.
Multiple Loyal Customers
Loyal customers are content and satisfied clients devoted to a particular company – emotionally connected to the brand.
Referred customers stay longer with the brand and remain loyal to its products and services.
Creating satisfied clients is an effective strategy when running a referral program.
Disadvantages Of Affiliate Programs
Can Be Competitive
An affiliate program is easy to start, can have little cost and high profitability.
However, due to its ease of setting up, any business can start its own referral program and win the market share.
Depending on your niche, it is difficult to get your referral program to stand out enough for affiliate business owners to find and promote your product.
Limited Control Over Your Marketing Message
If you have people promoting your product in exchange for a commission, often things can get out of hand.
It's important to include how you want your product and services promoted to an audience. Make it clear to affiliates what you want and will not tolerate.
This will ensure that your product promotion aligns with your core marketing message.
Disadvantages Of Using A Referral Program
Time-intensive strategy
It takes a lot of time for a brand's reputation to spread naturally.
Hence, businesses nowadays aim to overcome this problem with additional incentives such as free monthly subscriptions, bonuses, and points.
Limited In Scale
If you have a small customer base, referral marketing may not make a massive difference to your bottom line.
If this is the case, other marketing strategies would be more effective in driving new customers to your company.
Frequently Asked Questions (FAQs)
What Is The Difference Between Affiliate Marketing And Referral Marketing?
Affiliate marketing is when an affiliate business sends people to service or product in exchange for a commission.
Referral marketing is when an existing client refers a new customer. Sometimes this is in exchange for discounts or freebies.
Which Is The Better Marketing Strategy?
Considering the perks and drawbacks of both marketing strategies, identifying the best marketing program depends on the needs and goals you want to accomplish.
Affiliate marketing is good if you want to scale your incoming sales. Referral marketing is good if you wish to increase the quality of new business.
What Are The Different Types Of Referrals?
You can use various referrals for your business; email referrals, direct referrals, online reviews, social recommendations, word-of-mouth referrals, and incentive-based referrals.
What Is The Difference Between Referral And Affiliate In Google Analytics?
A referral program targets existing customers, offering each a unique link and compensation for successful referrals.
On the other hand, an affiliate targets influencers, bloggers, and publishers with the skills and interest to drive revenue through affiliate marketing.
Learn Affiliate Marketing: A Beginners Step By Step Guide From Diggity Marketing
With digital marketing taking over the advertisement industry, selecting the ideal marketing technique for your business can be challenging.
Affiliate and referral programs are the perfect means of growing your existing customer base. Both strategies are based on the word-of-mouth concept.
However, each program has the potential to help your business grow in different ways.
If you are interested in affiliate marketing, read our beginner's guide here.