If you've ever heard the term "SEO" thrown around in marketing circles, you might be wondering what it means and why it's important. SEO is for "search engine optimization," and it's a set of practices designed to improve the visibility and ranking of your website on search engines like Google.
Drawing from my years of experience in the digital marketing field, I can attest to the importance of the term "SEO. In today's digital age, SEO is an essential component of any successful online marketing strategy.
I have seen firsthand how SEO can significantly impact a business's online presence, driving more traffic and boosting conversions.
If you want to learn about SEO strategies and tactics and how to use them to give your website a competitive edge, this guide will give you all the information you need.
What Is SEO, Exactly?
SEO is a series of best practices that have arisen from our attempts to understand how a search engine's algorithm ranks websites in the all-important SERP. The resulting Search Engine Optimization tactics have been guessed, discussed, debated, roasted, tested, and determined to be true by SEO experts.
SEO techniques are structured within two major categories:
On-page SEO optimization: on page seo involves optimizing content, HTML tags and meta tags with relevant keywords so that search engines can index and ensure ranking on search engine results pages.
Off-page SEO ranking factors: optimization of external links.
Following best-practice guidelines will help your website earn more organic traffic by boosting ranking in SERP positions.
A study found that 75% of internet users never go past the first page of search results. So, if your website isn't in those first-page search results, you'll have limited visibility with your target audience.
A common internet joke that underlines the importance of ranking highly in SERPs is:
If you need to hide a dead body, place it on the second page of Google's search results.
With a majority of people's queries starting with an online search, using SEO marketing techniques to boost rankings is a perfect
SEO strategy
that ensures search engines rank websites.
Why Is SEO Important?
SEO is important because it provides a sustainable way to continually market your website. When implemented correctly with proper SEO KPIs, SEO strategies can continue to pay dividends over a long period of time.

Paid search advertising can help drive organic traffic. However, 53% of traffic for websites is driven by search engines like Google.
The traffic boost from pay-per-click ads can be helpful but it's only temporary. When you discontinue PPC campaigns or, you instantly start losing organic traffic.
If you create great content that contains the right keywords and complies with SEO factors, your visitor traffic is likely to snowball over time.
How Does SEO Work?
Search engines work by bringing information to an internet user's fingertips. They ensure that you're always a few clicks away from any information you could be looking for online.
The higher the quality of search results on search engines, the more likely you are to use the search engine again. SEO techniques help search engines understand what the content is about in order to provide high quality and relevant results for their users.
The very goal of SEO is to get your website showing at the top of the organic search results.
Internet users don't pay for search results. But advertisers pay the likes of Google and Bing for pay-per-click ads. PPC ads are usually placed alongside organic search results. You can distinguish them from organic results through the "Ad" tag found next to their URLs.
The bigger the number of people using search engines, the more advertisers they're able to attract.
The Technical Explanation
Now you might look at other search engines and wonder, "How do they work?"
Search engines have spiders… but not the creepy, crawly kind!
These are bots that help web crawlers collect information from websites all over the internet.
The bots collect information (aka metadata) such as:

Keywords
Page speed
Title tags
Backlinks
Social media signals
Internal linking
And many more.
With this information, they can determine when to present a searcher with a page from any website.
SEO helps you to optimize the elements that these robotic spiders use to rank websites.
There are two general approaches to SEO: white hat vs black hat SEO strategy.
White Hat SEO
White hat SEO strategy includes legitimate techniques designed to benefit internet users.
White hat SEO aligns with a search engine's terms of service to give users the information they're looking for.
This is done in a variety of ways that include:

Creating high-quality content with the right keyword research.
Making it easier for users to navigate your information.
Legitimate backlinking and so on.
These make white hat SEO the most effective and sustainable way to optimize your website.
Black Hat SEO
Some experts exploit crawlers by using tactics that give websites inauthentic authority. These practices violate terms of service and they're known as black hat SEO.
They include:

Hidden text and links
Keyword stuffing
Link schemes
Sneaky redirects
Content automation
Such tactics are aimed at drawing organic traffic to a website without necessarily providing value to users.
In the past, black hat techniques could elevate your business in the SERP. But as Google's – and to some extent, Bing's – crawlers have become more sophisticated, black hat SEO has become riskier.
Today, websites can get penalized for using black hat SEO strategy.
SEO for Beginners: The Fundamentals
Search engine optimization is a complex process that involves many interrelated and overlapping ideas.
But several fundamental S.E.O strategies can work for any website.

SEO strategies can be placed into three categories: on-site, off-site, and technical.
On-site SEO
This includes all strategies that happen on your website.
You have 100% control of on-site SEO. Tactics to improve on-site SEO include:

Publishing high-quality content with topic relevance
Using relevant keywords
Optimizing page titles and meta descriptions
Headings and content formatting
Building internal links
URL search engine optimization seo
Making your site mobile-friendly
To fully take advantage of on-site SEO, you will need expert SEO copywriting and marketing, and a web developer.
Off-site SEO
This refers to all activities that happen away from a website to raise its search engine ranking.
Off-site SEO includes people sharing your content on social media and other web properties linking to yours.
Although off-site SEO is more difficult to control, it can be done. Some techniques to boost off-site SEO include:

Creating quality content that others will want to share or link to.
Building quality links with a reputable supplier such as Authority Builders.
Harnessing the power of social media to boost SEO.
Guest posting on relevant online publications.
Technical SEO
This is the part of on-site SEO that ensures that a website meets the technical search engine requirements.
For users to find your content, search engine bots have to be able to find, crawl, render and index your web pages.
Search engine robots evaluate websites for a variety of factors.
These factors include the user's experience – such as how fast a page loads. Other aspects, such as title tags, help the robot understand what the content is about in order to rank it.
For your site to be fully optimized for technical SEO, it should meet requirements such as:

Free of duplicate content
Have secure (https) web pages
Mobile optimized
Fast loading
And so on…
5 SEO Strategies to Get Started
You may be wondering: where do I get started with SEO?
Here are some of the most effective techniques for optimization success:
Prioritize Quality Content
As Bill Gates predicted in 1996, the internet has become a marketplace for content.

"Content marketing is the only marketing left," says Seth Godin.
The content on your site is one of the most significant factors search engines use for ranking.
But all content is not good content. Today's sophisticated search engine bots evaluate your site's content based on a variety of signals including:

Keyword distribution
Topic
Length
Links (and their anchor text)
Age
There are well over one billion active websites on the world wide web. Make sure your site stands out by meeting as many of the above parameters as possible.
It is advisable to use a tool like Surfer SEO to get a quick google analytics of the ideal keywords for your articles.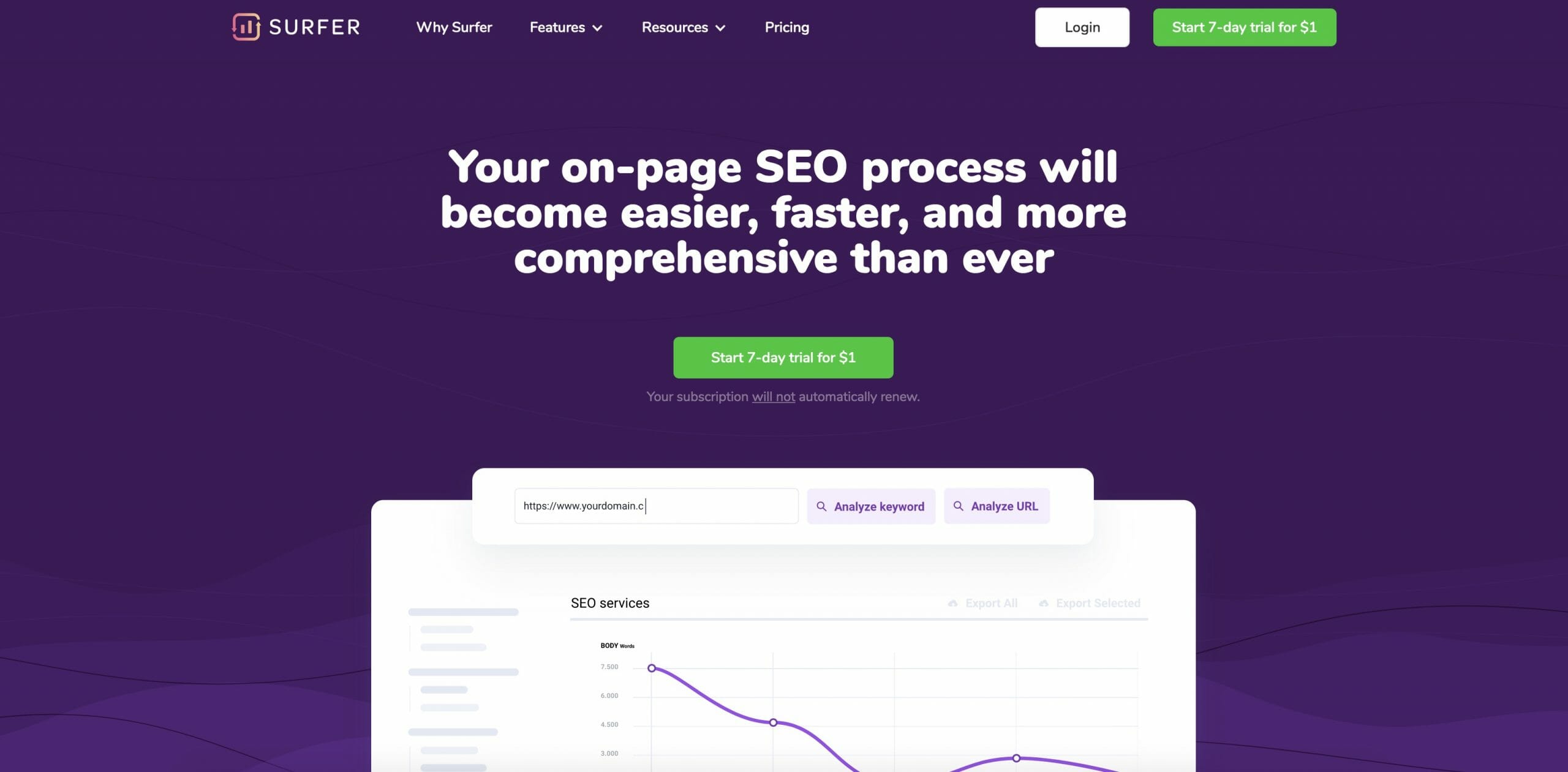 Use TF*IDF tools to determine the topics your users expect to be covered. TF*IDF tools also help you determine the kind of prominence to dedicate to each subject.
Try to match the user intent as closely as possible.
Make Your Site Mobile-Friendly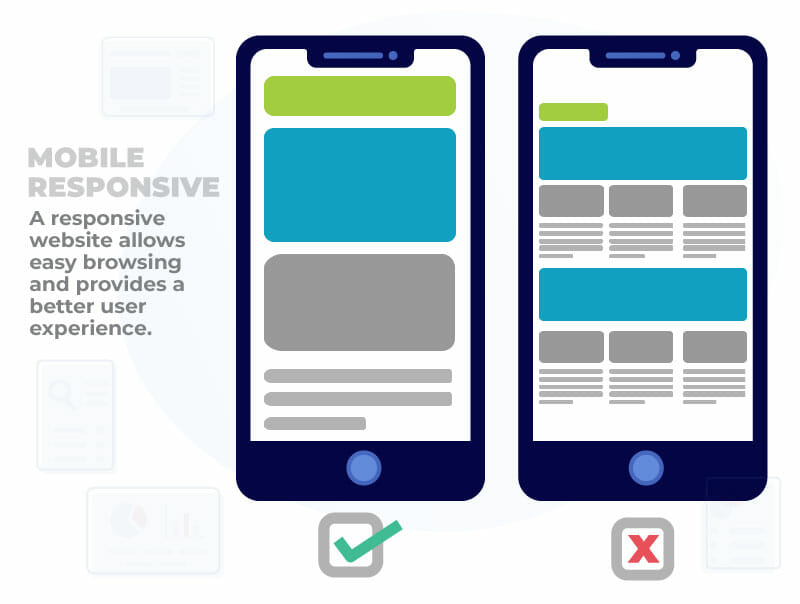 Did you know that mobile accounts for approximately half of the worldwide web traffic?
Crawlers also rank your site on how mobile-friendly it is.
In 2017, Google warned that:
Starting today, pages where content is not easily accessible to a user on the transition from the mobile search results may not rank as high.
If you haven't optimized your website for mobile usage, you are missing out.
Fortunately, Google provides a guideline about appropriate content for mobile users.
Some of the best practices for mobile optimization include:

Ensuring that Googlebot can crawl your mobile content. For example, use the same URLs and meta robot tags on the mobile and desktop sites.
Making sure that the content on your mobile site is the same as that on your desktop version. Having less or different content available to mobile users can lead to traffic loss.
Checking your structured data to make sure it's present and similar on both versions of your site.
Ensuring that pop-ups don't appear on the mobile version of your site.
Providing high-quality visual content in the supported formats. Make sure that your URLs don't change every time an image loads. Also, use descriptive alt text for your images.
Using supported formats for videos and putting them in supported tags.
If you put in the work, making your website mobile-friendly is something that will significantly improve your SEO ranking.

Google has released a test app where you can check how mobile-friendly your website is.
Set up Social Media Profiles
While it might not directly influence SEO rankings, social media helps drive traffic to your site.
Many people will find your content through SERPs, but others will only find it when shared on social media.
They may discover your content when you share it on your social media pages or when it's shared by others.
Social media profiles and content are also included in search results, often among the top listings. This helps boost brand visibility. Simultaneously, this also pushes negative content about your brand down the SERPs.
It's important to note that branded social media profiles for a website, help build your business' credibility with search engines. As Google crawls social platforms, links to your website from your social account are considered credible backlinks.
A few tips on to using social media profiles to influence search engine optimization rankings:

Link your social profiles to and from your website.
Update your social profiles regularly with high-quality content.
Leverage social media hashtags to attract users to your content.
Set up Citation Listings
Citations are online mentions of a business.
A citation includes the business name, sometimes by itself, but often with the business telephone number and address. Sometimes, citations include an HTML link.
Citations are especially helpful in boosting your site in local SEO rankings. Bear in mind that 82% of smartphone shoppers include "near me" in their searches.
But citations aren't just for local SEO. They also boost general SEO as they help build your business' credibility with search engines.
There are different citation websites where you can have your business listed. The most important ones include:

To be listed in as many directories as possible, consider hiring SEO Butler to set up your citations for you.
Build Quality Links
Links are a very important part of SEO.
A website without links is not going to be ranked highly by search engines like Google.
When building links, you want to ensure that your backlinks profile has a combination of:
Relevance – Easiest to get and obtained from the topic of your content and its anchor text.
Trust – Harder to get with its level depending on 'distance' from seed sites.
Power – A measure of how many links your links have.
Here's what we mean by the need to have these three things:
Link building is not a simple task.
Most links come from content you create for other sites and their audiences.
You might have to conduct email outreach to potential partners. To make your work easier, consider buying links from a trusted supplier.
What to Do Next
SEO is an important marketing strategy in today's world. And, you now have solid tactics to give you a head start in building SEO for your website.
To learn more, visit The Affiliate Lab. This blueprint resource hub is for anyone who wants to learn SEO and digital marketing strategy.
The Affiliate Lab will teach you about ranking, earning, and selling affiliate websites. Learn how your site can be worth much more than you think through the right SEO techniques.
Frequently Asks Questions (FAQ)
What does SEO stand for in business?
In business, SEO stands for search engine optimization. This is a collection of strategies and tactics that boost the quantity and quality of traffic to a website through organic search results.
What does SEO mean in web design?
In web design, SEO stands for the changes that you make to your website in order to help it appear in SERPs.
What does SEO stand for in marketing?
In marketing, SEO stands for a digital strategy to help websites boost their ranking in organic search engine results.
In social media, SEO is a complementary strategy alongside a social page's marketing and advertising approaches. You can use it to direct your followers to your site, thus driving sales and building awareness.
What does SERP stand for in SEO?
SERP stands for Search Engine Result Pages in SEO.
Ready to implement some SEO strategies?
SEO is a critical component of any successful digital marketing strategy. By improving your website's visibility and ranking on search engines, you can attract more traffic, generate more leads, and ultimately increase your revenue.
While SEO can be complex and ever-changing, it's essential to stay up-to-date with the latest best practices and techniques to ensure that your website remains competitive in today's digital age.
Remember, SEO is not a one-time fix, but an ongoing process that requires dedication, persistence, and a willingness to adapt to changes in the digital landscape.