This year has been a turbulent one for SEO. Many updates by search engines, both announced and unannounced, have hit website owners in a short amount of time.
You may be asking: What works, now? What's the safest way to invest your marketing dollar for both short-term and long-term growth of your website?
I've over 10 years of experience in the SEO space with many websites in different niches. I've tried many different SEO techniques. Some drove very good results, while others let's say that I'd never do them again. Based on my experience, I can say that the best and safest SEO strategy is what's called white hat SEO.
In this article, we will explore the contemporary definition of white hat SEO, understand its significance, and uncover the nine most crucial white hat SEO techniques that will remain relevant now and in the future.
Quick Summary
White hat SEO refers to strategies that adhere to search engine rules by focusing on providing value to users and prioritizing long-term results.
White hat SEO techniques are less risky and provide more value over the long term.
Some effective white hat SEO techniques include creating quality content that match the search intent, optimize the pages for mobiles, and building quality backlinks.
What is White Hat SEO?
White hat SEO is a term that covers all the techniques that operate in good faith with the rules and expectations of major search engines and their users. If you're not trying to trick, undermine or outsmart the search engine ranking algorithm, what you're doing is probably white hat SEO.
This hasn't always been the preferred way to do things. In the early, wilder days of search engine optimization and affiliate digital marketing, many website owners collected their first big payouts from underhanded tactics like keyword stuffing, invisible copy, and links spamming.
So, what's changed? Why has white hat SEO become so important? There are a few answers.
What Makes it Important?
While black hat SEO techniques once promised reliable increases in website traffic from search engine results if you knew what tactics to use, white hat SEO was frustratingly slow to get working and depended on standards that Google and other major search engines were very secretive about.
However, recently, white hat SEO practices have become more promising than black hat SEO strategies because of a wave of new technology, search standards, and transparency.
We understand what search engines are looking for now.  We know which white hat SEO strategies meet those standards too.
It's not just that white hat SEO tactics are less risky in the first place. Black-hat SEO strategies, like hacked links, and article spinning, don't promise the rewards that they once did.
There are many good reasons to adopt white hat SEO methods over black hat SEO, but that doesn't mean that simply following the rules is all it takes. It's no longer enough to put a keyword in a headline or subheadings.
Some tips and white hat SEO techniques are simply more effective for website owners trying to rank on search engine results.
Here are the 9 strategies that are going to make the biggest difference in 2023.
9 White Hat SEO Techniques that actually Make a Difference
It's important to understand not only what tactics work, but how to pull them off so that they make the biggest difference for you. What follows is everything my agency (The Search Initiative) has learned about what works best, within the scope of white hat SEO, and how to do it right.
1. Prioritize Quality Content
Content was king, now it's whatever outranks a king—Emperor, perhaps? In any case, the content on your website is one of the most significant search ranking factors within search engines, and many see it trending toward becoming even more important in the future.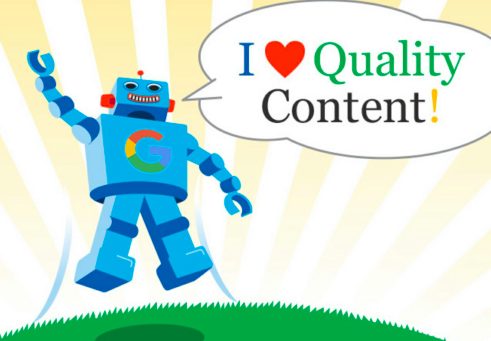 It's not as simple as just writing "good" relevant content, though. Google's search engine results evaluate your site content based on a range of signals that include…
Length
Topic
Keyword distribution
Links (and their anchors)
Age
The right way to create content is to make sure that it is appropriately long, relevant, and well-sourced.  A tool like Surfer is great for bringing up a quick analysis of the ideal specs for planning an article.
You should be planning ahead whenever you create a piece of content to make sure that you have enough information to fill your article with valuable information. And that holds true for both black and white hat SEO.
You want your content to be interesting and authoritative enough to draw links from others. This will be an important part of a technique we'll discuss later.
A high quality content can be an engine for developing a page, multiple pages, or an entire website. However, content needs a long time, sometimes even the best content needs between 3-5 months to mature. [1]
Focus on creating articles that are still going to be relevant at that time.
It should go without saying that your site is required to satisfy your user's intent. As the next item will reveal, that's something you need to focus on no matter what technique you're using.
2. Satisfy The User Intent
Google's search engine crawler has long been obsessed with delivering search results that more accurately matched the motivations of searchers, a mission that has been called "user intent". This is as pretty much taken over white hat SEO.
Every update has been about building up the number and accuracy of the factors that go into guessing user intent. Now, there are thousands of such signals and they don't need much input to assign your site a place in the online world.
Everything you do, from your content to your site layout and images should be based around matching the intent of the users who are navigating to your site via online search engines.
There are several techniques used to accomplish this. First, consider where your site belongs in the buying process. Are your users looking to be informed? To be convinced of something they already want? To make a purchase right now?
The answer should lead you on how to develop your website. If the answer is information, then most of your information should focus on that. If they want to buy, the product should be front-and-center in their vision when they land.
It's now easily possible to analyze the user's expectations. You can use TF*IDF tools to determine—with a very high degree of accuracy—what topics users expect to be covered in each niche, and what kind of prominence each subject should have.
Of course, not all of the best SEO writing tips are dependent on timeless criteria like content and user intent. Some search ranking factors have changed a lot in the past few years, including the importance of mobile.
3. Focusing on Mobile First
If you haven't updated your site to focus on mobile quality first, you're falling behind. Google's search engine first started emphasizing mobile search results in 2016, when they announced a mobile-friendly label designed to lead searchers toward content that could be easily read on phone devices.
A year later, they warned that… [2]
This warning came with new guidelines about appropriate content (image examples are provided in the previous link), display ads and email opt-in pop-ups. Site content that is designed without consideration for mobile users may suffer overall, not just from mobile users.
Fortunately, it's not that difficult to make a mobile-friendly site. Google has released its own mobile-friendly test app where you can check to make sure that your website isn't penalized, and figure out where you need to make changes. [3]
OK, web design isn't a white hat SEO but understanding it's the importance and ensuring your site meets Google's standards is.
In addition, focusing on mobile users, there's another audience that requires specific attention. The increasing importance of local intent has made it vital that you secure your Google My Business listing.
4. Claim Your Local Business Listing (GMB)
Delivering locally relevant search engine results pages (SERPs) is just one more way that the Google algorithm is trying to match user intent. Naturally, users who are looking for home services, restaurants or some outdoor fun don't want to see search results that are hundreds of miles away.
That may be a lot more searches than you'd think. Recent research has shown that 82% of smartphone shoppers conducted "near me" searches. [4]
Prioritizing local searchers is a major opportunity for most web pages and businesses because it gives them the chance to be the biggest fish in a much smaller pond. It makes success much more attainable. The best way to take advantage of these searches is to claim the GMB page for your company.
GMBs, when claimed, appear in a special box above Google's search engine results page called the Map Pack. Searchers are shown the physical location of all relevant businesses and have access to a profile that includes address, phone number, reviews, prices, website URL and more.
Claiming your GMB is as easy as applying for it and completing the confirmation steps. [5]
A special entry point for local searchers is a great way to improve the user experience, but you can accomplish far more with a wider view of what that means.
5. Make User Experience (UX) a Priority
Meeting demands for better website UX is one of the ways that white hat SEO tactics have pulled so far ahead of black hat SEO techniques in recent years. Google now has a massive range of signals that allow them to identify (and punish) bad site experiences.
Bottom line, even in the past, signals like bounce rates helped them identify when a site was delivering a bad experience. Even without analysis, you don't need to be an SEO expert to agree that a user's requirements aren't being met if they immediately leave a site.
Building for UX was harder in the past because it encompasses every part of the website. However, part of Google's growing movement toward transparency included publishing a massive UX guide that covers dozens of different standards. [6]
Making site UX a priority is as easy as implementing these guidelines as you continue to build out your website.
The meaning of great UX hasn't changed much since the earliest days of search engines, but the next strategy is one that has had a much rockier history. Keywords have been the main battleground between black hat SEO and search engines.
6. Excellent Keyword Research
If you asked an SEO in 2009, and one this year about what it meant to properly use keywords, you would get some very different answers. The keyword research techniques we now use are massively different.
Keywords were once the main tool for manipulating early algorithms, and that has led to many significant changes over the years.
The old techniques of using keywords—picking a collection and then planting them wherever possible—is officially dead. Google's search engine doesn't respond to simple keywords anymore.
Instead, it considers an entire constellation of signals around certain terms to determine if they are being used appropriately, authentically and with consideration for the requirements of the user.
"Keywords" doesn't refer to single terms anymore, but instead the whole body of terms that are used in a niche, including longer phrases that point to intent and the context in which they are used.
The techniques employed to use keywords properly is to use them all, use them naturally, and ensure that they fit the topics in which they are being introduced. Keyword research tools are playing a new role in campaigns. The webpage be it a business or blogs need to be looked at holistically. 
Once again, TF*IDF is one of the best ways to generate the full list of search engine terms that are being used by top-performing websites. Larger-scale SEO analyzing tools, like Ahrefs and SEMRush, look at how keywords are used and help you track their effectiveness in certain niches and over time.
In modern SEO, target keyword research is still important, but it takes time, tools and a light hand. It should be part of a larger strategy, like our next item.
7. Focus on Content Marketing
Content marketing is another of the most significant factors in search rankings. Think of it like how you grant authority, prestige, and greater lifespan to your quality content. This is one of the white hat SEO practices that is great news for bloggers and one of the tricks often missed by SEO beginners.
As a white hat SEO technique, it involves getting high quality content in front of the right people, hopefully, prospects or customers. This can be accomplished by sharing via social media, having the pages linked to, published on more prestigious sites, or delivered directly with mailing lists.
There is a right way to do all of this, and it's not SEO based, it's by focusing on finding the right audience. Start with great content, keyword researched and onsite optimized, but it has to be really valuable content. Have a repeatable process for promoting it on your own social media accounts, and be kind and helpful to the people who want to promote it to their own audiences. Neil Patel talks about this too. Guest blogging is as much about content marketing as gaining backlinks.
Focus on creating content about subjects you understand so that you can establish yourself as an authority. Build relationships with the people who promote your content so you don't end up just pestering strangers when your content needs a little help. Reciprocate when they ask for help.
Good content marketing is all about relationships, and when done authentically, that can take a long time. Fortunately, the next technique moves a lot faster.
8. Utilize Schema Markup
Google has a powerful algorithm that relies on many factors, but it's not magic. Like any piece of code, it can have trouble understanding the context of certain information or sometimes, what it's even looking at.
Schema markup is a way of structuring the data on your website so that Google's search engine gets additional clues into what information is being presented and why. This goes well beyond simple meta descriptions and page titles.

For example, you can tell Google that you're serving up a post detailing a recipe, or a video, or a certain type of data.
You can use schema meta tags properties to let Google know which Facebook and Twitter profile is associated with your business.
The list goes on.
Structured data gives you a simple, easily-implemented advantage over anyone who isn't using it on their site. Google encourages SEO experts to use it and has published a comprehensive guide about how and when it should be used. [7]
Schema has become even more important as Google has expanded the use of rich snippets. Using schema gives you a much greater chance of having your content chosen for rich results in certain categories.
The final technique, link building, is quickly taking its place among the most important out there.
9. Quality Link Building
So, what is link building? Link building is one of the most fragile processes in the white hat SEO toolbox. Links are vitally important, in that a site with none of them is going to limp rather than dash to the top of search rankings. However, it can be easy to overdo it.
What makes a link-building strategy "white hat" SEO is a dedication to getting quality links from real websites that are relevant to your own. These are links with varying anchor text and build for the long run.
Most links are going to come from the content or other resources that you create for other websites or their audiences.
Naturally, this is no simple task. You are going to need to do a lot of email outreach to partners that you choose very carefully. You're still going to have to make a lot of pitches, and carefully manage the velocity at which you accept and acquire new links back to your site.
No one said white hat SEO practices were easy, just that it delivers results.
Fortunately, this isn't too difficult with the right understanding. It's not hard to build a great team of writers to handle your outreach. Neither is it a nightmare to carefully choose and then profit from high-quality links.
Staying on the white hat side of things is just a matter of being discerning, and caring about what your audience shares with the audience of the people you link to.
FAQs
What Does White Hat Mean in SEO?
White hat in SEO means that you follow search engine guidelines. And instead of trying to manipulate search engine algorithms, you focus on providing value to users.
What Is a Black Hat SEO Technique?
A black hat SEO technique is a practice used to increase a site's or page's rank in search engine results. This involves using means that violate Google's terms of service, such as keyword stuffing, cloaking, PBNs, doorway pages, etc.
What Is Grey Hat SEO Technique?
Grey hat SEO is a digital marketing technique that falls somewhere in between black hat SEO and white hat SEO. These practices are not specifically defined by Google's guidelines as either good or bad, and therefore, they fall into a gray area.
Stay Future-Proof with White Hat SEO Techniques
The great thing about going White Hat SEO techniques is how future-proof the techniques we use are. Most black hat SEO tactics get caught in the long run, even when other search engines don't understand exactly how they work. They can catch black hat SEO tactics just based on search results that don't make sense, and from there, they just have to work backward.
By focusing on high quality content and user experience, you can be sure that your work isn't going to be undone by a later update and suddenly, out of know where your website traffic drops.  Quality content, keywords, links and site design come together (like I discussed in this SEO crash course) with best standards like GMB, Schema markup, and mobile-first principles to create lasting, reliable increases.
If you're looking for a reputable agency with white hat SEO strategies, I can strongly recommend working with The Search Initiative.
Full disclosure, this is my agency, but it's the only agency that I can get behind to guarantee pure yet effective, white hat SEO methods.
References
https://searchengineland.com/survey-82-percent-of-smartphone-shoppers-conduct-near-me-searches-304512
Get a Free Website Consultation from The Search Initiative: