[lmt-page-modified-info]
Do you know the best thing about on-page SEO? Control.
As an experienced SEO professional with more than 10 years of experience in the filed and founder of multiple 7 figure digital marketing businesses, I know firsthand the importance of on-page optimization in achieving higher search engine rankings.
Even with a small budget, you can see real results with on-page optimization. You won't get the #1 spot overnight, but you can still rise in the ranks with fewer backlinks than your competitors.
There are two ways to deal with on-page optimization: you can do it on your own and build great content from scratch, or you can use tools that speed up your optimization work. Like we do.
In this guide, you'll learn more about Surfer, an SEO tool that specializes in on-page optimization. You'll also get a step-by-step guide on how to use the tool to create better content, fill content gaps, and rank higher for your chosen keywords.
Announcement:
Since Surfer SEO launched in 2017, it's been amazing to watch the company grow so quickly. I've worked with them to develop various features of the platform (such as Terms to Use) and it's been great to be part of this innovation. So much so that, I decided to officially invest in the company and join their cap table, so now we can work even closer together to improve the tool and develop new products.
Quick Summary
Surfer SEO is a comprehensive tool that provides data-driven insights to optimize your website content for better search engine rankings.
Surfer SEO offers many features such as SERP Analyzer, Content Editor, and Keyword Research, which help in understanding the competition, creating SEO-friendly content, and identifying the right keywords.
By effectively using Surfer SEO, you can improve your website's visibility, increase organic traffic, and achieve higher search engine rankings.
What Is Surfer?
Surfer is an SEO tool that analyzes why top pages are ranking well for your keyword. Based on that information, you'll be able to figure out what you need to do to create content that will help you outrank your competitors.
Surfer helps in two ways:
Creating/outsourcing new optimized content
Optimizing existing pages
The Surfer Content Editor analyzes your content structure, keyword usage/density, phrasing, and more, comparing them to high-ranking results for the same keywords. Then, it provides you with guidelines on how to build content that has the right structure and wording to show up on page 1.
There's also the Keyword Analyzer, with Audit and Terms to Use features that help you optimize existing pages.
Rounding out the Surfer SEO tool kit are the Keyword Research and Common Backlinks features—I'll discuss all these in full detail later.
Surfer Recommendations In Action
How does this tool help you optimize your content? And what can you expect from Surfer?
Let's take one of my own pages as an example. I have an SEO coaching landing page that was ranked at #1 forever. All of a sudden, it had dropped to #2.
After plugging it into Surfer, I found out that my landing page content was too long…and thus I cut it in half. The Terms to Use feature also let me know that my word usage was off.
Tweaking the landing page boosted the page back to #1, and now it's at a similar length to other high-performing pages.
Here's another example: in November, I turned my Affiliate Networks page into a blog post and adjusted the densities of relevant phrases based on Surfer's recommendations. The next day, I checked my keywords and saw this:
My page jumped to the top three after my tweaks.
Similarly, Matthew Woodward had an extremely comprehensive review of SEMRush that clocked in at a whopping 26,000 words and was ranked #7. Surfer told him to remove 22,000 words…or almost 85% of his content.
While it sounds counterintuitive to reduce your long-form blog post to a "regular-sized" one, his review jumped to the #1 spot…the next day.
These are three examples of Surfer giving you insights on pages that are currently doing well with their content so that you can use the same rewarding practices.
Instead of trying to outsmart Google or figure out their algorithm, you can just take a look at what works, and follow that lead to a higher ranking.
Correlation SEO In On-Page Optimization
Now that you know what Surfer can do, you're most probably thinking, "How does Surfer know which ranking factors are the most crucial for SEO?"
Unfortunately, Google and other search engines aren't transparent about their algorithm. Enter correlational SEO.
Correlation SEO analyzes various ranking factors in order to determine which ones have the biggest impact on ranking. Surfer's data comes from reverse engineering the search engine results page (SERP)—it looks at what top-performing pages are doing that you aren't.
Instead of giving you vague advice ("long content is better than short content") or ballpark figures ("aim for 1,000-2,000 words per blog post), Surfer provides recommendations that are based on pages that already rank for your target keywords.
And this extends to more than just word count. Surfer also looks at what kinds of pages rank best (e.g. long-form vs. quick answers), what kind of media they contain (e.g. graphics, lists, etc.), what topics they cover, and what words and phrases are most commonly used.
Surfer wasn't the first correlational SEO tool to hit the market.  Cora and Page Optimizer Pro came earlier and are both exceptional tools as well.
One of the major criticisms of correlation SEO is that correlation doesn't mean causation—just because a competitor is ranking while using certain practices, it doesn't mean that those practices are the reason they're ranking.
But by optimizing your content so that it's similar (but higher-quality) than the content that Google ranks at the top, you are more likely to take the top spot.
Check this video to learn more about Google SEO ranking factors.
The trick is to know which pages to compare yourself to, so that you aren't introducing the wrong kind of change.
Choosing The Proper Competitors For Your Work With Surfer
Although it sounds sensible to look at the top ten results for your analysis, you'll end up getting a lot of imprecise data and ineffective recommendations.
If you'll choose your competitors incorrectly, the "optimization" may actually hurt your rankings.
John from Freedom Bound Business found that out the hard way. When he didn't pay much attention to picking the right competitors, his page dropped from rank 25 to rank 41. When he qualified competitors correctly, his affiliate review got bumped up from the second results page to the first.
Source: https://www.freedomboundbusiness.com/surfer-seo-review/
What does this tell you? There is no point in comparing oranges to apples, and the same rule applies to competitor analysis.
To get the most out of Surfer's correlational SEO tools, look into pages that are similar to yours, and don't compare yourself to websites that are not.
Here's a quick guide to choosing the right competitors:
Don't compare yourself to high-authority sites like Wikipedia or Amazon (unless you are a site of this level, of course).
Find websites, pages, or competitors that are within the same niche or have the same format (e.g. review sites, blogs, etc.).
Avoid listings and directories while optimizing for local SEO.
Look at the word count of top pages and exclude outliers.
Once you do the above, your data will be much more accurate.
Use Case No. 1: Building High-Quality Content From Scratch
Now that you know more about correlational SEO and Surfer, it's time to put your knowledge to the test. Create a new page for your target keyword using Surfer's Content Editor tool.
Automate Your Content Brief
Content Editor lets you create guidelines for your copywriter that includes all your requirements like keywords, topics, and optimum word count. I'll show you how to create comprehensive briefs that outline your requirements and make it easy for your writers to understand.
Preparing a good brief the traditional way is a lot of work. You have to manually research your competitors, extract some basic data about keywords, and follow good SEO practices—things that can take a lot of time.
Here's an alternative way:
1. Type Your Keyword And Location
When working with Surfer, you always start with a keyword and location. In this case, our target keyword is "cordless circular saw" and our location is the United States. You can also choose to turn on NLP Analysis for more phrases and words suggestions from Google API (more on this later).
Once the analysis is done, you can find your query in the history log below the input. Open it to access a customization panel.
2. Choose Pages To Compare Against
The customization panel has five sections: pages to include, content structure, terms to use, topic and questions to answer, and notes.
Let's start with the "Pages to include" section. By default, Surfer checked the top five pages.
These top five pages are your benchmarks. Pick URLs that are organic competition for your page. Exclude pages that rank high because of their extremely high authority, pages for different business models, and pages that target a different search intent. Also exclude word count outliers or pages that have word counts that are way shorter or longer than the others.
Basically, everything I already told you about selecting comparisons. Here.
Check out this example for an affiliate review:
3. Let Surfer Determine The Word Count
Surfer automatically recommends a word count based on your chosen competitors, but you can also customize it if you prefer. However, if you chose your competitors wisely, there shouldn't be much reason to adjust the number. Content length is critical—Surfer calculates phrase and keyword density based on it, so be cautious when modifying it!
After you save your changes, the average length will appear in the requirements section.
4. Incorporate The Suggested Words And Phrases
In addition to word count, Surfer also checks the top-performing pages for words and phrases relevant to your page.
Surfer uses its own algorithms to reverse-engineer the top words and phrases that you should include in your content. If you chose the NLP option at the beginning of the process, Google NLP API will be a major factor in calculating your recommendations.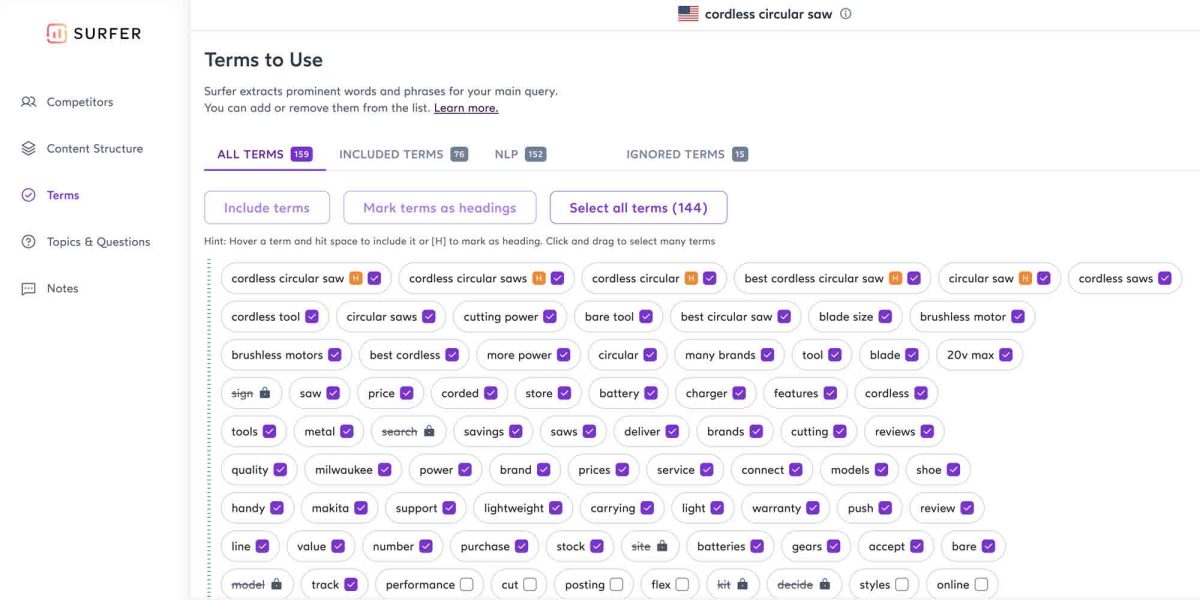 Avoid content gap issues by using all of the suggested terms(or as many as possible).
Enable "Show range of use for all terms" to avoid under- or over-optimization.
You can also use the "Add term" button to add secondary keywords (a.k.a. similar search terms) that you could also rank for, hitting multiple birds with one stone.
From the example above, the keyword "battery circular saw" appears in 15 out of the top 20 pages (75%) that are in my SERP for "cordless circular saw".
This is how you optimize for multiple keywords at once.
Pro tip: Include secondary keywords in your headings or at least mention them within the body text. For highly similar keywords. It should be enough to rank for them.
Be careful with adding too many secondary keywords that also have your main focus keyword inside. It could register as over-optimization and keyword stuffing.
5. Answer People's Questions
In the "Topics and questions to answer" section, you'll find scraped "people also ask" questions. Use these questions to create an outline or brief for your writer—these are the questions that they'll try to answer while writing your content.
If there aren't any questions like this for your target keyword, Surfer looks for similar keywords with relevant questions. You can also type your own custom topics and questions to answer.
Pro tip: If it's possible, add an FAQ section within the content.
Implement FAQ Schema properly to increase your chances of acquiring bigger (and, therefore, more eye-catching) snippets in the search results. Here's what it looks like in the SERP, using one of my own blog posts:
As you can see, rich formatting like this takes up more space in the SERP, making your page stand out from the rest.
6. Add Notes And Make Sure You Get What You Need
If there's anything else you'd like your copywriter to know or take into consideration when writing), you can include it in the "Notes" section. This also helps you consolidate all the info in one place so that it's not scattered across various communication channels like emails, chat, Trello boards, etc.
7. Share Guidelines With A Copywriter
Your work is done, now it's time to send your outline to your writer. Finalize your guidelines, and share them via this button:
They will be able to access the Content Editor without needing your login details or a Surfer account, but they won't be able to change the brief requirements.
When they start writing, Surfer will instantly update the number of times a writer has used a word or phrase. Once they're done (and they've followed your brief), it should look something like this:
You don't have to manually count the phrases/words, so it takes only a few minutes to review.
Pro tip: Many companies use Google Docs for content creation. There is a Surfer Chrome extension that gives you the functionality of Surfer (recommendations and all) without leaving Google Docs.
Publish Your Content
Now that you have completed your content, it's time to publish it and monitor the results. After a week or two, use a rank tracker or Google Search Console to check your progress and find out which keywords you now rank for.
You should also look for keywords where you're close to breaking into the top ten, then (as time goes on) run audits in the SERP Analyzer to get recommendations on how to improve your content—more on existing content optimization in the next section!
Use Case No. 2: Optimizing Existing Content
The audit tool is your biggest ally when it comes to quick on-page optimization. To get to your audit, add the page in the "Compare with competitors" section. To illustrate, I'll be using my own article on this domain, which ranks at #11 for "organic seo services" in the US.
Before you hit the "Audit" button, you have to prepare a few things first.
Audit Your Page Against Top URLs
By default, Surfer analyzes the top five pages for your keyword. If you want to be more precise (as you should), you can pick your own pages for analysis.
Start with excluding all pages from the main view.
Next, go page by page and manually include the ones that you know serve similar intent and are good benchmarks. Include as many as are relevant to your analysis.
Then, click the "Audit" button to start optimizing. Focus on the following aspects:
Comparing word count
Reducing content gap by mentioning missing word entities
Checking the "red flags" that Surfer points out
1. Review Word Count
Click on "Audit" and start the analysis. Review the length listed under "Terms to Use". If the content is longer, consider having it revised.
Let's see how my "organic seo services" page is doing against the pages I picked:
According to this, we can see that my content is long enough, but it could be longer. Based on this info, I can do one of two things:
Leave it as is; OR,
Add around 500 extra words and incorporate the missing terms.
The suggested range is from the average word count of the top 5 (range minimum) to the highest word count plus 10% (range maximum).
Depending on your timeline, budget, current rank, and other factors, you could choose either of the two options. In my case, I didn't touch the content because the person in 1st is getting away with shorter content.  When in Rome.
2. Reduce Content Gap With Terms to Use
"Content gap" describes any topics/phrases/words that your competitors include in their content that you don't include in yours. You can pinpoint content gaps using Surfer's Terms to Use tool, which reports the most common phrases in the top-performing SERP pages for your target keyword.
Some call it TFIDF, Surfer calls it Terms to Use.  It's all (pretty much) the same thing.
If you opt into NLP Analysis from the main SERP Analyzer dashboard, you will find NLP-enriched entities from currently-ranking content, excluding the pages you removed.
Always start with content length optimization first before moving on to Terms to Use analysis. Because keyword density and usage depend on how long your content is, it will change drastically if you decide to add or remove words.
In my example, Surfer found that I used certain words much more frequently compared to my competitors. It also showed me the missing terms that I can use to make the article longer and more comprehensive.
To see which keywords need your attention the most, sort by action.
Remember, you don't have to fix all the Terms to Use errors at once. You can start with just the phrases, then move on to optimizing another page—monitoring the progress from your small changes in the meantime.
Reducing the content gap and optimizing your keyword use can significantly impact your performance and rank, and you may not even need to make additional changes.
3. Place Keywords Where They Belong
In SEO, it's not just which words to use and how many times to use them that matter—where you use them matters, too. Keyword placement is considered an important ranking factor, and you can use Surfer SEO to identify better placement opportunities.
Scroll down the page to find the section for density and usage in segments. It will tell you if you're missing an exact keyword in the H1 or meta-title. Fixing this is a great yet simple way to improve your on-page signals.
Based on the graph below, I checked my article for the number of exact keywords in the body. In its current state, it meets the suggested range, although I could afford to add another exact keyword or two. If filling the content gap does not give you the results you want to see, and you have some opportunities for additional exact keywords, you can come back to this one and optimize it.
Partial keywords are important as well, especially when exact keywords were not frequently used by the top-ranking pages. This happens more than you think.
You can find examples of good partial keywords highlighted in popular words and popular phrases sections.
4. Structure Your Content
Page structure is an indirect ranking factor because it impacts readability and visitor bounce rate. A hard-to-understand page structure discourages readers, resulting in less time spent on the page…and lower rankings.
Surfer has a tool that can tell you if your content is well-structured, based on the top-ranking pages.
For my article, Surfer recommended that I reduce the number of bolded elements on the page. This is merely a suggestion, of course, and it's still your prerogative whether to act on them or not. Since bolded content isn't that big of a deal for me (or rankings in general), I left it as is.
Pro tip: Before you make a decision and start implementing changes, analyze the root cause of your potential problems. Not all of these "problems" require fixing, especially if the cost to fix it is more than the benefit you'll get.
5. Look Into Page Speed Insights
Website performance heavily affects visitors' satisfaction, and it may be a relevant signal for Google. Check your website's load speed in comparison to your competitors.
If your pages are loading too slowly that could be a major reason why you aren't ranking well.
But sometimes, the data will show you that your competitors are ranking despite having slower loading speeds. In that case, you can leave it as is.
As you can see, my page has significantly quicker load times (℅ WP Speedfix) compared to the top-performing pages in the SERP. There's nothing to improve here.
6. Progressive Content Optimization
Congratulations, you've finished auditing your pages!
But as with most SEO efforts, on-page is never "finished" per se. You should always revisit your most important pages on a periodic basis. I choose quarterly.
Google tweaks its algorithm all the time and your competitors are also constantly improving.
Make sure that your content is up-to-date and optimized.
7. Test Results
The process of optimization is pretty simple. But how do you know your changes actually made an impact?
By testing the results, of course.
I'll show you what I mean through two of my own test cases. I chose two articles with two different main keywords ("organic seo services" and "local seo solutions" respectively) and ran them through the Surfer audit. Both pages were optimized with terms obtained through NLP (more info about the recent NLP update here).
Here's what happened:
Test Case 1: "Organic SEO Services"
14th of January
The page (https://diggitymarketing.com/organic-seo-services/) had been fluctuating between rank 20-ish and rank 100 (something f'd up was going on).
The audit showed that there was a huge content gap and a missing exact keyword in the H1. The Content Editor showed that there were dozens of keywords missing.
16th of January
We finished revising the content, which was then sent off to be indexed. Below is a before and after of the Content Editor, where you can see that we tried to incorporate as many of the keywords as possible and get completely green.
20th of January
We checked the page performance after a few days. The page shot up to rank 3 for the target keyword and remained there. 
Test Case #2 – Local SEO Solutions
20th of January
The page (https://diggitymarketing.com/local-seo-solutions/) consistently ranked between 5th-6th place. A quick audit revealed tons of missing terms in my content. An NLP analysis fetched keywords that sounded obvious but were also missing from the page.
This time, I tried something different—I used Google Docs and the Surfer Chrome extension so that I could edit directly in my Drive without missing out on any functionality. The recommendations are the same whether you're using the Content Editor or the extension.
Here is what I sent to indexation, with roughly 80% of the terms in the green:
Results were immediate. The page jumped to #2 and remained there. This example demonstrates pure optimization against NLP Entities.

Use Case #3: Explore Which Ranking Signals Matter And Which Don't In Your Niche
The Audit feature is great if you want simple, actionable steps to improve your content. But if you enjoy looking at comprehensive SERP data, you can use the SERP Analyzer. The SERP Analyzer looks at over 500 ranking signals, giving you plenty of insight to work with.
Access the SERP Analyzer tool, which is right next to the Content Editor tool. Plug your keyword and location, access the main view, and check out the graph. For this case, let's use the keyword "keyword cannibalization" and the US as a location.
The graph shows you correlations between position in SERP and a specific ranking factor—in this case, the correlation between word count and ranking.
Before you start playing with the graph, you need to keep a few things in mind:
Next to each potential ranking factor, there's a small visual that suggests how strong the correlation is. More green bars mean a strong correlation. Yellow, red, or all gray means that the factors are less important. However, these are merely suggestions, so it's up to you to take them into consideration or not.
By default, the chart presents up to 50 of the top ranking pages. You don't have to look at the correlation between all of them, though. You can focus on the first 20 or 30 results. This will help you pin down a pattern without overwhelming you with too much data.
Use the eye icon next to the URLs in the SERP below the graph. Again, you don't want to analyze pages with a mix of search intent, content types, and lengths. Even one outlier (e.g. a skyscraper article with thousands and thousands of words) can skew the whole analysis.

This correlational analysis, done correctly, can give you great insight into the factors that may be worth looking at. It speeds up the process of figuring out which factors you should take into account while also doing an in-depth content audit.
Strong and easy-to-spot correlations are more likely to appear in homogenous SERPs, but do not conflate correlation with causation! Learn how to identify patterns and rely on your judgment when making important decisions.
In the case below, you can see that there are plenty of high-ranking pages that have more words than those in lower rankings, which would lead you to assume that longer is better.  You can also see that articles that are too long also tend to rank lower, so you should avoid lengthy content for this particular keyword if you want to rank higher.
Use Case #4: Optimize For Multiple Keywords (At The Same Time) With Cluster Analysis
You can use Surfer's Keyword Research Tool to find keywords with similar SERPS—that is, similar pages are ranking for more than one keyword. If the same URLs rank for the same keywords, it's a great indicator that they are relevant and easy to take over, even with the same content. This can also help you build supporting pages with topical relevance that will boost your "money page".
Analyze Similar Keywords
In the Keyword Research Input, plug in your main keyword and localization. Press enter to access the dashboard.
Surfer suggests similar keywords based on their database of overlapping search results. In the example below, you can see that there's a 75% similarity between the main keyword "seo audit" and the secondary keyword "seo audit site". This means that 75% of pages in the SERP for "seo audit" and the SERP for "seo audit site" are roughly the same!
If all those pages managed to rank for those two keywords, there's a very big chance that you could rank for them too. It's up to you to decide if you want to target both keywords with one page or with a network of pages.
If you notice that some keywords have really nice SERP similarity, use them as your secondary keywords to get more organic traffic.
Run Multi-Analysis for Your Keywords
If you aren't getting many similar keywords, then the multi-analysis feature will come in handy. Here's what you need to do:
Step 1
Add interesting ideas to the clipboard from the keyword list. Based on them, Surfer will show you a broader list of keyword ideas.
Step 2
Click the "Research" button and uncover dozens of suggestions. You will be able to check the similarity between all your researched phrases and the suggested ones by hovering over the max similarity percentage inside the table.
I have just found a new topic – free seo audit online – you can explore the niche even deeper.
Step 3
You can sort suggestions by their estimated search volume, max similarity, and the number of similar keywords. For this process, sort by the number of similar keywords—the higher the number, the bigger your chances of targeting this keyword with just one ranking article.
For my "seo audit"-related keywords, Surfer generated a nice list of phrases I could use on my page. There's a high probability that any of these could increase my organic traffic.
Pro tip: To get more topics/questions or keyword suggestions, you can just add more similar keywords to the clipboard. This will instruct Surfer to pull from a wider set of data.
Analyze Similar Questions
Surfer extracts questions from the list of similar keywords, which could help you uncover a list of questions highly connected to your main query.
You can use them as inspiration when creating a brief for your writer. They could also help you spot additional traffic-building opportunities for existing content.
Like with similar keywords, you can sort questions by the similarity score or the estimated search volume.
Use Case No. 5: Find Backlinks Your Competitors Have And You Don't
Surfer is first and foremost an on-page optimization tool, but they also have an interesting off-page feature: common backlinks.
With common backlinks, you'll get a list of domains and pages that at least two of your top 20 competitors have a link from. And because you're only identifying backlink opportunities from high-ranking pages, you assume that these are quality backlinks.
Analyze Common Backlinks
Surfer provides you with a set of domains that are commonly linked to your top 20 competitors. Under the graph, you'll find a "Common backlinks" tab that will show you a list of link opportunities for your domain:
Through the common backlinks tool, you can connect with the most common and powerful domains for your link-building strategy. To get the exact referring URLs, just click on the number in the "competitors with link" column.
Dive Into Missing Common Backlinks
The Audit tool also helps you identify missing common backlinks, or backlinks that have been acquired by your competitors but are not in your profile.
Export the data and get to work on link acquisition and placement. It should be easy since these domains are commonly linking to similar competitors—you already know what the link type is and where it's placed.
FAQS
What Is the Best Way to Use Surfer SEO?
The best way to use Surfer SEO is by incorporating it into your content creation process. Start by performing keyword research to identify relevant terms for your topic. Enter these keywords into Surfer SEO's SERP Analyzer to understand the SEO factors that high-ranking pages are using, like word count, keyword density, and common backlinks.
Is Surfer Good for SEO?
Yes, Surfer is an excellent tool for enhancing search engine optimization (SEO) efforts. It provides deep insights into what makes content rank higher on search engines through its data-driven SEO analysis.
How Do You Get a 100 Content Score on Surfer?
To get a 100 content score on SurferSEO, first, conduct in-depth keyword research and use the SERP Analyzer to understand SEO elements of top-ranking pages. Then, draft your content in Surfer's Content Editor, adhering strictly to its guidelines regarding word count, keyword density, and usage of related terms. Address all the significant topics indicated by the True Density feature.
Does Surferseo Use AI?
Surfer has a tool that allows you to write SEO optimized content with just a click of a button. It's called Surfer AI, and it's one of the best AI tools on the market.
Conclusion
Now you know how useful Surfer can be in the hands of a skilled SEO when it comes to on-page optimization and content creation. You've learned how to:
Write or outsource optimized content using Surfer's Content Editor
Optimize your existing pages to gain or even recover rankings with the Audit feature and correlational SEO
Find new keywords to get more organic traffic, even with the same amount of pages
Discover backlink opportunities based on links that your competitors have and you don't
Whether you're a small business trying to DIY your SEO or an SEO agency looking for quick client solutions, this process guide will help you use Surfer's SEO tools to your advantage. Bookmark it, read it, try it, and tweak it to your needs! Just keep in mind the following important takeaways:
Surfer is not a cure for terrible content. If you go for difficult keywords or have low-quality articles, no white-hat tools or techniques can help you get the results you want.
Don't try to outsmart Google with much longer articles than your potential visitors need. Longer is not always better, and there are more efficient ways to spend your budget!
Reducing the content gap on your page can help you fix your ranking significantly, and it should be one of the first optimizations you should make.
If you want to increase the effectiveness of your existing pages and the success rate of new content, I wholeheartedly recommend trying Surfer. I truly believe that this investment will give you some incredible returns.
Got Questions or Comments?
Join the discussion here on Facebook.