The story began in 1989 when William J.Tobin birthed the idea of the affiliate program for his business, PC Flowers, Inc.
Fast forward to 1991: PC Flowers is swimming in cash on Prodigy Network. We're talking to the tune of $6M.
And now you're thinking,
If William made $6 million back in 1991, how much can I make now?
I'm glad you asked. The Global Affiliate Market is currently worth over an estimated $13 billion dollars.
And the United States is leading the way with the lion's share at $6.8 billion.
Data Source
You can slice off your own share of this incredible market if you're willing to work for it.
I've been working as a full time affiliate marketer for over 10 years, during which I've built multiple 6 figure affiliate marketing businesses, including The Search Initiative, LeadSpring, The Affiliate Lab, and Diggity Marketing.
In this article, I'll go through what is affiliate marketing, how it works, and how to get started.
Quick Summary
Affiliate marketing is a performance-based online business model where affiliates earn commissions by promoting other companies' products or services.
Affiliate marketing involves four key players: the merchant, the network, the affiliate, and the customer.
Successful affiliate marketing requires a well-planned strategy, which includes creating high-quality content, targeting the right audience, using marketing techniques to drive traffic, and tracking your results to optimize performance.
What Is Affiliate Marketing?
Affiliate marketing is the process of receiving payment after you promote a product or service on behalf of another business.
Think of yourself as a salesperson earning commission for every sale you make. The difference here is that as a marketer, you don't work directly for the company.
In layman's terms, you make money by sending your audience towards the company through an affiliate link. Once a customer follows through with the desired call-to-action thanks to your unique affiliate link, you get your commission.
Promote products to your audience often enough and you will have created a salary for yourself.
Below, you'll find out step by step how to earn a sustainable affiliate income as soon as possible.
How Does Affiliate Marketing Work?
Knowing how affiliate marketing works involves understanding each part of the process.
Here's the step-by-step guide to it:
1. You provide a link or an ad on your online platforms to a particular online store for your audience to see.
2. A potential customer clicks on the link or ad.
3. The customer is sent to the website through the tracking link.
4. The customer then makes a purchase for a product or service.
5. The company records the sale as well as the transaction details.
6. Each sale is confirmed as valid and credited to you.
7. You get your commission.
The three main players in the online affiliate marketing business definition include:
The Customer
The customer starts off as a member of your audience looking for answers to satisfy a particular need. They trust that you have the answers they're looking for and they believe in your authoritative word.
Through your content, you direct your audience to your advertiser's website for the solution to their query.
They become a customer when they have purchased a product or service on the affiliate's online store.
The Advertiser
The advertiser could be an eCommerce store or a software developer looking to sell a product or service.
They want more sales without spending money on marketing campaigns. Instead, they'd rather pay someone a commission for every paying customer sent their way.
And that's where you come in.
The Affiliate
You're the person who drives the customers and leads.
Once you've been doing it for a while, you can more easily pinpoint the best customers for specific offers. Over time, you can start sending hundreds of customers a day to an affiliate product.
It gets better: the advertiser may increase your commission and even grant you exclusive discounts for your audience. This results in the likelihood of a higher conversion rate, which means more affiliate income for you.
At this point, your effort mostly goes into maintaining the site and making improvements to raise your ROI. The reason? Your business now runs like a well-oiled machine.
And this is where everything really starts snowballing.
There's a HUGE opportunity to scale.
In this video, I share a scaling hack for growing your affiliate SEO website portfolio.
Key Terms for Every Affiliate Marketer
Now that you know the three main players involved in the process, it's also important to recognize a few of the most important terms, including:
Affiliate Network
These have a wide range of offers all in one place. Since affiliate marketers only deal with one point of contact, they can easily choose different offers.
On the other hand, the offer owner only deals with a single network as opposed to hundreds of affiliate marketers.
So all you need to do is sign up with an affiliate network and set up your affiliate link.
The Traffic Source
Traffic sources are the places where you find potential customers. You need actual people to share your links with.
Creating SEO content or sharing your offer with contacts on your email list are a couple of ways to go about it.
You can also get traffic from:

Social networks like Facebook and Instagram organically.
Paid ads, although this can be riskier if you don't have experience with paid advertising.
The smart way to build traffic is to start by creating great SEO content before starting an email list[1] once you already have some traffic coming in.
How Do You Become an Affiliate Marketer?
These are the steps to becoming an affiliate marketer:
1. Choose a company and the specific product you want to promote.
2. Sign up for any of these affiliate marketing programs.
3. Get your special affiliate link and promote it on your site.
4. Anyone who clicks on the link goes to the product page.
5. If they buy something, you earn a commission based on the price of the item purchased.
The most important part of this process involves creating high-quality content. It should attract a large audience and include links naturally, in a way that doesn't seem too sales-y.
If you already have an existing website with a following, then the five steps are pretty straightforward.
If, however, you're starting from scratch and need to create a website, then there's a bit more work involved. I cover this below where I show you how to get started with the process.
How Much Money Can You Make As an Affiliate Marketer?
Remember that $12 billion that you could have a share of? Well, the prospect is very real.
Just take a look at a recent poll from our members-only Affiliate Lab Facebook group:
As if that's not incentive enough, 50% of affiliate-referred traffic comes from mobile devices[
2
]. People increasingly prefer to shop for a product on their mobile phones.
Now, this is important because they visit multiple sites[3] before making a purchase. So best believe, this process is here to stay.
Benefits of Affiliate Marketing
As well as the financial gains you can make, there are other benefits of affiliate marketing to consider, such as:
Little to No Overhead Costs
With this process, you won't pay a dime for:

Manufacturing
Shipping
Customer service
Just grab your computer, get a reliable internet connection, and invest a bit of money into building your website.
You can also expand your business with low overhead costs. No need to rent a working space or hire a team for an affiliate marketing program. So the sky is the limit!
Low Barrier to Entry
Minimal costs mean easier entry. It's easy to join an affiliate program, even if you are just starting out and you only have a small amount of traffic. Since you don't have to think about creating stock or shipping products, there's less hassle.
"Affiliate marketing is an excellent opportunity if you truly believe in the value of the product you're selling. Because many times, you can make money off of something you would probably recommend anyway."
Neil Patel
Low Risk
You don't own the product purchased through your links. So you lose nothing if a customer doesn't make a purchase.
As you grow, you can diversify your affiliate marketing income sources and traffic streams, reducing risk. With different streams and sources, you're less reliant on a single affiliate marketing program or traffic source. For instance, if an affiliate program reduces its commission or Google changes its algorithms, diversification means you take less of a hit.
Passive Income Potential
The best part of the job is earning passive income as a marketer.
What 9 to 5?
The life of great affiliate marketers basically involves earning money while sleeping, through their links.
In fact, the right content can consistently generate revenue for you if it ranks well in the search engines.
And we're not talking a few weeks or months but up to several years! Isn't that the dream?
Hello Impromptu Vacations
As you build up your affiliate income, it's easy to do so while still maintaining your day job. Once you have enough income coming from the promotion process, however, you can quit the 9 to 5 and head to the beach.
After all, who wants a day job when they are already earning a bucket-load of f-you money elsewhere.
With internet access, you can earn your passive income any time and from anywhere in the world. We wrote a comprehensive guide on how to get a job in affiliate marketing that you may want to check.
How to Start Affiliate Marketing
Here's the complete walkthrough of everything it takes to get started as a marketing affiliate.
Step #1: Choose Your Niche
Picking a niche that you enjoy is a good idea, particularly if you are new to this, but choosing one that makes things easier for you is even better.
Niche selection determines how much money you can make and how difficult it will be to rank for quality keywords.
When selecting your niche, consider:
Whether it's reasonably rankable.
How much money you can make from it.
Whether it's a high-impact issue in people's lives (eg: weight loss affiliate program vs golfing affiliate program – weight loss is a higher impact niche).
It's also best to look out for and avoid:
High maintenance niches that require frequent updates.
'Your Money or Your Life' (YMYL) niches.
Niches that have low-cost products.
Niches you have no interest in.
You can find your ideal niche through:

Marketplaces like Flippa.
Affiliate networks that can help identify high-paying products. Then Google a product's review and throw the top search result into Ahrefs to see if it has good traffic. If it does and the product has good commissions, then you're onto something.
The Wikipedia Method as explained in the video below.
Do you want to become a successful affiliate promoting a product or service? Then stick to your chosen niche for maximum profit.
An affiliate product can either be a(n):

Physical one
Information one
Service
Physical Products
When you're promoting physical products, the opportunities are endless. The Amazon Associates program is the most popular affiliate program for a physical product.
But on the flip side, a physical product tends to fetch lower commission rates. This is to offset the costs of manufacturing, storing, and shipping.
For instance, Amazon's[4] 10% commission can drop to a measly 1% depending on the affiliate marketers' sales volume and the product category.
Information Products
An information product can be a guide, an e-book, a webinar, or an online course.
Commission rates for an information product tend to be higher compared to other types of affiliate products.
Some merchants offer commissions as high as 75% – an uncommon rate when you're promoting physical products.
Services
You can also decide to promote services like graphic design and web development. You just need to ensure your readers are actually interested and will use them. Furthermore, commission rates can be as high as half the sale.
Step #2: Develop Your Strategy
You need to create an air-tight strategy that keeps you from wasting time and resources while maximizing your passive income.
The real question is, how much time are you willing to invest? Is this full-time, or are you balancing it with another job?
You simply can't half-ass this. You need to be a dedicated learner in order to consistently produce quality content.
Next, get started on keyword research and brainstorming content ideas. Add all your ideas to your calendar and enforce a regular publishing schedule.
Step #3: Create a Website
Your site is your money-maker, so invest in it. Shop from hundreds of templates or use a website builder. They're beginner-friendly and you don't need prior coding experience or skills on how to make a website for an affiliate marketing business.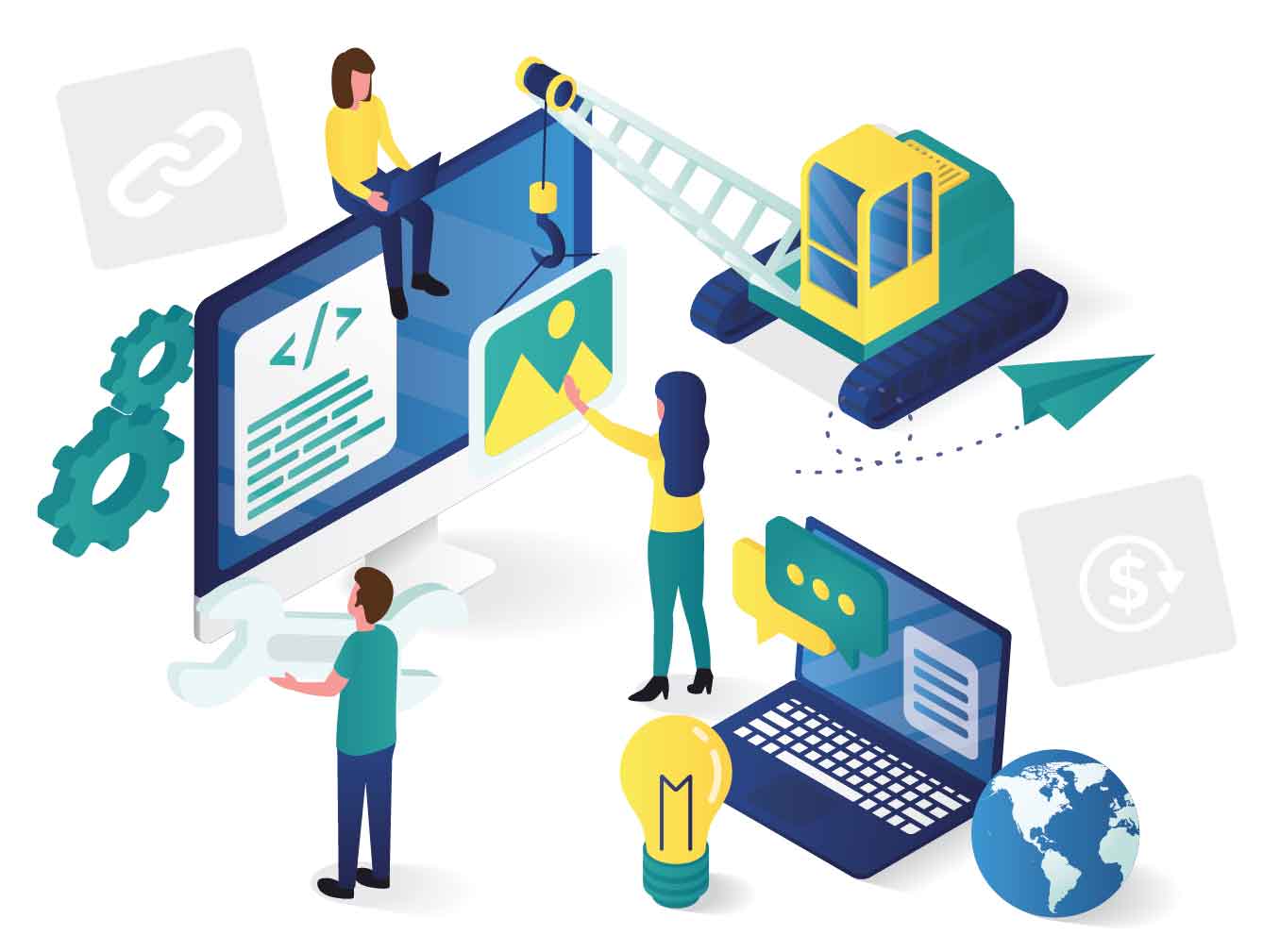 Step #4: Research Your Products
Gauge the level of interest in your chosen list of products. You can do so by:

Looking up their relevant keywords through tools like Ahrefs.
Determining if there is enough search volume for these products through Google Trends.
Google Trends is good for finding breakout products that won't show search data in Ahrefs.
This data helps you identify the level of demand and determine which product will gain popularity with time. This could mean the difference between low and exponentially high affiliate sales for your business.
For instance, if health and beauty is your chosen niche, a quick search on "collagen protein" may reveal a high search volume with an upward trend over the last few months.
Therefore, you can anticipate that it's a popular product from which you can generate high affiliate sales.
Step #5: Promote Your Affiliate Links
People need to actually see your affiliate links for you to make any profits. So marketing your content is necessary if you want to drive traffic to your site.
Here are two affiliate marketing strategies that top affiliate marketers commonly use:
SEO
Search engine optimization (SEO) helps your website attain the top SERP on search engines. The higher your position for your target keywords, the more likely users are to click on your website.
People want curation. When there is a choice, people need help organizing and understanding all of the options. They WANT someone with a voice and experience to filter the noise and find the best products for them, ultimately saving them time and getting them results, faster. That person, that curator, can be you, and everyone can win.
Pat Flynn
Smart Passive Income
SEO takes a while to master but if you can diligently apply it to your site, you stand to reap massive benefits.
Email Marketing
Once you have great SEO content, create an email list, and use it to promote a product to your audience.
Potential customers will be organically attracted to your content, allowing you to build a community based on genuine interest. This makes it easier to push a product to your audience and get a higher conversion rate.
Affiliate Marketing Examples
Let's take a look at two affiliate website examples that are currently killing it.
Wirecutter
Are you looking for the very best electronics, gadgets, and consumer goods? Then
The Wirecutter will definitely point you in the right direction[5].
Founder Brian Lam and his team put all reviewed products through rigorous tests. So much so, the site has earned the title Mythbusters for gadgets.
Top Content
The Best Air Purifier

Source of Money
Their simple model is commissions through Amazon and BestBuy. No advertisements or sponsored posts and neither do they sell their own products.
This is how they make money:

Product recommendations[6]: each recommendation comes with an associated Amazon link.
They respond to reader questions and earn through affiliate links from any product sales.
As if that's not enough, The New York Times recently acquired the site for $20 million. That constitutes the ultimate monetization in my book.
Lessons From The Wirecutter
Focus on just one thing and be exceptional at it. For Wirecutter, that's in-depth reviews.
Choose the right design: The Wirecutter uses a simple page with a list of best items in each category.
Quality beats quantity any day. Every product they recommend has been tested and is considered the best in its class. They also only publish 6-12 posts every month.
NerdWallet
NerdWallet reviews financial products from credit cards to mortgages to insurance.
Three things that have kept this affiliate site at the top include:

Stellar content
Outstanding user interface
A top-notch team
Top Content
Best Credit Cards of 2023 Reviews, Rewards, and Offers

Source of Money
NerdWallet is purely an affiliate site; there are no ads or sales from their own product sales.
Lessons From NerdWallet
Design useful and highly engaging affiliate marketing tools targeted towards your audience. These tend to naturally attract links, which is a great SEO tactic.
Update your best-performing pages. NerdWallet regularly updates its biggest guides ("Best Credit Cards 2016" to "Best Credit Cards 2023"). Why is that important? Relevance translates to another affiliate marketing opportunity every single year.
Before you dive in, consider whether finance topics are one of the best affiliate marketing niches for you to pursue. Yes, there is high demand. But, that also means greater competition.
Wondering whether you should put display ads on your affiliate website? In this video, I share my test results.
Types of Affiliate Marketing
Affiliate marketers are usually shrouded in mystery; you never know if the individual has really tried the product or is only advertising it for financial gain. Both examples continue to exist.
Pat Flynn, a notable affiliate marketer, divided the various sorts of affiliate marketers into three categories back in 2009. Regardless of your moral compass, understanding these types of affiliate marketing can show you the many methods individuals earn money online in this field.
Unattached Affiliate Marketing
The first type of affiliate marketing is known as "unattached" and occurs when you have no authority in the product's area. No relationship exists between you and the consumer.
Typically, you conduct pay-per-click advertising campaigns using your affiliate link in the hopes that people would click it, purchase the goods, and earn a commission.
Unattached affiliate marketing is appealing since it requires no effort. Online affiliate marketing firms depend on their reputation and the audience's confidence.
This form of affiliate marketing is the greatest alternative for marketers who lack the time or inclination to cultivate such partnerships.
Related Affiliate Marketing
Related affiliate marketing is the practice of advertising items and services related to your niche that you do not personally utilize. In this instance, an affiliate marketer has an audience, whether via blogging, YouTube, TikTok, or another outlet.
A linked affiliate marketer also has influence, making them a reliable source for promoting things even if they have never utilized them.
Despite the fact that linked affiliate marketing efforts might earn greater affiliate money, it comes with the danger of recommending something you have never tried before. It may be the worst product or service ever, yet you would have no idea.
One terrible suggestion is all it takes to ruin your audience's confidence. Without trust and openness, it will be difficult to develop a lasting affiliate marketing firm.
Involved Affiliate Marketing
Involved affiliate marketing refers to suggesting only items and services that the affiliate marketer has personally tried and wholeheartedly endorses.
We believe involved affiliate marketing is the way ahead. It is founded on trust and genuineness, which is beneficial for both the audience and the company.
Instead of paying for clicks on banner ads, an affiliate marketer leverages his or her influence to sell items and services that followers may genuinely need. It takes more effort to establish this form of credibility with a target audience, but it is essential for establishing a lasting company.
In my opinion, the involved strategy makes advertising for affiliate marketing partners simpler. You do not need to hide behind pricey PPC advertisements and hope for clicks and purchases.
A natural Instagram Story or blog post about your product experience will go a long way. It is the only authentic way to become a reliable source in any niche.
Frequently Asks Questions (FAQ)
Which Affiliate Program Is the Best?
The best affiliate programs are:

Shopify
ConvertKit
Leadpages
Bluehost
Clickfunnels
Affiliaxe
Shareasale
Rakuten LinkShare
MaxBounty
Pepperjam
Is Affiliate Marketing Easy?
Affiliate marketing for beginners is not immediately easy. It takes time and effort to truly impact your customers and develop trusting relationships with them.
How Do Affiliate Marketers Get Paid?
Affiliate maketers are commonly paid through avenues such as:

Direct deposit
PayPal
Bitcoin
Money transfer like Transferwise
Do You Have to Pay to Be an Affiliate?
You don't have to pay to be an affiliate. Most affiliate networks are free and easy to join. Simply complete a signup form and start making money by promoting your preferred product and service. Before you start, we highly recommend reading several good affiliate marketing books that we reviewed.
Is Affiliate Marketing A Pyramid Scheme?
Affiliate marketing is not a pyramid scheme. It is a legitimate commission-only business model with no upfront cost for becoming an affiliate.
What Is the Difference Between Affiliate Marketing and Referral Marketing?
The difference between affiliate marketing and referral marketing is that affiliate marketing revolves around a business relationship between an affiliate and a brand, while referral marketing focuses on the shared relationship between your customers, their associates or friends, and your brand.
What Is the Difference Between SEO and SEM?
The difference Between SEO and SEM is that SEO focuses on organic search results and optimizing websites to rank higher, while SEM involves paid advertising to increase visibility and drive traffic. We addressed this subject in our SEO vs SEM article.
Get Started
Can you already see yourself resigning from your 9 to 5 because your passive income is sustainable?
I sure hope you can.
Because that's the purpose of this affiliate marketing guide; to show you that it is profitable and attainable for you.
Simply make sure you're following all the steps in this ultimate guide when you start affiliate marketing to promote products.
Or you can go a step further and enroll in (in my opinion) the best affiliate marketing course, The Affiliate Lab.
I consulted for a while before uncovering my strong desire to help people achieve their dreams with digital marketing.
Blogging is fantastic, but there are certain complicated techniques that require a better learning format.
Enter The Affiliate Lab.
This is an evergreen course so it changes as soon as my tests reveal that the algorithm has changed.
The Affiliate Lab: for those who want a successful affiliate marketing career and get paid.