Search engines are the world's biggest digital libraries, and search engine optimization is becoming more important for websites. Millions of brands are launching digital marketing campaigns to improve the website traffic of the target audience.
SEO and SEM are search engine optimization tools that help you with search engines and organic traffic.
I have spent months researching SEO and SEM and evaluated them based on their features, price, and more to help you choose the best SEO tool for your business. 
Quick Summary
SEO is the process of increasing traffic through search results and search intent from search engines. 

Search engine marketing (SEM) is the use of paid advertising platforms to increase the visibility of search results and bring more traffic to your website.

There are several differences between SEO and SEM, including cost, result time, long-term value, testing ability, trustworthiness, and more.
---
SEO Vs. SEM Differences
The main differences between SEO and SEM are that SEM purchases search visibility, and SEO earns it through quality and relevance.
Some significant differences between these two tools include the following:
1. Cost 
Both SEO and SEM have costs that can affect the return on investment. SEO costs more money to implement, and it takes longer to use relevant keywords to achieve results. However, it yields a high return on investment over time.
SEM has a faster ramp-up period, requires lower investment, and generates revenue faster. 
2. Result Time
Time is a huge consideration when comparing these two tools. You can generate traffic from SEM and its results almost immediately. SEO, however, can take a few months to result in more traffic to your page. 
If you need to get traffic from search engines for a specific event quickly, then SEM is a better choice; however, if you want to launch a content hub around high-value content for the next few years, SEO is the right choice.
3. Long-Term Value
SEO has a significant advantage in terms of compounding and long-term value. With the correct strategy, your web pages can stay at the top of search engine results pages for years and generate revenue with little to no investment.
SEO is like a fusion reactor. Once it reaches ignition, it keeps producing efficient results.
– Jonas Sickler, SEO Manager, Terakeet
Most of your costs with SEO are front-loaded, and it takes a significant initial investment to create appropriate content and produce link-building for organic results.
When a page ranks in one of the top three positions, its ranking becomes self-sustaining. Organic results turn into backlinks, improving your rank and yielding more backlinks.
As you improve SEO, organic results compound over time. As your domain gains authority, individual web pages do, also. SEO is the only content marketing investment that increases in value over time. 
SEM only offers transactional gains. Once your paid ads or pay-per-click ads stop, so do the organic traffic and leads from the campaign.
4. Testing Ability
When you start an SEO program to optimize your website and organic search results, it can take months to see an impact and do keyword research to assess if specific strategies are working.
SEM is a good web marketing tool for fast-paced testing and insights for different web pages. With SEM, you can test your marketing strategy and make sure search engines understand your keywords, SEM campaigns, and more at a faster pace.
You can also improve landing pages based on accurate data from search queries in a shorter time.
5. SERP Space
SEO creates the opportunity for a brand to capture real estate in SERPs. This can include snippets, knowledge graphs, and map listings; people also ask for links, interesting finds, image or video carousels, and more.
SEO allows you to occupy more listings in search results by using multiple digital assets. SEM offers only search ad positions, including PPC ads, extensions, and site links. 
6. Click-Through Rate Of SEM & SEO
SEO gives higher click-through rates than paid traffic and ads do. The average CTR for Google Ads is 3.17 percent for search results [1]. Also, the number one organic position in Google can produce a click-through rate of 34.2 percent.
7. Trustworthiness Of SEM & SEO
Searchers tend to overwhelmingly trust organic search results because they know those positions are earned through time and not purchased through paid ads, paid results, etc.
As Google has prioritized user experience and content quality, the trust gap has also widened between SEO and SEM.
---
SEO Overview:
SEO is the process of increasing organic traffic in search engines to improve brand awareness and drive target traffic to your website. 
The Google search algorithm ranks pages based on many factors, including content quality, page experience, link building, and more. Ultimately search engine algorithms seek to provide users with the best answers to their search traffic [2].
On-Page SEO
On-page SEO is optimizing elements of a web page to help search engine results pages understand what the webpage is about. It ensures the search engine that your content aligns with user expectations, including format, keyword targeting, and more. 
Off-Page SEO 
Website authority plays a significant role in organic search results rankings. Domains with more high authority backlinks typically perform better in organic searches.
An excellent off-page SEO program uses PR, social media, influencers collaborations, bylines, standard outreach to build relevant backlinks, and more [3].
Technical SEO
Technical SEO includes the optimization of technical elements of a website. This typically includes CMS, coding, scripts, site speed, URL structure, page load time, schema, and more. Optimizing these features can allow users to discover and navigate to the correct pages.
---
SEM Overview:
Search engine marketing uses paid search platforms and paid advertising to add visibility to search results and bring targeted traffic to your site. This requires purchasing pay-per-click ads from Google Ads, Microsoft Ads, Yahoo, or other search engine advertising [4]. 
Using paid ads involves setting a budget, capitalizing on multiple ad types, running cost-efficient campaigns, creating good ad copy, and analyzing data to determine the value of shopping ads.
---
SEO Vs. SEM Similarities 
There are several similarities between SEO vs. SEM, but a major one is that they both drive traffic to websites. However, the process that each tool uses to attract traffic is different.
They both rely on targeted traffic for websites that can convert into sales and leads. There are some other similarities between these two, including:
1. Brand Awareness
Both SEM and SEO are effective tools for building brand awareness. Becoming more prominent in organic searches and occupying pay-per-click and other ad positions helps to increase exposure and improve your brand trust and credibility.
2. Increasing Traffic
Both SEO and SEM help a brand increase website traffic. Organic and paid listings in digital marketing channels will send traffic to your website.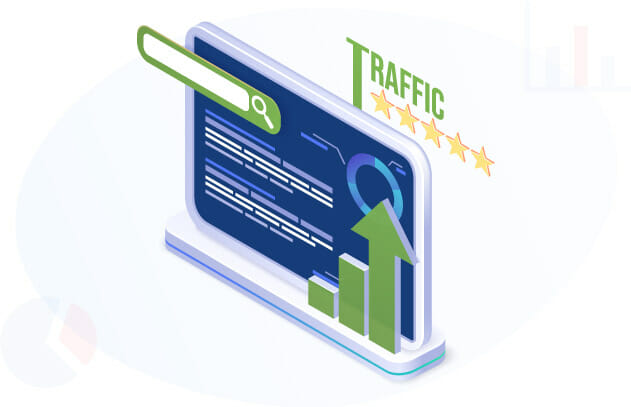 If you couple title tags and meta description SEO or effective ads with SEM with content targeting searchers, you will have an excellent formula for website traffic growth.
---
FAQs
What Is The Primary Difference Between SEM And SEO?
The primary difference between SEM and SEO is that SEM purchases search visibility, and SEO earns it over time.
What Are SEO, SEM, And PPC?
SEO is a tool that uses non-paid marketing to drive traffic to your website organically. SEM includes PPC and is the use of paid search platforms and ads to drive search results toward your website. It requires a marketing budget but can work quickly.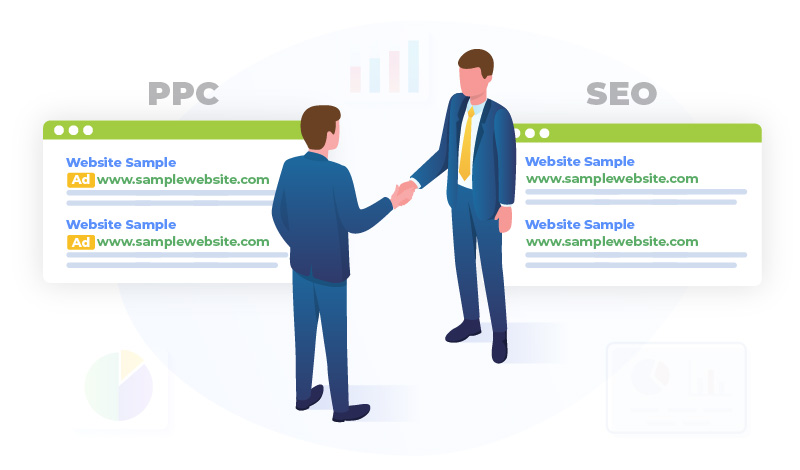 Can You Use SEO And SEM Together?
Yes, you can use SEO and SEM together. Both strategies can help you increase traffic to your website both quickly and over time. 
What Are SEM Keywords?
SEM keywords are words and phrases that describe your product or service. These keywords are words you think target customers will search for when searching for your product or service.
They can help you determine where ads will be displayed in search results [5].
What Are The Four Main Types Of Keywords?
The four main types of keywords are short-tail, long-tail, questions, and internet-targeting keywords that are used to pursue search results.
How Many Keywords Do I Need To Use For SEM?
The reasonable amount of keywords to use for an ad group is between 20 and 30 keywords. However, there isn't an exact rule as to how many keywords should be used for a search engine marketing (SEM) campaign. 
Is There a Limit On The Number Of SEO Keywords You Can Use?
There is no maximum or minimum number of keywords that are ideal for a website. You want to ensure that each page of a site focuses on unique topics and you have a clear understanding of the keywords you are targeting on specific pages.
Can I Do My Own SEO?
Yes, you can do your own SEO. You don't need to hire an outside agency to improve your SEO efforts; however, it can save you a decent amount of time and effort if you use an outside agency.
Is SEO Worthwhile For Small Businesses?
Yes, SEO is worthwhile for small businesses. It is one of the most cost-effective tools for small businesses to drive website traffic. Unlike paid advertising, SEO doesn't require a large investment to get started.
SEO can take time to show results but can result in a well-optimized website long-term.
---
SEO Vs. SEM: Which Is Better for Your Business?
There is no all-encompassing option for your business. However, some factors make one more valuable than the other depending on your business needs, budget, goals, business stage, and more.
SEO is best used when you are looking to create your online brand reputation; you have time to build on-page SEO, off-page SEO, and organic traffic, and you are looking to invest in your brand long-term to enhance your website's search engine results.
Feel free to check out some of the best SEO audit tools that can help you out.
SEM allows you to get on the search engine results page more quickly. They use paid search, PPC ads, and Google ads to increase traffic and appear in organic searches.
SEM is best to use when immediate results are needed, or you need to do keyword research and test the effectiveness of specific keywords with other search engines
Ultimately whichever tool you decide to use for your business, you can benefit from both of these features with keyword research, Google ads, the ability to combine SEO efforts, host digital marketing campaigns, and more.