Did you know that the golf industry is worth $84.1 billion with an average annual spend of $2,800 per golfer? This makes golf a lucrative niche for affiliate marketers to tap into.
There are several large companies in the golf industry that offer commissions to affiliates who can drive traffic to their websites. And in this guide, we'll be exploring the top golf affiliate programs that have been tried and tested by our successful fellow members of The Affiliate Lab community.
If you're interested in earning substantial commissions by promoting golf products, this guide is for you. We'll provide you with a comprehensive overview of the 15 best golf affiliate programs to help you get started.
The Best Golf Affiliate Programs
In this guide, I'll look at a shortlist of the 15 top golf affiliate programs. These affiliate programs will allow you to target a global golf market.
Let's examine each in detail.
1. Callaway Golf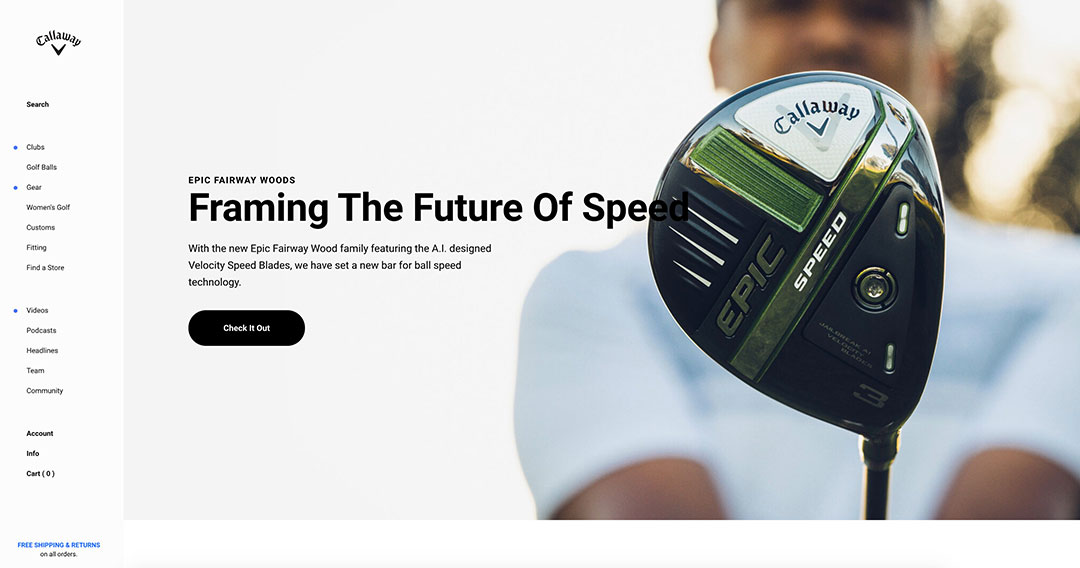 Commission: 6%-9%
Cookie Duration: 45 days
Products/Services Sold: clubs, golf balls, women's golf; drivers, fairway woods, putters, etc.
Payment Options: Payout is made by direct deposit, cheque, or through Payoneer.
Callaway is one of the top brands in the golf industry and sells clubs, balls, and other golf equipment. To ensure they keep a high profile, they sponsor many top players, like Marc Leishman and Francesco Molinari. During our research, we have found that their gear is popular with many who play golf.
The popularity of the brand, combined with the high cost of the equipment, makes it an obvious company to support if you're into golf affiliate marketing. Their affiliate program would be appealing for any golf affiliate.
---
2. Golf Outlets
Commission: 5%
Cookie Duration: 30 days
Products/Services Sold: sets, clubs, carts and bags, apparel, shoes, accessories, and equipment
Payment Options: Payout is by direct deposit, cheque, or through Payoneer for Commission Junction. Payout is via BACS for Affiliate Future.
Golf Outlets USA has a large inventory of products and sells its goods cheaply It's one of the more popular golf brands. The average order value on the site is $100. It's a recipe that rewards high-volume referrals.
---
3. Trendy Golf
Commission: 6%
Cookie Duration: 30 days
Products/Services Sold: apparel; polo shirts, mid-layers, pants, golf shoes, etc.
Payment Options: Paypal.
Trendygolf sells clothing and other golf accessories. You can purchase designer golf apparel from companies like Puma, Adidas, Ralph Lauren, Hugo Boss, and J.Lindeberg. The store has an average conversion rate of 2%.
The average order value at the store is $250. It's an easy and reputable golf site to promote through affiliate links. If you want to become a golf affiliate, this affiliate program is perfect for starting out.
---
4. Austad's Golf
Commission: 7.5% flat commission
Cookie Duration: 60 days
Products/Services Sold: sets, clubs, carts, apparels, balls, accessories, and equipment
Payment Options: Wire transfer, eCheque, or PayPal
Austad's Golf is a family-owned business that sells goods for all of the top brands in golf. The company has brick-and-mortar stores in the US and a strong online presence. Golfers who recognize the brand will be confident making purchases through your affiliate links.
It runs regular promotions and special offers for its audience.
The average purchase order at the site is $145. Besides the attractive 7.5% flat commission, the company offers incentive-based commissions of up to 9% commission on sales of more than $5,000. It's an excellent commission rate for affiliates.
Austad has a 60-day first-party cookie. The company has dedicated program management and support to ensure your success.
---
5. Global Golf
Commission: 8%
Cookie Duration: 30 days
Products/Services Sold: Equipment, clubs, balls, bags, shoes, accessories, clothes, etc.
Payment Options: PayPal, bank transfer, or cheque
Global Golf is a trusted platform where people who play golf can purchase almost any kind of product, from premium clubs, balls to apparel. The company prides itself on having one of the largest collections of new and used premium golf clubs.
The site offers a wide range of products at affordable prices. You can buy goods from brands like TaylorMade, Titleist, Callaway, and Footjoy. Global Golf also has a trade-in program. The trade-in program is a nice angle you can promote as an affiliate.
Global Golf runs its affiliate program on link connector[1]. As an affiliate, you can access resources like custom banners. They also provide tracking tools, tech support, and advice from their team of marketers.
---
6. Rain or Shine Golf
Commission: 5%
Cookie Duration: 30 days
Products/Services Sold: Golf simulator, launch monitors, hitting bays, golf mats, golf nets, indoor putting greens, equipment, and
Payment Options: PayPal
Golf is traditionally an outdoor game. However, not many golfers can travel to golf courses to practice a few swings. Rain or Shine Golf bridges this fix by helping people play golf indoors. The site sells indoor equipment and has a golf simulator.
If you are looking for affiliate programs to monetize, Rain or Shine Golf should be on your list. Their payment set-up is one of the easiest. They pay you by your PayPal account on the 1st of every month. The minimum payout sum is $20.
---
7. Swing Man Golf
Commission: 10% – 50%
Cookie Duration: 30 days
Products/Services Sold: Golf simulator, launch monitors, hitting bays, golf mats, accessories, etc.
Payment Options: PayPal
Since launching in 2007, Swing Man has become the go-to golf site for people who want to improve their game. The site provides excellent online golf lessons to help golfers perfect their swing.
Apart from their golf course and other training programs, they sell products like golf launch monitors and resistance bands. Educational content like golf courses is in high demand and provides great returns, which is why Swing Man should be in your mix.
When you register for the Swing Man Golf affiliate program, you'll get a unique referral link. Anytime someone purchases through the link, you'll get a commission of either 10% or 50%.
The breakdown is as follows:
Swing Man Golf All-Access – 50% of $49/month
Swing Man Golf Swing Speed Trainer Certification golf course – 10% of $588
---
8. TaylorMade Golf
Commission: 6%
Cookie Duration: 30 days
Products/Services Sold: golf clubs, balls, clothing, bags, and accessories.
Payment Options: PayPal
If you've ever played a game of golf, you'll recognize Taylormade Golf. It is one of the largest and most successful names in the industry. The company sponsors several professional golfers like Colin Morikawa, Matthew Wolf, and others.
TaylorMade products include golf bags, premium clubs, and other golf accessories and equipment. In addition to their standard lines, they also sell customized products and equipment, which is a nice marketing angle to promote.
The commission rate for TaylorMade golf is 6%. Their cookies last for 30 days, and they have a marketing team on hand if you need any support.
---
9. The Golf Warehouse
Commission: 6.5% per sale.
Cookie Duration: 30 days.
Products/Services Sold: golf balls, shirts, pants, irons, rangefinders, putters, and shoes.
Payment Options: PayPal
The Golf Warehouse was one of the first online golf shops in the world. You can get pretty much anything through the store – they have over 40,000 items on sale through the site. The company sells equipment like balls, putters, shoes, and golf irons. They also have great customer support.
The company provides a flat 6.5% commission. Golf Warehouse sells clubs from $200 to $1,000. It's a price point that can generate some great returns.
---
10. Fairway Golf USA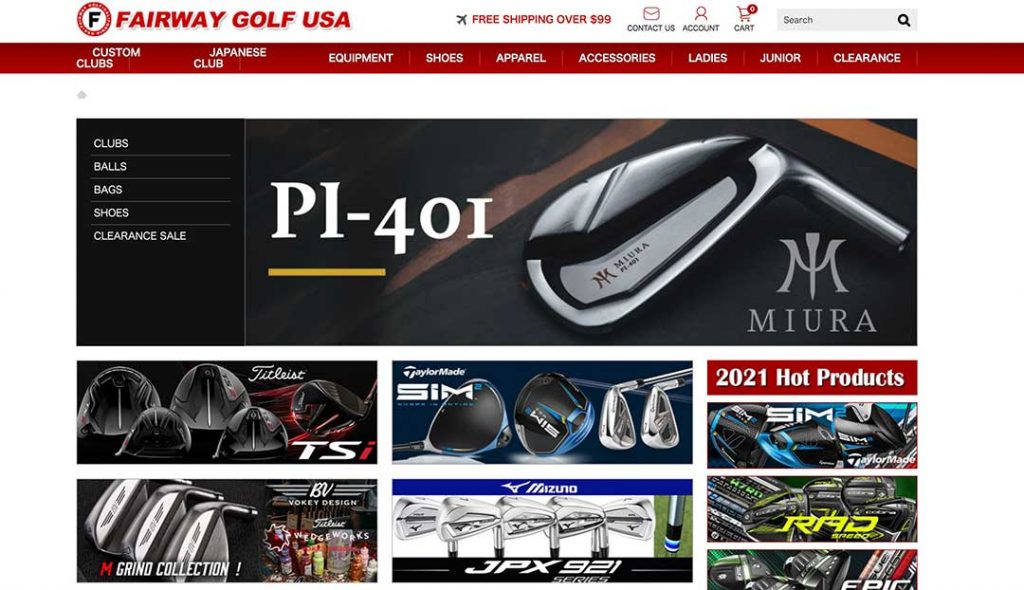 Commission: 6% per sale
Cookie Duration: 30 days
Products/Services Sold: Custom and Japanese clubs, equipment, shoes, apparel
Payment Options: PayPal
Fairway Golf is one of the best online golf sites and a well-respected brand. The company specializes in custom-made and Japanese clubs and sets. The brand is popular with golf players.
The affiliate commissions range from 4-10%. Any purchases made in the first six days generate a 10% commission. For every sale above $200, you get a bonus commission of 5%.
Those jumps in commissions make the affiliate program quite tempting. To top it all, they run promotions and offers for golf equipment which is designed to help you increase your commissions.
---
11. Golf Shoes Plus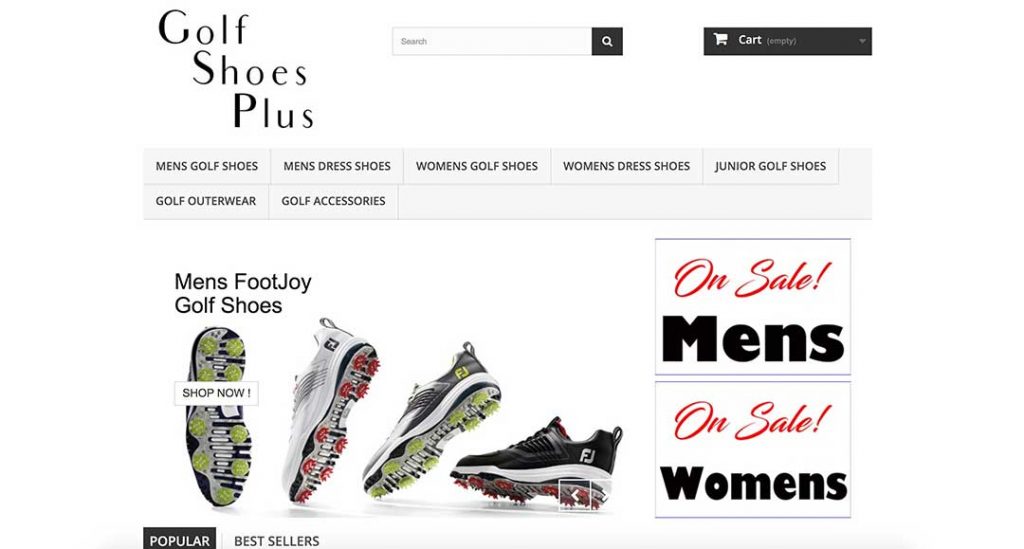 Commission: 5% per sale
Cookie Duration: unknown
Products/Services Sold: Golf shoes and accessories.
Payment Options: Paypal, ACH transfer, Wire transfer, e-check, or paper check
As the name suggests, the store primarily sells golf shoes. They stock more than 12,000 types of shoes, which means there's something for everyone. You can buy shoes for both men and women.
Besides shoes and socks, the company sells top-of-the-line spikes, gloves, towels, pull carts, and more. The program offers 5% of the retail price as commission. They offer several discounts and sales to entice customers and ensure conversions.
---
12. Amazon Associates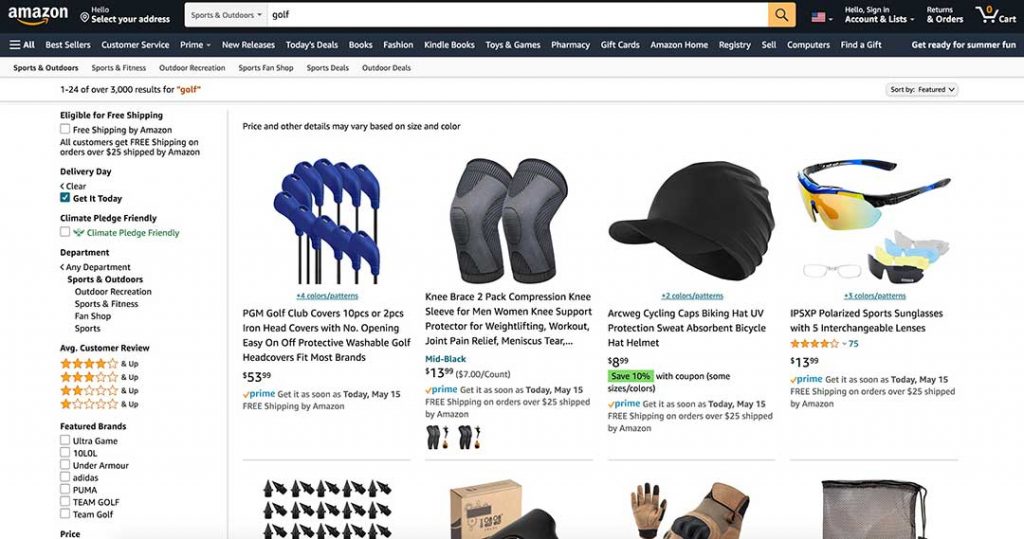 Commission: 3%-4% per sale
Cookie Duration: 1 day
Products/Services Sold: Everything
Payment: Bank transfer, gift card, or check
Amazon is indisputably one of the biggest online retailers worldwide. They generate more than 40% of online sales in the United States. The affiliate program is a no-brainer for affiliate marketers.
The company is a well-established brand. It is known for low prices and fast delivery. It's a combination that pretty much guarantees earnings. Amazon is particularly friendly for new affiliate marketers as it's easy to join their program.
The downside with Amazon's program is that their cookies last for only one day with a low commission rate. That's a lot less tempting than the 30-day cookie tracking offered by the other programs on this list with a commission that can be double what Amazon offers.
---
13. GForce Golf
Commission: 20%
Cookie Duration: 30 days
Products/Services Sold: Golf swing trainers
Payment Options: Paypal
Stuart Small was a PGA golf player with 20 years of experience in coaching. He developed what is now the most sought-after swing training golf tools in the world. The specially produced golf training clubs help students fix their tempo, rhythm, timing, transition, release, and sequence.
The products have been specially designed for beginners and have several unique features. For example, the training clubs are very flexible. The idea is that the clubs work great when you are doing everything correctly. So, you naturally improve your posture and approach with practice.
Becoming an affiliate is simple, though there are some initial costs. You will need to purchase an affiliate pack that includes a 7 Iron & 54* Wedge. Afterward, you'll receive a unique affiliate link that you can share on your website and social media pages.
If you're not interested in golf, I recommend you first promote the product, generate clicks, and then buy the affiliate pack. That way, you know you'll immediately make your money back and then start making a profit.
If you like to play golf, you could buy the golf clubs anyway to test them yourself before you promote the equipment.
---
14. Nike Golf
Commission: 11%
Cookie Duration: 7 days
Products/Services Sold:
Payment Options: Wire transfer
Nike is world-renowned and a pioneer in sportswear. Surprisingly, their Affiliate program is very generous for such an established brand. They offer a commission rate of 11%.
You only need to apply and be selected to get access to the wide range of the company's banners and affiliate links that you can use on your golf sites. You'll also get access to Specific Nike By You promotional material.
Once you become an affiliate, your customers stand to enjoy numerous benefits, including free delivery on eligible orders, occasional sale periods, customer promotions, and lower free delivery thresholds.
---
15. American Golf
Commission: 3% per sale.
Cookie Duration: 30 days.
Products/Services Sold: Golf clubs, clothing, shoes, balls, accessories, GPS, bags, and equipment.
Payment Options:
American Golf is Europe's largest golf retailer. They have over 90 stores in the UK and Ireland and stock top brands such as Calaway, Wilson Staff, among others.
The company offers a 3% commission on every sale, which is low for the industry. If you want to maximize your earnings, you might be better off supporting another site that provides a better commission rate.
---
Why Choose The Golf Industry?
You should choose the golf industry because it is the eighth most popular sport globally. The interest in the game is there, and it's growing. Approximately 6.4 million golfers are millennials – a clear indication that golf is not dying anytime soon.
Source: National Golf Foundation [1]
Here are some more stats to consider:
Over 2 million golfers enter the niche annually
Golf tourism is worth $26 billion annually
Those statistics are impressive. The data is also a sign of the affiliate program opportunities on offer for a switched-on affiliate marketer.
You can focus on golf tourism, for example. Alternatively, you might focus on a sub-niche of the golf market—for example, millennials. Or, you might choose to create an income stream geared to an emerging market like Thailand or Brazil.
The opportunities are plentiful if you're willing to niche down and establish a foothold.
Moreover, it's relatively straightforward to monetize that traffic as an affiliate. Companies offer attractive commissions across a wide range of goods at various price points.
---
Types of Golf Products You Can Promote In the Golf Industry
Golf affiliate marketing can be very profitable. As a golf affiliate, you can promote a wide variety of golf products across various affiliate programs.
The types of products you can promote include:
Accessories
Gear from popular golf brands
Clothes
Golf course memberships
Golf travel and tourism
Books
Courses
1-to-1 golf lessons
Golf simulators through game affiliate programs
The affiliate commissions for golf affiliates depend on the affiliate program. Online courses, for example, are generally high, with commissions often ranging from 20%-50%. Alternatively, some golf courses will pay commissions for referring new members.
The commission rates for physical products like golf clubs, golf equipment, golf accessories, etc. on the other hand, tend to be lower. You'll notice when you go through the list that payouts range from around 5-11%.
---
Start Promoting the Best Golf Affiliate Programs:
With millions of people interested in anything to do with golf, a golf website or a golf blog can easily drive traffic and bring in profits. You can monetize your blog by selling or promoting all kinds of golf products, from courses, and apparel to equipment.
Thankfully, there are several affiliate programs that make it easy for you to monetize your golf websites. All you need to do is sign up, add their link/code to your golf blog, and you are on your way to earning high commissions.
In this article, we've shown you the 15 best golf affiliate programs for an affiliate marketer. When selecting an affiliate platform, consider the commission rate and brand recognition. Companies with lower commission rates might have higher conversion rates. That is something you need to test.
Most of the golf sites on this list are eCommerce stores. Of course, it makes sense to diversify your income stream, which is why there are golf courses and equipment for amateurs on this list.
Visit The Affiliate Lab to discover how to maximize your affiliate income.
Want to Become a PRO Affiliate?
Comprehensive lessons
Niche Grading tool
Step-by-step website building guide
Regular updates


Private Facebook community
Bonus courses
Lifetime course access