Gamers across demographics are hungry for the latest systems, the hottest games, and all the extras that will make them play better. This market's needs are so broad that you can sell $20 games and $5,000 gaming PCs from the same site—even the same page of content.
If you're looking to capitalize on this market, this guide is for you. We've consulted with our top-performing Affiliate Lab members in the gaming niche, who have years of experience and expertise in this industry.
Over an intensive three-month period, they've meticulously researched, tested, and vetted the most promising gaming affiliate programs available today.
For each one, you'll learn what products you can promote, how much you can make off commissions, and where to sign up now.
Our Top 10 Favourite Gaming Affiliate Programs
If you have gaming traffic, we recommend that you sign up for one (or several) of some of the best gaming affiliate programs.
Logitech
Razer
Zygor Guides
Wargaming.com
GameFly
Secret Lab Chairs
NVIDIA
Fanatical
Green Man Gaming
Kinguin
This list of the best gaming affiliate programs is intentionally as diverse as the market itself. It's a powerful mix of video games, hardware, and accessory retailers.
You can easily promote products and services from three or four of these affiliate programs on your website simultaneously. Some of them may be managed by the same outside affiliate networks such as Rakuten and CJ Affiliate.
In the end, you'll learn about another bonus program: The Twitch Affiliate Program which is making affiliates very wealthy in a new way.
1. Logitech Affiliate Program
Logitech is one of the leading computer accessory companies in the world. They were the original creators of the laser mouse, the trackball, and many other technologies.
Today, they design and develop hundreds of models across a series of different brands. They sell mice, keyboards, web cameras, headphones, speakers, and other specialty products.
In recent years, they've placed a special focus on the sub-niche of gaming accessories. Certain models are styled in bold ways to appeal to gamers looking for a cool factor. They've also built out features—such as 10-button mice—that enhance gaming performance.
On top of this, they also manufacture specialty controllers for flight and driving simulators. The affiliate program gives you the chance to promote all of these products to gamers with methods as simple as text links.
It's one of the larger gaming affiliate programs where you can promote multiple brands, including the once-independent Astro Gaming brand.
You can get paid a commission by directing any visitor to one of the brand websites with your referral link. When they make a purchase, you get a commission based on the table below:
| Brand | Standard Commission Rate |
| --- | --- |
| Logitech | 4% |
| Logitech G | 5% |
| Astro Gaming | 5% |
| Blue | 5% |
| Ultimate Ears | 10% |
Many of their brands are highly regarded in their own right. Astro Gaming used to have the best affiliate program in the gaming industry, and its products are still highly popular.
Logitech allowed us to track our affiliate campaigns with detailed reports that cover traffic, specific products ordered, and total sales. You're even allowed (and encouraged) to buy products for yourself using your referral links.
Gaming Program Snapshot
Commission rate: 4-10% standard commission per sale
Cookie Duration: 30 Days
Payment Methods: Wire Transfer (Payments authorized 90 days after the sale)
Service/Product: Hardware Peripherals (Mice, Keyboards, Headsets)
Notes: Average Order Value: $125
---
2. Razer Affiliate Program
Razer is something between an accessory manufacturer and a lifestyle brand for obsessive gamers. The products are easily recognizable by a three-headed snake logo and laser-green and black color scheme.
This signature look can be found in the company's massive range of products for gamers, including mice, keyboards, video games consoles and headsets. The company has recently expanded its reach into the gaming industry with gaming laptops, PCs, and even gaming chairs. You have probably seen those gaming chairs heavily promoted by popular Twitch and YouTube streamers.
The affiliate program gives you the chance to promote all of these products through banners or links. Depending on the product, you can be rewarded based on the table below:
| Brand | Standard Commission Rate |
| --- | --- |
| Peripherals | 3% |
| Systems | Flat US$5 |
| Mobiles | Flat US$5 |
| Respawn products | 10% |
When you join the affiliate program, you can access an interface that allows you to track your affiliate campaign through daily reports. We really liked the up-to-date figures on impressions, click-throughs, orders, sales, and commissions we received.
Gaming Program Snapshot
Commission Rate: Flat $5 or up to 10% per sale
Cookie Duration: 30 Days
Payment Methods: Wire Transfer (Recorded sales are locked one month and 15 days after the month they are generated)
Service/Product: Accessories, systems, and furniture
Notes: Free banners provided
---
3. Zygor Guides Affiliate Program
Zygor Guides is a companion site/app for the massively popular World of Warcraft multiplayer game. Zygor is massively popular in the gaming industry. They sell game guides that help gamers accomplish a wide variety of tasks, including:
Leveling up for efficiently
Claiming rare gear
Earning reputation points for in-game factions
Earning gold
Claiming pets & mounts
Once purchased, we could access the guides with an interface mod that makes the advice appear in-game. From our experience, this convenience made these guides easy to sell to committed WoW players.
Joining the gaming affiliate program gives you the opportunity to promote all the guides that the site offers. The guides are now all accessible through a subscription service that costs $9.99/mo or $99.99/year.
For each one you sell, you can collect an impressive 50% commission. You'll get a recurring monthly commission for all Zygor Guides monthly subscriptions. The yearly subscription is also recurring if the person chooses to sign up again.
Gaming Program Snapshot
Gaming Program Snapshot
Commission Rate: 50% commission/per sale, recurring
Cookie Duration: 60 Days
Payment Methods: Wire Transfer
Service/Product: Guides/World of Warcraft
Notes: Fresh content for the latest updates and expansions keep the product valuable
---
4. Wargaming.com Affiliate Program
Wargaming.com is the home of the massively multiplayer games World of Warships and World of Tanks. The games, known for their real-money marketplaces, have helped the company reach a valuation of more than $1.5 billion. These games are some of the best known in the gaming niche.
It is now one of the biggest companies in the video game industry. Affiliate marketers usually have only positive things to say about this gaming affiliate program.
You can benefit from their success by joining the gaming affiliate program. It works on a CPA model where you are rewarded for both new registrations and actions that the gamers take in the games.
The payout reaches as high as $10 per new registration, though the total payout depends on the player's country of origin. The plus side is that the program is global, and you can collect some level of commission even if you don't have North American traffic.
To sign up for this gaming affiliate program, at least 70% of your traffic should come from either the US and Canada, Australia, New Zealand, Japan, South Korea, Singapore, and Taiwan.
You'll need at least 30,000 unique visitors or 10,000 active subscribers to qualify.
The same standards apply to any affiliates you want to attract for Tier 2 commissions. If any new affiliates successfully sign up through your link, you'll get a recurring 3% of their commissions.
Gaming Program Snapshot
Commission Rate: Up to $10 commission per action
Cookie Duration: 30 Days
Payment Methods: WebMoney, PayPal, eCheck, ACH, and Wire Transfer (NET30)
Service/Product: Subscriptions
Notes: Claim additional tier 2 affiliate rewards by attracting new affiliates to the program
---
5. GameFly Affiliate Program
GameFly is a gaming rental company that operates on Netflix's original model. Gamers rent games, and the games are shipped to their home addresses on a subscription model.
Video games are available for most systems, including Xbox One, Xbox 360, PS4, PS3, PS Vita, Wii U, Wii, and 3DS. Subscribers can also purchase games at full price or at a discount.
This service remains in high demand because it carries most of the top franchises, such as God of War, Assassin's Creed, and Far Cry. It also endures because costs are significantly lower than the purchase price of a game at Gamestop or another retailer.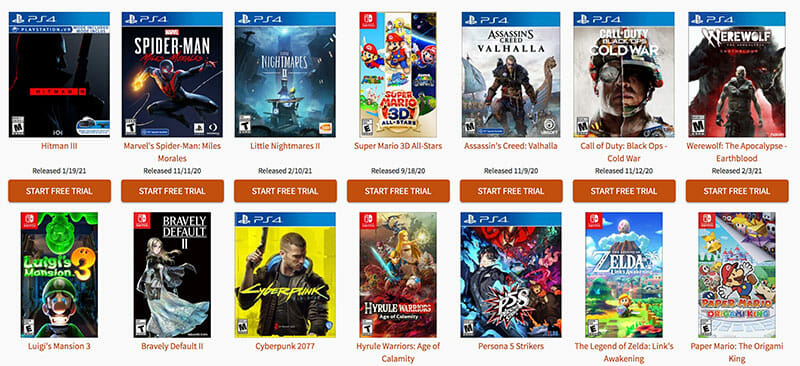 This is where the affiliate program comes in. You can earn money based on several different actions.
First, if a visitor from your site signs up for a free trial or a subscription, you'll be rewarded with a base commission of $15. You can also direct visitors toward game purchases. You'll get 5% of the money they spend buying a new game.
Commission Junction currently manages the affiliate program and handles most of the policies. They help support any affiliates who choose this program with banners, tested anchor text, and real-time reporting.
Gaming Program Snapshot
Commission Rate: $15 for free trials and subscriptions. 5% per sale of new console games
Cookie Duration: 30 Days
Payment Methods: Direct deposit, check, or Payoneer (minimum payment threshold of US$50 for direct deposits or US$100 for checks)
Service/Product: Subscriptions and game discs
Notes: Collect commissions from multiple types of offers (sale and subscription)
---
6. Secret Lab Chairs
Secret Lab Chairs is a direct-to-consumer manufacturer of high-quality gaming chairs. This is one of the gaming sub-niches that has been growing significantly in the last few years.
They sell dozens of different models of office-style chairs that are set apart by different frames and fabrics. They come emblazoned with characters and logos from major games and TV series.
The affiliate program lets you collect for moving any of these chairs. The standard 12% commission is a great one, considering that the cheapest of these chairs starts at around $350. Some models cost more than $500.
The 7-day cookie is hardly one of the best around, but Secret Lab compensates for it by supporting its affiliates with aggressive retargeting ads. This can encourage interested gamers to make a choice within the limited window.
Gaming Program Snapshot
Commission Rate: Up to 12% commission fee per sale
Cookie Duration: 7 days
Payment Methods: PayPal
Service/Product: Custom chairs
Notes: The network covers the cost of retargeting visitors with ads. You still collect the commission if it results in a sale.
---
7. NVIDIA Affiliate Program
NVIDIA manufactures components for gaming computers. They are most well known in the gaming niche for their powerful graphics cards.
While the high-quality graphics cards were always respected for gaming, their fitness for cryptocurrency mining has caused demand to exceed supply for several years running.
This demand could present an opportunity for affiliates who can promote these fast-moving products. The commission rate isn't great (2-5% depending on the product), but most of the cards cost at least $300. Some of the higher-end models can easily cost several thousand.
The NVIDIA affiliate program is managed by the Rakuten network. If you've already been approved on Rakuten, you may be able to access this program from your user menu. The network is responsible for setting most of the policies.
Gaming Program Snapshot
Commission Rate: 2-5% per sale
Cookie Duration: 45
Payment Methods: E-check, PayPal
Service/Product: Graphics Cards (GPUs)
Notes: Expensive products mean high single-sale profits
---
8. Fanatical Affiliate Program
Fanatical is a massive marketplace of officially-licensed game keys. These are digital download codes that can be redeemed on a number of platforms, including Steam and Epic Games. They attract a significant amount of business by running deep discounts on popular titles.
If you join the affiliate program, you can promote any of the games and max out your commission's value by pushing the full price ones. You can earn up to 5% commission per sale, with products ranging from $20-$59.99
There are two different affiliate programs. One is for those who are managing websites or blogs, and the other is for people managing video content on social media. Most affiliates are going to fall under the first model.
The website/blog affiliate program is managed by the CJ affiliate network. You may be able to access it from your menu if you're already registered there. Most of the payment options are set by this network.
Gaming Program Snapshot
Commission Rate: Up to 5% commission per sale
Cookie Duration: 30 Days
Payment Methods: Direct Deposit, Check, or Payoneer
Service/Product: Digital Download Codes
Notes: Average Order Value: $125
---
9. Green Man Gaming
Green Man Gaming is another e-commerce marketplace that sells keycodes for digital downloads for PC gamers. Most of the popular PC games can be found for sale here, often at slight or steep discounts.
The affiliate program includes access to the entire product catalog API. That means you'll be able to promote any one of the 7000 games that are for sale on the marketplace.
You can collect up to a 5% commission for each sale that results from your affiliate links. The products typically cost between $5-$50+.
Affiliates are provided with up-to-date information about upcoming discounts and offers. They're also provided with a growing library of banners and custom offers for their gamer audience.
Those who do well with this gaming affiliate program are eligible for extra rewards based on their performance. High-performers with a big audience of gamers may be awarded higher commission rates and other accommodations.
The affiliate program is managed by the CJ Affiliate network. If you're already on this network, you may be able to access it from your user menu. The network is responsible for setting most of the payment policies.
Gaming Program Snapshot
Commission Rate: Up to 5% per sale, with the potential for more
Cookie Duration: CJ Affiliate Cookieless Tracking
Payment Methods: Direct Deposit, Check, or Payoneer
Service/Product: Digital Discount Codes
Notes: Higher commissions possible based on performance
---
10. Kinguin Affiliate Program
Kinguin is an EU-focused marketplace that sells some of the latest games at discount prices.
Unlike some of the other video game affiliate programs on this list, Kinguin lets you promote games for each major games console. They carry products for the gaming PCs, Playstation, Xbox, and Nintendo systems.
The affiliate program (called Kinguin Mafia) managed by Kinguin allows you to earn a commission for attracting people to make purchases on the platform. The commissions start at 5% (for purchases up to $100+) but scale upward depending on how many sales you make.
Affiliates may qualify for Kinguin Mafia Pro. In this program, the rewards scale up to 10% of each purchase that is made by people you refer.
In addition to the higher commissions, the Pro program provides affiliates with giveaway prizes, news on upcoming releases, and customized banners to appeal to gamers in your audience. Affiliates will also be provided with professional assistance from a support team.
Kinguin claims that the best affiliates on the program earn in excess of $50,000 a month.
Gaming Program Snapshot
Commission Rate: Tiered earnings between 5-10%
Cookie Duration: 30 Days
Payment Methods: PayPal
Service/Product: Digital download codes
Notes: Two tiers of programs depending on how casually or closely you want to work with Kinguin
---
Bonus: Twitch Affiliate Program
Most of the programs that were covered in the top 10 list depended on you monetizing a website or blog. However, a significant and growing amount of advertising money pouring into gaming affiliate programs is being directed toward streaming.
For that reason, it's important that you understand how streaming is coming to dominate advertising in this niche through one of the largest sources available today: Twitch.
Twitch is a mass streaming platform. Content is created by "streamers" (often gamers) who record themselves playing games live. Streamers hold consistent accounts called "channels" where their content is archived in a library like the episodes of a TV show.
Streamers make money by collecting commissions from the people who are observing them—often in real-time.
For example, Twitch has paid subscriptions that allow subscribers to see all content on the platform without commercials. When viewers sign up for a subscription, they can do it through a channel while watching a stream.
When this happens, the streamers on that channel collect a cut. In this way, an affiliate program is built into the basic model of Twitch.
Streamers, however, behave a lot differently than traditional affiliates. They build their audience and drive conversions by interacting with their audience live.
Playing to the live crowd (for example, by performing a highly-skillful move or reacting in a funny way) is how streamers build audiences and drive a stack of sales in a matter of minutes.
Viewers can even pay real money to post special reactions (called Bits) that are visible to the streamer and audience.
Twitch isn't a replacement, however. It's an alternative model that you could be used to supplement your affiliate income while boosting your site with fresh Twitch-sourced traffic.
How Does the Twitch Affiliate Program Work?
The Twitch Affiliate program works by rewarding affiliate marketers for each follower they gain. Twitch also rewards them for actions that the audience takes while watching or engaging with the gaming streams.
Twitch has high standards for affiliates. Any applicant needs to have logged at least 500 minutes of broadcast in the last 30 days. They also need to have broadcasted at least seven times in that period and have at least 50 followers.
Once they have qualified, affiliates can start collecting a share of the money that they bring in from subscriptions, ad views, and Bits.
The commission structure works like this:
Subscriptions: 50% commission when someone signs up for subscriptions between $9.99 and $24.99
Ad revenue: CPM between $0.01 and $1.00 depending on the number of viewers
Bits: $0.01/bit
This is considered one of the best gaming affiliate programs available globally. Many marketers around the world are eligible. Review the terms of service to find out if some of these gaming affiliate programs are available in your area.
Those who are successful can graduate to Partner status with Twitch. The partnership can significantly change the amount of money you can make with affiliate commissions. You may be able to negotiate for special terms.
Gaming Program Snapshot
Commission rate: Variable based on subscription, ad clicks, or platform purchases
Cookie Duration: 30 Days
Payment Methods: Direct Deposit, PayPal, Check
Service/Product: Subscriptions
Notes: Multiple sources of income
---
Don't Stick to Just A Single Gaming Affiliate Program
Now you know some of the best gaming affiliate programs available and what they let you promote to gamers on your website. You'll notice you have a lot of options.
Gaming is a massive market, and many lucrative affiliate programs serve it. Don't restrict yourself to just one. The same people who will buy games are also great customers for hardware, accessories, and streaming software.
Would you like to know more about the top gaming affiliate programs or how to make it as an affiliate marketer? Join The Affiliate Lab.
In the Lab, you'll find tips that aren't available anywhere else. You'll also get access to one of the most exclusive affiliates' Facebook groups online so you can learn from top affiliates.
Want to Become a PRO Affiliate?
Comprehensive lessons
Niche Grading tool
Step-by-step website building guide
Regular updates


Private Facebook community
Bonus courses
Lifetime course access