I've been in the blogging industry for over a decade, during which I've built and sold hundreds of websites, some of which were even sold for 7 figures.
So, how do websites make money? Does it involve selling ad space, or are there other ways to monetize a blog? And what are some actionable steps you can take to finally get paid for your hard work? We answer those questions and more in this guide to website monetization strategies.
Quick Summary
You can monetize a website through various methods, including but not limited to affiliate marketing strategy, display ads, selling digital products or services, sponsored content, or even selling your own physical products.
You need at least 1,000 page views per month to start monetizing your website.
You can expect to make between $10 and $30 for every 1,000 views per month.
10 Most Common Ways To Make Money With Your Website
Most people, especially when starting a blog, don't know how to monetize blogging, or at least how to monetize a website without ads. Let's go through ten of the most popular website monetization strategies to earn money from your site's content.
1. Affiliate Marketing Using Affiliate Links
The idea behind affiliate marketing is simple. You promote another company's products or services on your website, usually through a special tracking link (affiliate link) or unique code, and earn a small commission when your readers purchase it through that affiliate link.
It's a good idea to learn affiliate marketing because it is one of the easiest ways of making money since it's pure passive income and you don't need to produce your own products or services. The first step is whittling it down to a specific niche, then choosing the right products. The Affiliate Lab has a great online course on choosing a profitable affiliate niche, so check that out if you can.
"As an affiliate, make sure that the products you promote are actually good. And if possible, use them yourself so that you know what you're promoting and eventually can become an expert in your niche," says Supermetrics affiliate manager Johannes Rastas.
How much you can earn largely depends on the type of affiliate marketing you get into. If you choose an affiliate network, they usually have a set percentage based on the product category.
Digital products are one of the most lucrative niches, with commissions as high as 70% of the final sale. The average affiliate marketing website owner earns around $2,000 per month, but that can hit $5,000, $10,000 or even $100,000 with a big enough readership.
Famous Affiliate Marketing Websites
Here are some more great examples of affiliate marketing websites.
Get Started
Here's how to monetize blog content through affiliate marketing:
Create a website, and fill it with content. This could be reviews, features, product comparisons, or anything else that's related to the products or services you're promoting.
Choose an affiliate network that you want to work with.
Incorporate your affiliate link into your content.
Profit!
Pro Tip: Once you get enough web traffic, you can negotiate a higher commission rate with your affiliate partners.
2. Google AdSense & Pay Per Click Advertising
Chances are, PPC is one of the first things you thought of when brainstorming how to monetize a blog. The cost per click varies depending on the company/product/service and the brand value of your website. Most sites will start at a rate of $0.50 per click, but popular websites can demand as much as $5 for a click.
Google AdSense is one of the ad networks that displays relevant banner ads/video ads to your readers. For example, if your website is about fashion, the network will show ads for clothes, shoes, fashion design courses, and the like.
AdSense isn't the only Pay Per Click ads network – there's also AdThrive, Ezoic, MediaVine, Newor and many other ad networks.
It'll take a while for you to build web traffic and earn a decent income from PPC advertising, but you can combine it with other methods like using affiliate link to speed it up. The average website gets around $1,000 a month from clicks alone, but bigger websites might see that number swell to $3,000 a month or even more.
The two biggest factors that determine your monthly keep are:
Traffic: The more people that visit your website, the more clicks you'll likely get.
Ads network: Ad networks decide what your percentage takeaway is. Choose wisely!
Famous Websites Monetizing Through PPC/Google AdSense
Get Started
Here's how to monetize a website with AdSense:
Make sure your website follows the Google AdSense guidelines and meets the criteria.
Sign up for AdSense. It will take a while to get approved, so be patient.
Add the Google AdSense widget to your website and place your banner ads.
Profit!
3. Sell Ad Space On Your Site
Selling ad space on your website is another way to boost your income. Instead of going through an ad network like Google AdSense, you can make arrangements directly with the businesses you'll promote. This means that you get 100% of the marketing budget.
And you can come up with your own prices too! Of course, that means you'll have to work twice as hard to promote your ad space and negotiate with businesses on top of actually running your site.
To generate income using this model, you can't just have good traffic numbers. You need high conversion rates as well. Although, you can also swap out cost-per-click (CPC) for cost-per-impressions (CPM) – this is a great way of monetizing web traffic, but CPMs are usually much lower than CPCs.
For example, a CPC could earn you $5 for a click, while a CPM might be $5 per thousand impressions. So you only need 100 clicks to earn $500, but you'll need 100,000 website visits to earn the same amount.
Famous Websites Selling Ad Space
Get Started
Here's how to start selling ad space on your blog:
Create a media kit. This should contain key information about your website, such as traffic, user demographic, and more.
Send your media kit to advertisers. You can find potential advertisers on platforms like Google Ads, SellerCrowd, LinkedIn, and BuySellAds.
Place ads on your website.
Profit!
4. Sell Your Own Digital Info Product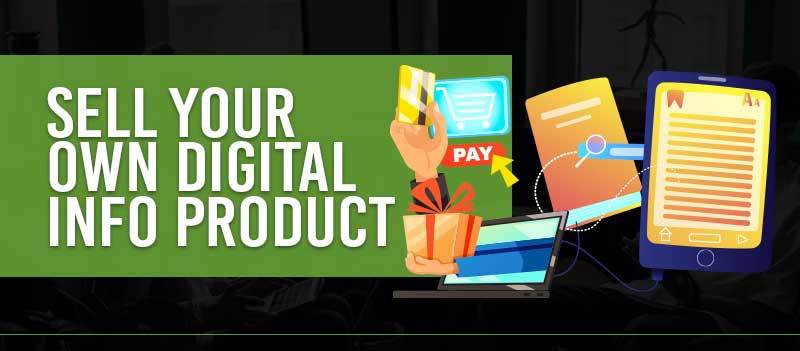 Promoting other people's products or services is an easy way to get paid. But if you want to make even more money, consider selling your own. Specifically, your own digital product.
Digital products include ebooks, white papers, and other types of content that you can digitally distribute. There's a pretty low overhead to these products since you don't have to worry about manufacturing, storage, or shipping. And because it's your info product, you don't have to split the profits with anyone else.
This comes with its own challenges, however. Creating digital product requires a ton of time and hard work. You need to do the research, writing, and design. If you don't have graphic design experience, you'll have to pay someone else to layout your book and create visuals for it.
Overall, though, it's a low-cost way of monetizing a blog. Just put it up on your website and charge your users for access to the e-book. You can even use this opportunity to collect email addresses to market to them later.
The biggest problem with selling an e-book is that you don't stand to make a lot of money out of it. E-books could earn you around $2,000 a year. And most digital info products sell around 3,000 copies, so you can't expect it to earn you money forever unless you regularly update it with fresh content.
Famous Examples Of Digital Infoproduct Websites
Get Started
Here's how to monetize Blogspot, WordPress site, or whatever blogging platform you prefer:
Create a well-researched, easy-to-read e-book. Make sure it's in PDF format for better reading and distribution.
Optimize your landing page for the e-book.
Drop your payment gateway, PayPal link, or other method of collecting payment.
Profit!
5. Accept Visitor Donations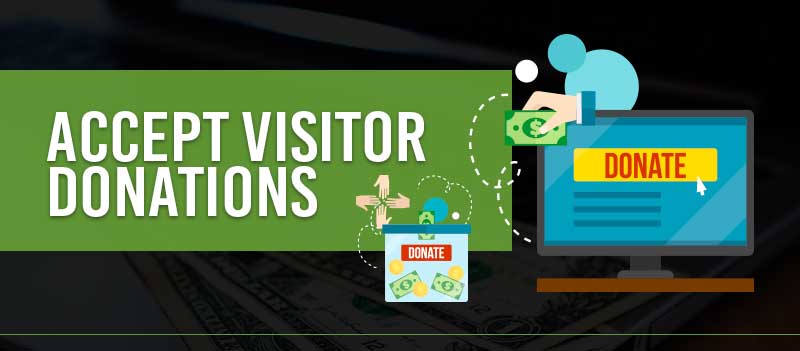 Plenty of websites survive on donations alone and yours can too, especially if your readers value your content. Getting enough donations to sustain your website and pay your bills is tough, though.
A few one-off contributions can boost your income in the short term, but you need a long-term website monetization strategy.
The best way to monetize a website through visitor donations is by pushing the "cause" you want your readers to support: your content. You have to convince your following that your content is valuable enough to warrant their donations.
Just be careful about combining donations with other website monetization methods. Readers are generally hesitant to contribute if they know you're already earning a lot from other sources.
Most donation-based websites earn $1,000 a month, which is enough to cover website maintenance and a few expenses here and there. Some of the more successful ones are pulling in $5,000 or more!
Famous Donation-Based Websites
Get Started
Create a donation post or page on your website.
Add donation methods such as PayPal, Fundly, or Stripe. Some, like PayPal, even let you put a donation button on your website to make it easier.
Profit!
6. Sell Sponsored Guest Posts
Sponsored content is one of the most common ways to monetize a site. You collaborate with a brand to create promotional material, whether that's a review, announcement, offer, feature, or something else. Sometimes, the business will create the sponsored content themselves, while other times website owner has to write the sponsored posts.
If you're creating the sponsored content, you can charge a much higher rate than if you were just posting it to your site. The more popular your blog is, the more you can demand for your sponsored posts.
Most importantly, you have to be transparent about sponsored content. If you're getting paid to promote a business, tell your readers. Don't try to sneak it past them because that erodes the trust you've built. Plus, many countries have laws that require you to declare if something is sponsored or not.
Native ads can be extremely effective – more so than display ads. "It's not that banners don't work, but the key is that people read native ads," explained Dan Greenberg, the CEO of Sharethrough. "They consume it as content, they engage with it, and there is cognitive value derived from it."
A sponsored post can cost anywhere from $50 a pop to thousands. For example, a huge website like BuzzFeed charged six figures for five sponsored articles in 2014. The average website can expect to earn $2,000-6,000 a month from sponsored content alone.
 Famous Websites That Sell Sponsored Content
Get Started
Here's how to monetize Blogger or another website:
Make a media kit that contains the most important statistics about your website.
Reach out to local or national brands that are relevant to your readers. You can also find sponsored content opportunities on platforms like Cooperatize, PayPerPost, and Tomoson.
Partner with a PR or marketing agency to get more posts.
Publish sponsored posts
Profit!
7. Lead Generation For Other Companies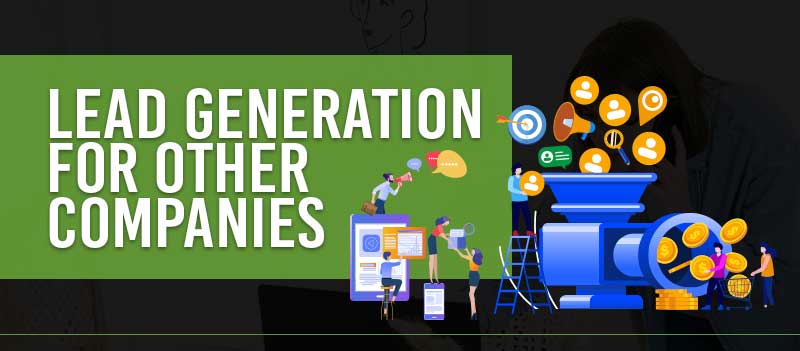 Every business needs leads. After all, without customers, your business won't survive. You can be indispensable to these businesses – and earn a tidy profit at the same time – by providing them with qualified leads.
For example, if you have a health and wellness website, you could offer consultations with a nutritionist. All you have to do is collect their contact information, and then sell those leads to the nutrition expert.
There are heaps of pay per lead affiliate programs to choose from, or you can reach out to existing business you know and organise your own arrangement.
Stick to brands that are within your niche, and you can make a quick buck. Lead-generating websites can earn thousands in revenue per month, with most leads starting at $10 for each.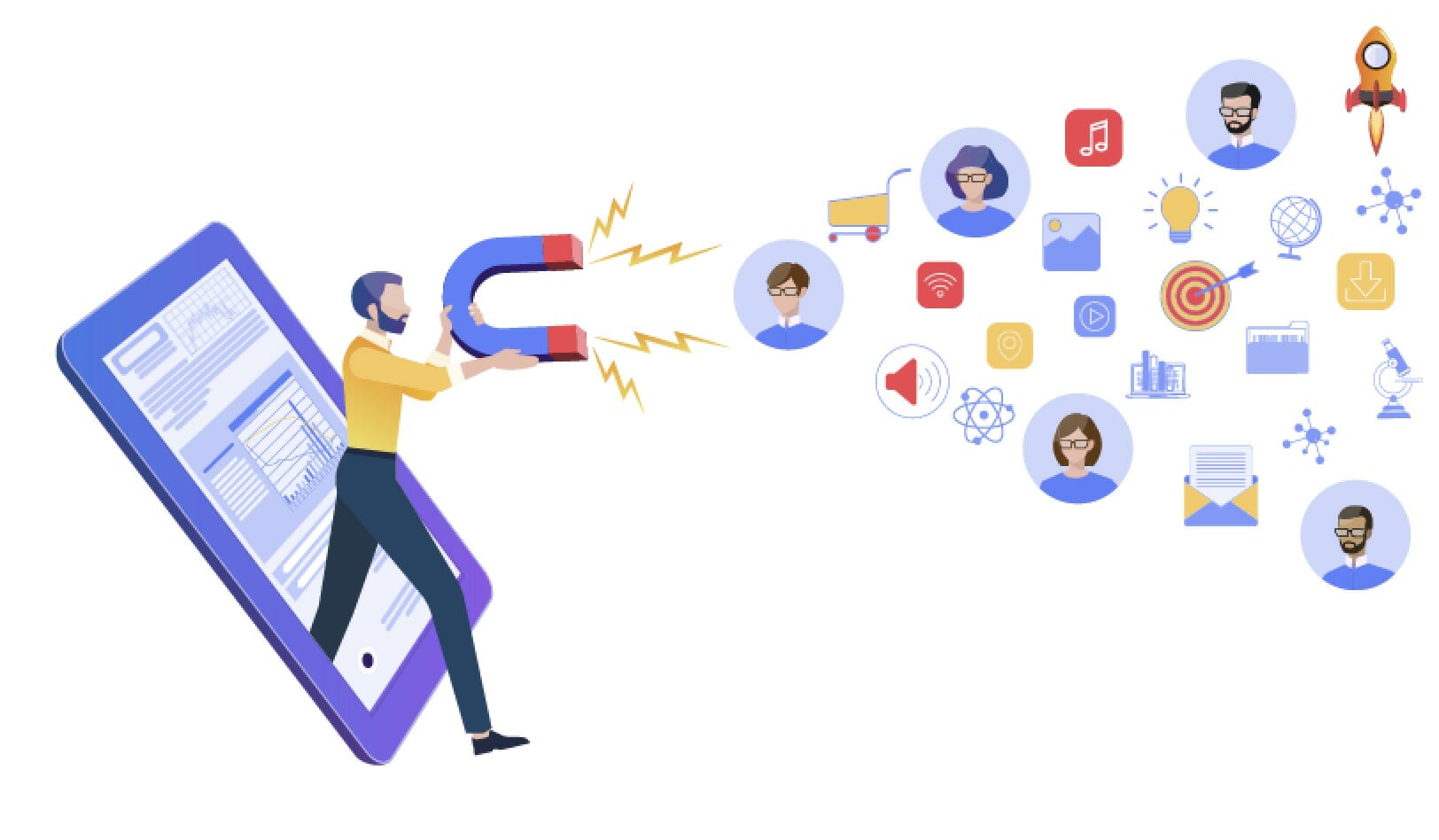 Famous Lead-Generating Websites
Get Started
If you're wondering how to monetize a website by generating leads, here's how:
Set up data collection on your site through an inquiry form. The most important details to collect are name, email address, and/or phone number.
Find businesses that are willing to pay for your leads. You can reach out to local brands in your niche to see if they're interested. Or you can check out websites like Max Bounty and Peerfly.
Profit!
8. Build An Email List
Although you don't earn directly from building an email list, having one is a crucial step to growing your blog and making money. The readers who sign up to your email list or newsletter are the readers who are most loyal to your brand. This means that they're also more likely to convert if you have any offerings.
The easiest way to collect readers' information is by offering what's called a "lead magnet", or something you give them in return. Maybe it's access to your newsletter, a discount code. This is a highly effective tactic for building email lists. However you go about it, make sure to give your readers different opportunities to sign up.
"The number one monetization strategy that helped me grow my list was placing multiple signup forms on high traffic pages on my site and offering a high-value giveaway in return," shared Steve Chou of MyWifeQuitHerJob.com. "Today I have forms in my popup, in my sidebar, at the bottom of every post and on a slide in."
Famous Websites That Use Email Lists
Get Started
Here's how to start building an email list for your site:
Think of what you can offer in exchange for information.
Add multiple sign-up points on your website. The bottom of the page, the sidebar, and well-performing content are the best for encouraging people to give you their information. You could also consider in-line CTAs.
Use your email list to support your other income-generating activities.
Profit!
9. Set Up An E-Commerce Website
If you want to expand beyond content, you can create an e-commerce website to sell your products or services. An online store can be incredibly profitable if you know your niche and offer something unique. After all, there are millions of online shops – you need to stand out if you want to succeed in this highly-competitive market.
It's hard to estimate just how much you can earn from e-commerce. It really depends on what and how much you're selling.
According to a study, the average e-commerce conversion rate was at 2.86%. That means that you get around 2-3 customers for every 100 people that visit your online store. The average order value in the United States is between $70-130. With those in mind, you'll be able to compute your potential monthly earnings.
Setting up your own e-commerce website is tough because it involves a lot more than just running a profitable website.
You have to provide good customer service, process orders, fulfill them, and ship them out. It's a whole business on its own, so make sure you're prepared to handle that!
Famous E-Commerce Websites
Get Started
Starting your own online shop is no joke. Here are a few steps to monetizing a website through e-commerce:
Figure out what products you want to sell. It should be something relevant to your niche so that you can leverage your current readership.
Set up your website through an e-commerce platform like BigCommerce, Shopify or WooCommerce.
Add your products to the store catalog.
Profit!
10. Website Flipping: Create, Sell, Then Reinvest
You've heard of house flipping, but you might not have heard of website flipping.
The concept is the same – you build a new website, increase traffic from search engines, monetize for better affiliate/ad revenue, then sell it off at a huge profit. Many of these flipped sites are affiliate websites, but you can flip any type of profitable website.
How much you can earn off a flipped website depends on a few different factors. Your niche, website visitors, profit, monthly revenue stability, and growth all determine the final price.
But it's extremely lucrative, even for smaller personal websites – a site that brings in $500 can sell for up to 40x that number, so it's a good way to earn a lot of money online in the short-term.
Famous Flipped Websites
Get Started
Here's a step-by-step to flipping websites for profit:
Create or buy a website. Ideally, it should be something that you can write a lot of content for, so choose something you're familiar with or passionate about.
Build your website traffic and grow your readership.
Monetize your website through ads, affiliate marketing, or some other monetization method.
Sell your website. Popular platforms include Flippa, Empire Flippers, We Buy Websites, and FE International.
Profit!
Even More Ways To Monetize Your Website
Want more ways to monetize a website? Here are some uncommon and out-of-the-box monetization strategies mentioned below:
Rent your pixel audience for retargeting. When you "repixel", you allow other businesses to target your site visitors with ads. The trick is to find brands with the same target demographic but who aren't competitors. For example, if you run a blog on fitness, you might rent your pixel to sports stores, gyms, supplement sellers, and the like.
Put content behind a paywall. Have some free high quality content to attract readers, but put your most valuable content behind a paywall such as webinars, videos, classes, or even a special forum. If people want to read more and learn from you, they can pay a small fee. This is also a great way to collect users' email addresses for future remarketing.
Create a paid membership website. A membership website is a site that delivers premium content to subscribed users on a regular basis. It's kind of like a paywall, except you have to keep providing useful and valuable content to maintain your recurring income. If you can't set up membership sites, consider a similar third-party platform like Patreon.
Offer consulting services. Consulting can bring in income while you wait for your other revenue streams to turn a profit. If you're an expert in something, there will be people who are interested in hiring you as a consultant.
Set up events. Conferences take a lot of work to set up, but they can also be a huge profit driver. You can generate income from admission/ticket sales, booth rentals, merchandise, and more.
Add a paid directory or job board to your site. Setting up a directory or job board on your site is one way to earn money online without having to do much work. Just charge a small fee to businesses who want to be listed on your directory/board.
Sell online courses. Creating an online courses is a bit difficult for sure. But, if you already have a strong personal or business brand presence then offering online courses to your target audience will be worth your time and effort. I know a lot of marketers earning six figures from their simple online courses.
FAQs
How Much Does It Cost to Monetize a Website?
It doesn't cost anything to monetize a website. Once you have enough website visitors, you can use one of the many monetization strategies discussed in this post to make money from your website.
How Many Views Do You Need to Monetize a Website?
You need approximately 1,000 views per month to monetize a website. This benchmark is a typical starting point for monetization via advertising platforms like Ezoic or Media vine, as they often require a minimum traffic threshold before allowing you to display ads.
How Much Can I Earn From Website Monetization?
You can typically earn anywhere from $2 to $100 for every 1,000 website views. However, ROI depends on ad placement, viewer location, and site niche.
Do Website Owners Get Paid?
Website owners don't get paid to blog, but they can monetize their site traffic using affiliate marketing, ads, digital products, online courses, and many other ways.
Can I Monetize My Free Website?
Yes, you can monetize your free website using one of the techniques mentioned above.
Summing It Up: What To Do Now
Most webmasters would like to earn money off their websites or blog. But it takes time, hard work, dedication, and a few smarts to do it.
We've gone through a lot of ways how to monetize a website, from affiliate marketing to selling sponsored guest posts to even flipping websites. Not every monetization strategy will work for you – find the one that suits your website best, then stick to it until you see results.
Now that you've learned how to monetize a website, go out there and make that money! Or, if you want to know all of the tried-and-tested strategies that expert webmasters use, check out The Affiliate Lab to learn more about how to build a profitable site.
References