Looking to start an online shop? Or maybe you're looking for a new eCommerce platform to power your existing business.
Save yourself hours of research by checking out the platforms below.
As an eCommerce expert, I've dedicated countless hours to researching the finest eCommerce software solutions available to save you time and effort.
This guide is the only one you'll need to help you find today's top eCommerce software since we've done all the hard work for you. We've picked out the top platforms based on features, usability, scalability, and more.
Read on to find the ideal platform that will empower your online sales and drive your business to new heights.
Best eCommerce Platforms Compared
The best one for you depends on your type of online business and the functionality your eCommerce site will need.
| | Best for Small Businesses | Best for Retail Stores | Best for Enterprise |
| --- | --- | --- | --- |
|      | Shopify | Square Online | Magento |
| Ease of Use | Very intuitive and easy to use. | Very intuitive and easy to use. | Requires advanced technical skills. |
| Design Flexibility | Decent | Limited | Unlimited flexibility |
| Help & Customer Support | Excellent | Excellent | Limited |
| Value for Money | Excellent | Excellent | Depends on the size of your store. |
| Range of Features | Excellent (even for beginners) | Moderate | Excellent though requires a developer |
| Price for Cheapest Plan | $9/month for Shopify Lite | $15/month | Free with Open-Source |
| | Visit Shopify | Visit Square Online | Visit Magento (now Adobe Commerce) |
When it comes to eCommerce platforms, there are a few key factors that you should consider.
The first is the ease of use – the platform should be easy to navigate and set up. The second is affordability – the platform should be affordable, especially for businesses just starting out.
And finally, the platform should be scalable – it should be able to grow with your business no matter what level you plan to grow to.
All of the platforms in our list offer a great mix of features and price points that make them perfect for small business owners who are building their first eCommerce website right through to large retail stores and enterprises needing more robust solutions.
1. Shopify (

Editor's Choice

)
Shopify made a splash in the online world when it revolutionized the shopping cart experience. As a signature feature of the platform, business owners worldwide have fallen in love with how easy and intuitive Shopify's cart and checkout processes are.
But there's much more to Shopify than meets the eye.
A robust platform, check. Affordable, scalable solutions for any sized store, check. Beginner-friendly through and through, check.
Shopify is the perfect all-rounder for any small online e-commerce business. With a wide range of impressive, pre-built themes and templates available, you can create your online store very quickly and begin selling online asap!
Most importantly, you don't have to worry about things like the hosting, security, and the performance of your store since Shopify's team handles all of that for you.
On the flip side of this coin, if you want the flexibility to improve your store's performance, Shopify may not be the best platform for you unless you can afford to upgrade to Shopify Plus. If not, we'll get to some open-source options you can check out instead in a moment.
Ease Of Use
Shopify is one of the easiest eCommerce platforms to use. Users love it for its intuitive simplicity combined with the power of all the features it delivers.
No matter if you wish to sell physical products, or digital products or set up a dropshipping online store, Shopify is able to help you get started at an affordable rate.
Range Of Features
Shopify's range of features is very impressive. Most notably, you will receive all of the following (and more) with any Shopify plan you purchase:
Unlimited everything: orders, users, products, customers, bandwidth
24/7 support (if you ever need it)
Beginner-friendly web and mobile apps
Free SSL certificate and security features for your online store
Level-1 PCI compliant
Mobile-ready and easy for people to shop online
Integrates with 100+ payment gateway options
In-built abandoned cart recovery solutions
Excellent range of apps and integrations
Easily manage inventory and fulfillment
Track your store's performance with marketing analytics
Built-in accounts for your customers
Cloud-hosted eCommerce platform
Help & Customer Support
Since Shopify is a SaaS eCommerce platform, you will be able to reach out to a dedicated, 24/7 support team if you ever get stuck along the way. This is a huge bonus for Shopify.
Building an eCommerce website is not easy! It always helps to have documentation and live chat support on standby to help you move through any roadblocks quickly and smoothly, even if your tech skills are only at a beginner level.
Security
Unlike open-source platforms, the beauty of using Shopify is that it comes with robust inbuilt security features. You can sleep well at night knowing there is a team of developers working around the clock to ensure hackers can't access your online store at any time.
Apps & Integrations
The number of apps and templates available on Shopify is incredible. In fact, it's Shopify's versatile app store that makes it such a great fit for almost any kind of eCommerce website out there.
You can unlock a ton of functionality that isn't natively built into Shopify's platform. Some of that functionality includes apps that help with upselling, more advanced abandoned cart recovery and social media integrations.
Check out our guide on what Shopify can do for eCommerce businesses.
Pricing
In addition to its versatility and ease of use, Shopify is also one of the most affordable platforms, which is why it has earned its place at the top as the top eCommerce platform we recommend for small businesses.
As far as pricing goes, you can get started for as little as $9/month with Shopify Lite (a very basic setup).
This plan gives you the tools you need to integrate Shopify buying buttons and the checkout onto any existing website you might already have. It also lets you sell directly through social media platforms like Facebook.
For users who also want to use Shopify to host their eCommerce website, the Basic plan is a better fit, and it starts at only $29 per month. It allows for unlimited products and full, unrestricted eCommerce capabilities.
As your store grows, you may wish to upgrade to the $79/month tier, which unlocks features such as gift cards, staff accounts, and professional reports.
However, if you have a large store or require more robust features, Shopify Plus may be the better option. Note that it comes with a hefty price tag (starting at $2,000/mo) depending on the size of your store and the features you need.
While it's not the most economical solution for small businesses, it is cheaper than many other enterprise-level solutions.
Who Should Use Shopify
Shopify is ideal for start-ups and small business owners who are getting started with online selling. It's very quick and easy for you to start selling your products since you won't need to build any custom eCommerce functionality.
Shopify is also scalable and can grow with you as your eCommerce website grows too. For large stores, Shopify Plus is a premium solution to accommodate multi-channel selling without you need to bear the costs of re-platforming.
It's a great all-rounder, really.
---
2. BigCommerce
BigCommerce is another popular SaaS eCommerce platform. It offers comparable features and functionality to Shopify. However, it also has a broader extension of enterprise solutions for businesses requiring more creative online solutions.
In particular, BigCommerce offers a robust headless solution along with commerce-as-a-service (CaaS) solutions. BigCommerce is proud to be doing things differently and spearheading the way with its cutting-edge eCommerce platform.
In essence, you can use any website-building platform, even WordPress, to design a content-rich, SEO-friendly website. Then, with the power of BigCommerce in the background, you can deploy state-of-the-art solutions.
If you're wondering how that's different from something like Shopify Lite, which lets you sell from any platform, here's a good way to think about it…
Shopify Lite enables you to add an embeddable button to make any platform you're marketing on shoppable. However, BigCommerce's headless solution gives you access to the complete engine that powers your eCommerce site behind the scenes and connects it to a front-facing website builder.
It's very powerful! But not everyone will need this functionality. The great thing about BigCommerce is that it still gives you similar functionality to Shopify if you're early in your journey with building an e-store.
No matter if you are a solopreneur, start-up, enterprise or anything in between, BigCommerce has a solution for you.
Ease Of Use
BigCommerce is known as the number one Shopify alternative. Its onboarding process is just as easy and simple as Shopify's.
It is also a tad easier to design a beautiful store from scratch with a wide range of free themes and beautifully designed store templates. With a modern, fresh, and professional look as BigCommerce's signature, many in the web design industry consider BigCommerce's themes to be among the best out of all the themes offered on any eCommerce platform.
All in all, getting started with BigCommerce is just as easy as it is with Shopify.
Range Of Features
Just like Shopify, BigCommerce offers a range of standard eCommerce features in it's platform including:
24/7 tech support via phone, ticket, and live chat
Unlimited products, file storage, and bandwidth
Unlimited staff accounts
Multi-channel selling across Amazon, eBay, Walmart, and social media
Web and mobile apps
Page builder for website design
Multiple payment gateways
Multi-currency support
Free sitewide SSL certificate
Hosting and security is included
Inventory management and order fulfillment
Conversion optimized one-page checkout
In-built abandoned cart recovery
Customizable SEO options
The biggest difference between Shopify and BigCommerce is the number of built-in features.
BigCommerce offers more value because it includes more features with every plan which saves you from having to use a bunch of apps to unlock your desired functionality.
For instance, if we compare Shopify's Basic plan ($29/month) with BigCommerce's Standard plan ($29.95/month), these are extra features you'll get with BigCommerce:
Professional reporting functionality (only unlocked on more expensive price tiers in Shopify)
Built-in ratings and review system (you'll need separate apps in Shopify)
Full automatic currency conversion (seriously awesome feature for international shoppers)
Real-time carrier shipping quotes (pulled from 3rd party carriers)
Help & Customer Support
Since BigCommerce is a software as a service type of eCommerce platform, it means you get the advantage of dedicated 24/7 support to help you build your online store with ease.
You can access live chat, email, ticketing or phone support.
It's the ultimate advantage over an open-source or self-hosted eCommerce platform that would leave you to your own devices if you ever needed to fix a problem. Especially when you consider that BigCommerce boasts a success rate of 85% of issues resolved on the first call.
Security
You can bring your eCommerce website to life with confidence and without having to troubleshoot any major setup or security issues. Unlike self-hosted platforms, where you need to arrange both hosting and security, BigCommerce takes care of all of that for you and ensures PCI compliance 24/7/365.
Also, unlike self-hosted platforms, you're not left to DIY a solution to every problem. Thanks to BigCommerce's extensive knowledge base and 24/7 live chat support.
Apps & Integrations
In addition to its robust (and extensive) inbuilt functionality, BigCommerce also has an app marketplace where you can find thousands of add-ons and integrations to plug into your online store.
You can find anything from B2B, wholesale and dropshipping apps, to marketing and sales integrations that will plug into your existing tech stack.
Pricing
Overall, pricing is comparable with Shopify's, except there is no "Lite" plan.
BigCommerce's smallest plan starts at $29.95/month. In fact, BigCommerce and Shopify compete so closely that there is a mere 95 cent difference between all three tiers of their plans for beginners and small to medium businesses.
You'll need a custom quote in both cases if you're looking for an enterprise solution.
Also, as mentioned earlier, despite the price being on par with Shopify's, BigCommerce includes some valuable out-of-the-box features for free. So as far as value for money goes, BigCommerce takes the cake!
Who Should Use BigCommerce
BigCommerce is suitable for all types of businesses. It is an open-source eCommerce platform. It's paving a new path forward for more creative and innovative ways of selling online.
Small businesses and business owners who want to DIY their online store can start with any of the "essentials" plans for comparable pricing to Shopify's plans.
Large e-stores and enterprise businesses can also benefit from BigCommerce's state-of-the-art engine, which can operate as a headless CMS or be delivered as a commerce-as-a-service solution.
Despite being thought of as Shopify's closest competitor, BigCommerce packs a ton of value into its platform and offers more in-built features than Shopify for a very comparable price. It's well worth checking out!
---
3. Woocommerce + WordPress
WordPress is, without a doubt, the world's most popular content management system and open-source eCommerce platform. It powers over 35% of websites on the web.
With a range of free themes, custom templates, and a very large pool of plugins and add-ons, it's the Swiss army knife of website-building platforms.
If you also want to make the most of WordPress' versatility to sell online, Woocommerce a WordPress plugin is the eCommerce platform you need to be looking into.
Of all the solutions we looked into, Woocommerce was the most popular with a 28% market share[1]. For comparison purposes, Shopify is a close second with 20% market share.
However, unlike Shopify, Woocommerce is a self-hosted solution. It requires a little more setting up before you can start to sell online with it. In particular, you need to set up a domain name, a decent web hosting solution for your WordPress site, and security measures first.
We recommend pairing Woocommerce with a hosting company like SiteGround. A decent Woocommerce hosting provider will make installing WordPress and Woocommerce a breeze.
With SiteGround, you can use a range of 1-click installation options to help you get started. You can also make use of SiteGround's security features and additional plugins to optimize your site with a couple of clicks!
While Woocommerce involves some more manual input to get it going, overall, it is unparalleled for versatility and customizability.
Ease Of Use
Compared to Shopify, Woocommerce has a steeper learning curve for people building their own online store. If you have never used a WordPress site before, the dashboard can take some getting used to.
There's also the matter of Woocommerce's versatility which can also be the exact thing that makes it more difficult to use. It's a paradox of analysis paralysis – too many options can quickly lead to overwhelm if you're not careful!
For beginners or online store owners who aren't very tech-savvy, you'll need to spend a little time navigating the dashboard and learning how to customize all the settings to your store's requirements.
We also recommend pairing Woocommerce with a WordPress plugin that offers drag-and-drop design functionality, like Elementor, in order to help you visualize each page as you build it.
Just because there are thousands of plugins at your disposal, it doesn't mean you should go nuts with them. Keep things simple when you start off and you'll find Woocommerce is much easier to use as a result!
Range Of Features
Out of the box, Woocommerce offers a very neat set of features suitable to most types of online shops.
No limits on products, customers, orders or accounts
No bandwidth and storage limitations (though these are also dependent on the hosting provider you select)
Accepts Paypal by default and can be equipped to process credit cards with other extensions
Decent drag-and-drop builder for most site content
Can set up customer profiles and accounts
Can manage inventory and fulfillments from your website
Handles multiple product variations quite well
PCI compliant when paired with a good host
Customizable performance and SEO
In-built blogging capabilities
Help & Customer Support
Woocommerce is the ultimate DIY solution. However, it also means you won't enjoy the benefits of a dedicated customer support team.
Given it is among the most popular eCommerce platforms, you can start selling online with the help of a global community of WordPress and Woocommerce developers. .
The advantage of open-source software means you can access a wealth of information for free through blogs posts and YouTube videos teaching you how to do pretty much anything you need!
At Diggity Marketing, we manage over 100 websites across our businesses and they're all built on WordPress. So we know firsthand how easy it is to find all the information you need to start selling online.
Security
As far as security is concerned, Woocommerce offers very little out of the box. It all depends on your hosting provider. We recommend SiteGround for affordable WordPress site hosting due to the focus they place on security.
SiteGround also has a plugin that you can use to extend the security and performance of your store quickly and easily.
Apps & Integrations
Since Woocommerce runs on WordPress, you will have access to the world's largest range of add-ons, also called plugins, to help extend the functionality of your online store.
You will likely need extra plugins if you want to extend Woocommerce's inbuilt features for things like dropshipping, advanced payment processing, advanced shipping solutions, and even for things like discounts and gift cards.
Lucky for you, there are a ton of free plugins, and even premium plugins are more affordable than on any other eCommerce platform.
Pricing
The wonderful thing about using Woocommerce and WordPress is that they are both free with no strings attached. They are both open-source platforms, and you can download and use them for free, forever.
However, you will still incur the costs of maintaining your website. The biggest costs include website hosting (which, with our recommended company, SiteGround, you can get started for as little as $5.99 a month) and any premium plugins you choose to buy.
Some payment gateway solutions also charge transaction fees. For instance, the Woocommerce Payments[2] extension will charge you 2.9% to 3.9% and 30c for each transaction made with a credit or debit card.
If you're on a tight budget while getting started, check out this video showing you how to keep your website costs as low as possible.
Who Should Use Woocommerce
The bottom line is that Woocommerce is best suited to DIY eCommerce store owners who want the versatility of WordPress paired with a robust eCommerce platform they can use to sell online.
With Woocommerce, your eCommerce site can easily be extended to include a range of extra functionality without needing a developer.
---
4. Magento (Now Known as Adobe Commerce)
There's a reason we consider Magento the top eCommerce platform for enterprises and large eCommerce stores. It has extraordinarily powerful built-in features that can handle eCommerce stores of any size.
There is also an open-source option and a hosted option to choose from. Magento Commerce (the hosted option) starts at 5 figures a year and increases depending on how much data, business intelligence, and functionality you need.
Other than price, the biggest drawback of Magento Commerce is that it requires intermediate to advanced technical skills. It is not beginner-friendly no matter how you look at it so if you are looking for a good eCommerce platform to DIY your online store, Magento is not the one for you.
You need to know a thing or two about inventory management, marketing tools, search engine optimization, and so on before you start.
Magento Open-Source, on the other hand, is a self-hosted eCommerce platform that powers over 240,000 stores. Suppose you have enough budget to put toward the technical development of your eCommerce site.
In that case, you will have incredible freedom to build the store of your dreams without needing to compromise on critical features.
With Magento, there are no limits!
Ease Of Use
As mentioned, Magento's biggest drawback is that it has an incredibly steep learning curve. You need to know how to code in multiple languages in order to use it effectively to build your eCommerce shop on either the hosted or open-source version.
Then there's the matter of the actual builder you'll be using. It uses many technical terms that will seem foreign to first-time users. Not to mention the interface isn't particularly intuitive.
We firmly believe that you shouldn't have to spend time working out how to use a complicated interface. If you can't afford a developer to take care of it all for you, use one of the other eCommerce platforms on our list instead!
Range Of Features
As much as Magento fails to be user-friendly, it excels with the broad range of features it includes. With a Magento store, you can:
Sell online products, physical products, and services
Accept WorldPay payments (it's a built-in feature suitable for larger businesses)
Add multiple products and variants
Generate detailed revenue reports
View website visitor analytics
Paired with a great hosting provider, you can unlock a variety of other features in Magento Open Source.
For instance, when you host Magento on SiteGround, you'll tap into additional security, PCI compliance, and optimization features. That's why it's worth investing in a good hosting solution if you're building in Magento!
Help & Customer Support
Like many other open-source platforms, Magento is supported by a large community of active users, so you can find a lot of help online. Their customer support might also be able to help out.
If you're using the self-hosted version, the hosting company you choose may also offer tailored support to help you manage the customization and performance upgrades of your store.
All in all, you may not easily find the information you're looking for compared with using platforms like Shopify or BigCommerce. That's why Magento is only recommended for people with intermediate to advanced technical skills.
Security
Magento's security features will be as good as the hosting provider you select. If going with SiteGround, you will benefit from a wide range of in-built security features and a generous backup plan.
Your website will also likely be Level-1 PCI compliant if set up and configured correctly. With SiteGround's range of 1-click installers, security can be very easy to manage.
Apps & Integrations
While Magento has a range of apps and integrations, they are incredibly expensive. For instance, to connect your online store to eBay, you will need to purchase an extension for $499.
If selling on multiple channels is important to you, but you don't have the budget for such extensions, Magento is not going to be a viable long-term solution for your business.
Pricing
If you're using the open-source platform, there aren't many costs for using the Magento platform to power your store. Your store could cost you between $100 and $500 a year.
However, there will also be considerable costs for hosting, apps, integrations, and hiring a development team to maintain your store. Experienced developers are critical to prevent security breaches and issues caused by outdated software.
If you're thinking of using the hosted Magento platform, costs will start at $22,000 a year and only go upwards from there, with many enterprise stores paying over $100,000 a year.
Who Should Use Magento
Magento is best suited for medium and large enterprises that need to unlock custom functionality at every level of the online shopping experience. With powerful business intelligence available, and the need to rely on experienced developers for ongoing maintenance, Magento is not suitable for businesses with low technical budgets.
---
5. Square Online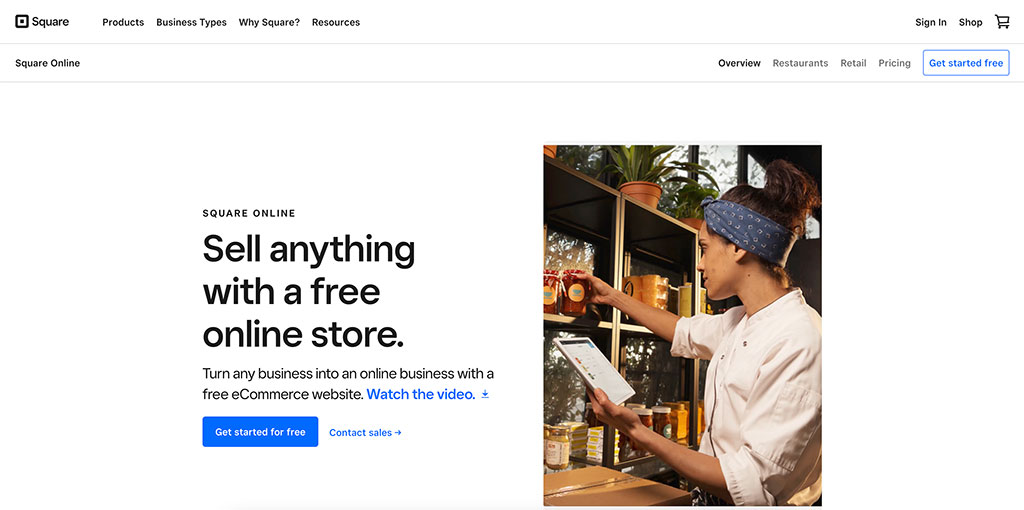 Square Online is the online component associated with the Square point-of-sale (POS) reader. Initially starting off as a POS solution, Square has launched into the world of online selling and assisting retail businesses to take things to the next level.
While Square has been dabbling with selling online since 2010, it had not quite made a break into the eCommerce space until more recently.
With the world experiencing lockdowns during the Covid pandemic, there was an intense need for physical retail stores to make a pivot toward selling online. Thanks to companies like Square Online, these retail stores could use one system to manage both online and physical sales.
In the last two years, Square has doubled down on offering a complete suite of tools, software, and website scripts to help retail stores (and all other eCommerce stores) pivot to selling online with ease.
Ease Of Use
One of the best things about Square Online is the ease of use of its online dashboard. You can manage everything from your products to the way your online store will look and function from one dashboard.
But it's not just the dashboard. The whole process of signing up to Square is a breeze. It's very straightforward, even for non-technical users.
We give credit to the level of detail Square has paid to make their onboarding sequence seamless. As you go through the process of setting up your store, Square will continue to give you tips on what to do next and how to set up your own online store the right way.
Range Of Features
Square's standout feature is the way it seamlessly bridges online and offline shopping experiences for retailers and merchants of all kinds. All of Square's hardware – such as card readers and cash registers – integrate with your online catalog and inventory management.
Additional features that are on all plans include:
Unlimited products on all pricing tiers
Ability to sell on Instagram and Facebook
Pickup, delivery, and shipping options in-built
Self-serve ordering in-built
Some standard SEO tools are included on all plans
Seamless integration with Square POS
For the cheaper paid plans, you can also unlock the following features:
Custom domain
Password protected pages
PayPal payment gateway
Abandoned cart recovery
Advanced reporting
In-built product reviews
Gifting options
All in all, Square's features are comparable to Shopify's Basic plan and Bigcommerce's Standard plan.
Help & Customer Support
Since Square is a SaaS solution, you can access live chat, email, social media, or phone support whenever you need it. You can also get expedited help by logging in through your account.
Security
Square meets Level-1 PCI compliance and ensures all data is transmitted securely through your online store. You do not need to worry about setting up security from scratch since the Square team has already created a safe environment for both buyers and sellers.
Apps & Integrations
One of Square's biggest limitations is the small number of apps and integrations currently available for its users. Since it's not designed to capture the full eCommerce market, you might decide that these apps are totally fine for your needs.
The big players, like Shopify and BigCommerce, are mass-market solutions, whereas Square's platform is specifically tailored to businesses with a strong offline presence.
As such, Square's biggest advantage is its seamless integration with your POS system as opposed to offering a wide array of apps.
Pricing
You can start building a website and selling online with Square's free plan. However, it's a little different from free open-source software since Square is a hosted SaaS solution.
While you can build an eCommerce store for free, there will still be a transaction fee of 2.2% payable on every sale.
With the free plan, you also have to be mindful of the strings attached to it. For instance, you cannot set up a custom domain, and it is likely you will have Square branding show up.
The paid tiers start as low as $15/month, coming in at almost half the price compared with Shopify and BigCommerce.
Who Should Use Square Online
Square Online is best suited to restaurants, retail stores, and market stallholders who need a flexible solution for taking payments both online and offline. If you already use the Square POS reader or checkout in your store, taking things online is easy with Square.
---
6. OpenCart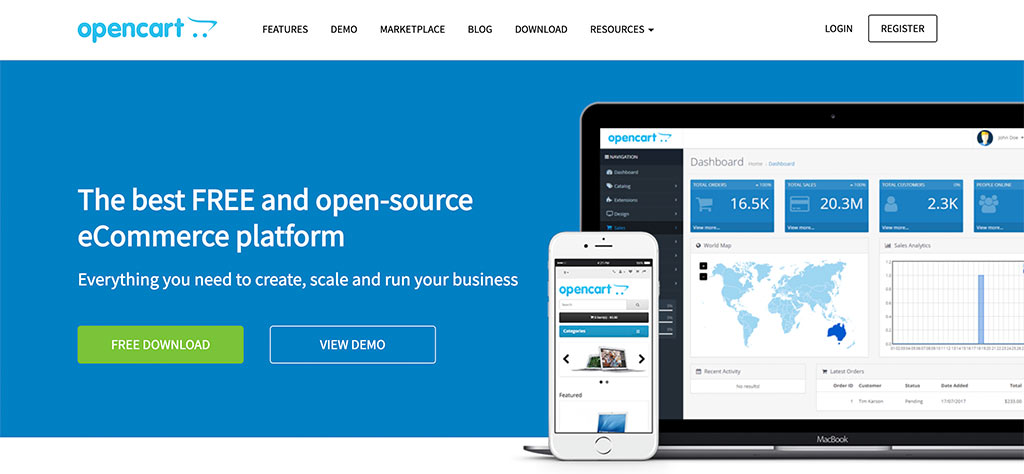 OpenCart has earned its reputation as the easiest-to-use open-source eCommerce platform.
It is less scalable than some of the other self-hosted and open-source solutions shared in this article. However, that's not entirely bad if you have a lower technical budget and want the best of both worlds for your online store.
Like Woocommerce and Magento, OpenCart offers everything you need to build and scale an online shop. However, despite being easier to use, you will still need some technical chops to get the most out of it.
If you're a non-technical user (and don't plan to hire a developer) look at one of the SaaS solutions, like Shopify or BigCommerce, instead. These are always going to be easier to get started with.
Ease Of Use
To some degree, all self-hosted solutions will require a degree of technical skills, especially as you're setting up web hosting and connecting your domain name.
Where OpenCart's user-friendliness comes into the picture is with its interface. Not only is it fairly accessible, but it is also intuitive enough to complete most basic functions (like adding products or changing your store's theme).
Range Of Features
Other than its relative ease of use, OpenCart is also known for the sheer number of payment processors it supports natively. Your customers could choose from any of 36+ different payment methods thanks to OpenCart's in-built payment gateways!
Additional OpenCart features worth noting include:
Unlimited everything: products, categories, media downloads, and more
Multi-store dashboard
Easy to add product variations, options, and attributes
In-built discounts, coupons, and specials
Supports multi-currency and automatic rates updates
Multi-lingual with over 40 languages supported
Comprehensive payment gateway options
Pre-built, globally integrated shipping methods
Some native marketing functions included
Hundreds of free themes to choose from
Help & Customer Support
True to open-source software style, OpenCart does not have dedicated 24/7 customer support to help you in times of need. However, there is a support forum and a community available to help you troubleshoot issues.
There are also a great number of OpenCart partners and technical resources at your disposal. No matter if you decide to get some technical help or to do it yourself, you'll have a number of available resources to draw from!
Security
OpenCart's security is rather basic after you install it. As with any open-source platform, OpenCart is not responsible for securing your website.
That comes down to your hosting provider which is why we recommend choosing a web hosting company that prioritizes security at every level. Our preferred hosting provider, Siteground, is a premium OpenCart partner and offers custom-built hosting solutions for eCommerce websites.
Apps & Integrations
If you've ever built a WordPress site, you know how essential plugins are. Well, OpenCart has over 13,000 additional extensions you can add to your website. You can find anything from free themes to add-ons that extend your site's eCommerce features with ease.
Pricing
OpenCart's eCommerce website builder is as close to free as you can get. As with all open-source software, you can download the program for free and get started with relatively low-cost hosting.
However, you should plan for monthly hosting fees as well as any additional expenses for premium extensions you add to your store.
Who Should Use OpenCart
If you are looking for the affordability of an open-source platform that's also relatively easy to use, OpenCart is the eCommerce website builder for you!
With over 36 payment gateways, no transaction fees, a range of free themes, and over 13,000 extensions in its marketplace, you can get a load of custom eCommerce features for a relatively low price.
---
7. Ecwid
Ecwid focuses on selling your goods in as many marketplaces as possible. You can create an online storefront, and you can also embed eCommerce features on other marketplaces too (or add them via plugins).
There are competing services on the market, but where Ecwid shines is in its affordability. It's renowned for being a low-cost eCommerce platform that offers a completely free plan and has other pricing tiers below the industry average of $29/month.
It's worth noting that Ecwid has some limitations that would make it harder for medium to large stores to scale. But, if you're just starting out it may be the perfect budget-friendly solution you've been looking for!
Ease Of Use
Ecwid requires a little manual coding and setup, which means it's not 100% beginner-friendly out of the box.
However, creating an online storefront with Ecwid is reasonably simple and can easily be accomplished by non-technical users.
Thanks to Ecwid's Instant Site website builder, you can easily and quickly publish web pages and bring your eCommerce store to life.
Range Of Features
Ecwid's free plan lets you start selling your first ten products. As your store grows, you can upgrade and unlock extra features. On the free plan, you will have access to the following features:
Online store builder (called Instant Site)
Social media and Google advertising
Mobile responsive shopping cart
Sell up to 10 products
Unlimited bandwidth
Some drag-and-drop functionality
Sell on multiple sites at the same time
Add your store buttons to any existing website or marketplace
No transaction fees
The key thing to note is that you cannot sell unlimited products on the free tier. Ecwid also doesn't have any add-ons. So it may not be the right eCommerce platform if you need the flexibility to extend your eCommerce store's native functionality.
However, if you upgrade to a paid tier, you can unlock more native features including:
Facebook and Instagram stores
Mobile POS
App for store management
Sell unlimited products on the highest tier
Sell digital products from the lowest-paid tier
Unlock gift card and coupon functionality
Inventory management and tracking
Custom domain name
Help & Customer Support
Given that Ecwid is a lower-cost solution, you won't be able to access much support if you're on the free or low-cost pricing tiers.
People on the free tier do not get access to any dedicated support. However, as you start paying, you will get chat support on any paid tier. Phone and priority support are only offered to members who are on the higher price tiers.
Security
Like the other platforms shared in our list, Ecwid is a Level-1 PCI service provider and ensures your customer's data is completely safe.
The best eCommerce platforms on the market all take security seriously, and Ecwid is just as committed as the big players are.
Apps & Integrations
Unlike most eCommerce platforms, Ecwid does not offer any add-ons or integrations. This is perhaps its biggest limitation, making it unsuitable for many online stores that require custom functionality.
Pricing
Where most solutions in the eCommerce space offer a free trial, Ecwid has a free-forever option for businesses that are getting started on a small budget. With no transaction fees to boot, Ecwid's free plan has no strings attached!
Who Should Use ECWID
Ecwid is best suited to start-ups and small businesses with limited budgets to invest in their online store. It can help you get started with selling online and on any platform beyond your website. If you feel like you don't have enough technical knowledge, ECWID is a good option for you.
---
8. Wix
The final contender on our list of the top eCommerce platforms is Wix. Over recent years, Wix's platform has improved in leaps and bounds.
While it would not ordinarily be thought of as a contender for functionality, the Wix team has been hard at work rolling out essential features to help creators launch their online stores with ease.
Known for its intuitive drag-and-drop website builder, Wix is the ideal solution for anyone who plans on building a website. In saying that, there are also a number of Wix designers who can help take care of the technical aspects too!
In either case, Wix is extremely easy to use and very reliable. If you ever need to make a quick edit in the backend of your store, you won't have to rely on a developer to take care of it!
Ease Of Use
As mentioned, Wix's standout feature is its ease of use. Not only does it offer a very intuitive builder, but its interface is also not as overwhelming as some other systems (especially open-source platforms!)
It's also a fully-hosted solution, so you can get started selling online straight away without worrying about hooking up a server to the CMS or any other technical things like that. It's beginner-friendly at every level and powered by robust technology that the Wix team continuously improves.
Range Of Features
Not only does Wix make it easy to get started with selling online, you can also access over 500 professional and attractive templates out of the box. Here are some other noteworthy features to explore:
Complete drag-and-drop design customization
Mobile-friendly designs
Loads of integrations (even with powerful systems like Salesforce)
AI-supported designs
In-built SEO and marketing features
Multiple payment processors
Unified database management to plug into your CRM
Custom, branded domain names
Professional email address and mailbox
In-built reports and analytics
Subscription functionality
Dropshipping functionality
End-to-end fulfillment
A range of scalable API connections
14-day money-back guarantee
Wix's features stack sure packs a punch! With its versatile API functionality and pre-built integrations, you can unlock a ton of awesome functionality for your eCommerce store.
Help & Customer Support
Wix offers dedicated support to all customers. While there is an excellent help center with detailed tutorials and articles, you can also schedule a call with a "Customer Care Expert". You can also hop on live chat or join a community of dedicated Wix designers who can help you overcome any stumbling blocks you may encounter.
Security
Every Wix website comes with enterprise-level security. Just like every other eCommerce platform on our list, Wix is also Level-1 PCI compliant. It also offers 24/7 security monitoring, DDoS protection, and more advanced security features.
Apps & Integrations
Wix offers a marketplace with hundreds of apps that can help you extend the in-built functionality of your store. With over 130 apps dedicated to helping you sell online or other cool eCommerce functionality, you won't be left without options!
Connect your preferred fulfillment solution, your shipping partners, and more with the click of a button!
Pricing
Wix's pricing comes in cheaper than competitors like Shopify and BigCommerce. The Basic plan starts at $27/month for eCommerce capabilities. However, The next tier is only $32/month, and the VIP tier is $59/month – both significantly cheaper than Shopify's $79/month middle-tier option!
Overall, Wix is a more affordable solution for many small businesses and start-ups.
Who Should Use Woocommerce
Wix is best suited to small businesses, people with limited tech skills, and anyone seeking to DIY their eCommerce shop. With a wide range of plug-and-play tools accessed through a very intuitive dashboard, Wix offers the ultimate beginner-friendly option for selling online.
---
What Is eCommerce Software?
An eCommerce software is the backbone of your online store, and it's what will allow you to sell online and run your entire eCommerce business smoothly and efficiently.
eCommerce platforms provide the foundation for businesses to sell their products and services online. By definition, these online solutions enable buying and selling transactions to take place over the Internet.
An eCommerce platform provides you with the tools you will need to build and manage your website, list products, take orders, and process payments without you having to code everything from scratch.
The best eCommerce platform for your business will depend on your specific needs and goals. These needs and goals can include factors such as the number of products you plan to sell, the type of products you plan to sell, your budget, and your technical skills.
---
Types Of eCommerce Platforms
There are many types of eCommerce platforms to choose from, and each one offers unique functionality that suits different types of online shops better.
Hosted Vs Self-Hosted Ecommerce Platforms
The first decision you'll need to make is whether you want a hosted or self-hosted platform.
Hosted online solutions are those that come with web hosting and domain management included. These platforms are usually easier to set up since everything is taken care of for you, but they have fewer customization options and often have limitations for marketing your store.
Self-hosted eCommerce platforms give you more control over your store but require you to set up and manage your own hosting and domain. These platforms usually offer more customization options since the platform provider does not limit you.
If you're new to building websites, an eCommerce platform that is fully hosted will be easier for you to get started with.
Suppose you have a large store or are looking for ultimate performance. In that case, a self-hosted solution will give you the control you need to customize your server setup, improve your store's loading speed and get the best performance for SEO (search engine optimization) and core web vitals too.
Open-Source Vs Saas Ecommerce Platforms
The next decision you'll need to make is whether you want an open-source or a SaaS (software as a service) eCommerce platform.
Open-source eCommerce platforms are those that you can download and install on your own server because the code is publicly available for anyone to access and modify.
These platforms give you more control over your store but require more technical skills to set up and manage. Open-source platforms are also usually self-hosted.
SaaS eCommerce platforms are fully hosted by the provider of the software and can be accessed through a web browser. Most of the popular platforms for online shops out there are SaaS online solutions.
These platforms are usually easier to set up and use but are also limited in their customization options.
In general, beginners will find a SaaS eCommerce platform much easier to get started with. Not only is web hosting taken care of but so are other critical essentials like security, integrations and intuitive shopping cart experiences.
You don't need to worry about setting up any of these features. Just load your products, design your brand and start selling!
However, big brands with experienced developers can also benefit from SaaS online solutions. It really just depends on what functionality your store will need and how much customizability you think you'll require.
Many open-source platforms require intermediate to advanced technical skills to set up and maintain on an ongoing basis. That's why businesses with bigger technical budgets usually prefer them.
If you want the best of both worlds, we looked at a range of beginner-friendly open-source eCommerce platform and enterprise SaaS solutions for your eCommerce business too!
Headless Vs All-in-One Website Builders For Ecommerce
The final decision you'll need to make is whether you want a headless eCommerce solution or an all-in-one website builder with some eCommerce capabilities pre-built.
A headless eCommerce solution allows you to decouple your frontend system from your backend system. A frontend system influences the design that your website users will see when they are buying something from your e-store.
On the other hand, the backend system is where your store's product and fulfillment data will live.
Decoupling these systems means you can combine any front-end system (such as a website builder, CMS, or even a custom-built solution) with any back-end platform. That's why headless commerce platforms give you more flexibility but require more technical skills to set up and manage.
All-in-one website builders are platforms that include everything you need to build and manage your website in one place. You can handle both the backend product data and the design of your website in the same place.

Small businesses and people with beginner-level technical skills benefit most from using all-in-one systems. Larger eCommerce businesses, enterprise retail stores, and businesses with dedicated developers often prefer headless online solutions.
Once again, the choice you make will depend on your unique business model.
---
How to Choose the Best Ecommerce Platform for Your Business
When researching the best platforms for eCommerce, there is a range of features you should make sure to look for (and test out). To write this article, we looked at 32 different eCommerce solutions before shortlisting the best available in today's market.
But if you're wondering how to choose which platform is going to be the best for your needs, check out the following features.
Ease of Use
Do you find the platform easy to use? Is it an intuitive and a pleasant experience for you, or does it lead to confusion and frustration for every little thing you try and do?
Design Flexibility
Consider whether there is a range of pre-built themes and templates you can plug and play. Also, consider your options to customize the look and functionality of your online shop to suit your needs.
Help and Support
Take a look around the website and on the internet to see whether you can easily find helpful information. If you get stuck along the way, you'll need some help and support to overcome obstacles and troubleshoot issues.
For some platforms, you may need to go straight to hiring a developer, but on others, you may choose to tackle issues yourself. So consider how easy it is to fix such issues.
Number of Products You Can Add or Sell
Although it may seem counterintuitive, not all platforms let you add an unlimited amount of products.
Some platforms limit the number of products and variations you can add, while others place a cap on how many product sales you can make before needing to bump up to a more expensive tier.
In general, open-source platforms don't have such limitations, and you can scale your store to any size. However, the platforms that are easier to use and get started with are fully-hosted SaaS solutions, which often place such limitations.
Number of Customers and Accounts
As with products, you should also consider if there are limitations on how many customers or accounts you can set up.
Volume of Traffic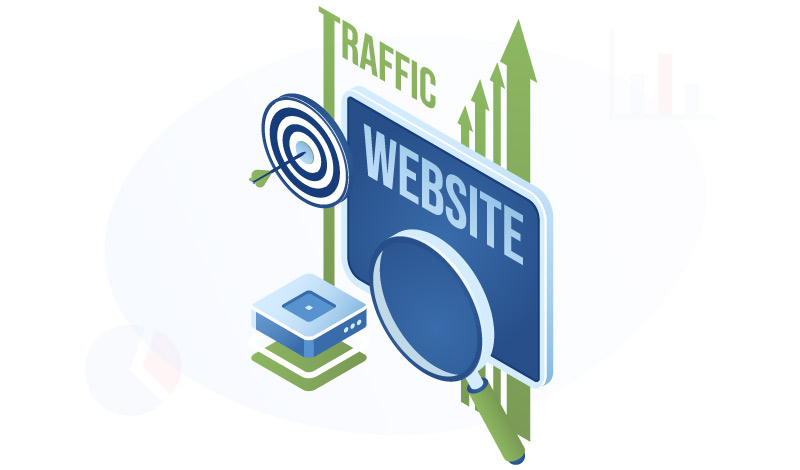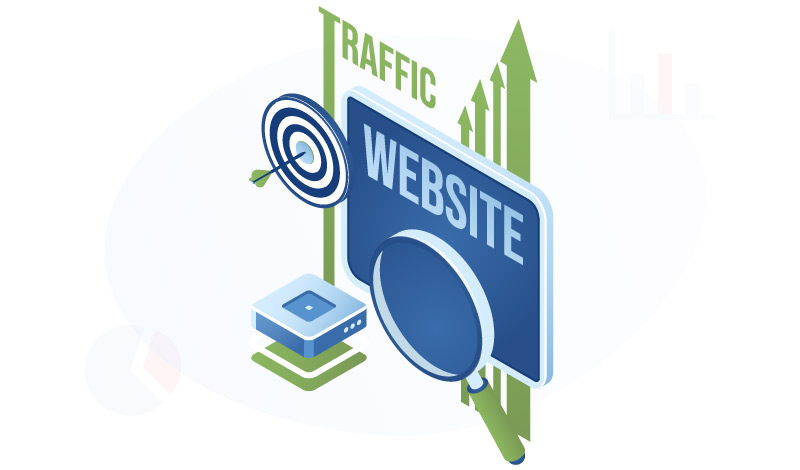 Depending on the type of hosting an eCommerce platform uses, you may face limitations to how many visitors your website can accommodate each month. This limitation can apply to both fully hosted and self-hosted solutions.
With self-hosted platforms, you have a wide range of choices that do not place such limitations. It's just about looking at the details of what's included in each plan.
Selling Physical, Digital and Dropshipped Products
Some stores will need the flexibility to sell a combination of physical, digital, and drop shipped products. Not every platform can handle all the technical requirements to offer all three (or a combination) natively.
Consider whether you'll need to purchase specific add-ons to enable any additional functionality to sell all types of products on your store.

Payment Gateways
In general, the more flexibility you can offer with payments during the checkout process, the better. Platforms that offer a range of built-in payment gateways tend to invest in the conversion of their checkout process too.
So it's worth looking into how to ensure that people aren't abandoning their cart or dropping out of the conversion pipeline due to payment processing restrictions.
Some gateways also charge transaction fees which can add up over time. If you are selling a high volume of low-margin products you may want to take a closer look at the options that do not charge these fees.
Shopping Cart Experience and Conversion Optimization
There's a key difference between eCommerce-centered solutions and all-in-one website builders that offer eCommerce functionality. It comes down to how they treat the checkout process.
Solutions built with eCommerce front of mind often incorporate a range of conversion optimization features so you can ensure more people go through with completing a purchase. They also include reporting and automation to help combat abandoned carts.
Consider whether you need features to handle upselling, cross-selling, and abandoned cart recovery, as not all platforms can offer them!
SEO and Technical Performance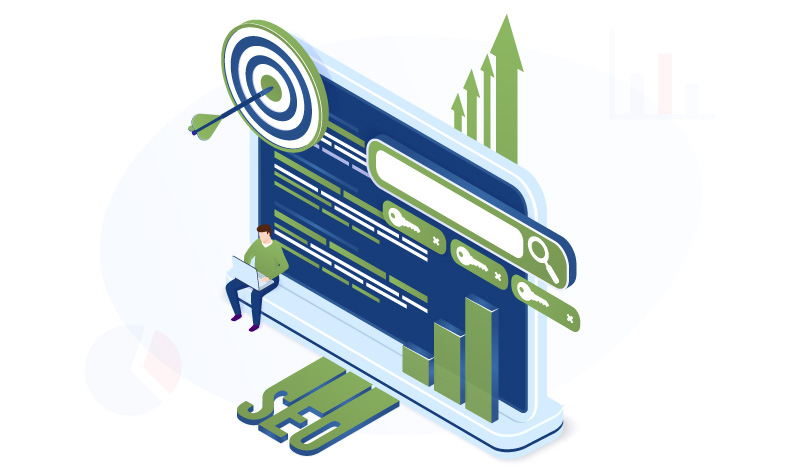 SEO is one of the most cost-effective marketing channels for online stores, yet few eCommerce site builders are truly SEO-friendly. The ability to customize your URLs or to improve technical performance matters.
In general, open-source platforms tend to be the most SEO-friendly due to their customizability. However, they aren't always the easiest for non-technical team members to complete essential functions like fulfillment, inventory management, and stocktake.
On the other hand, fully-hosted platforms tend to present major obstacles for SEO due to their clunky code structures.
If you want your store to be found online, considering how much development has gone into making a platform SEO-friendly will help you attract new clients for a fraction of your regular acquisition costs from ads!
---
Which eCommerce Platform Do We Recommend in 2023?
As you have likely noticed, eCommerce functionality varies greatly! So the best eCommerce platform will always depend on your specific needs, your technical skills, and your budget.
Our top pick is Shopify due to its innovative approach to all types of eCommerce.
It offers an essential range of features for small businesses, and it also packs each plan with more in-built functionality.
And finally, as far as being able to get your store discovered online, Shopify is more advanced with its native SEO customizability.
It's really the best of all worlds and likely to be suitable for your store no matter the scale of your business or technical requirements.
Our #1 Recommendation: Shopify