As an experienced eCommerce strategist, I understand the vital role of website performance in online success.
To effectively grow your WooCommerce website, you must prioritize appealing design, seamless user experience, and, most importantly, lightning-fast loading speeds.
Research indicates that rapid-loading sites experience significantly lower bounce rates and higher revenue potential.
Drawing on my expertise in the field, I'll help you navigate the process of selecting the best-managed WooCommerce hosting plans to ensure your site is optimized for success.
In this guide, we'll examine critical factors to consider when evaluating hosting options and present six top-tier choices tailored to your eCommerce needs. Let's boost your site's performance and profitability together.
Best WooCommerce Hosting Providers Compared
Here's a snapshot of how the six WooCommerce providers and how they compare.
Specializes in WordPress hosting and WooCommerce hosting
Use coupon MATT90 to get 90% off your first month
Shared hosting, VPS hosting, Dedicated hosting, WooCommerce hosting, Cloud hosting
Shared hosting, VPS hosting, Dedicated hosting, WooCommerce hosting, Cloud hosting
Hosting
Name
Hosting Type Offered
Uptime
Price Range
Disk Space
4.Cloudways
Shared hosting, VPS hosting, Dedicated hosting, WooCommerce hosting, Cloud hosting
99.99%
From $10/ month
25 GB
5.HostPapa
Shared and Virtual Private Server (VPS) hosting
99.99%
From $2.95/month
50 GB - 200 GB
6.Bluehost
Shared hosting, VPS hosting, Dedicated hosting, WooCommerce hosting, Cloud hosting
99.98%
From $6.95./month
100 GB - unlimited
1. WPX (

Editor's Choice

)
WPX is the best WooCommerce hosting company. This WooCommerce web host provides excellent WooCommerce hosting services and specialized support for WooCommerce and WordPress websites. WPX is unlike other WooCommerce hosting providers. Here's a quick overview of the things that make WPX such a great company.
Snapshot
Hosting Type Offered: Specializes in WordPress and WooCommerce hosting
Load time: 5/5
Uptime: 95%
Support Score: 5/5
Price Range: Starting from $20 per month
Disk Space: 10 GB – 40 GB
Features
WPX Cloud CDN: WPX has invested in an excellent Content Delivery Network (CDN). The CDN has servers around the world to ensure fast load times for your WordPress site. WPX's CDN is free for customers.
Staging Area: WPX has a testing or staging area where you can test and fine-tune your site.
Easy-to-use Interface: WPX has a simple, modern, and intuitive interface. You can manage your sites, database, and email addresses with ease.
Pros
Fast Customer Support: Support staff respond to inquiries in less than 30 seconds. They can solve most problems within a few minutes of raising an issue. That level of support saves you time and money.
Fast Servers: WPX hosting has some of the fastest internet servers of any website hosting company. That means your site will load quickly. You'll also get a free dedicated IP address.
Free CDN: You get access to the WPX CDN for free. The CDN improves load time for people accessing your site wherever they happen to be in the world.
Great Uptime:95% service time and enough server resources to prevent your server from ever going down. A high uptime improves your SEO rankings and the user experience.
Automated Backups: The company provides free daily backups. If you ever encounter a problem, you can always load an older version of your site.
Free site migration: Customer support staff will help migrate your site to WPX for free. Some companies charge for this service. They'll even help with the WordPress installation and WooCommerce installation.
Free SSL Certificate: You get a free SSL certificate when you buy a domain name through the company. It's an essential feature for any eCommerce website, and many companies charge extra for a certificate.
Money-Back Guarantee: 30-day compensation warranty if you are not satisfied with the service.
Cons
High-priced Plans: WPX's entry-level plan starts at $20 per month. That's a bit pricey compared to the entry-level plans of other WooCommerce hosts. But, considering the features you get, it's worth the price.
Why WPX
WPX is the best WooCommerce hosting company. Several tests have shown that WPX offers faster hosting speeds than competitors.
Site speed is a crucial factor that will underpin the success of your eCommerce store as it will provide your audience with an improved user experience. Moreover, a fast loading site speed can give you an edge in the SERPs.
Alongside the fast servers, you'll have access to a support team that responds to any customer inquiry with an average response time of less than 30-seconds. It is also considered the best WooCommerce hosting site for a small online business with downloadable products.
The pricing for WPX hosting is straightforward as well.
WPX is an affordable hosting provider. You get great customer service, your site is hosted on fast servers, and you get access to a free CDN. You can also secure a 90% discount on the first month if you try out the service by clicking the link below.
(90% off the first month with coupon MATT90)
---
2. SiteGround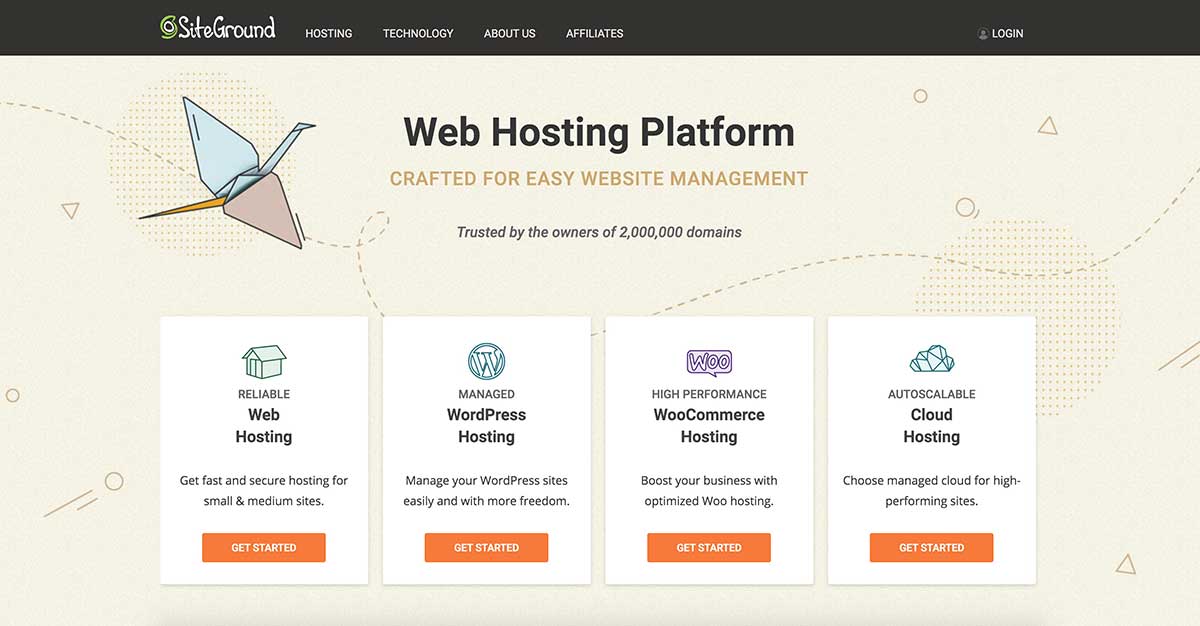 SiteGround is one of the most highly rated WooCommerce providers. Below is an overview of some of the stand-out hosting features that make SiteGround an excellent choice for any WooCommerce website.
Snapshot
Hosting Type Offered: Shared, WordPress, Woocommerce, Cloud, & Reseller hosting.
Load time: 5/5
Uptime: 99%
Support Score: 9/5
Price Range: Starting from $6.99 per month
Disk Space: 10 GB – 40 GB
Features
Pre-installed WooCommerce: Siteground saves you all the trouble of installing WordPress and a WooCommerce plugin for eCommerce stores. SiteGround has pre-installed WooCommerce plugins and storefront themes so that you can focus on uploading and selling your products.
Varied Options to Accept Payments: SiteGround is great for an eCommerce store because it allows you to accept payments in various ways, including bank transfers, checks, papal, and cash on delivery. It integrates with 140 region-specific gateways.
Intuitive Dashboard: SiteGround offers an intuitive dashboard that is easy to navigate and helps you address problems with your eCommerce store quickly. There's a staging area where you can test changes before pushing them live on your website.
Pros
Fast Servers: SiteGround offers fast website hosting for your WordPress site. One of the exciting features of the service is that you can choose where your data is hosted. That's handy for any company targeting a specific market, like the US, for example, as it guarantees fast load times.
Efficient Customer Service: You can talk to the SiteGround customer service team any day of the week. They are available 24/7 and respond to queries promptly.
Daily Backup: SiteGround will back up your site daily. For example, if you encounter any issues, your site is hacked, you can load a version of the site before the hacking for free.
Free SSL certificate: SiteGround offers free SSL certificates to customers. Ecommerce sites need to have an SSL certificate to process payments.
Good Uptime: Your site will almost always be online if you select SiteGround to host your WordPress website.
Additional Add-ons: Free WordPress installation for creating your new store. They'll even help with WooCommerce installation. Furthermore, SiteGround also offers free website migration on specific plans to facilitate the transfer of your store.
Cons
No Free Domain: Unlike other WooCommerce hosts, SiteGround does not offer free domains with its paid hosting plans.
Why Siteground
WooCommerce endorses SiteGround as the best hosting provider for new WooCommerce websites. The web host company has fast servers, good infrastructure, WP engine, a great WooCommerce plugin and a customer support team on hand to meet all your inquiries.
The option to choose where you host your site is one of the neat features of SiteGround. It's certainly something that makes the company stand out on this list. All these benefits and more make SiteGround a worthwhile WooCommerce hosting provider.
---
3. Flywheel
Flywheel provides blistering speed, and expert help desk services, and helps optimize your WooCommerce store. Let's look at some of the standout features of Flywheel below.
Snapshot
Hosting Type Offered: WordPress, Woocommerce, & Dedicated hosting.
Load time: 5/5
Uptime: 99%
Support Score: 5/5
Price Range: Starting from $23 per month
Disk Space: 20 GB – 200 GB
Features
Free CDN: Flywheel has a free CDN powered by Fastly that ensures the fast loading of pages. The web host uses auto-healing and redundant container technology (powered by the Google Cloud Platform) to scale with every sale.
Pricing: Flywheel has a unique pricing strategy. Instead of only specific plans with stated prices, Flywheel's eCommerce experts will work with you to create a custom package just for your store.
Pros
Fast Servers: Flywheel has fast servers. Moreover, the company also offers customers access to their CDN for free. It's a great combo offer.
Good Customer Support: You can contact the Flywheel customer support team via live chat, telephone calls, emails, and social media.
Good Security: Free malware clean-up to improve site security and reduce the risk of hacking.
Daily Backups: Automated evening backups. You can always load an older version of your site.
Free Add-ons: WordPress updates to keep your store up-to-date. Automated plugin installations to optimize performance.
Cons
You can't access Secure Shell Protocol (SSH) because of the managed security and performance provided by Flywheel.
It does not have a built-in Git deployment, which is a control system used to deploy code to a website or application. The lack of Git deployment may be inconvenient for some web developers.
Why Flywheel
Flywheel is affordable with the type of features that you would expect from some of the best-in-class hosting providers. That includes reliable, fast servers and a good customer support team for your WooCommers store.
Flywheel also has dedicated plans that cater specifically to WooCommerce store owners and are optimized as such.
If that didn't catch your attention, it is also worthy to note that Flywheel has servers worldwide and a free Content Delivery Network. That combination ensures your site will always load fast wherever in the world your audience comes from.
---
4. Cloudways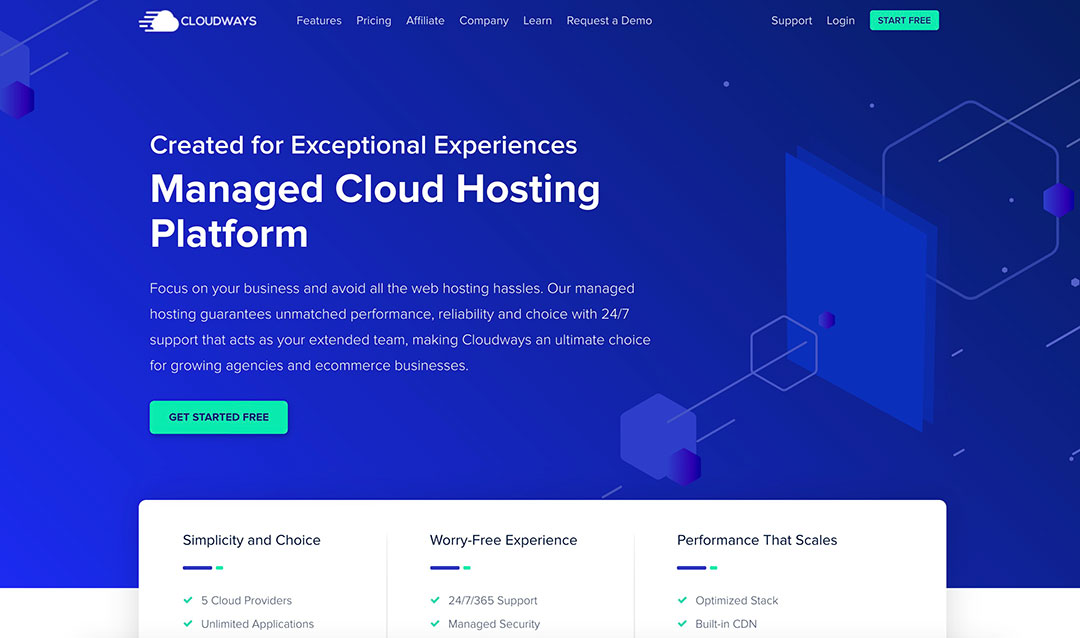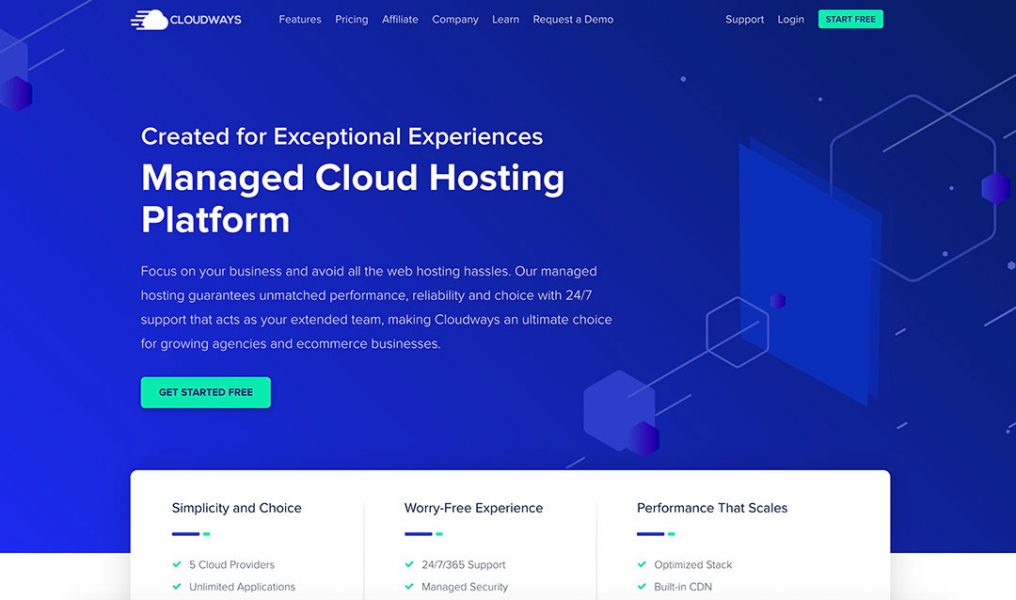 Cloudways Woocommerce hosting offers a unique approach to site hosting. They have a flexible pay-as-you-go system that only requires users to pay for the resources in real-time.
They also allow first-time users to have a free trial without any charge. It's much better than the free Google cloud platform.
Aside from the normal hosting types, Cloudways offers a unique platform-as-a-service (PaaS) cloud-based web hosting, setting it apart from other WooCommerce hosting solutions.
Snapshot
Hosting Type Offered: Shared, VPS, Dedicated, Cloud, WooCommerce hosting.
Load time: 5/5
Uptime: 99%
Support Score: 5/5
Price Range: Starting from $10 per month
Disk Space: 25 GB
Intrigued? Let's look at some features.
Features
Powerful Stack: The web host's hosting stack comprises NGINX, Apache, MySQL/MariaDB, and PHP-FPM to tackle high volume traffic and server requests.
Flexible Paying Plans: Cloudways's paying plans start at $22/month or $0.0305/hour for a recommended 2GB DigitalOcean server. However, they have a Pay-As-You-Go pricing model that ensures that you only pay for what you use.
Pros
Excellent Customer Support: Customers get access to live chat and contact the support staff through other channels. There's also a personal Slack channel for premium users to facilitate communication.
Fast Servers: Cloudways is a fast hosting provider. Alongside the fast servers, they also offer inbuilt advanced cache to boost uptime.
Hosting Security: Cloudways offers bot protection to secure stores and reduce the risk of hacking.
Server personalization: You can personalize and configure your server based on your requirements and needs.
Free SSL certificate: Cloudways offers free SSL certificates to customers. You need an SSL certificate to guard your shop's database and take payments.
Cons
No Domain Name Registration: Cloudways does not offer domain name registration, whether free or paid
No cPanel or Plesk: Cloudways bills itself as a platform-as-a-service company, so it doesn't offer cPanel or Plesk.
Why Cloudways
The flexible signing up packages of Cloudways already make it attractive to customers, especially if they're on a budget. The Cloudways team offers fast hosting and good customer support.
What's more, Cloudways has an app library of eCommerce tools you can use to create an engaging WooCommerce store.
---
5. Hostpapa
The Canada-based hosting company, Hostpapa, provides shared reseller and virtual private server (VPS) hosting. They have a dedicated team that offers online WordPress support in various languages such as English, Spanish, German and French. So, you know you'll get automatic WordPress updates as well.
Snapshot
Hosting Type Offered: WordPress, Reseller, & Virtual Private Server (VPS) hosting.
Load time: 5/5
Uptime: 99%
Support Score: 5/5
Price Range: From $2.95/month
Disk Space: 50 GB – 200 GB
Here's an overview of some of the core Hostpapa features.
Features
Free Domain Name: HostPapa users receive a free domain name once they subscribe. Customers also get a free SSL certificate with each domain.
Pros
Fast Load Times: Hostpapa invests in fast servers and provides quick load times. The company also has excellent uptime performance.
A comprehensive Support system to aid you whenever you need them.
Free SSL Certificates: Hostpapa provides free SSL certificates to customers who purchase domains through their company.
Green credentials: Hostpapa is a company that cares about its environmental impact. That could be an important consideration for you.
Cons
Although Hostpapa offers a wide range of communication channels, customers often complain about their customer service and slow response rate.
Why Hostpapa

If you are looking for an environmentally friendly web host, Hostpapa is the right fit. Aside from Hostpapa's commitment to nature, the company has a great page loading speed and world-class staff to take care of all your hosting needs.
---
6. Bluehost
Bluehost is endorsed by WooCommerce as one of its most trusted hosting servers. Bluehost offers cheap plans streamlined for all your WooCommerce needs.
The hosting plans come with an already installed WooCommerce, a free domain name, and much more.
Snapshot
Hosting Type Offered: WordPress hosting, VPS hosting, Dedicated hosting, WooCommerce hosting, Cloud hosting.
Load time: 5/5
Uptime: 98%
Support Score: 3/5
Price Range: From $6.95/month
Disk Space: 100 GB – unlimited
Features
Pre-installed Features: Bluehost has a collection of pre-installed features that make it easy to set up, run and manage your online store. These features include Jetpack free installed and store-front theme installed.
Site Monitoring and Statistics: Bluehost provides analytics tools to help you keep tabs on website traffic. You can analyze customer behavior and trends to help you optimize and increase sales.
Pros
Free SSL certificate: Bluehost provides free SSL certificates to customers for the first year of a plan. The SSL certificate helps to protect your store's customer data.
Personal IP: You can get a personal IP address for your site. A personal IP is valuable as it means your site will be unaffected by other sites on the same server.
Free Domain: Customers get a free domain for the first year of the hosting contract. You can run unlimited email accounts from the domain.
Pre Installed WooCommerce: If you're setting up a new site, Bluehost can do a pre-installed WooCommerce set up for you.
Unrestricted Bandwidth: Bluehost offers unmetered bandwidth on all plans. However, you will need to upgrade your plan if you exceed the average limits.
Cons
Costly Upgrades and Add-ons: Bluehost can get quickly pricey once you include add ons in your package. You might also need to pay higher costs when you want to renew your package.
No Free Site Migration: Many web hosts offer free migration from other sites to other servers. On the other hand, Bluehost requires that customers pay up before migrating your existing site, and it can be pretty expensive. For instance, Bluehost customers have to pay $149.99 to migrate up to 5 websites and 20 email accounts.
Why Bluehost
Bluehost's plans make it a desirable choice for anyone who runs WooCommerce stores. Bluehost has a range of hosting plans. It's a good round company offering managed WordPress services.
Many of the plans offer unmetered bandwidth. Make sure to read the fine print, though, as even though the plans are unmetered, you will need to pay more as your web traffic increases.
---
What is WooCommerce Hosting?
WooCommerce hosting will ensure fast load times and low CPU usage for your site. WooCommerce and WordPress specific features include object caching, proper management of Ahrefs and SEMrush crawlers that chew up your CPU power, and much more…
You'll learn a bit more about why those issues are important later on in this guide…
WooCommerce hosting will also offer the type of dedicated support you'd expect from a general web host. For instance, with the best WooCommerce hosting, you should get good customer support staff with advanced knowledge of WordPress, features like high bandwidth, and storage space.
These are all important features you need from your hosting to run an online business.
---
What Are the Benefits of Woocommerce Hosting Over Generic Hosting?
The benefit of WooCommerce hosting is that people can access your site faster because the server is optimized for the WooCommerce plugin. Furthermore, there are fixes and firewalls in place to reduce server demands, which makes your plan cheaper.
Here are some of the benefits of WooCommerce hosting over generic hosting plans.
1. Automated Setup
The best WooCommerce web hosting platforms provide an automated setup for a new WooCommerce store. The automated setup is a small-time saver when starting a website, especially if this is your first online store.
2. Performance
A good web host has WooCommerce specific features. Two key areas where WooCommerce hosting is optimized for performance are caching and database calls/optimization.
For a high-traffic WooCommerce store, you need object caching. Which you are only going to get with a great WooCommerce hosting provider. Without object and page caching, WooCommerce pages load slower. That directly impacts search rankings and revenue.
Crawlers like Ahrefs and SemRush can also affect the performance of your WooCommerce store. These SEO crawlers consume a lot of CPU power when crawling your cart and wishlist, slowing your WooCommerce store.
A good hosting plan will add firewall rules to block them from your online store. This article, which covers Cloudflare rules for WordPress [1], covers the topic in more detail.
3. Improved Customer Support
You want to work with a company that understands how to solve the problems you face with your WooCommerce site. A WooCommerce hosting platform should have support staff who understand how to fix common issues with the WooCommerce site.
That expertise translates into cost savings. WooCommerce stores should all have a great storefront theme and a great support team. A good customer support agent on your WooCommerce site will also save you time as they can resolve the problem with your online store the first time you message them.
4. Increased Security
Malicious hacking and injecting code into your site can cost your business thousands of dollars in lost revenue. The best options have WooCommerce specific features in place to reduce the risk of hacking.
A few companies will go that step further by notifying you when they identify hacking and solve the problem with your WooCommerce store.
You want that peace of mind if you're running a successful WooCommerce store.
5. Daily Backups
Backups provide you with access to old versions of your eCommerce website. They should be done either daily or weekly. If your eCommerce site is hacked, you can load a backup.
Cheap hosting companies will often take advantage of you when you have these issues. They will charge a lot of money to solve your problems. You want to choose a web host that will do backups for free and load those backups at no extra cost.
6. Fast Load Times
Speed is important for online stores. Your eCommerce website needs fast load times, which all of the providers on this list offer.
Ideally, your WooCommerce store will load in less than one second. Most large WooCommerce stores have load speeds of under one second. The best WooCommerce hosting can help you achieve those fast load times with a little website speed optimization.
7. Affordable and Flexible
You want a hosting solution that offers value for money and can scale with your eCommerce website. WordPress hosting packages from established companies will fill that need.
---
What Are the Disadvantages of WooCommerce Hosting?
The disadvantages of WooCommerce hosting are:
Cost: WooCommerce hosting plans cost more than your standard shared WordPress hosting package.

Pre-Installed Software- WooCommerce may be manually installed, but only by the most tech-savvy consumers. Some users may want or need something other than the WooCommerce-ready themes and other extensions of the program.

Upkeep – Not all WooCommerce hosting plans include automatic updates. Maintaining software up-to-date and regular backups is still required.
---
What You Should Look Out for in WooCommerce Hosting?
You should look out for more than a few things in WooCommerce hosting. There are many important considerations you need to make when selecting a web host for your WooCommerce store. Below are some important things to consider.
1. Interactive Help Desk
Many people opt for the cheapest WordPress hosting services available for their WooCommerce site. That's a mistake. You get what you pay for when selecting a hosting site for your online store.
You want a customer support team that will solve the problems on your WooCommerce site fast. After all, if you're facing an emergency, you want a solution in minutes or hours rather than days.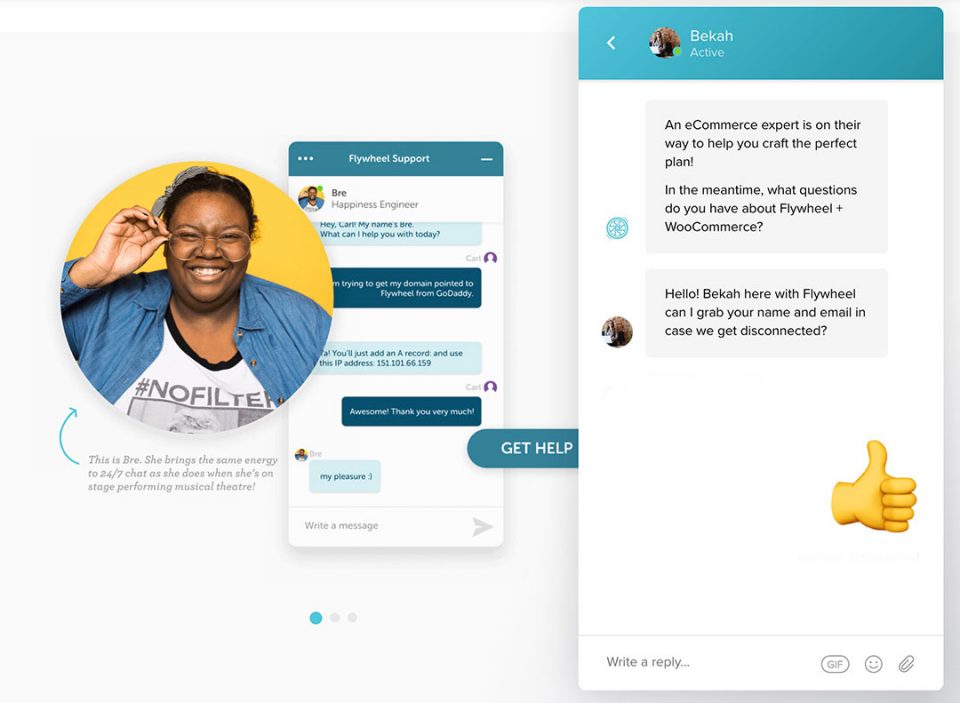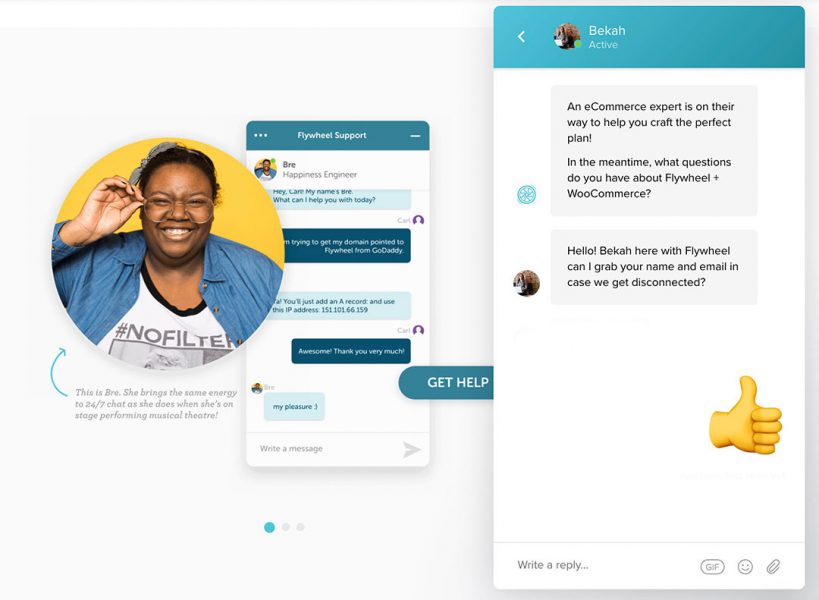 Research the support offered from various managed hosting companies, read online reviews, and test their service.
Check if you can call, send an email, or chat online and see how fast they respond. If a company takes a day to respond to an inquiry, then they're not going to be right for you.
2. Value for Money
The host for your online store needs to offer value for money. The price of managed WordPress hosting varies. Below are the most important factors to consider:
Bandwidth: Your bandwidth defines how many visitors your WordPress site can handle. Low bandwidth and high traffic mean a slow site speed. You need a plan with high bandwidth.
Storage capacity: All of the images and other data you upload to your online store take up space on a hard drive. You want to choose a plan with a lot of storage capacity for your WordPress website.
Shared or Dedicated Web Hosting: Shared hosting is where you share space on a server with other WordPress sites. This hosting is good for sites with a few visitors. Dedicated web hosting is where you get your own server. You might even get a dedicated IP address for your WordPress site. For larger sites, choose dedicated over shared hosting.
Website Speed: When you select a host, you'll get WooCommerce specific features that optimize the servers for speed. Some companies also offer Content Delivery Network (CDN), which ensures your site will load even faster.
Keep those factors top of mind when selecting your WooCommerce hosting plan. You want to go with a company that ticks all those boxes.
3. Adaptability
Most companies offer a wide range of hosting packages for online stores. The best hosting companies have plans for small, medium, and large sites. That makes it easy to upgrade your plan as site traffic increases.
4. Uptime and Security
Uptime is a metric for tracking how long over the course of a year your site is live. You want a company with an uptime of 99% or more.
Don't choose a managed hosting provider with a high downtime.
If your eCommerce website is inaccessible, you'll lose money and leads. If your eCommerce website is frequently inaccessible, it will harm your search rankings.
---
When Do You Need WooCommerce Hosting?
You will need WooCommerce hosting when you want a fully working online store for your small business.
Shared WordPress hosting is a good option if you're just starting out and don't expect to sell more than a handful of goods. Bluehost is one of the few officially approved WordPress hosting providers, thus we think you should go with them.
Choosing the correct WooCommerce hosting will save you a lot of time, particularly if you are unfamiliar with the technical aspects of installing and setting up WordPress and WooCommerce.
If you're a company owner, you may choose a cheap shared hosting service and either outsource the technical maintenance to someone else or learn as you go. This will be time-consuming, and it will likely cost more than you anticipated.
Another choice is to go with a WooCommerce hosting package, which will allow you to run your store with less effort. You can get a lightning-fast e-commerce site up and running in no time at all, with zero coding knowledge necessary.
The decision ultimately depends on how important certain factors are to you. WordPress on a standard web server is your best bet if keeping costs down is your top priority.
However, if you're eager to have your store up and running, the added expense of WooCommerce hosting is more than justified.
How We Test the Best WooCommerce Hosting Providers?
We tested the best WooCommerce hosting providers based on a number of criteria to determine which ones were the best for WooCommerce. The availability guarantee, daily backups (and if they were included), capacity, and ease of use were all taken into account.
We compared the providers based on how easy they were to use, how secure they were, how well they could move data, and how quickly their support staff answered customer questions.
We analyzed their pricing structures and made an assessment of the types and sizes of businesses that would benefit most from them.
Why Use WooCommerce?
You should use WooCommerce because it allows you to design visually appealing shop fronts for your online business. 
You can choose from a wide variety of available themes that cover a wide range of business types. It's also simple and quick to modify a WooCommerce theme to your liking, letting you give your online store a design that's all your own.
It has all the usual shop features, like the ability to sell both physical and digital goods, and it can be expanded with things like memberships, subscriptions, dynamic pricing, etc.
If you want to sell subscriptions, you could make special content or a private part of your online store for people who pay.
Payment security is a serious concern for both users and businesses. In addition to built-in support for PayPal and Stripe, WooCommerce also allows you to accept payments by a wide variety of different methods, including cards, bank transfers, mobile wallets, and so on.
Thanks to the many extensions that are available, you can also accept payments through a number of regional payment gateways if this is needed in your area.
One of the toughest difficulties facing any online retailer is cart abandonment. This happens when potential buyers place items in their shopping basket but then leave the site before completing their purchase. More than 60% of potential purchases are lost when customers abandon their shopping carts.
Almost two-thirds of your revenue simply vanished. Email recovery campaigns are one of the best ways to reduce the number of shoppers who leave their shopping carts without buying anything. You could use WooCommerce cart abandonment plugins, some of which are free, to deal with this critical issue.
---
Frequently Asks Questions
Which Hosting Is Best for WooCommerce?
From this list, the best WooCommerce hosting is WPX hosting. The company offers the best-in-class performance, price, and features. Some notable highlights include the fast load speed, the Content Delivery Network, and the excellent customer support.
That focus on customer experience is significant for any company and something you should certainly search for from your hosting service. You can secure access to WPX for 90% off the first month by clicking on the link above.
What Is The Fastest Hosting for WordPress?
WPX stands out as the fastest WooCommerce hosting for WordPress. The average page load speed for WPX hosting is 0.357 milliseconds. The page load time for Bluehost from the same test, by comparison, is 2.37 seconds.
What Is the Cheapest Hosting for WooCommerce?
Bluehost leads the way as the cheapest WoCommerce hosting provider. The company has a pre-paid hosting plan that enables you to pay for a minimum of three years of hosting. Bluehost also offers one and two-year contracts with very flexible terms.
The short answer? No. Shared hosting is not recommended for your website.
Sure, you can start with shared hosting. However, shared hosting generally has slower page load times. That's a big issue if you want to offer the optimal user experience to customers. Moreover, page speed is a ranking factor.
Shared web hosting is cheaper than dedicated WordPress hosting. However, those savings come at a cost. Your site will probably load slower. Longer-term, you'll need to upgrade your hosting as the number of visitors to your traffic increases.
WordPress hosting on a dedicated server is faster. You will have more bandwidth for site visitors, and you will have more space on the hard drive.
---
Which Woocommerce Hosting Provider Do We Recommend?
The right WooCommerce hosting provider makes it easy to set up, run, and manage your eCommerce store. This article examined the best WooCommerce hosting providers for WooCommerce store owners.
We looked at the features of the six best hosting for WooCommerce, namely, WPX, Siteground, Hostpapa, Bluehost, Flywheel, Cloudways, and Bluehost. Each has its strengths.
However, If you are looking for feature-rich and all-around WooCommerce hosting providers, we recommend WPX hosting.
Featuring flexible WooCommerce hosting plans, fast speeds, premium hosting costs, and responsive customer service, WPX stands out as the best host for WooCommerce hosting to help you set up your eCommerce store with ease.
Our #1 Recommendation: WPX Hosting
Use coupon MATT90 to get 90% off your first month