Your domain name is one of the most important aspects of your online business, but knowing how to get one, which type to choose and how to register it is not always obvious.
That's why as an owner of several websites, I've put together a guide to show you the best way to get a domain name, which registrars to purchase from, and the costs associated with the domain registration process.
By the end of this article, you'll know not only where to purchase and register a domain name, but also how to avoid making common mistakes when doing so.
We'll also go through the answers to some pretty common FAQs relating to domain types.
---
How to Buy A Domain Name in 2023
Buying a domain is a pretty simple process. It includes six key steps, which are as follows:
1. Choose A Domain Registrar
The first step is choosing the right registrar. A domain registrar is a company that enables registering a domain name on the internet.
There are many different registrars to choose from, so it's essential to do your research before settling on one.
Some Things You May Want To Consider Include:
The price of domains (some registrars offer discounts for multiple-year registrations)
The availability of domains (some registrars have a larger number of available domains)
Customer service/technical support availability
It's important to register a domain name with the right domain registration provider.
As you'll see, there are many available on the web. I'll take you through some trustworthy domain providers shortly and ensure you're familiar with the domain registration process.
---
2. Choose A Domain Name
Once you have chosen your registrar, you'll need to choose your domain name.
You'll find out how to choose the best domain name for your business further below.
The key thing to remember is that the domain name is what people will remember and associate with your business. It's also the way they'll find you online.
Therefore, choosing a memorable yet professional name that suits your business is important.
---
3. Check Domain Availability
Once you have chosen your domain name, you'll need to check its availability.
In many niches, finding an available domain name could take some time as competition is high.
To check the domain availability, you'll need to input the domain name you want into the registrar's search bar.
If it is available, the system will tell you and give you the option to buy it on the spot.
Is It Possible To Reserve A Domain Name Before Buying One?
Typically, there is no way to reserve a domain name without purchasing it. If you want to reserve it, you must buy it.
Given the low cost of many domains, it's a small investment for your online or local business.
---
4. Purchase & Then Register The domain
Once you have checked that your desired domain name is available, you should be able to make your purchase through any regular online payment method.
Domain names can be registered for anywhere from one year to ten years, with most registrations set for an indefinite period of time.
Is There A Way To Get A Free Domain?
Technically, there are ways to get a free-of-charge domain, but you should bear in mind this is often under false pretenses or as part of a hosting plan.
A free domain may be offered through third-party providers that require you to purchase additional products, such as marketing tools or other tools for your site. They may also require that you advertise on your site.
It is best to pay for a domain name to avoid encountering circumstances like these.
---
5. Configure Your Domain Name
The next step in the process is to configure your new domain name.
To configure the domain, you will need to point it to your website's host.
Your domain registrar will provide you with specific instructions on how to do this.
It's important to remember that, in order for your website to be visible online, your domain must be pointing to the correct host provider.
The process involves pointing your DNS (Domain Name System) records at your host's name servers.
The DNS is essentially the internet's phone book, which helps visitors to find your website.
Your host provider is the company that will physically store your website's files.
You can find all you need to know about Web Hosts in our dedicated Hosting Guide.
---
6. Register & Verify Ownership Of Your Domain
You'll need to verify ownership of your domain name after it has been registered.
Typically, you can do this by adding a file to your web server or emailing the registrar a specific code. This code is provided in the confirmation email that is sent to you by the registrar after you have registered your web domain name.
It's important to remember this step; otherwise, your website won't be visible online.
Once verification is complete, your registrar will add an "authorized contact" record to the WHOIS database, which contains contact and registration information for domain names.
This verifies that you are the legal owner of the domain and allows you to make changes to it (such as transferring it to another provider if you ever need to).
Can You Buy A Domain Name Forever?
It is not possible to buy a domain permanently.
Domain registration is done on an annual basis. However, you may prepay for up to ten years, ensuring that you will have a domain name for at least ten years.
You can switch to a different registrar at any point if you need to, but most registrars will automatically renew your subscription.
Now that you know all about registering a domain name for your business, let's look at some of the most popular registrars from which to purchase your domain.
---
Where Is The Best Place To Buy A Domain Name?
The best places to buy a domain name would be from a domain name registrar, a hosting provider, or a domain auction.
You can find an extensive list of options in this post about the cheapest place to buy domain names.
Getting into the technicalities of each of these is not necessary right now, but below you will get a quick overview of each.
Domain Registrars
The non-profit Internet Corporation for Assigned Names and Numbers (ICANN) oversees the entire system of domain names. It allows outside companies, called domain registrars, to sell and manage domain names.
Typically, registrars do not offer hosting services. However, they will provide you with the tools necessary to connect your domain name to a hosting provider.
Namecheap and Dynadot are two registrars in particular that I can recommend.
---
Web Hosting Providers
On the other hand, hosting providers often offer both a domain name and a hosting account.
They are somewhat of a one-stop-shop for all your online business needs and can provide you with everything you need to get your website online.
This may include an SSL certificate for further domain privacy or a professional email address to match your website's domain.
The providers below are some of the most popular online options you'll find when searching for a registrar online.
They are both reputable and offer competitive pricing.
1. DreamHost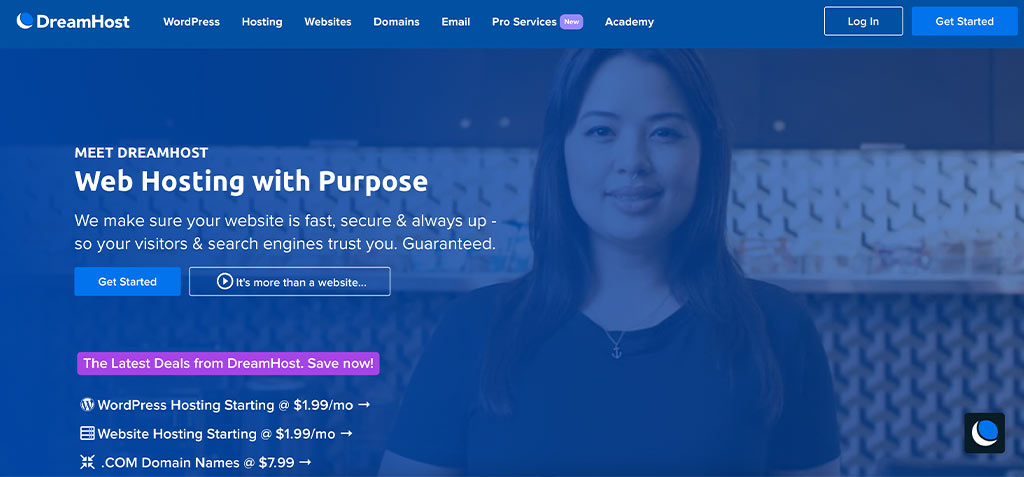 As well as a great option for those who want a reliable hosting service along with their domain name, DreamHost is one of the most popular domain name providers in the world.
They offer a wide range of domain name extensions and provide an easy-to-use interface for registering your domain.
---
2. BlueHost
If you're searching for a trustworthy brand, BlueHost is a great choice and another popular web host from which to purchase and register your domain.
Their low-cost beginner plans make them a popular choice for anyone looking to register their domain name.
Plus, they often offer a choice of free domain names when you set up your hosting plan with them.
---
3. Hostgator
Hostgator offers a wide variety of domain name extensions and has competitive prices.
Any registered domains will be part of one of two registrars – eNom, or its own domain registration service, LaunchPad.
LaunchPad allows you to register your domain name directly at hostgator.com/domains or via the Customer Portal.
They provide a reasonably good hosting service and 24/7 customer support.
---
4. Cloudways
Cloudways is another managed hosting provider that also offers domains for purchase.
They are one of the best options for those who want to host their website on powerful cloud servers.
Their plans are scalable and secure, making them a great choice if you're looking for a provider that can keep up with fast site growth.
---
5. NameCheap
Namecheap is an accredited domain name registrar that offers a wide range of extensions, including country-specific domains.
They are known to be an affordable choice with competitive pricing.
It's quick and easy to register your domain from NameCheap and (should you require) the web hosting service is inexpensive.
---
6. GoDaddy
GoDaddy offers a wide variety of good domain extensions and has been known to offer some great deals.
GoDaddy enables you to carry out a free domain name search, as well as a bulk domain search, to find a good domain that works for you.
You can do this through its domain name generator. This enables you to check availability or register multiple domains at once.
---
What Is A Domain Name?
Domain names are the unique identifiers that tell web browsers where to find content on the internet.
They are used to access websites, email address, and other online resources (so that you don't need to memorize long IP addresses).
In the same way that you have a home address for your house or apartment, domain names are the address of a website or webpage, and they're visible to everyone.
There are several different types of domains you can choose from when registering a new business or project. We'll go through these next.
---
6 Different Types Of Domains
Now that we have established what a domain name is, we will go through the six main domain types.
These are:
Top-Level Domain (TLD)
Generic Top-Level Domain (gTLD)
Country-Code Top Level Domain (ccTLDs)
Second-Level Domain (SLDs)
Third-Level Domain
Premium Domain
1. Top-Level Domains (TLDs): Domain Extensions
Domain names can be broken down into several parts.
Top-level domains (TLDs), also known as domain extensions, are part of the domain name to the right-hand side of the dot. For example, in the URL "www.diggitymarketing.com" the .com is the TLD.
TLDs can be divided into generic TLDs (.com/.net), country code TLDs (.uk), or sponsored TLDs (sponsored by a specific business entity) i.e .travel for travel agents, tourism bureaus, etc.
The most common top-level domain is .com (which corresponds to commercial entities), but dozens of others exist.
These include:
.net – Network providers
.org – Non-profit organizations
.io (this was initially a country code but has since been adopted for the tech community)
The right domain extension for your website will depend on the nature of your business and the country in which you are based.
While they may seem like minor details to consider when choosing a domain name for your business, the extension of your domain makes a big difference regarding how people perceive you online.
So, it's important to choose the right extension that best matches your website content and audience locations.
2. Generic Top-Level Domains (gTLDs)
A generic top-level domain (gTLD) is the most common domain type.
They are the first level in the domain hierarchy and include domains such as .com, .net, and .org.
gTLDs are open to pretty much anyone who wishes to register a name under them and can be used for any purpose (including commercial websites).
3. Country-Code Top Level Domain (ccTLD)
A Country-Code TLD (ccTLD) is a domain name extension specific to a country. For example, the .ca ccTLD is used for websites registered in Canada.
There are over 250 ccTLDs available worldwide. Each one corresponds with a particular country or territory.
The best way to determine whether you should register a ccTLD for your business is to look at where your customers are from.
If you have a large customer base that is based in the corresponding country, then it might be worth registering a ccTLD for that region.
4. Second-Level Domains (SLDs)
A second-level domain is a domain that is immediately below a top-level domain in the Domain Name System hierarchy.
For example, in the website "diggitymarketing.com", "diggitymarketing" is the SLD.
SLDs are limited in number. They are registered on a first-come, first-served basis and must be registered through an accredited registrar or hosting provider.
This means that if someone else has already registered the SLD you want for your website, you'll need to come up with an alternate name.
They are used by businesses and organizations to distinguish between different websites.
For example, the website "microsoft.com" has an SLD of "Microsoft", while the website "windows.com" has an SLD of "windows".
SLDs are not available for general use and must be registered with an ICANN-accredited registrar.
5. Third-Level Domains
A third-level domain is the next highest level in the domain name hierarchy. It is found directly to the left of the second-level domain.
For example, in the website team.diggitymarketing.com, the third level domain is team.
Third-level domains are often referred to as subdomains.
They are used to host different sections of a website. For example, our website "diggitymarketing.com" might have a subdomain for its blog at "blog.diggitymarketing.com."
You need to be the owner of a domain to determine the third-level domain. As the owners of "diggitymarketing.com", only we would be eligible to do this.
6. Premium Domain
Premium domains are existing names that have already been registered and are for sale at a higher price than the standard registration fee.
Domain name registrars (we'll cover these shortly) will often provide a list of these on their websites.
When considering whether to purchase a premium domain, there are several things you need to take into account.
These include:
The age of the domain (older domains are generally more valuable)
The popularity/traffic of the domain (popular domains are in high demand and can be expensive to purchase)
The type of domain (generic TLDs, ccTLDs, or sponsored TLDs tend to be more expensive than other types)
The availability of the domain (not all names are for sale)
The registration fee (domain name prices vary depending on the registrar you use and the popularity of the domain name)
---
What Is A Custom Domain?
A custom domain is a unique branded name connected to a website's IP address, just like your house is registered to your street address.
Examples of custom domains include:
Diggitymarketing.com
Netflix.com
Amazon.com
WordPress.com
Custom domains are a great way to build brand awareness, memorability, and search authority through your site name.
---
How Much Does It Cost To Get A Domain Name?
The cost of a domain name ranges from $0.99 to $35 per year, but this depends on several factors.
The cost is determined by the type of domain you choose, (such as an existing domain name, a new domain, or a premium domain).
Furthermore, the registrar, and whether you decide to add on any additional features or services such as hosting or domain privacy protection, will also determine the cost.
You can check our in-depth guide on how much should be spent for a website domain.
---
How To Choose A Domain Name
Your domain name is your online identity, and it can have a big impact on how customers perceive your business.
In this section, we will discuss the factors you should consider when choosing a domain name.
1. Choose An Appropriate Domain Length
Remember, a domain name is the identity of your website.
The most memorable domain names are short and easy. There's nothing more irritating than typing a lengthy domain name into a search bar to access a website.
Most site names fall between two to four words long, with two or three being the most common length for a website domain.
2. Make It Memorable
Don't fixate on the perfect domain name. But be sure to choose a name that your target audience will remember when they search for you.
Do this by using your business name, and/or keywords relevant to your niche.
You can also use catchy slogans or memorable rhymes to make your domain name easier to remember.
3. Avoid Special Characters, Numbers, And Hyphens
When it comes to domain names, avoid using special characters, numbers, and hyphens.
These can confuse those who don't know what they mean or those who have trouble reading them.
Special characters especially may create problems for people using a different keyboard layout.
4. Choose An Appropriate Domain Extension.
As we've covered, this is the last part of your domain name, and it can be a great way to specify your industry, niche, or specific country.
The most common extension for online businesses is .com.
5. Does a Domain Name Registration Expire? 
Yes, a domain name registration does expire. A domain's registration date and its expiration date are both displayed when you create a domain name.
Every domain name has an end date, whether it's one year, three years, or ten years from now. Purchasing a name with a more extended expiration date will help you save time. When your domain's expiration date approaches, you'll need to renew it manually.
Thankfully, if you remember to renew your domain name registration before it expires, you can keep your domain name. This is of utmost significance if your highly sought-after domain name is extremely short and straightforward.
The initial notice to renew a domain is often sent out a month before the domain's expiration date.
In the event that you do not renew your domain name after getting this message, you will receive a last reminder one week before the domain's expiration date.
6. Does the Country I Live In Affect My Domain Name?
The country you live in is irrelevant to your domain name, while you can use a country-specific domain name to let customers know where you're situated.
Domain extensions like .it for Italy, for example, or .ir for Iran are available for those looking to target these countries.
It is not necessary to utilize your country's domain extension in order to launch a website.
It doesn't matter where you're located in the world, anyone may set up a website using a standard domain extension like.com,.net, or.org.
---
What We Know About Domain Names
Creating a domain name is crucial for your online business, but if you are a beginner, it can be a daunting task. In case you are looking for a platform that can help you get a domain name easily, then WPX can help you.
This service comes with a wide range of features and makes getting a domain name quick and easy, even for absolute beginners. It also offers custom CDNs and free SSL certificates, which will make your experience seamless.
If you need a domain name but also want a high-quality and reliable platform that can support your website, WPX is the best solution.
Our #1 Recommendation: WPX Hosting
Use coupon MATT90 to get 90% off your first month