Finding the right domain name is crucial for you to build a solid web presence.
A domain name is more than just an address for your website. It defines your brand and contributes to your brand's online visibility.
That's why it's important you find the right domain registrar to purchase your domain name through.
With numerous domain registrars available, finding the perfect one for your needs may seem overwhelming. However, as experienced digital marketers, we've done the legwork for you.
To help you get started on your journey, we've reviewed over 50 domain registrars, so you don't have to.
In this article, we share our top recommendations for the best domain registrars of 2023.
The Top 7 Domain Registrars Compared
So here are the top domain registrars in today's market.
Affordable Wordpress hosting, Shared hosting, and VPS hosting platform.
Shared hosting, Email and Website builder.
Best Domain Registrar for Cheapest Promo Deals.
1. Namecheap (

Editor's Choice

)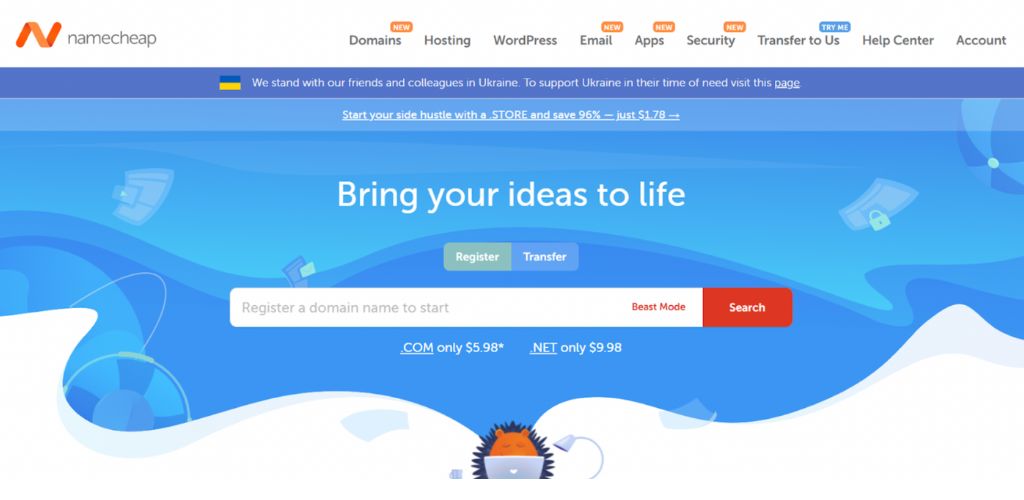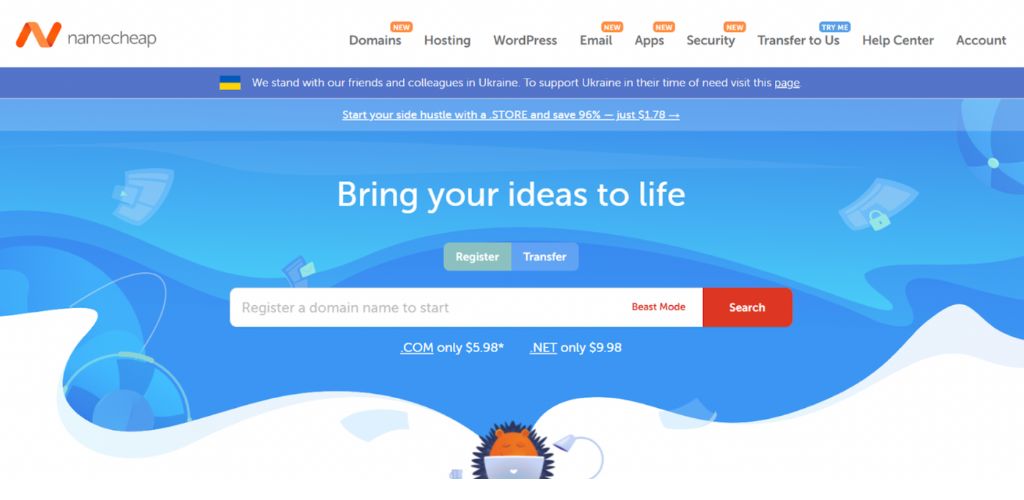 Namecheap has earned a decent reputation for its domain registrar services since launching as a domain registrar in 2000.
Not only does it have over a thousand domain name extensions for sale, but it also has some of the most affordable prices on the market.
With over 17 million domain names under management, Namecheap has emerged as one of the top domain registrars in today's market.
It also includes a stack of free features with every domain purchase and offers reasonable rates for any additional features you may like.
When comparing over 50 domain registrars to uncover the cheapest place to buy a domain name, Namecheap was also at the top of our list with promotional and renewal prices well below average for the most popular extensions.
Overall, there's a whole lot to love about Namecheap's services!
Key Features
Namecheap packs in a ton of free value with every domain name registered including:
Free domain privacy protection for life
Free WHOIS Guard
Free domain locking & unauthorized transfer protection
Free DNSSEC security on all domains
Free email address trial (but renews at only $0.84/month after the trial)
Free SSL certificate on all shared hosting plans, otherwise from $10/year
Pricing
The one thing Namecheap does exceptionally well is domains.
Not only can you find hundreds of available domain name extensions, but Namecheap is also one of the most affordable domain registrars around.
It is the best domain registrar in our opinion.
As far as first-year domain registrar costs go, Namecheap offers over 97 different extensions for less than $5/year.
This firmly places them at the top of our list of the best domain registrars offering cheap domain names.
But what about renewal costs?
On Namecheap, over 100 TLD extensions renew for less than $15 a year.
We also liked that Namecheap offers discounts on their renewal pricing, and their pricing is consistently below average in all our tests.
| | | |
| --- | --- | --- |
| | Registration | Renewal |
| .com | $5.68 | $13.48 |
| .org | $8.88 | $14.98 |
| .net | $10.98 | $14.98 |
| .site | $1.88 | $19.88 |
| >.biz | $4.88 | $16.98 |
| .store | $1.79 | $25.88 |
| .me | $5.88 | $18.98 |
| .online | $1.88 | $21.88 |
| .io | $32.98 | $34.98 |
| .co.uk | $2.98 | $9.48 |
| .space | $1.88 | $14.98 |
| .tech | $8.88 | $34.88 |
| .co | $7.98 | $25.98 |
| .xyz | $1 | $12.98 |
*Green = below average, red = above average
Pros
Simple checkout process: buy a new name in under 2 minutes
Great customer support with 24/7 live chat available
Below average prices for promotions and renewal
Frequent discounts
A tonne of free features
Easy to manage a large number of domains
Beginner-friendly
No sneaky hidden fees
Clean dashboard with very few upsell offers
Cons
Not a great option if you want to bundle it with hosting
No phone support
---
2. Namesilo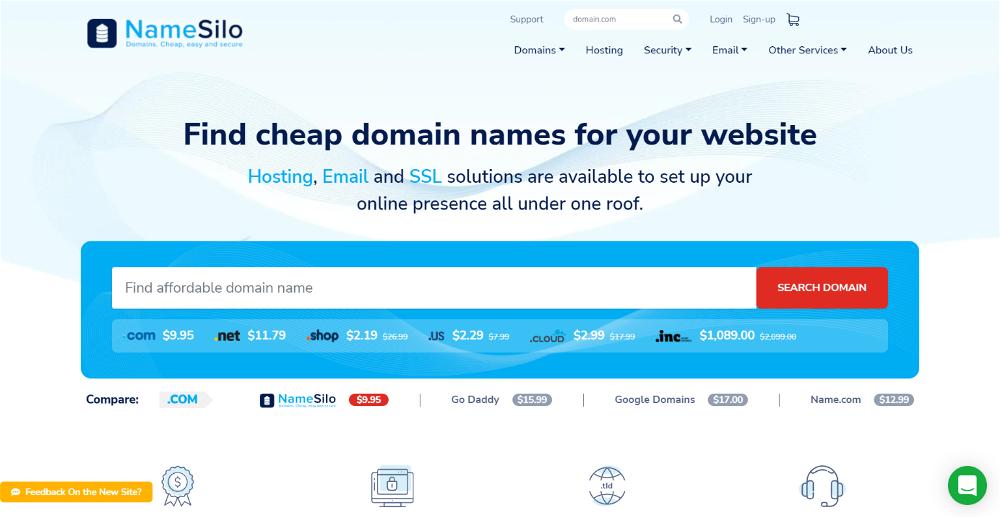 NameSilo is another web hosting provider and domain registrar that impressed us with its low rates.
In particular, NameSilo offers first-year registrations for less than $5 on over 80 extensions.
We also liked that a tiered pricing structure is applied to reward people who buy in bulk. Surely we're not the only ones who own a bunch of domains?
If you're anything like us and tend to buy a new domain name for every entrepreneurial idea that crosses your mind, NameSilo web hosting will reward you for that with lower fees.
As far as renewals go, NameSilo is a web host that offers second-year renewals for less than $15 on 57 different extensions, and its prices are also consistently below average.
Key Features
Free WHOIS Privacy
Free domain parking
Free email forwarding
Free domain privacy & security
Free DNS management
Bulk discounts
Free API for developers
Pricing
Like Namecheap, NameSilo's pricing is also below average for the initial promotional period and renewals for the most popular extensions.
| | | |
| --- | --- | --- |
| | Registration | Renewal |
| .com | $9.95 | $9.95 |
| .org | $10.79 | $10.79 |
| .net | $11.79 | $11.79 |
| .site | $3.79 | $23.99 |
| .biz | $6.49 | $14.49 |
| .store | $4.99 | $43.99 |
| .me | $7.49 | $16.99 |
| .online | $2.99 | $26.99 |
| .io | $33.99 | $49.99 |
| .space | $3.99 | $17.99 |
| .tech | $8.29 | $39.99 |
| .co | $9.99 | $22.69 |
| .xyz | $0.99 | $9.95 |
*Green = below average, red = above average
Pros
Easy bulk domain purchases
Discounts on bulk domain purchases
Free WHOIS privacy protection
Access to the marketplace for dropped domains
Hardly any upsells and aggressive sales tactics
An excellent option for domainers with over 5,000 domains
Cons
Does not provide free SSL certificate (though you can get one for as little as $9.59/year)
---
3. GoDaddy
GoDaddy manages over 84 million domain names and with a 15.39% market share on new domains[1], GoDaddy is the most popular domain name registrar.
As a prime example of loss leader pricing in action, GoDaddy web hosting makes available some domain names for as little as $0.01 with the intention of recouping costs when the domains renew.
Hands down, this is the lowest definitive cost for a reputable domain extension (like .com) that we have found. As far as initial registration costs go, these are by far the cheapest on the market.
But, to secure these cheap domain rates, there are often conditions attached which ultimately can make it more expensive in the long run.
Drawing from our personal experience in using GoDaddy, the initially incredibly low costs can indeed be alluring, but the higher renewal rates over time are worth considering.
Key Features
Despite being the most popular web hosting and domain registrar company, GoDaddy is known for its tendency to hit customers with hidden costs for standard features. For instance:
Domain Privacy & Protection: Starts at $13.15/domain/year
Professional Email Address: Starts at $3.95/month
Free SSL Certificate: Only available with web hosting, otherwise from $94.95/year
There's also a distinct lack of transparency on their website about what features are included with the domain registrar.
Pricing
GoDaddy is a web host that offers the most lucrative discounts on domain names, including the most popular domains.
In fact, it loses money on the initial sale.
Considering the ICANN fees to sell a .com domain are $0.18 per domain name and GoDaddy sells them for as little as $0.01 for the first year, it's clear there's no profit to be made. It's basically a free domain name and free registration.
However, when comparing the renewal fees, GoDaddy is consistently above average, making it one of the more expensive web host options in the long run.
So when it comes to GoDaddy, we suggest triple-checking your math to make sure your domain is really going to work out cheaper in the long run.
| | | |
| --- | --- | --- |
| | Registration | Renewal |
| .com | $0.01 | $18.99 |
| .org | $9.99 | $20.99 |
| .net | $14.99 | $19.99 |
| .site | $0.99 | $39.99 |
| .biz | $7.99 | $24.99 |
| .store | $1.99 | $79.99 |
| .me | $4.99 | $21.99 |
| .online | $0.99 | $49.99 |
| .io | $34.99 | $62.99 |
| .space | $1.99 | $29.99 |
| .tech | $9.99 | $69.99 |
| .co | $0.30 | $34.99 |
| .xyz | $0.99 | $15.99 |
*Green = below average, red = above average
Pros
Cheapest introductory offers starting at just $0.01/year
Great supporting services for website owners
Great all-in-one solution for managing your website
Reputable market leader
Very beginner friendly
Great web hosting and business email add-ons
Cons
Aggressive sales tactics that rely on pricey upsells
Few additional features included
Expensive renewal costs
---
4. Google Domains
Google Domains is a domain registrar that allows you to purchase a new domain name. Despite remaining in a public beta phase for eight years, Google Domains is now open for anyone to buy a new domain name.
With over 300 domain name extensions and endings, you're more than likely able to create your next brand using Google Domains. Most domain registrars do not offer that much.
We found their offering really impressive. Also, buying a new domain name was as easy and simple as, well, running a Google search!
Check out our Google Domains review for all the details on this service.
Key Features
Unlike other companies in our list, Google Domains does not offer any other supporting services for website owners. It just sells domain names.
It wasn't too long ago that Google only had 100 domain name extensions available for sale. Today, it has 338 and counting.
The range of domain names isn't the only feature Google has expanded either. Google Domains now also offers the following features:
Domain sharing: multiple people in your organization can manage your domain names.
Email and domain forwarding: set up forwarding rules directly within Google Domains.
Privacy protection: keep your contact information private on the WHOIS and RADP databases.
Google name servers & infrastructure: enjoy a service that's built on state-of-the-art infrastructure and powered by a world-class team of engineers.
10+ million Domain Name System (DNS) resolutions per year: DNS servers connect your domain to your web server. Google offers free cloud DNS so your website can meet its traffic demands at no extra cost.
One-click DNSSEC: a method of strengthening authentication in DNS by using digital signatures.
24/7 support: no matter where you are in the world, you can access round-the-clock support via help center, email, chat, or phone.
Build a website with Google Sites: pair your domain name with a simple, free website you can build in Google Sites.
Google 2-step verification: protect your account and domains with two-step authentication.
Automatic verification with other Google services: your domain name will instantly be verified by other Google products like Google Analytics, Google Search Console, and more.
Just keep in mind that you need to have an existing Google account in order to purchase domain names from Google Domains and enjoy the above features.
Pricing
As far as pricing goes, Google doesn't play the same game as most other companies in this space. It does not compete on price nor does it rely on upsell offers for you to unlock the full features and benefits.
Instead, it prices domains fairly and you pay the exact amount at renewal as you did at the start.
That's the beauty of dealing with a very reputable company: no funny business.
But it also means you won't be getting the best deals on domains either.
While Google Domains are priced fairly, the initial price is usually way above the industry averages. But the renewal prices are often under.
| | | |
| --- | --- | --- |
| | Registration | Renewal |
| .com | $12 | $12 |
| .org | $12 | $12 |
| .net | $12 | $12 |
| .site | $20 | $20 |
| .biz | $15 | $15 |
| .store | $50 | $50 |
| .me | $20 | $20 |
| .online | $30 | $30 |
| .io | $60 | $60 |
| .space | $20 | $20 |
| .tech | $40 | $40 |
| .co | $30 | $30 |
| .xyz | $12 | $12 |
*Green = below average, red = above average
Pros
Reputable Company
Technical infrastructure few other companies can match
Fair pricing
No funny business, hidden fees, or sneaky upsells
Solid features are included with every domain purchase
Cons
More expensive than other companies, especially initially
Cannot bundle with other services like web hosting or emails
---
5. Dynadot
Dynadot is another ICANN-accredited domain registrar and web hosting company with some great offers on domain names.
In our own encounters with Dynadot, we've appreciated their competitive offerings. Only slightly behind Namecheap, Dynadot offers first-year domain name registrations for under $5 on 75 different TLD extensions. Renewal fees are lower than $15 on 105 extensions.
The best bit is that Dynadot also offers tiered pricing for bulk domain orders.
Key Features
Dynadot is a lesser-known service that excels (almost) everywhere. With competitive prices and stacks of free features included, it's worth being on your radar!
Free account lock
Free two-factor authentication
Free privacy protection
Free email protection
A Grace period that allows you to return a domain name
Domain API for developers
Bulk pricing available
Unlike other domain registrars in our list, Dynadot also excels when it comes to additional services like allowing customers to place a domain name on backorder for when it becomes available.
You can also purchase aftermarket domains on its marketplace. If someone doesn't renew their domain, or they list it for sale, you can purchase it in this marketplace.
Pricing
Dynadot is also very affordable with most of its prices below average for the initial term and renewal costs too. All in all, what's not to love about this domain registrar?
| | | |
| --- | --- | --- |
| | Registration | Renewal |
| .com | $7.99 | $9.99 |
| .org | $8.99 | $10.88 |
| .net | $5.99 | $10.99 |
| .site | $1.49 | $25.99 |
| .biz | $5.99 | $14.99 |
| .store | $2.08 | $49.99 |
| .me | $5.88 | $15.99 |
| .online | $1.99 | $29.99 |
| .io | $29.99 | $31.99 |
| .co.uk | $2.49 | $6.99 |
| .space | $1.88 | $22.99 |
| .tech | $8.88 | $49.99 |
| .co | $10.99 | $22.99 |
| .xyz | $0.99 | $9.99 |
*Green = below average, red = above average
Pros
Powerful search tool
Simple process to register a domain
Loads of free extras (more than many other competitors offer)
Very reasonable prices
Bulk domain purchasing is available
Backorder and aftermarket domain sales are available.
Cons
Some people find it difficult to manage their domains after purchase
---
6. Domain.com
Another company that is in our good books as one of the top domain registrars is Domain.com. Besides, it's all in the name, right?
Domain.com has a huge range of multiple extensions, with over 430 listed for sale on its website.
When it comes to other services on offer, Domain.com also has more services available than some of the other domain registrars listed so far.
For instance, you can bundle your domain purchase with web hosting and email services too.
This is why it may be a better option for you if you're looking for versatile domain name extensions and other website services like a website builder, email, marketing, and web hosting plans.
Key Features
Seamless integration with WordPress, WebsiteBuilder, and SiteLock
Easy domain transfers
Cheap privacy protection
Free WHOIS lookup
Can purchase a domain for up to 5 years
It's worth noting that Domain.com does not include free privacy and protection though it is very affordable at only $8.99 per year.
You can add domain privacy at any time and it's available for all of the most popular domain name extensions.
Some extensions for specific countries cannot have complete privacy but that's a factor external to Domain.com.
Pricing
| | | |
| --- | --- | --- |
| | Registration | Renewal |
| .com | $9.99 | $15.99 |
| .org | $8.99 | $14.99 |
| .net | $12.99 | $15.99 |
| .site | $4.99 | $24.99 |
| .biz | $16.99 | $18.99 |
| .store | $9.99 | $49.99 |
| .me | $2.99 | $19.99 |
| .online | $5.99 | $29.99 |
| .io | $47.99 | $60.99 |
| .space | $2.99 | $19.99 |
| .tech | $4.99 | $44.99 |
| .co | $27.99 | $29.99 |
| .xyz | $2.99 | $14.99 |
*Green = below average, red = above average
Pros
Huge range of 430+ domain name TLDs
Domain privacy and WHOIS protection are available
Domain security alerts
#eeelist monitoring and malware scanning
Website builder and marketing tools available
24/7 customer support
Cons
Tends to be more a little expensive than Namecheap and NameSilo
Best prices are restricted to longer subscriptions
Privacy and protection are not free
---
7. Porkbun
Porkbun is a relative newcomer in the market compared to other companies on our list.
Based on our direct experience, Porkbun's transparency in pricing, coupled with competitive deals on unique extensions and low renewal fees, provides a fresh and affordable approach in the crowded domain registrar market.
Its renewal prices are also among the lowest on the market and consistently below average for the most popular domain name extensions.
Porkbun offers transparency from the get-go so you know the exact cost and inclusions with your domain name purchase before you decide to buy.
Not to mention in today's competitive landscape, if your ideal domain is too expensive or taken by someone else, being able to access deals on alternative extensions is a great way to still keep your ideal brand name.
Key Features
Free WHOIS privacy
Free SSL certificates
Free URL forwarder
Up to 20 free email forwarders
Free trials of other services like web hosting and Porkbun's site builder
Pricing
Many non-traditional domain name extensions are available on Pirkbun for less than $8 for your first year (and a great deal more are also significantly discounted).
Check out Porkbun's complete list of domain prices for more details on its current deals and discounts[2].
| | | |
| --- | --- | --- |
| | Registration | Renewal |
| .com | $9.73 | $9.73 |
| .org | $7.63 | $10.72 |
| .net | $10.56 | $10.56 |
| .site | $2.97 | $22.12 |
| .biz | $5.64 | $15.43 |
| .store | $3.58 | $42.72 |
| .me | $3.15 | $14.67 |
| .online | $2.97 | $27.27 |
| .io | $32.23 | $47.68 |
| .space | $2.14 | $16.97 |
| .tech | $3.58 | $37.57 |
| .co | $8.03 | $24 |
| .xyz | $2.01 | $10.95 |
*Green = below average, red = above average
Pros
Great deals on loads of domain name extensions
Excellent variety of 500+ unique extensions
Very competitive renewal rates
Purchase domains for up to 10 years.
Cons
Somewhat clunky user experience
Could use a better onboarding experience
---
Factors to Look at While Choosing A Domain Registrar
Unless you know exactly what you're looking for it can be hard to find the best domain registration company.
Given it's a fairly simple and regulated service, there's not much wiggle room for domain registrars to add their own flair and unique value.
However, it can be easy to make the mistake that every domain registration company out there offers pretty much the same service.
The differences lie in the details of the free domain services that are also included when you buy a domain name. And of course, the price you buy it for as well, but that's fairly obvious.
To find the best domain registrar with free domain services for your website, we suggest looking for the following features:
Low renewal costs: No matter how great the initial deal is, renewal fees affect long-term affordability.
Free domain protection for life: The top domain registrars will include free domain protection for life instead of charging for it as an extra.
Free domain locking: Another level of protection is domain locking. It prevents unauthorized transfers of your domain names by hackers.
Great user experience for easy domain management: There's nothing worse than being stuck with a dashboard you can't easily navigate to complete even basic tasks related to your domain.
DNS management & email forwarding: Not every domain registrar includes DNS management and email forwarding so it's worth checking if you get access to these invaluable features!
Ultimately, the best domain registrar for you will depend on what features are most important. If you're just managing one website, you likely won't need extra features like bulk domain purchasing and management.
But if you're a domainer who invests in thousands of domains, there are a lot of domain registrars that simply won't offer the level of flexibility and bulk domain actions that you need.
---
Tips for Choosing A Domain Name
Once you know which domain registrar to buy from, the next step is choosing your domain name.
Because the .com extension is so popular, you might struggle to get your ideal brand name. So you can try the following steps to help you find the perfect domain name for your project.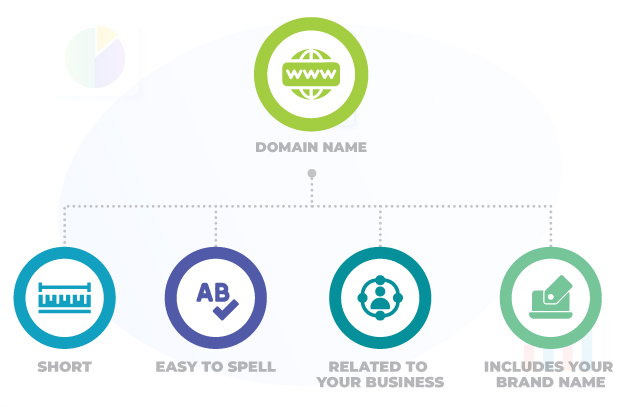 Try a newer domain extension like .info or .shop
If you must have a .com modify your business name a little
Try adding "a", "my" or "the" at the start
Come up with a name that includes a word that can't be found in a dictionary
Add another word to the end of your brand name
Add a hyphen between the words
Misspell a common work on purpose (and make it a quirk that accentuates your brand)
While there are many domain names that have been snapped up or are now considered premium, if you persevere a little, we have no doubt you'll find the perfect name for your website!
---
How We Reviewed the Best Domain Registrars
First, let's take a look at the methodology behind how we narrowed down the list.
Domain registrars need to do one thing exceptionally well: let you find and purchase a domain name for your website.
Naturally, it helps when you have extras like privacy protection, premium DNS settings, and more.
So instead of just reviewing the surface-level info on each company's website, we dug deep.
We placed a heavy emphasis on the value each company can deliver to its customers.
Beyond the price tag, we also looked at the flexibility each company offers along with its features and the level of support you have in the event something goes wrong.
Here's the full list of all factors we examined:
Cost of the domains
Ease of the buying process (some registrars over-complicate their sales process)
Free inclusions vs additional things you'll need to pay for
The number of different extensions available
Bundled services and other extras
Customer support
We've also woven our first-hand experience into our review process. Over the years, we've purchased hundreds of domains and seen the best and worst that domain registrars offer.
---
Frequently Asked Questions (FAQS)
What Is A Domain Name?
A domain name is like a virtual address and it is essential to how the internet functions.
Every piece of information on the internet has to live in a specific spot and it all starts with a domain name.
The domain name you purchase is where everything related to your website will live.
To put it simply, if your website was a house, the domain name you buy would be its physical address.
What Is A Domain Registrar?
A domain registrar is a company that is licensed to sell domain names to the general public.
Domain registrars allow you to search for your ideal domain name, buy it and then manage it through their dashboards.
It's important to note that domain registrars do not own any domains, they lease them and that's why there are ongoing fees for you to pay so that you reserve the right to use that name for as long as the domain name is in your possession.
Once you buy the domain name, you are the official registered owner and your domain registrar will act as a proxy between you and ICANN.
ICANN is an organization that regulates all domain names globally.
Are Paid Domains Better Than Free Domains?
Yes, paid domains are better than free domains. Paid domains are better than free domains as they offer more flexibility and don't come with restrictions for the type of website you can build.
That being said, if you score a free domain name with a web hosting package, that's a different story as you'll need to pay for that domain name after your first year.
The only top-level domains we truly consider to be free are those that don't have any renewal costs like:
Not only are free domains attractive to spammers but there are also some critical restrictions in place. For instance, a .tk domain presents the following restrictions:
No Legal Ownership – The domain registry retains ownership of a free .tk domain.
Renewal Restrictions – Failure to renew will mean instant cancellation of your domain.
No Transfers – You cannot transfer a free .tk domain.
Usage Requirement – You must generate at least 25 unique visitors within the first 90 days of registration otherwise the domain is canceled.
That's why, despite these domains being available for free, we wouldn't recommend using them to build a business. They're awesome for side projects or anything you don't really intend on promoting.
What Do The Different Domain Extensions Stand For?
Different domain extensions have unique meanings. The most widely used one, .com, represents commerce.
Other prevalent extensions are .net, standing for the network; .org, denoting organization; .edu, meaning education; .gov, signifying government; .info, indicating information; .biz, standing for business; .mil, representing military; and .pro, for professionals.
Country-specific domain names are also prevalent, like .uk for the United Kingdom, .ru for Russia, and .cn for China.
Do You Need Web Hosting And Domain Registration For Your Website?
Yes, in order to run a successful website, you will need both domain registration and web hosting services.
You can often buy both of these through the same company and manage both in one place.
But, you don't have to.
If you choose to buy your web hosting and domain from different places, you can connect the two together in your DNS settings area where you connect your domain name with your web hosting servers.
It's very easy to do and takes less than 2 minutes!
Does It Matter Which Domain Registrar I Use?
Yes, it matters which domain registrar you use. The services and features offered by domain registrars can vary widely.
For instance, not all registrars have the same array of domain name extensions, like .com or .net, at their disposal.
Some might offer free domain privacy, while others might offer a wider range of web services, such as web hosting, email, and marketing tools. It's also worth noting that domain registration is often provided by top-tier web hosting services.
Can I Buy Domains In Bulk?
You certainly can buy domains in bulk! Not every domain registration company will offer this service but we've listed a few options for you in the list above.
In particular, Namecheap, NameSilo, and Porkbun have decent bulk domain registration features.
How Do I Look To See If a Domain Name Is Available?
To verify the availability of a domain name, you can utilize any of the domain registrars mentioned earlier.
Simply input the desired domain name into the designated search bar. If the name is unoccupied, no data will be displayed and you have the opportunity to register it.
However, if the name is already taken, you'll be presented with information such as the current owner of the domain, the creation date, and when it is due to expire.
What Is Whois Privacy And Do I Really Need It?
WHOIS is a non-profit organization that keeps the internet secure.
It requires anyone who purchases a domain name to provide identifiable contact information including:
Name
Phone number
Email address
Physical address
If you buy a domain name, you must submit this information so you become the registered owner of the domain.
But you may not be comfortable with this information being made publicly available. The WHOIS database can be searched by anyone, anytime, from anywhere.
Without WHOIS privacy protection, your personal details are made public for anyone to see.
That's why it's important to make sure you have WHOIS privacy from the moment you buy your domain.
What's The Difference Between Domain Extensions?
The main differences between domain extensions are their intended use, target audience, and the perception they create about a website.
A domain extension is the ending. For example, the most popular extension is .com. But there are now thousands of other options too!
The more popular an extension is, the more expensive it can be as well.
However, there are also extensions that are restricted and only certain people who meet the criteria can use them.
For example, many country-specific domain extensions fall into this category so only residents and businesses that operate in that country can use the extension.
Other restricted domain extensions include .edu and .gov.
However, overall, all domain extensions work the same once you make the purchase.
The best one to get your hands on is .com as it's the most memorable.
---
Which Domain Registrar Do We Recommend?
The best domain registrar service for most people is Namecheap.
True to its name, it offers services at very affordable prices, but not at the expense of quality or features.
Namecheap provides a broad range of services including hosting, email, and SSL certificates, all available on a user-friendly interface.
Their around-the-clock customer support and robust security measures further enhance the appeal.
So, for a balance of cost, quality, and extras, Namecheap emerges as an excellent choice for domain registration needs.
Our #1 Recommendation: Namecheap