Google's reputation for excellent technology precedes it thanks to the company operating two of the most popular search engines in the world: Google Search & YouTube.
However, many people are unaware that Google is also a place where you can buy a new domain name for your next website.
Although Google Domains was launched in 2014, it remained in public beta until 2023.
Now that it's officially open for business to everyone, you might be wondering if Google Domains is worth it in 2023 and beyond.
We immediately knew we had to try it out. Together with our dedicated team, we've put in countless hours of research to bring you an in-depth review of Google Domains, covering every aspect you need to know.
In this review, we will investigate the pros, and cons, and how you can register a domain name directly with Google.
What Is Google Domains?
Google Domains is a domain registration service that allows you to purchase a domain name.
Despite remaining in a public beta phase for eight years, Google Domains is now open for anyone to buy a domain name.
With over 300 domain name extensions and endings, you're more than likely able to create your next brand with Google Domains.
Buying a domain with Google domains is also as easy and simple as, well, running a Google search!
---
Google Domains Review
In order to give you a comprehensive, impartial perspective, our Google Domains review is backed by real data.
We tested the service and evaluated it based on specific criteria like the range of features and how it compares to other alternatives on the market.
So let's get straight to it!
1. Plans & Pricing
As with any domain name registrar, Google charges varying fees depending on the domain name extension you select.
You can find the full list of domain name extensions and pricing[1] in Google's support center.
The cheapest domain name extensions available on Google are listed below.
| Extension | Price |
| --- | --- |
| .de | $7 USD |
| .nl | $8 USD |
| .pw | $9 USD |
| .fr | $10 USD |
| .page | $10 USD |
As for the most popular domain extensions, they are also fairly cheap.
| Extension | Price |
| --- | --- |
| .com | $12 USD |
| .org | $12 USD |
| .net | $12 USD |
However, some newer domain extensions, that are also less common, can sell for up to $500.
| Extension | Price |
| --- | --- |
| .movie | $320 USD |
| .realty | $400 USD |
| .new | $500 USD |
Overall, Google Domains' average price for a new domain is $39.31 per year.
Unlike many other domain registrars, this is a domain registrar that offers straightforward and transparent pricing.
Many other companies engage in questionable marketing tactics in order to land new customers.
Since most also offer hosting services, they can offer a free domain name as part of a hosting package, but then they charge a higher than average renewal rate to recoup the cost.
Google is different.
It keeps its pricing simple and straightforward.
You know exactly what you'll be paying on the day you order your new domain, just as you will when it's time to renew.
With over 300 extensions to choose from and a 5-day refund window, it's worth considering it for your next domain name registration.
2. Features
The main feature it offers is selling domain names.
It wasn't too long ago that Google only had 100 domain name extensions available for sale. Today, it has 338 and counting.
The range of domain names isn't the only feature Google has expanded either.
Google Domains now also offers the following features:
Domain sharing: multiple people in your organization can manage your domain names.
Domain transfers: move existing domain names to Google Domains from any other company.
Email and domain forwarding: set up forwarding rules directly within Google Domains.
Privacy protection: keep your contact information private on the WHOIS and RADP databases.
Google name servers & infrastructure: enjoy a service that's built on state-of-the-art infrastructure and powered by a world-class team of engineers.
10+ million Domain Name System (DNS) resolutions per year: DNS servers connect your domain to your web server. Google offers free cloud DNS so your website can meet its traffic demands at no extra cost.
One-click DNSSEC: a method of strengthening authentication in DNS by using digital signatures.
24/7 support: no matter where you are in the world, you can access round-the-clock support via help center, email, chat, or phone.
Build a website with Google Sites: pair your domain name with a simple, free website
Google 2-step verification: protect your account and domains with two-step authentication.
Automatic verification with other Google services: your domain name will instantly be verified by other Google products like Google Analytics, Google Search Console and more.
Just keep in mind that you need to have an existing Google account in order to purchase domain names from Google Domains and enjoy the above features.
3. Interface & Usability
Like all its products, Google Domains is intuitively designed and fairly easy to use.
The interface is organized quite well and doesn't feel cluttered.
In fact, there's ample white space which is uncommon in many of the dashboards alternative domain registrars have.
Searching for a domain name is just as simple as running a Google search. Enter your domain idea into the search bar, and away you go.
It is over decades that Google has earned its reputation of developing tools that are easy to understand and navigate.
Google Domains is no different.
4. Customer Support
In general, Google is one of the few domain registrars known for delivering fairly weak customer support.
Despite advertising 24/7 support via help center, email, chat, or phone, you might find that compared with other domain registrars, Google's support is lacking, not to mention rather slow.
However, being a serious domain registrar,  the company is making a concerted effort to improve its customer service each year.
---
Pros 
Below, we share the standout features we liked.
Consider these the pros and reasons why we think it is worth your consideration.
1. Easy To Use & Beginner-Friendly
Google Domains is ridiculously easy to use. Other domain registrars could not compare.
There's a lot that can be said for a clean, simple dashboard.
Not only is it easy to navigate, it's also quite refreshing.
If you've been involved in making your own website or if you are involved in domain management of any kind, you're probably already familiar with the over-cluttered dashboards other companies have.
Instead of cluttering the dashboard with upsell offers and more tools or resources, the Google Domains dashboard uses a lot of white space and simple functionality, making it one of the most beginner-friendly tools around.
We like how straightforward Google Domains is throughout the entire journey from searching for a domain name to buying it and then managing it.
2. Transparent Pricing
The transparency of Google Domains pricing is another thing it has going for it.
Once again, Google chooses simplicity over complication.
It also chooses to be upfront and forthright with all aspects of pricing [1].
Unlike any other domain registrar, which more often than not will have a high renewal price, Google Domains doesn't play that game at all.
Instead of relying on fake discounts or questionable marketing strategies that drive competitors to the ground, Google Domains keeps things fair.
The price you buy a domain for initially is how much you'll pay at renewal too.
Sure, there are better deals out there for bargain hunters.
But for anyone who appreciates the simplicity of such transparency, Google Domains is definitely the way to go.
3. Free Privacy Protection (And Other Essential Features)
Another benefit to choosing Google Domains as your domain registrar is that it automatically includes free privacy protection and a bunch of other helpful features (as listed above).
Google Domains cuts through the noise and the bs of fake discounts and confusion-drama that plagues the domain name industry.
Perhaps it's because it does not try to compete on the price that Google Domains can confidently pack in all the relevant features needed to deliver a top-notch service.
Many other competitors will charge you additional fees for things that Google Domains includes for free such as:
WHOIS protection and privacy
DNS tools
Domain transfers
4. Google Infrastructure
Perhaps one of Google Domains' biggest advantages is that its DNS is powered by Google's technology infrastructure.
Not all DNS services are created equal, and the DNS you use can have an impact on your website's loading speed.
With Google Domains, you get access to Google's Cloud DNS.
It is backed by Google's own infrastructure and delivers top-notch speeds for free (as part of your domain name purchase).
Google invests a lot into its infrastructure and delivers state-of-the-art services and performance.
Compared to smaller domain name providers that simply do not have access to the same level of resources, Google Domains is a domain registrar of choice by anyone who seeks the security of well-maintained, premium-level technology.
It's also a nice benefit that Google Domains takes out some of the hassles that come with verifying your domain names on other Google products like Google Analytics, Google Search Console or Google Tag Manager.
With Google Domains, you can verify all these and more with one click of a button inside your Google Domains account.
---
Cons
1. Limited Support
Google is notorious for its lack of public-facing support channels.
While the company is making an effort to be contactable and to help resolve its customers' issues, it is still rather slow and lacks the level of transparency other alternatives offer.
For instance, Google Domains does not have a contact number.
To resolve an urgent issue, you will need to do so via the support portal, which can feel faceless and like you're sending a request off into the ether.
On the plus side, Google does offer 24/7 support so it's likely you'll still be able to receive a response within a reasonable timeframe no matter where you are in the world.
2. Cheaper Alternatives
Although it is great that Google offers transparent pricing, this also means they aren't the cheapest domain name provider on the market.
If you're looking for the best deals on domain names, you'll need to look elsewhere, as you won't get any discounts with Google Domains.
What you see is very much what you get.
3. Somewhat Limited Range Of TLD Extensions
Since progressing from its "beta" stage, they have actually added over 200+ domain name extensions that you can purchase.
However, there are still many that are simply unavailable through the platform.
In particular, if you're looking for a country-specific domain name extension, it's more than likely you won't find it in Google Domains.
4. Lacks Extra Features
While they have been set up to deliver a great domain name service, it lacks additional features that website owners often prefer using in combination.
For example, many website owners prefer managing their domains in the same dashboard as their emails and web hosting services. It makes things easier to set up and connect.
Unfortunately, Google Domains does not include any other adjacent services other than Google Sites, which is quite basic and limited for most website owners.
---
Google Domains Vs Other Domain Name Providers
If you're wondering how Google Domains stacks up against other domain name providers, stay tuned.
We compared it to two of the most popular domain registrars on the market: GoDaddy and Namecheap.
Google Domains Vs Namecheap
If you're tossing up between Google Domains vs Namecheap, it can be pretty difficult to choose the best option for you.
Namecheap offers a competitive service and its domain names are consistently priced below the industry averages (for both the initial promotional period and renewal).
Namecheap also offers:
Free domain privacy
Generous first-year discounts
Complementary hosting services
A bigger selection of domain extensions
Google Domains also has plenty going for it, notably its connection to other Google services. But either way, you can't go wrong with choosing Namecheap or Google Domains.
Google Domains Vs GoDaddy
GoDaddy is one of the most popular domain name and hosting companies in the world. However, when compared with Google Domains, it doesn't offer quite as much value.
The one thing GoDaddy has going for it that Google doesn't is very cheap domains for the first year.
However, when it comes time to renew, GoDaddy is very expensive and in our research, proved to be constantly overpriced compared with the industry averages.
Other than price, there are very few other reasons you might consider GoDaddy over Google Domains as Google offers superior technology and a range of free inclusions for reasonable prices.
---
How To Register A New Domain Name Using Google Domains
It's easy to register a domain name with Google. Google Domains lets you search for your desired domain name from the main page of its service.
If it is unavailable, Google shares a range of similar alternatives to help you find a domain that represents your brand and is still up for grabs.
Just add your favorite option to your cart and check out. Also, make sure to switch on privacy protection and auto-renew.
You also have the option to sign up for a custom email address through Google Workspace. This allows you to use Gmail to manage all your business email needs and is well-suited to small business owners.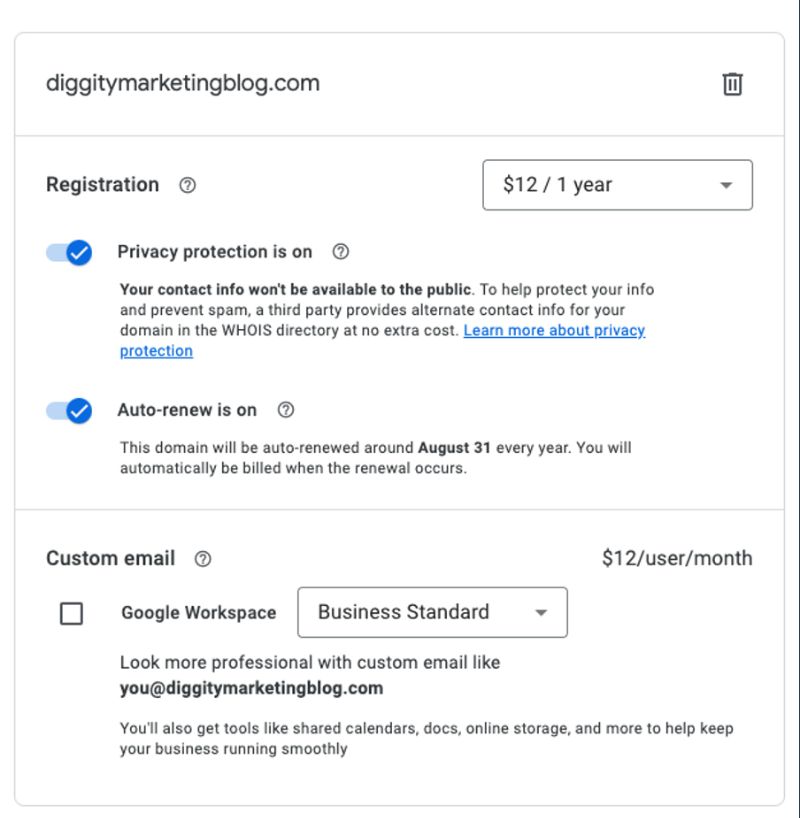 Then it's just a matter of filling out your details, and away you go! Your shiny new domain name simply awaits in your account.
---
How To Transfer An Existing Domain To Google Domains
Transferring an existing domain name from another provider follows a very similar process with one exception.
You need to initiate the transfer within the dashboard of the current provider.
Luckily for you, Google Domains offers a step-by-step wizard that can walk you through everything you need to do.
Once you type in your domain name, it will automatically detect which company your domain name is currently with, and you'll receive custom instructions to guide you through the process.
It's all quite easy and straightforward, even for non-technical people and beginners.
Google does a great job of chunking things down so you can easily follow the instructions.
---
Frequently Asked Questions (FAQs)
Does Google Domains Offer Web Hosting?
No, traditional website hosting is not included in any Google services, including Google Domains.
However, you can access Google Sites which lets you build a website from scratch, though it is rather limited.
If you're a developer, you can also work with Google's cloud platform to store files, including website files, but it functions differently from standard shared hosting services.
Can You Use Google Domains With WordPress?
Yes, you can use Google Domains with WordPress. Although Google Domains doesn't offer hosting services, you can connect your domain name to any WordPress hosting servers you choose for your website.
Check out our guide on the fastest web hosting providers to help you choose the best hosting company for your needs.
Can I Get Privacy Protection With Google Domains?
Yes, you can get privacy protection with Google Domains. Privacy protection is included for free with all domain name purchases through Google Domains. This is not a service every domain registrar includes but Google sure does!
Does Google Domains Help With Google SEO?
There is no confirmed connection between Google Domains and your website's SEO performance.
However, unofficially speaking, it would stand to reason that your website could experience some indexing gains if Google has direct access to your domain details as opposed to connecting it to Search Console via a third-party domain registration company.
This has not been confirmed by Google and, in our experience, we have easily been able to rank websites with domains that aren't purchased or transferred to Google Domains.
Is Google Domains Free?
No, Google Domains is not free. Like all other registrars, Google Domains requires payment each year to maintain your domain name and access all the Google Domains offers. You can acquire a free domain name from Bluehost if that's what you're after.
Is Google Domains Still in Beta?
No, Google Domains left Beta in March 2022.
---
Do We Recommend Google Domains?
In our book, Google Domains is definitely worth considering in 2023.
While it is not the cheapest place to buy a domain name, and by the look of things, it never will be, the quality standard of its service makes it well worth a look.
Google Domains offers transparent, fair pricing and a range of essential features for free.
With a clean, intuitive, and beginner-friendly dashboard, there's no barrier for anyone to get started with Google Domains today.
Our #1 Recommendation: Google Domains