Namecheap has earned a good reputation for its domain registration services since launching as a domain registrar in 2000.
Not only does it have over a thousand domain name extensions for sale, but it also has some of the most affordable prices on the market.
But what about hosting?
Are Namecheap's web hosting services as good as its domain services?
We were wondering the same thing. So we meticulously evaluated every aspect of their offerings, providing you with data-driven insights to make an informed decision.
In this all-encompassing Namecheap review, you'll uncover the pros, cons, and everything in between, giving you the most up-to-date information on their web hosting services.
Namecheap: A Quick Overview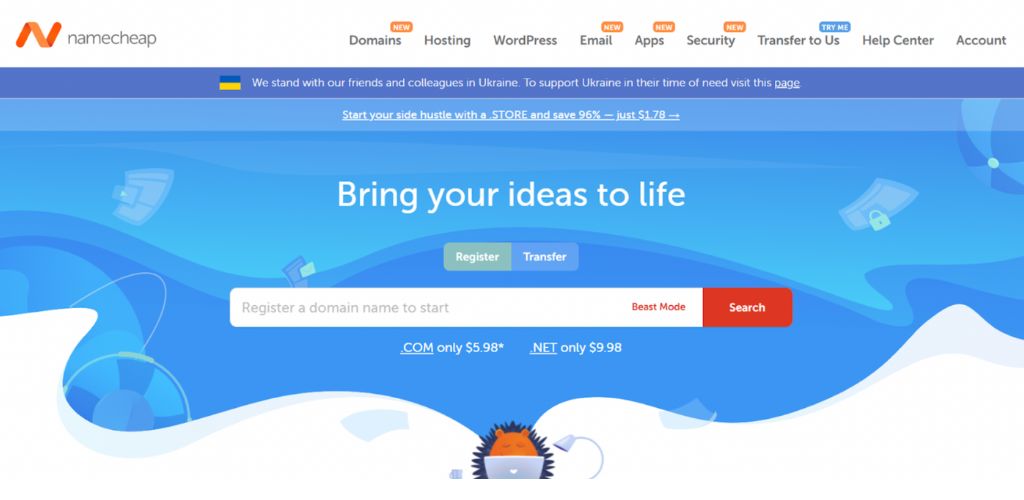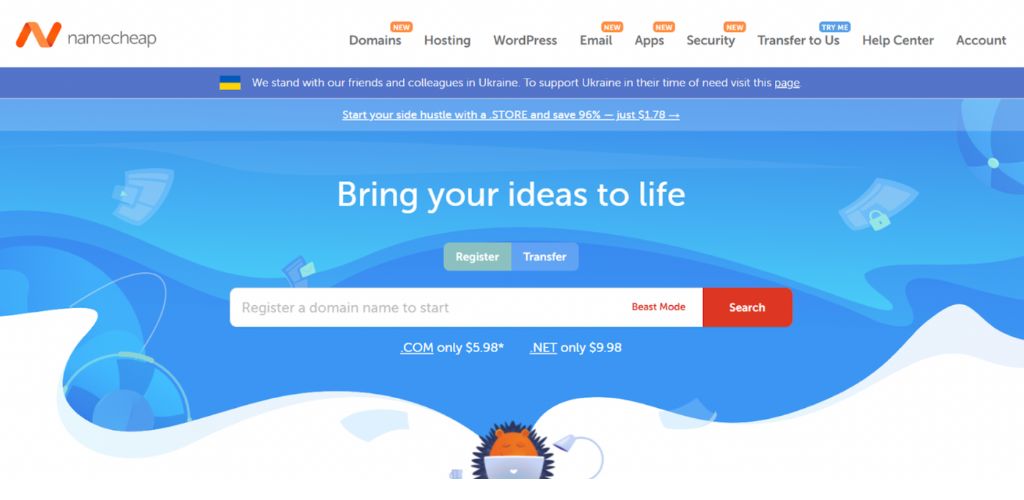 Since launching in 2000, Namecheap has taken over 17 million domains under management.
Although starting with humble roots and a dream to deliver the best domain registration options at affordable prices, Namecheap has since expanded its product range to support businesses and website owners in as many ways as it can.
Today, Namecheap has a broad range of services available, including web hosting, security, WordPress management, and more!
While many companies in the domain and web hosting space make money from upselling related services, Namecheap is steadfast in its dedication to providing truly affordable solutions in the short, medium, and long term (and without relying on upsells and aggressive sales tactics to succeed).
But in saying this, we can't ignore the fact that it's a tale as old as time when a company is good at one thing but then it decides to leverage its brand to expand into new markets.
And truth be told, that doesn't necessarily mean they'll be as good at the new stuff as they are at their old stuff.
So when it comes to Namecheap, we wanted to explore whether their web hosting services live up to the reputation that their domain services have earned over the years.
We ran Namecheap's services through the same tests we use for the best web hosting services on the market.
Stay tuned to see how it performed!
---
Our Review:
Speed

Rather slow but has improved in recent years
Average of 328 ms response time in 2022 (down from 865 ms in 2018)

Uptime

99.91% average in 2022

Customer Support

Excellent customer support 

4.4 / 5 from 12,824 reviews on Trustpilot
4.7 / 5 from 2,249,575 reviews on Shopper Approved[1]

24/7 Phone Support, Live Chat, Ticketing & Knowledge Base available

Features

30-day money-back guarantee
Free domain registration included with web hosting
Unlimited websites & SSD storage available with basic shared web hosting plans
Free privacy protection
Free website migrations in under 24 hours
Plus more!

Web Hosting Plans Available

Shared, Managed WordPress, Reseller, VPS & Dedicated Server Plans

Best Suited To
Hosting

: Small businesses, DIY website creators, beginners

Domains: Everyone

Pricing

Starts at $1.48/month for shared hosting. Renews at $4.48/mo
Before we share more details of Namecheap's plans, let's dive into its pros and cons so you can decide if its pros give you what you need and that its cons aren't going to be deal-breakers.
Namecheap Pros
Initial & long-term affordability
Free domains, privacy protection & migrations
Decent loading time
Decent unlimited web plans available
Thousands of raving reviews
Decent customer support
Trusted brand
Namecheap Cons
Very few global data center locations
Mediocre uptime — 99.91%
---
1. Initial & Long-Term Affordability
It's all in its name: Namecheap. Affordability has been one of its critical missions since launching in 2000.
What we really like about Namecheap is that it's not just a gimmick.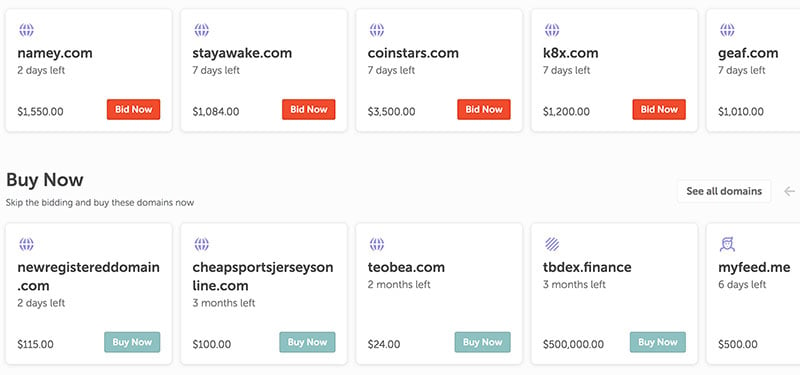 Far too many domain name and web hosts offer ridiculously high discounts to new customers to help reel them in and close the sale.
But what most people don't realize is that these companies recoup their costs (and then some) when it comes time to renew.
Even global leaders like GoDaddy are notorious for having very high renewal prices.
But that's not the case with Namecheap.
When we looked for the cheapest places to buy domain names, Namecheap consistently came out as one of the most affordable.
Both its promotional and renewal prices were well below average. And the same can be said for most of its web hosting plans.
---
2. Free Domains, Privacy Protection & Migrations
Namecheap's strength definitely comes down to its domain names.
Like many other shared hosts, Namecheap will sweeten the deal by adding a free domain name for the first year.
But, what most hosts can't offer is the range of extras Namecheap includes with all its domain purchases.
For instance, many hosting providers charge extra for privacy protection services.
Namecheap adds it in for free with every domain.
Namecheap also guarantees a full website and domain migration in under 24 hours, so you can experience minimum interruptions if you decide to switch from another hosting company.
---
3. Decent Loading Time
Although it hasn't always been the case, Namecheap's loading speed times are fairly decent and within the industry benchmarks, with an average response time of 328 ms in 2022.
Sure, the scores we got in our test didn't exactly knock our socks off compared to other hosts we've tested out in the past.
But when viewed in the context of Namecheap's historical performance, there's been a massive improvement.
---
4. Money-Back Guarantee
It's fairly common practice for hosts to offer a money-back guarantee, and Namecheap does too. You have 30 days to change your mind.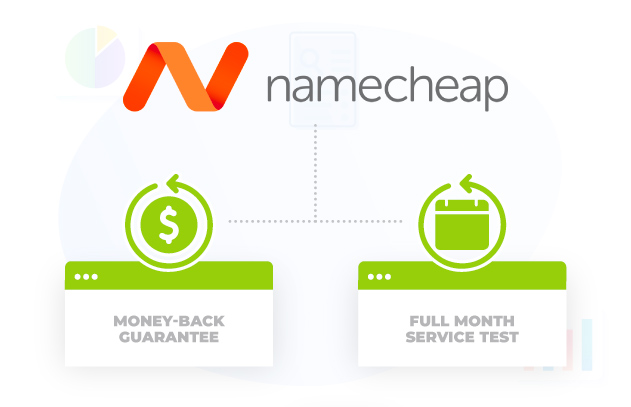 You've got a full month to see if their service is right for you. Otherwise, it's not too late to back out and try something else.
---
5. Decent Unlimited Hosting Plans Available
We've reviewed dozens of hosts, and when it comes to unlimited hosting, there's a lot of shady stuff we've seen.
We were impressed with Namecheap's unlimited plans, though, and consider them one of the cheapest places to buy domain names in today's market.
Not only does Namecheap offer true unlimited hosting (with unlimited websites, unmetered storage & bandwidth to boot), it does so at incredibly affordable prices. You can get started for only $2.18/month!
---
6. Thousands Of Raving Reviews
We always take it as a good sign when a company has raving fans, and Namecheap certainly does.
With an average of 4.7 out of 5 stars (from over 2 million reviews), it's clear that people love Namecheap. No wonder it has such a loyal user base!
---
7. Trusted Brand
Last but not least, Namecheap is a well-respected and trusted brand.
That kind of reputation isn't built overnight, and it shows how committed a company truly is to delivering excellence through all its products and services.
Namecheap is one of the good ones with a well-deserved reputation built over decades.
---
8. Very Few Global Data Center Locations
Namecheap has three main data center locations: The US, UK and Europe.
However, not all services are available in every location. Not to mention the extra fees that come with using the data centers in the UK and Europe.
| | | | |
| --- | --- | --- | --- |
| | Phoenix, US | Nottingham, UK | Amsterdam, Europe |
| Shared hosting | Yes | Yes (extra $1/mo) | Yes (extra $1/mo) |
| Private email servers | Yes | No | No |
| VPS hosting | Yes | No | No |
| Dedicated servers | Yes | No | No |
| Reseller hosting | Yes | Yes (extra $1/mo) | Yes (extra $1/mo) |
Unfortunately, Namecheap does not quite deliver when it comes to it's global reach via it's data center locations.
However, Namecheap does include what it calls "Supersonic CDN".
A CDN is a content delivery network that's designed to geographically distribute your content so that it loads quickly for people all over the world.
Namecheap's free CDN network can help you connect with global audiences no matter where your server is located.
---
9. Mediocre Uptime — 99.91%
The industry benchmark for uptime is 99.90%. However, in our testing, Namecheap scored an average of 99.91% in 2022. Not only is Namecheap cutting it fine, but it is also a decline in performance over the last few years.
| | | | |
| --- | --- | --- | --- |
| Year | 2020 | 2021 | 2022 |
| Uptime | 99.97% | 99.95% | 99.91% |
If you run a website that is resource intensive or needs unparalleled performance, Namecheap is unlikely to deliver.
With such a low uptime score (as an average) you might find your website experiences frequent outages and downtime.
If you're after a web host that offers state-of-the-art server reliability (and you're happy to pay more for it), we recommend Hostwinds.
---
Namecheap Hosting Plans
Decided that Namecheap's for you? Great!
Here are the details on each of Namecheap's web hosting packages and pricing. There are plenty of services to choose from no matter if you're just starting out or if you're scaling a high-traffic website.
True to its name, Namecheap's shared plans are affordable and start as low as $1.48/ month. The discount prices change fairly frequently so it's likely you may be seeing a different amount on Namecheap's website.
Either way, you can't ignore how insanely cheap these plans are! You even get a free SSL certificate.
| | | | |
| --- | --- | --- | --- |
| Plan | Promotional Pricing | Renewal Pricing | Features |
| Stellar | $1.48/mo | $$4.48/mo | Free domain, 3 websites, 20GB SSD storage |
| Stellar Plus | $2.18/mo | $6.48/month | Free domain plus unlimited websites, storage and emails |
| Stellar Business | $4.98/mo | $9.48/month | Free domain, unlimited websites, 50GB SSD storage, unmetered bandwidth and 100% uptime guarantee. |
All of the above packages also come with:
Free website builder
Free domain privacy
Free automatic SSL installation
Free Supersonic CDN
Automated backups
Free SSL certificate
2. WordPress Hosting 
If you have (or are building) a WordPress site and you don't want to be managing the hosting and updates all by yourself, Namecheap has decent managed WordPress hosting plans available as well as a free website builder.
If it's your first time upgrading from shared hosting to managed WordPress hosting, there's no need to worry.
Namecheap is a hosting company that has made its services quite beginner-friendly.
You can start with EasyWP Starter.
Just note that it is rather under-resourced with only 10GB of space available and up to 50,000 visitors/month and won't suit high-traffic websites or sites with many resources.
However, the Turbo and Supersonic WordPress hosting plans take things up to a whole new level with a range of performance-optimized features including:
More SSD storage
Up to 2 CPS cores
99.99% uptime guarantee
Free CDN access
Free SSL
3. VPS Hosting 
For more control and flexibility with your website, Virtual Private Server plans are a great option.
Although VPS hosting plans don't appear to advertise "unlimited" features like Namecheap's shared plans. But that's not to say these VPS plans aren't worth considering.
With up to 8 CPU cores, 12GB of memory, and 240GB of storage, Namecheap's VPS hosting plans are a great choice for people who are making a move from shared hosting to VPS hosting for the first time.
For anyone who needs more control over their server's setup, or more robust features to support a high-performance website, Namecheap's VPS hosting plans leave a lot to be desired.
Check out our review of the other Namecheap Alternatives to find more for your needs.
4. Dedicated Hosting 
We have to say, Namecheap's dedicated hosting pleasantly surprised us.
Namecheap has over 60 server configurations you can choose from for your dedicated server hosting.
With great options for entry-level dedicated servers right through to high-performance servers, Namecheap's dedicated plans are worth your consideration.
All dedicated servers include same-day setup, free website migration, and a 99.99% uptime guarantee.
Not to mention the generous resources available
5. Reseller Hosting 
Namecheap reseller hosting is a great option for web design freelancers and agencies to earn some extra passive income. You can set up a reseller account with Namecheap and then sell hosting plans to your clients.
The cheapest reseller hosting plan works out to just $0.79/month for each account. The more accounts you manage, the cheaper they get with the Universe Pro account, only costing $0.39/month if you have 150 websites in your account.
The price you sell the hosting plan to your clients is completely up to you, but you can easily double your costs and still be selling a price-competitive service to your customers.
Each of the reseller plans also include the following:
Ability to manage from cPanel
Unmetered bandwidth
Unlimited domains/subdomains
WMH control
Account management tools
High-powered reseller servers
---
Features
1. Ease of Use
From the get-go, Namecheap presents its services clearly with all the details you need front and center. Each package is easy to understand and it's very easy to sign up to the one you select for your website!
Just click on one of the orange "Get Started" buttons, and Namecheap's setup wizard will guide you through each step.
Fortunately, Namecheap's ease of use doesn't end there.
After you sign up, the dashboard is also quite intuitive and laid out logically.
There aren't too many widgets crowding out the space, nor do you have to go hunting for basic functions like setting up SSL certificates.
And, in the event you do get stuck, Namecheap has a range of very helpful knowledge base articles to cover most of the common problems new customers face.
If all else fails, customer support is very friendly and helpful.
In our experience, we've never received a response from Namecheap's customer support that was over-the-top-technical or unhelpful.
Customer support is a critical aspect of any domain or hosting service and contributes to how easy a service is to adopt.
We find Namecheap to be exceptionally well-rounded and very well-suited for beginners, small business owners or DIY website designers.
2. Disk Space
Namecheap's lowest plans typically offer below-average storage amounts, with the cheapest shared hosting plan only offering 20GB of disk space.
For small websites, this amount is likely to be more than enough.
However, if your website has many images or pages on it (or if you run a resource-intensive site like an eCommerce store), you'll need much more storage than Namecheap can typically offer on its affordable plans.
However, if you're happy to spend a bit more, you can unlock access to unmetered storage which allows your website to use as much space as it needs without Namecheap tracking your usage, nor penalizing you if you go over a threshold.
On hosting plans that don't offer an unmetered storage option, Namecheap's middle tier is typically the closest to the industry average (though usually slightly lower).
Namecheap's hosting plans offer the most amount of storage by far.
However, if you're after a storage-optimized hosting plan, a dedicated hosting plan may not be the best. You might be better off exploring solutions which offer up to 16TB of storage!
3. Backups
When it comes to hosting, backups are a crucial aspect.
If anything ever goes wrong, like you accidentally make a mistake that crashes your site or your site is hacked, having updated backups handy will be your saving grace!
Namecheap's backup policy falls short of what we typically recommend.
Many shared hosts offer free, automated daily backups with even their cheapest hosting account.
This means that you'll always have an up-to-date backup that's less than 24 hours old.
Many hosts also make these backups free to access so, in times of crisis, you can instantly restore your preferred backup on your own and for free.
Namecheap, unfortunately, does not offer daily backups as part of its out-of-the-box service.
Each server is backed up once every 3 to 7 days! Namecheap also clearly states that these backups are only made for server restoration purposes, and it's up to you to arrange your own backups of your data.
Namecheap also charges a fee in the event you experience any data loss and need to retrieve data from its most recent archives.
In our book, Namecheap's approach to backups leaves a lot to be desired.
4. Security
Like backups, security is another very important factor to consider when choosing your hosting provider.
We found Namecheap's security features to be rather limited and basic.
While it certainly does an excellent job of including several essential security features will all plans, like free SSL certificates and firewalls, it also lacks more robust security features that companies like SiteGround offer with every plan (like daily backups, a redundant network, and more).
We also found that Namecheap's security features lack transparency.
Here's what's offered:
Free SSL certificate: one-click installation for a free SSL certificate is available.
Domain privacy: Free WHOIS privacy protection is included on all domain purchases.
Domain lock: Free with every domain name sold and prevents unauthorized transfers of your domain name.
DDoS protection: prevent bots from sending millions of requests to your website servers and crashing your website.
TOTP two-factor authentication: Add an extra layer of security to prevent hackers from accessing your account.
All in all, Namecheap covers website security at a basic level so you're protected from the most common threats.
If your website needs more security, we suggest you look into a company like SiteGround that offers next-level security features on every plan that are built by its team of in house security experts.
---
Namecheap Performance
1. Speed
Unlike many other hosting providers, Namecheap doesn't brag about it's blazing fast speed or make outrageous claims about how fast its servers are.
According to our test data, Namecheap's speed is within the recommended industry benchmarks at an average of 328ms in 2022. Sure it's not quite enough to knock our socks off, but it is enough to earn a solid yes from us.
It is worth noting, however, that Namecheap has not has a solid track record with speed performance over the last few years.
| | | | | | | |
| --- | --- | --- | --- | --- | --- | --- |
| Year | 2017 | 2018 | 2019 | 2020 | 2021 | 2022 |
| Resonse time | 859 ms | 865 ms | 557 ms | 474 ms | 409 ms | 328ms |
It's not all bad news despite 2022 being the first year the average response time was on the lower end of the industry benchmark of 300 – 500 ms.
We like that despite being off to a rocky start in our tests, Namecheap has consistently been improving the speed of their servers year over year.
2. Uptime
Unfortunately, Namecheap's uptime record has been among the lowest we've seen.
According to Pingdom's uptime data since 2017, Namecheap had a pretty bad run when it comes to server reliability.
| | | | | | | |
| --- | --- | --- | --- | --- | --- | --- |
| Year | 2017 | 2018 | 2019 | 2020 | 2021 | 2022 |
| Uptime % | 99.92% | 99.83% | 99.89% | 99.97% | 99.95% | 99.91% |
The industry benchmark is 99.90% uptime. However, many hosting companies offer a higher amount as a guarantee.
Namecheap's performance puts its uptime and server reliability too far below the acceptable standard for us to recommend it for anyone needing high-performance hosting.
---
Namecheap Domains
The one thing Namecheap does exceptionally well is domains.
Not only can you find hundreds of available domain name extensions, Namecheap is also one of the most affordable domain registrars around.
This domain registrar also packs in a tone of free value with every domain name registered including:
Free privacy protection for life: Hide your personal details from WHOIS.
Free DNSSEC security: Protect your website visitors from fraudulent activity.
Free domain lock: prevent unauthorized transfer of your domain names from the domain registrar
---
Pricing
When we reviewed the cheapest places to buy domain names, Namecheap consistently came out on top.
It offers very affordable prices for all the popular domain names, with the initial pricing and renewal prices consistently below the industry average.
While Namecheap doesn't offer the cheapest deals for the initial purchase of the domain, it is among the cheapest providers in the long run, thanks to its fair renewal pricing.
It's also worth noting that Namecheap does also have frequent discounts running, so it is possible you can score even cheaper domains if you wait for a crazy sale period!
---
Namecheap Support
Namecheap's customer support is quite good compared to most companies in this industry.
One of the biggest factors that influence a company's ratings is the customer support it offers.
With over 2 million reviews averaging a rating of 4.7 out of 5, it's clear that customers love Namecheap, and its support is one of the leading reasons why.
In particular, Namecheap's easy step-by-step instructions in its knowledge base and through the ticketing system have been exceptionally helpful.
In our tests, we also found Namecheap's support very helpful, offering great guidance even for beginners.
However, we did find support was sometimes a little slow with helping us reach a resolution to a specific issue.
And phone support isn't available though there are hundreds of easy-to-follow guides available in the knowledge base to help resolve most issues.
It's not a deal breaker in our book as Namecheap has delivered support that we consider is above average in this industry!
---
Do We Recommend Using Namecheap in 2023?
We're impressed with Namecheap's domain services.
However, when it comes to hosting, we primarily recommend them for beginners and people with smaller websites due to the poor uptime performance.
We also would have liked to see more data center locations available.
On the plus side, Namecheap is very beginner-friendly and has many step-by-step knowledge base articles available to help beginners resolve any common problems they may face.
Customers also love Namecheap's services and rate it very highly.
Overall, while we don't rate Namecheap as one of the best web hosting providers in the current market, it is worth looking into if you have a small website and are not after high-performance hosting.
Our #1 Recommendation: Namecheap