Namecheap has earned itself a foothold in the web hosting and domain arenas due to its competitive pricing and seamless services.
Many people love the cheap renewals too!
Unlike some other competitors in the space, Namecheap really does live up to its name of providing affordable services.
However, if you're after an alternative for your web hosting or domain name registration, for whatever reason, we've scoured the market to bring you the best Namecheap alternatives that have more to offer.
Our team of experts has meticulously researched and compared the features and pricing of numerous web hosting and domain providers to develop a comprehensive understanding of the market and the factors that differentiate one service from another.
With this in-depth knowledge, we present to you the top Namecheap alternatives for 2023.
Top Namecheap Alternatives for Web Hosting & Domains
Shared, VPS, Windows, WordPress, Dedicated
Shared hosting, WordPress hosting
WordPress, Cloud, Dedicated hosting
1. GoDaddy (

Editor's Choice

)
If you want a company that simply does it all, GoDaddy is the one.
It is the global leader for small business hosting and domain services around the world, with a total market share of 14.88%, according to Datanyze.[1]
With over 2 million websites trusting GoDaddy for their hosting and domain registering needs, it's no wonder why they are the global leader!
You simply can't go wrong if you're after an all-in-one solution to replace Namecheap.
However, that being said, GoDaddy works out to be more expensive than Namecheap in the long run due to their above-average renewal pricing.
Pros
Great all-in-one solution
Fantastic initial discount prices on hosting and domains
Very beginner-friendly
Leading global provider for hosting and registering a domain
Offers an extra domain with many hosting plans
Has a website builder, email, and marketing services
Great for getting small businesses off the ground
Cons
Expensive renewals
Lacking decent features in its hosting plans
Poor server reliability & uptime
Fairly aggressive (and somewhat unethical) upsell tactics
Many standard security features need to be bought separately
How It Compares To Namecheap
If you're after value for money, Namecheap offers a better service than what GoDaddy does in our book.
However, GoDaddy is the market leader for a reason.
It is still a fantastic alternative to Namecheap that can replace all your Namecheap services and then some!
---
2. SiteGround
If you are looking for an alternative to Namecheap that offers you a choice of global server locations, SiteGround is our top pick.
Of all the alternatives we researched, we selected SiteGround as one of the best Namecheap alternatives for this category due to its 14 data center and CDN locations worldwide and affordable pricing.
Not to mention, its hosting packages are quite feature-packed compared with Namecheap!
Although SiteGround doesn't offer the same breadth of services as Namecheap, it does provide superior hosting plans if you're after:
Managed WordPress hosting
WooCommerce hosting
Cloud hosting
Reseller hosting
With hosting plans starting at as little as $2.99/month, the initial pricing is also quite comparable to Namecheap's services!
Siteground really stands out in its steadfast dedication to delivering quality web hosting.
With a strong focus on providing fast, secure, and reliable servers, SiteGround's service has earned it a solid reputation for a reason. Their managed WordPress hosting is praised more than any other.
Pros
Advanced hosting features
Free SSL certificate & security
30-day money-back guarantee
100% renewable energy match
Multiple server locations
Excellent support
Recommended WordPress hosting service
Cons
It doesn't offer unlimited storage.
It doesn't offer free migration services.
It doesn't sell domains.
No VPS or dedicated servers are available.
How It Compares To Namecheap
Namecheap's most notable difference compared to Siteground is that Namecheap offers many more products and services.
If you're after VPS hosting, dedicated hosting, email services, or even a domain, SiteGround does not include any of these.
However, its hosting service is more feature-packed and delivers better performance and security than Namecheap's.
---
3. Hostinger
If you're looking for one provider to offer a similar range of different services (like Namecheap), Hostinger is worth looking into.
As a NameCheap alternative, Hostinger is a close parallel when it comes to the breadth of services and affordability.
It also sports decent performance too! In short, it's a great all-rounder and will cover most people's hosting and domain registration needs.
Hostinger's service range includes:
Shared hosting
Cloud hosting
WordPress hosting
Hosting for agencies & developers
VPS hosting
Email services
Domain registration services
In quite a number of our tests, Hostinger also has come out on top with its performance in regions all over the world.
For example, it was one of our top-performing hosting companies in South Africa, Nepal, and even Australia!
And in case you need more reasons to love Hostinger, its prices are among the most affordable we've seen in today's market.
Hostinger has a lot going for it. It offers comparable service to Namecheap and is rather affordable too.
Pros
Great global performance
Decent uptime and server reliability
Versatile service range
Hosting as low as $2.99/month
Fantastic VPS hosting plans with dedicated IPs on all
Great deals if you buy many years in advance
Beginner friendly
Flexible pricing options
24/7 multi-lingual live chat support
30-day money-back guarantee
Free migration service
Cons
It doesn't use traditional cPanel
There are some exceptions to the money-back guarantee
Redemption fees
Domain renewals
Privacy protection
Cheapest hosting plans have rather limited features
How It Compares To Namecheap
Compared with NameCheap, Hostinger offers very similar services. It also offers a greater quality of support, it's easier to use (even for novices), and it offers a better features list on many plans (especially for VPS hosting).
---
4. FastComet
Like Hostinger, FastComet is also featured at the top of our list for many of our global web hosting tests. So, we had to try it out.
In fact, when it comes to speed and server reliability, Fast Comet often outperformed both Hostinger and Namecheap.
However, in some ways, FastComet doesn't offer quite as many products as NameCheap.
In others, it offers more versatile hosting packages that are worth considering if you're looking for the best hosting for a specific content management system (CMS).
Shared Hosting
Cloud VPS Hosting
Dedicated CPU Servers
Domain Registration
SSL Certificates
Site Builder
The hosting packages for specific CMS platforms include:
WordPress Hosting
WooCommerce Hosting
Magento Hosting
OpenCart Hosting
Not to mention FastComet also offer DDoS protection, offsite backup, and free website migration services too.
FastComet's shared web hosting service is a little different from Namecheap's in that they are predominantly cloud-based.
This allows Fast Comet to boost its security features and mitigate the risks that come from having too many people sharing the same physical server.
Pros
Shared hosting starts from only $2.95/month
Free website transfers
Daily backups
Free CDN (Cloudflare)
Free SSL certificates
Great global performance
Cons
Costly VPS or dedicated hosting services.
FastComet also does not offer integrated email services or additional apps
How It Compares To Namecheap
If you want outstanding performance and server reliability around the world, FastComet delivers that better than NameCheap.
FastComet is also a top contender if you want web hosting that is tailored to your specific CMS and it offers hosting packages for some of the most popular open-source CMS platforms.
---
5. InMotion Hosting
InMotion Hosting is a great Namecheap alternative for anyone running an eCommerce store, a forum, or a website that requires a back-end management system.
However, they are a little more expensive than the average hosting company, Namecheap included.
Although only relying on two US-based services, InMotion's uptime and site speed place them ahead of the curve compared with other companies we have tested.
Check out our InMotion review for all the details on our performance tests.
Pros
Free domain registration services
Free SSL certificates
99.99% uptime guarantee
90-day money-back guarantee
Unlimited bandwidth
Host unlimited websites on most plans
Free migrations for WordPress sites
Dedicated IP addresses for VPS hosting
Root access is available on all VPS plans
Loads of extra features you can't always find with other companies
Cons
Relatively expensive after initial discounts
No Windows hosting, only Linux
Free backups aren't always included (though they're quite inexpensive)
How It Compares To Namecheap
Compared to Namecheap, InMotion Hosting has a great deal more to offer with regard to the features and performance of its hosting packages.
However, when it comes to domain registration services, InMotion has fewer extensions available, and the ones that are available are more expensive compared with Namecheap.
However, when it comes to hosting, InMotion delivers a range of services well-suited to businesses.
If you're a beginner or looking for simple hosting services, Namecheap may be a better company to start with.
But if you're looking for a shared web host that means serious business, you simply can't go past inMotion.
---
6. DreamHost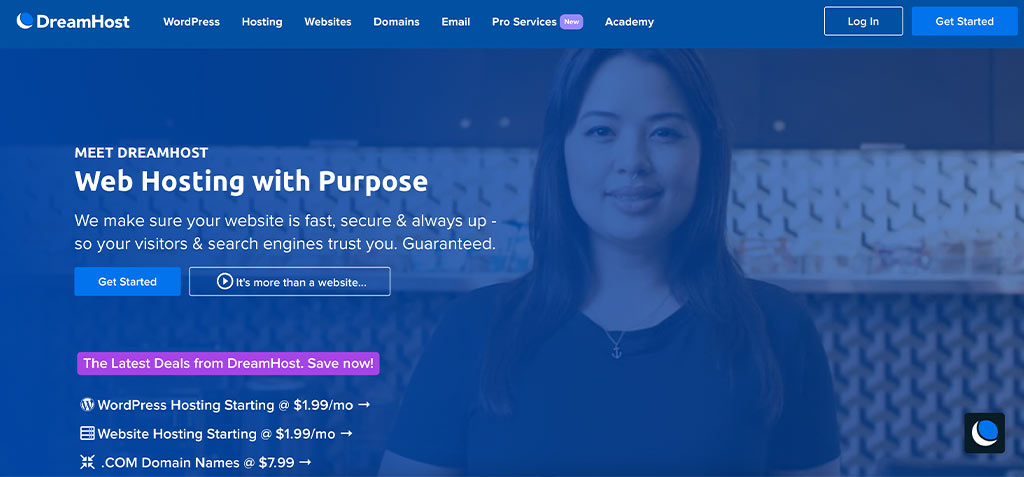 Founded over 25 years ago, DreamHost has developed a solid presence in today's web hosting arena.
It has also worked its way to the top and currently hosts over 1.5 million websites.
It's no surprise why WordPress.org recommends DreamHost[2] as one of the leading web hosting companies in today's market.
As a Namecheap alternative, DreamHost offers a broad range of similar services with a particular focus on WordPress hosting solutions.
Through Dreamhost. You can purchase:
Basic WordPress hosting
DreamPress (managed WP hosting)
WooCommerce hosting
VPS hosting
Dedicated server hosting
Cloud hosting
DreamHost is also a registrar and can also offer email, marketing, and design services too. Their domain registration services are excellent.
Pros
Flexible hosting packages
Unmetered bandwidth
Better speed performance
Better security measures
Daily backups
Free SSL certificate
Cloud hosting offered
97-Day money-back guarantee
Excellent customer support
Recommended WP hosting provider
Website builder included
Cons
Uptime could be improved
Free migrations are only offered as a DIY option
Fairly pricey and under-resourced dedicated server hosting
How It Compares To Namecheap
If you're after the best alternatives to Namecheap that offer services beyond just hosting, emails, and domains, DreamHost is a great option.
With its broad range of marketing and design services, DreamHost can help get small businesses off the ground fast.
You can get everything from web design through to hosting and a free-of-charge domain to boot!
---
7. Bluehost
If you're looking for hosting and domain services that are intuitive and simple, then Bluehost is the perfect Namecheap alternative for you!
It is the sixth most popular hosting provider on the planet and has made a name for itself by offering cheap and reliable hosting.
Bluehost has a clean and simple dashboard making it well-suited for beginners.
If you're migrating from Namecheap, you'll also feel right at home with Bluehost's classic cPanel dashboard.
Pros
Great uptime with over 99.96% average for the last 4 years
Offers unlimited SSD storage
Free domain names with most plans
Free SSL certificate
Affordable prices that are on par with Namecheap
Easy to use and beginner-friendly
Recommended host for WordPress websites
You can host unlimited websites on most hosting plans
Unlimited bandwidth on all hosting plans
Has a no-code website builder
Cons
Poor speed performance
Backups policy leaves a lot to be desired
Limited server locations
Customer support could use improvement
How It Compares To Namecheap
Bluehost and Namecheap offer very similar services for affordable prices.
If you are looking for a range of extensions, Namecheap has a greater selection.
However, if you're after an affordable, beginner-friendly, and reliable hosting provider that also offers other website services, Bluehost has a selection of decent solutions.
---
8. NameSilo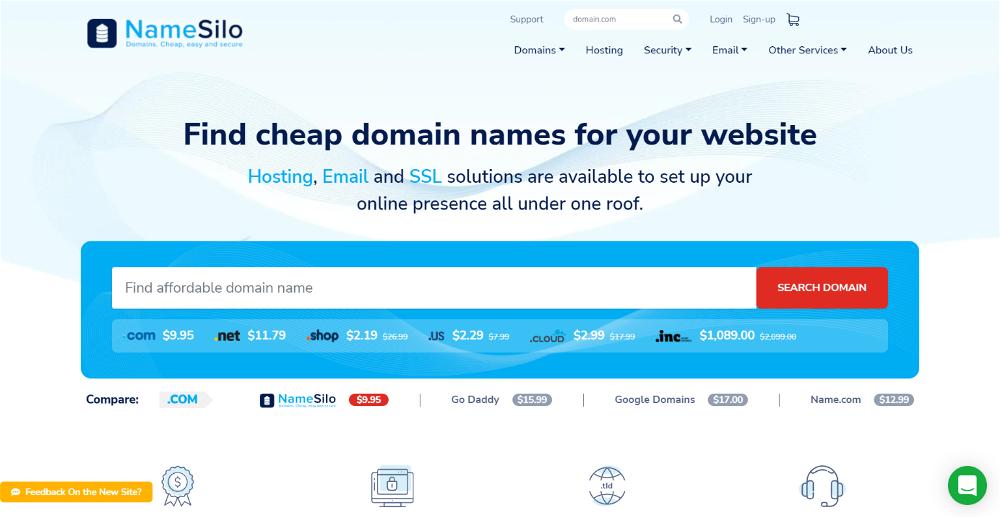 Both Namecheap and NameSilo are predominantly known for their domain services.
NameSilo currently has over 3 million active domains.
So, if you are looking for an alternative registrar that has a large selection of domain extensions, NameSilo is worth checking out.
It also offers more extensions than Namecheap does.
While NameSilo also has simply shared hosting services, the features and types of hosting available are rather limited.
Pros
A broad selection of 400+ domain extensions
Often works out cheaper than Namecheap
Fairly cheap renewal pricing too
Free WHOIS domain privacy
Cons
Limited hosting services (unlike Namecheap)
Not a good all-in-one alternative
How It Compares To Namecheap
If you're looking for a Namecheap alternative that offers you a range of other website-related services and decent hosting plans, NameSilo is perhaps not the best solution.
However, when it comes to domain names, NameSilo not only offers more domain name extensions than Namecheap does, it's pricing also works out a bit cheaper in most cases.
We compared the promotional, renewal, and transfer costs for each company and for all their TLD extensions.
Across the board, NameSilo came out on top where range and price are concerned.
---
9. Domain.com
Another domain registrar that is in our good books as one of the best Namecheap alternatives is Domain.com.
Besides, it's all in the name, right?
Like NameSilo, Domain.com has a huge range of multiple domain extensions, with over 430 listed for sale on its website.
However, when it comes to other services on offer, Domain.com has more services available than NameSilo.
This is why it may be a better Namecheap alternative for you if you're looking for versatile domain extensions and other website services like a website builder, email, marketing, and hosting plans.
Pros
Huge range of 430+ domain TLDs
Domain privacy and WHOIS protection are available
Domain security alerts
Blacklist monitoring and malware scanning
Website builder and marketing tools available
Hosting services include unlimited storage (unlike Namecheap)
Cons
Tends to be more expensive compared with Namecheap
Hosting services are rather basic
Privacy and protection is not free
How It Compares To Namecheap
Unlike Namecheap, Domain.com offers a wider selection of domain name extensions.
So if you're after a TLD extension Namecheap doesn't offer, you're likely going to find it on Domain.com.
However, it's worth noting that, in general, Namecheap's pricing works out cheaper, especially when you factor in that domain privacy is included for free when buying a domain through Namecheap.
However, if we also compare some of Domain.com's other services, it offers unlimited storage on all its hosting plans, unlike Namecheap.
---
10. Above.com
The final Namecheap alternative worth considering is Above.com.
Unlike the other companies in our list so far, Above.
com excels in domain brokering and management services.
It is an ideal alternative for anyone who is seeking a better-performing option than Namecheap's domain parking and advertising options.
Above.com is built specifically for domainers (people who invest in or buy and sell valuable domain names).
Pros
Upfront pricing
Same upfront and renewal costs
Free domain privacy included
Great platform for domain auctions
Can find expired domains
Great for anyone with a large domain portfolio
Monetization autopilot tools
Cons
No hosting packages
No website builder or other related services
Nly serves a very specific audience: domain investors
How It Compares To Namecheap
Unlike Namecheap, which offers a broad range of services, Above.com provides excellent services and performance for a very select audience: domain investors and brokers.
If you are a domainer looking to make more money from your domain name investments, Above.com offers a more targeted suite of tools, services, and features purposely designed to help you earn more money.
For example, take a look at the Monetization AutoPilot tool, which is designed to help you earn more money from your parked domains.
Overall, Above.com simply offers you a more targeted range of services compared with Namecheap, which offers a little of everything.
---
Why Look for Namecheap Alternatives?
You should look for Namecheap alternatives if you are more interested in a global reach or a company with a more consistent web hosting performance. Although, without a shadow of a doubt, Namecheap offers incredibly affordable services.
With some of the cheapest domain name services on the market (and a steadfast consistency in delivering pricing that is consistently below the industry average), we can't overlook the fact it is a worthwhile company to consider.
However, if you're looking for a company that provides more consistent web hosting performance or has a more global reach, Namecheap tends to fall short in these areas.
With only two data center locations available, it can be pretty restricting for anyone who wants the flexibility in choosing the optimal server location.
Not to mention that for power users and businesses that are looking for next-level performance and security features, Namecheap can leave a lot to be desired.
Despite offering fantastic prices, Namecheap may not be the perfect solution for everyone.
So let's take a look at the best Namecheap alternatives in today's market!
---
Which Namecheap Alternative Do We Recommend in 2023?
Namecheap is a great company offering a versatile range of services for low prices.
However, it's not always the best fit for every business or user out there.
No matter if you're looking for a great all-in-one alternative or a Namecheap alternative that excels in a specific area, our list of the top ten Namecheap alternatives has something for everyone.
And if you're after the best all-in-one solution for both hosting and domains, check out GoDaddy.
Our #1 Recommendation: GoDaddy