Selecting the best web hosting provider in Australia requires careful consideration of your budget, desired features, and hosting needs.
As an experienced professional in the web hosting industry, I have conducted extensive research to identify the top 10 companies offering the best web hosting services in Australia.
Recognizing that web hosting is crucial to a website's success, it's essential to invest time in comparing options to find the perfect fit for your requirements.
Some providers maintain servers in Australia for optimal local performance, while others are international providers delivering exceptional services to local businesses and e-commerce stores.
In this article, we will present the ten best web hosting providers in Australia, helping you identify the ideal web hosting services to excel in 2023.
Top Web Hosting Services in Australia Compared
Fastest WordPress hosting with daily backups
Use coupon MATT90 to get 90% off your first month
Shared hosting, VPS hosting, Dedicated hosting
Shared hosting, Managed Cloud hosting
1. WPX (

Editor's Choice

)
The best Australian web host for WordPress hosting in our books is WPX.
WPX was founded by Terry Kyle in 2012.
Although headquarters are based in Europe, Terry is a true blue Aussie through and through.
With servers in Sydney and some of the best performance we've seen worldwide, WPX is our top pick for a reason.
Besides performance, another aspect of WPX's service, that impresses us time and time again, is the dedication and commitment to delivering fast, expert support.
In fact, we have selected WPX to host many of our own websites and they are the best WordPress hosting web host for now with excellent hosting service.
Anytime there's an issue with WordPress sites, whether a server or anything else, the WPX team has responded in less than 30 seconds and they often fix problems that aren't even their fault!
Going above and beyond for every customer is a rare trait in a web hosting service today.
A web host can choose to forego quality web hosting service in favor of providing low-cost, low-quality web hosting plans instead.
Top Features
Immediate, round-the-clock help
Free, unlimited website migration
The world's fastest WordPress content delivery network (CDN)
Unlimited free SSL certificates
One-click staging setup
Automated, daily backups
Free on-demand backup restoration
Enterprise-level DDoS protection
WPX will fix any malware or hacked content issues
With state-of-the-art servers and one of the fastest CDN's in the world, WPX means business when in comes to performance and top-notch features.
Not to mention the dedication to security and complimentary virus removal services.
WPX also has been participating in third-party speed tests for the past four years, and results for 2019, 2020, and 2021 are on their website.
⚠️ Spoiler Alert: they got the highest Top Tier award for the previous two years and the quickest worldwide speed average.
Web Hosting Plans & Pricing
Unlike many other companies, WPX focuses exclusively on managed WordPress hosting, including for WooCommerce sites, and is consistently the best web hosting provider we have tested out in Australia.
They have three price tiers ranging from $24.99 to $99.99. Here are the most popular plans and their features side by side.
Business
Professional
Elite
Price/month
Promo: $20.83/mo

Renewal: $24.99/mo
Promo: $20.83/mo

Renewal: $49.99/mo
Promo: $20.83/mo

Renewal: $99.99/mo
Websites
5
15
35
Bandwidth
100 GB
200 GB
Unlimited.
Storage
10 GB
20 GB
40 GB
Free Malware Removal
Yes
Yes
Yes
Free Site Speed Optimization
Yes
Yes
Yes
30-Day Money Guarantee
Yes
Yes
Yes
99.95% Uptime Guarantee
Yes
Yes
Yes
Free fixes if site Online
yes
Yes
Yes
Pros
Excellent support: WPX has nearly unbeatable support staff.
Typically, a support query will receive a response within 30 seconds.
The tech team, who also specializes in WordPress hosting, will always answer your technical inquiries.
Server performance: WPX has some of the fastest internet servers on this list.
If you're concentrating on your WordPress site's speed and loading times, WPX loading times average a little under 1 second.
Additionally, even the most technically tricky page took 1.97s to load in our tests (well under the benchmark of 3 seconds).
High uptime: With a 99.95% uptime, WPX has no reliability problems and often surpasses its guaranteed uptime amount..
Backup automation: Every day, a backup of your website is made automatically.
Therefore, you can access an earlier version of your website if you run into any issues.
Many other WordPress hosting service charge extra for daily backups.
Free migration: WPX offers a free migration service instead of charging like many other companies do.
They'll also contribute to making sure the relocation goes smoothly instead of leaving you on your own post-migration.
Free SSL certificates: SSL certificates are necessary for any internet business. Even on their entry-level services, WPX provides free SSL, even on staging sites.
30-day money-back guarantee: All packages from WPX feature a 30-day reimbursement warranty. You are entitled to an immediate refund if you are unhappy with the service.
Despite all the wonderful features WPX has going for it, there are a few downsides to be aware of too.
Cons
No cPanel: WPX uses its own custom dashboard for site management. We find it very intuitive and user-friendly, but if you prefer cPanel you may not like the change.
Fairly pricey: WPX is relatively expensive compared to other providers with web hosting plans as low as $1.99/month.
Not suited for web hosting a large portfolio: If you have more than 35 websites, even WPX's largest plan isn't enough to accommodate them. You'll either need to arrange a custom plan or purchase a second plan to manage all your sites.
Overall, however, in our experience of using WPX hosting service for many years, we haven't found these drawbacks to impact our ability to grow a business online.
If you're happy to spend a little extra to have the best web hosting service team that has your back through anything, WPX is our top recommendation for you.
---
2. DreamIT Host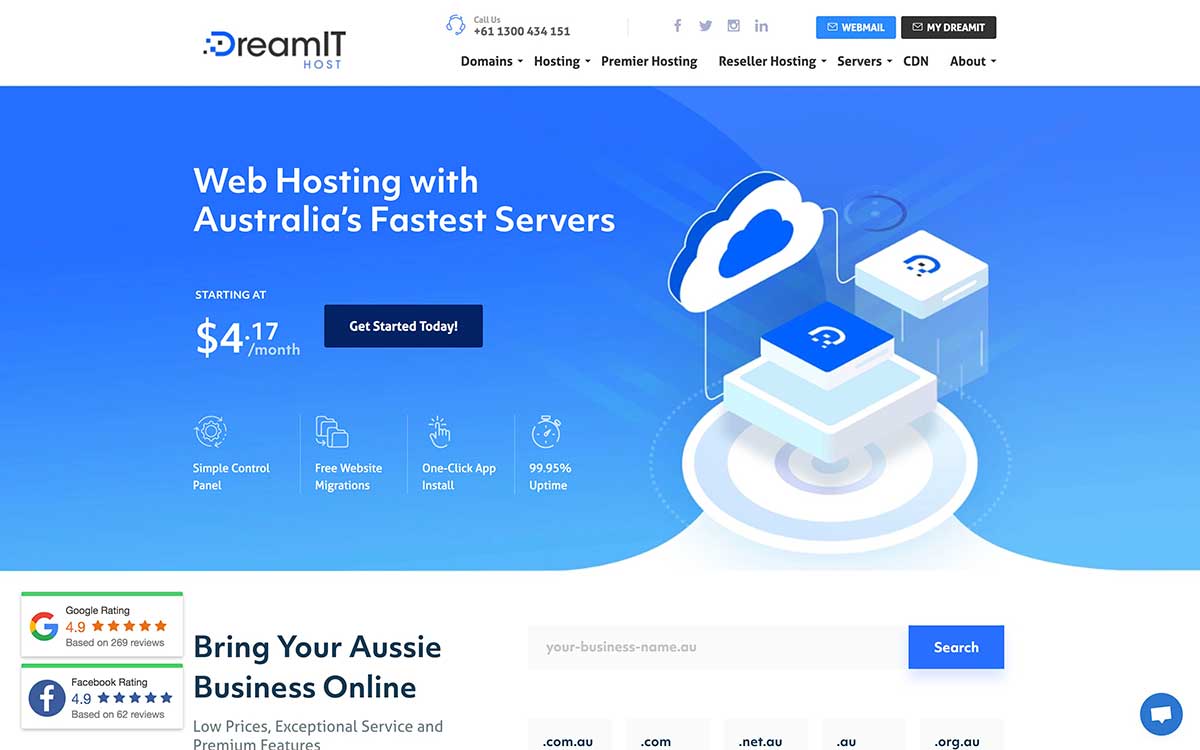 DreamIT is a firm believer in delivering remarkable customer service and it offers excellent value for its web hosting packages.
The proudly Australian company began its journey in 2014.
Since then, it has added many services for local business owners looking for the best web hosting Australians love.
In 2016, DreamIT kicked things off with its shared web hosting offers, and it then followed with the launch of a reseller hosting program in 2017 and dedicated web hosting in 2018.
Today, DreamIt boasts packages that are tailored to their customers.
Here are its top features.
Top Features
100% Australian-owned and operated: DreamIT is locally owned and has servers within Australia and a support team in the heart of Melbourne.
Terrific uptime: ensures that your site does not go offline for longer periods so it can always be accessed when someone lands on it.
Excellent, local chat support: Although it's not quite to the level of WPX's speed and excellence, DreamIT offers knowledgeable support via live chat and with a Melbourne-based team.
Affordability: With web hosting starting as low as $4.17/month, DreamIT is an affordable web hosting service.
45-day money-back guarantee: There's no risk with trying our DreamIT due to its higher-that-average money-back timeframe (an extra 15 days compared with most web hosts).
Unlimited bandwidth and emails: With no limit on data transfers, you won't have to worry about DreamIT shutting your website down in a period of high traffic or as your website visitors grow.
Pricing
DreamIT has affordable prices when compared to other best web hosting providers on this list.
Its web hosting packages are also jam-packed with desirable features and resources.
Not to mention, as a new user, you can also enjoy up to 50% discounts on your web hosting.
| | Promo Pricing | Renewal Pricing | Features |
| --- | --- | --- | --- |
| Shared Hosting | From $4.17/mo | From $6.95/mo | From 5GB NVMe storage, unlimited bandwidth and 2 GB memory limit. |
| Premier Hosting (for high-performance sites) | From $29.97/mo | From $49.95/mo | From 75GB NVMe storage, Unlimited bandwidth and 100% uptime guarantee. |
| VPS Hosting | From $5.97/mo | From $9.95/mo | From 50GB storage, 1TB bandwidth & 2GB RAM. |
| Managed Dedicated Hosting | N/A | From $399.95/mo | From 32GB RAM, 2x 1TB SSD drives & 5TB premium bandwidth. |
Pros
Top security features like anti-spam for emails
Premier web hosting is perfect for sites with high traffic volumes or performance demands
Great shared web hosting offerings
Above average money back guarantee
50% discount on the first signup
Excellent, local chat support, which is very knowledgeable on web hosting matters
Unlimited monthly data transfers
Cons
Not as many product offerings as more established global companies
Does not have servers outside Australia and New Zealand
All in all, if you're looking for a local Australian web hosting company with boots, and servers, on the ground Dream IT is perfect for you.
---
3. SiteGround
SiteGround has earned a good reputation in Australia for its top performance and some of the best web hosting service.
With data centers located in Sydney, Australia, it's no wonder local Aussies are loving its performance in the land down under.
Founded in 2004 in Bulgaria, and it wasn't long before this hosting company started making waves in the global web hosting space.
Not only does SiteGround now host over 2 million websites worldwide, but it also operates with over 500 full-time team members.
SiteGround also stands apart from other hosting providers due to its commitment to delivering quality at every level.
It's no surprise why WordPress.org recommends SiteGround as one of the best web hosting companies on today's market.
Add to this mix SiteGround's steadfast dedication to crafting state-of-the-art technology and support that clients rave about and you have an excellent option for web hosting right here.
Top Features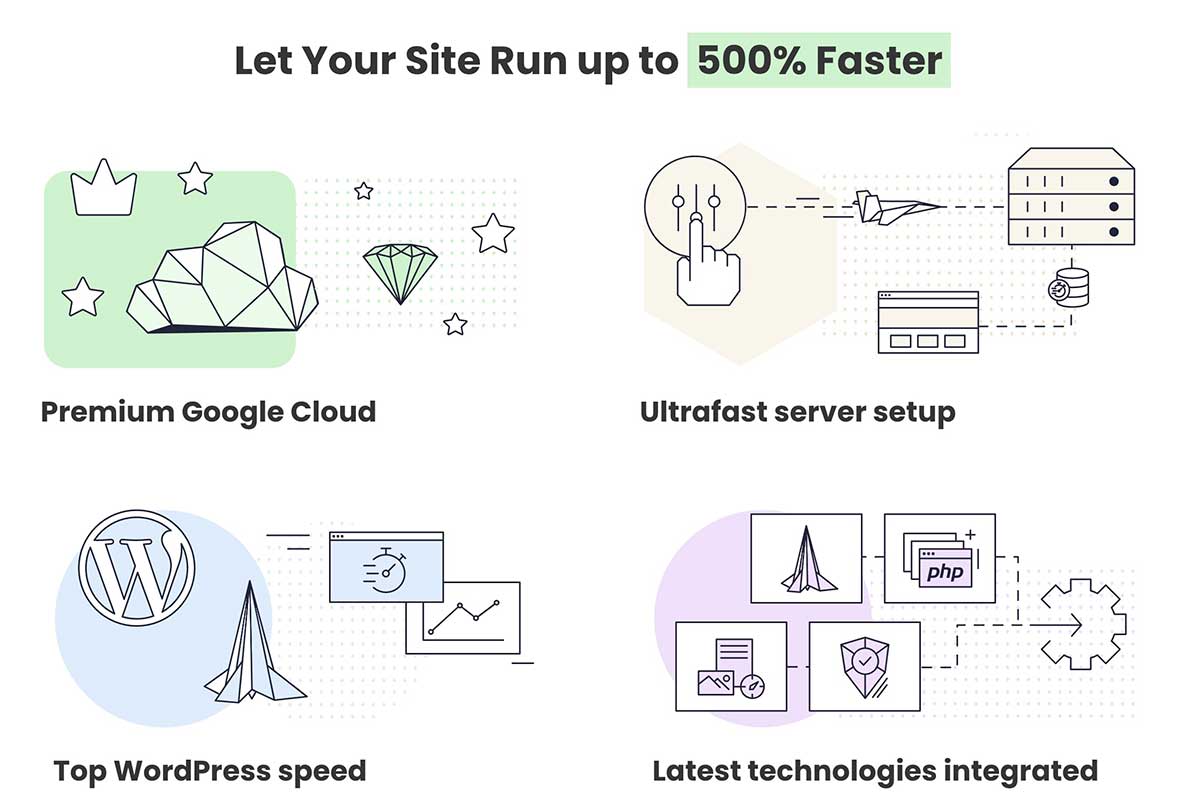 Google Cloud Platform (GCP): SiteGround uses the GCP to deliver state-of-the-art cloud services to its clients.
Official WordPress partner: An official recommendation from WordPress is hard to come by, yet SiteGround has received exactly that!
Excellent support team: Second only to WPX, we rate SiteGround's support team very highly. And what's not to love with an average TrustPilot score over 92% too?
Decent storage: 10GB – 40GB available on shared plans
Unmetered traffic: SiteGround doesn't a place limitation on how many people can visit your site each month. Nor does it charge overage fees.
Free SSL certificates: All plans have free SSL certificates that are easy to install thanks to SiteGround's range of 1-click install features.
Free CDN from SiteGround: You can speed up your website load time tremendously for visitors from other locations.
Enhanced security: Built by SiteGround's in-house team, the security features on all plans are next-level.
Daily backups: Free, daily automated backups on all plans unlike with many other companies that charge you extra to backup your website.
Pricing
| | Promotional Pricing | Renewal Pricing | Disk Space |
| --- | --- | --- | --- |
| Shared Hosting | From $3.99/mo | From $14.99/mo | From 10GB web space |
| WP & Woocommerce Hosting | From $3.99/mo | From $14.99/mo | From 10GB web space |
| Managed Cloud Hosting | From $100.00/mo | From $100/mo | From 8GB memory, 40GB SSD and 5TB data transfer. |
| Reseller Hosting | From $6.69/mo | From $24.99/mo | From 20GB web space |
Pros
Partnership with WordPress and official recommendation
Google Cloud Platform partner
24/7 outstanding support
User-friendly custom dashboard
Free SSL certificate
Excellent uptime
Cons
Relatively higher prices for packages
Doesn't offer a domain name services
No VPS or dedicated web hosting
Despite its slightly higher prices, SiteGround has excellent support and is recommended by top-tier companies due to its outstanding performance and dedication to security.
If you want to host your website with a reputable company, this is the place to go.
---
4. A2 Hosting
A2 Hosting easily stands out for its fast speeds in every hosting tier (whether VPS, dedicated, or shared) due to its "turbo" boosted servers.
This is the place to go if you're keen on hosting that packs a punch.
The "turbo" boosted servers all feature the latest NVMe storage drives which are up to 20x faster than regular hard drives.
It's also worth noting that A2 web hosting doesn't cost a pretty penny to get started with either.
Fast and affordable, A2 Hosting has developed a loyal user base.
A2 also boasts excellent customer service.
A2's Guru Crew is always available to chip in whenever you need assistance.
They are available around the clock via live chat or phone. Their support is excellent.
This customer support crew is among the best you'll encounter in this space (although not quite as solid as WPX or SiteGround'sin our book).
Top Features
A2 has all features you'd expect to find in a top-tier web host, including:
20x faster "turbo" server to enable high-speed performance
Cloudflare CDN to improve loading time
A wide range of SSL certificates to ensure the site is secure
99.9% uptime guarantee, meaning you don't have to worry about your websites going down
Up to unlimited websites so you can host your entire portfolio on one account
Up to unlimited NVMe storage for a reasonable price
Free end-to-end website migrations
Free and automatic backups on all but the cheapest plan
Free SSL certificates on all plans
30-day money-back guarantee
Pricing
A2 Hosting offers affordable plans packed with many features, often unlimited features too. . Their prices are relatively lower than many other web hosting services.
Take a look below:
| | Promotional Pricing | Renewal Pricing | Disk Space |
| --- | --- | --- | --- |
| Shared Hosting | From $1.99/mo | From $10.99/mo | 100GB SSD on the smallest tier. Unlimited on the rest. |
| WordPress Hosting | From $8.99/mo | From $23.99/mo | From 50 GB NVMe storage. |
| VPS Hosting | From $45.99/mo | From $99.99/mo | From 8 GB RAM and 250 GB SSD storage. |
| Dedicated Hosting | From $199.99/mo | From $329.99/mo | From 32 GB RAM & 2x1 TB SSD storage. |
| Reseller Hosting | From $15.99/mo | From $34.99/mo | From 60 GB SSD or 60 GB NVMe storage. |
By far, the cheapest option for web host services is A2 Hosting's budget shared hosting plan, setting you back less than $2 a month.
If you're thinking of starting a website, price is no excuse with such affordable options available today!
Pros
Initial affordability is great for getting started
Decent out-of-the-box optimizations on higher plans
Faster speeds because of the "turbo" server.
Unlimited SSD storage which enhances performance
There is a money-back-guarantee
Reliable shared hosting
Decent uptime, especially in recent years
Free Cloudflare CDN
Unlimited websites
Cons
The fast NVMe servers are only available with a more expensive plan
Prices are in USD, a disadvantage to Australians
With servers that are up to 20 times faster due to their use of premium-quality storage disks, A2 offers an attractive option for anyone looking for the best of all worlds.
Decent performance, check. Low-cost pricing, double-check.
---
5. VentraIP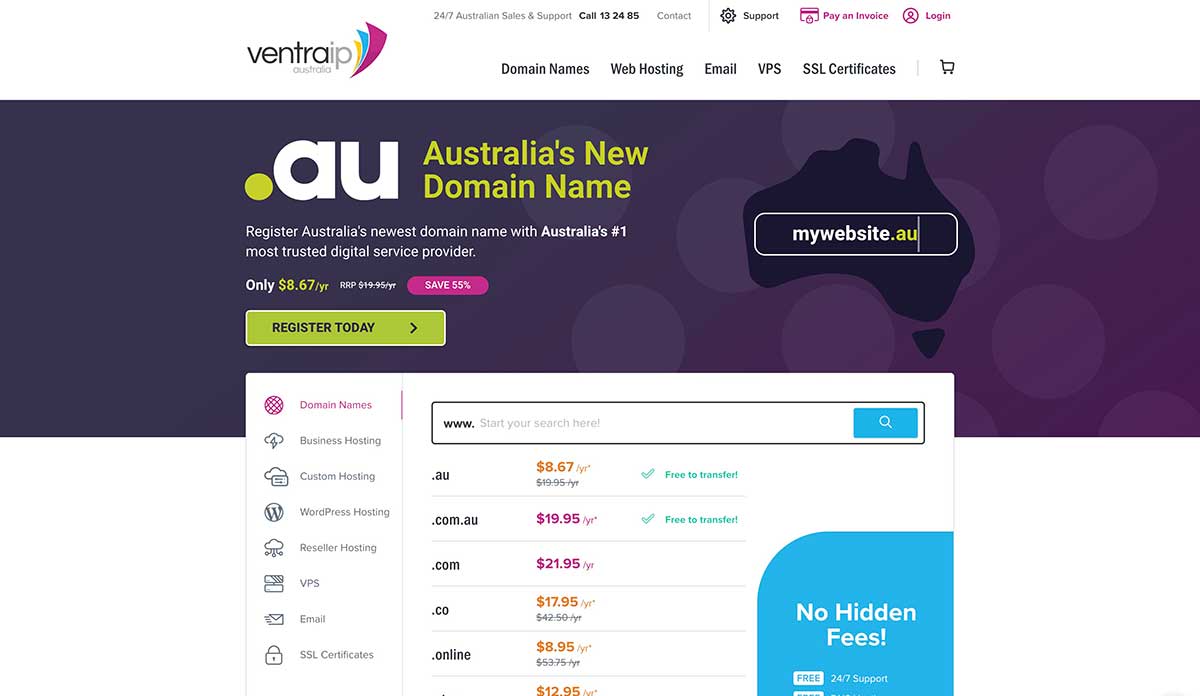 VentraIP started its hosting operations in Australia in 2008.
It is privately owned and has no links with any other web hosting companies.
Being 100% Australian-owned, VentraIP is designed to serve the local niche and has developed a name for itself within the local market.
Despite being a fairly newer player in the best web hosting arena, VentraIP is growing fast and now has a customer base of more than 76,000 customers.
It's no wonder why VentraIP has since been listed in the:
CRN Fast50
SmartCompany Smart50
BRW Fast 100
Over the years, VentraIP has also acquired a number of smaller hosting providers, bolstering it's range of services to the local market.
If you are looking for a stable local host in Australia, VentraIP should definitely be on your list of options.
Top Features
The company offers various features found in standard companies but is also regularly making updates to suit its customers' better, including:
SSL certificates which enhance the encryption and security of the website.
Quality tech support available 24/7 via phone, live chat, or email. The support is reliable to answer all questions with satisfaction.
User friendly: The host's interface is easy to use and navigate.
Dell Cloud Hardware which makes the company very stable.
Outbound spam and virus filtering to keep your website safer
Free cPanel migration enables migration without incurring additional costs.
Pricing
Compared with other companies, VentraIP's hosting prices are relatively higher.
The best way to go around their plans is to look keenly at all the features offered too so you can ensure you select the best features for your needs.
Here are some of VentraIP's hosting plans for businesses to get you started:
Starter+
Freedom+
Premier+
Price
Promo: $5/mo

Renewal: $10/mo
Promo: $10/mo

Renewal: $20/mo
Promo: $35/mo

Renewal: $30/mo
Bandwidth
Unlimited
Unlimited
Unlimited
SSD Cloud Storage
5GB
15GB
25GB
CPU Allowance
200%
300%
400%
Memory Allowance
2GB
6GB
8 GB
Unlimited Email Accounts
Yes
Yes
Yes
Hourly Acronis Backups
Yes
Yes
Yes
Free Comodo SSL Certificate
Yes
Yes
Yes
Pros
Privately owned and 100% Australian
Fairly reasonable pricing
Quality tech support, round-the-clock
Quality shared hosting with increase CPU allowance
Very stable hosting
Cons
Overpriced VPS packages
Limited performance outside of Australia
The main downsides with VentraIP are its overpriced packages and the limited performance outside of Australia.
However, the company remains reliable for local hosting, and you are assured of stability.
---
6. Panthur
Panthur is an Australian-based provider of high-quality, premium web hosting but without the premium price tag.
Founded in 2009, Panthur started with a mission to deliver an affordable yet premium service to the Australian market.
Instead of cramming as many websites onto a server as it can, Panthur takes a different approach.
Sure, there are global companies offering far cheaper hosting plans out there.
But Panthur is committed to delivering a premium service to local businesses.
And it does so without charging an arm and a leg to do so.
Top Features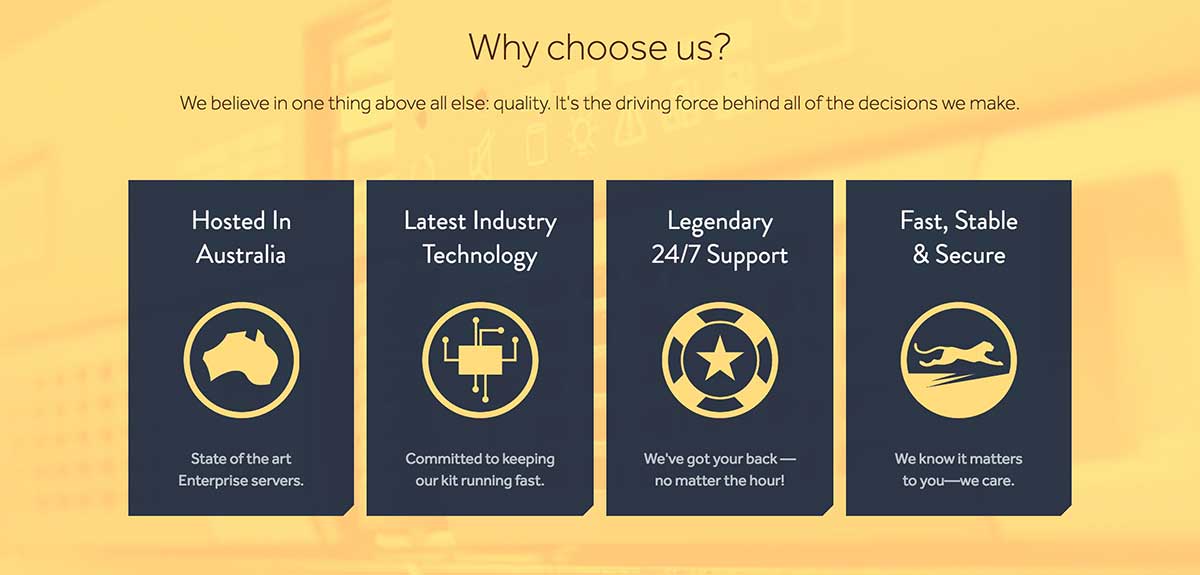 Panthur offers a variety of features that make it a desirable web hosting company.
Here are some of the stand-out top features we like:
Free SSL certificates to boost security for your website
Friendly support team that is very knowledgeable in matters of web hosting
Offers free site migration to facilitate your migration with ease and at no cost
Affordable and relatively lower prices for packages that are well tailored for different customer needs
1-click restore for backups
Unlimited emails for every web hosting package that you purchase with them
Servers based in Australia
Optimized hosting solutions for WordPress, Drupal and Magento
Automated installation of over 110+ software applications
Pricing
Panthur offers several hosting plans with its budget options being the most affordable.
Payments can be made monthly, semi-annually, yearly, or up to 3-year plans.
The longer the plan, the less you pay.
The pricing is also generally lower compared to other companies offering premium services.
| | Mini | Advanced | Professional |
| --- | --- | --- | --- |
| Storage space | 2000 MB | 6000 MB | 6000 MB |
| Monthly Bandwidth | 100,000 MB | 250,000 MB | 500,000 MB |
| Email Accounts | Unlimited | Unlimited | Unlimited |
| SQL Databases | Unlimited | Unlimited | Unlimited |
| Prices/ month | From $4.80/mo | From $8.80/mo | From $12.80/mo$16 |
Pros
Free SSL certificates
Free site migration
Friendly support team
Relatively cheaper pricing for premium services
Free domain name for the first year of hosting
Cons
Not well-suited for website audiences outside Australia
The features for entry-level plans may be somewhat limited
Panthur has a lot to offer for someone looking to start a new website.
Its well-tailored prices are low and affordable when compared to other market players.
The only downside is that the company hosting services will best serve you if you are within Australia.
But when all is said and done, Pathur is your go-to solution if you are looking for affordability but without resorting to servers that are crammed with too many other websites (and the security risks that they may come with).
---
7. FastComet
FastComet is a web hosting company based in San Francisco and has been in service since 2013.
The company is relatively small, with roughly 70 employees.
But, it hosts about 370,000 websites, mostly comprising small businesses and personal brands.
The fast support response time and website simplicity are the features FastComet's customers love most.
Not to mention how accessible FastComet makes cloud hosting services.
All of its plans are cloud-based and connected to a network of 11 data centers, including one in Sydney for Australian websites.
Top Features
FastComet offers a range of value-packed features with each of its plans.
Its shared hosting plans are the most popular and at a minimum include:
15 GB to 35 GB SSD storage
Free website transfers
Free domain transfers
Daily backups
Free CDN (Cloudflare)
Free SSL certificates
Plus more
Pricing
As you can see, below, FastComet has a broad range of very affordable hosting plans to get any type of website off the ground.
| | Promotional Pricing | Renewal Pricing |
| --- | --- | --- |
| Shared Cloud Hosting | From $2.95/mo | From $9.95/mo |
| WP Hosting | From $2.95/mo | From $9.95/mo |
| WoocCommerce Hosting | From $2.95/mo | From $9.95/mo |
| Magento Hosting | From $2.95/mo | From $9.95/mo |
| OpenCart Hosting | From $2.95/mo | From $9.95/mo |
| Joomla Hosting | From $2.95/mo | From $9.95/mo |
| VPS Hosting | N/A | From $59.95/mo |
| Dedicated Server Hosting | N/A | From $139/mo |
Pros
Excellent speed and performance in Australia
Average uptime over 99.98% in all our tests over recent years
Free domain and website transfer
Fast and efficient support
Reasonable storage in all price plans (min 15GB on shared plans)
Easy to set up, even for beginners
Free domain included in all plans
11 data centers to help you target customers around the world
Cons
IP address not dedicated in shared hosting
No VPS or dedicated server hosting
Although FastComet focuses exclusively on offering cloud services, it has some of the most reliable servers we've seen in our tests.
Not to mention that FastComet is consistently at the top of our performance tests from all over the world.
For instance, it was among the fastest companies we tested out in Nepal, Nigeria and now, Australia.
You can't go wrong with FastComet, especially if you want to reach a global audience!
---
8. Hostinger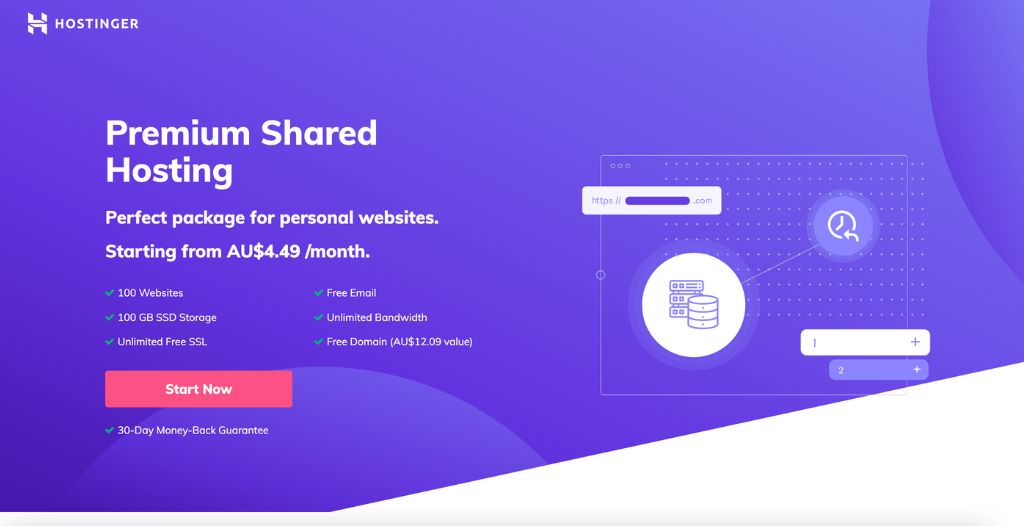 There's a difference between cheap hosting and value for money. Hostinger delivers on both.
Not only is Hostinger one of the cheapest web host companies we've found, but it also packs its hosting plans with a rich set of features you can't overlook if you're after the best value for money. They offer reliable web hosting and the best web hosting service.
What we really like about Hostinger is that it adapts its pricing for the local market, making it price-competitive no matter where you are in the world.
With servers located all over the world, Hostinger ensures that your site has a global reach from the get-go.
Hostinger also has an easy onboarding process, enabling you to transfer your website to their servers quickly and smoothly.
Check out the range of features that earned them our title of the best value for money hosting in Australia.
Top Features
Hostinger stands out for their many great features that make them desirable to their customers.

Top features of their web hosting service include:
From 50GB SSD storage on the cheapest plans (that's over 5x what most hosting companies offer for similar prices.
Unlimited SSL certificates available
hPanel: Unlike other web hosting provider that use cPanel, Hostinger uses their own intuitive control panel called hPanel.
Global servers: Hostinger has servers located all over the world making sure your site goes global instantly.
High-speed SSD storage which improves your website performance
99.9% uptime guarantee therefore the site shutting down is not among your list of worries.
30-day money-back guarantee. You can request a refund if you do not like their services within the first 30 days.
24/7 support to answer your queries and provide help.
Pricing
Generally, Hostinger has pocket-friendly prices for their plans.
However, it's worth noting that you also get what you pay for.
If you're after a premium hosting solution, Hostinger may not be the best option for you.
Either way, here are the pricing details for Hostinger's plans.
| | Price |
| --- | --- |
| Single Web Hosting | AU$2.99/mo |
| Premium Web Hosting | AU$4.49/mo |
| Business Web Hosting | AU$6.09/mo |
| Cloud | From AU$15.02/mo |
| VPS 1 | From AU$6.00/mo |
Pros
Global servers across the world
Fast speed and performance in our tests
99.9% uptime guarantee
Free domain name
Beginner-friendly with simple onboarding process
Dedicated IP on every VPS plan
Full root access on every VPS plan
Great deals if you buy many years in advance
24/7 multi-lingual live chat support
30-day money-back guarantee
Cons
You may quickly outgrow Hostinger's plans
Support responses could be better
Lots of pop-ups and upsells
No traditional cPanel; Hostinger uses its custom hPanel
Hostinger's impressive performance, affordable plans and its global reach make it a good choice for your web hosting needs within Australia.
In addition, there is a money-back guarantee so you can sample and make a decision after you out Hostinger to the test yourself.
---
9. Relentless Hosting
Relentless Hosting is an Australian web hosting company that began its operations in 2010.
The company has been continually growing since then into a hosting company that is a go-to for many local website owners.
They offer hosting services for personal, business and professional needs.
And, they also have economy hosting, cPanel business hosting, and Australian-based VPS hosting.
Relentless Hosting's prices are reasonable and affordable compared to the other hosting companies in Australia.
It also cares for its customers to the core; it has 24/7 support who will help you with whatever you need at any time of day or night.
If you are new in tech or have low tech understanding, Relentless Hosting has got your back.
Top Features
If you are wondering why Relentless Hosting should be an option for you, here are the features you will get from their hosting:
Unlimited hosted websites on most shared plans
Built on traditional cPanel technology
Secure firewalls and intrusion detection systems to keep hackers off your website
24/7 support to help you with any hosting support you request
Instant setup once you pay; you don't have to worry about setup
Built-in page caching to improve your page loading speed
Pricing
Overall, Relentless Hosting has very reasonable prices for its plans though they may be under-resourced for your needs if you're running a high-performance intensive website and need web hosting services to match.
| | Promotional Pricing | Renewal Pricing | Features |
| --- | --- | --- | --- |
| Shared Hosting | From $2.83/mo | From $3/mo | From 1GB storage, 10GB bandwidth and 1 website. |
| Reseller Hosting | From $19/mo | From $20/mo | From 10GB SSD storage, 50GB bandwidth & 10 cPanel accounts. |
| VPS Hosting | From $14.25/mo | From $15/mo | From 512MB RAM, 10GB storage and 50GB bandwidth. |
Pros
Money back guarantee
Advanced security- advanced firewalls and intrusion detection systems
Free migration- free data transfer
99.9% uptime
Easy to understand packages
Great support team
Cons
Resource caps and limited storage and bandwidth
No dedicated server option
If you are new to owning a website, or have low tech understanding, Relentless Hosting is the place for you.
Their easy-to-understand packages, instant setup and great customer support will help you get started in no time.
---
10. WP Alpha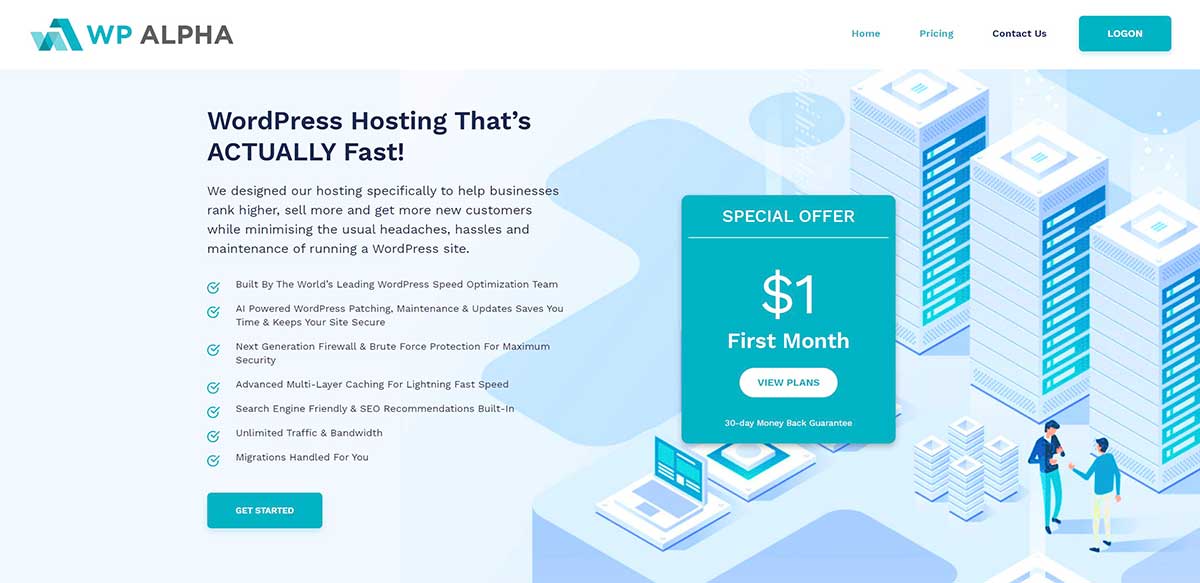 WP Alpha has earned its place as one of the fastest and most reliable WordPress hosts for small businesses in Australia.
The company specializes in WordPress, WooCommerce and Magento hosting and offers packages as low as $1 for the first month.
As a business owner, you are assured of fast and high performance for your website, regular maintenance, hourly backups, free SSL certificates among many other features.
All these features aim to make your website the best for your business.
In addition, you'll get the benefits of servers based in Australia with faster performance to your local customers and website visitors.
Top Features
WP Alpha has a variety of features that make it suitable for your business.
They include:
Hourly offsite website backups to protect your data
Free SSL certificates which are included in all plans to ensure your data is well encrypted and safe
Unlimited bandwidth to ensure you get many visitors to your website without any traffic problems
SEO friendly to help you rank higher in search engines
Business and commercial focused. WP Alpha is specifically built for hosting business websites therefore you can be sure your business needs are well considered.
Woocommerce & Magento friendly. WP Alpha has the capabilities to host your online store.
Pricing
WP Alpha's pricing is based on plans that are well-tailored to suit your business needs.
You can pay monthly or yearly. When you go with the yearly option, you'll get a cheaper rate.
Below are prices for WP Alpha's WordPress hosting plans.
| | Pricing | Features |
| --- | --- | --- |
| Economy Hosting | $29/month | Unlimited traffic, 10GB NVMe storage & 2 CPU cores. |
| Small Business Hosting | $55/month | Unlimited traffic, 20GB NVMe storage & 3 CPU cores. |
| Power Hosting | $99/month | Unlimited traffic, 50GB NVMe storage & 5 CPU cores. |
| Serious Business | $249/month | Unlimited traffic, 1250GB NVMe storage & 6 CPU cores. |
Pros
Hourly backups
Free onboarding makes migrating easy
Unlimited traffic quote enables scalability without extra overage fees
Suitable for eCommerce
Free patching and maintenance included in plans
Free SSL certificates
Cons
Not best suited for large enterprises
Admin console has way too many settings and can take a while to understand
Owing to its features, WP Alpha provides one of the best choices if you are looking to create a website for your small business.
Even though the prices may be slightly above those of other hosting companies, their services make up for it.
---
How to Choose a Good Web Hosting Company in Australia
There are five critical things that you need to check before choosing a web hosting company in Australia:
Customer support: Vital for running your website
Pricing: Should be affordable and reasonable
Datacenter location: Choose a company whose data center is in Australia or nearby
Speed: Check reviews and testing data for good performance
Customer experience: Go through customer feedback, and reviews available online
---
Are Local Australian Web Hosting Companies Worth It?
Yes, local Australian web hosting companies are worth it. There are many local Australian web hosting providers that offer exceptional web hosting services which stand out even in the global market.
You don't have to go overseas for web hosting.
However, we hope our list of varied options helps you decide whether you'd like to stay local or choose a global hosting provider that has an excellent performance in Australia due to its data center locations.
Either way, you can't go wrong if you select a company we've shared in our list above!
---
How Connected Are Local Web Hosts in Australia to the Rest of the World?
Local web hosts in Australia are connected through global data centers in other countries like Singapore, the US, or Europe.
However, there are still many local web hosts that only provide services locally.
The degree of how connected these companies are will depend on the locations of their servers and the availability of a top-notch content delivery network.
---
What's the Cheapest Web Hosting Provider in Australia?
The cheapest web hosting provider in Australia is Hostinger.
Some other companies offer even cheaper short-term costs, but in our book, it's simply not worth choosing a web host based on the price tag alone.
---
Which Web Host Do We Recommend in 2023?
We would recommend WPX in 2023. WPX is a web host that offers the best services a website owner would desire.
Firstly, they have great support and answer your queries within 30 seconds — if that's not impressive, we don't know what else is!
WPX is a web host that also has some of the fastest servers on this list as reviewed by our team and others.
Therefore, you are guaranteed top speeds for your website within Australia.
With other great features like automated backups and above-average uptime, what's not to love?
Our #1 Recommendation: WPX Hosting
15 GB of Storage
200 GB of Bandwidth
Custom CDN (34 global locations)
Staging area creation.
Unlimited site migrations to WPX.
Malware scanning
Free SSL certificates
24/7/365 customer support
Use coupon MATT90 to get 90% off your first month