As an experienced web developer and SEO specialist, I know firsthand the crucial role that web hosting plays in the success of a website. Your choice of hosting provider can make or break your SEO efforts, affecting your site's speed, uptime, and overall performance.
But with so many hosting options available, each with its pros and cons, it can be overwhelming to decide which one is best for your needs. That's why I've researched and tested dozens of hosting providers to bring you a comprehensive guide to the best SEO-friendly options.
Whether you're starting a blog, launching an online store, or simply looking to improve your website's search engine rankings, I'll walk you through the top hosting providers and their features.
From compatibility with popular platforms like WordPress to budget-friendly options, you'll find everything you need to make an informed decision for your website's success.
So let's dive in and explore the world of SEO-friendly hosting providers.
1. Best-in-Class Web Hosting for SEO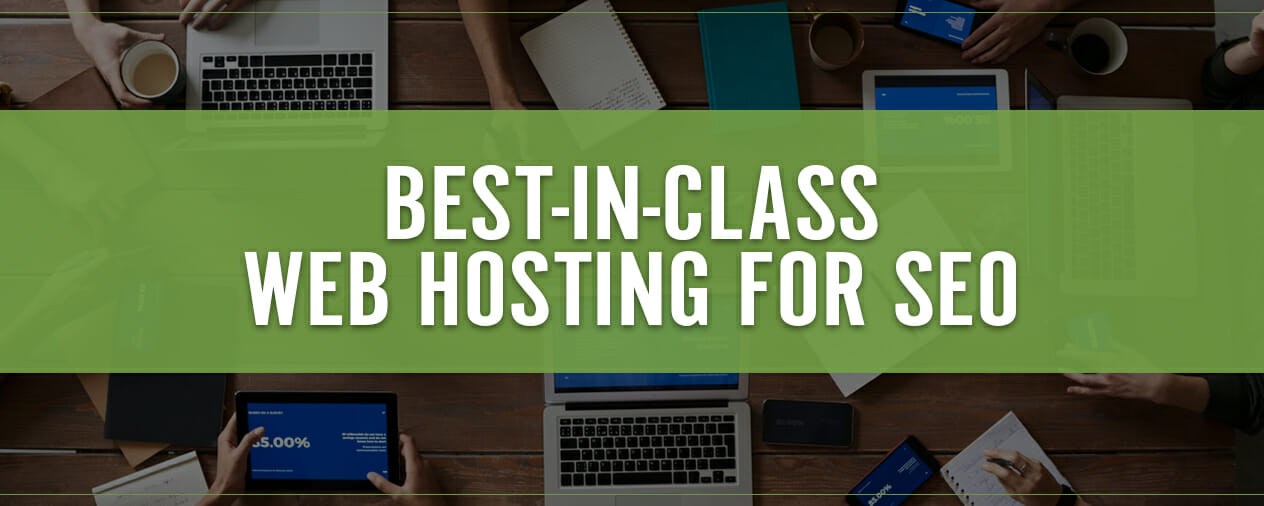 There are choices that you can make during the process of choosing a partner that will have a strong impact on how quickly any website can climb the ranks—or whether it can do so at all.
Some of these factors will be covered in a lot more detail in the "Choosing the Right One for You" section at the end of this guide.
For now, let's assume that your domain doesn't have the specific needs that will be covered in later categories and that you're simply looking for overall top-notch SEO web hosting.
The Biggest Hosting Factors for General SEO
When you're comparing different SEO hosting packages from an SEO web hosting provider, by looking at their materials or by reading reviews, you're going to want to consider all of the following vital factors.
1. Speed: The load time of your website is an important ranking factor [1] (a lot more information about why this is the case near the end of this guide). In short, it's because your domain can be directly penalized by search engines if your loading times are bad on average.
Because web hosting has such a large impact on page loading speed, you need to choose a host with a history of delivering good speeds if search engine rankings are your primary concern.
2. Uptime: A good hosting provider will put a lot of effort and technology toward ensuring that your website experiences as little downtime as possible.
This matters because, like your site speed, the percentage of time that your website is up will affect your long-term SEO [2].
Downtime has an immediate effect, as your potential visitors will no longer be able to access the website, and it may be temporarily removed from SERPs as a result.
In the long term, downtime can increase your bounce rate, and that can take a long time to repair.
3. Server Location: Nearly every host will promise excellent speed and uptime. You want to be sure though, so you should pay attention to where the servers are located.
Choose an SEO web hosting provider with server locations that are geographically close to you so that you can ensure that there will be a naturally-fast server response time for your site.
You may also want to consider whether or not the hosting servers are located somewhere that might be prone to natural disasters [3] like floods and earthquakes.
4. Support Quality: When you have ambitious SEO goals and want good search engine rankings (or need a 5-minute crash course to find some), you need to be sure that you can respond to problems that come up as quickly as possible.
That's why you should make sure that the company you choose has an excellent reputation for how they interact with their customers.
It's a good idea to test out the customer support of your chosen hosting provider within a week or two of choosing them. Shoot off an email with a technical question to see how quickly they are willing to respond, and what kind of expertise they have when they do.
A web hosting provider that doesn't respond may leave you in the lurch sometime in the future.
Even a few days of a problem that makes your website unresponsive can set back your search engine rankings for months. 24/7 live chat customer support is ideal for these situations.
5. Relevant SEO Features: Some web hosts will offer helpful SEO tools that you would need to pay for a subscription otherwise. We'll cover those SEO plugins more specifically in the categories to follow because they matter more with specific needs.
Many web hosts also include free email usage after signing in addition to WordPress hosting and web hosting for SEO. Perfect if you want a branded email address!
For now, check out different companies to see if they carry any helpful apps and services that will boost your search engine rankings.
The Winner? WPX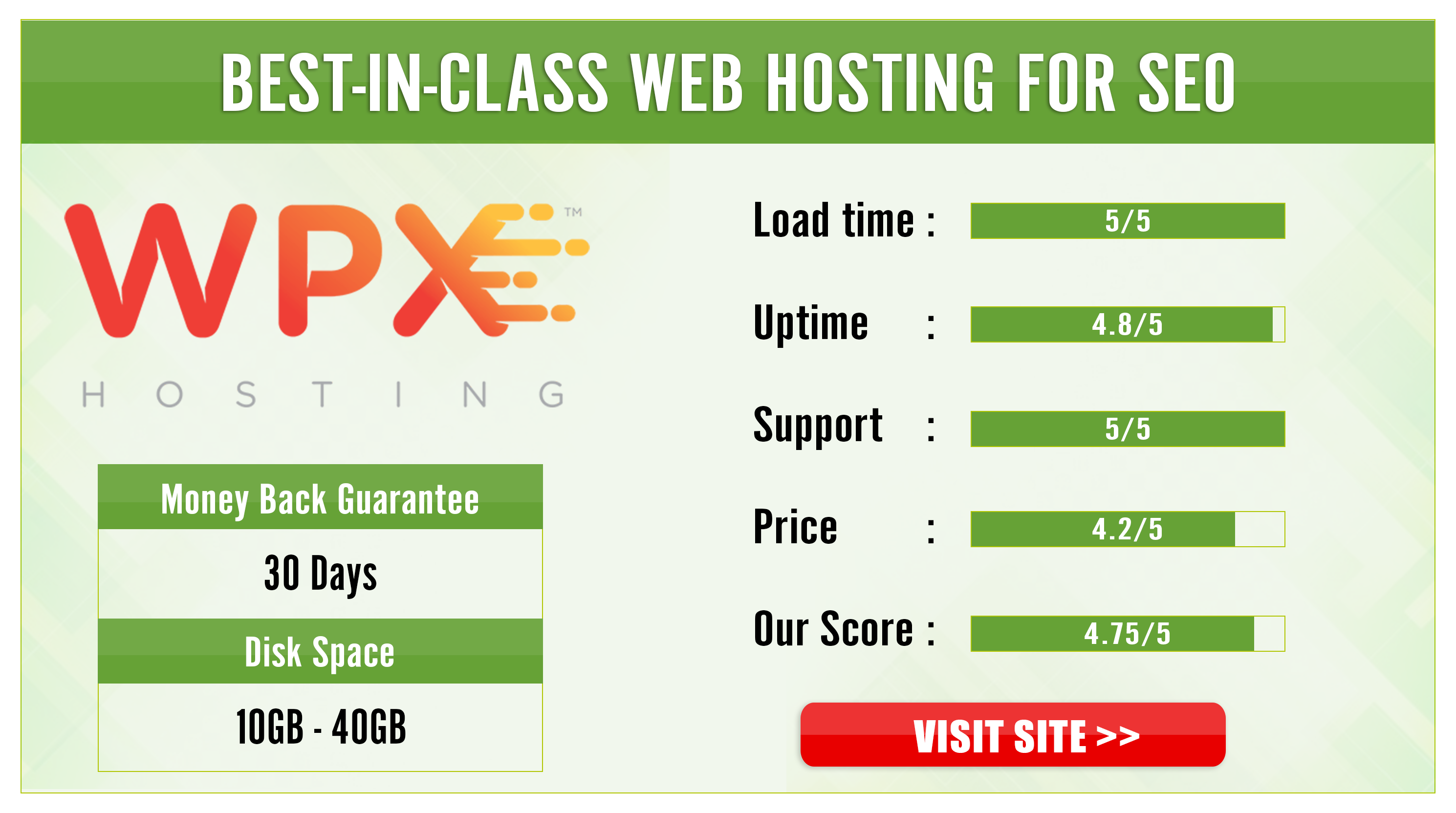 WPX is a clear standout when it comes to all of these factors, enough that I've chosen them to host my website, DiggityMarketing.com. They focus on WordPress Hosting and are #1 rated for it on Trustpilot.
Without knowing anything else about your needs, I will say that the WordPress platform[4] is an excellent one if you want to build an SEO-focused WordPress site. This is because of the plentiful features and a strong community of theme designers.
WPX is particularly well-known for excellent WordPress hosting and the 30-second response time of their customer support (I've tested this multiple times)—something that should reassure any SEO-focused WordPress hosting shopper who needs an immediate response to their problems.
(90% off the first month with coupon MATT90)
But, let's assume your needs are a lot more specific for the next category. For example, if you want to build an online shop.
---
 2. The Best SEO Web Hosting for Businesses and Online Stores
If you are planning to open and expand an online business or store, you need to think longer about your small business web hosting needs than say, a casual blogger.
Your e-commerce store (especially if you plan to expand) will require a lot more resources than others. In addition to great SEO features, you will also need enough space for potentially hundreds or thousands of product images, example videos, and other rich media.
The Biggest SEO Factors for Online Stores
You need to choose an SEO web hosting provider who starts by offering you a lot and also can offer you even more as you continue to grow. Let's look at some of the extras that you should be considering…
1. Available Disk Space: The amount of space that different SEO hosting providers provide to store information about your website can vary wildly, and there are a lot of formulas out there for calculating [5] how much you'll need.
Some of the most popular and highly-rated services out there are mostly devoted to serving bloggers.
To find out if your prospective host is a good fit for the search engine optimization needs of an e-commerce website, the first factor you want to look at is the disk space that's available as part of the plan.
You probably want to start with about 10-30 GBs of space, at a minimum.
Make sure to verify that additional space is available as part of a larger package and that you know the price to be reasonable.  Our recommendation is coming shortly.
2. Support Quality: The quality of customer support is a vital concern for e-commerce sites, even more than it is for the general sites covered in the last category.
Downtime for any reason translates directly to lost profits and slower-moving search engine optimization. That will become a larger and more expensive problem as your business continues to grow.
Confirm that your SEO web hosting provider of choice is able and willing to provide excellent support before you sign.
3. Shop Features: Some providers will provide free SEO plugins (or compatibility for them) that will make e-commerce sites a lot easier to create and manage.
For each provider you consider, check out the plugins that they have available.  Elementor, Jetpack, and Optinmonster are some good examples of plugins that can create a shop quickly a lot easier.
By choosing the right host, you may be able to save a significant amount of money on tools that you would have needed anyway.
The Winner? Siteground
Siteground is a high-quality SEO web hosting provider that has been running for a long time and currently hosts about 2 million domains.
They have support for the plugins that were mentioned above and are perfectly suited for people who want to rank online shops in search engines.
They offer VPS hosting plans which are a smart alternative to mimic a dedicated hosting environment, at a lower cost because the VPS simulates the environment.
Finally, they don't exactly match WPX in ticket response time, but they do have expertise when it comes to E-commerce in particular.
Next up, while blogs may not have the same scale of needs as an online shop, they do have some that can't be ignored.
---
3. Best SEO Web Hosting for Blog Websites
If you plan to create a blog for the express purpose of ranking it in search engines, you have some specific needs that you shouldn't overlook.
While you won't likely need a lot of space, you will need reliable performance, access to useful, free plugins, and explicit compatibility for the blogging platform that you intend to use. For that reason, you're going to want to consider a unique set of factors.
The Biggest Hosting Factors for Blogs
When you are choosing the company to provide web hosting for SEO, all of the following factors are going to matter.
1. Proper Platform Compatibility: Make sure that your preferred blogging platform is supported by your hosting provider as the priority.
If you are like most SEO blog builders, that platform is likely to be WordPress hosting. And while most hosting providers support it, this is something to look out for.
If you have a different choice, make sure that it is supported before you pick your web hosting package.
2. SEO Blog Plugins: There is a range of helpful plugins that will make it easier to build an SEO-friendly domain and then track its performance of it as the blog grows older.
Yoast is a plugin that will make most SEO tasks easier. Look for hosting providers that support as many of these as possible.
If you also want to avoid the comment spam that has been the bane of most blogs for years, you'll want to make sure that your host carries the plugin Akismet
3. Stable Performance: SEO web hosting depends on stability. If your pages ever experience slow loading times or extensive amounts of downtime, it is at risk of constantly collecting penalties from search engines.
Choose a hosting provider that is known, and reviewed as reliable. Any features that can more effectively detect downtime and keep your customers from noticing it should be considered a plus.
The Winner? HostPapa
HostPapa is the winner of this category, by a long shot…
It has great plugin compatibility for the blog-focused options we mentioned just above. The other plugins it supports makes it effortless to build these kinds of sites from scratch.
Other notable hosting features are included plugins to help you manage security, updates, performance, and transfers.
If you are sure that you're going to be using WordPress hosting, you may find some helpful information in the category we're going to be covering next.
---
4. Best WordPress Hosting for SEO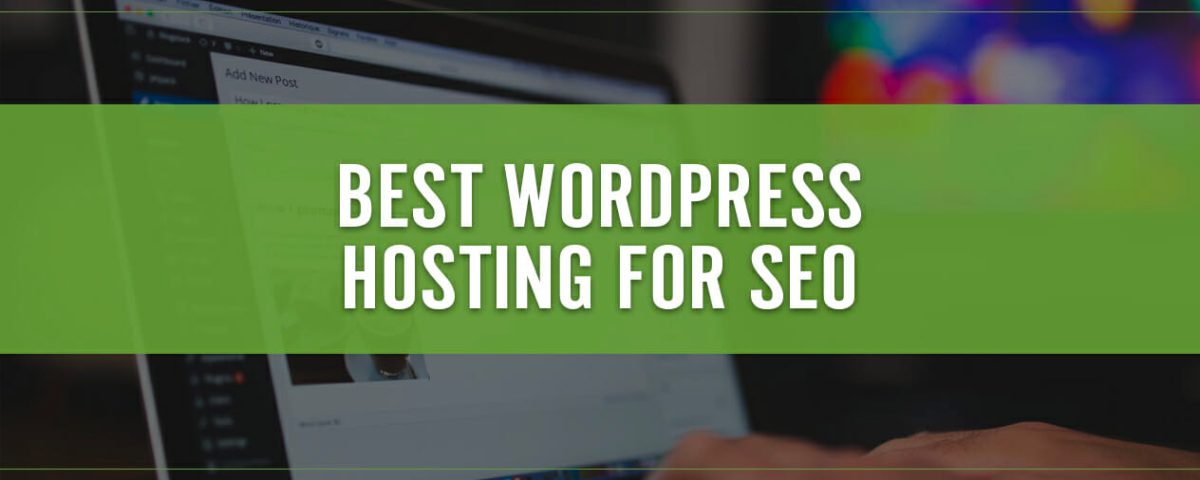 WordPress hosting is the most-used Content Management System out there, and every kind of website from blogs to shops can be built with it. On top of the traditional features, WP is bolstered by a huge community that's constantly producing new plugins, free themes, and patches.
You can build a website (any type of website) on this platform. However, just because the platform is so widespread doesn't mean that every host provides the same level of compatibility. 
The Biggest Hosting Factors for WordPress
If you want a good SEO web host that's going to give you the ultimate compatibility for WordPress, make sure that you scan their information and reviews to verify that they can provide you with all of the following…
1. WordPress Specialization: If you know for sure that you are going to be using WordPress hosting, you can select from specialized hosting providers. While many providers work with it, others are specifically designed around it.
Instead of choosing from just anyone, stick to the ones that specialize in it. That includes several of the services that we've already covered, including WPX. There are also others like WPEngine.
2. Plentiful Themes and Plugins: As long as you're only looking at services that specialize in WordPress hosting, make sure that you're considering the WP-adjacent perks that they provide.
Themes are one of the joys of working with the WordPress hosting platform. These are templates you can use to build attractive sites. Some services will start you off with a massive library of themes.
3. Multiple Sites Allowed: If you're working with WordPress, you can easily make multiple websites in a short amount of time. Many WordPress-focused providers allow more than one domain to be managed on the same account, for the same price.
If you have the need, you should take advantage of it when it's available.
The Winner? WPX
WPX is the clear winner for this category, too. WPX does indeed specialize in WordPress sites, and they have thousands of glowing reviews for doing just that. They have a massive collection of free themes available to choose from and allow support for up to 5 sites for one price. It's why we consider WPX the best WordPress hosting.
(90% off the first month with coupon MATT90)
On the subject of building a stack of pretty sites quickly, let's now take a look at the top site builder options.
---
5. Best Site Builder Hosting for SEO
Site building can be a hassle if you don't have experience as a developer or the resources to hire one. Adding the necessary SEO features can be another challenge.
If that's where you've found yourself, then you want to focus on finding a web hosting provider who can make site-building and SEO web hosting implementation simple.
Fortunately for you, there are many different options to select from. Most services include website-building tools that can make complicated designs as easy as clicking and dragging. Those features are going to be the biggest factor in your search.
The Biggest Hosting Factors for Site Builders
If you want to pick a host that will make it easiest for you to build sites, you need to search their marketing materials and reviews to find out how well they can assist you with all of the following…
1. Website Building Tools: Website building tools are included with most providers available today, but the quality is not always the same. High-quality hosting providers will give you a wide variety of these.
That may be a CMS like WordPress, or it may be proprietary templates that allow you to simply plug in your preferences to get the website you want.
Make sure that you carefully review the site-building tools that are available. If it allows you to build off of templates, make sure you browse completed sites that use those templates to see how they look.
Make sure the site builder works with your SEO-related plugins like Yoast.
2. Template/Theme Variety: In addition to a good website builder that's easy to use, you want to make sure that the templates or themes that come with it are interesting and useful to you. If the themes are available to browse, make sure you can find one that will match your niche before you buy.
Quality web hosting will have multiple themes or templates that are good choices. If you can find a lot of them that look great, it's a good sign that you've found a host that will continue to have good options later on, when it's time for a redesign.
3. Quality Customer Support: If you are looking for web hosting providers with a website builder, it stands to reason that you don't have a lot of developer experience. For that reason, never overlook the quality of customer support.
You want to know that you can contact someone (with expertise) quickly when you have any hang-ups that might slow down your schedule.
The Winner? Wix
Wix was created entirely around website building, and the quality it delivers on that front makes it the best-in-class option for someone who is focused on website building.
The visual builder allows you to easily click and drag the different elements of your design into position without the need for any coding. If you want an even easier building process, you can simply draw from Wix's vast library of existing templates.
Wix is a great option, but it may not be optimal if your biggest concern is the price. If what you want is a cheap hosting provider, you won't want to miss the advice in the next category.
---
6. Best Cheap SEO Web Hosting Provider
Saving as much money as possible is a great goal for many types of businesses, and hosting providers are a good way to do that.
What you don't want to do is lose the ability to easily improve your search engine optimization just because you wanted a discount. So while you may need cheap, you still want quality.
If what you want is the best among the cheapest, you can find that by focusing on the right factors.
The Biggest Hosting Factors for Affordability
If what you care about is having web hosting providers that are affordable, you need to make sure that you pay close attention to how well the service compares to others for all of the following factors.
1. Cost: Cost will naturally be your first consideration when it comes to choosing the best cheap web hosting provider.
When comparing different hosting plans, make sure you record the monthly fee along with the features that are offered with it. You may find that paying slightly more equals greater value.
However, be warned.
You won't be saving any money if you have to pay extra for programs or SEO plugins that you need because they aren't included in your hosting package.
2. Transparent Fee Structures: In addition to carefully recording the monthly fees for each hosting option you're considering, make sure that you search reviews for information about hidden fees.
Some of the cheapest hosting providers charge extra for features that are included as standard in other plans. You may even find yourself being charged extra for something as standard as customer support or an email address. That could add up to a lot.
3. Confirmed Reliability: You'll get what you pay for when you try to go for the cheapest hosting option available, but even among the cheapest private server hosting options, some are simply superior.
Most likely, with affordable hosting providers, you'll be placed on a shared hosting plan, which means that your domain will be on the same server as other sites, as opposed to a dedicated option where the entire server is yours.  This is fine, as long as the shared hosting provider isn't cutting too many corners and overloading their servers.
Shared hosting isn't a bad thing, as long as it's done right.
Scour the reviews of all the cheapest options to find out which shared hosting plans offer you the most reliable experience. After all, saving money doesn't mean much if it means your pages aren't accessible at all because of downtime.
The Winner? Bluehost

Bluehost is a barebone hosting provider that delivers refreshingly reliable shared hosting plans for less than the cost of a cup of coffee per month.
They don't have as many features as more expensive options, but they aren't going to force you to slow down your search engine rankings. They have the basics you would expect, like a free SSL certificate, and 24/7 live chat customer support with quick response times to address troubling downtime.
With the needs of the cost-conscious covered, the next category is going to focus on the priorities you should have if your budget is big enough to demand the optimum possible performance.
---
7. Best Hosting for SEO and Website Performance
Performance should be a priority for anyone who is creating a website. If it's your highest priority, you won't have trouble finding services that are willing to accommodate your needs—for a cost.
Performance can be a priority for many reasons. It's a good thing to focus on if you intend for your website to start ranking in search engines as fast as possible. It's also a good idea to make it a focus if you want to make the greatest impression on your visitors.
For whatever reason you care about performance, there are several ways your hosting provider can have a huge impact.
The Biggest Hosting Factors for Website Performance
If you care about the performance of your domain on search engines, for whatever reason, you are going to want to choose from the providers that can offer you the best of all of the following.
1. Market-Leading Speed: Performance can be measured in several ways. One of the most important, and one that will affect your SEO, is the load time of the website and the individual pages.
A good hosting provider for performance can guarantee that loading time will start high and then remain high consistently.
It's easy enough to find out if your provider is reliable by testing and averaging your page loading times from month to month. You should expect top performance if you're paying extra for it.
2. Automated Security Features: Another factor that plays a huge part in your website's performance is the attention that your hosting provider gives to security features like compatibility for HTTPS and free SSL certificates.
HTTPS is itself a ranking factor [6] with search engines, as Google revealed several years ago.
The better your website is (and it's probably profitable already if you're making a priority out of performance) the more likely it is to become a target of hackers, phishers, and other seedy characters.
Mitigate that risk by choosing a hosting provider that gives you regular updates to resolve vulnerabilities as they become discovered.
3. Redundant Stability Features: Any website that wants to call itself "high-performance", will rely on its hosting company to provide constant and overlapping support that prevents the website from experiencing any downtime.
This can be accomplished through a range of different features, including downtime alert systems, cache utilities that keep a website's content accessible and automated backups that get you right back up if your website is taken out by a hacker.
It's often easy to check whether or not a host is stable. Look for reviews or for data that covers uptime versus downtime for your provider of choice.
The Winner? WPX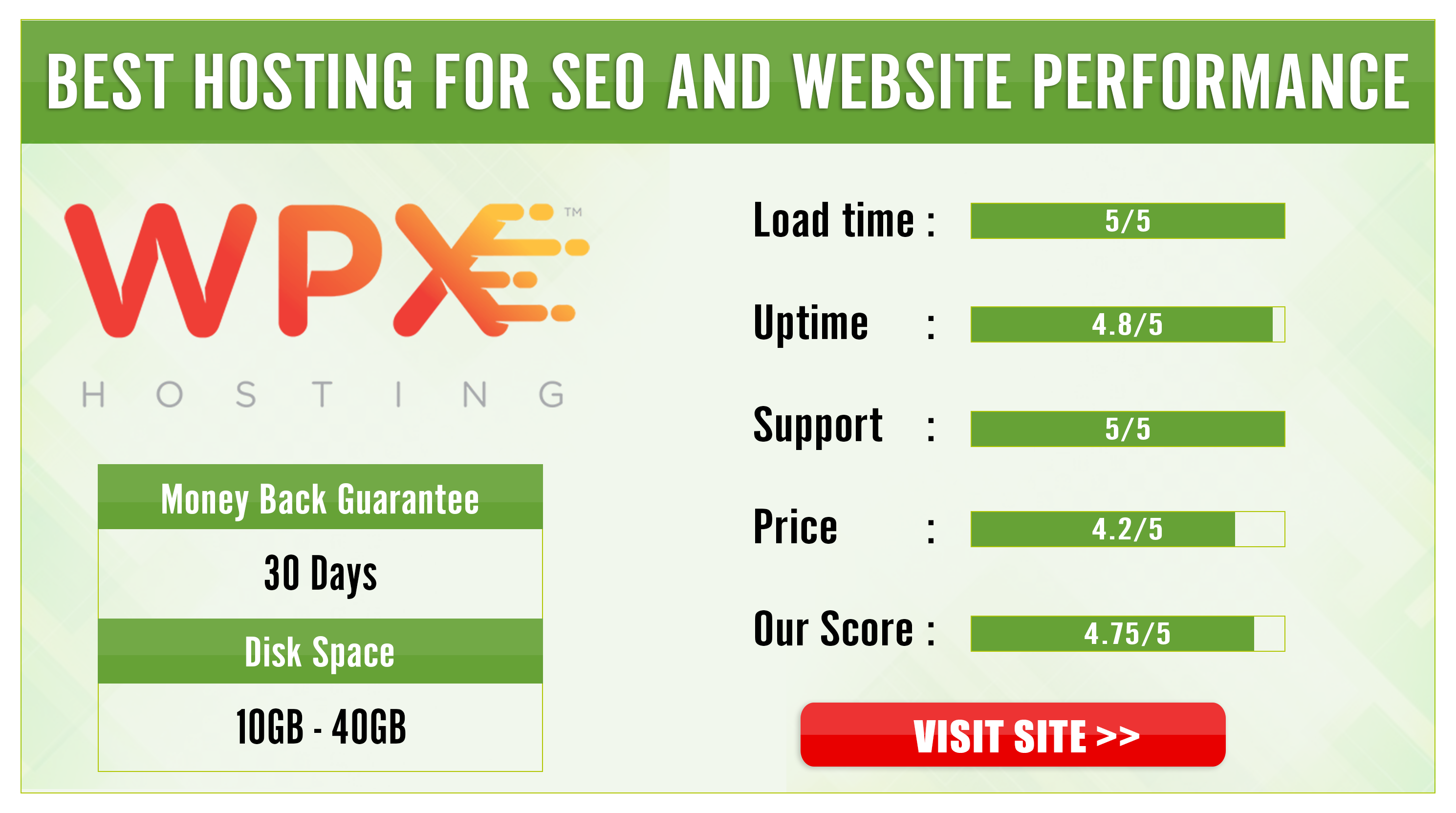 WPX wins yet another category. Once again, it's for good reason. This company has received a lot of positive reviews for being able to increase site speed by up to 3x for many customers who transfer over from other hosting services. It's proved to be the fastest web hosting that we've found.
It's effective for improving performance over some cheaper hosts, and increased performance can have a further positive effect on SEO as page loading times improve.
Many customers also appreciate the one-click Cloudflare setup that provides an additional layer of security and stability.
Finally, WPX includes special features for malware resolution if your WordPress site does become infected. That's an SEO factor because it means that your performance will be affected by less downtime overall.
(90% off the first month with coupon MATT90)
If you're interested in learning more about why some of the SEO benefits we've discussed matter so much, you won't want to miss the next section. I'm going to take you through some of the ways that hosting interacts with SEO in a lot more detail.
---
Choosing the Best Hosting for Your Needs 
There is a big difference between hosting that's almost good enough, and the best web hosting provider that's perfect for your needs. This section will serve as an in-depth examination of the factors that went into judging each winner.

How Hosting Affects SEO
After your website has been optimized in every other way, your choice of hosting will have the biggest impact on loading speed and uptime—two important SEO factors that we've discussed a lot that I'm now going to explain in more detail.
Page and Site Speed
Load time is the time it takes for your website to load completely after it's clicked by search engines.
While it is not accurate to say that faster websites get an SEO boost, slow websites can certainly be penalized for serving searchers poorly.
Google began to penalize slow websites that appeared in desktop searches nearly ten years ago. It was announced in a recent update (appropriately named the 'speed update') that this will now extend that penalty to mobile searches[7], as well.
While the update is designed to affect only a small number of sites that constitute the worst offenders, any website can be considered at risk if loading time increases for any reason.
That risk can be mitigated by choosing the right host. Alternatively, choosing the wrong host can undo all the work you've done to improve SEO on your site.
Uptime
In addition to loading speed, your choice of hosting provider will have a huge impact on the uptime of your website.
Uptime is a direct measure of the amount of time your website is available and accessible to visitors compared to the time that isn't.
Constant downtime will harm your SEO both directly and indirectly. In the direct sense, none of your content is accessible as long as the website is down. That means any potential conversions are lost for every minute the site is down.
In the indirect sense, downtime can make your site register damaging stats, such as a high bounce rate. Let's examine what that is and what it means in more detail.
Bounce Rate
If your website is down for an extended amount of time, it may be removed from search results entirely. Remaining in the results through downtime isn't something to hope for, though—quite the opposite.
Anyone who arrives on your site while it is down is likely to leave within a few seconds. In the SEO world, this is called "bouncing", and it can affect your SEO.
A bad bounce rate (the percentage of visitors out of the total who leave without interacting with the content or visiting another page) can quickly lead to penalties from search engines.
The visitors who bounce during the downtime will push up your long-term bounce rate, and that can take months to correct depending on your traffic.
Of course, you should be worried about more than just the effect your provider will have on your immediate SEO efforts. The effect that it has on your visitors can also mean long-term SEO challenges.
How Hosting Affects Your Own Experience
You should be concerned about how your choice of hosting provider will affect your own experience. A bad partner can take up a massive amount of your time, slow down your goals, and generally tax the mental and financial resources you need for everything else.
That's why it's not always smart to simply select the cheapest hosting option that you can find. The money you save over a more reliable service may end up getting used up because a bad hosting provider requires you to waste so much more of your own time.
For example, an inadequate hosting provider may force you to use your own time doing installations and updates, that a better hosting provider would handle automatically as part of their services.
That's why for so many categories, I asked you to consider how it will affect your access to features and customer support. As I'm going to explain in the following section, these make for huge differences.
Security Features
The ideal hosting provider will choose to be proactive when it comes to the delivery of the latest, new hosting features. They'll keep their eyes on the latest industry news, including new security vulnerabilities that need to be addressed immediately for the safety of your site.
You'll know when you've made a bad choice because some hosts are prone to be hacked[8] over and over again.
Government compliance is also something you'll want your provider to keep track of (such as GDPR regulatory compliance).  A scan of their privacy policy will give you some insights into whether they abide by them.
In addition, you want a hosting provider who is quick to adopt the latest features that will improve load time, so you can always deliver a premium experience for your customers.
Not all crashes are preventable, but the application of important technologies like automatic backups is going to make them a lot less painful.
After software considerations, you can also expect high-quality hosting providers to update their servers and hardware more often, giving you access to the top speeds on the market.
Just as important as features, though, is the response you can expect from customer support when something goes wrong.
Customer Support Response
Your website may have problems even with the best services. Sometimes they'll happen because the staff is overtaxed, and sometimes they'll happen because of mistakes that you've made. Occasionally, they'll be the product of disasters neither side can prevent or control.
However, what is typically more consistent is the way that your provider responds to each problem. Even when it can't be solved quickly, getting information like ETAs as fast as possible will give you the power to at least pass some reassurance on to your clients.
High-quality hosting partners will see that you get the information you need as fast as possible. They'll respond when you have complaints, and they'll have the expertise to provide you with actionable advice to solve them. Many hosting providers will have live chat customer support available 24/7.
WPX is stellar at this, which is one of the many reasons I chose them to host my site.
By contrast, bad hosting providers may be impossible to reach when you're experiencing downtime. They may be unprepared to deal with complicated technical problems at all, meaning that you will be forced to spend your own time resolving them.
Depending on how valuable your time is to you, you could find yourself spending far more time and money managing the consequences of cheap web hosting providers than it would cost you to go with a more reliable partner.
---
Which SEO Hosting Provider Do We Recommend?
Now that you understand your options for each class of website, and why they matter so much, you should be able to select a hosting company that will give you the experience that you need.
I can assure you that the winners I've chosen are there because my own experience has shown me that they can be trusted. WPX is my favorite and the one I use for all the sites that I need to rank quickly in search engines.
Use coupon MATT90 to get 90% off your first month of hosting
Thanks for reading. Now, go out there and pick a web host that will be a great partner for years to come.
Our #1 Recommendation: WPX Hosting
Use coupon MATT90 to get 90% off your first month
[two_third_last]