When I was only starting out in the web hosting industry, I came across subpar hosting providers myself. It affected my website's uptime and performance.
Fortunately, there are fast web hosting companies that can enhance your website's performance, speed, and reliability.
As an expert in affiliate marketing and web hosting, I have prepared a comprehensive guide that examines the top options currently making waves in the industry.
Let's explore these providers and help you make an informed decision for a superior hosting experience.
Here's my list of the fastest web hosts for sheer speed:
Fastest managed WordPress hosting for marketers by a marketer.
Use coupon MATT90 to get 90% off your first month
Managed WordPress cloud hosting, WooCommerce and Enterprise hosting
Semi-managed cloud hosting with choice of infrastructures. Suitable for enterprise use.
1. WPX (

Editor's Choice

)
In my years in the industry, I had the opportunity to use WPX as my main hosting provider. I can vouch that the company wanted to create the fastest web hosting service specifically for SEOs and affiliate marketers.
WPX offers three different hosting tiers – 'Business', 'Professional', and 'Elite'.
Each of these plans is available with monthly pricing or annually if you want to save yourself around 20% on the monthly prices, and all three provide some of the fastest web hosting services available anywhere in the world.
WPX Hosting Features
Their $24.99 per month 'Business' plan offers the following:
Hosting for 5 sites
15GB of storage
200GB of bandwidth
Custom CDN (34 global locations)
Email
Staging
Free site migration
Malware scanning
24/7/365 customer support
The WPX Difference
Where WPX sets itself apart from the competition is that its WordPress hosting is designed for SEOs and affiliate marketers.
In our experience, their support team typically responds within 30 seconds.
WPX has experienced a few growing pains, but they seem to be sorting them out. I still consider WPX to be the best web hosting for WordPress.
Hosting type: Managed WordPress hosting
Load time: 5/5
Uptime: 99.99%
Support Score: 5/5
Pricing: 5/5
Disk Space: 200GB
Why Should You Choose WPX
They're one of the best affiliate hosting companies in this roundup for speed and top-notch support. Plus, I use them to host my sites, primarily due to the fact they offer some of the fastest WordPress hostings.
90% off the first month with coupon MATT90
---
2. Kinsta
Kinsta has been in the web hosting industry for a decade. Over the years, I've recommended the company to some of my clients who found it reliable and efficient. 
In the last few years, they've developed a positive reputation in affiliate marketing and SEO circles for being one of the fastest web hosting companies serving the market.
Kinsta hosting, however, is far from cheap – their entry-level plan starts at $30 per month for a single website on their 'Starter' plan.
But that becomes $100 per month for the Kinsta 'Business' hosting plan if you need to host 5 websites.
So, this isn't hosting for the blogger with no traffic and a limited budget.
Kinsta Features
$30 per month buys you the following:
Hosting for 1 WordPress website
Google Cloud hosting
Up to 25,000 unique visitors
Automatic daily backups
10GB of storage
Malware/hack removal
1 free site migration
Free SSL certificate
Free CDN
24/7 support
The Kinsta Difference
Kinsta is a WordPress-managed hosting service staffed by WordPress developers. That means you'll have access to a level of knowledge and expertise that is difficult to find with shared hosts or even some low-end managed providers.
What we found was the real perk when using Kinsta was that all accounts run on the Google Cloud platform. So, your site(s) will be served from 25 different international data centers, providing fast local page loading times.
Hosting type: Managed cloud
Load time: 5/5
Uptime: 99.99%
Support: 5/5
Pricing: 4/5
Disk space: 10GB
Kinsta hosting can become very expensive if your site(s) experience a high volume of traffic – figures of $3k per month are not unheard of.
Why Choose Kinsta
Kinsta is a common upgrade path for site owners who have outgrown hosting that is cheap, and need industry-leading performance and reliable hosting support.
---
3. Cloudways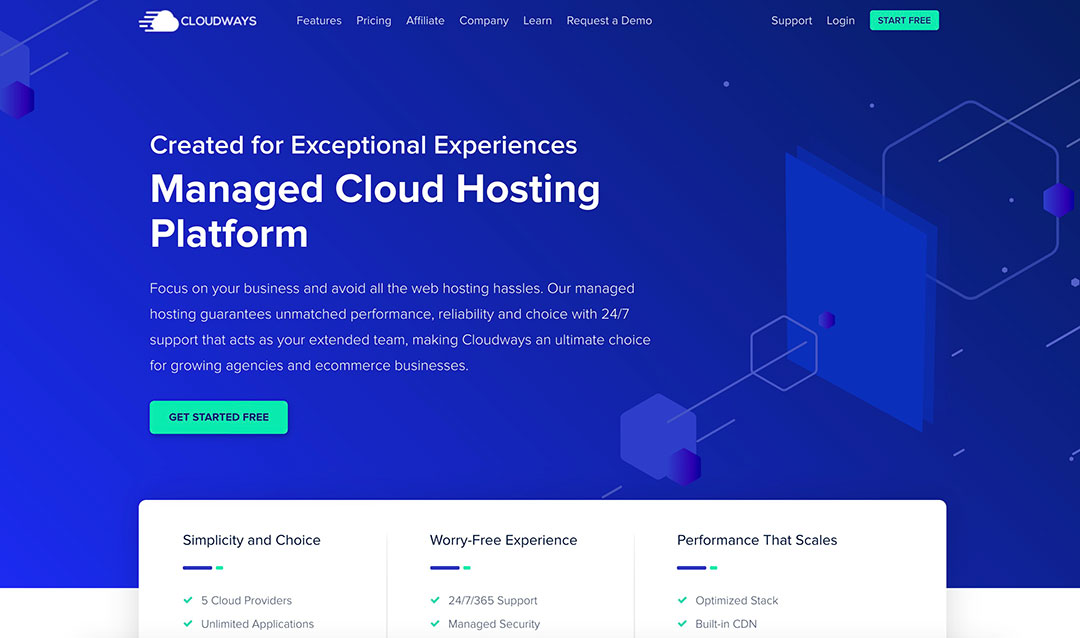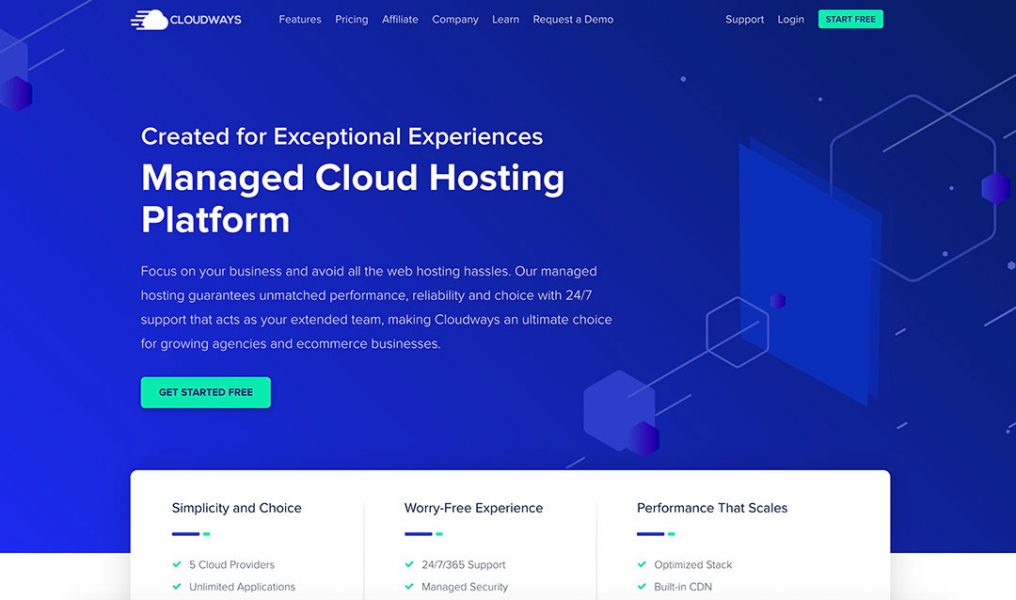 Upon using Cloudways on one of my primary websites, I was surprised that they do not offer the typical plans you may find on other providers.
With Cloudways, we got to tailor our hosting plan to our exact technical, performance, and budget requirements, including the type of cloud infrastructure we wanted to operate from.
So you can choose from 5 separate fast hosting platforms:
Digital Ocean
Vultr
Linode
Google Cloud
AWS (Amazon Web Services)
Cloudways provides you with an intuitive interface to access your server resources, and the rest is up to you.
Cloudways Features
We cover their Vultr High-Frequency plan to highlight what your money gets you:
Multiple WordPress installs (within reason)
1GB RAM
1 CPU core
32GB storage
1TB bandwidth
Free SSL
24/7/365 support
Automated backups
Server-side caching
Staging environment
The Cloudways Difference
Even their entry-level Vultr packages offer truly impressive load times compared to other web hosting companies.


The Vultr High-Frequency plan mentioned above costs $13 per month.
The downside is that you need to manage your server on your own. So, beginners might find the experience intimidating or maybe even impossible.
This isn't hosting for somebody who struggles to change their DNS.
Hosting type: Managed cloud
Load time: 5/5
Uptime: 99.9%
Support score: 5/5
Pricing: 5/5
Disk space: 10GB
Why Choose Cloudways
They provide you with an easy and entirely affordable way to host your site on the fastest infrastructures on the planet e.g. Amazon's AWS.
---
4. SiteGround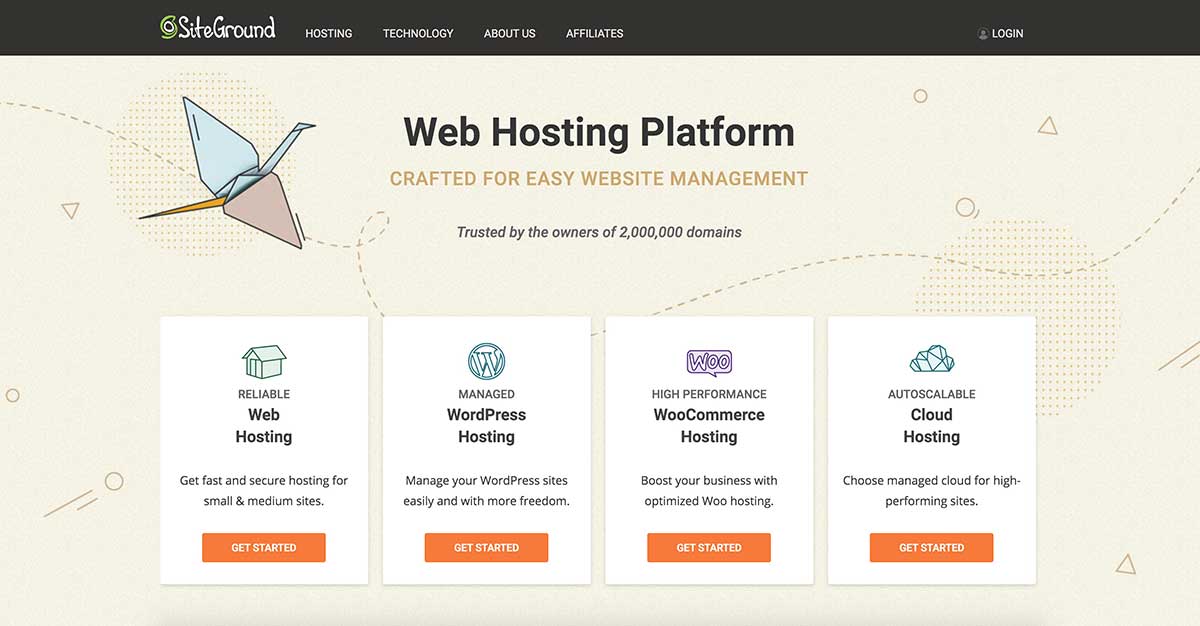 Over the years, I also recommended SiteGround to several of my clients since the company cater to a broad audience. 
They offer everything from best shared hosting to WordPress solutions and also high-end cloud hosting services.
SiteGround was built from the ground up for speed, so even their basic hosting plans are a lot faster than the other fastest web hosts.
SiteGround Features
Let's take a look at the bare minimum you can expect to get with a $3.99 per month 'Startup' hosting plan:
Hosting for 1 site
10GB drive space
10,000 unique visitors per month
Server-side caching
Free SSL
Free CDN
Email Hosting
Daily backups
Free site migration tool
The SiteGround Difference
While other web hosts charge as little as possible, SiteGround is more expensive than many of its competitors.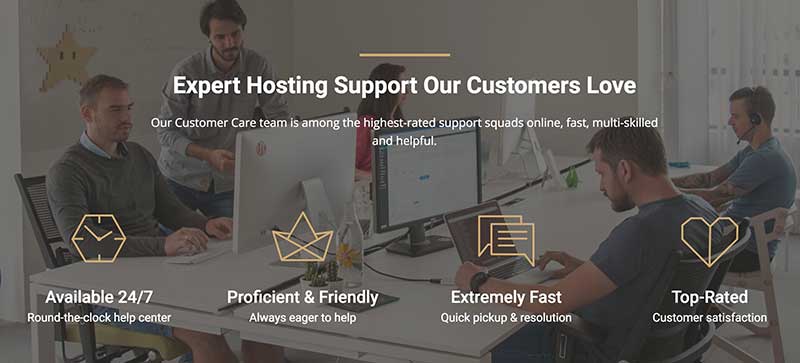 But that additional revenue not only guarantees you a better standard of service but also more speed thanks to their investment in SSD drive arrays and Google Cloud Hosting, for example.
During our trial with SiteGround, they have also created plugins and other tools specifically for us and those too helped increase our speed.
Hosting type: Managed and Cloud
Load time: 4.5
Uptime: 99.9%
Support score: 4.5
Pricing: 5/5
Disk space: 10GB
Why Choose SiteGround
You get server-side caching thanks to their in-house SuperCacher, SSD drives, and Google Cloud hosting for premium accounts.
---
5. WP Engine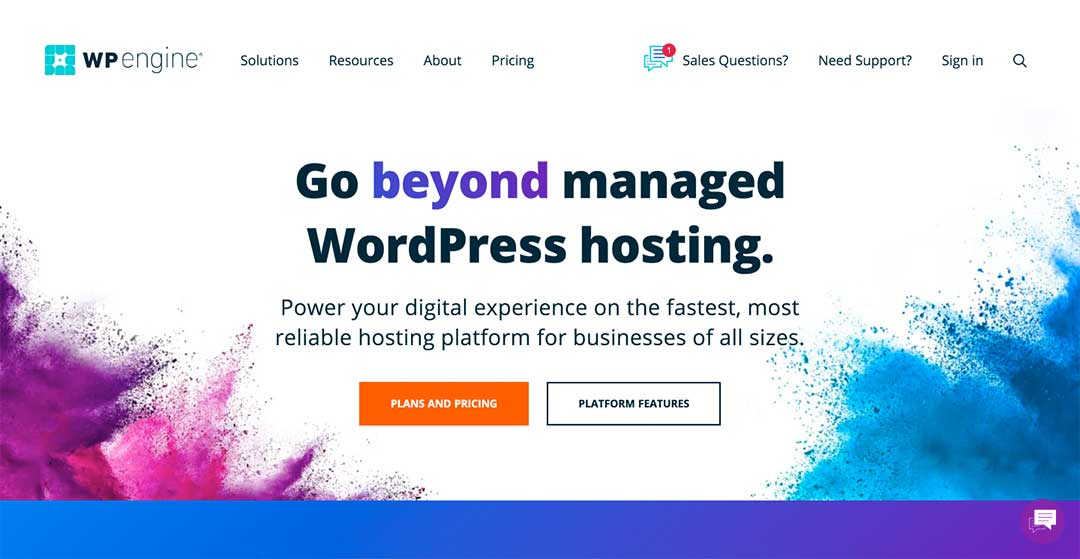 WP Engine is the driving force behind 1.2 million websites, including several international brand names. Our clients found the company reliable and rated it positively.
They've positioned themselves in the market as a premium hosting solution, but they did this before pretty much anyone else in the market.
Their servers are tailored specifically for WordPress publishers, so you get speeds that are simply not possible on a shared server.
WP Engine Features
Managed hosting isn't cheap but you do get what you pay for. Their managed hosting plans start at $30 a month for the following:
Hosting for 1 WordPress site
25,000 unique visitors per month
10GB drive space
50GB of bandwidth
Server-side caching
Cloud hosting
CDN
The latest version of PHP
24/7/365 support
The WP Engine Difference
Everything about this hosting provider is specifically geared towards making your WordPress-powered site load quickly and with as much uptime as possible.
This is a web host created and managed by WordPress developers, so you'll have access to world-class support – they've won several Stevie awards for their customer service, for example.
Hosting type: Managed WordPress
Load time: 4/5
Uptime: 99.99%
Support score: 4/5
Pricing: 4/5
Disk space: 10GB
Why Choose WP Engine
They're a solid choice for bloggers whose site now gets more traffic than a basic web host can deal with e.g. 25,000 unique per month.
---
6. A2 Hosting
A2 Hosting is a popular choice with bloggers who are tired of their slow-as-tar hosting provider and want a service that's a whole lot faster.
I also noticed that they also seem to stay slightly ahead of the curve in terms of their infrastructure e.g. they've offered SSD arrays in their 'Turbo Boost' packages for several years.
This is why A2 Hosting claims to offer "20x faster hosting to help you succeed". While that wasn't exactly the case in my experience, it was still holding up great.
A2 Hosting Features
We specifically feature A2's 'Turbo Boost' plan here because it's the only way to make a fair comparison to other providers.
So this is what you get for $5.99 per month.
Unlimited websites
Unlimited SSD storage
2GB memory
Server-side caching
20x faster than other hosts (claimed)
Free SSL
Malware protection
Free site migrations
24/7/365 support
The A2 Difference
The first thing that makes A2 Hosting a good choice for a fast host will probably sound counterintuitive – they're independently owned.
But that's important because their focus is on customer satisfaction i.e. they'll actively invest in the hosting gear they can afford.
Also, A2 cared about providing fast page load times long before Google made it a ranking factor.
Hosting type: Shared
Load time: 4.5/5
Uptime: 99.9%
Support score: 4.5/5
Pricing: 4/5
Disk space: Unlimited
The "…up to 20x faster" claim needs to be framed around an understanding that most of this is achieved with caching.
Why Choose A2 Web Hosting
They've been focused on delivering 20x faster page speeds longer than most of the other fast hosting providers in this roundup have been in business.
---
7. HostPapa
Being in the industry since 2006, I've had clients who can vouch for HostPapa's reliability and performance.
They serve an international customer base, offering everything from standard hosting to reseller hosting and VPS solutions.
HostPapa Features
We're going to look at the entry-level WordPress site hosting offered by HostPapa:
Hosting for two WordPress sites
Free domain name
100GB storage space
SSD drive
Unlimited bandwidth
Email Hosting
Free CDN
Free SSL
Optimized caching
The HostPapa Difference
Many web hosts are busy trying to corner either the premium or bargain-basement corners of the web hosting industry.
HostPapa sits happily in the mid-tier range of providers.
But I can say that we did get a lot for our money. You will get quick SSD storage, unlimited bandwidth, tons of storage space, and phone, email, and chat support.
For more information on the additional features, take a look at our detailed HostPapa review.
Hosting type: Shared
Load time: 4/5
Uptime: 99.9%
Support score: 4/5
Pricing: 5/5
Disk space: 100GB
Why Choose HostPapa
While they may not be the fastest web host on the planet, they do offer SSD-backed servers, lots of bundled extras, and affordable plans starting at just $3.95 per month (paid annually).
---
8. Bluehost
In my years in the web development industry, there are several positive Bluehost reviews from satisfied clients.
Although they're synonymous with the more cost-effective end of the web hosting market, they do also provide hosting with WordPress, including managed solutions.
Bluehost Features
Their managed plans come in three flavors: 'Build', 'Grow', and 'Scale', with their cheapest web hosting plan costing $9.99 per month:
Hosting for 1 website
20GB drive space
50,000 unique per month
Free CDN (200 data center locations)
Free SSL
Daily backups (not guaranteed so you should have your backup solution in place)
Malware detection
High-availability as standard
30-day money-back guarantee
The Bluehost Difference
There's a lot to like about this host if you're interested in site speed.
Like the CDN with 200+ servers, so your content is delivered pretty much anywhere in the world from a "local" Litespeed web server.
I really liked the SSD drive arrays, server-side caching, and the server's ability to automatically scale with increased traffic demand.
So you're getting all the perks you'd expect from a high-end managed host, but without having to pay a fortune each month.
Hosting type: Managed WordPress
Load time: 4.5/5
Uptime: 99.98%
Support score: 3/5
Pricing: 5/5
Disk space: 20GB
In my experience, Bluehost has excellen customer support.
This is reflected in their 'Support' score above.
Why Choose Bluehost
You should choose Bluehost because they offer an affordable path to fast-managed web hosting services for nonprofits and the sites that need to grow with their traffic.
---
9. GreenGeeks
GreenGeeks is an eco-friendly web hosting provider that guarantees reliability speed, and performance. I once tried out one of their plans and I'm still using their service up until today.
That's because they're an environmentally friendly web host – they'll match 300% of what it costs to run their hosting in purchased RECs (Renewable Energy Certificates) each year.
But they're no slouches when it comes to website speed, either.
Their servers are optimized for the WordPress CMS, they have built-in caching, and you can choose from servers located in the US, Canada, or Europe, making it one of the fastest web hosting providers around.
GreenGeeks Features
You'll also find that this hosting provider is affordable while still offering customers relatively high speeds, as long as you choose their 'Premium' plan.
Here's what you get:
Unlimited websites
Unlimited disk space
Built-in caching
Free CDN
Free Migration
Free SSL certificates
Free domain registration
24/7 support
300% green energy match
The GreenGeeks Difference
Having your site load quickly from one of the fastest web hosting companies is always a nice feeling, and with GreenGreeks you can do that with a clear environmental conscience too.

They also offer SSD drive storage, so your pages will load faster, layered caching for a further performance boost. I even got a free CDN as part of the deal.
So, combined with geo-specific server options, the above features make for a surprisingly speedy hosting platform.
Hosting type: Shared
Load time: 4.5/5
Uptime: 99.9%
Support score: 4/5
Pricing: 5/5
Disk space: Unlimited
Why Choose GreenGeeks
They're a viable option for environmentally-minded web publishers who want and need performance but without a huge carbon footprint. For a more in-depth analysis you can check our GreenGeeks review.
---
How We Picked the Fastest Web Hosting Providers for Your Website
We picked the fastest web hosting providers for your website by research and analysis of its most important features.
1. Load Time
To determine the load time of each hosting service, we navigated through their respective websites as well as consulted with client reviews to come up with the most accurate figures.
Majority of the web hosting providers had an average load time of under two seconds, while the other hosting services performed at three to five seconds.
2. Uptime
The ideal uptime rate is between 99.5% to 99.9%, and based on client feedback, the uptime scores of the hosting providers we reviewed generally showed positive ratings.
All the companies garnered a 99.9% uptime score.
3. Customer Support
Most of the web hosting providers feature excellent customer support as reflected by client feedback. 
When we contacted each provider, the best response times were less than 2 minutes, while the other providers took at least 30 minutes to reply. Customer support was provided through live chat, ticket system and phone call. 
4. Disk Space
Inasmuch as the disk space, which determines storage capacity, varies for each web hosts, our research determined that only a select few featured high capacity.
Through our research, we learned that the average disk space offered by most providers is 10GB, which is adequate for personal blogs and small business websites. 
Other hosting services featured 100GB and unlimited storage. 
What to Look for When Choosing a Fast Web Hosting Provider
When choosing a fast web hosting provider, you should consider the following:
1. Server Location 
Some web hosting providers have limited server location. If your business caters to clients from a particular area, then get a host that has a server within that specific place.
2. Content Delivery Network (CDN)
A single centralized network cannot cater to clients on a global scale. A CDN will allow your website to cater to customers from any location, as such, it speeds up delivery and improve site performance.
3. Bandwidth
Use a web hosting service that offers a plan with a higher bandwidth, since they both affect website speed and performance. The higher the bandwidth, the quicker your site can load.
Why Does Web Hosting Speed Matter?
Web hosting speed matters because it is an important ranking factor. It generally influences bounce rates and conversion rates.
Although expensive, it is advisable to use web hosting services that deliver quality work. However, there are cheap web hosting services that could also address your business concerns.
Google, however, told the entire world how they feel about slow pages – especially on mobile devices – with the Core Web Vitals update [1]:
The difference between 'Poor' and 'Needs Improvement' in the above screenshot is .1 seconds.
So, if your pages don't load in less than precisely 2.5 seconds, you'll attract unwanted attention from Google.
Using fast hosting is no longer optional – it's mandatory if you want to compete in the SERPs.
Other Factors That Affect Speed
So far, we've looked at how your web host can impact the load speed of your pages. But a sluggish server isn't the only potential cause for > 3-second load times.
1. Site Optimization
Even the fastest hosting in the world is going to struggle if your site is littered with multi-megabyte images, dozens of outdated plugins, unused and outdated themes, page builder bloat, etc.
If you're new to this stuff, make sure to check out our guide to site speed optimization.
2. Distance From Server
Suppose your audience is predominantly UK-based, and your server is located in Vancouver, Canada. In that case, your visitors are going to experience slower load times than they would if your site was hosted on a server in London.
You could use a CDN such as Cloudflare to ensure that your site loads quickly in pretty much any country you might have an audience [2].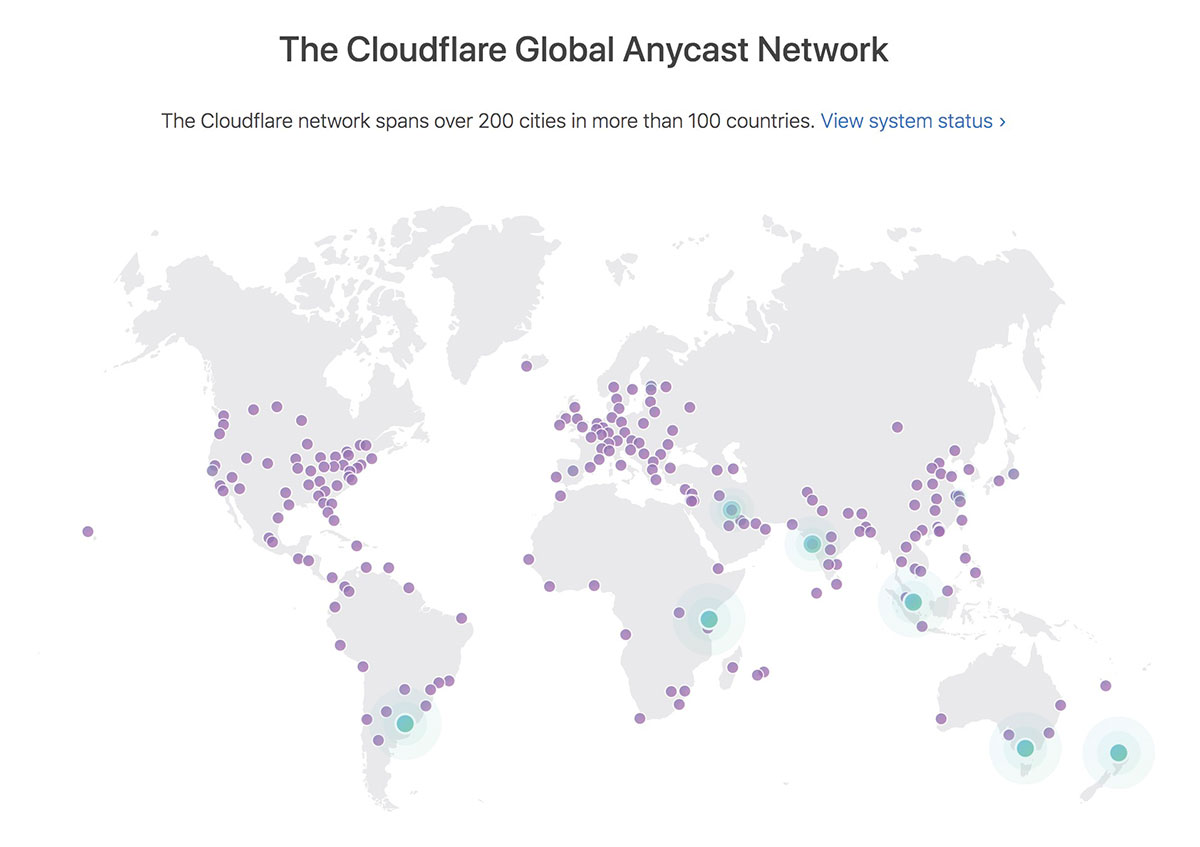 3. Visitor's Connection Speed
A WordPress site hosted on the Google Cloud platform will load 10x slower on a 3G connection than it would on a 4G-enabled device. That makes local connectivity a factor, too.
You can, however, reduce the impact of user connectivity speeds by migrating your site to faster hosting while also optimizing your site to load faster on mobile devices.
Or basically, follow Core Web Vitals guidelines.
FAQs
How Fast Should a Server Be?
A server should have an average response time of less than 200ms. If you are above this rate, then you'll experience a loss in website traffic and revenue.
How to Increase Server Speed?
To increase server speed, enable website caching. A cache stores data on the hosting server and provides users with this information to load future requests quicker. 
Does Website Speed Depend on Hosting?
Website speed does not only depend on hosting but on several factors such as server location, CDN and page weight.
Our Verdict on Fastest Web Hosting
From what I learned from experience, the quality of hosting used by a small business or affiliate does matter.
The good news is that you can get a reliable hosting service these days for not a lot of money.
The providers I mentioned in our round-up are fast, affordable, and great choices for an affiliate site.
But when it comes down to actually running affiliate sites, WPX is our host of choice every time, since it is currently considered as the fastest web hosting provider. 
The company has three data centers worldwide, more than 37 XDN points globally, ultra-fast servers and offers free speed optimizations. 
Our #1 Recommendation: WPX Hosting
15 GB of Storage
200 GB of Bandwidth
Custom CDN (34 global locations)
Staging area creation.
Unlimited site migrations to WPX.
Malware scanning
Free SSL certificates
24/7/365 customer support
Use coupon MATT90 to get 90% off your first month