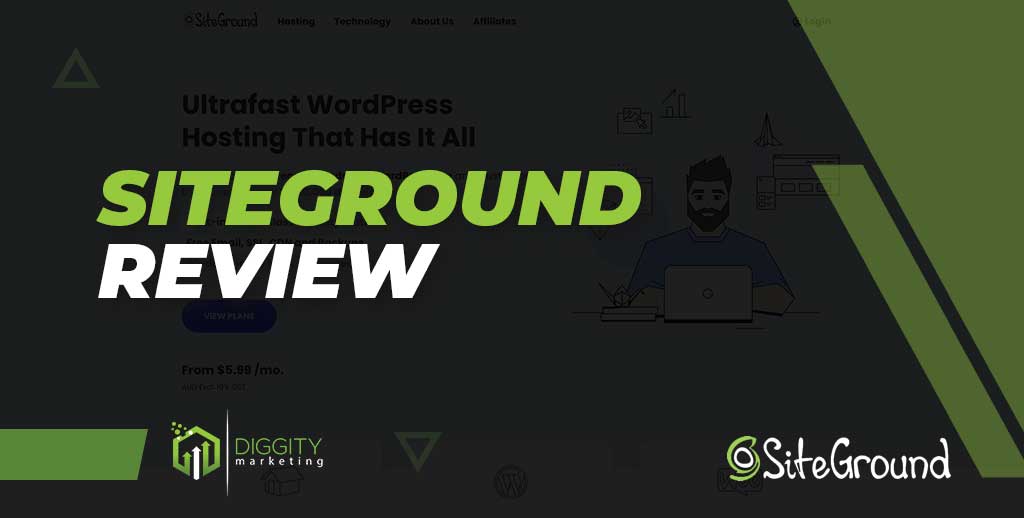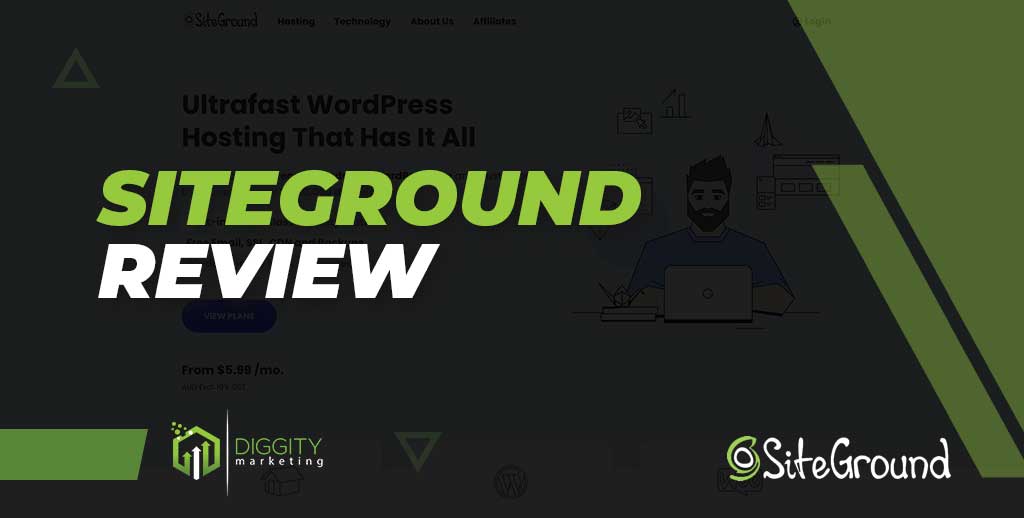 WordPress.org officially endorses SiteGround as a premier provider of WordPress hosting services, an endorsement that has aided in its gradual market penetration, challenging the dominance of low-cost, lesser-quality hosting behemoths.
This market trajectory is underpinned by SiteGround's unwavering commitment to technological excellence and a customer support team that garners enthusiastic praise from clients.
As seasoned professionals in this domain, we felt compelled to experience SiteGround's services directly. In this detailed, data-focused review, we'll delve into SiteGround's hosting plans, aiming to discern whether they constitute the optimal web hosting solution for your website in 2023.
SiteGround: A Quick Overview
SiteGround was founded in Bulgaria around eighteen years ago, and it wasn't long before this web host started making waves in the web hosting space.
Not only does SiteGround host over 2 million websites, but it also operates with over 500 full-time team members.
It stands apart from other web host due to its commitment to delivering quality at every level.
---
Our Review
Speed

Excellent speed when tested from multiple locations around the world.
Not the fastest global hosting company in our tests but it's close enough and still worth considering.

Uptime
Excellent!

100% average in 2022
99.99% average 2017 to 2021

Customer Support
Excellent!

4.9 / 5 from 10,920 reviews on Shopper Approved
4.7 / 5 from 10,483 reviews on Trustpilot

24/7 Live Chat, Ticketing & Knowledge Base available

Features

Uses Google Cloud Platform (GCP) to deliver state-of-the-art cloud services
Excellent customer support team
Decent storage with 10GB – 40GB available on shared plans
No limits on monthly visitors
Free SSL certificates on all plans
Beginner friendly with a range of 1-click install features
Free CDN built by SiteGround
Enhanced security built by SiteGround's in-house team
Free, daily automated backups on all plans
Plus more!

Hosting Plans Available
Shared, Managed WordPress, Managed WooCommerce, Reseller
Best Suited To
Shared & Managed Hosting: Small businesses, DIY website creators, beginners

Cloud: Large websites, anyone who needs dedicated resources, high-performance websites

Pricing
Starts at $2.99/month for shared hosting. Renews at $14.99/mo
Before we share more details on SiteGround's plans, let's dive into its pros and cons so you can decide if its pros give you what you need and that its cons aren't going to be deal-breakers.
SiteGround Pros
Excellent security + backups
Uses Google's C2 Cloud Platform
24/7 outstanding customer support
Beginner-friendly custom dashboard
Amazing uptime
Decent global speed performance
Officially recommended by WordPress
Free SSL certificates
SiteGround Cons
Expensive renewals
No free domain or other business services
No VPS hosting or dedicated servers
Limited storage on shared plans
No "in-between" hosting packages
---
1. Excellent Security + Backups
Every web host has some version of "we provide the best security" on their website, in one form or another.
And it can be quite difficult to go beyond the sales pitch and to know who's just talking the talk and who can actually walk the walk.
We dug deep into our research here and are pleased to report that SiteGround definitely puts its money where its mouth is.
Not only do they have an in-house team of dedicated server security experts, but they also invest quite heavily in their infrastructure.
SiteGround is one of the few companies that go above and beyond where security is concerned.
It's not just about ticking the compliance boxes for them. They take security very seriously and have their team crafting custom solutions around the clock to ensure their customers are well looked after.
We'll dive deep into all their security features later in this article, so stay tuned for those.
2. SiteGround Uses Google's Cloud Platform
SiteGorund leverages Google's C2 Cloud server technology to deliver scalable managed cloud hosting for growing businesses of all sizes.
The prime advantage of using Google Cloud is that it guarantees premium availability and reliability and is simply one of the fastest networks out there.
It is, however, more expensive than shared hosting, but the benefits delivered by this type of hosting are indeed superior.
SiteGround also allows you to configure your own cloud, offering up to 33 CPU cores, 130GB of memory, and 1TB of SSD storage.
All in all, by leveraging Google's infrastructure, SiteGround is able to deliver state-of-the-art services to its clients.
Since SiteGround also manages the technical setup and infrastructure, it's a nice bonus for beginners or time-poor business owners who want to leverage the benefits of reputable cloud hosting without the headache of needing to configure and maintain their own servers.
3. 24/7 Outstanding Customer Support
When it comes to web hosting, poor customer support is a deal breaker for us. A hosting service must provide decent customer support in order to be worth it (in our opinion).
It's a sad reality that with the onset of mass market industry heavy-weights, poor quality services and terrible service have become the norm and are almost expected in the hosting industry.
Thankfully, SiteGround remains dedicated to providing excellent customer support and we rate their priority support team quite high compared to the hundreds of hosts we've put to the test over the last year.
4. Beginner-Friendly Custom Dashboard
If you are currently using a different web host, it may be likely that they use a traditional cPanel dashboard. However, SiteGround does not.
Instead, it has developed its own custom dashboard that is much more intuitive and easy to use than cPanel.
With this custom dashboard, SiteGround solves a few key problems that many experiences with their hosting accounts with other providers:
Simplified dashboard instead of a cluttered confusing view
Intuitive navigation to easily find the tools you need
No upsells or aggressive promotional offers
Range of easy 1-click install options suitable for beginners and pros alike!
5. Amazing Uptime
Just wait until you check out SiteGround's uptime performance later in this article! We're willing to bet you'll think it's amazing just as much as we do.
For instance, SiteGround averaged 100% uptime in 2022, most hosts don't even begin to come close!
6. Decent Global Speed Performance
In addition to great uptime, SiteGround also gets decent speed performance from many locations around the world. This is in large part thanks to its "blazing-fast" in-house CDN.
SiteGround also has servers in multiple locations around the world so you can easily find a server location closest to your target audience.
It also invests in its server-side caching technology and also provides a performance optimization plugin for WordPress users to get even better website performance.
7. Officially Recommended by WordPress
There's a lot to love about SiteGround's services so it's no surprise the company has earned an official endorsement from WordPress.org itself.
It is one of three web hosts to be officially recommended by WordPress, the world's most popular platform for building websites. We also did a SiteGround and WP Engine comparison which you can check for additional features analysis.
8. Free SSL Certificates
SiteGround was one of the first hosting providers to integrate Lets Encrypt (a provider of free SSL certificates).
But, in true SiteGround fashion, they didn't just stop there.
The company also went a step further and integrated automatic issuing and renewals of SSL certificates within its platform.
With its 1-click SSL installation option, SiteGround has made it incredibly easy for everyone, even beginners without a technical bone in their body, to secure their websites.
With such incredible pros, you might be wondering "Well, what's not to love about SiteGround".
Truth be told while it is an amazing web host, there are a few downsides too. So it's just a matter of whether any of these are an absolute deal breaker for you or not.
9. Expensive Renewals
SiteGround offers up to 80% discount on its shared hosting services. While that means you can enjoy hosting from as little as $2.99 per month, you'll be paying five times as much when it's time for renewal.
There are far cheaper hosting providers out there who also offer discounted rates for longer than SiteGround does.
However, this comes with a giant caveat because very few cheap hosting providers actually offer as much value as SiteGround.
Take a look for yourself in these head-to-head comparisons we've written comparing SiteGround with two of the cheapest web hosts in the market: Bluehost and Hostgator:
10. No Free Domain Name or Other Business Services
Another downfall of SiteGround is that it doesn't offer a great range of different services for businesses to manage all their website-related needs.
For instance, it does not include a free domain name with your hosting, nor does it offer separate email hosting or any marketing add-ons.
SiteGround very much stays within its lane and focuses all its resources and efforts on providing the best hosting service that it can instead of spreading itself too thin.
While you can purchase and transfer domains to SiteGround, their domain prices are also quite high (much higher than the industry average).
It's quite clear that their focus remains on offering hosting services and the extension of domain and email services is simply an avenue to support their existing hosting clients despite these services not being that competitive in the global market.
So if you're looking for an all in one web host, perhaps companies like GoDaddy or Namecheap are more suitable options for you to consider.
11. No VPS Hosting or Dedicated Servers
Likewise, if you're after VPS or dedicated hosting specifically, SiteGround cannot deliver as it simply does not offer these services.
While we recommend you check out its cloud services instead, which offer comparable benefits to dedicated and VPS hosting services provided by other companies, we get it if it's just not your jam.
In our book, we consider SiteGround's cloud services superior to most VPS and dedicated hosting solutions on the market at the moment.
With either VPS or dedicated hosting, your website is stored on a single server and if anything were to happen to that server, chances are that your website would go down with the server.
However, cloud services distribute files across a global network of servers so that you can experience greater safety, security and unparalleled uptime.
SiteGround also lets you configure your own cloud server resources.
So for many people, the fact that SiteGround doesn't have VPS or dedicated hosting won't be a big deal if its cloud services still provide the resources you're after.
But if you're looking for unmanaged services so you can be in total control of your server setup, that's where SiteGround is not the best choice for you.
While SiteGround allows you to host unlimited sites on most of its shared and WordPress hosting pans, it offers very little storage for you to do so.
For instance, the three pricing tiers give you 10GB, 20GB and 40GB of storage respectively.
When compared to companies like Hostinger that give you from 50GB of SSD storage on the lowest tier, some might find SiteGround's limited storage a little restrictive.
13. No "In-Between" Hosting Options
The final con we'd like to bring your attention to is that there's no 'in-between' hosting plan.
For instance, if you decide the shared hosting plans don't have enough storage but you don't want to scale up to SiteGround's cloud hosting which starts at $100/month, there simply aren't any other options you can consider that are in between.
That's perhaps the gap that most VPS and dedicated server plans fill for other hosting companies, they provide those 'in-between' options in both price and resources available.
With SiteGround, it's a pretty steep jump from the largest shared hosting plan costing up to $39.99/mo (full renewal prices) and offering 40GB storage and the next tier up being the $100/mo cloud storage option starting at 40GB per month.
We get that most people aren't in a position to pay at least 2.5x as much just to access more storage.
If this is a deal-breaker for you, perhaps you can check out our article on the best unlimited web hosting providers for a list of companies that provide great value and unlimited storage for more affordable prices instead.
---
SiteGround Hosting Plans
If you've decided that SiteGround sounds like a decent company for your needs, here are the details on each of their services.
SiteGround offers promotional pricing on all its shared plans however, you will need to pay one year of hosting upfront to secure the cheapest rates.
Unlike other web hosts that offer up to 3 year terms for the cheapest rates, after the year is up, you will need to pay the renewal pricing which can be as much as 5 times the cost of the promo prices.
| | | | |
| --- | --- | --- | --- |
| Web Hosting Plan | Promotional Pricing | Renewal Pricing | Features Included |
| StartUp | $2.99/month | $14.99/month | 1 website, 10GB storage & unmetered traffic. |
| GrowBig | $4.99/month | $24.99/month | Unlimited sites, 20GB storage & unmetered traffic. |
| GoGeek | $7.99/month | $39.99/month | Unlimited sites, 40GB storage & unmetered traffic. |
In saying this, SiteGround packs its shared plans with a tonne of features many other cheap web hosts don't include.
For instance, you often have to pay for extras like security, backups and SSLs.
With SiteGround, you get all of that, and more, included in the plan.
2. WordPress Hosting
SiteGround offers two types of WordPress hosting services:
Managed WordPress hosting
Managed WooCommerce hosting for WP eCommerce stores
In both cases, the prices and package inclusions match the shared plans with additional WordPress specific features included.
This is great value if you run a WordPress site as you essentially get a stack of extra features for free.
These include:
Free site transfer
WordPress automatically installed
Free WordPress Starter tool
A range of popular plugins included in your dashboard
1-click WordPress installs
Managed WP security and updates
Optimized WordPress hosting performance
WooCommerce pre-installed (on the WooCommerce plans)
3. Cloud Hosting
There are four cloud hosting options to choose from which really raise the bar compared to SiteGround's shared plans.
| | | |
| --- | --- | --- |
| Web Hosting Plan | Pricing | Features Included |
| Jump Start | $100/month | 4 CPU cores, 8GB memory, 40GB SSD storage & 5TB data transfer. |
| Business | $200/month | 8 CPU cores, 12GB memory, 80GB SSD storage & 5TB data transfer. |
| Business Plus | $300/month | 12 CPU cores, 16GB memory, 120GB SSD storage & 5TB data transfer. |
| Super Power | $400/month | 16 CPU cores, 20GB memory, 160GB SSD storage & 5TB data transfer. |
You can also configure your own Custom Cloud setup which offers the following:
CPU Cores: 4 to 33
Memory: 8GB to 130 GB
SSD Space: 40GB to 1TB
All of SiteGround's cloud hosting plans run on Google's scalable and reputable C2 cloud technology.
However, if you're seeking a solution that lets you manage your own sever setup, that's not available with SiteGround, It is a fully-managed cloud hosting solution with a moderate degree of flexibility when you customize your resources.
SiteGround's cloud services are great for anyone who wants next level hosting without the headaches that come with setting up and maintaining your own servers.
4. Reseller Hosting
The final service SiteGround offers is reseller web hosting which also replicates the shared hosting plans.
However, the most notable difference is that you can manage unlimited sites on all plans.
| | | | |
| --- | --- | --- | --- |
| Web Hosting Plan | Promotional Pricing | Renewal Pricing | Features Included |
| GrowBig | $4.99/month | $24.99/month | Unlimited websites, 20 GB storage & unmetered traffic. |
| GoGeek | $7.99/month | $39.99/month | Unlimited websites, 40 GB storage & unmetered traffic. |
| Cloud | N/A | From $100/month | Unlimited websites, 40+ GB storage & unmetered traffic. |
You can also register your clients as users in your account and give them white-label (they can use their own branding) access to the websites (and the associated site tools) you build for them.
This means that you can customize SiteGround's dashboard to show only your logo.
They won't see SiteGround's branding anywhere so you can provide a truly white-labeled web hosting service.
SiteGround's reseller hosting plans are best suited to agencies and freelancers that sell web design or web-related marketing services.
---
Features
1. Disk Space
In general, SiteGround offers limited disk space on both it's shared and WordPress web hosting services with the most storage you can access being 40GB.
Compared to other companies that offer 50GB on their smallest tiers for only $1.99/month, SiteGround sure seems to be overcharging for what it delivers.
However, as we've mentioned earlier in this article, you can't base the value of SiteGround's plans on the amount of storage offered alone.
It's plans are simply not storage-optimized but they offer a range of other features that are arguably more important and often billed as extra upsells by cheap web hosts.
If you do want storage-optimized hosting through SiteGround, we recommend customizing your own cloud setup as you can choose anywhere between 40GB and 1TB of SSD storage!
2. Backups
SiteGround includes daily, automated backups on all its plans, including its cloud hosting.
It's one of the best backup policies we've seen paired with a server infrastructure that makes it a generous offer to include in all out-of-the-box web hosting plans.
For instance, on SiteGround's shared hosting plans, you will get automatic daily backups with up to 30 copies of your website kept in your account.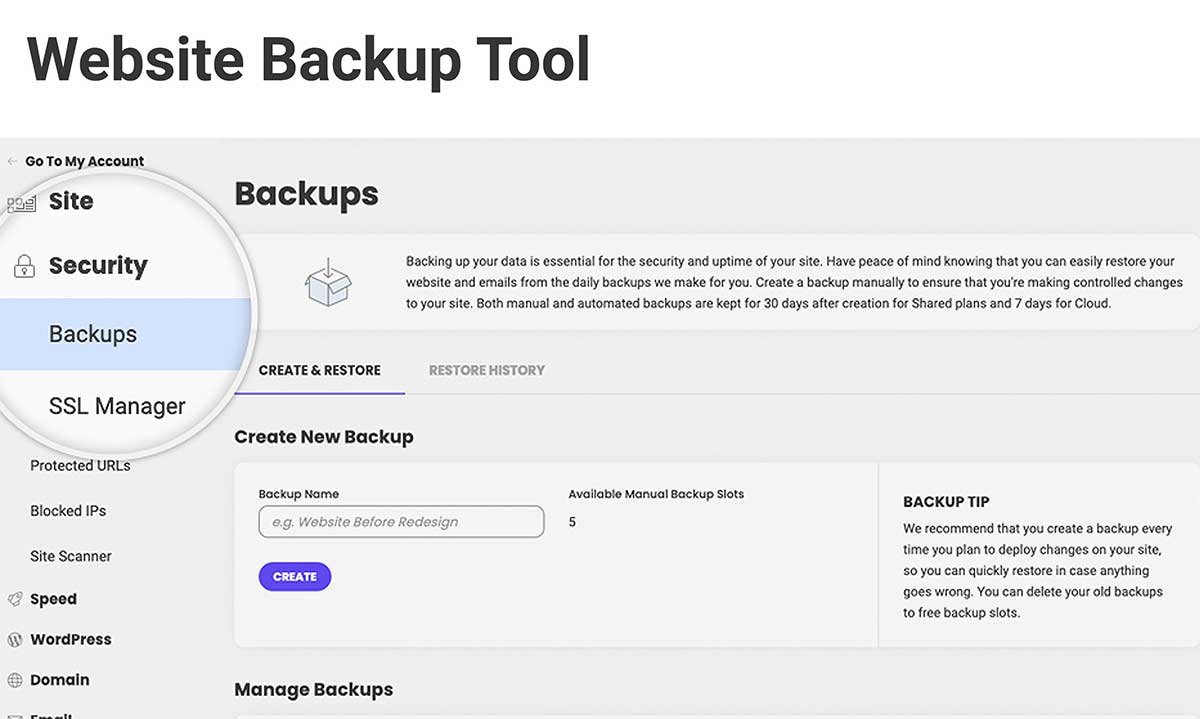 You also do not need to pay to access or reinstate any of these backups.
There's a very easy and simple backup restore function that lets you reinstate any of the stored backups to help resolve many common website issues quickly and easily.
SiteGround also adds an additional layer of security by storing your backups in different data centers around the world.
This is known as "distributed backups" and offers you the peace of mind that in case of any kind of disaster affecting the main server, SiteGround's system can restore large amounts of data quickly to keep your website up and running no matter what.
Many other hosting providers charge an additional amount to take backups in the first place and they also charge you for the privilege of being able to then access and restore these backups!
By comparison, SiteGround is very generous with its backup policy and it's good to know they'll always have your back in case of any kind of disaster affecting your main servers.
3. Security
In addition to providing excellent backup features, SiteGround also offers fantastic security features too.
In fact, we're so impressed by their commitment and steadfast dedication to providing top-tier security that we crowned SiteGround as one of the best web hosting companies in 2023.
Here are SiteGround's security features in a nutshell:
| | |
| --- | --- |
| Security Features | SiteGround |
| Free SSL Certificate | Yes (Let's Encrypt, pre-installed) |
| Hotlink Protection | Yes |
| Spam Protection | Yes |
| Auto Backups | Yes (Daily) |
| Web Application Firewall | Yes (with Smart WAF) |
| DDoS Protection | Yes |
| Brute Force Protection | Yes |
| Bot Blocking | Yes (with AI Anti-Bot) |
| Malware Protection | Yes |
| 24/7 Server Monitoring | Yes |
| WP Security Plugin | Yes (Free) |
It's clear SiteGround takes security very seriously and have their team crafting custom solutions around the clock to ensure their customers are well looked after.
For anyone who wants extra security included, SiteGround also offers an additional paid (and optional) tool called SiteScanner which runs scans to detect malware and common security threats. It is similar to WordFence or iThemes Security.
We have always considered security as one of our top priorities as a web hosting provider. We go above and beyond when it comes to securing the server and each and every one of our customer's accounts.

-SiteGround Customer Support
SiteGround also has multiple custom-made security patches on all servers in addition to implementing virtual account isolation.
Isolating accounts is crucial as it separates your sites from all the others that share the same server as you.
It's the safest type of shared hosting and not all hosting companies include this security measure.
SiteGround's specialists also monitor web applications and take a proactive approach to patching up any known vulnerabilities.
They're consistently among one of the first web hosting providers to apply security measures to all their servers to prevent any of these vulnerabilities from affecting their clients.
4. Servers & Locations
For anyone targeting audiences in a specific location, it's worth looking at where your website's servers are located.
SiteGround's data center locations.
If your audience is primarily based in the US, there's generally no issue for you as most web hosts have at least one data center in the US. Paired with a CDN, you can still easily distribute your content all over the world.
If your audience is not primarily based in the US, however, you need a more flexible approach and SiteGroud offers exactly that with the 7 locations of their data centers around the world.
They currently have servers located in:
Iowa, USA
London, UK
Eemshaven, Netherlands
Frankfurt, DE
Sydney, AU
Singapore, Singapore
Madrid, Spain
In addition, they offer 7 CDN locations between the US, South America, Europe and Japan.
SiteGround has also chosen its current server locations after a long process of careful investigation.
They are very deliberate in choosing the data centers they work with.
As such their data centers are all green (carbon-neutral) and feature multi-layered security to prevent unauthorized access to your data.
---
Performance 
To put SiteGround's data centers and web hosting features to the test, we ran multiple experiments testing over 16 different features.
Below we share the results for the two critical aspects of performance every company must perform well in to be considered a decent web host these days: speed and uptime.
Let's dig into the juicy data!
Speed
With website speed being among the most critical factors for user experience, it's no surprise Google has also made it an official ranking factor.
So we put SiteGround to the test to see if they put their money where their mouth is.
SiteGround
GT Metrix Performance
GT Metrix TTFB
Vancouver
93%
108ms
London
72%
936ms
Sydney
72%
269ms
SiteGround
Pingdom Performance
Pingdom Load Time
San Francisco
96
508ms
Frankfurt
96
726ms
Tokyo
96
792ms
London
95
1.79s
Washington DC
86
720ms
Sydney
96
1.21s
Our tests with both GT Metrix and Pingdom showed some minor performance drops from London servers.
To be fair, though, we didn't set up the test website on SiteGround's London servers so you're likely to be able to get great performance in the UK if you opt for the local servers instead of US-based ones.
Otherwise, these scores from different locations around the world are far better than most of SiteGround's competitors.
Not gonna lie though; there are some global hosting companies that have way better performance around the world (even better than local providers with servers on the ground).
In particular, FastComet is at the top of our list as it has been at the top of our list for the best web hosting in Nigeria, Australia, South Africa, and even Nepal.
Uptime
As far as uptime goes, SiteGround has gone from strength to strength with 2022 offering a record uptime average of 100%. Very few companies in our tests have reached this level of server reliability!
Here's the historical data and we've compared it to FastComet to follow on from the above point.
| | | | | | |
| --- | --- | --- | --- | --- | --- |
| | 2018 Uptime | 2019 Uptime | 2020 Uptime | 2021 Uptime | 2022 Uptime |
| SiteGround | 99.99% | 99.99% | 99.99% | 99.99% | 100% |
| FastComet | ​​99.98% | 99.96% | 99.97% | 99.94% | 99.87% |
All in all, even though SiteGround may not have the definitive best loading speed around the world, we don't consider that a deal breaker as there are many things you can do to optimize your website's speed performance and eke out better results no matter your host.
What we do consider a deal breaker, however, is poor uptime.
That's why SiteGround is one of the best web hosting providers we recommend because they excel where most others fail.
It truly is an accomplishment to have such a solid uptime record and for so many consecutive years in a row.
---
SiteGround Pricing
On the whole, SiteGround's pricing can be considered on the expensive side.
We've already mentioned how the renewal prices for it's shared hosting can be as much as five times the cost of the promotional prices.
However, the cloud hosting costs are also rather expensive when compared to other companies in the industry.
For example, we have reviewed over 360 cloud hosting plans available on the current market.
The average specs of these plans are listed below, side by side with SiteGround's.
SiteGround Custom Cloud
Industry Average
Storage
660 GB
659 GB
Memory
45 GB
45 GB RAM
CPUs
10 CPU cores
10 CPU cores
Price
$840/month
$364/month (promotional)

$367/month (renewal)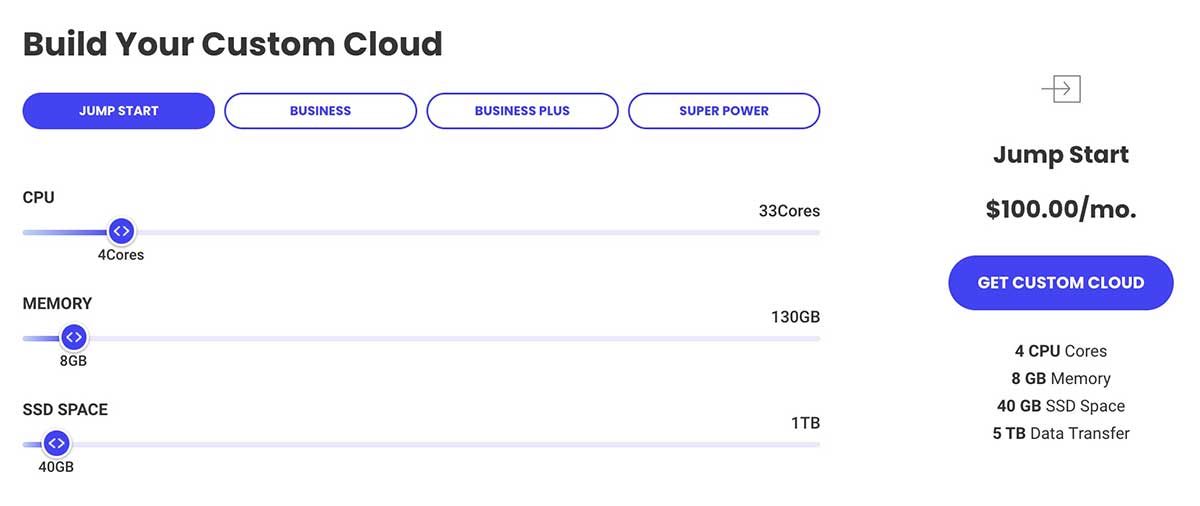 SiteGround effectively costs more than double the industry average to deliver the same resources.
---
Support
As far as SiteGround's customer support goes, they're up there among the top from all companies we've tested.
But don't just take our word for it, check out what SiteGround's customers have to say:
With over 92% of customers who have left a review rating SiteGround as "excellent" on TrustPilot, that's not something many other hosting companies can compete with.
In fact, the web hosting industry is plagued by low-cost, low-quality companies that often leave their customer's hanging during critical times.
Poor customer support is a major deal-breaker for us, so it is pleasing to see companies like SiteGround that remain dedicated to delivering quality at every turn, both with priority support and regular customer support.
All of SiteGround's customers get:
24/7 round-the-clock customer support
Help center
Fast responses and resolution of issues
Expert customer support agents
Thorough, beginner-friendly knowledge base
If you opt in for the GoGeek plan, you also get priority support.
This means that any of your customer support requests that come through via the live chat or ticketing function are assigned as high priority and passed to the most experienced customer support agents available at the time of your query.
That's how SiteGround is able to maintain exceptional customer support quality and resolves many issues very quickly.
---
Frequently Asked Questions (FAQS)
Is SiteGround a Good Hosting Company?
SiteGround is one of the best web hosting companies on the market right now. It takes a security-first approach and also provides web hosting services with some of the best performance we've seen.
That's why we've also named SiteGround as a finalist in our list of this year's best hosting companies.
Who Is SiteGround Best Suited To?
SiteGround is well suited to just about any website project.
If you have a single website or even multiple small websites that don't need a great deal of resources, SiteGround's shared and WordPress hosting plans are ideal for your needs.
However if you run an agency or high performance website that needs next level security and resources, you could also consider SiteGround's cloud services which run on the Google Cloud Platform.
In either case, SiteGround's services are a decent all-rounder and well suited to seasoned pros and beginners alike.
Is SiteGround Good for SEO?
SiteGround's services are great for SEO when you consider the decent performance SiteGround delivers paired with it's dedication to improving it's server-side performance.
SiteGround also offers a plugin that WordPress users can use to further improve the performance of their websites.
However, unlike other hosting companies, there are no in-built SEO tools within SiteGround.
This is not a problem in and of itself as we consider it more important for a hosting company to deliver excellent performance that to have in built SEO tools for things that a free plugin like Yoast or RankMath can also help you accomplish.
Is SiteGround Good for WordPress?
Yes, SiteGround is good for WordPress. It is certainly a major player in the WordPress community (they are even recommended by WordPress itself), and their reasonable price-quality ratio even earns them a spot in our inexpensive managed WordPress hosting guide.
Is SiteGround Better than Bluehost?
SiteGround is the better choice than Bluehost due to its superior performance (uptime and speed), helpful customer service, sophisticated (free) backup solutions, price transparency, and availability of data centers (servers) across the United States, Europe, Australia, and Asia.
If you don't require a 3rd party supplier for the things Bluehost is lacking, their shared plans might be (slightly) cheaper and provide greater storage space (e.g. advanced backups).
Do I Get a CDN With SiteGround?
Yes, you get a CDN with Siteground at no extra cost. Ten gigabytes of data transfer capacity are immediately available after activation. If you need more, you may either upgrade to Premium ($14.99 per month) or replace it with Cloudflare.
You can connect Cloudflare with only a few clicks using SiteGround's Site Tools (included in the dashboard).
There is a free plan for using Cloudflare's CDN (and other capabilities), but if you require more advanced or premium functionality, you'll have to upgrade to a subscription plan (Cloudflare's paid plans begin at $20 per month).
Does SiteGround Offer a Free Domain?
No, SiteGround does not offer a free domain. You may either buy a domain name through them (for around $16 per year for a .com domain) or from a third-party supplier, from whom you can perhaps get a better deal.
Email accounts, however, are included in their hosting packages, so you may set up an address like [email protected] that sounds and looks more credible.
Provided the domain is correctly connected to your SiteGround server, you may use this feature even if you register the domains with a third-party supplier.
What SiteGround Tools Will Speed Up Your Site?
Some of the Sitegruand tools that will speed up your site are SuperCacher, NGINX Web Server, Cloudflare Content Delivery Network, and so on.
SiteGround has been diligently enhancing its hosting options to reduce load times for your website. When compared to other web host providers, it consistently performs better in our tests.
I'll name a few of these hidden technological components:
SiteGround's data centers are powered by Google Cloud, which, together with Amazon Web Services (AWS), is among the most popular and powerful cloud hosting platforms available. Google also boasts that it is "50% less energy than the normal data center," making it ecologically beneficial.

SiteGround Optimizer is a plugin for WordPress that does more than just manage your site's cache settings; it also provides a number of real-time improvements. It does things like consolidate Google font files and compress and lazy-load your photos in addition to optimizing your site's code (such as JS, HTML, and CSS minification and optimum loading).

In addition, it has created PHP Ultrafast, a variant that, by all accounts, makes more efficient use of hardware resources like RAM and server processing power, and thereby speeds up your site. Cloud hosting plans from GoGeek and SiteGround are the only ones that provide this capability.

In 2020, Google released a new compression algorithm (called Brotli) that is intended to be more efficient than gzip, and SiteGround adopted it. As a result of the improved compression efficiency, your site's load time should improve.
Does SiteGround Support WooCommerce?
Yes, SiteGround supports WooCommerce.
SiteGround is an expert WordPress and WooCommerce host. SiteGround's WooCommerce-specific optimizations ensure reliable and consistent performance, making them a solid choice for whatever online shop you may be creating.
You don't need any coding experience to open a shop with them since they are a leading WooCommerce host.
Does SiteGround Offer a Website Builder?
No, SiteGround does not have its own website builder. Because they want people to be able to choose the website builder that works best for them, that's why.
For this reason, they make it simple to set up content management systems like WordPress, Joomla, Drupal, Magento, Weebly, and many more.
Can I Cancel My SiteGround Account and Get a Refund?
Yes, you can cancel your SiteGround Account and get a refund. With every shared plan, SiteGround offers a 30-day money-back guarantee. During this time, you may give their services a test drive.
If you decide to terminate your account within this time frame, you will get a full refund. Nonetheless, once a domain name is registered, it cannot be transferred or canceled.
---
Do We Recommend SiteGround in 2023?
SiteGround is one of the top web hosting companies we recommend you check out. It offers a range of solid pros that many of its competitors simply lack.
These include:
An unparalleled dedication to security for all clients
Amazing customer service that customers rave about
Beginner-friendly services
Excellent uptime averaging 100% in 2022 in our tests
Great speed performance when tested from servers around the world
All in all, we chose SiteGround as one of our top recommendations for web hosting in 2023 for a reason and it's definitely a hosting company worth considering!
Our #1 Recommendation: Siteground