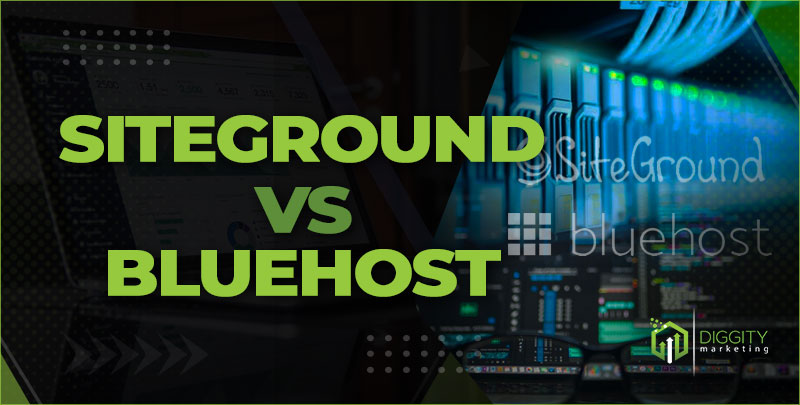 Over the years, I've used SiteGround and Bluehost on several of my websites, and consider myself an authority on both web hosting services.
Since both companies have their respective merits, it can be challenging to determine which web host performs best.
That's why we've conducted a comparative, data-driven analysis, putting both SiteGround and Bluehost through a web hosting criteria to evaluate their performance.
Drawing from my years of experience with affiliate marketing and management of multiple sites, I'll provide an in-depth review on both hosting services to help you make an informed decision.
Introducing SiteGround
Founded in 2004 in Bulgaria, SiteGround has quickly made a solid dent in the web hosting arena. It currently hosts over 2 million domains and operates with over 500 full-time staff.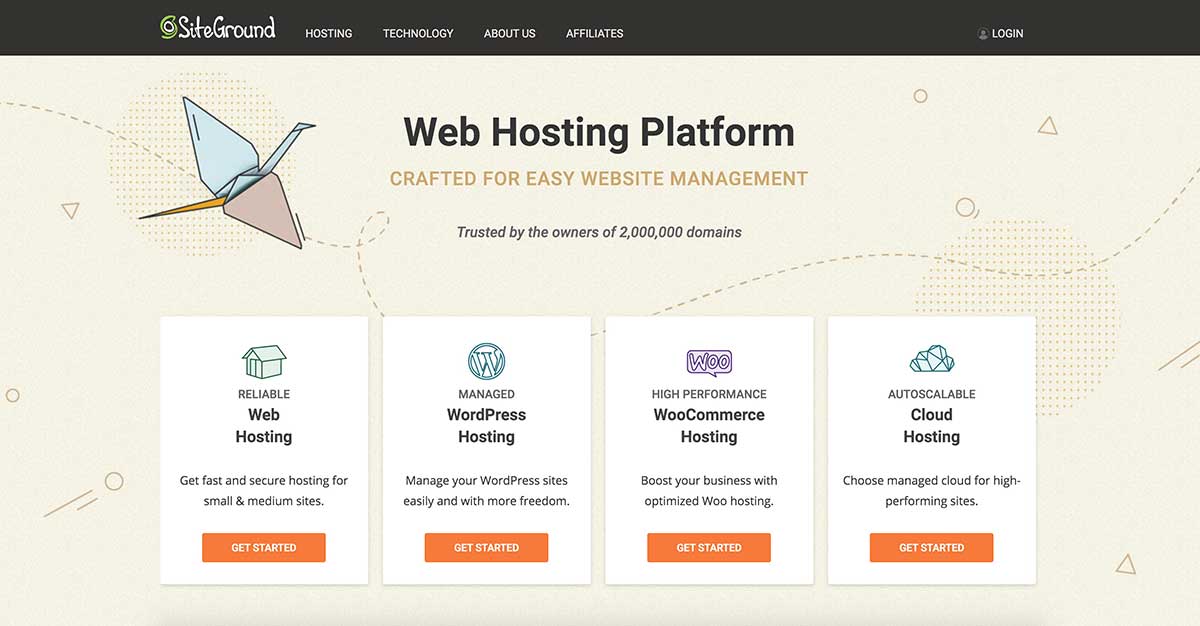 It's no surprise why WordPress.org recommends SiteGround as one of the best hosting services in today's market.
Add to this mix SiteGround's steadfast dedication to delivering technology crafted with care and support that clients rave about.
---
Introducing Bluehost
Bluehost is a platform I've employed on several of my clients' websites. I can attest that this hosting service is a close match for SiteGround based on multiple factors.
Founded in 2003 in Utah, Bluehost also powers over 2 million websites. With 750+ employees on its roster, the company has seen slightly higher levels of growth compared with SiteGround.
In 2010, they were acquired by EIG which also owns a solid portfolio of hosting companies including Hostgator and iPage.
---
SiteGround vs Bluehost: Web Hosting Plans
The section below includes a comparison of SiteGround and Bluehost web hosting plans:
| | Siteground | Bluehost |
| --- | --- | --- |
| Cheap shared hosting | | |
| Managed WordPress hosting | | |
| Managed Woocommerce hosting | | |
| Cloud Hosting | | |
| VPS | | |
| Dedicated Hosting | | |
Instead of traditional VPS and dedicated servers, SiteGround offers managed cloud web hosting. The latter relies on multiple servers around the world, which is an important factor that influences site speed and performance.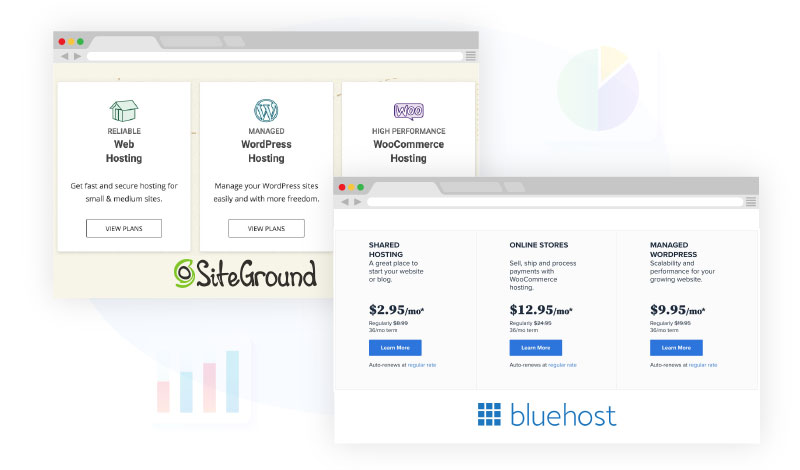 With the shared hosting plans, when you look at face value, there's not much that appears to be different between Bluehost and SiteGround.
If you sign up for a 36-month plan with Bluehost, you can maximize your money's worth.
So we need to look beyond the promotional pricing to get a better sense of the total costs.
Promotional Pricing
| Plan | SiteGround Plans | Bluehost Plans |
| --- | --- | --- |
| Lowest Tier | $5.99/month | $2.95/month |
| Middle Tier | $8.99/month | $5.45/month |
| Highest Tier | $14.99/month | $13.95/month |
SiteGround's promotional pricing is available for the first year whereas Bluehost's is available for up to 3 years if you buy 36 months upfront.
Each host requires you to pay for at least 12 months upfront.
Renewal Pricing
| Plan | SiteGround Plans | Bluehost Plans |
| --- | --- | --- |
| Lowest Tier | $19.99/month | $8.99/month |
| Middle Tier | $29.99/month | $11.99 - $16.99/month |
| Highest Tier | $49.99/month | $26.99/month |
Bluehost is a clear winner on shared hosting if the price is a concern for you. It comes in at around half the price for both the promotional and renewal pricing rates.
Winner: Bluehost
2. Managed WordPress Hosting
Both Bluehost and SiteGround are recommended as top web hosts by WordPress. Both offers shared and managed WordPress hosting solutions, including e-commerce sites using Woocommerce.
Both also have straightforward WordPress installation options. SiteGround is renowned for its 1-click install method. Bluehost, on the other hand, uses a cPanel dashboard making it easy to install WordPress through there.
So if it's down to a price-based decision for you, let's see how they compare.
Promotional Pricing Compared
| Plan | SiteGround Wordpress Plans | Bluehost Wordpress Plans |
| --- | --- | --- |
| Lowest Tier | From $5.99/month | From $2.95/month |
| Middle Tier | From $5.99/month | From $9.95/month |
| Highest Tier | From $5.99/month | From $12.95/month |
Renewal Pricing Compared
| Plan | SiteGround Wordpress Plans | Bluehost Wordpress Plans |
| --- | --- | --- |
| Lowest Tier | From $19.99/month | From $8.99/month |
| Middle Tier | From $19.99/month | From $19.95/month |
| Highest Tier | From $19.99/month | From $24.95/month |
Surprisingly, SiteGround comes out on top with regard to their pricing and service offerings for WordPress users.
The only instance where Bluehost works out cheaper is if you're after shared hosting where you take on the responsibility of managing your sites. For all the managed solutions, SiteGround is more ideal.
Winner: SiteGround
3. Bluehost's Dedicated & VPS Hosting vs SiteGround's Cloud Hosting
Using Google's Cloud Platform, SiteGround can leverage robust cloud technologies to ensure better uptime rates and more security features. Or so they say.
Shared hosting is one server that has multiple websites on it. It leaves your site open to vulnerabilities, such as malware, if that server gets infected.
VPS hosting creates a virtual environment imitating a dedicated server. You get a virtual partitioned space, with all its resources to yourself, but within a shared hosting environment.
Dedicated hosting gives you your own server to work with and is recommended for sites with loads of traffic coming to them every month.
Cloud hosting is a service that exists across multiple servers. Instead of being on one server, your site will be hosted in the cloud. It means that if one particular server is experiencing issues, your site doesn't go down with it.
In a way, cloud web hosting is like a virtual private server, but not all VPS options are cloud-hosted. It can go both ways but often doesn't.
Make sure you read the fine print to know what type of server situation you're getting into with your web host.
Promotional Pricing
| Plan | SiteGround: Cloud Hosting | Bluehost: Dedicated Hosting | Bluehost: VPS Hosting |
| --- | --- | --- | --- |
| Lowest Tier | $100/month | $79.99/month | $19.99/month |
| Middle Tier | $200-$300/month | $99.99/month | $29.99/month |
| Highest Tier | $400/month | $119.99/month | $59.99/month |
Renewal Pricing
| Plan | SiteGround: Cloud Hosting | Bluehost: Dedicated Hosting | Bluehost: VPS Hosting |
| --- | --- | --- | --- |
| Lowest Tier | $100/month | $119.99/month | $29.99/month |
| Middle Tier | $200-$300/month | $159.99/month | $59.99/month |
| Highest Tier | $400/month | $209.99/month | $119.99/month |
Unlike SiteGround, Bluehost offers promotional pricing on their VPS and dedicated servers.
Despite coming in slightly more expensive, SiteGround offers more storage and memory. They also use the Google Cloud platform to offer trusted, scalable solutions to their customers.
Your site could be left behind if you are locked into a 36-month term with Bluehost just to secure lower rates. Or worse, it could suffer from performance issues that won't meet the suggested guidelines for the best search engine optimization (SEO) practices of the future.
Winner: SiteGround
We believe that state-of-the-art features and storage space offer more value when shopping for a more robust hosting solution.
---
Features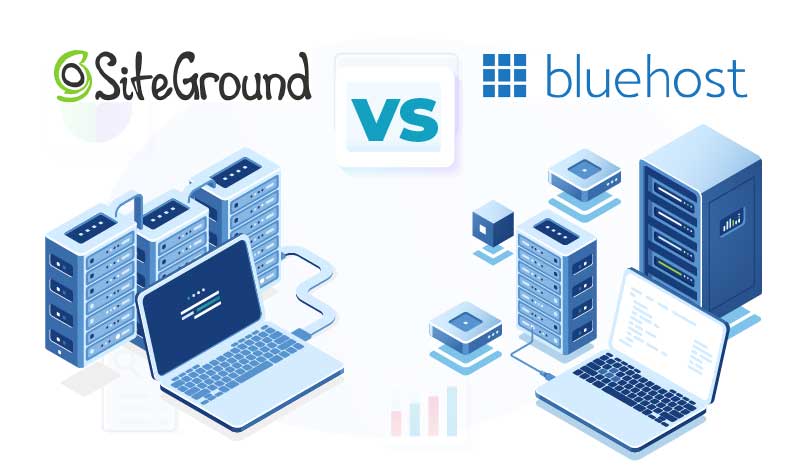 Now, let's go beyond price and look at the hosting features offered by each company.
Where possible, we share the data from tests we've run to quantitatively prove which is the better option between SiteGround vs Bluehost.
1. Ease of Use
Bluehost offers classic cPanel based solutions. For people just starting, it can seem a little daunting to navigate a cPanel dashboard. You can also feel overwhelmed with all the upsell offers that show up.
SiteGround offers a custom dashboard with a range of intuitive 1-click features. There's less of a learning curve even when it comes to installing SSL certificates and doing other technical tasks.
We've found that SiteGround is a better platform for beginners since the web hosting company has a more simplified system.
Both are fairly intuitive. If forced to pick a winner, we're leaning toward SiteGround based on the range of 1-click install options they have.
Plus, SiteGround's dashboard isn't loaded with a bunch of promos and offers you don't need.
Winner: SiteGround
2. Speed
With website speed being among the most critical factors for user experience, it's no surprise Google has also made it an official ranking factor.
So we put SiteGround vs Bluehost to the test to see who puts their money where their mouth is. Interestingly, Bluehost doesn't mention loading speed as a benefit of using their service – at least not as prominently as SiteGround does.
Not gonna lie; this triggered a potential red flag warning during our research process.
So we decided to run speed tests on each of the hosting company websites. Here are our findings.
GT Metrix
| | SiteGround | | Bluehost | |
| --- | --- | --- | --- | --- |
| | GT Metrix Performance | GT Metrix TTFB | GT Metrix Performance | GT Metrix TTFB |
| Vancouver | 93% | 108ms | 67% | 559ms |
| London | 72% | 936ms | 39% | 439ms |
| Sydney | 72% | 269ms | 34% | 872ms |
Pingdom
| | SiteGround | | Bluehost | |
| --- | --- | --- | --- | --- |
| | Pingdom Performance | Pingdom Load Time | Pingdom Performance | Pingdom Load Time |
| San Francisco | 96 | 508ms | 71 | 3.41s |
| Frankfurt | 96 | 726ms | 71 | 2.94s |
| Tokyo | 96 | 792ms | 71 | 3.15s |
| London | 95 | 1.79s | 71 | 1.5s |
| Washington DC | 86 | 720ms | 71 | 1.63s |
| Sydney | 96 | 1.21s | 71 | 3.14s |
Hands down, this one goes to SiteGround. If you're interested to see how SiteGround compares to other hosts, check out our post on the fastest web host.
Winner: SiteGround
3. Uptime
Any decent hosting service should pay attention to their servers' health and ensure high uptime levels. In saying that, no host can guarantee 100% uptime.
Both SiteGround and Bluehost guarantee 99.98% uptime – which equates to around 1 hour and 45 minutes of downtime per year.
If your site is down, that leads to lower visibility and poor user experience. So we referenced a few different sources recording the actual uptime levels of both SiteGround and Bluehost.
Let's find out if they live up to their guarantees.
SiteGround Uptime
Since June 2019, SiteGround has experienced a total of 30 downtime events. These resulted in 175 minutes of downtime, and only 4 events took longer than 3 minutes to resolve.
Most events are resolved in about 1 minute or less.
We also discovered that so far in 2021, there have only been 41 minutes of total downtime – averaging 99.99% uptime.
In 2020, we worked it out to be 99.98%, and SiteGround has upheld its guarantee in both years.
Bluehost Uptime
Unlike SiteGround, Bluehost had fewer outages overall. However, when looking at historical data, there's a slight decline in uptime.
Since June 2019, Bluehost has only experienced 12 recorded outages. 4 of these in recent months!
Here's the data in a head-to-head format.
| | 2018 Uptime | 2019 Uptime | 2020 Uptime | 2021 Uptime |
| --- | --- | --- | --- | --- |
| Siteground | 99.98% | 99.98% | 99.9% | 99.99% |
| Bluehost | 99.99% | 99.98% | 99.96% | 99.98% |
We're handing it to SiteGround only because it's clear they are continuously working to improve their uptime when we look at historical trends.
Historically, SiteGround has experienced more outage events than Bluehost, but it seems they've turned things around this year.
Winner: SiteGround
4. Customer Support
Customer service is what makes a web host more reliable.
To compare the level of customer support between these two hosting providers, we turned to Trustpilot. You can access Bluehost's page here[1] and SiteGround's here[2].
Bluehost Support
Bluehost's rating on Trustpilot
SiteGround's Support

SiteGround's rating on Trustpilot
SiteGround's support is excellent as reflected by customer feedback. The web hosting provider has more than adequate staff to address clients' needs and concerns.
Winner: SiteGround
5. CDN
To help deliver your content to audiences worldwide, hosting companies rely on content delivery networks (CDN). CDN providers help make content distribution more efficient and can also help cut down loading times significantly.
Between SiteGround and Bluehost, both offer a free CDN service.
As far as the best free CDN service available, Cloudflare is firmly in the lead. Offering incredibly fast content delivery for both static and dynamic content, Cloudflare can help businesses reach global audiences without sacrificing the loading speed of their websites.
It is advisable to employ a website that uses a CDN to protect content and improve security of your site.
Bluehost uses the SiteLock CDN service, but it's also possible for customers to access Cloudflare for free through the cPanel dashboard. Compared to Cloudflare, SiteLock leaves a lot to be desired.
SiteGround uses Cloudflare CDN and can distribute your content to over 23 data centers around the world.
It's a tie since both hosts offer the same feature for free. Although Bluehost doesn't use Cloudflare CDN out of the box, it is still easily accessible and available for free to their customers.
Winner: Draw
6. Servers & Locations
For anyone targeting audiences in a specific location, it's worth looking at where your website's servers are located.
The locations of Bluehosts's data centers are unclear on their website. So we reached out to support and confirmed they are only available in Utah, US.
If your audience is primarily based in the US, there's no issue for you. Paired with a CDN, you can still easily distribute your content all over the world.
If your audience is not primarily based in the US, SiteGround offers more flexibility due to the 6 locations of their data centers around the world.
They currently have servers located in:
Iowa, USA
London, UK
Eemshaven, Netherlands
Frankfurt, DE
Sydney, AU
Singapore, Singapore
SiteGround has also chosen its current server locations after a long process of careful investigation. They are very deliberate in choosing the data centers they work with.
In addition to this, SiteGround's team continuously monitors, upgrade and secure all their servers in-house. Their in-house team of server engineers and system administrators is responsible for the solutions offered to their customers.
Winner: SiteGround due to the larger range of options for server locations and their unrelenting focus on quality.
7. Storage
For anyone with a media-heavy website, such as an e-commerce site, storage will be a big factor for you to consider. Every WordPress site with large images or videos on it needs a place to store these files.
When comparing the shared plans between SiteGround and Bluehost, Bluehost comes out on top with a few options, including unlimited SSD storage.
But (and this is a HUGE but) "unlimited" is not quite what you think it means. Every SSD drive has a limit to how much data it can physically hold. When sharing your plan with other sites, your portion gets even smaller.
So even though Bluehost advertises unlimited storage, it's never really going to be the reality for anyone. In saying that, SiteGround caps the storage space on its plans, with the largest plan offering up to 40GB.
Winner: Bluehost since there is no hard limit on the storage and they can host unlimited sites.
8. Security
We delved deep into our research on this topic, and here's what we found:
| | Bluehost | SiteGround |
| --- | --- | --- |
| Free SSL Certificate | Yes (Let's Encrypt) | Yes (Let's Encrypt, pre-installed) |
| Hotlink Protection | Yes | Yes |
| Spam Protection | Yes (Akismet) | Yes |
| Auto Backups | Yes (Daily) | Yes (Daily) |
| Web Application Firewall | Yes | Yes |
| DDoS Protection | Yes | Yes |
| Brute Force Protection | Yes | Yes |
| Bot Blocking | Yes | Yes |
| Malware Protection | Yes (Daily Automated) | Yes |
| 24/7 Server Monitoring | No | Yes |
| WP Security Plugin | No | Yes (Free) |
Winner: SiteGround
They take security very seriously and have their team crafting custom solutions around the clock to ensure their customers are well looked after.
Going beyond the free SSL certificate, they ensure that every site has an SSL installed. WordPress sites also have the advantage of using a custom security plugin for additional perks.
9. Backups
If anything ever goes wrong on your website, the first thing you're going to need is a backup. Automatic WordPress core updates are notorious for causing issues on many websites, for instance.
Both SiteGround and Bluehost mention free daily backups on their website, so let's look into the details.
Bluehost's Backup Policy
Bluehost makes it very clear that they take no responsibility for failed backups. They do offer free backups for customers, but they're "not guaranteed in any way."[1]
Also, Bluehost doesn't offer redundant or mirrored backups.
Redundant data storage provides a real-time fail-safe against hard drive failure.
Mirrored backups are exact copies of your data. Another failsafe in case something goes wrong.
SiteGround's Backup Policy
SiteGround offers free daily backups and geographically distributed redundant backups too.
This means that if servers in a particular area go down, your website won't go down with it. In case of disaster, their systems are primed to restore large amounts of data and jumpstart your website using servers in different locations.
Winner: Siteground due to their proactiveness to ensure website data is safeguarded and easily restored if something happens to their servers.
10. Domains
When it comes to domains, Bluehost offers a free domain name with many of its hosting packages. SiteGround doesn't include a free domain name with any of its packages.
Both companies offer hosting for unlimited websites on their second-tier plans and above. So if you're planning on building out a portfolio of sites for yourself or clients, this is a great feature to pay attention to as well.
Winner: Bluehost because it offers a free domain.
11. Migrations
When switching to a new host, the first immediate problem you're going to face is the migration of your existing site.
Both SiteGround and Bluehost offer a free migration option for any WordPress site by using a plugin. Simply check your site is compatible, add the migration plugin, and you're good to go.
For sites that require a more complex migration, both hosts charge a fee to take care of the migration for you.
| | Bluehost | SiteGround |
| --- | --- | --- |
| Price | $149.99 | $30 |
| Number of Sites | Up to 5 sites | Per site |
| Emails | Up to 20 Emails | No |
| Downtime?/strong> | No downtime, guaranteed | Not Mentioned |
| Availability | Not available on Reseller, VPS, or Dedicated Accounts | All accounts |
Winner: It's a tie since both offer an auto-migration option that covers the needs of most users.
If you have five sites to transfer across, then Bluehost offers a slightly better deal since it includes email migration. However, if you only have one site, SiteGround works out cheaper.
---
Pros & Cons
SiteGround Pros
Advanced hosting features
Free SSL certificates & security
30-Day money-back guarantee
100% renewable energy match
Multiple server locations
Excellent support
Recommended WP hosting provider
SiteGround Cons
Uptime could be improved
Doesn't offer unlimited storage
Doesn't include a free domain
Bluehost Pros
Offers unlimited SSD storage
Free domain with most plans
Lower prices than SiteGround
Historically had fewer outages than SiteGround
Easy to use
Bluehost Cons
Poor speed performance
Backups policy doesn't serve customers as well as SiteGround's does
Limited server locations
---
FAQs
Why Is Bluehost Cheap?
Bluehost is cheap because the site provides shared web hosting. Essentially, multiple websites share the same server and its resources.
Is SiteGround The Best Web Hosting Service?
SiteGround is one of the best web hosting service primarily due to its performance. It is one of the fastest, highly reliable and technologically advanced providers. 
Does SiteGround Use Google?
SiteGround uses Google and its global network to cater to bigger markets and more clients worldwide.
Our Verdict on Bluehost vs SiteGround
Since I've been in the web hosting industry for years, I've found that both hosting services have their advantages, and I've been impressed by the features they offer. 
However, after rigorous tests and weighing the pros and cons, my personal experience leans towards SiteGround. Their speed performance, top-notch customer support, and robust security measures have won me over. 
While Bluehost has its merits, especially with its free domain offering, SiteGround just feels like a more well-rounded choice for those serious about their online presence.
Our #1 Recommendation: Siteground