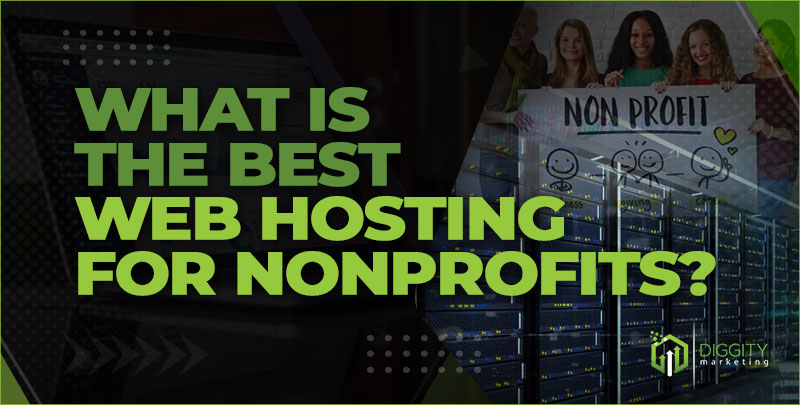 As industry veterans with years of experience, we understand the unique challenges that nonprofits face when searching for a reliable and affordable web hosting solution.
In this article, we've pooled our extensive knowledge to present you with a curated list of the best web hosting options for nonprofits.
We'll guide you through these exceptional hosting providers and explain what makes them stand out in terms of reliability and performance.
To help you make an informed decision, we've also included a quick buyer's guide based on our expertise, outlining the five key factors to consider when selecting a free hosting company tailored to your nonprofit organization's needs.
Top Web Hosting Providers for Nonprofits
Use coupon MATT90 to get 90% off your first month
WordPress, Cloud, WooCommerce, and shared hosting
VPS, dedicated, WooCommerce, and shared hosting
1. WPX (

Editor's Choice

)
WPX is hands down the best hosting solution for nonprofits.
Here's why…
The platform boasts industry-leading features that will help you deliver the best user experience to your website, visitors. Most of these features are also available in the cheapest WPX paid plan.
WPX Features
Fast Loading Speeds:

WPX is one of the web hosting providers with the fastest loading speeds of any hosting provider. Even for the most technical websites, WPX delivers impressive loading times of under 2 seconds.

Excellent Security:

Every nonprofit website needs top-notch security. After all, you may need people to enter their personal details on your nonprofit website.

WPX comes with powerful security features to safeguard your website. It provides free SSL certificates, automated backups, free malware scanning & clean-ups, and more.
Great Customer Support:

Another department WPX remains unbeatable is customer support. The hosting provider has a highly responsive customer service team.

The support staff is also available round the clock, so you can reach them at any time of the day regardless of your time zone.

User Friendly:

WPX has a user-friendly interface. It makes nonprofit site management really easy, even for "non-tech-savvy" users.
Pros
Staging Area:

WPX staging area allows you to test various features before implementing them on your website.

Unlimited Site Migrations:

WPX staff will help migrate your nonprofit website to their platform free of charge!

Free WPX Content Delivery Network Integration:

The free WPX Cloud CDN Integration boosts page load times. Faster load times are essential for SEO since site speed is a ranking factor. Moreover, it enhances the user experience. 

Solid Warranty:

All WPX plans come with a 30-day money-back guarantee.

Unlimited Email Accounts
Cons
Pricey

: The cheapest WPX paid plan starts at $20.83 when paid annually or $24 paid monthly. Some organizations may find this a bit pricey.

However, the host does provide decent value for the money considering the performance and capabilities you're getting.
Bottom Line
WPX checks all the boxes of great hosting for nonprofits. It has optimal site speeds, reliable security, excellent customer service, and tons of free extras. 
Get 90% off the first month with coupon MATT90
---
2. Siteground
Siteground offers various hosting plans, including a managed WordPress hosting service. The managed hosting service is good for nonprofit sites since it will take the burden of website maintenance off your shoulders.
Find out what is managed hosting and how it can be beneficial for you.
Siteground Features
Great Uptime And Page Load Times:

Siteground maintains an uptime of 99.8% over 12 months which is very impressive. It also provides incredible page load times that will boost your performance on the SERPs.

First-class Customer Service:

The customer support team at Siteground is highly knowledgeable and always eager to help. They are available round the clock as well.

Free Website Migration:

Through WordPress Migrator Plugin, you can transfer your website to Siteground for free. Siteground experts can also do the website migration for you. However, they do charge migration service fees which start at $30 per website.

Seamless Collaboration:

  SiteGround lets you add multiple collaborators to your website.

For example, it allows you to create separate accounts for designers, developers, or other users. They'll get access to the specific site tools they need to perform their tasks. But, you will still retain full control of your nonprofit site as the owner.
Pros
Free CDN:

Siteground has partnered with Cloudflare to give their clients reliable Content Delivery Networks for free.

Free Backups:

All websites get free daily backups.

Free SSL security:

Siteground implements various security measures at both the application and server levels. You will also get a free SSL certificate.
Cons
High Renewal Prices:

Siteground's renewal prices are pretty high. For example, the StartUp plan, which has an initial price of $3.99 per month, renews for $14.99/month!

Limited Storage:

The cheapest StartUp plan comes with only 10GB of web space. Traffic is also capped at 10,000 monthly visitors.

Therefore, if you expect to upload lots of media or attract tons of traffic, you'll have to upgrade to the more expensive hosting plans.
Bottom Line
SiteGround is not the cheapest hosting for nonprofits, and it's certainly not a free host, but it has plenty of features that could benefit your organization. The provider also performs incredibly well where it matters most; site speed, uptime, customer support, and security.
---
3. BlueHost
Bluehost is a pretty popular hosting company for nonprofits. They used to be a free host for nonprofits but discontinued the program some time back. However, the great features that make the provider so popular are still available.
BlueHost Features
Superb Uptime:

The free hosting provider is well known for consistently maintaining great uptime stats. That means you can always rely on the company to keep your website running throughout the year.

Solid Site Speeds:

While not the fastest web host, BlueHost page load times are still within the

recommended range[1]

.

Therefore, unless you have some plugins or other issues tampering with your website's performance, you shouldn't experience any severe site speed issues.
Easy-To-Use:

BlueHost is very

beginner-friendly

. It has an intuitive cPanel, and its integration with WordPress is seamless. 

Free Site Builders:

The hosting provider has an inbuilt drag-and-drop website builder.
Pros
Excellent Security

: From SSL certificates and anti-spam protection to automated daily backups,

Bluehost provides sufficient security for every website.
Lots Of Add-Ons

: Hosting your website on BlueHost gives you access to dozens of extras like a free domain name, free SSL certificate, Cloudflare CDN integration, anti-spam protection, etc. 

30-day money-back guarantee
Cons
Site Migration Is Not Free

: Unlike our top pick, WPX, BlueHost will charge you for site migration.

Poor Customer Support

: BlueHost customer support can get very frustrating. They have long waiting times, and their support staff is not very knowledgeable about the technical stuff.

High Renewal Prices

: BlueHost renewal rates are pretty high. However, you can avoid this issue for some time by getting into a 36-month contract from the get-go. That's because the initial prices are more affordable.
Bottom Line
There's a good reason why BlueHost hosts more than 2 million domains; the hosting provider is fairly reliable.
Their partnership with WordPress also makes integration and management of WordPress sites easy. So consider BlueHost if you have a nonprofit WordPress site.
---
4. HostGator
Hostgator is among the cheap hosting providers on the market today. The hosting plans start at just $2.75. Renewal prices are also fairly reasonable. The cheapest hosting plan renews for just $6.95 per month, for instance.
Prices aside, Hostgator also packs decent features that most nonprofits will find useful.
Hostgator Features
Decent Loading Speeds:

Hostgator loading speeds range between 22 and 940ms depending on factors like traffic and browser's location. That's a decent range for the most part.

Uptime Guarantee:

Hostgator doesn't just claim to have reliable uptimes; they actually stand behind their word with a 99% uptime guarantee. That's on top of the 45-day money-back guarantee.

Unlimited Bandwidth:

Hostgator does not cap the amount of traffic you can drive to your website. The bandwidth remains unmetered across all plans.
Pros
Lots Of Add-ons

: Even the cheapest plan comes with a free 1-year domain, free domain & website transfer, free MySQL transfer, free SSL certificate, free email, $150 Google Ads credit, and a free Hostgator website builder.

Affordable

: At $2.75 per month, HostGator is one of the cheapest hosting solutions around. It's hence worth considering if you have a limited budget.
Cons
Upsells

: Hostgator upsells quite aggressively. 

No Automatic Backups

: You have to spend an extra $2 per month to get daily automatic backups.
Bottom Line
Hostgator is a pretty flexible hosting service. There are plenty of hosting plans to choose from, so it's worth considering if you are a growing nonprofit.
---
5. A2 Hosting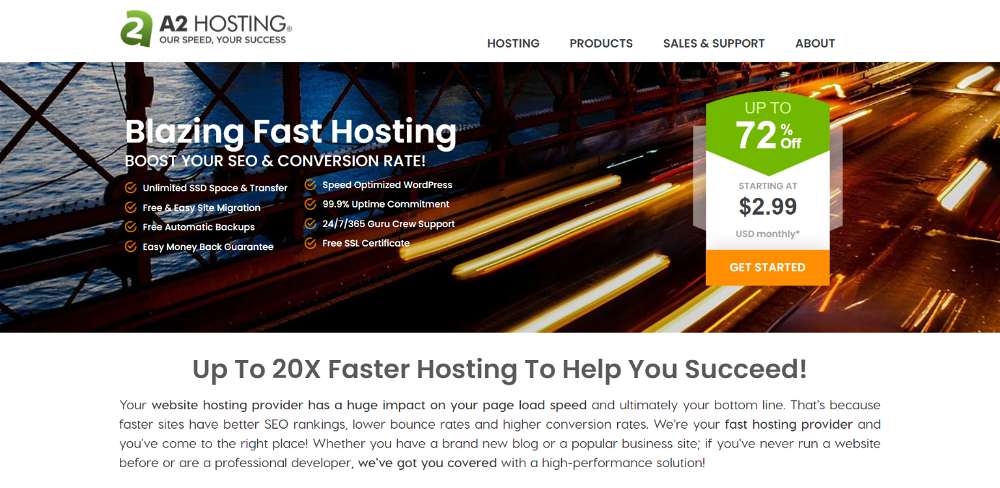 A2 Hosting provides decent managed and shared WordPress hosting features at competitive prices. They also have specific discounts for nonprofit websites.
To get the discounts, open a ticket with the customer service team and provide documentation proving your status as a nonprofit.
A2 Hosting Features
Fast Loading Times:

A2 delivers optimal page load times in various ways. They provide Cloudflare CDN and unlimited SSD transfers to optimize site speed.

Seamless Integration With Other Platforms:

A2 Hosting is compatible with WordPress, Magento, Drupal, and other platforms. The seamless integration makes it really easy to optimize your website's performance.
Carbon Neutral Status:

You may be delighted to know that A2 aims to reduce carbon footprint with "

green hosting

"[2]. The platform partners with Carbon Fund to purchase carbon offsets.
Server Location:

A2 Hosting has data centers in the US, Europe, and Asia. That's more than enough for most organizations. However, if your nonprofit operates in a place like Africa, you'll probably have to find another hosting company.
Pros
Exemplary Customer Support

: A2 customer service team is super helpful. They are also available via multiple channels, i.e., live chat, email, and even phone.

Free Extras

: The service comes with free backups, free website builder, free SSL certificate, free site migration, and free SSD transfers & space.

99.9% Uptime Commitment

: The reliable hosting service has a 99.9% uptime commitment and a 30-day money-back guarantee to give you some peace of mind.
Cons
No Free Domain

: Many free hosting packages offer free domain registration. A2 Hosting doesn't offer a free domain.

No Windows Hosting

: They have Linux hosting solutions only.
Bottom Line
Aside from the lack of a free domain and windows hosting option, most of everything else you'd expect from a top web hosting for nonprofit websites is available at A2 Hosting.
---
6. InMotion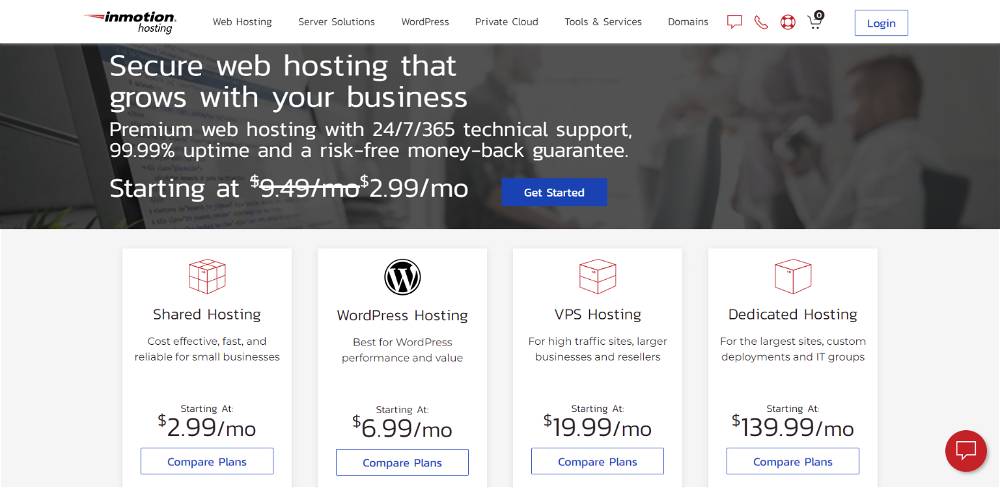 InMotion provides shared hosting, WordPress, VPS, and dedicated hosting services. Shared hosting packages are the cheapest starting at around $5.99/month.
The cheapest plan also comes with many features and freebies, including free SSL and domain, unlimited bandwidth, and 50GB SSD storage.
For better protection and overall performance, consider managed VPS hosting package. This hosting package more expensive but worth the price, especially for bigger nonprofits.
InMotion Features
Fast Loading Times: InMotion uses SSDs to increase site speed by up to 20 times.
Excellent Security:

All plans come with free SSL, automatic daily backups, DDoS protection, and hacks & malware monitoring.

Free Email Addresses:

Even the cheapest plan gets ten email addresses which should be enough for small to medium nonprofits.
Pros
Free Domain

: You will receive a free domain name during the first year of hosting with InMotion.

90-day Warranty

: This is one of the best money-back guarantees of any hosting provider.
Cons
High Renewal Rates:

Like other web hosts, InMotion provides a low initial price to get your foot in the door, but the renewal rates are pretty high.

Slow Verification Process:

As a security measure, InMotion conducts a thorough verification process before giving you access to the hosting account. The problem is this process tends to take so much time.
Bottom Line
InMotion has plenty of web hosting services to choose from. Each hosting package also has various payment plans packed with competitive web hosting services.
---
7. DreamHost
Dreamhost is a reliable web hosting provider with free web hosting for nonprofits. You have to be a US-based nonprofit organization, though.
The company also extends a 35% discount on managed DreamPress hosting to nonprofits.
Dreamhost Features
Reliable Security:

With multi-factor authentication, Let's Encrypt SSL, and auto-enabled SFTP, Dreamhost is more than capable of keeping your website secure.

Free Site Migration:

Use the Dreamhost automated migration plugin to move your WordPress website to Dreamhost for free.

Automated Installation: Dreamhost offers 1-click installation for CMS platforms like WordPress and Joomla.
Check out our article where we compared the features of Hostgator vs Dreamhost.
Pros
Uptime Guarantee:

All plans come with a 99.90% uptime guarantee.

Responsive Customer Support

: Technical customer service is available 24/7.
Cons
Limited Live Chat Support:

Live chat support is only available from 3 AM to 9:30 PM PT.

Limited Server Location:

Data centers are located in the US alone.
Bottom Line
DreamHost is definitely worth considering, especially if you are operating on a shoestring budget. It's a totally free web hosting service offering plenty of features, including free email hosting.
---
8. HostPapa
Last on our list is the eco-conscious web hosting platform HostPapa. The company uses 100% renewable energy.
Besides their corporate responsibilities, HostPapa is also very reliable as a web host.
It's one of the best  hosting in South Africa, and Nigeria.
HostPapa Features
Proactive Security Measures:

HostPapa includes robust security features on all plans, including the cheapest starter package. It provides Let's Encrypt SSL, DDoS prevention, server monitoring & intrusion detection, and more.

99.97% Uptime Guarantee:

The hosting company boasts outstanding uptime records of above 99.7%.

Free Website and Domain Transfer:

HostPapa experts will help you transfer both your website and domain for free.
Pros
Freebies

: All plans come with unmetered bandwidth, a free SSL certificate, free website builder and free domain registration. The Business and Business Pro plans also get unlimited email addresses and advanced features like unlimited MySQL databases along with the free domain and free SSL certificate. 

30-day Money-back Guarantee

: Get your refund within 30-days in case you are dissatisfied with their services
Cons
Lacking Customer Support

: Waiting times can get really long at times.

No Managed And Dedicated WordPress Hosting:

HostPapa offers shared

 hosting

and virtual private server hosting only.
Bottom Line
HostPapa has fast loading times, excellent uptime, a proactive approach to security, and lots of freebies to give you maximum value for your money.
---
How to Choose a Hosting Service for Nonprofits
The performance of  hosting services varies greatly as you move from one provider to the next.
It's, therefore, critical that you pick the right platform lest you end up with website performance issues. Here's what you need to consider:
1. Speed
Google reported that site speed is a ranking factor[3] meaning websites with the fastest page load times are more likely to rank higher in the SERPs. Moreover, fast site speed enhances the overall user experience hence reducing bounce rates.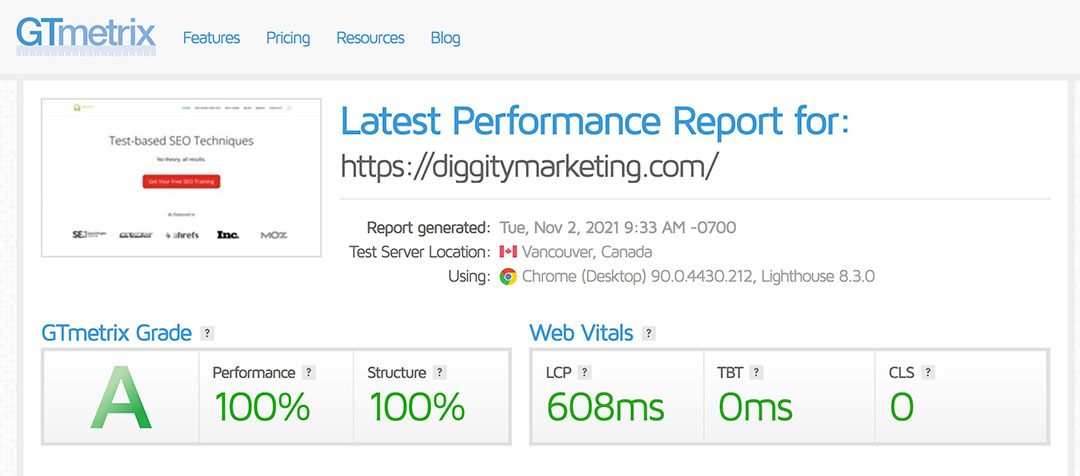 Various factors influence website speed, and hosting is one of them. The best web hosts ensure website speeds are optimized. They achieve this with various techniques, including content delivery networks (CDN) and solid-state drive (SSDs) storage.
WPX web host, for instance, uses the WPX CDN integration to cache website content in various locations around the world. This ensures the content is retrieved quickly when users in those areas try to access the content.
Pick a website hosting provider with the necessary infrastructure to ensure page load times are optimized at all times.
2. Customer Response
Customer support is another critical element you don't want to compromise on. 
Running and maintaining a website comes with tons of challenges. Unfortunately, some of these challenges can cripple a company's online activities. 
That's particularly the case for companies with no in-house IT experts to anticipate and handle the issues. Most nonprofits fall under this category.
To avoid such issues, you have to partner with a  hosting company with remarkable customer support. 
First, they should be available round the clock. The internet never sleeps, and neither should your website. So find a company with reliable customer care that you can reach whenever an issue arises.
Second, ensure there are multiple channels of communication. Email and live chat support are pretty standard but try as much as possible to get a provider with phone support as well.
Having a direct line can come in very handy, especially during emergencies.
Finally, make sure the customer support team is super responsive. The last thing you want is to be waiting an hour to get in touch with a representative when your website is down.
3. Bandwidth and Storage
Bandwidth determines how much traffic your website can handle. A higher bandwidth allows you to accommodate more traffic efficiently. 
Meanwhile, storage impacts the amount of data or content your website can hold.
As a nonprofit, chances are you'll want to post images on your website showing the progress of your charity work. Perhaps some videos as well. Having sufficient storage to do so is important.
Bandwidth and storage usually appear as less of a priority to smaller and new nonprofits. There's still not a lot of content to share after all.
However, you have to think long-term. As your nonprofit grows, your needs will increase.
Therefore, you want a hosting service that provides sufficient room for scalability, i.e., competitive premium packages with sufficient bandwidth and storage retailing at decent prices. 
4. Uptime
Constant downtimes can cripple your operations and reputation. How will your target audience interact with you if the website is always down? How will donors and other partners see your work if they can't even access your website?
You have to get a web host service with the highest uptimes possible. That means 99.95% of uptime or more.
Top web hosts like WPX and Hostgator provide uptime guarantees, which is very telling of their confidence in their services. 
5. Scalability
A good hosting company offers strategic packages that grow with your organization. For example, if your nonprofit is relatively new, you can make do with capped bandwidth.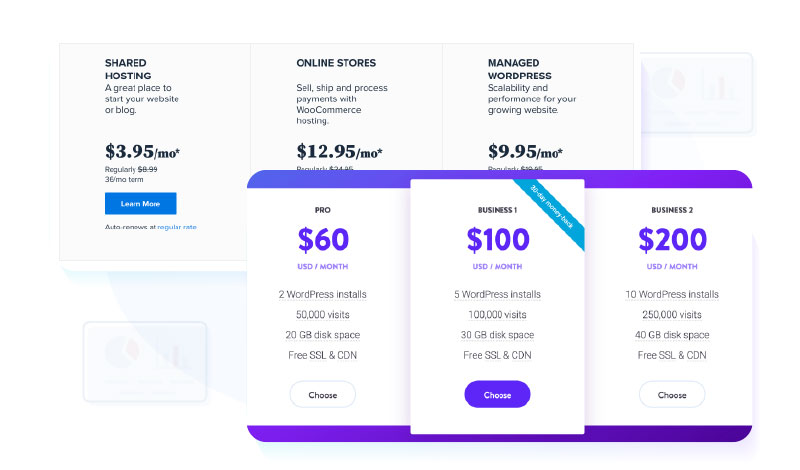 However, as the organization grows and the traffic increases, you will require more bandwidth to deliver an optimal user experience. The best web hosting companies will provide the right packages to smoothen this transition for you.
Therefore, when picking a web host, think beyond your immediate needs. Look at the top-tier packages and see if they align with your future needs as well. 
---
FAQs
Are There Any Other Hosting Options Out There? 
Yes, there are plenty of other hosting options out there. If you are looking for a more comprehensive overview of the hosting industry, you can find it on our website as well. 
Is Free Web Hosting Reliable?
Free web hosting can be reliable if you don't have that many requirements. Free alternatives are superior if your requirements are minimal and your budget is little. Paid plans, however, provide more flexibility and scalability if your budget allows for it.
Does a Website Have to Be Self-Hosted?
No, a website does not have to be self-hosted. But using a CMS like WordPress or Drupal to create your site means you'll need to find your own hosting. On the other hand, you may choose a website builder that also provides hosting.
What Are the Most Important Hosting Features for Nonprofit Websites?
The most important features for nonprofit websites are SSL encryption, storage capacity, and good server uptime. Though specific requirements may vary from company to company, there are a few aspects that seem to be universally appreciated. SSL encryption is crucial for a nonprofit website's safety, as is enough storage capacity and excellent server uptime. If they can be implemented, they should take precedence above low monthly costs.
What Is Better, Free or Paid Web Hosting for Nonprofits?
Paid hosting is better for nonprofits. Not all free hosting services can be trusted. Web hosting services like DreamHost and InterServer provide free options. Unfortunately, the functionality, server speed, and customer service of free alternatives are often poor.
What TLD Is Best for a Nonprofit Organization Website?
TLDs like .org and .ngo are the best for nonprofit organizations. Choose.org if you want a domain extension that everyone will know and respect. Choose the.ngo top-level domain if your organization is a non-governmental one.
---
Which Web Hosting Option Do We Recommend for Nonprofits?
This article explored the top eight nonprofit web hosting plans and some of the best web hosting providers. We looked at WPX, SiteGround, BlueHost, HostGator, InMotion, DreamHost, and HostPapa. Each provider has something unique to offer.
However, WPX is the overall winner of the best hosting providers for nonprofits. The provider has all the critical features you need in a hosting company.
These include fast load times, excellent security, responsive customer support, an easy-to-use dashboard, and so on.
The company also offers plenty of quality freebies that you cannot get from other nonprofit hosting providers. For example, you get unlimited site migrations, free malware scanning & removal, DDoS protection, PHP7.X, staging areas, etc.
WPX stands behind its product, too, with a 30-day money-back guarantee and a 95.5% uptime guarantee.
Our #1 Recommendation: WPX Hosting
Use coupon MATT90 to get 90% off your first month