Creating a website has never been easier or more accessible. With minimal time and investment, you can launch a business or blog, reaching a global audience for less than the cost of a one-dinner date.
But to ensure your online presence truly thrives, selecting the ideal hosting service is essential.
As an experienced web developer and hosting expert, I've personally navigated the diverse landscape of web hosting services, identifying the key factors that set them apart.
Web hosting providers can vary significantly in terms of server speed, monthly data allowances, and additional features such as email hosting and domain services.
Drawing from years of experience and in-depth research, I have distilled the process of choosing the best web hosting for beginners down to selecting a provider that offers the features you require at a price you can afford.
In this comprehensive guide, we will explore the most popular web hosting options, comparing their strengths and weaknesses to help you make an informed decision for your specific needs.
Best Web Hosting for Beginners Compared
The table below provides an overview of the 3 best web hosting for beginners so you can see how they compare.
Specializes in WordPress hosting and WooCommerce hosting
Use coupon MATT90 to get 90% off your first month
Shared, VPS hosting, Dedicated hosting, WooCommerce hosting, Cloud hosting
Shared, VPS hosting, Dedicated hosting, WooCommerce hosting, Cloud hosting
1. WPX (

Editor's Choice

)
WPX is one of the best web hosting options for beginners. They provide a specialized service for WordPress site owners with great customer service and fast servers. Here's a snapshot of what they offer.
Quick Facts
Hosting Type: WooCommerce and WordPress hosting specialists
Page Load Time: 5/5
Uptime: 99.95%
Support Rating: 5/5
Cost: Packages start at $20 a month
Disk Space: 10GB to 40GB
Main Features
WPX Cloud CDN: The free Content Delivery Network (CDN) ensures visitors can access your site quickly from wherever in the world they are based.
Staging Area: You can make changes and test your website easily. The staging area is a very useful feature for testing changes to your site.
Ease of Use: The WPX user interface is easy to use. Managing payments, your database, and all of your email addresses is simple.
Pros
Support: The WPX customer support is unbeatable. Most inquiries are responded to within 30 seconds. Fast service means you spend less time waiting when you have a problem. Because they specialize in managed WordPress, they are great at dealing with WordPress inquiries.
Speed: One of the fastest internet servers available, WPX hosting is about as fast as it gets. Your visitors will get a great user experience and your content is more likely to climb the SERPs.
High Uptime: WPX is very reliable, with a 99.95% uptime. They have more than enough server resources, even if you have multiple websites. That means your site will always be accessible.
Backup Automation: You get free daily backups. You can reload older versions of your website if you ever run into problems.
Free Site Migration: Some hosts charge you to migrate a site to their servers. WPX does this for free. They will even help with your migration.
Free SSL: With WPX, you also get free SSL certification. No eCommerce business should be without SSL, and many web hosting companies will charge you for it. An SSL certification might seem quite technical, but it's just a basic way to keep data more secure. It also verifies that you own your website and makes it more difficult for cybercriminals to create a fake version of your web pages.
Money-Back Guarantee: If you try WPX and don't like it, you can get a refund. There's a 30-day compensation warranty included on all packages.
Cons
Prices: The basic entry-level plan for WPX starts at $20 per month. When you look at other hosts, that's a little pricey. However, because of the huge range of features, the price is more than reasonable.
WPX Overview
For site speed alone, WPX should be something that you take a closer look at. WPX is hard to beat in terms of page loading time and reliability. That's great if you're looking to establish an online presence as you'll provide visitors with a great user experience.
It's easy to see why WPX is one of the most popular hosts around, and why we consider them the best hosting for WordPress. They remain industry leaders in the managed WordPress hosting space.
The pricing is straightforward, and although it's considered pricey compared to some competitors, it's cheap for what you get. If you're looking for WordPress hosting, you can secure a 90% discount on the first month by clicking the link below.
(90% off the first month with coupon MATT90)
---
2. Flywheel
Flywheel offers great managed web hosting packages. They offer affordable packages, with fast servers and reliable customer servers. Here's a quick overview of what makes Flywheel a good choice for your business.
Quick Facts
Hosting Type: WooCommerce, WordPress, and dedicated web hosting options
Page Load Time: 4.5/5
Uptime: 99.99%
Support rating: 4.5/5
Cost: Packages start at $23 a month
Disk Space: 20GB to 200GB
Main Features
Pricing: Flywheel uses a different pricing system than other web hosting services. Rather than paying for a set plan, prices are customized depending on your needs. The team at Flywheel helps work out what features are best for you.
Free CDN: The free CDN that comes with Flywheel is powered by Fastly. That means it's very quick for page loading times.
Pros
Support: You can contact them easily. They have options for live chat, emails, telephone calls, and social media.
Online Security: Flywheel offers free malware clean-up that can be a huge boost to your cybersecurity.
Backup: Your WordPress website is automatically backed up at the end of every day. If there are any issues, you can access older versions of your WordPress website and load those.
Add-Ons: There are plenty of add-ons available. From WordPress hosting updates that make sure your site is always up to date to automatic plug-in installations, you choose the features that you most need. Flywheel also offers web hosting for unlimited websites.
Cons
No SSH: Flywheel has its own managed security and performance resources alongside its managed hosting. That means that you can't access Secure Shell Protocol (SSH). This isn't a major concern because of the in-built security features but can become an issue for some.
No Git Deployment: Most beginners aren't going to have to worry about this. But, if you are using the Git control system[1] to deploy your website code, then you should avoid Flywheel. If you're using WordPress or Wix, then this isn't something that you have to think about. You will be fine.
Flywheel Overview
Flywheel offers many services that other hosts charge extra for. Their servers are reliable, and their pricing structure means that you only pay for what you need. The free CDN is excellent.
That combination of good features at an affordable price makes Flywheel a great choice. Get access by clicking the button below for the best price.
---
3. SiteGround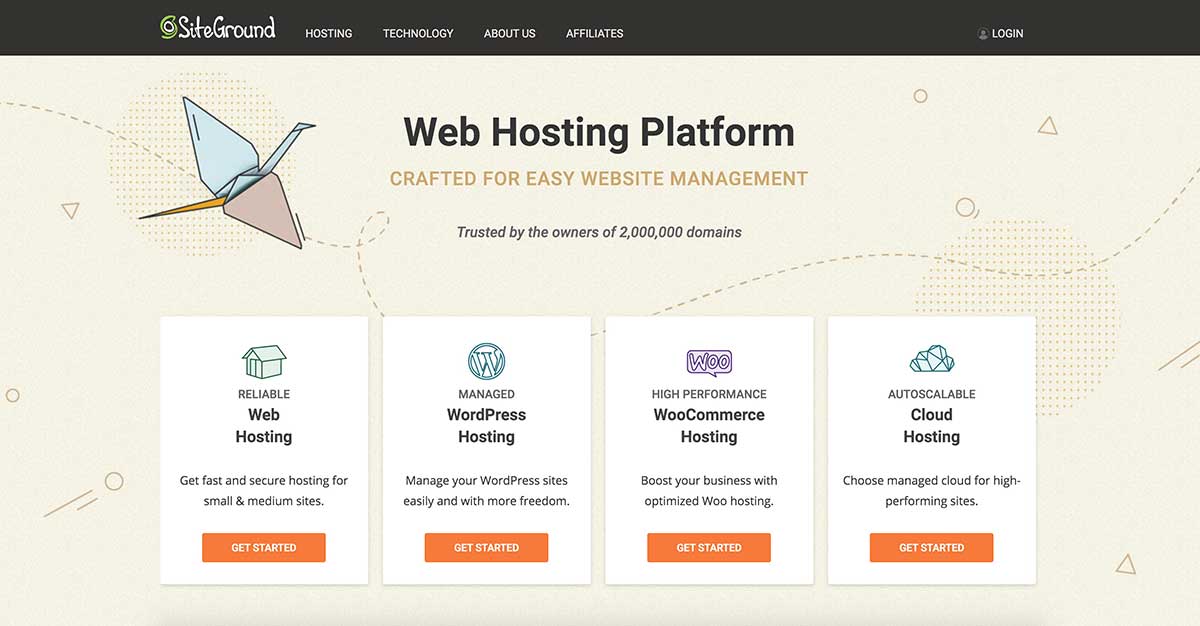 SiteGround is highly rated. They are one of the best WordPress hosting providers and provide reliable service for sites on other CMS's.
Here's a quick review of what makes the SiteGround web hosting services so great.
Quick Facts
Hosting Type: Shared, WooCommerce, WordPress hosting, Cloud, and Reseller
Page Load Time: 4.5/5
Uptime: 99.99%
Support rating: 4.9/5
Cost: Packages start at $6.99 a month
Disk Space: 10GB to 40GB
SiteGround Features
Pre-Installed WordPress or WooCommerce: SiteGround can set up your first WooCommerce and WordPress websites. Having a pre-installed site is handy, as it saves the hassle of learning how to install WordPress.
Payment Options: You have a lot of ways to accept payments. Customers can pay using credit and debit cards, bank transfers, checks, PayPal, and cash on delivery payments.
Ease of Use: The dashboard is extraordinarily easy to use. There's a staging area where tweaks can be made to your website easily. The dashboard is very intuitive.
Pros
Super-Fast Servers: SiteGround is fast. You can make your site faster, too, by choosing where your data is hosted. If you're targeting a specific market such as the US, then all of your data can be stored there. That means super-fast page loading times.
Customer Service: The SiteGround team will solve your problems fast. You can contact them 24/7 using a phone or live chat or use their ticket system.
Backup: Your website will be backed up automatically daily. If your website gets hacked, earlier versions can be loaded immediately.
Free SSL: SiteGround gives you SSL for free. You won't have to worry about configuring the certificate as this is done for you.
Great Uptime: SiteGround has 99.99% uptime rating meaning your site is always accessible.
Add-Ons: Creating a new online store using SiteGround is simple. You can host unlimited websites on some plans.
Cons
Lack of Domain: SiteGround still doesn't offer a domain with any of its plans. You'll have to pay separately for a domain.
SiteGround Overview
SiteGround has a reputation for reliability and fast servers, and the technical support is excellent. They are a great company and have a solid range of features. You can even host multiple websites on their plans.
All of this and more makes SiteGround one of the top hosting for affiliate marketers.
---
4. Hostinger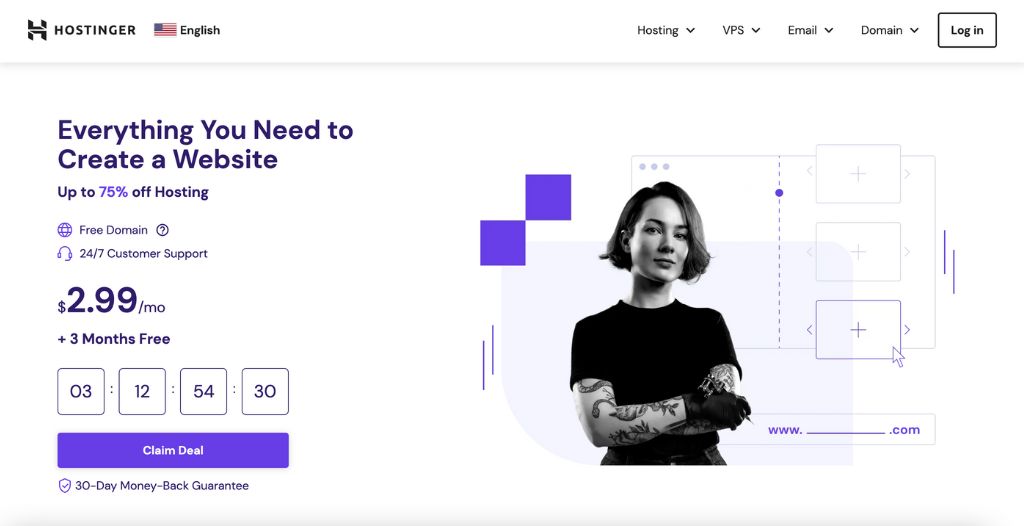 Hostinger is one of our top picks that offers the cheapest web hosting. They provide great plans that cater to people on a budget. You get features like unlimited websites, email hosting, and more on many of the standard plans. Check out the service below.
Quick Facts
Hosting Type: WordPress, Magento, Shared, Cloud, VPS, Minecraft
Page Load Time: 4/5
Uptime: 99.75%
Support rating: 4.9/5
Cost: Packages start at $1.99 a month
Disk Space: 50 GB to Unlimited
Hostinger Features
Price: Hosting plans start at almost one dollar a month. It's great for people on a budget.
30 Day Money-Back Guarantee: If you decide within the first 30 days that Hostinger is not suitable, you can get a refund.
Fast Load Time: Despite the low price, the average loading speed on Hostinger is one second. That means fast load times for site visitors.
User Interface: The user interface is ideal for beginners. The control panel is easy to understand and use. There is also a website builder.
Free Domain Name: All of the plans on Hostinger come with a free domain name that lasts for a year. It saves you a bit of money.
Pros
Online Security: All of the shared web hosting plans come with a free SSL certificate so that you can accept payments immediately.
Discounts: Although already low-cost, Hostinger also runs many discounts and special offers.
Unlimited Extras: Some higher-priced web hosting plans come with additions such as unlimited domains, unlimited bandwidth, and unlimited emails.
Cons
Low Uptime: The servers for Hostinger might be fast, but they aren't always perfect. Although the average uptime is around 99.74%, uptime complaints are one of the most common issues.
Hostinger Overview
Hostinger is a cheap and fast web hosting service provider. It's ideal for a CMS like WordPress or Magento hosting. Hostinger is also an affordable hosting provider. And it's perfect for web hosting for beginners.
As with most web-hosting providers, the more you pay, the more features you can access. Click the button below to secure a plan with up to 60% discount.
---
5. Bluehost
If you're interested in affordable hosting and web hosting for beginners, then Bluehost has to be on your list.
Quick Facts
Hosting Type: WordPress, Shared, Cloud, VPS, Dedicated, WooCommerce
Page Load Time: 3.5/5
Uptime: 99.98%
Support rating: 3/5
Cost: Packages start at $6.95 a month
Disk Space: 100GB and Unlimited
Bluehost Features
Analytics: With Bluehost, you get instant access to some robust site monitoring and SEO tools. These are pre-installed, so it's easy to get started.
Pre-installed Features: There are multiple pre-installed features, including security resources like Jetpack and email hosting.
Pros
Free SSL: You get a free SSL certificate with Bluehost. As this is so important for ecommerce sites, it is a very valuable addition.
Free Domain: You get a free domain for your first year of using Bluehost. You also get unlimited email accounts. They also have a website builder.
Unlimited Bandwidth: All hosting plans from Bluehost come with unmetered bandwidth. If you keep exceeding the average limits, you'll have to upgrade your plan.
Cons
Cost: Bluehost can get expensive. Although it comes with lots of pre-installed features, the upgrades and add-ons are pricey. Annual renewal costs will also rise.
Site Migration: Bluehost makes you pay to migrate your website to their servers. It does offer free migration if you're using the WordPress website builder. But, for those who want dedicated server hosting, migration is going to cost you.
Bluehost Overview
Bluehost remains a good all-around service and hosting account though it's not as good as Siteground. As you get more visitors and your data needs increase, the price you pay will go up.
If you're looking for an affordable WordPress hosting company or any hosting company for that matter, Bluehost is a good choice. Secure a steep discount by clicking the link below.
---
6. DreamHost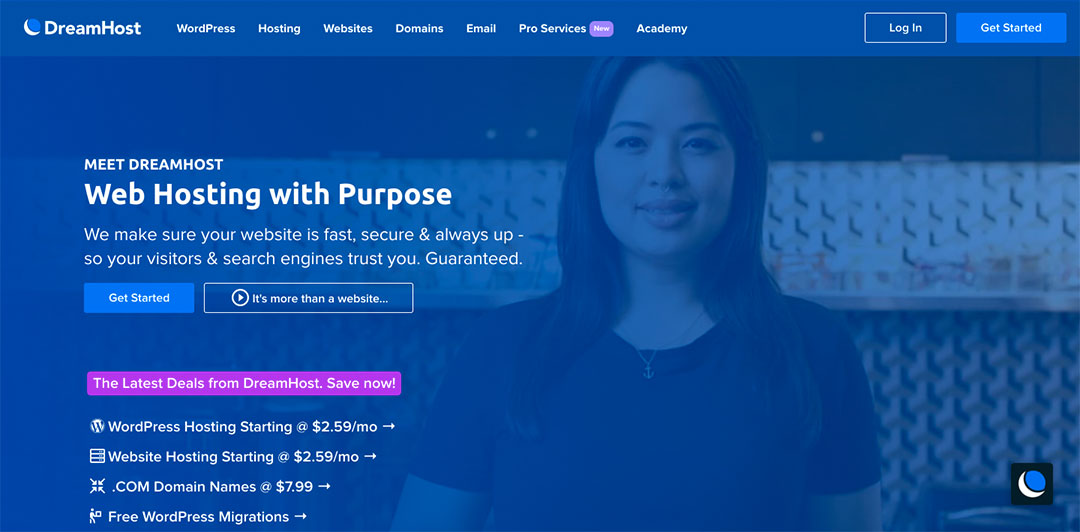 Dreamhost is a great hosting service. Here's an overview of the service.
Quick Facts
Hosting Type: WordPress, Shared, Cloud, VPS, Dedicated,
Page Load Time: 4.9/5
Uptime: 99.99%
Support rating: 4.5/5
Cost: Packages start at $3.95 a month
Disk Space: 10GB to Unlimited
Dreamhost Features
Linux Compatibility: Often called the best host company for Linux users. If your website is Linux powered, then Dreamhost should be one of the web hosts that you explore.
Security Features: You get free SSL certification with Dreamhost. You also get an automatic malware remover, HTTP/2 support, and two firewalls.
Pros
Domain Management Tools: Dreamhost makes it easy for you to manage your site through the control panel.
Cons
No Email: You don't get any email storage with the Shared Starter plan.
No Windows: Dreamhost uses Linux users. There are no Windows-based servers.
Dreamhost Overview
Dreamhost offers reliable hosting at a cheap price with fast servers. Get the cheapest price for Dreamhost by clicking the link below.
---
7. Hostgator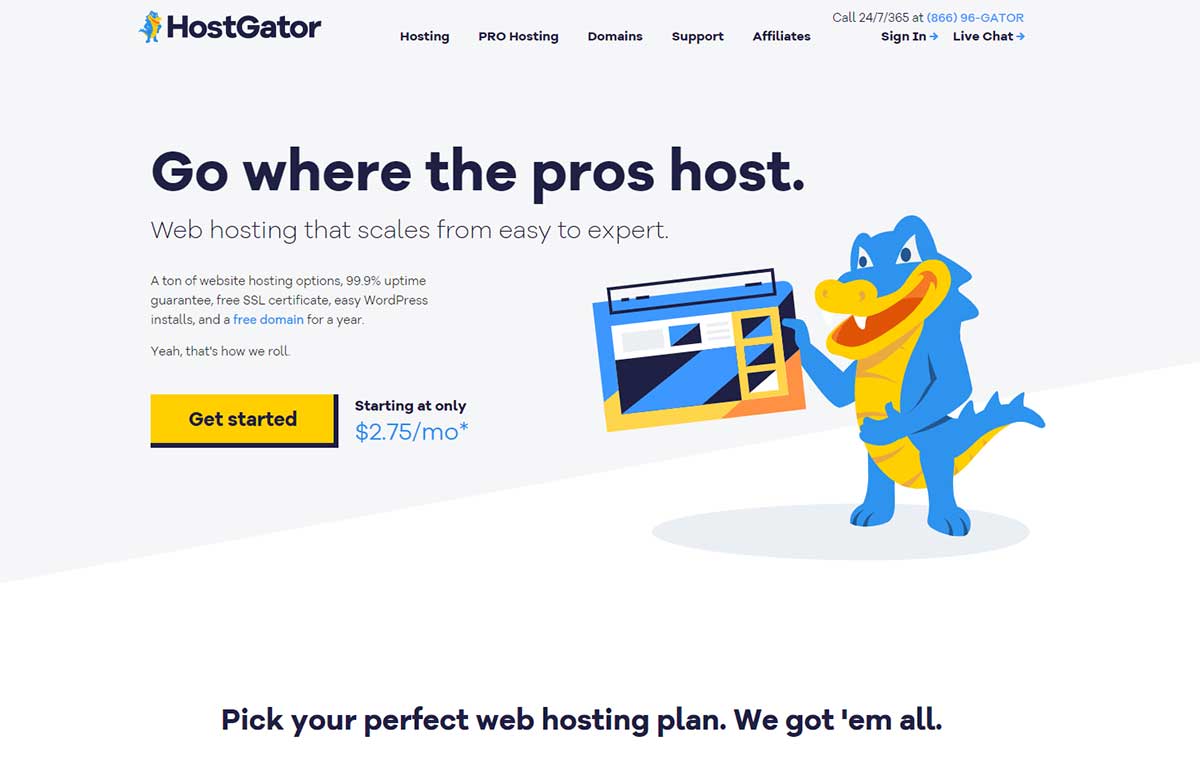 Hostgator has its fair share of fans and critics. The company is known for its competitive pricing.
Check out the overview below to learn more about the company.
Quick Facts
Hosting Type: Shared, Managed WordPress hosting, Cloud, VPS, Dedicated,
Page Load Time: 4/5
Uptime: 99.95%
Support rating: 4.5/5
Cost: Packages start at $2.75 a month
Disk Space: 3.5GB to 200GB
Hostgator Features
Good Uptime: Hostgator has an uptime guarantee of 99.95%. That means your site will always be accessible.
Site Transfer: They offer free domain transfer. Some companies charge for this service.
Pros
Reliable: Hostgator may be low-cost, but it's earned its reputation as a reliable service. The hosting speeds are fast, and you get good uptime.
Cost: Hostgator is popular because it's so cheap. You can get started for as little as $2.75 a month.
Cons
Price Jumps: Renewal prices can be high. There are many additional fees too. For example, Hostgator charges you around $25 for backup restoration.
Support: The Hostgator support is unreliable. You often have long waits to be connected to a member of the team who may not be able to help you.
Loading Speed: Slow loading pages are a problem with Hostgator. They have a page loading guarantee of 1.17seconds. That's not great.
Hostgator Overview
Hostgator has its issues. Dreamhost is far better than Hostgator in terms of performance.
However, the low price makes it a tempting choice when considering different hosting options like SiteGround. It's an option to consider if you're launching a small business or personal website and you want to try out a low-cost hosting service.
Get steep discounts on Hostgator plans by clicking the link below.
---
What Should You Look for in a Web Host
There are some basics to consider when choosing the best web hosting for beginners. Whichever web hosting best match your needs, you need to consider:
1. Fast Servers
A slow-loading website is lethal for an online business. A slow website can harm your search rankings and impact the visitor experience. One of the most important factors for site speed is the server speed of your web host.
Ideally, you want to go with hosting plans that also give you access to a free Content Delivery Network (CDN). A CDN stores a cache of your site on local servers based around the world. That means your site loads fast wherever your audience is based.
2. Good Customer Response
If you're looking for the best web hosting for beginners, you'll likely have questions. You need to know that if you make mistakes or hit development roadblocks, you can get help.
Some hosts have fantastic customer support. Others, not so much. Almost all claim to have excellent 24/7 support. They don't all deliver on that promise.
3. Affordable Pricing
Choosing between hosting companies can be tricky. You need to balance the need for the necessary features with the price of the package.
The majority of the hosts featured in this list have low-cost options for beginners. You can then pay more as your business grows.
4. The Best Option for Your Content Management System (CMS)
While most people think of WordPress sites when they think of a Content Management System (CMS), there are plenty of alternatives. If you're a beginner, choose the CMS that offers an easy-to-use and free website builder.
Whichever CMS you use, you need your web hosting provider to integrate with it. Some are focused entirely on being WordPress hosting providers. Others will have more flexibility.
---
FAQs
Is GoDaddy Good for Beginners?
GoDaddy is good for beginners because of its user-friendly interface and because it offers various plans to suit different needs. Their customer service team is available 24/7 if you need help getting started.
With GoDaddy, you can easily create and manage a website, register a domain name, and get a secure hosting service.
Can I Do Web Hosting Myself?
Yes, you can do web hosting yourself, but you'll need to have a good understanding of the following: 
Server management

Networking

Software configuration
You must ensure the right hardware to support your web hosting setup. You can, alternatively, use a professional web hosting service.
Which Web Hosting Is Best for Beginners in 2023?
WPX is the best choice for beginners in 2023. Their specialized WordPress hosting comes with a range of features that make it easy to get up and run quickly.
They have a great page load time, uptime, and storage. Their support team is also very efficient. 
How Do You Buy a Host?
You can buy a host by first identifying the hosting plan that best suits your requirements, then purchasing the plan from a reputable hosting provider. Different hosting providers offer different features and packages.
So, research and compare the various plans before making your purchase. Always purchase through the official hosting provider's website. 
What Is the Cost of Hosting a Website?
The cost of hosting a website varies from $0.99 to $24.99/month, depending on the hosting plan and company you choose.
Generally, shared hosting plans start at around $0.99/month and offer good storage space, bandwidth, and email. Dedicated hosting plans start at about $24.99/month but provide greater control and security.
---
Which Hosting Provider Should You Choose as a Beginner?
If you are on a budget, Hostinger or DreamHost are the best budget hosting companies. They offer great shared hosting services, and they're affordable – but they do have their setbacks.
While Hostinger and Dreamhost are affordable, WPX is the best website hosting for beginners overall. WPX offers outstanding customer support and has fast servers that ensure your WordPress site will load fast.
Your site hosting is your cheapest business expense. Using WPX means that you pay a low price but still have plenty of room to scale.
A company like WPX is perfect. The hosting is great value for money. You can even try WPX risk-free for the first month.
Our #1 Recommendation: WPX Hosting
Use coupon MATT90 to get 90% off your first month