With over 1.5 million websites hosted and some of the most affordable prices available, you might be wondering if DreamHost is a worthwhile web hosting provider in 2023.
With our data-driven approach, we'll provide an honest and comprehensive review of DreamHost's web hosting services.
Not to mention the rigorous tests we ran to provide you with unbiased data to help make your decision on whether DreamHost is the right choice for you.
Introducing DreamHost
Since I've had the opportunity to use DreamHost on several of my clients' websites, I can attest to its solid presence in today's web hosting arena.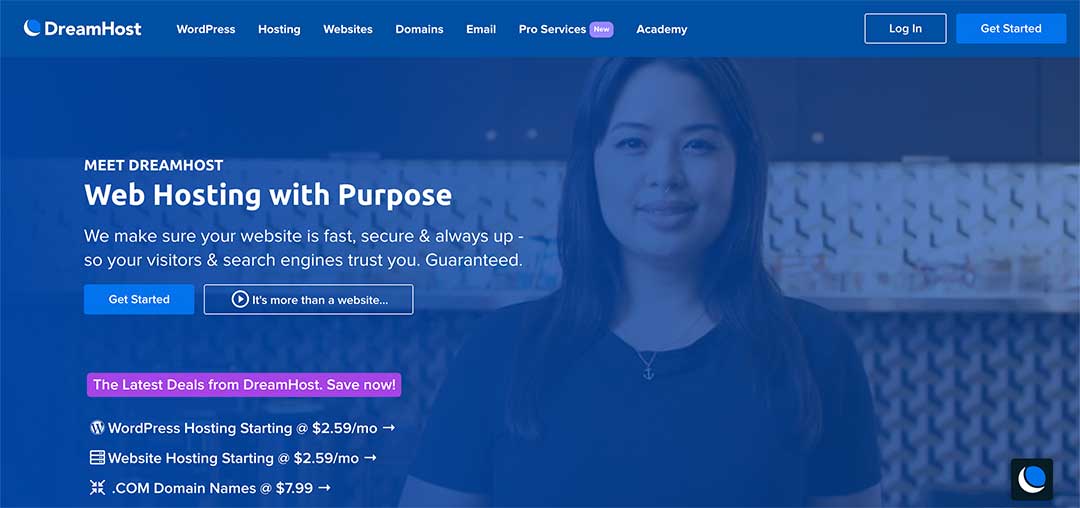 It's no surprise why WordPress.org recommends DreamHost as one of the leading web hosting companies in today's market.
DreamHost is also one of the last big, independently owned and operated website service provider web hosting companies around, who delivers top-notch web hosting service.
---
DreamHost Web Hosting Review
Compared with other affordable web hosting providers, Dreamhost has a wide range of web hosting services available including:
Cheap shared hosting
eCommerce hosting
Cloud hosting
Reseller hosting
VPS hosting
Dedicated server hosting
Let's take a look at each of these services and determine their features and benefits.
When my team of experts purchased DreamHost's shared hosting plan, I realized that we needed to secure the best pricing by opting for the yearly or triennial plan instead of the monthly option.
| Shared Hosting Pricing: | Starter Plan | Shared Unlimited |
| --- | --- | --- |
| Monthly Pricing | $4.95/mo | $8.95/mo |
| Yearly Pricing | $2.95/mo | $2.95/mo |
| 3-Year Pricing | $2.95/mo | $3.95/mo |
| Renewal Pricing | $5.99/mo | $10.99/mo |
If you're after the best value-for-money shared hosting service from DreamHost, we would recommend checking out the Shared Unlimited plan and signing up for three years.
Dream Host also offers a 30-day money-back guarantee on this shared hosting service as well.
As the name suggests, you get unlimited everything:
Unlimited websites
Unmetered traffic & visits
Unmetered (unlimited) bandwidth
Unlimited storage
Unlimited subdomains
Unlimited FTP, SFTP & Shell users
Unlimited MySQL databases
The reason we suggest the 3-year plan shared hosting is that in the long run, it works out cheaper than if you signed up for the 1-year plan and then paid the increased renewal fee for the next two years.
It's a difference of paying $142.20 if you pay three years upfront compared to $299.16 if you paid one year upfront and the renewal costs for the remaining two years.
2. WordPress Hosting
Since I've used DreamHost before, I can vouch for its reliability and performance. It has been listed as one of the official top three web hosting recommendations for WordPress sites.
It offers a fairly wide selection of WordPress hosting options compared with other cheap shared web hosting providers.
For instance, when you compare DreamHost and Hostgator, DreamHost has so many more options for WordPress sites. You can even get managed WordPress hosting.
| WordPress Web Hosting | Monthly Pricing | Yearly Pricing | 3-Year Pricing | Renewal Pricing |
| --- | --- | --- | --- | --- |
| Basic: WP Starter | $4.95/mo | $2.95/mo | $2.59/mo | $7.99/mo |
| Basic: WP Unlimited | $8.95/mo | $2.95/mo | $3.95/mo | $13.99/mo |
| Managed WordPress: DreamPress | $12/mo for 3 months then $19.95/mo | $16.95/mo | N/A | $19.95/mo |
| Managed WordPress: DreamPress Plus | $24/mo for 3 months then $29.95/mo | $24.95/mo | N/A | $29.95/mo |
| Managed WordPress: DreamPress Pro | $79.95/mo | $71.95/mo | N/A | $79.95/mo |
| Managed WooCommerce | From $12/mo for 3 months then $19.95/mo | From $16.95/mo | N/A | From $19.95/mo |
All of DreamHost's plans for WordPress users include:
Instant WordPress setup
Auto WordPress updates
Automated daily backups
Free domain name
Free domain privacy protection
Free SSL certificate
Free email hosting
DreamHost will migrate your WordPress site for free.
You'll also get 1-click staging, on-demand backups, and built-in caching for better performance.
Not to mention the tw higher tiers also include Jetpack for free.
Jetpack is a plugin that helps with security, performance, and tools to help grow your WordPress website.
It's made by WP experts and is valued at over $299/year if paid for separately.
That's seriously great value if you get your hands on that for free with DreamHost. And you also get a 30-day money-back guarantee for a monthly plan.
3. Virtual Private Server (VPS) Hosting
VPS hosting stands for "virtual private server hosting".
You'll get a virtual partitioned space with all its resources dedicated to your projects instead of sharing all the resources with everyone else who is using the server.
This is why virtual private servers can be more pricey than using a shared hosting server but is often well worth the extra cost.
DreamHost offers four managed VPS plans.
| VPS Plans | Monthly Pricing | Yearly Pricing | 3-Year Pricing |
| --- | --- | --- | --- |
| VPS Basic | From $15/mo | From $13.75/mo | From $10/mo |
| VPS Business | From $30/mo | From $27.50/mo | From $20/mo |
| VPS Professional | From $60/mo | From $55/mo | From $40/mo |
| VPS Enterprise | From $120/mo | From $110/mo | From $80/mo |
All of DreamHost's VPS plans include:
Unlimited websites
Unlimited traffic
Unlimited bandwidth
Free SSL certificates
Unlimited email addresses
There are no hidden overage fees when it comes to traffic bandwidth as DreamHost doesn't track your bandwidth or traffic usage.
Where each of these web hosting plans varies is in how much RAM and storage you can access.
4. Dedicated Hosting
If you want to go one level beyond VPS and have an entire server to yourself, DreamHost's dedicated server hosting is right up your alley.
However, as you won't be sharing the server, the costs are significantly higher.
Dedicated servers are ideal for people who manage a large portfolio of websites or have a high volume of traffic and require the best performance and extra resources to ensure minimal downtime.
DreamHost Dedicated Servers
RAM & Storage
Monthly Pricing
Yearly Pricing
Standard
4GB RAM
1TB HDD
$169/mo
$149/mo
Standard
8GB RAM
1TB HDD
$209/mo
$189/mo
Standard
16GB RAM
1TB HDD
$249/mo
$229/mo
Enhanced
16GB RAM
2TB HDD
$299/mo
$279/mo
Enhanced
32GB RAM
2TB HDD
$349/mo
$329/mo
Enhanced
64GB RAM
2TB HDD
$399/mo
$379/mo
Enhanced
16GB RAM
240GB SSD
$299/mo
$279/mo
Enhanced
32GB RAM
240GB SSD
$349/mo
$329/mo
Enhanced
64GB RAM
240GB SSD
$399/mo
$379/mo
DreamHost's plans are fairly pricey for the amount of resources delivered.
Especially considering most of the plans are still running on HDD storage which is slower and less secure than SSD.
But even if you upgrade to the SSD plans, you're limited to only 240GB of storage space.
We believe there are better dedicated hosting deals on the market than what DreamHost has to offer.
Check out our Hostwinds review for more details on dedicated hosting that's worthwhile in 2023.
5. Cloud Hosting
DreamHost also offers cloud hosting which spreads your resources over multiple servers instead of using a single server.
Cloud hosting allows website owners to reach global audiences with fast loading times and reduce the risk of downtime in the event something ever happens to the physical server your files are stored in.
DreamHost offers two different types of cloud hosting plans: DreamCompute and DreamObjects.
DreamCompute offers cloud servers that go live in 30 seconds or less.
They are ideal for hosting websites and web-based applications on a budget.
DreamObject requires even more technical know-how as this type of hosting is very different from traditional server-based hosting plans.
Both cloud hosting options that DreamHost offers have scalable pricing starting at $4.50 per month.
---
DreamHost Features
Now, let's go beyond price and look at the hosting features DreamHost has to offer.
Where possible, we share the data from tests we've run to quantitatively prove whether DreamHost has what it takes to be a worthwhile hosting option in today's market.
1. Ease Of Use
DreamHost offers a custom dashboard with a range of intuitive 1-click features.
We find the custom dashboard has less of a learning curve (when compared to traditional cPanel dashboards) for many beginners.
Since DreamHost also focuses on managed web hosting solutions, if you're a beginner, you won't have to worry about server maintenance, backups, or updates.
However, if you choose to use DreamHost's dedicated or cloud hosting, it is likely you'll need some developer assistance as these types of web hosting plans are designed to offer better performance and require proper setting up to do so.
2. Website Migrations
DreamHost has a free migration plugin that can work well on many sites.
But if something goes wrong, or if you have a more complicated setup, you'll likely have to pay for their migration service.
| | DreamHost |
| --- | --- |
| Price | $99 – $199 |
| Number of Sites | Per site |
| Emails | Manual |
| Availability | All accounts |
3. Disk Space
What impressed us the most with DreamHost's web hosting plans is how most offer unmetered or unlimited storage and bandwidth.
In fact, DreamHost doesn't even track the bandwidth and traffic you use, therefore, it cannot limit your usage or charge you hidden overage fees.
However, when it comes to DreamHosts servers, we would have liked to see more RAM and disk space offered for the priced being charged.
There are a number of better solutions on the market which offer more resources for comparable prices to DeramHost's.
4. Backups
The best way to check if your web host can support you if something goes wrong is to check out their backup policy.
DreamHost offers free automatic daily backups which is more than many other cheap web hosts include in their low-cost plans.
However, it does not offer any further data protection unless you're using cloud hosting.
Your website files are only stored on one server, and if it goes down, you risk your website going down with it.
5. Security
DreamHost has an internal team of dedicated security engineers. Internally, this team is known as Nightmare Labs.
So we dug deep in our research on this topic, and here's what's included in all of DreamHost's web hosting services:
| | DreamHost |
| --- | --- |
| Free SSL Certificate | Yes (Let's Encrypt) |
| Free Domain Privacy | Yes |
| Hotlink Protection | Yes – Manual Set Up Needed |
| Spam Protection | Yes – Configuration of Settings Needed |
| Free Automatic Backups | Yes (Daily) |
| Web Application Firewall | Yes |
| DDoS Protection | Yes |
| Brute Force Protection | Yes |
| Bot Blocking | Yes |
| Malware Protection | Yes (+Malware Removal Tool) |
| 24/7 Server Monitoring | Yes |
| WP Security Plugin | No |
It's quite rare for a cheap web hosting service to include so many out-of-the-box security features in all plans.
Many of DreamHost's competitors charge extra fees for multiple upsell services in order for users to secure their websites to the same level.
6. Servers
For anyone targeting audiences in a specific location, it's worth looking at where your website's servers are located.
DreamHost uses US-based data centers. That's not a problem if the bulk of your audience is in the US. But if it's not, then perhaps you might be better off choosing a hosting company with more server locations and a better web hosting service.
DreamHost's servers are located in Ashburn (Virginia), Hillsboro (Oregon), and Irvine (California).
If you'd like to choose your data center location, you can reach out to their phone or live chat support and request your preferred server location.
---
Performance
Since I own multiple websites, I learned that site uptime and performance are crucial for user experience and SEO ranking factor.
So we put DreamHost to the test to determine the hosting service's effect on site speed and performance.
Not gonna lie, the results were less than optimal. Here's what our testing uncovered.
1. Hosting Speed
GT Metrix
DreamHost
Performance
Score
TTFB
Fully Loaded Time
Vancouver
96%
66ms
7.2s
London
87%
61ms
7.5s
Sydney
82%
27ms
8.2s
Pingdom
| | DreamHost | |
| --- | --- | --- |
| Pingdom Performance | Pingdom Load Time | |
| San Francisco | 66 | 1.48s |
| Frankfurt | 66 | 1.63s |
| Tokyo | 66 | 1.94s |
| London | 66 | 5.28s |
| Washington DC | 66 | 1.45s |
| Sydney | 66 | 1.93s |
To be honest, these results are a bit of a mixed bag. The GT Metrix data indicates decent time to first byte (TTFB) however the fully loaded time was over double the best practice recommendation of 3 seconds.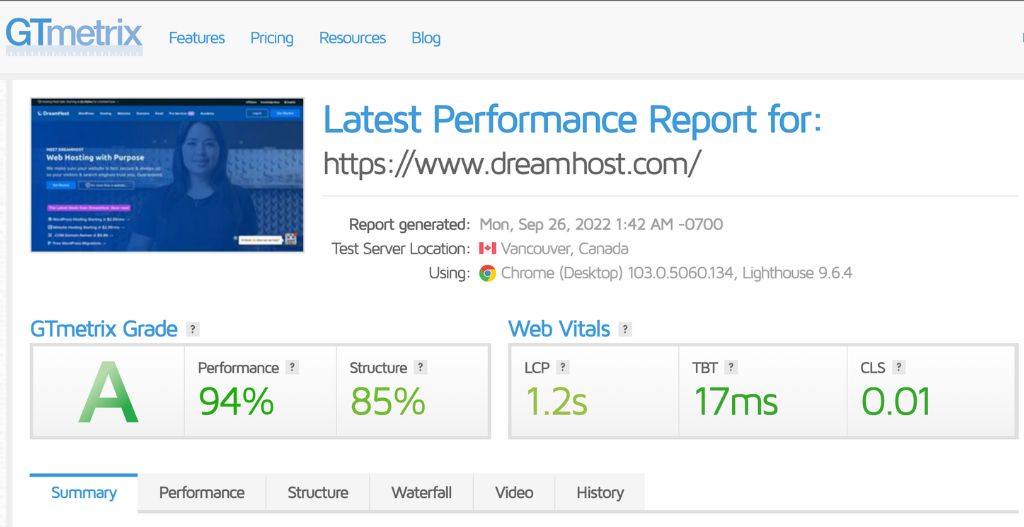 Pingdom's data, on the other hand, indicates better load time, but compared to other web hosting service companies we've tested out, it's still on the high side.
If you're interested to see how DreamHost compares to other hosts, check out our post on the fastest web host.
2. Uptime
DreamHost guarantees 100% uptime which is near impossible to achieve in reality.
So to see if they live up to this guarantee, we've gathered real uptime data from multiple third-party, unbiased sources.
Uptime Test Performance
Since April 2020, DreamHost has experienced a total of 20 downtime events. These resulted in 334 minutes of total downtime.
The top reasons for the downtime events were:
Connection timeout
Internal server errors.
We also discovered that so far in 2023, there have been at least 88 minutes of total downtime, with the longest outage reaching 1 hour and 18 minutes.
The picture isn't any better when we compare the historical uptime data we've gathered either.
| | 2018 | 2019 | 2020 | 2021 | 2022 | 2023 |
| --- | --- | --- | --- | --- | --- | --- |
| DreamHost | 99.95% | 99.92% | 99.63% | 99.85% | 99.80% | 99.74% |
Considering that in the past, DreamHost was at least over the industry benchmark of 99.
90%, it's pretty difficult to overlook the decline in server reliability over the years.
---
Support
To compare the level of customer support DreamHost offers, we turned to Trustpilot, and you can see DreamHost's page here.
With 24/7 support available and over 85% of customers voting DreamHost's support as "excellent," this is a positive sign.
It's refreshing to see a cheap web hosting company investing in its support, as there are far too many competitors out there with shocking support that leaves their customers high and dry.
---
DreamHost Website Builder
While DreamHost offers very reasonable WordPress plans, it also has its own drag-and-drop WP website builder, Remixer.
Remixer is a WP website builder that uses the power of WordPress but layers in intuitive drag-and-drop functionality so even beginners can start building their website with confidence straight away.
DreamHost also offers access to other website-building tools too, like:
Squarespace
Wix
Weebly
Joomla
Zen Cart
Drupal
Magento
Shopify
Tumblr
With 200+ templates and starter sites to choose from, it's very quick and easy for just about anyone to start building a website using DreamHost's WP website builder.
---
DreamHost Domains
DreamHost has over 400+ domain name extensions available for sale. It also offers free domain name registration and privacy protection with its shared web hosting service packages.
DreamHost includes free WHOIS privacy for all domain name purchases.
As far as pricing, DreamHost is among the cheapest domain name providers for .com and .net domains (to name a few).
The initial cost for a domain name is generally well below average.
However, when it comes to renewal costs of the most popular domain TD extensions, DreamHost is generally above average, making them a more expensive option in the long term compared with companies like Namecheap or NameSilo.
---
Dreamhost's Privacy and Anti-Spam Policy
Dreamhost features both privacy and anti-spam policy to protect and enhance the performance of your hosting service.
1. Domain Registration Privacy
When potential site owners purchase a domain registration, the Internet Corporation for Assigned Names and Numbers (ICANN) requires your personal information to be accessible to the public via the WHOIS database.
Bluehost offers to keep your information private for free. You can enable this feature by following the steps on their official site. 
2. Anti-Spam Policy
Bluehost does not allow unsolicited email, instant messaging and other forms of spam on their terms of service. This feature aims to eliminate unnecessary messages, promotions and other forms of commercialization that corrupt the site.
Pros & Cons
If you're still weighing up if DreamHost is worth it for your projects, here are the pros and cons to consider.
DreamHost Hosting Pros
Fairly cheap pricing
Loads of "unlimited" features
A good variety of options for web hosting packages
Decent security measures
Free, automated daily backups
97-day money-back guarantee
Excellent support (as rated by users)
Official recommended WP web hosting provider
Month-to-month web hosting you can cancel anytime
Easy to use, intuitive control panel (it's custom)
DreamHost Hosting Cons
Slow performance in general
Uptime does not meet their guarantee
Server reliability has been declining in recent years
Free website migrations are only offered as a DIY option
Limited live chat support
Over-priced, under-resourced servers
---
Complaints
The most common complaints people have about DreamHost's services include:
Major downtime issues
Problems with their website migrations
Support can take a while to reply
Server-side issues can often leave customers hanging without a live website
Email and lead capture forms often break
Despite these complaints coming from only 5% of customers, there are over 85% of people that rate DreamHost's services as excellent so they're still a worthwhile company to check out.
---
FAQs
Is DreamHost a Good Company?
DreamHost is a good company. It offers some of the best web hosting services out there.
It provides a reliable platform for websites by providing 24/7 server uptime, top-notch security, and complete confidentiality, in addition to a wealth of features like email web hosting and a plethora of other options.
Is DreamHost Better Than GoDaddy?
DreamHost is better than GoDaddy. In comparison to GoDaddy, DreamHost better security at no extra cost, and a plethora of useful extras like a streamlined control panel and an option for both automated and manual website migration.
Is DreamHost Hosting Fast?
DreamHost's hosting is fast, and it can instantly load both lightweight and heavy pages. In our testing, it took just over 0.8 seconds to load Largest Contentful Paint (LCP). It meets the standard at all of our offices with a little extra time to spare.
Who Is DreamHost Best For?
DreamHost is best for newbies and small businesses due to its intuitive interface and user-friendly features. The "Starter" plan is designed for individuals, while the "Pro" plan is the best option for businesses and advanced users (unlimited plan).
---
Our Verdict on Dreamhost Review
Since I've delved deep into DreamHost's offerings, I must say, it's quite a package. Their commitment to providing a range of hosting services, from shared to cloud hosting, is excellent. 
However, while their uptime guarantee is ambitious, real-world data suggests a slight dip in reliability over the years. 
In my opinion, if you're looking for affordable and beginner-friendly hosting, DreamHost is definitely worth considering. But as always, it's essential to align your choice with your specific needs.
Our #1 Recommendation: DreamHost