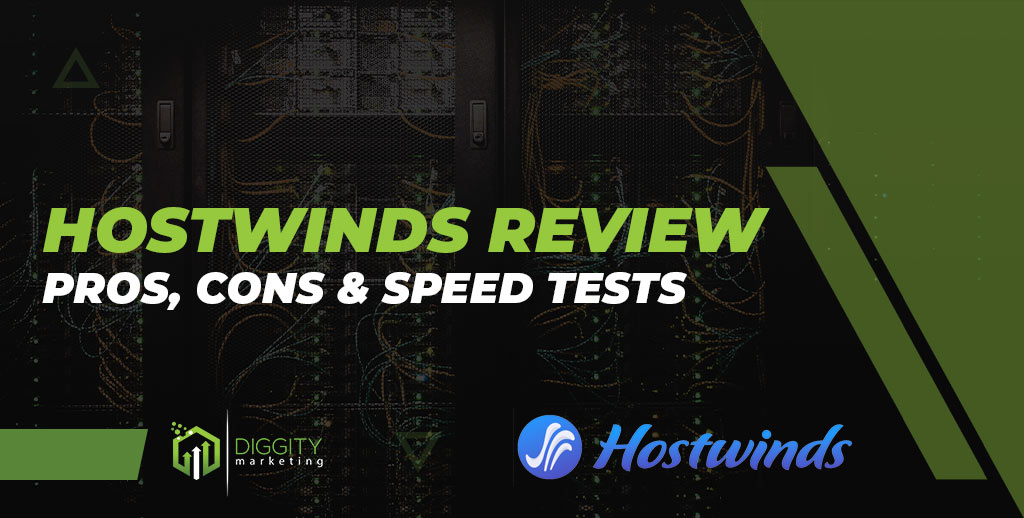 Hostwinds is a lesser-known company in the hosting arena but definitely worth your time to know about. Its services are sure pack a punch in all the ways that matter if you're after affordable and reliable web hosting.
In this data-backed review, you'll find out the details on all aspects of Hostwinds's services from essentials like the ease of use and security to how their performance stacks up in today's market.
Best of all, you'll see why we were pleasantly surprised by its performance. It's not often that a hosting company's performance surprises us like this!
You'll get all the data from the rigorous tests we ran to help you decide whether it's time you switch your website hosting over to Hostwinds.
As a digital marketer with extensive experience in the hosting industry, I invite you to join me in exploring the ins and outs of Hostwinds and making an informed decision about your web hosting needs.
Introducing Hostwinds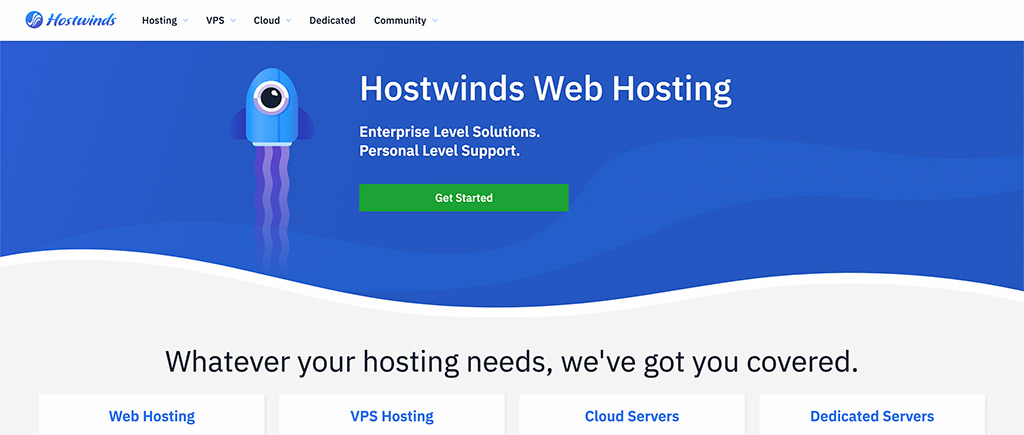 Hostwinds was founded in 2010 in Seattle, Washington. The company has an estimated 50-200 employees, making it a newer and smaller web hosting business compared to industry giants like Hostgator and GoDaddy.
However, newer and smaller aren't necessarily bad things.
Hostwinds had the opportunity to start fresh and overcome many of the problems bigger competitors were creating in the web hosting industry, and they took it.
---
Features
Hostwinds provides a range of plans including:
Shared web hosting services
Business hosting
Managed VPS hosting
Dedicated hosting
Reseller hosting
We'll look at the details of each of their plans later in this article. For now, here are the core features you should consider in any web hosting provider you use for your website.
1. Ease Of Use
Hostwind hasn't reinvented the wheel with its user interface. Relying on a standard cPanel dashboard instead, we like that Hostwinds keeps their dashboard classic and familiar to most people.
As with most cPanel-based dashboards, Hostwinds provides a range of 1-click installs and uses Softaculous for installing WordPress and other popular CMS systems.
Additionally, Hostwinds provides free website transfers managed by their in-house migration experts. Beginners won't have to worry about any of the ins and outs of transferring their files over to Hostwinds.
2. Disk Space
All of Hostwinds' shared web hosting plans provide "unlimited" storage, free website migration, and unlimited email accounts.
The "Ultimate" shared web hosting plan also offers unlimited domains, which may be a great feature if you're building a portfolio of websites.
It's worth noting that while unlimited storage sounds like a dream, the reality is far less spectacular.
Unlimited storage is never really unlimited in the truest sense of the word, as every server has physical limitations to how much data it can store. Having said that, Hostwinds won't track your usage and bill you according to how much space you use.
3. Backup
Website backups are an essential lifeline if something goes wrong. You'll want to know your web hosting company has your back if your website breaks down at a critical moment.
Unfortunately, you will not receive adequate backups with Hostwinds's out-of-the-box plans. Free backups would be nice, but like many other budget hosts, Hostwinds sells nightly backups as an additional upsell.
If you choose to buy a Hostwinds plan, do not skimp out on this cost, as it is necessary if anything ever goes wrong. Once you set up the nightly backups, Hostwinds will retain each backup for 60 days which is longer than most other web hosting companies offer.
However, compared with companies like SiteGround, which offers free daily backups on all plans, Hostwinds severely lacks its in-built backup features and policies.
4. Security
Sometimes, companies have strict (and ambitious) fraud prevention services. This is an excellent thing on its own, but in Hostwinds' case, some customers have had their accounts immediately canceled after signing up.
If this happens to you, it can take a few days to get your account up and running. A minor inconvenience but one easily overcome.
Hostwinds also tends to lack some security features in its out-of-the-box offers.
In fact, on all the shared web hosting, some essential security features (like an SSL certificate) are added as an upsell offer instead of built into the service.
| | Hostwinds |
| --- | --- |
| Free SSL Certificate | No - Paid Extra |
| Free Domain Name Privacy | No - Paid Extra |
| Spam Protection | Paid Option - Spam Assassin |
| Free Automatic Backups | No - Paid Extra |
| Web Application Firewall | Yes |
| DDoS Protection | Yes |
| 24/7 Server Monitoring | Yes |
| WP Security Plugin | No |
5. Servers
One of Hostwinds' prominent unique selling propositions is that they own all their servers and IT infrastructure. This allows the web host to pass cost savings to customers and also gives them full control over the quality of their web hosting services.
As such, Hostwinds doesn't have a great variety of data center locations, with their three locations being Seattle, Dallas, and Amsterdam. In saying this, Hostwinds provides more server locations than some of the leading web hosting providers globally, like Bluehost, which only has servers in Utah.
Something we did notice, however, is that as a result of the limited server locations, the speed performance of websites was somewhat inconsistent. We'll get into the details of our performance tests in a moment.
It's worth considering the location of your website's audience. If they are not in North America or Europe, your website's loading speed may suffer.
Hostwinds also does not mention a free CDN service included with their plans to accommodate this. Just some food for thought if the server location is important to your decision-making process.
---
Hostwinds Performance
As mentioned earlier in this article, besides investigating the features of each type of web hosting account offered by Hostwinds, we also ran our own tests.
The data we gathered first-hand lends insight into whether Hostwinds lives up to the bold performance claims they make on their website and marketing materials. We also did a Hostwinds and Bluehost comparison, which you can check out for an in-depth analysis.
Hostwinds Speed
To test the speed of an average Hostwinds account, we ran a test website through two tools: GT Metrix and Pingdom.
The same website was used and tested three times on each tool for each location. Yes, that's a whole lot of tests we ran so that we could be extra sure of the data we gathered.
The average results from each tool are below and exceeded our expectations!
Hostwinds loading speed and TTFB scores were the fastest out of all the web hosting companies we've tested. However, there were some inconsistencies relating to areas we tested outside of North America and Europe.
GT Metrix
| | Performance Score | TTFB |
| --- | --- | --- |
| Vancouver | 0.94 | 240ms |
| London | 0.99 | 191ms |
| Sydney | 0.86 | 87ms |
Pingdom
| | Performance Score | TTFB |
| --- | --- | --- |
| Vancouver | 0.94 | 240ms |
| London | 0.99 | 191ms |
| Sydney | 0.86 | 87ms |
Our Verdict: Overall, we're quite impressed with Hostwinds TTFB and loading speed. However, we did observe that in countries that aren't in Europe or North America, loading speed is very inconsistent and can even be below best practices.
In the Pingdom tests above, you'll notice that the worst scores came from Tokyo and Sydney. All other tested locations are near server locations. Likewise, in the GT Metrix results, Sydney had the worst performance score.
Using a CDN, like CloudFlare, could help you overcome slow loading times in non-US countries. Thankfully, Hostwinds has CloudFlare pre-integrated on all of their shared plans. All you need to do is to configure the settings for your website in cPanel.
All in all, Hostwinds is worth considering if your audience is located in Europe or North America. If you're interested in using a web hosting company that offers better speed performance in more locations, check out our post on the fastest web hosts instead.
Hostwinds Uptime
Like loading speed, uptime is a critical performance factor that relates to a server's reliability. A hosting company's uptime needs to be weighed up before purchasing a web hosting plan.
Hostwinds provides one of the highest guarantees we've seen at 99.9999%. That's a bold promise to make!
Especially since the only thing a web hosting company can guarantee is the electricity running to their servers. However, Hostwinds has full control over their servers (because they own their entire infrastructure), which many other web hosting providers do not have.
According to Pingdom's uptime monitoring data, Hostwinds's average uptime is fairly decent. The average is sometimes lower than the guaranteed amount, especially in recent months.
However, in the 12 months between September 2020 and August 2021, Hostwinds experienced a solid record of 100% uptime every single month without fail.
Our Verdict: Hostwinds uptime performed exceptionally well in our tests and historically has been well above average! In recent months, the average uptime levels have been below Hostwinds guaranteed amount but significantly higher than industry benchmarks.
---
Hostwinds Web Hosting Plans
Despite offering reasonably affordable shared hosting, Hostwinds is better known for its VPS and Linux plans along with their business web hosting solutions.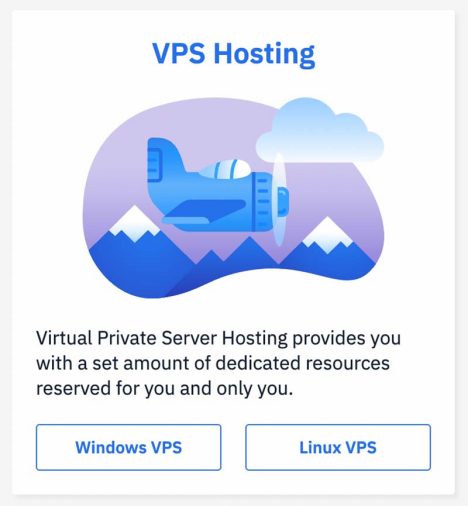 It's important to note that you're not comparing apples to apples when you compare Hostwinds to a company like GoDaddy or Hostgator, for instance. Hostwinds has a customized technical infrastructure and a solid team behind it for all their hosting solutions.
However, when it comes to price, Hostwinds pricing is rather average in the market and also relies on hidden upsells to unlock essential functionality, like backups and server monitoring.
If price is your biggest concern, there are cheaper solutions out there. In any case, here is the low-down on each of Hostwinds' hosting types.
Hostwinds offers reasonable Linux-based shared hosting servers that are affordably priced. Although their website is light on the details of what these plans include, you can bank on receiving:
Unlimited storage
Unlimited domains on the "Ultimate" plan
Free website migrations
SSD storage
Unlimited email accounts
Free dedicated IP address
| Hostwinds Shared Plan Prices | Promotional Pricing | Renewal Pricing |
| --- | --- | --- |
| Lowest Tier (Basic Plan) | $6.74/month | $8.99/month |
| Middle Tier (Advanced Plan) | $8.24/month | $10.99/month |
| Highest Tier (Ultimate Plan) | $9.74/month | $12.99/month |
The only difference between these plans is the number of domains allowed.
Note: With any plan, you can have unlimited sub-domains. But you can't run multiple different websites from the same account on the Basic plan. The Advanced plan only allows four websites, whereas the Ultimate plan offers unlimited websites on one account.
Unless you're on a tight budget, the Ultimate plan provides the best features for running a portfolio of websites, as most affiliate marketers do. If you're looking for hosting for your business, consider the shared plans instead.
2. Business Web Hosting Service
As far as standard features go, Hostwinds' Business hosting service plans are like the shared hosting plans but with better functionality. These plans are:
500% faster
Have fewer websites per server
Suited to higher traffic volume websites
Offer more resources
| Hostwinds Business Plan Prices | Promotional Pricing | Renewal Pricing |
| --- | --- | --- |
| Lowest Tier (Basic Plan) | $10.49/month | $13.99/month |
| Middle Tier (Advanced Plan) | $11.99/month | $15.99/month |
| Highest Tier (Ultimate Plan) | $14.24/month | $18.99/month |
The business hosting plans are still on shared hosting servers, but the servers are more powerful, and they use LiteSpeed technology to boost their performance.
LiteSpeed is a newer server technology that has been built from the ground up. It is used specifically to be faster than other servers out there and uses several speed-boosting features like caching.
3. VPS Hosting
If having a virtual private server with loads of storage is what you're after, hands down, Hostwinds' VPS hosting plans are among the best options.
Unlike shared hosting, VPS hosting imitates a dedicated server using virtual partitions. A dedicated server with virtual partitions allows you to access private resources even if your server is shared with others.
Hostwinds takes their VPS hosting services not one but two steps further. Firstly, you can choose between Linux or Windows VPS servers.
Secondly, when you choose VPS hosting you also can configure your own unmanaged server (a preference among techies) or opt for a fully-managed server (recommended for non-techies).
Although the above prices are reasonable and fairly low, each of the above plans has multiple tiers with incrementally increased CPU, RAM, storage, and bandwidth.
CPU Options: All plans offer a choice of 1, 2, 4, 6, 8, 12, or 16 CPUs.
RAM Options: All plans offer a choice of 1, 2, 4, 6, 8, 12, 16, 32, 64, or 96 GB.
Storage Options: All plans offer a choice of 30, 50, 75, 100, 150, 200, 300, 400, 500, or 750 GB.
Bandwidth Options: All plans offer a choice of 1, 2, 3, 4, 5, 6, 8, or 9 TB.
The mix of all these options is why Hostwinds has won multiple awards for VPS hosting services and is one of our favorite hosting providers.
4. Dedicated Server
Dedicated hosting is very powerful. With dedicated hosting, instead of sharing a server and its resources, you would have the entire server to yourself with no limitations to how you use its resources.
Hostwinds offers fully managed Linux and Windows dedicated servers for dedicated hosting. You can choose a pre-configured server or customize your setup to your requirements.
These dedicated options start at about $100/month but can easily cost much more depending on what customizations you add. Your options for drivers to add to your server can reach up to 3TB of HDD or 1TB of SSD storage per bay (with a maximum of 4 storage bays).
You can also configure the RAM, RAID, IP addresses, and operating system to your heart's content!
If you max out everything, you could easily be spending around $1500 per month so be mindful of the costs involved for fancy features you likely don't need.
5. Cloud Hosting
Besides their stellar VPS hosting plans and fully customizable dedicated servers, Hostwinds also offer cloud hosting with additional extras like:
Load balancers
Block storage
Object storage
Cloud storage spreads CPU, RAM, and other resources across multiple servers which operate in the cloud. Cloud hosting is different from regular hosting where your website draws power and resources from the same server.
If something happened to that server, your website would usually go down with the server. But that doesn't happen if using cloud hosting. Since your website's uptime isn't tied to a single server's performance with cloud hosting.
Hostwinds' cloud hosting plans are priced by the hour and the smallest plan equates to around $4.99 per month for bare minimum resources (1 CPU, 1GB RAM, and 1TB bandwidth). On the other side of the spectrum, the largest plan is around $328.99 per month.
6. Reseller Web Hosting Service
If you run an agency or you want to sell web hosting services yourself without the headache of server management, Hostwinds reseller plans might be of interest to you.
Hostwinds' reseller plans are the same as their shared plans but with added discounts when you buy a large volume of accounts.
With the White Label Reseller option, you can also remove Hostwinds' branding from every area of the platform and replace it with your brand instead.
The wonderful thing is that your clients can also access Hostwinds 24/7 technical support if they face any issues with their hosting account. Win-win.
---
Hostwinds Website Builder
Like many other web hosting services, Hostwinds includes a free website builder. Instead of having a custom builder, Hostwinds has partnered with Weebly.
The Weebly website builder is great for beginners who need to build a quick website just to have an online presence up and running. However, in the long run, there are many limitations you could face.
Unfortunately, the Weebly website builder is quite poor for SEO performance. We wouldn't recommend using it for any websites that represent your business or that you would like to earn money from.
However, the good news is that Hostwinds still makes it easy for you to install other content management systems, like WordPress or Magento, through the Softaculous one-click installer in cPanel.
---
Hostwinds Domains
Domain names aren't a priority service for Hostwinds. Unlike their competitors, who offer free domain names to entice new customers, Hostwinds does not provide such a deal for free domains.
It is possible to buy domain names through Hostwinds for a range of domain name extensions. However, the prices are often above average.
---
Support
Hostwinds' products and services can cater to a beginner market, but their standout products require a little more technical know-how.
For this reason, we've been looking into the support Hostwinds offers and whether they can help non-technical beginners through some more complicated tasks.
Hostwinds offers 24/7 phone, live chat, and ticket-based support, and we put them to the test.
Pre-sale support was fantastic and very beginner-friendly. Anyone with limited technical skills can ask questions to get help on the best product for their needs. In our experience, the responses weren't canned, and they also weren't overly sales-y.
We also had very fast response times, even outside of regular business hours (e.g. instant response on a weekend evening). In combination, these features are the ultimate combo if you're looking for helpful, timely information to make a sound buying decision. Their customer support and the whole support team are overall pretty good.
However, once it comes time to set up an account, many customers have found that the after-sales support team can be a little too technical and difficult for a beginner to follow.
We also scoped out Hostwinds' support ratings on third-party websites, and initially it looks promising… Take their reviews on Trustpilot[1], for instance:
That might look good, but, there's a glaring message indicating that Hostwinds may have tampered with their reviews. Not a good sign as far as first impressions count.
---
Money-Back Guarantee
Back in the day, Hostwinds had an impressive 60-day money-back guarantee. But, unlike every other hosting company we have reviewed to date, Hostwinds now has a very short refund window of 72 hours after purchase. Even so, it is not a money-back guarantee in the traditional sense.
Instead of offering a full refund, Hostwinds offers a pro-rated return of the unused portion of your hosting plan if you request a refund in the 72 hours window after you make a purchase. You can read the full refund policy here[2].
In addition, it's not easy to cancel a service. If you have issues with setting up your account, as some people have experienced due to the fraud protection measures in place, you barely have enough time to try out the service to decide if is right for you after all.
---
Pros & Cons
Pros
Great uptime
Best speed scores in our tests
Decent customer service
Excellent hosting plans
Reasonably affordable
Average 5-minute tickets for resolving support requests
Free unlimited email accounts
Unlimited storage
Unlimited bandwidth on shared plans
Cons
Only a 72-hour money-back window
Not 100% beginner-friendly
Support can be too technical at times
No free domain name
No e-commerce hosting
Backups are not included
No free SSL certificates
---
FAQs
Hostwinds Business is better if you have the budget for it. Deciding if Hostwinds Business or Shared hosting plans is better for you comes down to how much you're willing to invest in your web hosting.
If you have a larger budget, it's better to upgrade to a Hostwinds business account over a standard shared hosting plan.
How do I get started with Hostwinds?
You can get started with Hostwinds's products and services by purchasing them on Hostwinds's website.
---
Should You Use Hostwinds in 2023?
Hostwinds remains one of the better hosting options in our book despite a smaller refund window and the technical nature of most of their services. Overall, their customer support has a track record of closing tickets in 5 minutes (on average) which is ridiculously fast!
Not to mention the number of customizations you can make on VPS, dedicated, and cloud servers.
If you're after reliable, decent hosting at reasonably affordable rates, check out Hostwinds today.
Our #1 Recommendation: Hostwinds