When creating an online presence, choosing the right web hosting provider is crucial for the success of your website. In this article, I will compare two popular hosting companies: Hostwinds and Bluehost.
With my practical experience building numerous websites, I have gained valuable insights into the hosting industry.
Having worked extensively with various hosting providers, including Hostwinds and Bluehost, I can provide firsthand knowledge to guide you in selecting the most suitable option for your website.
What Is Hostwinds?
Hostwinds is a prominent web hosting service renowned for its comprehensive range of hosting plans and unwavering commitment to customer satisfaction.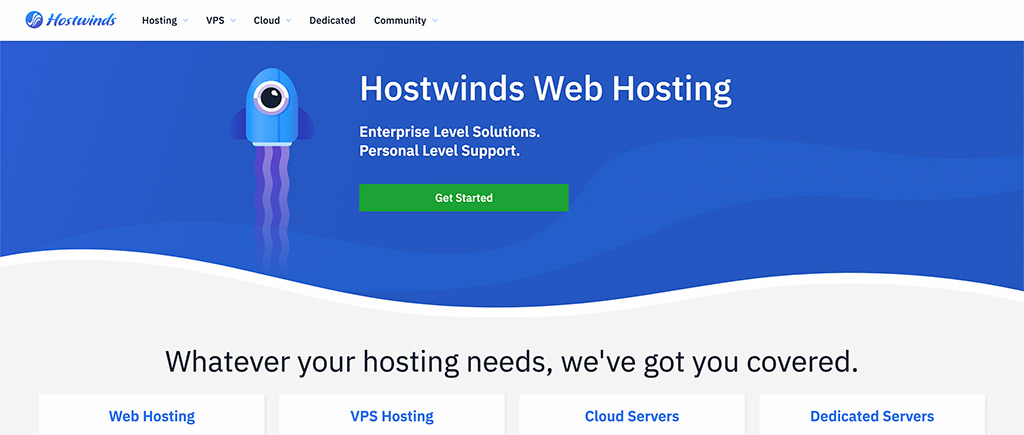 Whether you are looking for shared hosting, VPS hosting, dedicated servers, reseller hosting, or Linux cloud hosting, Hostwinds offers flexible plans to cater to diverse needs.
Hostwinds offers numerous virtual private server packages. Their virtual servers range offers flexible and scalable options, allowing you to select the ideal configuration for your specific requirements. 
In addition to their hosting offerings, Hostwinds excels in Linux fully managed support. Their knowledgeable and friendly support team is available 24/7, ready to assist you with any technical issues or inquiries.
What Is Bluehost?
Bluehost web hosting provider is a highly reputable and widely recognized web hosting service that has been providing reliable hosting services for over ten years.
One notable feature that makes Bluehost stand out is its seamless integration with WordPress. As an officially recommended WordPress hosting provider, Bluehost offers optimized hosting plans tailored specifically for WordPress websites.
Bluehost web hosting company also offers various hosting plans to cater to various needs.
Whether you require shared hosting, virtual private servers (VPS), dedicated servers, or specialized WooCommerce hosting, Bluehost has flexible plans to accommodate different scales and requirements with fully managed support. 
Virtual Private Servers are a cost-effective solution for businesses that require dedicated resources and enhanced performance without the high price tag of a dedicated server.
– Brian Jackson – Director of Inbound Marketing at Kinsta
---
Hostwinds Vs. Bluehost Comparison
We will evaluate their uptime and response time, website speed, website security measures, and the quality of their customer support.
1. Uptime And Response Time
Hostwinds and Bluehost prioritize providing reliable and efficient hosting services.
Hostwinds 
Hostwinds web hosting service has maintained impressive uptime throughout my personal experience.
Their robust infrastructure and strategic data center locations contribute to minimal downtime, ensuring that websites hosted on their platform remain accessible and available to visitors.
Hostwinds offers a 99.999% uptime guarantee, which translates to minimal downtime and ensures that your website remains accessible to visitors almost continuously.
In terms of response time, Hostwinds offers swift and efficient server performance. 
The websites I have encountered hosted on Hostwinds have exhibited fast loading speeds, allowing visitors to access content quickly and enjoy a seamless browsing experience.
Bluehost 
Bluehost web hosting company also excels in uptime, boasting a strong track record of website reliability.
With their optimized servers and network infrastructure, Bluehost strives to deliver consistent uptime, minimizing disruptions and ensuring a smooth browsing experience for website visitors.
Bluehost, on the other hand, provides a reliable uptime guarantee of 99.9%, aiming to keep your website up and running with minimal interruptions. Similarly, Bluehost strongly emphasizes fast loading speeds and response times. 
Winner: Bluehost works to minimize latency and deliver content swiftly to website visitors and emerges as the winner in terms of uptime and response time.
2. Website Speed
Hostwinds 
Hostwinds web host excels in website speed with their robust hosting infrastructure and optimized servers. Their web hosting services are designed to deliver fast loading times and responsive websites.
With their unlimited bandwidth offerings and virtual private server packages, Hostwinds ensures our website can handle high traffic volumes without sacrificing performance.
Bluehost 
Similarly, Bluehost places a strong emphasis on website speed. Their hosting service utilizes advanced server optimization techniques to deliver quick loading times.
With its powerful infrastructure and unlimited bandwidth, Bluehost provides the resources necessary to maintain optimal website speed, even during periods of high traffic.
Websites I hosted with Bluehost have consistently loaded quickly, allowing visitors to access content without unnecessary delays. 
Winner: Bluehost is an absolute winner when it comes to website speed, as it is stable and reliable.
3. Website Security
Website security is of utmost importance for any web hosting company, as it plays a crucial role in protecting websites from potential threats and ensuring the safety of user data. 
Hostwinds 
Hostwinds goes the extra mile to prioritize website security. They offer free SSL certificates, ensuring encrypted communication between websites and visitors and safeguarding sensitive data. 
Additionally, Hostwinds implements DDoS protection to mitigate potential distributed denial-of-service attacks, keeping websites accessible and secure.
Their advanced firewall systems and regular security audits contribute to the overall security posture of hosted websites, providing peace of mind for users.
Bluehost 
Bluehost web host also places great importance on website security. They offer free SSL certificates, enabling secure communication between websites and users.
Bluehost employs proactive server monitoring to detect and block malicious traffic, while their firewalls act as an additional line of defense. 
Furthermore, their CodeGuard feature provides automated daily backups, protecting against data loss and facilitating easy restoration in case of unforeseen events.
Winner: In the realm of website security, Bluehost takes the lead and emerges as the clear winner. 
Website security is an ongoing process, requiring regular updates, patches, and security audits. It's essential to stay vigilant and keep pace with evolving security threats.
– John Hargrave, CEO of Media Shower
4. Customer Support
Customer support is a vital aspect to consider when choosing a web hosting provider, as it ensures prompt assistance and resolution of any technical issues or concerns that may arise.
Hostwinds
Hostwinds web hosting company offers customer support through various channels, including 24/7 live chat, a ticketing system, and phone support.
While they are known for their responsive and helpful support team, my experience with Hostwinds has been disappointing.
There were instances where I encountered delays in receiving responses to my support tickets, affecting my issues' overall resolution time. Although they eventually addressed my concerns, it left me less than 100% satisfied with their customer support.
Bluehost 
On the other hand, Bluehost web hosting company provides fully managed support, including 24/7 live chat, phone support, and a knowledge base.
Their support team is generally responsive and knowledgeable, addressing my queries and technical issues in a timely manner. 
Winner: While no customer support experience is perfect, I have found Bluehost's support more reliable and satisfactory than my experience with Hostwinds.
5. Pricing
Hostwinds 
Hostwinds aims to deliver value by including generous resources such as unlimited disk space, bandwidth, and email accounts in their plans.
The pricing is transparent, allowing users to choose the package that best fits their requirements and budget.
Hostwinds offers a range of hosting packages, and their Shared Hosting plan starts at $5.24 per month. This plan includes features such as unlimited disk space and bandwidth.
In my experience, I found Hostwinds' pricing to be competitive, especially considering the generous resources and features included in their plans.
Bluehost 
Bluehost web hosting company also offers cost-effective hosting plans with their pricing plans. They have different hosting options, including Shared Hosting, WordPress Hosting, VPS Hosting, and Dedicated Servers.
Bluehost's pricing is designed to be competitive in the market, providing users with affordable hosting options without compromising on the quality of service. 
On the other hand, Bluehost's Shared Hosting package starts at $2.95 per month, which is slightly lower than Hostwinds.
This plan provides unmetered bandwidth, a free domain for the first year, and a one-click WordPress installation. I found Bluehost's pricing reasonable and in line with the industry standards.
Winner: While both Hostwinds and Bluehost provide the convenience of monthly billing instant upgrades, enabling you to easily scale your hosting resources as your website's needs evolve, Bluehost is definitely a better choice.
6. Ease Of Use
Hostwinds
Hostwinds offers a user-friendly control panel and intuitive interface that allows users to navigate and manage their hosting accounts easily.
I found Hostwinds' hosting management to be straightforward and accessible, making it convenient to set up and manage websites.
Bluehost 
Similarly, Bluehost offers a user-friendly control panel and a streamlined interface that simplifies hosting management tasks.
Based on my personal experience, I found Bluehost's hosting management intuitive and user-friendly, enabling me to manage my websites without any complications efficiently.
Winner: While both providers prioritize ease of use, Bluehost's user-friendly control panel and intuitive interface make it a more favorable option for users seeking a straightforward hosting management experience.
Hostwinds Vs. Bluehost: Which Is Better?
After thoroughly comparing Hostwinds and Bluehost, both hosting providers offer valuable services for website hosting. However, based on our evaluation, we recommend Bluehost as the preferred choice for your hosting needs. 
With its reliable hosting services, user-friendly interface, and specialized support for WordPress, Bluehost offers a comprehensive solution for individuals and businesses alike.
From my personal experience, Bluehost has consistently delivered exceptional performance, ensuring my websites load quickly and remain accessible to visitors. Their WordPress-specific features, such as one-click installation and automatic updates, have made managing my WordPress sites effortless. 
If you need a secure and reliable web hosting provider, then try Bluehost today.
Our #1 Recommendation: Bluehost