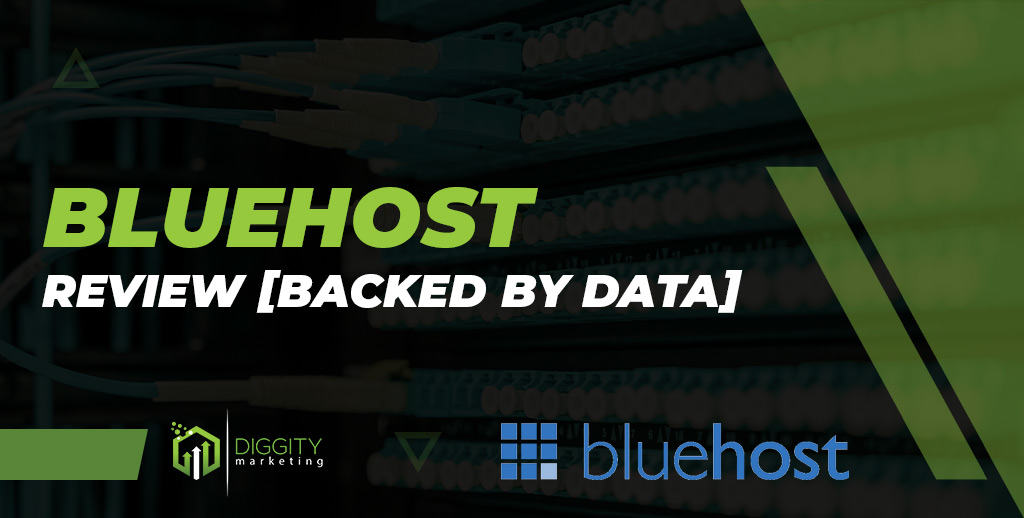 Bluehost is the sixth most popular web hosting provider around. With over 2 million websites hosted, Bluehost has made a name by offering "cheap and reliable" hosting.
But, if you're anything like us, you might be wondering if Bluehost's service actually lives up to its reputation and if it's worth it for your website.
That's why we took it upon ourselves with some of the most well-respected experts in the industry.  n this data-driven review, you'll get the low-down on all Bluehost's plans and see if they're among the best web hosting services.
You'll discover the good, the bad, and the somewhere in between as you dive deep into the most up-to-date Bluehost review on the internet.
Introducing Bluehost
Bluehost was founded in 2003 in Utah and powers over 2 million websites. Since first opening its doors, Bluehost has been on an upward trend with no signs of slowing down and is now one of WordPress' top 3 recommended hosts.
So if you run a WordPress site, it's worth looking into these guys for website hosting.
The real question is, does Bluehost continue to shine in today's web hosting market? Let's find out.
---
Bluehost Review: Hosting Features
Bluehost offers a wide range of hosting plans and services, including:
We'll look at the details of each later in this article…
The Shared plans are by far the most popular, so we'll use these as the baseline for investigating Bluehost's features.
1. "Unlimited" Disk Space
Bluehost's basic plan provides 50GB of SSD storage. All of Bluehost's other shared hosting plans include "unlimited" storage (also referred to as "unmetered bandwidth" on Bluehost's website).
While there is a difference between these terms, Bluehost uses them interchangeably.
Ultimately, this means you won't have any defined limitations on how much space you use. You also won't be charged according to how much space you use.
However, a fair use policy does apply to prevent any single website from using up so many of a server's resources that it impacts the other websites sharing the server.
Bluehost uses statistical analyses to determine the average patterns of normal website usage across its customer base. Anyone who is using more resources outside of the patterns established as "normal" may experience restrictions.
2. Free Backups, Sometimes
If anything ever takes a turn for the worst on your website, the first thing you'll need is access to a backup. Knowing that your hosting company has your back in this department can be a massive weight off your shoulders.
Unlike most other reputable web hosting companies, Bluehost only offers free backups on their most expensive tiers, and even then, limitations apply. For instance, they take no responsibility for failed backups.
Even though Bluehost offers backups on a daily, weekly, and monthly basis on their higher-priced tiers, they're "not guaranteed in any way."[1]
Instead, it's recommended that you purchase an additional subscription with CodeGuard.
It's also worth noting that Bluehost doesn't offer redundant or mirrored backups.
Redundant data storage provides a fail-safe against hard drive failure.
Mirrored backups are exact replicas of your data that can be rebooted in case something goes wrong.
Honestly, it's not a great sign that Bluehost doesn't offer these types of backups. Especially since the company also claims no responsibility for when things go wrong.
If anything ever happened, you'd likely be left hanging without a website if you couldn't access the backup data on Bluehost's servers for whatever reason. Being left without a website is among the top complaints the company receives on Trustpilot.
3. Limited Out-Of-The-Box Security Features
As with the backups, Bluehost lacks other features that competing web hosting companies include in their out-of-the-box plans and services.

For instance, domain privacy and spam protection are features included for free by many of Bluehost's competitors. However, with Bluehost, these require an additional expense.
It comes down to budget cuts on the core services so that Bluehost can pass lower costs to customers on their hosting packages.
| Free SSL Certificate | Yes (Let's Encrypt) |
| --- | --- |
| Free Domain Privacy | Only on Expensive Tiers |
| Hotlink Protection | Yes |
| Spam Protection | Yes (Akismet) |
| Free Auto Backups | Only on Expensive Tiers |
| Web Application Firewall | Yes |
| DDoS Protection | Yes |
| Brute Force Protection | Yes |
| Bot Blocking | Yes |
| Malware Protection | Yes (Daily Automated) |
| 24/7 Server Monitoring | No |
| WP Security Plugin | No |
When comparing web hosting plans and services, it's likely you've seen them all mention their security is a top priority and that a free SSL certificate is included.
But, few hosting companies put their money where their mouth is. Bluehost isn't one of them.
Honestly, there are far better-hosting options that constantly invest in their in-built security features for all shared plans. SiteGround and WPX  are our top choices, to name a few.
4. Servers
Bluehost's servers and data centers are not made prominent on their website. So we reached out to their customer support and asked for further information on their web hosting service.
As it turns out, their servers are only available in Utah, US.
If your audience is primarily based in the US, you should have no issues. Paired with a decent CDN (content delivery network), you can still easily distribute your content all over the world.
However, if you have an international audience and require servers in a different location, Bluehost may not be the best option for your needs.
---
Performance
In this section, you'll get a look at some more of the meaty data. Below, you'll find out how Bluehost's services stood up to our rigorous performance tests.
You'll see how the data gathered lends insights into whether Bluehost lives up to its claims or not and whether it'll be the right solution for your website.
Speed: Is It Fast?
To test the speed of an average Bluehost account, we ran a test WordPress site through GT Metrix and Pingdom.
The same WordPress website was used and tested three times on each tool for each location.
It's important to mention we didn't try and fix anything after running these tests. We wanted to see how the web hosting service performs for beginner users who likely won't know how to optimize their website correctly.
A decent web hosting company should perform reasonably well regardless of what optimizations are done on their customer's websites.
Here are the results…
GT Metrix
| | GTMetrix Performance | GT Metrix TTFB |
| --- | --- | --- |
| San Antonio | 0.53 | 647ms |
| Vancouver | 0.67 | 559ms |
| London | 0.39 | 439ms |
| Sydney | 0.34 | 872ms |
Pingdom
| | Pingdom Performance | Pingdom Load Time |
| --- | --- | --- |
| San Francisco | 71 | 3.41s |
| Frankfurt | 71 | 2.94s |
| Tokyo | 71 | 3.15s |
| London | 71 | 1.5s |
| Washington DC | 71 | 1.63s |
| Sydney | 71 | 3.14s |
The Verdict: There's a lot that could be improved with Bluehost's speed performance, but it's certainly not the worst we've seen. We'd consider these scores to be fairly average. If you want better speed performance, check out our post on the fastest web hosting.
Uptime: Is It Reliable?
After speed, uptime is an important performance metric that indicates how reliable your web hosting servers are.
It is ideal for your servers to be up all the time; otherwise, your website will experience periods where users cannot access it. In reality, however, every web company experiences downtime.
The industry standard is 99.90%; however, Bluehost guarantees 99.98% uptime. This equates to around 1 hour and 45 minutes of downtime per year. For the most part, Bluehost has been able to meet this guarantee.
| 2018 Uptime | 2019 Uptime | 2020 Uptime | 2021 Uptime |
| --- | --- | --- | --- |
| 99.99% | 99.98% | 99.96% | 99.98% |
Our Verdict: Bluehost's uptime is quite decent and lives up to the guarantee (for the most part).
In 2020, there was a decline in performance. But, it was still higher than the industry benchmark of 99.90%, which is more than most other cheap web hosting companies can say.
---
Pricing for Web Hosting Services
If there are two things Bluehost is known for, it's their pricing and reliability. We've already confirmed that, for the most part, Bluehost's web servers live up to their promised reliability.
So now it's time to take a deeper look into Bluehost pricing for all their web plans.
Bluehost's shared hosting packages are their most popular due to their incredible affordability. The prices are among the lowest on the market, and all plans come with a free domain name to boot!
It goes without saying that the prices below are subject to change, especially during peak sales periods like Black Friday or Cyber Monday. So it is possible that you may score even lower rates.
| Plan | Promotional Pricing | Renewal Pricing |
| --- | --- | --- |
| Basic Tier | $3.45/month | $9.99/month |
| Plus Tier | $5.45/month | $13.99/month |
| Choice Plus Tier | $5.45/month | $18.99/month |
| Pro Tier | $13.95/month | $28.99/month |
To secure such low promotional rates, you will need to commit to a 36-month term in advance. You will also need to consider what features you require, as you may need to account for additional tools to cover the functionality Bluehost does not offer natively.
Besides the lowest tier, all other shared plans give you access to unlimited domains hosted along with unlimited storage and other bonuses suitable for most small business websites.
2. Managed WordPress Plan
Bluehost is recommended by WordPress.org as one of the top three managed WordPress hosting services. You can use either shared hosting or managed hosting for your WordPress website.
However, managed Wordhosting helps take the burden off your shoulders with setting up and maintaining an automatic WordPress installation, even for e-commerce stores. Bluehost also has a website builder designed especially for the WordPress content management platform.
Whether you have an online store, a service-based business, or an affiliate site, Bluehost has a range of managed WordPress hosting options you can choose from. If you have multiple websites in your portfolio, you can also set up unlimited websites on some plans.
Managed WP Hosting
| Plan | Promotional Pricing | Renewal Pricing |
| --- | --- | --- |
| Build Tier | $9.95/month | $19.95/month |
| Grow Tier | $14.95/month | $24.95/month |
| Scale Tier | $27.95/month | $37.95/month |
Woocommerce Hosting
| Plan | Promotional Pricing | Renewal Pricing |
| --- | --- | --- |
| Standard Tier | $12.95/month | $24.95/month |
| Premium Tier | $24.95/month | $39.95/month |
3. VPS Hosting Plan
In addition to their WordPress hosting service, Bluehost also offers VPS hosting. VPS stands for "virtual private server". It's is a hosting service that acts like a shared server while also allowing you to access private resources that would otherwise only be available on a dedicated server.
It's the perfect interim between shared hosting and dedicated hosting, with a decent price point for anyone on a tight budget.
Bluehost's Virtual Private Server plans start at $19.99/month and increase depending on the level of resources your website requires.
| Plan | Promotional Pricing | Renewal Pricing |
| --- | --- | --- |
| Standard Tier | $19.99/month | $29.99/month |
| Enhanced Tier | $29.99/month | $59.99/month |
| Ultimate tier | $59.99/month | $119.99/month |
These prices are available on a 36-month term. Unlike shared hosting, there are also fewer perks. For instance, you do not receive a free domain name on these plans. For some poeple, not having a free domain is a dealbreaker. However, the benefits of having private resources all to yourself far outweigh the risks of being on a shared server.
4. Dedicated Hosting Plan
If the idea of sharing a server doesn't sound like a good fit for you either due to security concerns or limited resources, then dedicated hosting will be right up your alley.
Dedicated hosting gives you an entire server all to yourself and you can use the resources on that server however you like.
The pricing is significantly higher than for shared hosting and virtual private server hosting, but you get access to the entire server and all it's resources.
That's why dedicated servers and dedicated plans cost significantly more than what a shared web hosting service does.
Here are Bluehost's prices for a 36-month term of dedicated hosting.
| Plan | Promotional Pricing | Renewal Pricing |
| --- | --- | --- |
| Standard Tier | $79.99/month | $119.99/month |
| Enhanced Tier | $99.99/month | $159.99/month |
| Premium tier | $119.99/month | $209.99/month |
---
Bluehost Domains Review
Like many other hosting companies, Bluehost offers a free domain name with its shared hosting and WordPress hosting services.
It's a common pricing strategy that can get more customers in the door despite Bluehost losing initial profits.
However, despite offering a free domain, this free domain deal doesn't last forever. The domain name is only free for the first year. Additionally, it does not include domain privacy. All domain names purchased through Bluehost require additional privacy which starts at $15 per year.
If you're interested in VPS or dedicated servers, unfortunately, you won't enjoy a free domain on these packages.
Pricing
| TLD | Registration | Average | Renewal | Average |
| --- | --- | --- | --- | --- |
| .biz | $9.99 | $14.56 |  $16.99 | $17.59 |
| .co | $27.99 | $23.99 | $29.99 | $29.74 |
| .co.uk | $27.99 | $12.50 | $29.99 | $15.00 |
| .com | $12.99 | $11.57 | $18.99 | $14.83 |
| .info | $11.99 | $11.81 | $15.99 | $17.67 |
| .io | $11.99 | $47.16 | $60.99 | $52.08 |
| .me | $17.99 | $12.00 | $17.99 | $20.62 |
| .net | $14.99 | $13.61 | $18.99 | $15.63 |
| .online | $4.99 | $16.31 | $12.99 | $32.20 |
| .org | $9.99 | $12.09 | $17.99 | $15.47 |
| .site | $2.99 | $13.78 | $12.99 | $27.71 |
| .space | $1.99 | $10.86 | $12.99 | $21.00 |
| .store | $12.99 | $24.73 | $34.99 | $48.06 |
| .tech | $4.99 | $21.51 | $19.99 | $13.51 |
| .us | $5.99 | $10.45 | $15.99 | $12.99 |
| .xyz | $14.99 | $6.70 | $19.99 | $54.70 |
All in all, Bluehost's domain prices are on par with the industry averages, even with most of the renewal costs. Some domain extensions are more expensive than the average but still within reason.
We've seen several other domains and hosting companies who consistently charge well above the industry averages with all renewals, as you'll see in our post on the cheapest places to buy domains.
---
Customer Support: Can They Help Me?
Excellent customer support is crucial. In our book, customer support differentiates good web hosts from excellent ones.
To examine Bluehost support performance, we turned to Trustpilot.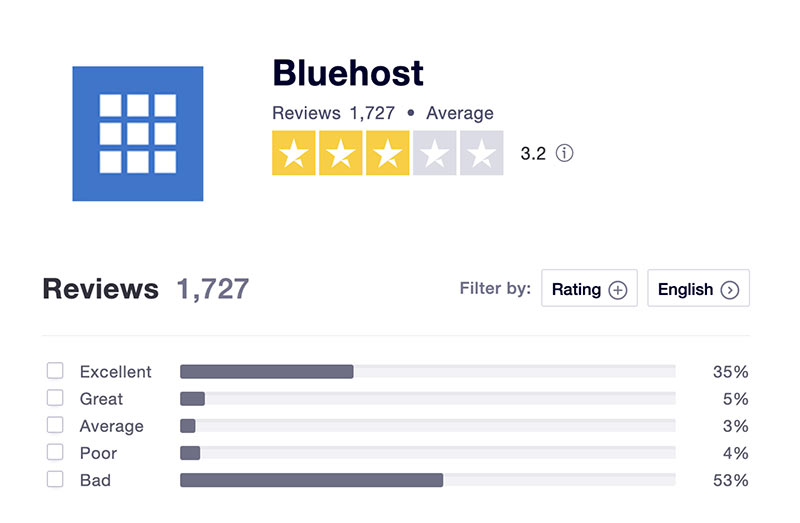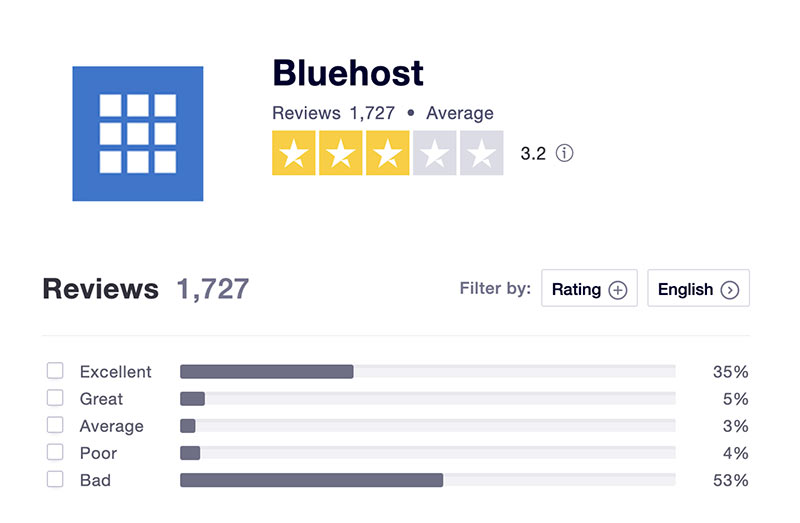 As far as customer support is concerned, Bluehost has a long way to go. With less than 35% of ratings marked as "excellent", you may be likely left hanging during critical moments when you would expect support.
As you'll note below, the biggest complaint people have comes down to users being left with no help, no backups and no options when things go wrong.
If customer support is as important to you as it is to us, we recommend checking out alternative web hosting providers like WPX or Siteground. They offer some of the best web hosting services.
Both offer unparalleled support compared to most hosting providers that are known for their cheap shared plans.
---
Bluehost Complaints
As mentioned, the biggest complaint about Bluehost and its hosting services, which is also quite concerning, is that people have lost many months of hard work on their websites.
Even when reaching out to support, the unreliability of the support team of this hosting provider paired with the low-quality responses has left many Bluehost users high and dry without a website and with no usable backups to help.
This spells all kinds of bad news folks!
Other serious complaints include:
The decline in VPS server performance
Poor support for hacked sites
Different support agents say different things. Customers end up chasing the "correct" solution for months, often without resolution.
Billing issues have been known to disrupt website performance, and it's not always the customer's fault.
For a managed WordPress site, Bluehost's plans sometimes require users to stay on outdated versions of WordPress – a huge red flag.
While Bluehost is among the cheapest solutions on the market, there is a far greater cost than you may initially realize. It's up to you to decide what level of support you think you will need and what kind of issues you can easily resolve yourself.
If push came to shove and the Bluehost website support team could not assist you, where would that leave you?
---
Pros & Cons
Bluehost Pros
Bluehost offers beginner-friendly hosting plans
Free SSL certificate
Bluehost offers unlimited SSD storage
Free domain with most plans
Low prices
Historically has had good uptime and server reliability
Recommended host for WordPress websites
30-day money-back guarantee
Bluehost Cons
General speed performance needs improvement
There are better backup policies on the market
Limited server locations
Customer support could use improvement
---
Why is Bluehost so Popular in the Hosting Space?
To begin, Bluehost is widely recognized as the best web host, since it is used and praised by many of the industry's most prominent bloggers and companies.
I've been using Bluehost hosting plans for quite some time now and I've gleaned the following information.
There are only three hosting providers that WordPress officially recommends, and Bluehost is one of them.
Eighty percent or more of Bluehost evaluations highlight the company's helpful 24/7 live chat and phone assistance as a major perk.
Bluehost is a hosting provider that has tailored its services around the WordPress content management system (CMS), which powers 34.5 percent of all websites.
From signing up to publishing a blog live, the procedure is often praised as the quickest and most user-friendly available.
In comparison to other web hosts, their rates are consistently the most affordable. So Bluehost offers many things that others can't compete with. And on top of everything, client websites hosted on Bluehost often boast an industry-leading 99.99% uptime.
---
FAQS
Is WordPress Free With Bluehost?
No, WordPress is not free with Bluehost. But Bluehost does offer WordPress hosting for as little as $2.95 per month for a one-year plan. When you sign up for this Bluehost package, WordPress will be pre-installed for you.
In addition to shared hosting, Bluehost now provides a Managed WordPress package with dynamic scalability to keep your site running smoothly even as your visitor numbers grow. Prices for these packages begin at $2.95 monthly. 
Can I Cancel My Subscription at Any Time?
Yes, you have the right to cancel at any time. There is a 30-day money-back guarantee. However, after the initial 30 days, no money will be refunded.
Why Use Bluehost for Domain and Web Hosting?
People use Bluehost for their domains and web hosting because of the cheap prices and decent uptime performance. Compared with other cheap hosting companies, Bluehost has better performance.
However, there are some other major drawbacks of Bluehost's offers such as no backups, low-quality support, and fewer features due to budget cuts which may mean a different hosting company may be a better solution for you.
How Good A Web Host Is Bluehost?
Bluehost is an average website hosting company. For the low prices they charge, there are certainly some excellent features they offer. However, there are many better solutions available in today's hosting market.
Is Bluehost Good for Beginners?
Bluehost is good for beginners. Whether you run a WordPress site, an online store, or a portfolio of affiliate websites, Bluehost has a range of beginner-friendly features.
However, with poor customer service ratings, beginners may find it challenging to overcome technical challenges on their own.
Can I Use Bluehost for Free?
No, you cannot use Bluehost plans for free. While some free services are available on Bluehost, none are free forever, and most require an upfront payment for a lock-in term (often 12 months or 36 months) for your hosting account.
---
Do We Recommend Using Bluehost?
While Bluehost's shared hosting is renowned for its admirable feature set, and commendably budget-friendly prices, it's worth paying attention to a few potential pitfalls in the realms of security and customer support.
Bluehost's offering stands out for its impressive affordability paired with above-par performance metrics – a delightful combination, no doubt.
Still, it's important to recognize that despite the dedicated efforts of its extensive 750-strong team, Bluehost is on an ongoing journey to reach the gold standard of industry-leading services.
When choosing a host, a key question to ponder is the weight you place on cost efficiency. If affordability tops your list, then Bluehost could indeed be an excellent match. On the other hand, if your needs extend to unlimited websites, alternative hosting providers might be a superior fit.
Yet, if your quest is to find a top-tier web hosting service that not only prioritizes stellar performance but also takes extraordinary care of its customers, then you might want to take a closer look at Siteground.
Our #1 Recommendation: Siteground