While shared hosting is the most cost-effective solution for hosting your website files, it comes with a number of problems for many website owners such as not enough resources for high traffic websites.
If you're looking for a hosting solution that is more secure and gives you more resources than shared hosting, but without the huge price tag of dedicated hosting, virtual private server (VPS) hosting may be the perfect option for you!
After many years of experience building websites we have worked with many VPS hosting providers. In this article we compare the best VPS hosting services available in 2023, and we hope you find the perfect solution for your needs.
Top VPS Hosting Services Compared
These are the best VPS hosting services so far:
WordPress, Cloud, Dedicated hosting
VPS, Cloud and Dedicated Server hosting
1. Hostinger (

Editor's Choice

)
Hostinger has been providing web hosting services since 2004, and its VPS hosting plans are among the best in today's market.
With eight different VPS hosting plans available, you can choose from a range of resources available.
Hostinger is also quite generous with extra features.
For instance, every plan includes a dedicated IP address and full root access.
Pricing is also affordable if you commit to a few years upfront.
The cheapest VPS hosting package starts as low as $2.49/month, which is on par with low-cost shared hosting.
Compared with other hosting services, Hostinger's VPS packages offer more resources and increased security, so it's worth considering!
Top Features
| | RAM | CPU Cores | SSD Storage | Bandwidth |
| --- | --- | --- | --- | --- |
| VPS 1 | 1GB | 1 Core | 20GB | 1TB |
| VPS 2 | 2GB | 2 Cores | 40GB | 2TB |
| VPS 3 | 3GB | 3 Cores | 60GB | 3TB |
| VPS 4 | 4GB | 4 Cores | 80GB | 4TB |
| VPS 5 | 6GB | 6 Cores | 120GB | 6TB |
| VPS 6 | 8GB | 8 Cores | 160GB | 8TB |
| VPS 7 | 12GB | 8 Cores | 200GB | 10TB |
| VPS 8 | 16GB | 8 Cores | 250GB | 12TB |
Pricing
| | Promotional Price | Renewal Price |
| --- | --- | --- |
| VPS 1 | From $2.49/mo | From $8.99/mo |
| VPS 2 | From $4.49/mo | From $13.99/mo |
| VPS 3 | From $7.49/mo | From $19.99/mo |
| VPS 4 | From $8.99/mo | From $29.99/mo |
| VPS 5 | From $23.95/mo | From $79.95/mo |
| VPS 6 | From $38.99/mo | From $109.99/mo |
| VPS 7 | From $57.99/mo | From 164.99/mo |
| VPS 8 | From $77.99/mo | From $219.99/mo |
Pros
Dedicated IP on every plan
Full root access to every VPS hosting plan
Low-cost plans to get started
Great deals if you buy many years in advance
Beginner friendly
Flexible Plans
24/7 multi-lingual live chat support
30-day money-back guarantee
Free migration service
Cons
Underpowered entry level plans (low storage)
Can be expensive if you don't choose long-term plan
Expensive renewal costs on higher tiers
Maximum of 8 CPUs – might be limited for power users
No phone support
---
2. Kamatera
Kamatera Express is a VPS hosting service ideally suited to developers seeking to deploy enterprise-grade cloud infrastructure. With Kamatera, you can deploy a server in a matter of seconds. It is one of the best VPS hosting providers ou there.
Better yet, it's completely customizable and is also compatible with a range of operating systems, including:
Centos
Windows
BSD
Linux
Ubuntu
With such flexibility at your fingertips, you can configure your server infrastructure as you wish for as little as $4/month.
Unlike other enterprise-level solutions out there, Kamatera also offers a simpler solution for people who are not developers.
You can choose from a range of feature-packed, affordable VPS hosting packages that offer custom options for server locations and operating systems.
Either way, you'll be spoiled for choice with Kamatera, that's for sure!
Top Features
We like that Kamatera leverages the cloud to offer VPS hosting services. Some of its top features include:
Cloud block storage
Cloud private network
Scalable VPS servers
Cloud firewall to protect against cyber threats
Load balancers
And more
Pricing
Kamatera's pricing is scalable and matches with the customizations you select for your servers. They have two pricing methods: simple and customized.
The simple pricing option breaks up their services into three tiers with some customization options available.
| | Small Plan | Medium Plan | Highest Plan |
| --- | --- | --- | --- |
| CPU | 1x Type-A CPU with 2667MHz | 1x Type-A CPU with 2667MHz | 2x Type-A CPUs with 5333MHz |
| RAM | 1024 MB | 2048MB | 2048MB |
| Storage | 20GB SSD | 20GB SSD | 30GB SSD |
| Traffic Capacity | 5TB Internet Traffic | 5TB Internet Traffic | 5TB Internet Traffic |
| Locations | 13 global locations | 13 global locations | 13 global locations |
| Operating System | 56 options available | 56 options available | 56 options available |
| Price | From $4/month | From $6/month | From $12/month |
The customized pricing option is not as straight forward. You can adjust many settings to your heart's content! The price still starts at $4/month but changes as you modify the settings.
Pros
Can easily scale up or down
Uptime over 99.95%
No hardware maintenance needed
Cloud-based VPS
24/7 support through live chat, tickets, phone, and email
Over a dozen servers worldwide
Cons
Can be confusing for beginners
Analysis paralysis with so many options and customizations
Managed plans are a little expensive starting at $54/month
Kamatera is one of our top picks for the best VPS hosts at the moment for a few reasons. Above all, they offer leading cloud-based technology that can be accessed for as little as $4/month.
---
3. Hostwinds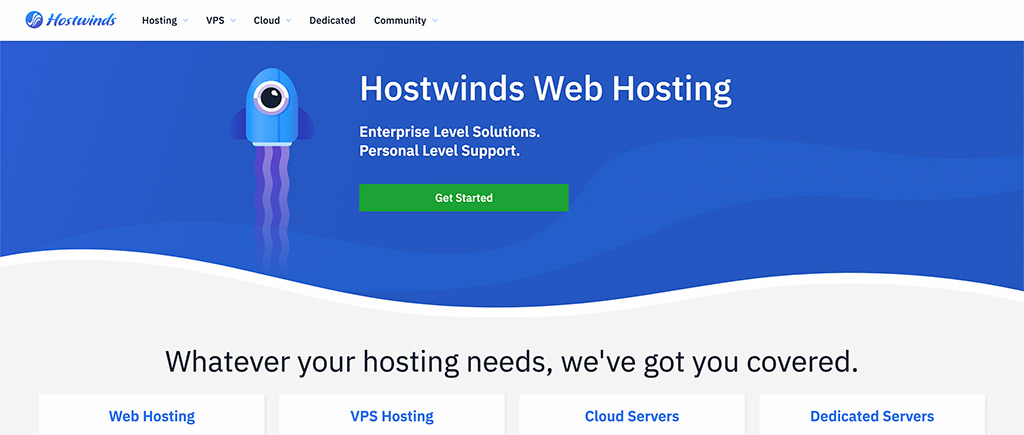 Hostwinds has over 40 VPS web hosting plans for managed and unmanaged Windows or Linux installations.
It offers a broad range of customizable options so you can get the exact server configuration you're after, whether you run a small project or need enterprise-grade resources.
With such a great range of customizability and flexibility, Hostwinds is suited to many different types of businesses and websites.
Top Features
CPU Options: All plans offer a choice of 1, 2, 4, 6, 8, 12, or 16 CPUs
RAM Options: All plans offer a choice of 1, 2, 4, 6, 8, 12, 16, 32, 64, or 96 GB
Storage Options: All plans offer a choice of 30, 50, 75, 100, 150, 200, 300, 400, 500, or 750 GB
Bandwidth Options: All plans offer a choice of 1, 2, 3, 4, 5, 6, 8, or 9 TB
Supported Linux Installations: CentOS, Ubuntu, Fedora, Debian
Supported Windows Installations: 2008, 2012 or 2016
Pricing
| Virtual Private Server Prices | Promotional Pricing | Renewal Pricing |
| --- | --- | --- |
| Linux Unmanaged | None. | From $4.99/mo |
| Windows Unmanaged | None. | From $10.99/mo |
| Linux Managed | From $8.24/mo | From $10.99/mo |
| Windows Managed | From $12.74/mo | From $16.99/mo |
Given that VPS hosting is best suited to people who want to customize their servers, Hostwinds does a great job of providing any option you can dream of.
Although the above prices are reasonable and fairly low, each of the above plans has multiple tiers with incrementally increased CPU, RAM, storage, and bandwidth.
The mix of all these options is why Hostwinds has won multiple awards for VPS hosting services and is one of our favorite VPS hosting providers.
Pros
Extensive level of choice
Highly configurable
Linux & Windows options
Great all-rounder
Cons
Only 72-hour money-back window
Not 100% beginner-friendly
Support can be too technical at times
---
4. Scala Hosting
Scala Hosting is a multi-award winning company offering cloud VPS hosting packages.
You can choose from managed or unmanaged setups and each come with a wide range of features to customize your resources and server setup.
What we like the best about Scala is the feature-rich packages they offer. For instance, very few hosting companies offer VPS servers with up to 24 CPU cores.
Having so many cores can be very useful for very large websites. The more CPU cores, the better their server's performance and resource allocation will be.
With more CPUs, you can run more programs and do more things without it affecting speed and performance.
Thankfully with Scala, you can build your own cloud VPS without the regular limitations for how big you can scale your hosting package.
Top Features
The self-managed VPS plans include the following features:
CPU cores: between 4 and 24 CPU cores
RAM: from as little as 8 GB up to 64 GB
SSD storage: the lowest available is 240 GB up to 2 TB
You can also add additional resources if you need even more power and resources. Additional CPU cores start at $6 each per month, RAM starts at $2/mo and extra disk space is only an extra $1/mo.
You can also select your preferred operating system.
Now, if you're after a fully-managed plan, you'll get:
CPU cores: as few as two CPU cores, maximum of 24
RAM: as little as 4 GB, maximum of 128 GB
SSD storage: minimum 50 GB, maximum 2 TB.
In fact, the managed VPS plans are so generous with their features we named them our top pick for fully-managed VPS service when we reviewed the best managed hosting providers in today's market.
Pricing
Self-Hosted Pricing:
Fully-Managed Pricing:
Scala's pricing is very versatile and changes according to the combination of options you select.
It's also worth noting that at first glance, the managed VPS plans seem cheaper than the self-hosted plans.
While the monthly bill is definitely lower, you'll be receiving less feature-wise.
So we're not comparing apples to apples.
The question just becomes whether you want more features or the ease a managed service provides.
Pros
Powerful servers with up to 24 CPU cores available
Fully managed VPS available
Free website migration
Free advanced security
30-day money-back guarantee
Cons
Somewhat expensive
The features can be overkill for small projects
Too many options for beginners to choose
Not 100% beginner-friendly
---
5. Liquid Web
Unlike most of the popular web hosting companies around today, Liquid Web doesn't offer shared hosting. Instead, it pours its resources into next-level options, like its VPS hosting solutions.
It is an ideal hosting solution for designers, developers, and agencies who are seeking to grow their businesses or clients' websites.
In fact, Liquid Web claims that its VPS hosting is more affordable, secure, and faster than AWS, Rackspace, and Digital Ocean (leading providers of cloud hosting and infrastructure solutions).What's impressive is that these aren't unsubstantiated marketing claims either.
Check out their Cloud Spectator Performance Report[1] and see for yourself how Liquid Web's VPS performance blows most other companies out of the water!
Top Features
Liquid Web offers two types of VPS hosting service: managed VPS and private VPS parents.
Between the two, managed VPS is the product most similar to the types of VPS packages other companies offer.
However, if you're looking for the kind of resources a private data center could offer you, but for a fraction of the cost, definitely take the time to check out their private VPS parent services.
Since these are overkill for most people, we'll focus on their managed VPS hosting plan moving forward.
Managed VPS features:
Linux & Windows servers
100% uptime service level agreements
RAM: From 2 GB to 16 GB
CPU Cores: Between 2 and 8
SSD Storage: From 40 GB to 200 GB
Generous 10TB Bandwidth on all plans
You can also choose to bundle in other services and save on your monthly costs across the lot. Liquid Web's bundles include:
Threat Stack Oversight Detection System
Cloudflare Pro
Premium Business Email Service
100GB Acronis Cyber Backups
Pricing
Liquid Web's Linux servers work out more cost-effective than their Windows servers do. You can also save a great deal by paying for a long-term plan in advance.
In the below chart, the top figures are discounted rated offered when you sign up for 2 years up front. The figures below that are the prices when paid monthly.
| | Linux | Linux Bundle | Windows | Windows Bundle |
| --- | --- | --- | --- | --- |
| 2 GB RAM | $25/mo - $59/mo | $40/mo - $79/mo | N/A | N/A |
| 4 GB RAM | $35/mo - $99/mo | $50/mo - $119/mo | $65/mo - $134/mo | $100/mo - $169/mo |
| 8 GB RAM | $45/mo - $139/mo | $65/mo - $159/mo | $85/mo - $174/mo | $120/mo - $209/mo |
| 16 GB RAM | $105/mo - $189/mo | $145/mo - $219/mo | $145/mo - $224/mo | $190/mo - $249/mo |
Pros
Expert support, through and through
Includes security, firewalls, and backups
Generous features
Team of 250+ specialists & developers
Free website migration
30-day moneyback guarantee
24/7 on-site support via phone, chat and email
Cons
Can be overkill for beginners and SMBs
Need to pay in advance to get cheaper prices
---
6. InMotion Hosting
Many VPS web hosting providers offer low cost entry level plans at the expense of the features and resources available.
For instance, the physical hardware might be underpowered, or essential functionality, like backups, may not be included.
InMotion Hosting takes a different approach, and it's why we believe they offer the best value for money when it comes to virtual private servers.
Top Features
While InMotion isn't the cheapest option around, they sure have a range of lucrative features in their virtual private server packages!
For as low as $19.99/month on their managed VPS plans, you get started with 4GB RAM, 2 CPU cores, and at least 2TB of bandwidth.
Not to mention the range of free features you can get as well, including:
At least 2 dedicated IPs
Free SSL
Free Website Transfers & Server Setup
5 cPanel Licenses
Free WHM License
Root access
Unlimited email
For a feature-rich VPS hosting solution that's also reasonably priced, InMotion is the way to go.
Pricing
| | 4 GB RAM | | 8 GB RAM | | 12 GB RAM | | 16 GB RAM | |
| --- | --- | --- | --- | --- | --- | --- | --- | --- |
| | Promo | Renewal | Promo | Renewal | Promo | Renewal | Promo | Renewal |
| 1 Month | $29.99/mo | $69.99/mo | $59.99/mo | $99.99/mo | $69.99/mo | $116.99/mo | $79.99/mo | $136.99/mo |
| 6 Month | $29.99/mo | $59.99/mo | $59.99/mo | $89.99/mo | $69.99/mo | $116.99/mo | $79.99/mo | $136.99/mo |
| 1 Year | $24.99/mo | $59.99/mo | $39.99/mo | $86.99/mo | $49.99/mo | $106.99/mo | $59.99/mo | $126.99/mo |
| 2 Year | $24.99/mo | $59.99/mo | $39.99/mo | $86.99/mo | $49.99/mo | $106.99/mo | $59.99/mo | $126.99/mo |
| 3 Year | $19.99/mo | $59.99/mo | $39.99/mo | $86.99/mo | $49.99/mo | $106.99/mo | $59.99/mo | $126.99/mo |
InMotion's hosting becomes more expensive as time goes on. It's best to purchase a 3-year term in advance however, when it's time for renewal, be prepared for pricing to increase significantly.
As mentioned above, however, InMotion offers so many more features than other VPS providers do!
Pros
Free domain name
Free migrations for WordPress sites
Free SSL certificates
Unlimited websites & emails supported
Unlimited monthly bandwidth available
Dedicated IP addresses
Root access available on all plans
Loads of extra features you can't always find with other companies
99.99% uptime guarantee
Free website transfers
Cons
Relatively expensive after initial discounts
No Windows hosting, only Linux
Free backups aren't always included (though they're quite inexpensive)
---
What Is VPS Hosting?
VPS hosting is a type of web hosting that uses virtual private servers to store website assets, files, and data.
It differs quite significantly from other common types of web hosting, like cloud hosting.
Shared hosting allows multiple people to store files on a single server. Even though the server is not partitioned (divided for each user), users cannot access each other's files.
They do, however, share the resources available on the server between them, and they are also quite vulnerable to malware that may infiltrate from another user's website files.
Cloud hosting exists across multiple servers, often geographically distributed, and uses virtualized partitions to offer dedicated resources for each user.
But, if one particular server is experiencing issues, your site won't go down with it!
Dedicated hosting gives you access to your own physical server. It is best for websites that get a lot of traffic every month and need more resources.
It is also the only type of hosting that gives you access to an entire server's resources for your needs.
So, in essence, VPS hosting is like a cross between shared and individual hosting.
It is a single server that's divided into individual, virtually partitioned spaces.
Each space is run separately from the others, can have its own configurations, and can even run a completely separate operating system.
You get all the resources in this partitioned space to yourself, but you're still sharing the server with other websites, albeit fewer than you would with a shared hosting plan.
Your files are also better protected against malicious threats, hackers, and malware.
VPS hosting is the perfect middle ground for anyone who is on a budget but is looking for the next step up from a shared server.
---
How to Find the Best VPS Hosting for Your Website
Now that you've had a chance to look through specific VPS providers and their plans, it's just a matter of deciding which is the best for you and your website.
In most cases, the price of a virtual private server will correlate with the features available.
So let's start there – how much are you prepared to pay each month? Compare the features offered on VPS plans within your ballpark price range and see which deal is the best for your needs.
Alternatively, if you already have an idea of the specific features you will need, you can also compare the best virtual private server providers according to their capacity to deliver those features, irrespective of the price.
Aside from these obvious places to start, you should also consider other factors and see how different providers stack up. For instance…
What's their support like?
Do you want a fully-managed solution?
Is security included in the price?
Are backups included or priced as addons?
You can also put each VPS service provider through the same tests we did and explore the following features until you find the perfect VPS plan for your needs.
1. Bandwidth & Storage Availability
Bandwidth controls how much traffic your website can receive while still maintaining good loading speeds.
If your website is prone to experiencing large spikes in traffic, like for seasonal industries or during sale periods, having plenty of bandwidth is not just important, it's essential!
If your site has a steady stream of traffic, you don't need to worry as much about this, but you'll still need decent storage.
You'll need to calculate the total size of your website and make sure you have enough storage space.
You can try running your website through a web size checker, or you can look at how many resources your website is using us in your current hosting account.
As a general rule of thumb, if you feature loads of high-resolution assets (images and videos), you'll need loads of storage!
2. 24/7/365 Support
The next thing to check off your list is the quality of support.
You can check each provider's support channels via their website. Most hosting providers will offer a combination of the following:
Live chat
Email
Ticketing
Phone
Knowledge base
Most reliable VPS hosts also offer 24/7 support. However, the quality can vary significantly.
If you think you'll need qualified experts to help you troubleshoot technical issues, it may be worth looking into a company that is known for its expertise, like Liquid Web.
If you're after standard support, check out how each company performs on third-party sites like Trust Pilot.
As a bare minimum, we recommend a VPS plan that comes with 24/7 phone and live chat support and can be escalated to experts in case of a major issue or security threat.
3. High Uptime Rates
Once you've evaluated the storage and support, it's time to look at the server reliability. What good is a VPS hosting service that keeps crashing?
No one wants their website to experience downtime. Unfortunately, however, downtime is a fact of life, especially with lower-cost hosting solutions.
So make sure you check out the uptime guarantees offered by each VPS provider.
You can also go a step further and check Pingdom's uptime monitor for the most popular hosting companies[2].
You can get a sense of how reliable the VPS hosting services are for each of the most popular companies in today's market.
4. Unbeatable Performance
One of the biggest advantages of virtual private server hosting is that is can give your website a serious performance boost, especially when compared with shared hosting.
Your website will experience a major speed boost when it isn't sharing resources with a load of other websites!
However, other than speed, you'll also want to explore the physical features of your server which could affect your website performance.
Many lower-cost VPS pans are often under-resourced. This means there are low resources assigned, and any extras are charged separately.
So to make sure you're getting the best of the best, consider the following.
5. HDD or SSD?
The type of drives on your server will impact how your files are stored and how quickly they can be retrieved.
Ideally, you want a VPS server with SSD (solid state drives). These are the best-in-class drives that will improve your website performance a great deal!
6. RAM (Random Access Memory)
RAM refers to a computer's working memory and it can be accessed by a server's CPU.
Any time a program or file is loaded, it's temporarily stored on a server's RAM for easy access.
Too little RAM and your files are stored on the HDD or SSD drive instead and will take longer to access.
Most VPS packages are segmented according to how much RAM they give you.
In general, the more the better.
But in reality, there are some major cost differences too.
If you run a website that needs a high threshold for RAM and disk space, like email hosting or in-browser gaming, consider plans with more RAM available.
7. Root Access Availability
For the developers reading this, you might also need to consider root access to your server.
Root access gives Linux users the ability to have more command over every aspect of their websites.
This is a nice-to-have feature for the developers but, to be clear, it's not essential. If you're a beginner, or not very technical, you can get a great VPS server without having root access.
But for everyone else, if you want to make custom changes to your virtual server, you will need root level access.
---
What are the Benefits of VPS Hosting?
VPS Hosting is a fast and reliable hosting solution that provides users various benefits, including the following:
1. Improved Performance
VPS hosting offers improved performance compared to shared hosting. It allows for more resources to be dedicated to a single website.
This means the website can run faster, with less impact than other websites on the same server.
2. Higher Reliability Levels 
VPS hosting provides a dedicated server environment with fewer users. This results in fewer chances of server overload. 
Additionally, VPS hosting offers more control over the server. The control allows more efficient resource allocation and better performance. 
3. Better Security 
With VPS hosting, your data storage is on a dedicated server, which means it is not accessible by other websites. The server helps to protect your data from malicious attacks, as well as from other websites' vulnerabilities. 
Additionally, VPS hosting offers more robust firewalls and encryption protocols. So, it is much more difficult for hackers to gain access to your data. 
4. Enhanced Scalability 
With VPS hosting, you can easily scale up or down your server resources to meet the changing needs of your website. The scalability is especially useful for businesses that experience seasonal or unpredictable spikes in web traffic.
VPS hosting allows you to customize your server environment to meet specific needs, such as adding extra RAM or disk space. This flexibility makes VPS hosting a great choice for businesses needing quick and easy server resource adjustment.
5. Higher Storage and Bandwidth
VPS hosting offer increased storage and bandwidth compared to shared hosting plans. This allows for more flexibility in data storage and transfer, as well as accommodating larger websites. 
6. Greater Control and Customization of the Server 
You can install and configure any software they need to run their website. You can also adjust server settings and parameters.
With VPS hosting, you can customize your server's configuration, software, and resources to meet your specific needs. You can also choose the operating system, control panel, and software applications you need to run your website.
---
How Much Does VPS Hosting Cost?
VPS hosting costs a monthly fee of $59.99 for the standard package and $71.99 for the enhanced package. The cost will vary depending on the term you choose. The longer the hosting period you choose, the lower the fees will get. Here is a comparison table to guide you.
| | | |
| --- | --- | --- |
| Monthly period Term | Standard Package | Enhanced Package |
| 1 Month | $59.99 | $71.99 |
| 6 Months | $55.99 | $67.99 |
| 1 Year | $52.99 | $63.99 |
---
Other Types of Web Hosting Services To Consider
Regarding web hosting, VPS is but one option for businesses. Other services to consider include:
Shared hosting is a popular option for many websites, as it offers an affordable and reliable way to host a website. It is an ideal option for those just starting with web hosting.
It involves multiple websites being hosted on the same server to share the cost of server resources. 
2. Dedicated Server
Dedicated server hosting is a service that provides a single user with a dedicated server. This type of hosting is ideal for businesses that require a large number of resources and control over their hosting environment.
3. Managed WordPress Hosting
Managed WordPress hosting is a great option for those looking for an easy-to-use hosting solution specifically designed for WordPress websites. This type of hosting offers a variety of features, such as automated backups, malware scanning, and automatic updates. 
---
VPS Hosting Frequently Asked Questions:
What's the Difference Between Managed And Unmanaged VPS Hosting?
The primary difference between managed and unmanaged VPS hosting lies in the level of support and server management provided by the hosting company.
Managed VPS hosting means that your hosting provider will take care of server maintenance, security patches and performance optimizations so you don't have to.
If you choose to use an unmanaged VPS service, you would be responsible for maintenance and repairs anytime something goes wrong.
That's why managed VPS hosting is ideally suited to people whose technical skills are limited or for people who are moving from shared hosting to VPS for the first time.
It's also a great option for developers who would like to focus their time and energy on other areas of managing their websites instead of on server setup and website maintenance.
Having a team of experts who you can rely on to take care of the essential security, maintenance and technical updates can be a huge weight off your shoulders!
VPS hosting is usually better than shared hosting in a few different ways.
As far as performance, security, and features, VPS tends to offer more perks than most shared hosting packages do.
However, if affordability is a greater concern to you, shared hosting plans will always work out cheaper.
Whether VPS hosting is better for your needs will depends on what matters most for your projects.
With shared hosting, although it's cheaper, it comes with the caveat that your websites are at greater risk due to the high number of people you're sharing the server with and the reduced security available on most shared servers offered for low prices.
For the most part, shared hosting will work out better for people with small websites that don't get much traffic.
As your website grows, VPS hosting will be a better option to migrate your websites to.
---
Which VPS Hosting Solution Do We Recommend in 2023?
If you're looking for web hosting that offers more memory, better performance, and greater flexibility, virtual private server web hosting is the way to go!
It's an excellent middle ground between shared hosting and dedicated servers.
And with the number of innovative companies out there today, you can also opt in for cloud VPS solutions if you'd like to leverage cloud infrastructure for your project.
All in all, however, the best VPS hosting provider for you depends on the scale of your project and your budget.
If you're looking for the next-best thing after shared hosting, but you're on a tight budget, we suggest you check out Hostinger's affordable VPS plans to get you started.
Our #1 Recommendation: Hostinger