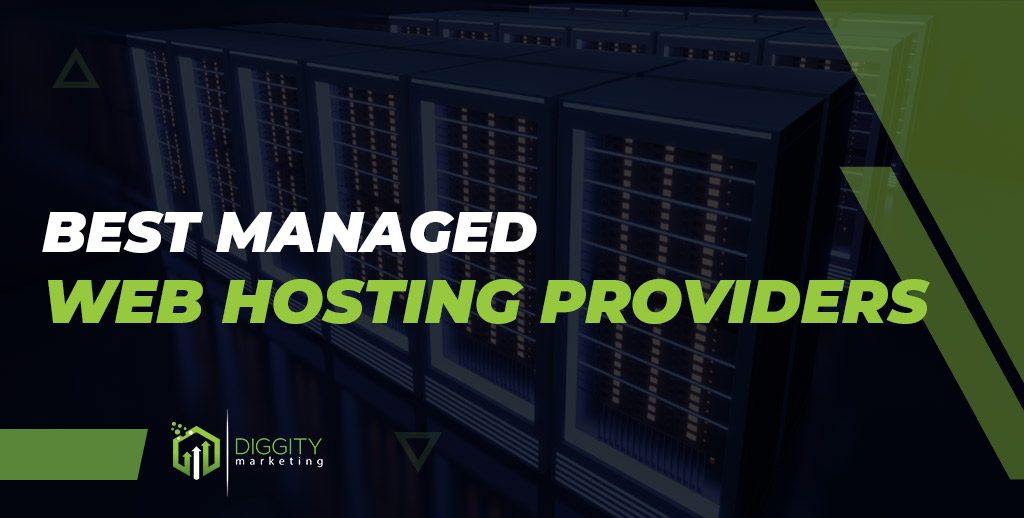 Are you looking to take your website's hosting experience to the next level without the hassle of managing the performance and security yourself? If so, managed web hosting may be the perfect solution for you. I found it extremely helpful.
As a seasoned digital marketer, I can tell you it's one of the best things I've done for my website.
In this blog post, we'll introduce you to the nine best-managed WordPress hosting providers in 2023.
Each of these providers comes with its own set of strengths and unique points of difference.
Best Managed WordPress Hosting Providers in 2023
If you're itching to know who offers the best-managed web hosting services, this is for you. We analyzed dozens of managed web hosts while putting this article together and here are the top nine options on the market right now.
Shared, WordPress, WooCommerce, Cloud hosting
Managed WordPress, WooCommerce, Magento hosting
1. SiteGround (

Editor's Choice

)
Siteground is among the most popular companies and has made waves thanks to its steadfast dedication to the speed and performance of its server infrastructure.
Hands down, SiteGround beats most of its competition when comparing the speed and uptime performance of its servers for both cloud and shared hosting.
Not only that, but SiteGround also hosts over 2 million WordPress websites and is known for providing an outstanding support team and technical assistance.
As far as performance, all our tests have consistently indicated top-notch performance for all WordPress sites on SiteGround.
| GT Metrix Performance Averages | Performance Score | TTFB |
| --- | --- | --- |
| Vancouver | 93% | 108ms |
| London | 72% | 936ms |
| Sydney | 72% | 269ms |
| Pingdom Performance Averages | Pingdom Performance | Pingdom Load Time |
| --- | --- | --- |
| San Francisco | 96 | 508ms |
| Frankfurt | 96 | 726ms |
| Tokyo | 96 | 792ms |
| London | 95 | 1.79s |
| Washington DC | 86 | 720ms |
| Sydney | 96 | 1.21s |
| | 2018 Uptime | 2019 Uptime | 2020 Uptime | 2021 Uptime |
| --- | --- | --- | --- | --- |
| SiteGround's Uptime Averages | 99.99% | 99.98% | 99.99% | 100% |
It's no surprise why WordPress.org recommends SiteGround as one of the best web hosting companies on today's market.
SiteGround is a great all-rounder offering affordable managed WordPress hosting for all kinds of sites without compromising quality.
Top Features
Unmetered traffic
Free WordPress installation
Free website migration plugin
Custom security plugin
Daily backups
Enhanced security
Managed automatic updates of plugins, themes and WP core
Excellent support team
Free domain
Pros
Affordable, quality services
Ultra-fast performance
Security-focused
Great support
Reliable uptime
Cons
Limited starter plans
Requires long-term contract for best rates
---
2. Nexcess
Nexcess offers versatile managed hosting solutions for WordPress, Woocommerce, Magento, Drupal, and more. With custom built-in tools to enhance performance, Nexcess means serious business.
From a built-in Content Delivery Network and 99.99% uptime to advanced caching technology, Nexcess pulls no punches when it comes to performance.
Perhaps Nexcess' best feature is its versatility. It is a well-rounded solution with managed WordPress hosting plans suited to small businesses and enterprises alike.
No matter the CMS platform a website is hosted on, Nexcess is likely to have a managed hosting solution that's just right for you.
Top Features
99.99% uptime guaranteed
Premium image compression
Built-in Content Delivery Network and advanced caching
Customizable server infrastructure
Managed hosting for most top CMS platforms
Suitable for enterprise websites
Daily backups
24/7 support & security monitoring
Free domain
Pros
User-friendly dashboard
Flexibility and versatility
Scales for enterprise-level business needs
Inbuilt caching and performance features
Free WP migrations included
Cons
No unlimited site options
Somewhat expensive
---
3. Cloudways
Depending on who you ask, Cloudways is either the best or the worst option out there. The strong difference of opinions comes down to each person's hosting requirements.
Cloudways is exceptional at the things it does well. But the reverse is also true.
For instance, you can easily tap into powerful servers from any of the top cloud computing companies.
However, the level of support offered has been known to be terrible. It's also worth noting that you have limited support included in out-of-the-box packages. CloudWays is the only web host we've found that charges extra for additional support.
Nevertheless, CloudWays has earned a pretty good reputation among people with intermediate to advanced technical skills. So it may be a great hosting solution for your websites too.
You can leverage these server infrastructures for your test site without needing any very advanced technical skills:
The range of features available on Cloudways hosting will depend on the servers you choose. Let's look at the features of Digital Ocean's servers, as this is the most affordable option that many affiliate marketers find satisfies their needs.
Top Features
RAM: 1GB – 8GB
Processor: 1 Core – 4 Core
Storage: 25GB – 160GB
Bandwidth: 1TB – 5TB
All plans also come with free CDN add-ons, automated backups, and other essential security features.
Pros
Range of cloud computing services to choose from
Scalable hosting at affordable prices
Leverage over 65 data centers globally
Great performance when stacked with Vultr
Only pay for what you use
No free domain
Cons
Not suited to beginners
Only 15 mins of live chat support on basic plans
Support is an extra add-on instead of inclusive in all packages
CDN is not included
The knowledge base isn't always helpful
---
4. Kinsta
Like SiteGround, Kinsta also provides some of the best-managed hosting services in today's market. Kinsta's pricing is higher than most hosting solutions out there.
But, for the additional price, apart from some of the best-managed WordPress hosting service, you will also enjoy the benefits of Google's C2 server infrastructure on any plan you choose, even the smallest ones.
Google's C2 servers offer the power and performance of Google's cloud infrastructure to anyone who hosts their website using this technology.
Kinsta offers a reasonably priced managed option so you can benefit from state-of-the-art technology without the stress of setting it up yourself.
Additionally, Kinsta's services are built to help you scale no matter the size of your website. Using tools like NGinx and Maria DB allows websites hosted on Kinsta to load quickly and to be automatically scaled.
Uptime is checked over 700 times a day and for as little as $35/month that's a pretty sweet deal.
It's always been our philosophy that you're better off paying a little more for a hosting company that cares about the things that matter. Kinsta definitely fits the bill by cutting no corners when it comes to delivering you the best fully-managed WP plans.
Top Features
Manual backup points
Automated daily backups
Hack prevention and malware removal
99.9% uptime guarantee
SSL certificates
Cloudflare integration
Caching plugin
Performance monitoring tools
24/7 expert support
Pros
30-day money-back guarantee
Premium, fully-managed solution
Built on Google's fastest C2 cloud machines
Multi-lingual support
Free SSL certificate
Cons
More expensive than other managed WordPress hosting
Limited to WordPress
Does not offer unlimited sites
Every plan caps traffic and monthly visits
---
5 WPX
WPX is our preferred managed WordPress host for solopreneurs, bloggers, affiliate marketers, and small businesses who want kick-ass performance.
Over the years, we've tested out dozens of companies for hosting a number of our websites.
When support leaves you hanging, performance is terrible, and you're still paying through the nose for who knows what – you know you've got to find a different web host.
WPX is that host for us.
But we don't let our awesome experience cloud our judgment. We ran them through the same rigorous tests as every other company. Here's how they stack up as a suitable choice for managed WordPress hosting.
| Average Performance Score | 95% |
| --- | --- |
| Average Uptime | 99.999% |
| Average TTFB | 433ms |
| Average Fully Loaded Time | -2.5s |
Top Features
Average 30-second support response times
Free high-speed CND
28-day automatic backups
Free malware removal
Free fixes if your site is offline
Free site speed optimization
Free site migration
Pros
Super fast support
Fast out-of-the-box WP hosting
Fix a bunch of issues for free (even if it's not WPX's fault)
Free performance optimizations
Cons
WordPress hosting only
Limited data center locations
---
6. Pressable
Pressable is a managed WordPress host that offers a scalable solution to managed web hosting compared with other shared hosts.
Instead of locking you into a rigid plan, you can choose the perfect amount of resources for your WordPress website or portfolio, as it is right now.
The beauty of Pressable's plans comes down to how easy they are to scale as your WordPress website needs to grow.
Pressable also offers customized plans to suit a range of different audiences including:
Agencies
Freelancers
Web Developers
Digital Marketers
IT Managers
High Traffic Website Owners
WooCommerce Store Owners
Small Business Owners
Content Creators
Pressable is sure to offer a scalable or custom solution no matter your needs.
Top Features
Scalable pricing and plans
Free site migration
Daily Jetpack security
24/7 support
30-day money-back guarantee
100% optimized for WordPress speed, uptime and security
100% guaranteed uptime
Daily backups
Pros
Scalable if managing many websites
Easily extend your installs, storage, or traffic limits
Unlimited bandwidth
Cons
WordPress hosting only
Does not offer dedicated or VPS options
---
7. Hostwinds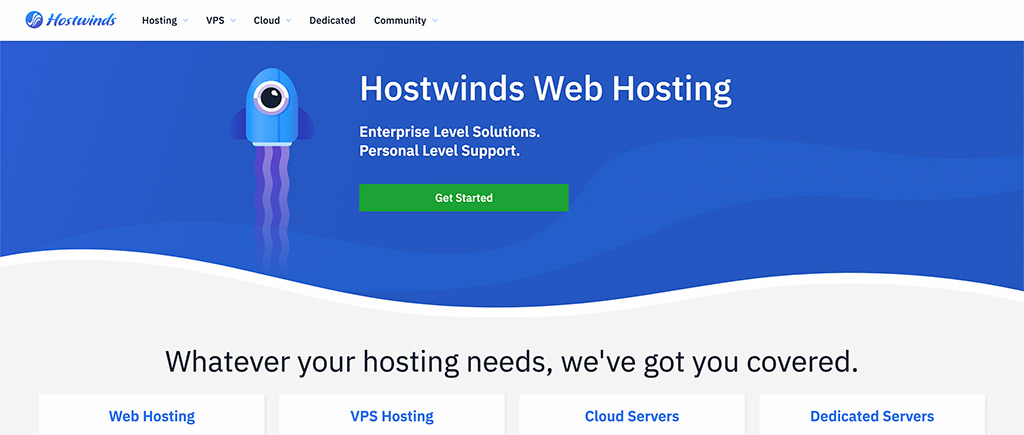 Hostwinds is a lesser-known managed WordPress host in the hosting arena but definitely worth your time to know about.
Being a relatively new player in the hosting arena allows the company to be agile and provide more advanced products (like state-of-the-art VPS hosting on Linux and Windows operating systems) in an industry full of low-quality, cheap services.
Being small gives Hostwinds a chance to develop a reputation for delivering excellent customer service.
In short, Hostwinds had the opportunity to start fresh and overcome many of the problems bigger competitors were creating in the web hosting industry, and they took it.
The biggest difference? Even Hostwind's lowest-price shared plans include managed support for free. They won't leave you hanging when you need support!
As far as managed VPS hosting goes, Hostwinds offers two varieties:
Managed Linux Hosting
Manages Windows Hosting
Not only can you choose your operating system but you can also customize your VPS resources including available:
CPUs
RAM
Storage
Bandwidth
Over the years we've tested dozens of companies and it's rare that a hosting company pleasantly surprises us with it's performance.
In the case of Hostwinds, it is one of these rare exceptions. You can read our full HostWinds review for all the details on speed, uptime and other performance factors.
Top Features
99.9999% uptime guarantee
Nightly backups
Redundant network
Scalable VPS solutions
Real-time server monitoring
Enterprise hardware & firewalls
SSD storage
Pros
Scalable VPS solutions for Linux or Windows
Fully-managed by server experts
WP engine
Enterprise-level solutions at a fraction of the cost
Great uptime
Average 5-minute tickets for resolving support requests
Cons
Only a 72-hour money-back window
Not 100% beginner-friendly
Support can be too technical at times
---
8. Pantheon
Pantheon stands apart from other managed WordPress hosting companies due to its mission to empower marketing and development teams with streamlined workflows and better-performing websites.
With its cutting-edge CMS-as-a-service (or serverless CMS) offer, Pantheon has revolutionized the way development teams integrate their hosting solutions.
Everything Pantheon does seeks to improve DevOps with automated workflows and streamlined communications across enterprise teams.
As such, Pantheon is not very well suited for beginners, small teams, or solopreneurs. Instead of a traditional cPanel dashboard, Pantheon has its own custom control panel which has a moderately steep learning curve for people with limited technical skills.
Top Features
99.99% uptime
Fast Drupal and WordPress site speeds
Serverless CMS & CMS as a service options
Enterprise-grade performance
Website portfolio management
Based on open-source technology
Drupal, WordPress & Woocommerce hosting
WP engine
Round-the-clock security
Daily & weekly automated backups
Pros
Scalability
Enterprise-level solutions
Automated workflows
Multi-platform
Great performance and uptime
24/7/365 support
Cons
Hosting for elite plans
Not suited to beginners
Can be overkill for many solopreneurs, freelancers, and affiliate marketers
Somewhat expensive
---
9. Liquid Web
Liquid Web is an excellent choice for those who need the best-managed WordPress hosting provider and are willing to spend a bit more.
The company offers a variety of managed hosting solutions, including email, WordPress, WooCommerce, VPS, dedicated, and cloud products.
Liquid Web's plans are often far more powerful than rivals, and the company provides a comprehensive SLA (service-level agreement) that guarantees a quick response time to any issues that may arise.
However, they shine through its managed dedicated server plans. It has its own data centers and is equipped with fully-managed hardware and network infrastructure that many other hosting companies simply cannot compete with.
The biggest advantage this offers them is that they are in complete control of the quality of services and products they offer and can often resolve issues sooner.
Top Features
Dedicated Linux, Ubuntu, CentOS, and Windows servers
Key software installed for you
Ongoing updates and tech support
Free external migrations
WP engine
Virus and spam protection
24/7 system monitoring
100% uptime guarantee
SLAs guarantee support in under a minute
When you compare Liquid Web's features to other providers, it comes out ahead of time and time again. Liquid Web is known for maintaining its quality instead of crippling its product range to sell at a lower price.
Pros
Responsive support
Team of experts
Versatile web hosting plans
Compelling features
Cons
Somewhat expensive
Not suited to beginners
---
What Is Managed Hosting?
Managed hosting is a type of web hosting service that allows you to lease space on a server to host your website files like traditional hosting.
However, with this type of hosting service, you also benefit from a professional team maintaining the security and performance of the servers you're using.
Unlike other types of hosting, which typically do not include any kind of management or maintenance as part of the hosting package, this kind of hosting allows you to benefit from an all-inclusive approach.
The biggest benefit offered is that you can relax knowing you have website and security experts maintaining your sites and server infrastructure around the clock.
---
Types Of Managed Hosting
There are different types of managed web host options available in today's market including:
Fully-managed hosting
Semi-managed hosting
Managed WordPress hosting
Managed cloud hosting
Pricing and service inclusions can vary quite significantly as a result of what each type of hosting package would typically include.
1. Fully-Managed Hosting
Fully managed allows you to run your business with a completely hands-off approach when it comes to web hosting. The company handles everything on your behalf so you can focus on the areas of your business that matter.
Fully managed is the most advanced hosting package available and not all providers offer it.
2. Semi-Managed Hosting
Semi-managed web hosting allows both you and your managed hosting provider to share the management of your hosting performance and security.
If you are an IT professional or experienced developer and would like to be actively involved in the server operations of your website, this shared hosting is a better option than a fully-managed package.
Semi-managed web hosting services are also well suited to businesses that have internal IT staff who can handle some aspects of server management internally.
However, the nature of semi-managed web hosting service means that different providers offer different types of packages and shared hosting, each including different features. So, you'll need to do some thorough research into this kind of shared hosting to find the best package for you.
3. Managed WordPress Hosting
If you run a WordPress site, managed WordPress hosting plans are designed to fit the needs of your website like a glove.
Many of the best WordPress hosting service providers include plugin updates, security scans, and more.
The biggest advantage of choosing one of the best-managed WordPress hosting services available today is that your host will cover all your performance and security bases since they are familiar with (and use tools to enhance the performance of) your WordPress tech stack. And managed WordPress hosting cost isn't always so high. You can find a managed WordPress hosting plan for cheaper too.
4. Managed Cloud Hosting
Managed cloud hosting takes the complexity out of running your website or application on a cloud infrastructure.
Cloud hosting can be more confusing to set up and maintain than cPanel or shared hosting.
So managed cloud hosting services are a great option for anyone who wants the best out of their hosting performance without the headache of setting up and maintaining a cloud server infrastructure.
---
Which Managed WordPress Hosting Provider to Choose?
We've journeyed through an extensive list of the best-managed WordPress hosting providers for 2023, each tailored to various platforms and accommodating a diverse array of features. These providers have been chosen based on their efficiency, reliability, and innovative services.
However, when it comes to a complete package for a WordPress website, SiteGround unequivocally stands out. It marries rapidity and affordability, all the while ensuring excellent support, setting the benchmark for managed WordPress hosting services.
Therefore, for anyone seeking a hosting plan that balances top-tier performance and customer support, SiteGround is a stellar choice worth considering.
Our #1 Recommendation: Siteground