With an estimated 64 million websites relying on WordPress, it's no surprise that this user-friendly platform continues to dominate the website-building landscape. A dedicated WordPress hosting provider is essential to elevate your site's performance, user experience, and security.
As someone who has personally benefited from investing in WordPress hosting providers, I can attest to the advantages they offer. By optimizing their services for WordPress sites, these providers streamline performance and enhance online security due to their singular focus on one CMS.
If you're using WordPress or considering it for your website, it's wise to explore the top hosting options available. In this article, I'll share my thoughts on them and recommendations to help you find the ideal WordPress hosting provider for your needs.
Best Options for WordPress Web Hosting Compared
From shared hosting to managed, you have many options for the best WordPress hosting provider. Here's a quick reference guide to show you the basics.
Specializes in WordPress hosting and WooCommerce hosting.
Use coupon MATT90 to get 90% off your first month
Shared, VPS, Dedicated, WooCommerce hosting, Cloud.
Here are the top 10 WordPress hosting providers available right now.
1. WPX Hosting (

Editor's Choice

)
It's hard to beat WPX Hosting. It comes with an incredible range of features, all of which are available on even the lowest-priced plan. WPX is an industry leader when it comes to WordPress hosting services.
Main Features
WPX Cloud CDN: WPX has servers all around the world. The content delivery network (CDN) means that not only will your web pages load fast wherever your customers are, but that you'll rarely encounter any downtime issues.
Staging Area: You're going to want to change your website occasionally. The testing area means that you can create a test site. When you're ready, the changes that you make can be published.
Easy to Use: The user interface on WPX is straightforward. It's intuitive and makes page and site management and maintenance as simple as it can be.
Pros
Support: The support team at WPX is almost unbeatable. A support inquiry will usually be responded to within 30 seconds. The tech team also specializes in WordPress hosting, so they will always be able to help with your technical questions.
Speed: WPX comes with some of the fastest internet servers on this list. If you're focusing on your WordPress site speed and loading times, WPX loading times comes to an average of just under 1 second. And 1.97s loading time for even the most technically challenging page.
High Uptime: With a 99.95% uptime, reliability is not an issue with WPX. Even if you're running multiple websites, their servers can cope.
Backup Automation: Your website is backed up every day. So if you do have any problems, you can load an older version of your site.
Free Migration: While lots of hosting companies provide site migration services, WPX offers this for free. They'll also help to make sure that the move is a smooth process.
Free SSL certificates: Every online business needs SSL certification. Some web hosting companies will charge for this, but WPX offers it for free, even on their entry-level plans.
Money-Back Guarantee: WPX comes with a 30-day compensation warranty included on all packages. If you don't like the service, you can get an immediate refund.
Cons
WordPress Hosting Prices: The cost of the WPX entry-level plan is $20 a month. That means it's not the cheapest among these best WordPress hosting services by any means, but considering what you get for that price, it's a great deal.
Overview
Even if you're just looking at site speed, WPX is the hosting service another web hosting provider has yet to beat. That's particularly true if you're specifically looking for a WordPress hosting provider. WPX focuses on the best WordPress hosting, which is only good news for you. Out of all the best WordPress hosting companies on this list, VPX offers one of the best hosting services for a WordPress website.
On the technical side of things, the impressive server speeds and the addition of the free CDN make for a complete package.
From tech support to the focus on the best WordPress hosting service, WPX is simply one of the top options for hosting your WordPress website.
You can get access to WPX with a 90% discount on the first month. Simply click the button below and use the coupon code MATT90.
(90% off the first month with coupon MATT90)
---
2. SiteGround
If you want the best, most professional customer service from WordPress hosting companies, a managed hosting plan is the best option. This is a much more costly choice, but the support that you get is worth the expense.
Main Features
Customer Support: The support from SiteGround is stellar, whatever you need from them. You can contact them via live chat, a ticket system, or by phone. They also offer very specific support depending on what you need. Whether it's plugin problems or site migration, the tech support team can walk you through the solutions.
Merging Managed and Shared: SiteGround offers, what it calls, managed WordPress hosting. However, it's more a middle ground between shared and managed hosting. You get many of the benefits of managed plans but at a price closer to a shared WordPress plan from one of the best WordPress hosting providers.
Starter Kit: SiteGround includes an excellent WordPress starter kit that lets beginners easily build a WordPress site, alongside automated WordPress installation.
Website Builder: The website builder comes as standard and is 100% free.
Site migration: Free migrations for your WordPress website.
Pros
Managed Responsibilities: Your security and updates are managed at both the application and server levels.
WordPress Optimized: You get more high-performance if your website is on WordPress.
SSL Certification: Improved security boost with free SSL certification.
Emails: Unlimited email accounts for free with all hosting plans.
Updates: You might not have 100% managed hosting plans, but all of your updates, security, and even your caching configuration are taken care of for you.
Cons
Renewal Prices: One major issue with SiteGround is that the renewal cost can be a big jump even though prices start very low.
Higher-Level Plan: On the higher plans, SiteGround offers a similar price to other best WordPress hosting services but lacks some of the features of those more expensive options.
Overview
WordPress recommends a handful of hosting companies, including SiteGround. Combine that with industry awards and consistently positive reviews, and it's no surprise that SiteGround remains as popular as ever.
That makes it one of the best WordPress hosting providers when you're keeping a tight rein on your budget. SiteGround is an excellent middle ground. The tech support is hard to beat, and they offer a 30-day money-back guarantee if you don't like the service.
---
3. DreamHost
There aren't many hosting companies that WordPress officially recommends for the best WordPress hosting. DreamHost is one of them, along with BlueHost and SiteGround. While the others have their benefits, DreamHost offers competitive monthly rates.
Main Features
The Price: If you're not looking for a long contract, you can still get some of the best WordPress hosting prices. The starter plans are around $5 a month with no long-term commitments.
Free Domain Name: DreamHost helps to keep your costs down by including the use of a free domain for your first year. That can save you between $10 and $15.
Website Builder and Tools: They don't limit the tools you can access, unlike BlueHost.
Assured Free Domain Privacy: This helps to ensure that your personal information is not publicly accessible. Other hosts do provide this, but it can be costly. DreamHost offers this as a basic service.
Pros
Bandwidth: DreamHost gives you access to unmetered bandwidth.
SSL Certificate: This is given to you for free, even if you're using unlimited websites on the higher tiers.
Free WordPress Migration: This is an automated process, so it's fast
Website templates: DreamHost comes with over 200 starter site templates to build your website faster. These are designed around industries, so there are templates for restaurants, fashion outlets, web design brands, and realtors. You simply drag and drop the elements that you want and customize your content.
Security and Updates: For a shared WordPress hosting company, it's a surprise to find that DreamHost also handles all of the security and WordPress updates as they come. You even get daily backups, which are also automated.
DreamPass Tier: As well as the low-cost shared host plans, DreamHost also offers the DreamPass tier, which is their managed option. This remains one of the lowest cost managed hosting options available, and all without a contract or long-term commitment.
Cons
Slow Loading: Your page loading speed is vital when choosing a hosting service. DreamHost's loading speed certainly isn't the fastest on this list. Page loading speed is one of the most consistent complaints about the DreamHost service.
Uptime Issues: DreamHost doesn't offer an amazing uptime (just 99.90%). Over a year, that can lead to around eight hours of your website not being accessible. That might not seem a lot, but it's more than enough for you to lose traffic. DreamHost has a 100% uptime guarantee, though, so if your website goes down for reasons other than maintenance, you get credit.
Time Sensitive Support: The promise of 24/7 live chat support is an exaggeration. You can type your query into the chatbox, but you'll only get an automated chatbot response unless you do it between 8 am and 6:30 pm EST. However, when you do get through to a real person, they know their stuff and are very helpful.
Overview
DreamHost is a great choice for people starting with WordPress hosting providers. Whichever plan that you choose, the price is always competitive. You also get a 100% uptime guarantee, unlimited websites on the higher tier plans, and you'll receive a payment if your site ever goes down.
There's also an impressive 97-day money-back guarantee, which you won't find with any other hosting provider. It's an excellent service that's hard to beat.
---
4. Hostinger
Hostinger provides website hosting for as little as $1.99 a month. You might think that would give you extremely limited use of features, but you still get the essentials.
That means your site still looks professional and has the right loading speeds, but without the expense of the pricier hosts.
Main Features
Ease of Use: It's easy to use, even if you've never used hosting or WordPress hosting companies before.
WordPress Installation: Done via a one-click function with a complete site setup wizard to get you started. There is a range of tutorials available too, so it's great for beginners.
99% Uptime: You're not going to have to worry about your site going down. The 99.99% uptime is one of the gold standards in hosting. You may get the occasional drop, but this is extremely rare.
Loading Speed: Hostinger has some of the fastest loading speeds in the hosting world, with an average load time of 1.56 seconds. So, your customers won't be sitting around waiting for your pages to be visible.
Automatic Backups: You get access to automated daily or weekly backups depending on which plan you opt for. This can certainly help you if you fall victim to a phishing scam or the latest malware.
Perfect for WordPress Caching: The Hostinger backend is powered by LiteSpeed Cache for WordPress, making cache integration and management incredibly straightforward.
Pros
Money Saver: Even on budget plans, you get access to a free email account, a free SSL certificate, and a free CDN. That means your website will have better security and will load faster without you having to do anything.
Money Back: If you try Hostinger and decide that you don't like it, they offer a 30-day money-back guarantee.
Disk Space: Depending on your plan, you can access unlimited SSD disk space and unlimited bandwidth.
Domain Name: You don't get this option with the entry-level plan, but anything higher gets you a free domain.
Cons
Unreliable Support: In terms of tech support, Hostinger is a mixed bag. You do get the promise of 24/7 availability, but the response time can vary. There are also a few too many upselling promotions, but ignoring them is easy enough.
Commitment: If you want to get the best price from Hostinger, you need to sign up for a four-year contract. That's a big commitment. However, the total you pay over those four years is lower than what you'd pay in a single year with other hosts.
Overview
Whichever plan you choose, you get a 99.99% guaranteed uptime, and your site speed will be fast for up to 10,000 visitors per month. The addition of the Lightspeed cache means that your site will be quick, and it works alongside all of the most popular plugins.
The renewal price is a lot higher than the introductory price. It's a big jump, but that reflects how much of a bargain those first-time costs are. The full price that you pay on a renewal is still competitive.
Hostinger offers some of the best WordPress hosting services for those people keeping tight control over their budgets. It's WordPress optimized, great value for money, and simply one of the cheapest best WordPress hosting companies around.
Their WordPress hosting services don't have everything you need, but it remains one of the best WordPress hosting services currently available.
---
5. Kinsta
Primarily focused on managed hosting, Kinsta is powered by Google's Cloud Platform. By using the Google infrastructure, Kinsta becomes incredibly easy to use and is extremely accessible.
Main Features
Total Managed Service: Kinsta offers some of the best-managed services currently available. Anything server-related is done for you so that you can focus solely on the front end of your website.
WordPress Installation: Installing WordPress is easier on Kinsta than on most other sites. Simply clicking on a single button during your registration will mean that Kinsta installs WordPress for you.
Customer Support: As one of the top-managed WordPress hosting services, Kinsta comes with hard-to-beat support. There's a 24/7 chat option and ticket support when you need it. It's the Kinsta team that makes the support stand out, though. They know their stuff and are quick to resolve any problems you're having.
Auto-Scaling: If you get sudden traffic surges, your website loading speed will not be slowed down. Kinsta simply allocates more RAM and CPU to your site. This is automated, so it's extremely flawless. So if you have regular traffic spikes due to viral content or regular product launches, Kinsta helps you stay accessible.
Pros
Google Powered: The fact that Kinsta provides Google-powered cloud WordPress Hosting is great news, simply because you know that Google tech is among some of the most cutting-edge available.
Customizable Dashboard: This makes it easy to see your analytics and stats
Backups: Automated daily backups and a manual backup option.
Testing Area: Kinsta provides a free staging area so you can test changes to your site.
Free Migrations: They will help move you over to their servers.
Excellent Security: Free SSL certificate, Google Cloud firewalls, and regular uptime checks
Content Delivery Network: You get CDN access with every plan
Cons
Overall Cost: The price starts at $30 a month. The price has a steep incline as well, and it's easy to overspend.
Email: There is no email hosting on Kinsta. You're going to have to look elsewhere for your email needs, which you'll have to budget for.
No Phone Support: While there are numerous touchpoints for when you need help, there's no phone support at all.
Overview
Kinsta is pricey, especially when compared with options like Hostinger. You get what you pay for, though, and Kinsta has a wide range of features covering the basics and the more advanced. While other WordPress hosting services try to do everything, Kinsta keeps things simple.
They offer only WordPress hosting-specific plans. So despite the high prices, Kinsta is well worth exploring if you're looking for something that will allow your WordPress site to scale. Their WordPress hosting services are top of the game.
---
6. Flywheel
If you're just getting started with managed hosting, Flywheel offers a range of excellent features. It's considered a more budget-friendly option in terms of managed hosts.
Main Features
Price: It's just $13 a month for the lowest tier plan. You get to host one WordPress website, and it can handle up to 5,000 monthly visitors.
Free Migration: This is 100% free no matter where your site currently is.
Google-Powered: The Flywheel servers are run on the Google Cloud Platform, so you can be sure that you're using a high-quality host.
Multisite Support: Flywheel offers a managed service, so you get access to multisite support and a staging area to test site changes. Flywheel only does WordPress hosting, so the team knows their stuff when it comes to technical support. You can get support using the live chat function or the support ticket submission option.
Daily Backups: You get free backups every day, alongside easy WordPress update management.
Free SSL: When security is so important for an online business, the free SSL certificate is valuable.
WordPress Installation: It's incredibly easy. You can use the free site migration or create a whole new WordPress site using the Flywheel dashboard.
Pros
Good User Experience: They provide a customizable dashboard.
Online Security: They offer fantastic security features to keep your site safe from malware and cyberattacks.
CDN: Free Content Delivery Network (CDN) so that your pages always load quickly wherever your customers are.
No Downtime: Flywheel doesn't quite guarantee 100% uptime, but every study conducted on the service has shown that it simply doesn't go down. If your content goes viral, any sudden spike in traffic can be coped with.
Caching: Flywheel offers a free caching system so that your pages will load faster. This is available on even the entry-level plan. If you're currently paying for a caching plugin, that can mean saving around $99 a year. The caching system is built specifically for WordPress hosting, so it's great for page speed.
Cons
Not For Everyone: The main issue with Flywheel is they target agencies. So on the lowest-priced plans, you can only host a single website. These are priced at $15 and $30 a month. If you want to host more than one site, the next tier is $115 a month for ten WordPress sites.
No Domain: Flywheel doesn't sell domains (or offer one for free). That means you're going to need to get your domain before migrating.
Emails: There's no email hosting on Flywheel. That can be frustrating if you're on a higher plan and still need to head elsewhere for email hosting.
Overview
If one site is all you need, the two lower-priced plans are more than enough for most people. Comparatively, Flywheel is very affordable and comes with a wide range of outstanding features.
It's certainly something to consider if you want to move away from worrying about micromanaging the back-end of your site. There are cheaper hosting options available, but Flywheel is a good all-rounder that should be considered if your budget is flexible enough for it.
---
7. Bluehost
An industry leader, Bluehost currently powers around two million websites. It's one of the official WordPress hosting services. It's an excellent option to look at if you're just about to build your first WordPress page.
Main Features
Free Domain: When you sign up with Bluehost, you automatically get a free domain. This free domain can save you about $10-$15.
Easy WordPress Installation: WordPress is incredibly easy to install. You simply click one button, and WordPress is ready to go.
Low-Cost: It's hard to beat the $2.95 that you pay for the lowest-priced plan. However, to get that $2.95 monthly price, you have to commit to a three-year contract. That's a commitment not everyone is ready for.
Fast Loading Speeds: Page loading speeds are not a problem despite the low costs. Even the lowest-priced plan comes with a free CDN and always-enabled SSL certificates.
Pros
WordPress Updates: No matter which hosting plan you choose, it's easy to set up automated updates so that you're not missing out on the latest.
Unlimited Traffic: The option of unlimited traffic is certainly appealing. On standard plans, you'll only have 50GB storage, which still isn't too bad.
$200 of Marketing Credit: This is given to you for free, and it can be used on Google Ads and Microsoft Advertising.
Cons
Upsells: One of the most common complaints about BlueHost is the constant annoyance of upselling pitches. They can become very, very frustrating.
Speed: Bluehost's speed is sort of in the middle ground in terms of page loading times.
US-Servers Only: BlueHost only gives you the option to host your site in the US. If your customers are from anywhere else, your pages are going to load even more slowly for them.
Overview
If you're currently paying for shared hosting and considering a more managed service, then Bluehost now offers this.
Their managed service is called WP Pro and comes with the three-year contract demand, but the price remains low at just $14.99 per month.
All in all, Bluehost is one of the best WordPress hosting service options. It's ideal for those on a smaller budget.
---
8. Nexcess
One of the reasons why Nexcess is worth looking at is its pricing plan. Unlike other web hosts, all of the features on Nexcess are available with every plan. So even if you go for the lowest price, you don't miss out on anything.
Main Features
Range of Prices: Prices start pretty low at just $19 per month (with no contract) and $12.97 per month if you contract for a year. For those prices, you get fully managed WordPress hosts. You don't have to worry about any tedious maintenance, such as WordPress plugins updates.
Monthly Backups: There are scheduled backups every 30 days.
Storage: The 15GB storage capability with Spark, the entry-level plan, is hard to beat. Spark also gives you 2TB of bandwidth, which few WordPress hosting services can come close to.
Auto-Scaling: One of the best things about Nexcess is that it allows for auto-scaling if you experience a traffic surge.
Pros
Free CDN: Your pages will load very quickly with Nexcess, wherever they are being accessed from.
Free SSL: This certification comes with all of the price plans.
Emails: You have unlimited email accounts on all Nexcess plans.
Cons
Customer Support: You rarely get a fast response when you contact the Nexcess support team. They will get to you eventually, and they know their stuff when it comes to WordPress and WordPress hosting.
Missing Some Basics: The Nexcess dashboard is still missing some basic functions. There's no in-browser file manager and no redirect manager available.
Email Hosting: With the entry-level plan for Nexcess, you only get email hosting if you're signed up to Spark. If you start paying for a more expensive plan from Nexcess, you lose that email hosting.
Overview
There are seven plans to choose from, and the only real difference between them is how many websites you can have. The top tier allows for unlimited websites.
Nexcess does come with a free trial period, so they're worth taking a look at. And at less than $13 a month for a fully managed hosting provider, Nexcess is hard to beat. Nexcess is a lot of hosting for a small amount of money.
---
9. A2 Hosting
Automated free site migrations are increasingly common with the big web hosting companies. Some of these are offered for free, while others will charge you for the move. What A2 Hosting does differently is that they don't automate the process.
Main Features
Site Migration: You get real people moving your existing website to their servers, meaning a streamlined and worry-free process. A2 offers this for free.
Storage: A2 provides you with a starting point of 100GB of storage, more than most people need.
Security: Free virus scanning and defensive tools to protect against hackers.
Pros
Emails: You get unlimited email accounts on all plans
Customer Support: You get 24/7/365 email, live chat, phone, and ticket support, and the team responds quickly to any queries
Cons
Tricky To Use: The user interface is a little more complicated than most and takes some time to get used to.
Plugins: A2 relies on plugins, so you may end up doing maintenance work that other managed plans from other hosts would do for you.
No Free Domain Name: No offer of a free domain. If you're simply migrating a site, then a free domain isn't an issue, but it's something to be aware of if you're just starting. Since you'll likely need a free domain.
Overview
Overall, A2 has fast servers at a decent price point. The tech support is exemplary. Whether you want shared WordPress hosting plans or a more managed plan, A2 has the options to match your needs.
Even a basic shared WordPress host plan comes with 100GB of storage, more than most WordPress hosting services. The unlimited free email is hard to beat too. The fact that this is all available on a basic plan is impressive.
If you upgrade to a more expensive plan, the performance only improves. You can boost your website's performance so that it can handle as much as nine times as many site visitors.
---
10. GoDaddy
Starting at just $2.99 per month, GoDaddy is one of the biggest names in hosting. They've gone through some changes over the years. Their previously challenging user interface is easier to use, and site navigation is much simpler.
Main Features
Website Builder: The free website builder comes with a range of templates for you to use.
Free Resources: When you sign up for a year, you get a free domain and a year's subscription to Microsoft Office 365 business email. Considering that it usually costs around $60 a year, that's a nice saving. The free SSL certification is handy too.
Price: You can pay less than $5 a month for shared hosting. WordPress hosting is around the same price. Dedicated hosting plans start at around $90 per month.
Pros
Unlimited Bandwidth and Unlimited Storage: These are available but be wary. There are some limits to the unlimited plans. These will affect Linux users and coders rather than the general public.
Easy to Use: The website builder is easy to use. It has plenty of features that can make your site look more professional. Edits can be made quickly, and publishing is instant.
Testing Area: The WordPress staging setup comes with a temporary URL so that you can trial your tested site changes before you hit publish. That's particularly useful for startups getting ready to launch.
Cons
Customer Support: Technical support is lacking, with waiting times of up to 40 minutes when using the live chat function. Phone support is much better, and the subsequent ticket system after an issue is superb.
Pricing: If you're signing up for GoDaddy for the first time, you're going to get some amazing discounts. The problem is that after the first year, prices shoot up.
Restoration fee: If the worst happens and your site gets lost, you'll have to pay a restoration fee. That's a flat rate of $150.
Overview
GoDaddy is a good option, despite being one of the cheapest.
The special offers that are included with some plans could make the costs even more tolerable. It's not for everyone, but its ease of use alone makes it worth looking at. Just be very aware of the renewal times and their costs.
---
What Should You Look for in a WordPress Hosting?
The best WordPress host plan for you and your website will depend on a range of factors. You need to know what you're looking for before you sign up with a new web hosting service.
Almost all of the biggest names in web hosting allow for WordPress websites integration. The best WordPress hosting solutions provide a service designed perfectly to match WordPress configurations.
The entire backend will be optimized specifically for WordPress hosting and the WP engine.
So if you're looking for the best WordPress hosting platform, what should you be looking at before deciding?
1. Affordable Pricing vs Full Service Hosting
You need to match your budget with your host. In most cases, shared WordPress hosting will be the cheapest option. That does mean that you'll have to do your maintenance and updates yourself.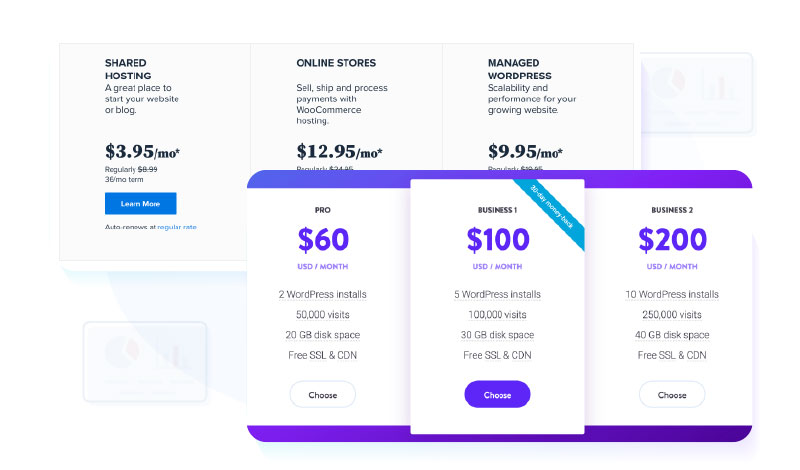 However, due to the easy user interfaces that most web hosting providers have, maintenance is simpler. User interfaces on sites focused on being WordPress hosts are very straightforward.
If the thought of all of that maintenance is already wearing you out, look for the companies that offer managed hosting. You can expect to pay more for this.
On the plus side, it means that you'll often get daily backups done for you, automatic WordPress updates, malware scanning and resolution, and ongoing security updates.
If you do go with a more expensive managed WordPress host, make sure you're getting what you pay for. If the price seems too low, check if the service is missing something you may need.
Also, make sure that you look at renewal prices. Some of the budget options start low but have massive price increases when your contract renews. Always check the renewal prices when conducting a WordPress hosting comparison.
2. Good Customer Response
You also need to do some checking on the quality of that technical support. It's not going to be useful if your site experiences difficulties during your busiest days and you can't get through to the support team.
Look through reviews and avoid the web hosting options with a bad reputation for tech support. You could be left vulnerable and end up costing you money.
Although user interfaces and familiarity with WordPress will mean that you may not need tech support often, it's worth knowing more about. Have a look at the different ways that you can contact the relevant WordPress hosting teams for support.
Some WordPress hosting services offer a full range of contact points. Live chat, ticketing systems, emails, social media, and phone lines. You will have your preferred ways of communicating, so make sure your choice is available.
One advantage of the best WordPress hosting is that the technical support team will understand the CMS you're using. They'll be able to help you with themes, WordPress plugins, and common issues that can arise with WordPress and WordPress hosting.
3. Fast Server
Fast servers mean that your pages load faster. A faster page loading speed means a better user experience and a higher likelihood that Google will rank your site above slower websites.
All of the WordPress hosting companies on this list have good fast servers.
Ideally, you want a WordPress hosting service that comes with a content delivery network (CDN). Some web hosting services include a CDN for free with some plans.
Uptime is another issue. If you see that WordPress hosting providers have a low uptime percentage, then they're worth avoiding. You want your website always to be accessible. All of the listed web hosting providers on this list have great uptime stats, although there are weaker performers.
Things to Check before Buying a WordPress Host?
You should look for the following before purchasing a WordPress hosting plan:
1. Free Site Migration
The free site migration feature allows you to transfer your existing WordPress website from one host to another without downtime.
Many hosting companies offer this service at no additional cost. It makes a great option for those who are looking to switch providers. Therefore look for companies that offer free site migration and ensure that the process is straightforward and reliable.
2. Free SSL Certificates
An SSL certificate encrypts data sent between your website and visitors, ensuring that sensitive information remains secure. Having an SSL certificate also helps to build trust with visitors, showing that your website is safe and reliable.
Many WordPress hosting providers offer a free SSL certificate with their hosting plans. So, be sure to check for this when selecting a host.
3. Bandwidth and Disk Space Limits
Many hosting providers offer plans with varying levels of bandwidth and disk space. So, select the plan that best suits the size and needs of your website. 
Check the size of your website and the amount of traffic it receives when selecting a hosting plan. This will ensure you have sufficient bandwidth and disk space for your needs.
For example, running a large e-commerce website may need more disk space and bandwidth than a small blog. 
4. One-Click WordPress Installation
When selecting a WordPress hosting provider, look for one that offers a one-click installation. This will save you time and effort by eliminating the need to install WordPress and its components manually. 
Additionally, look for hosting companies that provide an easy-to-use interface and step-by-step instructions to guide you through the installation process.
Types of WordPress Hosting
WordPress hosting is a popular and versatile option for website owners of all sizes. Here are four major types of WordPress hosting available, each with its unique features, benefits, and drawbacks.
Shared hosting is the most common and cost-effective option. It allows multiple websites to host on a single server.
This type of hosting is ideal for small businesses, bloggers, and those just getting started with their websites.
Pros
Cost-effective

Easy to set up and manage

It's flexible

Hosts multiple domains
Cons
Prone to slowdowns during peak traffic times
2. Dedicated Server
Dedicated hosting offers the highest level of control and performance for websites with heavy traffic. This is because the entire server is dedicated to a single website.
Pros
Increased speed

Enhanced performance and security

More stable than shared hosting
Cons
Very expensive
3. VPS Managed Hosting
VPS Managed Hosting is a great choice for WordPress users looking for a more hands-off approach to hosting.
It provides more resources and control than shared hosting. It is suitable for websites that require more power.
Pros
Increased Reliability

Improved Performance

Higher security levels  

Fully Managed Services

Cheaper than a dedicated server
Cons
More expensive than shared hosting
4. Managed Hosting for WordPress
Managed hosting provides a complete solution for those looking for a hassle-free experience. It offers a team of professionals handling the server and providing technical support. 
Pros
Experts Managing Your Site

Offer backup & restoration service

Offer best security practices

Easy SSL certificates addition
Cons
Very expensive
No matter which hosting you choose, understand each option's features, pros, and cons before making a decision.
What to Do Once You Pick a Host?
Begin the process of setting up your website once you pick a host. This includes the following:
Registering your domain name

Setting up the hosting package

Installing WordPress
Furthermore, you should set up a development environment to test themes and plug-ins before deploying them on your live site. Finally, familiarize yourself with the hosting provider's documentation and support options. This will be key in case you need help in the future.
FAQs
How Much Does It Cost To Build a WordPress Site?
It can cost you $100 to $3000 to build a WordPress site, depending on your needs. Hosting a WordPress site can range between $3 to $30 per month, while purchasing a theme and plug-ins may range from $50 to $200 or even higher.
Do I Have To Host My Domain and Website With the Same Provider?
You don't have to host your domain and website with the same provider in most cases. However, some providers offer discounts if you host multiple services with them.
It is, therefore, beneficial to compare different hosting providers to determine the best option depending on your needs and budget. 
How Do I Install WordPress on My Web Host?
You can install WordPress on your web host provider by first logging into your web host provider and selecting the option to install WordPress.
Next, select the appropriate domain name and follow the instructions given. Finally, set up the database and configure WordPress properly. 
Is It Easy to Switch Hosting Providers?
It is easy to switch hosting providers as long as you take the necessary steps beforehand. First, ensure that your website's content is backed up before switching providers to avoid any data loss.
Next, make sure the new provider meets your requirements. Once you complete the switch, thoroughly test the website for proper functioning.
Do WordPress Hosting Companies Offer Automatic Site Backups?
Yes, many WordPress hosting companies offer automatic sites as an optional service. However, this service usually comes at an additional cost because it requires more server resources than a standard hosting package.
Before signing up for any hosting plan, consider the cost of automatic site backups versus manual backups.
Is WordPress Easy for Beginners to Use?
WordPress is easy for beginners to use, thanks to its user-friendly interface and versatile customization options. The platform provides helpful tutorials for those just starting to learn the ropes.
It also simplifies creating a website or blog with easy-to-use drag-and-drop tools and intuitive menu options. 
Which WordPress Hosting Service Do We Recommend?
While many web hosting providers offer web hosting services to other website builders, those listed here all have dedicated WordPress hosting plans.
Choosing a web hosting plan that's been 100% optimized for WordPress hosting is always smart.
WPX Hosting is the standout winner when comparing every best WordPress hosting company. Whatever you're looking for, WPX has a great mix of features and is designed with a WordPress hosting focus.
The tech support is almost impossible to beat, and their response time is impressive. Being so focused on being a WordPress hosting company means that their technical team can resolve every issue that you'll ever have.
The most high-value feature of WPX is the CDN, which is included with all price plans. It guarantees a professional level of website performance, and you'll never have to worry about downtime.
WPX has all the standard features you would expect from a WordPress hosting provider, and more. From free site migration and free SSL certification to automated website backups every day, WPX Hosting simply delivers the comprehensive service that your WordPress pages need.
Our #1 Recommendation: WPX Hosting
Use coupon MATT90 to get 90% off your first month