With the abundance of web hosting services available on the market, it may be challenging to pinpoint the one that is suited best to your needs. 
Since Hostinger is one of the prominent web hosting providers, I conducted extensive research on the company to determine if it's any good despite being affordable.
This review will help you decide if the features of Hostinger is suitable for your website.
Hostinger Review: A Quick Look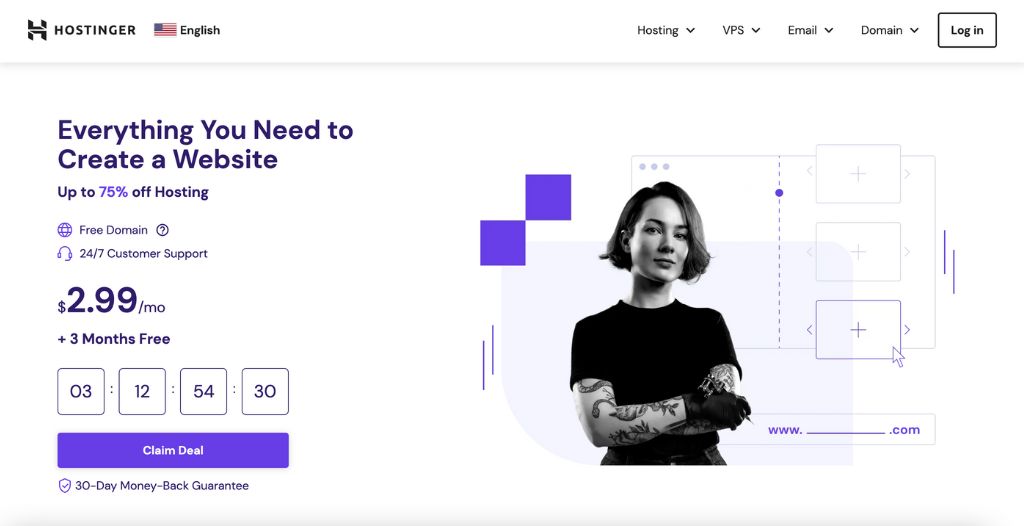 If you're looking for a cost-effective web host, I can vouch from experience that Hostinger is an affordable option. When I had to set up a separate website on a limited budget, Hostinger proved to be the perfect fit.
You will appreciate the ease of using Hostinger web hosting and simplicity if you're a beginner. However, if you're an advanced user, you are left wanting some of the better performance and support offered by other hosts.
General features: Shared and VPS hosting, an easy-to-use website builder, simple setup, and super-budget pricing. If you don't like the service, there's a 30-day money-back guarantee.
Types of hosting: Hostinger web hosting offers multiple types of hosting from general hosting, VPS hosting, cloud hosting, WordPress hosting, and Minecraft hosting. There's something for nearly all use cases.
Load time: We tested Hostinger web hosting with a few different tools, and most of them gave promising results. Pingdom showed an average load time of around 500 ms, and the site got an A using GTMetrix.
Uptime: Hostinger's uptime is quite reliable. Hostinger themselves guarantee a 99.99% uptime, though tests have shown the number to be around 99.95% to 99.97%. If you head to the support area, you'll be able to see the status of Hostinger's system.
Support Score: Live Chat is not available 24/7, and the support system is designed to take you to the knowledge base first, then open up an email or chat ticket.
Price Range: Hostinger web hosting is incredibly cheap, with plans starting at $1.99 for a 48-month commitment. Advanced plans such as high-performance VPS hosting can go up to $78 per month.
Disk Space: Hostinger web hosting offers 50 GB for the basic plan, 100 GB for the Premium plan, and 200 GB for the Professional plan.
If this is your first-ever website and you're looking for a cheap host that will get you online immediately, Hostinger is an excellent place to start.
---
Hostinger Features: What Makes It Appealing?
Back when I was just starting out, I tried out Hostinger mainly because it was one of the cheapest web hosting services. From what I experienced, their easy-to-use interface is incredibly beginner-friendly.
Find out below.
1. Hostinger Is Beginner Friendly
One of the biggest appeals of Hostinger as a web hosting provider is that this host is straightforward to use and beginner-friendly.

Once you sign up for Hostinger, you'll be asked for some basic information about your business and your website. Then, Hostinger will use your answers to personalize the web hosting experience for you.
The initial setup is straightforward to understand, and the overall experience is a breeze.
Upon completing these steps, you can opt to use their free website builder to quickly whip up a small business website.
The interface is very intuitive, there are plenty of templates to start with and you can easily customize elements to get them the way you want.
Hostinger's website says that most users are able to get a functional website running in under one hour.
You can also install WordPress or other popular CMS systems like Joomla, Drupal, Magento, and Prestashop, to name a few.
2. Hpanel Is Easy To Use
In my other websites, I experienced that most web hosting providers employ Cpanel as the standard control panel for managing. Hostinger has its own proprietary website manager, Hpanel, which I found more efficient.
So, what's the difference?
Cpanel is very robust and full-featured, but the issue with Cpanel is that it can sometimes be overwhelming because of all the myriad menu options [1].
Hpanel is a simplified, streamlined, and proprietary version of Cpanel. Hpanel has pretty much everything you can ask from a website builder and a website owner would need:
Auto-installing popular CMS systems like WordPress: this is essential to get your website set up with no coding experience
DNS zone configurations: This allows you to easily update your domain name and name server details
Managing your email account: in case you're using Hostinger's own email, this is where you'll add/change users
File managers: useful for troubleshooting and manually backing up your website
Viewing and modifying MySQL databases: you'll also need this for advanced editing and backing up your website
3. Great Caching
Hostinger has its own site speed solution called LiteSpeed. LiteSpeed works incredibly well with WordPress and can significantly speed up your website, which is a crucial part of the user experience in modern SEO.
Most importantly, having a fast website can give you an edge over your competitors.
LiteSpeed works by optimizing the way your website's content is shown to your visitors.
When you visit a website, a lot is going on: your browser requests the various components of the website, and the website's server "serves" those components to be assembled and displayed in the browser.
LiteSpeed streamlines this process as much as possible so there is minimal delay in the way websites are delivered to users' browsers.
LiteSpeed is enabled in the hosting backend by default for all WordPress websites, so you won't have to go out of your way to enable it.
When you set up a WordPress site with Hostinger's auto-installer, the front-end plugin will also be installed automatically.
There is one added feature that you should enable which is not enabled by default: the caching feature.
In a nutshell, caching speeds up your website even more by saving copies of your pages on multiple servers instead of requesting a fresh page from the server every time.
Showing a page copy instead of pulling a new one can have a significant effect on load time, especially so for pages that don't change very often, like about us and services pages.
In a cutthroat industry such as SEO, every possible edge matters, so speeding up your website by even a little bit can help.
LiteSpeed's cache is called LSCache, and it can be enabled by just flicking the "Automatic Cache" toggle in your hosting account.
---
Setting Up A WordPress Site on Hostinger
We set up a testing site to find out how good Hostinger web host really is. We tested the whole process:
Signing up and getting account credentials
Setting up WordPress
Deleting the account
Since the main selling point of Hostinger is its cheapest plan (Single Shared Hosting), that's the one on which we set up the website. This feature is great for hosting affiliate marketing website.
Since we signed up for a single month, we were quite surprised to discover that Hostinger throws on a sneaky $4.99 "setup" fee.
Aside from that, the setup is relatively straightforward.
As soon as the payment went through, the next page to open up was a survey asking us a few questions about what we plan to use Hostinger for and the level of our experience.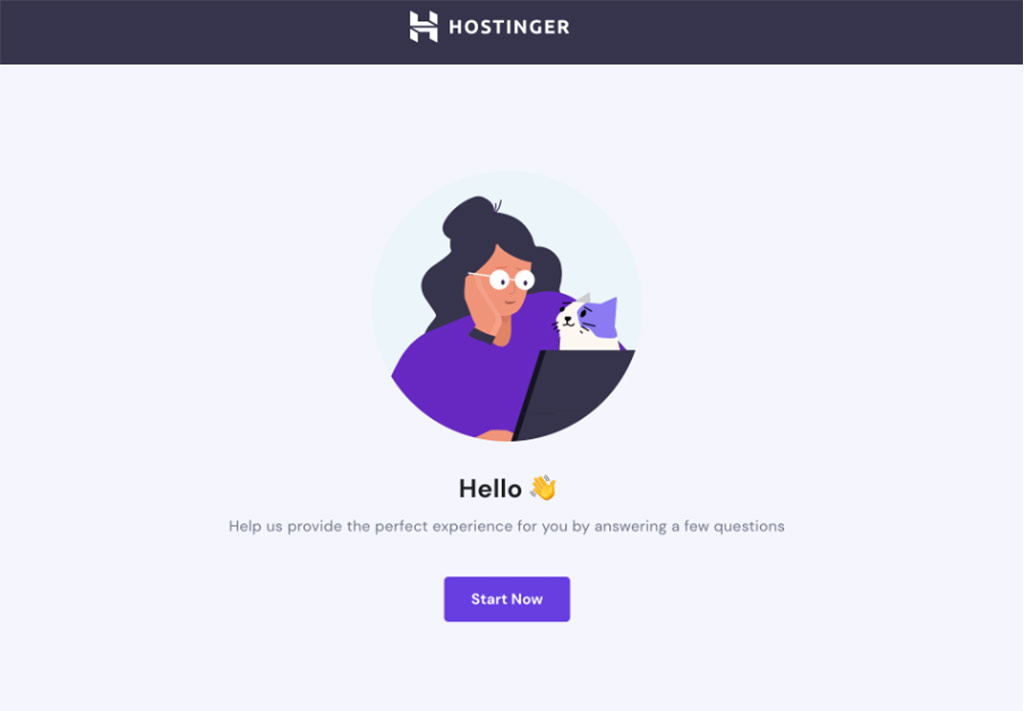 Hostinger then asked us about what we wanted to set up:
WordPress
WordPress with Woocommerce
Other CMS(Joomla, Drupal, etc)
Migrate an existing website
There was also an option for a fully manual installation.
If you select WordPress, Hostinger prompts you to enter an email address and a password for your admin area.
This is followed by letting you select from a few popular themes:
Next, you have to connect a domain. You have the choice to connect an existing domain that you already own or register a new domain through Hostinger.
Since this was the basic plan, no free domain was included with the purchase. If you decide to opt for this plan, you'll have to buy your own domain name from Hostinger or use your own domain (see the cheapest places to buy a domain here).
Finally, you will get to choose your server location. This is a cool touch, especially if you're creating a website for a local business.
After 2-3 minutes, your website is ready.
You can then head over to hPanel, where you'll be able to access all the various settings for your site.
Installing SSL was straightforward with a simple one-click setup from the Hpanel dashboard. There's a large button that start's the SSL installation process. When you click on it, you'll be prompted to select which domain to install it on.
Simply select the site, press the "Activate" button, and you'll be good to go.
A free SSL certificate is included in all of their hosting plans.
The default WordPresss site that you've just created has a few plugins installed from the get-go:
All-In-One SEO: Worth keeping and can help with your sites SEO
All-in-One WP Migration: Only needed if you're migrating an existing WordPress site
Google Analytics for WordPresss: Worth keeping for easy Analytics integration
Hostinger: You can remove this one as it doesn't add much value and will add bloat to your website.
LiteSpeed Cache: Worth keeping for speed optimization
OptinMonster: OptinMonster is not a free plugin. It's kind of a sneaky way to slip in an upsell. If you plan to build an email list, then its worth considering. If not, just remove the plugin.
Starter Templates: You can remove this one, as there are better themes available such as WP Astra
WP Forms Lite: Worth keeping to easily set up a contact form
---
Performance Tests
The Hostinger test site that we set up was a simple WordPress installation with a medium-sized image on the front page, some text and some typical plugins installed.
Having plugins is an integral part of the testing methodology because they tend to use up a lot of load time. Testing a bare-bones site would not yield the same results as a site with some essential plugins installed.
We kept the basic plugins that were preinstalled on the website
Hostinger's hPanel has a "Cache Manager" option, so we enabled the default caching system.
There are three main tools you can use to check a website's performance:
The website was tested with all three, and here are the results for each one:
1. PageSpeed Insights
The first test was through Google's own PageSpeed Insights tool:
Mobile results were good, considering that optimizing for mobile is generally quite challenging.
The site scored yellow for the following:
First Contentful Paint at 2.9 seconds (ideal is 1.8 seconds or less)
Speed Index at 4.1 seconds (ideal is 3.4 seconds or less)
Largest Contentful Paint at 3.0 seconds (ideal is 2.5 seconds or less)
The first contenful paint and largest contentful paint was slow because the background of the area above the fold had a large, unoptimized image.
The speed index was because the website was not optimized, and using plugins to minify css and JS (to name a few things) would improve this score.
Desktop results were much better:
Everything except the speed index was in the green, and the site scored an excellent 97!
2. GTMetrix
GTMetrix results were a solid 99% for performance and 95% for structure. The Largest Contentful Paint was 749ms, well under the 2.5 seconds recommended by Google.
3. Pingdom
Pingdom tests were also pretty decent, though not as good as PageSpeed Insights or GTMetrix.
The load time was very fast at 537 ms, though the site scored a little poorly on compression and HTTP requests. Both of these issues can be fixed with a plugin like WP Rocket or W3 Total Cache.
Takeaways
Considering that these results were with a completely unoptimized site and on the cheapest hosting plan, they look promising.
With more optimization, a leaner theme, and compressed images, this site could be a lot faster, even on the cheapest hosting plan.
Pros
Good speeds, cost-effectiveness, a free domain, ease-of-use, and a money-back guarantee make Hostinger very enticing.
Fast Speed
Even though Hostinger is shared hosting, it performed well based on my personal use of the site.
Shared hosting is cheap because you have multiple websites hosted on a single server. However, this means that those websites can "compete" amongst themselves for bandwidth.
As a result, performance tends to falter.
Even though Hostinger is a shared hosting service, it performs much better than most other web hosting services.
Premium shared web hosting services like Kinsta or Siteground will deliver better performance, but they also cost more.
If you're looking to balance cost and performance, Hostinger is a solid host.
Very Cheap
Hostinger is probably the cheapest web hosting service that we have come across. The lowest tier plan starts at just $1.99 a month for hosting, a tough deal to beat.
Bear in mind that the $1.99 price only applies if you commit to 48 months. If you wish to commit to 24 months, the price increases to $2.99, for 12 months, it's $3.49, and it's $9.99 for a single month.
The prices increase once your initial commitment period is over.
Even then, the 48-month plan is great value for money, especially for a small business website that you don't expect to take down anytime soon.
Their cloud hosting and VPS hosting is also fairly economical, with cloud hosting starting at $9.99 per month and VPS hosting starting at $3.95 per month.
Free Domain
After opting for the second or third-level shared plans, the site provided me with a free domain name in the process. The free domain name is good for one year, after which you'll have to pay regular renewal fees.
Getting your domain through your hosting provider has the added advantage of managing everything in one place.
Easy To Use
After personally navigating the platform, I found that it's easy to integrate your domain with Hostinger and set up WordPress.
The Auto-Installer that you're met with right after signing up makes setting up WordPress and many other CMS a breeze.
The setup menus are very intuitive and easy-to-follow, and you just need to input the bare minimum information such as your desired username, password, and current email address to get a fully working WordPress website up and running.
After your site is set up, you can use Hpanel to make other changes like setting up SSL and creating emails.
All plans offer an email account, and you can integrate your emails with Google Workspace if you wish.
As we mentioned above, Hpanel is much easier to use than cPanel, since it has fewer (confusing) options and it's explicitly designed to work with Hostinger.
Money-back Guarantee
Along with their very budget-friendly pricing and speed, this web hosting service offers a 30-day money-back guarantee.
Cons
Listed below are some of the disadvantages about Hostinger:
Support Could Be Better
Hostinger's support team leaves much to be desired. There is no phone support for starters, and live chats are hardly "live," as you have to wait a bit of time before an agent is connected with you.
You have to wait for a little between responses, too. Missing phone support is one of the main disadvantages.
Interestingly enough, right after setting up the test site, we ran into some issues. When we tried to visit the site from a browser, instead of seeing the site, we saw an "Under Construction" page.
You Get What You Pay For With Budget Plans
Hostinger is budget web hosting, and the most basic plan ($1.99 per month for 48 months) leaves a lot to be desired for advanced users:
You can only host a single website. You have limited storage and bandwidth, and there are no daily backups, meaning if your website was hacked or goes down, you may lose all of your data.
Daily backups are essential to protect your website's content: in an online business, your content is your biggest asset.
You also don't get SSH access, which is a way to access the files on your website.
Many developers also prefer using SSH to deploy apps onto hosting, so you'll need to pay for the Premium plan for that.
Lots Of Popups And Upsells
Hostinger constantly bombards you with popups.
Since Hostinger offers relatively affordable plans, they make a good chunk of their revenue from strategic upsells.
But if you just decline the offer, you'll still be able to accomplish what you were trying to do, anyway.
---
Like most budget-friendly hosting companies, Hostinger provides a shared hosting plan on all of its basic tiers.
After your site grows beyond a certain level of traffic, you'll find that shared hosting may not be enough because the server may not be able to provide the bandwidth that your site needs.
In this section, we'll take a look at the three shared plans Hostinger offers. After that, we'll cover other types of hosting as well.
1. Single
Hostinger Single is the cheapest offering from Hostinger. It starts at $1.99 per month for a 48-month commitment. This is the plan that we used for the test website, except we only signed up for a single month.
With Hostinger single, you'll be able to set up only one website on your hosting plan. In addition, you'll get 50 GB of SSD storage and 100 GB of bandwidth per month.
There's no free domain registration, and there are no daily backups, which means you'll have to set up your own system for backing up your website's files.
This is fine for basic websites, but many WordPress plugins create their own databases, and if you're using the Single plan, you won't be able to use those plugins unless you upgrade your plan.
2. Premium
Hostinger Premium is the middle-tier hosting plan and goes for $3.49 per month for a 48-month commitment.
With Hosting Premium, your website limit increases from just 1 to 100. This means you can have an entire portfolio of websites hosted and managed from a single account.
You get 100 GB of storage and unlimited bandwidth and databases.
Even then, the Premium plan has a limitation of not offering daily backups, so you're responsible for backing up your website with a third-party plugin (consider using UpDraft Plus)
3. Business
The highest tier shared hosting plan offered by Hostinger is the Business plan, which goes for $4.99 per month for a 48-month commitment.
The most significant difference between Hostinger Business and Hostinger Premium is that the Business plan offers daily backups and more SSD space.
With daily backups, you don't have to worry about renegade plugins or hacks, and greater SSD space lets you store a lot more files on your server.
For a typical WordPress website, SSD space is not that big of a deal: even a hefty 500-600 page WordPress site won't take up that much space unless you're storing large files on it.
---
Other Plans And Pricing
With the Single, Premium, and Business Hosting plans out of the way, here's an overview of the other types of plans that Hostinger offers.
1. VPS Hosting
VPS stands for Virtual Private Server, where your site is hosted on a single server with other sites, but the server is split up into multiple virtual machines, each with its own dedicated resources.
A Virtual Private Server means you're guaranteed a fixed amount of CPU power, RAM, and other resources, so a traffic surge on another website on the same server will not affect your own site.
To compare, if a website on a shared hosting server was to receive a traffic surge, other websites on the server would likely suffer because they wouldn't have as many resources.
Virtual Private Server plans on Hostinger start at $3.99 and go all the way up to $77.99 per month. Each increment gets you more resources.
2. Cloud Hosting
Cloud Hosting is quite similar to VPS hosting, except that instead of being on a single server, multiple copies of your website are stored on hosting servers in the Hostinger cloud.
You get the same advantages with Cloud hosting plans that you do with VPS hosting plans: namely dedicated resources and nearly 0% downtime, which means your website runs faster and can handle more traffic.
Cloud hosting starts at $9.99 per month and go up to $29.99 per month.
3. Minecraft Hosting
If you're into gaming, Hostinger is one of the few hosting providers that offers Minecraft hosting specifically designed for gaming and setting up a Minecraft server.
Minecraft is a wildly popular game, and running your own server gives you full control over the game [2].
Hostinger offers multiple Minecraft hosting that start from $6.99 per month and go all the way to $29.99 per month for serious gamers and streamers.
4. WordPress Hosting
Hostinger also has "Wordpress Hosting," which is the same as their shared plans but packaged a little differently.
Instead of bombarding you with multiple features and technicalities, the WordPress Hosting sales page shows you plans tailored to different traffic levels from 10,000 visits per month to 200,000 visits per month.
The WordPress Single, Business, and Pro plans have similar features to the Shared plans. Single is priced at $1.99 per month, Business is for $3.99 per month, and WordPress Starter is $2.99 per month.
There's an added Pro plan for $9.99 per month which allows 300 websites and supports up to 200,000 monthly visitors. That's the reason why we selected Hostinger as one of the top seven month-to-month web hosting providers in our list.
---
Hostinger Vs BlueHost
One of the most popular (and oldest) hosting providers is BlueHost, and many top influencers tend to promote BlueHost thanks to their comparatively lower prices and ridiculously high commission rates.
So how does Hostinger hold up against BlueHost?
1. Pricing
As we've mentioned multiple times in this Hostinger review, the key value proposition of this hosting provider is the very budget-friendly plans they offer.
Hostinger's cheapest plan starts at $1.99 per month (though for a 48-month commitment), and BlueHost's most affordable plan starts at $2.95 per month for a 12-month commitment.
Oddly enough, BlueHost's prices increase to $4.95 per month for a 36-month commitment!
At the end of the day, you'll pay around $95 for 48 months of web hosting with Hostinger and $178 for 36 months of web hosting with BlueHost.
2. Performance
Even though BlueHost and Hostinger are similar-tier hosting providers, Hostinger far outperforms BlueHost in nearly every department.
Most people gravitate towards BlueHost and do so for WordPress hosting, but Hostinger does better than BlueHost on most performance tests.
3. Customer Support
In our experience, we've seen that Hostinger support and Bluehost support are about the same in terms of responsiveness and wait times. However, between these two hosting providers, Hostinger has a far more robust knowledge base.
How Does Hostinger Approach Sustainability?
Hostinger approaches sustainability using 35% renewable energy in their data centers and has a power usage effectiveness (PUE) of 1.42, which is below the 1.8 average of other data centers.
---
Frequently Asked Questions
Is Hostinger Really Good?
Hostinger is a good option for people just starting out with a brand new web presence. In addition, low Hostinger pricing makes it an attractive web hosting service for people who want to build their first website.
It's one of the most popular web hosting services in Indonesia.
Does Hostinger Use Cpanel?
Hostinger does not use Cpanel. Instead, they use a proprietary control panel called Hpanel, which has most of the necessary features from Cpanel and omits some of the more technical ones.
Is Hostinger Good For Small Businesses?
Hostinger is a good option for small businesses. They're a cheap and reliable hosting provider that can help you build your first presence on the web. If you want to shop around, check out our preferred hosting providers for small business.
Is Hostinger Better Than Siteground?
Hostinger is not better than Siteground. Siteground has a much better reputation and has better customer support. Siteground's WordPress hosting has better overall performance, too.
Can I Cancel Hostinger At Any Time?
You can cancel Hostinger at any time by going into your account dashboard and heading to "Hosting => Manage," and clicking "Deactivate Account." Your account will be immediately deleted, but you won't get a refund unless you cancel within 30 days of signing up.
Our Verdict on Hostinger Review
After diving deep into Hostinger's offerings, I must say I'm genuinely impressed. I've found Hostinger to strike a balance between affordability and performance. 
While cost is the standout feature of Hostinger, I find that their user-friendly interface excellent. Although the performance was commendable, I did wish their support was more responsive. 
The different hosting plans  ensures there's something for everyone. If you're looking for a cost-effective hosting solution without compromising too much on quality, Hostinger might be your best option.
Our #1 Recommendation: Hostinger