As an affiliate marketer striving to maximize your profits, you must prioritize selecting the optimal hosting plan that provides cost-effectiveness, speed, and exceptional performance.
Equally important is finding a hosting service that offers rapid, affordable solutions with minimal downtime and easily scalable servers. With a multitude of hosting services on the market, pinpointing the perfect one for your affiliate marketing business may seem daunting.
Fear not, as we've exhaustively researched and compiled a comprehensive list of the top hosting companies specifically tailored for affiliate ventures. Our findings are derived from rigorous trial-and-error experiences and meticulous due diligence to ensure we recommend only the most rewarding options.
In this article, you'll find out the features, strengths, and weaknesses of the 7 best web hosting for affiliate marketing. Let's delve in.
Best Web Hosting Options for Affiliate Marketing
Specializes in WordPress hosting. But you can run custom sites on their servers without problems.
Use coupon MATT90 to get 90% off your first month
Shared hosting, WordPress hosting, Woocommerce hosting, Cloud hosting
Shared and Virtual Private Server (VPS) hosting
1. WPX (

Editor's Choice

)
WPX is an excellent host for running an affiliate program. They provide free malware removal and fast loading times for affiliate websites. Below, we'll look at some more reasons why WPX is an excellent affiliate hosting program for any affiliate marketer.
Snapshot
Hosting Type Offered: Specializes in WordPress and WooCommerce hosting
Load time: 5/5
Uptime: 95%
Support Score: 5/5
Price Range: Starting from $20 per month
Disk Space: 10 GB – 40 GB
Features
For both monthly and yearly plans, you'll get free services which include:
High-Speed Custom CDN: WPX has an excellent Content Delivery Network (CDN). The CDN has 26 Global Edge Locations that facilitate quick load times for your affiliate site.
Staging Area: With WPX, you'll be able to evaluate or test your website before you launch it properly. This minimizes errors on your site. All the features are also user-friendly.
Automatic backups: WPX prioritizing the protection of your data. Aside from automatic backups, you can also back your data up manually.
Pros
Fast Servers: WPX hosting has some of the quickest internet servers of any affiliate web host. That means your website will load quickly. Additionally, you'll have access to a free dedicated IP address.
Fast Customer Support: WPX Support staff has a 30 second average live chat response time. They address all your problems quickly, saving you time and money.
Excellent Uptime: WPX has a 99.95% service time and sufficient servers to ensure that your servers never go down. A high uptime raises your SEO rankings and the user experience.
Free SSL Certificate: You get a free SSL certificate when you buy a domain name using WPX. It's an important feature for any affiliate website. WPX is one of the few companies to offer a free SSL certificate.
Monitoring: You'll be able to keep track of clicks, conversions, referrals, and commissions.
Money-Back Guarantee: Your money would be refunded to you if you are not satisfied with the service.
Cons
Premium prices: WPX's entry-level plan starts at $20 per month. Even though it's a bit costly compared to other marketing plans, it's excellent value for money considering the features you get.
Why WPX?
WPX is the best host for running affiliate sites and coordinating with affiliates.
Drawing from our own experience, we got excellent support service together with high-Speed Custom CDN, unlimited site migrations to WPX, unlimited SSLs, staging areas, email, manual and automated backups, and DDoS protection.
You can also get a 90% discount on the first month if you try out the service by clicking the link below.
(90% off the first month with coupon MATT90)
---
2. Siteground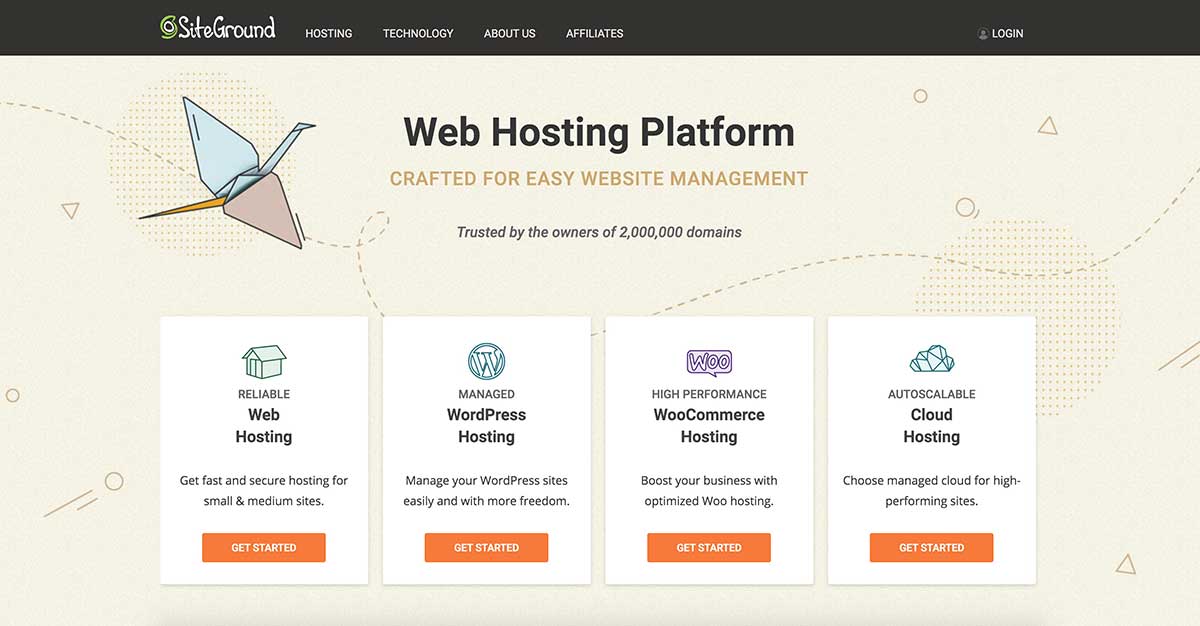 Siteground is a standard option among affiliates. With Siteground, you'll get free domain transfer, free SSL, free email accounts, and SEO and analytics tools to boost your website.
Let's look at some more standout features of Siteground that could benefit an affiliate marketer.
Snapshot
Hosting Type Offered: Shared, WordPress, Woocommerce, Cloud, & Reseller hosting.
Load time: 5/5
Uptime: 99%
Support Score: 4/5
Price Range: Starting from $6.99 per month
Disk Space: 10 GB – 40 GB
Features
Unlimited Websites: With Siteground's GrowBig and GoGreek plans, you can host unlimited websites on a single account as long as you don't exceed server limits.
Free SSL certificate: Siteground gives free SSL certificates to its users. Affiliate sites need to have an SSL certificate to rank high for search engine searches.
Unmetered data transfer: On all plans, you get unmetered data transfer.
Pros
Fast Servers: Siteground is regularly among the first users of modern and fast technologies. With Siteground, you'll be getting an updated PHP, SuperCacher, and other innovative protocols like HTTP/2 and QUIC. All these features guarantee a fast loading time for your affiliate website.
Quality customer service: The support team is available 24/7 to respond and solve all your problems. The agents are even willing to walk you through difficulties step-by-step if need be.
Security: Siteground's 24/7 system monitoring team protects your website from malware with up-to-the-minute server health checks. Security features such as WAF (web application firewall) and a proprietary monitoring system are included in all your plans.
Superb Uptime: Siteground guarantees you 99.99% uptime, ensuring that your servers are always up and running.
Automated Backups: Your data is safe with Siteground. If you ever get hacked or have any difficulties with your site, you'll only simply load the data stored in your archive for free.
Cons
Limited storage and bandwidth: Unlike other web hosts, you won't get unlimited storage: 10GB in the lowest package, with bandwidth only valid for around 25,000 visitors per month. However, Siteground is an excellent option if you are just starting with affiliate marketing.
Why Siteground?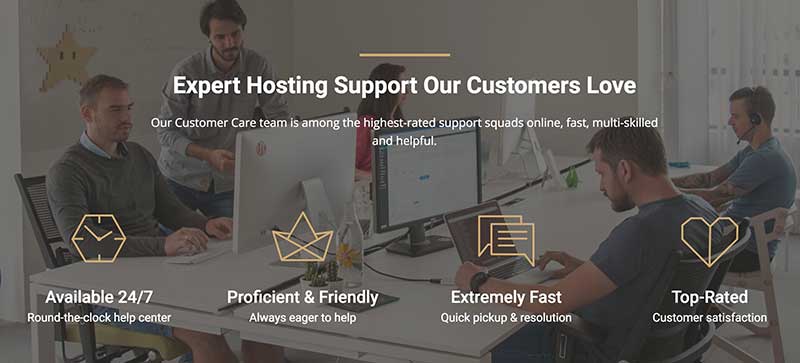 Siteground has some of the best features for affiliates.
We really appreciated that the platform came with a fast server and a free CDN. Their security features such as WAF (web application firewall) and proprietary monitoring systems that made it worth every penny in our experience.
They also have an alternative for cPanel and other site tools, which gives affiliate marketers complete control of their sites.
---
3. Hostpapa
Hostpapa is a Canadian hosting company with a simple control panel, security features like firewalls, intrusion detection, free site builder, and a free encrypted SSL certificate.
Let's delve deeper into the other exciting features of Hostpapa, which make them great for running affiliate programs.
Snapshot
Hosting Type Offered: WordPress, Reseller, & Virtual Private Server (VPS) hosting.
Load time: 5/5
Uptime: 99%
Support Score: 5/5
Price Range: From $2.95/month
Disk Space: 50 GB – 200 GB
 Features
Increased security: HostPapa provides you with a server firewall, email virus scanning and spam protection, DDOS attack prevention, network monitoring, and intrusion detection at no cost at all. Many other hosts would have required payment to hand you these features.
Pros
Easy Installations: You don't have to be an expert to use the features on Hostpapa. The provider gives you a single-click installation of free e-commerce tools, such as OpenCart and PrestaShop.
Fast Load Times: Hostpapa ensures that you have fast servers and offers you quick load times. The company also has an average uptime of 99.95% and a 99.9% uptime guarantee.
Free SSL Certificates: Hostpapa gives free SSL certificates to customers who buy domains with their company.
Unlimited bandwidth: Hostpapa also gives you unlimited bandwidths, subject to your chosen plan.
Hands-on support system: Hostpapa has a 24/7 support team with the needed knowledge base to solve all your problems. There are also different options to reach the support team, such as live chats, phones, emails.
Cons
Slow response rate: Even though Hostpapa has a support system to meet your needs, people criticize their slow response to requests.
No automated backups: Hostpapa doesn't make requirements for automatic backups. With this, you'll be at the risk of losing essential data anytime the unfortunate happens.
Unstructured monthly billing: You don't get to select monthly billing for shared hosting plans.
Why Hostpapa?
Hostpapa can be a great option for running an affiliate website. You'll get excellent security features for free and fast load times for your website.
We also had access to a user-friendly interface together with a free domain, free SSL certificate, email addresses, free website transfer, online marketing tools, a website installer, and 24/7 customer service. The customer support was very knowledgable and pretty quick to respond.
---
4. Flywheel
Flywheel is an affordable host that makes life easier for you by offering services such as an easy-to-use interface, automated updates, and fast servers to keep your site active.
Let's look at some of the features of Flywheel that would make you successful as an affiliate marketer.
Snapshot
Hosting Type Offered: Managed WordPress hosting
Load time: 3.5/5
Uptime:98%
Support Score: 3/5
Price Range: From $15/month
Disk Space: 5GB – 50GB
Features
Blueprints: Blueprints is one of Flywheel's unique features. A Blueprint is an in-built package of themes and plugins. Once you create some Blueprints, you can use them as a starter for quickly launching a new affiliate website.
Easy Collaboration: With Flywheel, you'll be able to invite other team members to work on projects without requiring them to share passwords. This makes it easy for clients to provide feedback smoothly – The hosting accounts you make for them can be erased once the deal is over.
Pros
Automatic updates: Flywheel automatically updates the core features of your affiliate website regularly.
Automatic backups: Flywheel backs up your site every nighttime. After backups, you can look at each snapshot of each backup and restore with a couple of clicks.
Free SSL certificate: Flywheel provides a free Let'sEncrypt SSL certificate on all its plans.
Free malware removal: If your site is ever attacked by malware, Flywheel will take care of it for free.
24/7 expert WordPress websites support: Receive assistance through phone, email, or live chat whenever you need it.
Cons
No domain service: If you are about to start your website, you'll have to register it with other domain services because Flywheel doesn't provide it.
No Email service: Flywheel doesn't also make provision for hosting emails on their server.
Why Flywheel?
Flywheel has a reliable in-built system to meet the needs of affiliate marketers. This includes their custom Blueprint feature, fast servers, and an excellent support system to ensure the success of your website.
In addition, Flywheel has 99.98% uptime and malware protection, which guarantees you protection from hackers, allowing you to focus on building an enviable site.
Drawing from our own experience, they also transferred our site and all data to them with expert assistance without charging us for it.
---
5. A2 Hosting
A2 is a reliable hosting service with a strong uptime, fast server speeds, and developer-friendly plans. Here, we'll look at the A2 hosting features, pros, and cons to help affiliate marketers decide whether A2 is a good fit.
Snapshot
Hosting Type Offered: Shared, WordPress, VPS, Reseller, and Dedicated Servers
Load time: 4/5
Uptime:97%
Support Score: 3.5/5
Price Range: Starting at $1.99/mo (renews at $10.99/mo)
Speed: 285 ms
Features
Unrestricted Bandwidth: This host offers you unlimited bandwidths on your plans allowing you to take full advantage of the speed built into your servers.
Free SSL: A2 also offers you a quick, convenient SSL certificate to improve your SEO rankings and gain your customers' trust. A security padlock feature would be displayed in your address bar.
DDoS Protection: The provider also gives you DDoS protection, which saves you the trouble of hiring an additional IT security staff or buying additional bandwidth capacity.
Pros
Fast loading speed: A2 Hosting has invested a lot to give you one of the fastest loading speeds on the market. The hosting service has an impressive average rate of 285 ms.
Reliable Uptime: A2 boasts an average of 99.97% uptime, ensuring that your servers are always functional.
Malware and server scanning: A2 protects you from the unexpected. Their data centers and servers are secured with HackScan, a 24/7 protection service that scans for malware and other attacks.
Free Site Migrations: A2 Hosting allows you to move a single existing website over to their servers without extra charge on all plans.
Fast Customer Support: A2 provides you with a 24/7 support team that you can reach through live chat, email, ticketing, and phone. The support team is well equipped to guide you through your affiliate experience.
Cons
The domain name is not free: Unlike other hosting plans, A2 doesn't provide free domain name registration in any of their shared hosting plans. Instead, the price is determined based on your subscription.
High Renewal Rates: Even though A2 Hosting offers low prices on long-term plans, the prices tend to go up during automatic renewals. What's more, there's no refund if you are unable to put in a request for the cancelation of the renewal plan 15 days before the upgrade.
Restrictions on the Cheapest Plan: You'll miss out on features like automatic backups and server rewind if you start on the cheapest hosting plan. You'll also be limited to 100 GB of SSD storage.
Why A2 Hosting?
We found A2 Hosting to be a very reliable hosting provider. With a fast server speed, free SSL certificate and free site migration coming with all their shared hosting plans, you'll likely be getting good value for your money.
---
6. Hostinger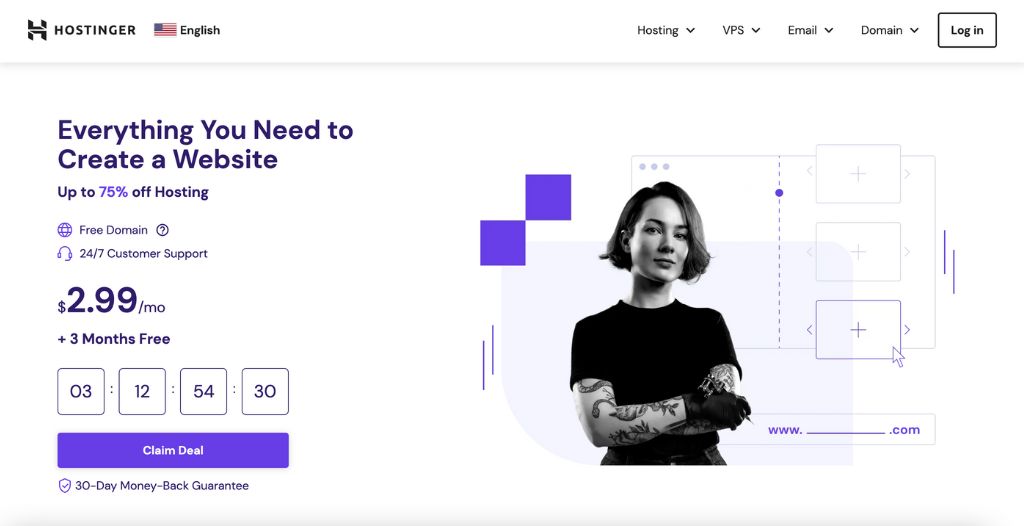 Hostinger is one of the most affordable shared hosting sites available for affiliate marketers. They have great features such as free SSL and unlimited bandwidth that help your site to thrive. Below, we'll look at some more features of Hostinger.
Snapshot
Hosting Type Offered: Shared hosting, VPS hosting, Cloud hosting
Load time: 4/5
Uptime:75%
Disk Space: 50GB -200GB
Support Score: 3.5/5
Price Range: Starting at $1.99/mo (renews at $2.99/mo)
Speed: 356 ms
Features
Free SSL Security: Hostinger ensures that server-client communication is encrypted and protected. SSL also protects you from an army of hackers.
Dependable Uptime: Hostinger gives you a 99.9% Uptime guarantee to always keep your serves in full swing.
Automated Backups: This host does regular and free data backups to protect your data.
Pros
Fast Load Time: Quick load times are essential to success in affiliate programs. Hostinger has servers and data centers in the USA, Asia, and the UK to ensure that your loading times are stable and swift.
Multilingual Customer Support: The company gives you a multilingual customer support team and live chat. You usually get responses within seconds after asking a question.
Free Domain Name: Hostinger will offer you a free domain name. You only pay if you need more than one domain name.
Easy to Use Interface: Hostinger offers you a user-friendly platform to quickly focus on maximizing your profits.
Unlimited Features With Premium and Business Plans: If you join any of the top plans on Hostinger, you'll have access to free unlimited plans such as email accounts, bandwidth, and databases.
Cons
No Traditional cPanel: Most hosting sites use the traditional control panel, but Hostinger has its own control panel, which some users might find difficult to operate.
Why Hostinger?

As per our experience with Hostinger, we were surprised to find out that they have an excellent response team who are knowledgeable and friendly. Along with a good server speed to ensure that our affiliate site doesn't have any off days. With Hostinger, we're pretty sure you'll be able to run affiliate sites that draw traffic.
---
7. Bluehost
Bluehost is one of the cheapest unlimited web hosting plans you'll find today. From free domain, unlimited websites to unlimited storage, your affiliate website would be optimized to suit your demands.
Let's look at some additional features of Bluehost web hosting below…
Snapshot
Hosting Type Offered: WordPress, Shared hosting, VPS hosting, Dedicated Servers, Physical Private Server, WooCommerce hosting, Cloud hosting.
Load time: 4/5
Uptime: 98%
Support Score: 3/5
Price Range: From $6.95/month
Disk Space: 100 GB – Unlimited
Features of Bluehost
Custom domains: Bluehost has a custom domain manager that helps with the transfer of domains, purchases, tracking, and general administration of your site
Customized interface: Bluehost has a custom interface that consists of additional tools to help you easily manage your websites and servers.
Easy installations: Bluehost makes it easy for WordPress installation and other essential software such as Drupal and Magento.
Pros
Timely updates: When disaster strikes, you'll not have to restart your website because your account is backed up daily, weekly, and monthly although you'll have to pay if you want to restore databases.
Free SSL certificate: Bluehost gives free SSL certificates to its customers for the first year of a plan. With an SSL certificate, your data is protected.
Personal IP address: Bluehost offers its customers a private IP address to prevent confusion with other sites, even on the same server.
Unrestricted Bandwidth: Bluehost gives you unmetered bandwidth on all plans. However, Bluehost might constrain sites that use bandwidth beyond normal figures.
Cons
Pricey upgrades: You'll have to pay higher expenses for the renewal or upgrade of your package.
No Free Website Migration: Many hosting services offer you a free migration or transfer from a different server, but Bluehost requires you to pay for the migration of your servers.
Slow customer service: Bluehost is notorious for being slow in responding to customer queries.
Why Bluehost?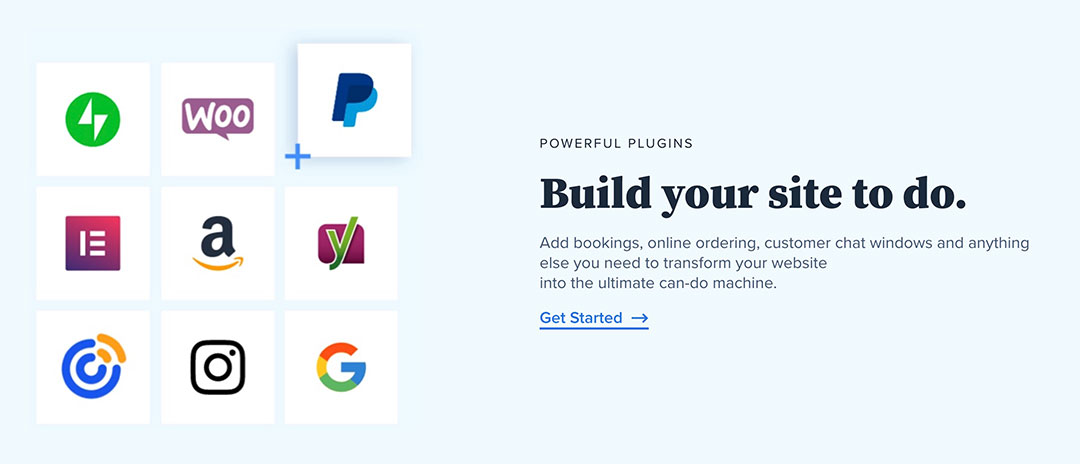 Bluehost is a reasonable choice for affiliate marketers who want to start an affiliate site. In addition to its affordability, user-friendliness, and performance, the company is endorsed by some of the most important open-source platforms globally, including WordPress.org.
We tried them out and we found their features to be a very good fit for us. From unrestricted bandwidth to a free SSL certificate and even Google AdWords credit, everything was smooth sailing.
---
What Should You Look for In a Web Hosting for Affiliate Marketing?
Below are key features affiliate marketers should keep an eye out for when choosing a web host.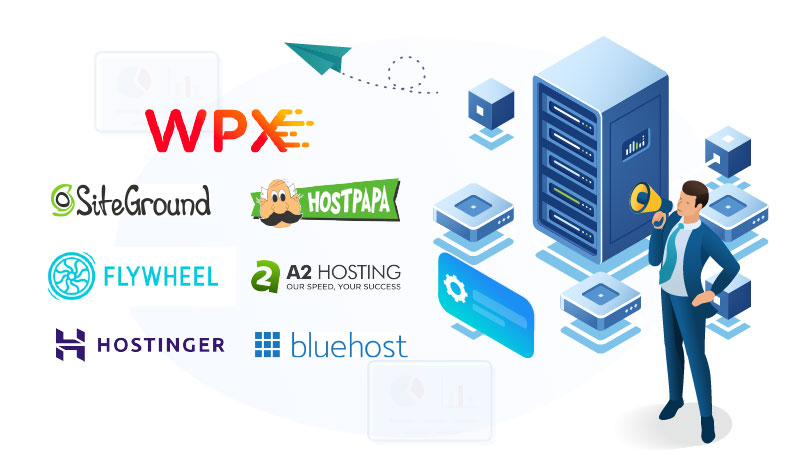 1. Fast Server
A fast server is the key to success in affiliate marketing. First, your website needs to load quickly; otherwise, customers will turn away. Slow websites negatively impact customers' user experience. Site speed is also a ranking factor.
You should always look for a hosting site that will get your page to load in less than a second. When your server has more speed, you'll be able to put in more content such as videos and images without significantly slowing down your site.
2. Good Customer Response
There's more to choosing a web hosting service than their prices. You should be on the lookout for a customer support team that will resolve all your problems promptly.
You'll need to adequately research the efficiency of the website hosting provider's support team. You can do this by reading online reviews and testing their support service.

Before you sign up for a hosting plan, you can send them a message via email or their online chat rooms and monitor how long it takes to get a reply and if the response is also helpful.
If a provider takes longer than 10 minutes to respond to your question, perhaps you shouldn't work with them.
3. Uptime
A high uptime ensures that your website has little to no downtime during the year.
Ideally, choose a hosting provider with a guaranteed uptime of 99.99%, which means your website might only be down for less than an hour each year.
4. Bandwidth and Storage
One of the significant factors that determine what you pay for a hosting service is bandwidth. Simply put, bandwidth is the number of bytes your provider is ready to send out to your customers and visitors.

When choosing a hosting service, you should estimate the number of traffic your site will generate and decide on your bandwidth requirements.
For example, if you'll be handling many videos and other multimedia, you'll need high bandwidth. Some providers claim to offer unrestricted bandwidth but, in most cases, there are hidden restrictions.
Also, a good amount of storage is key for running affiliate sites, especially for posting media-heavy content like videos, animations, and high-resolution images.
In most cases, the storage space you get depends on the hosting type you choose. For instance, for shared hosting, you'll share your storage space with other websites, while dedicated hosting gives you more legroom.
5. Scalability
The goal of affiliate marketing is to continuously grow your online business. Start small and build up. You need a hosting provider that will easily allow you to scale on their servers.
Choose a web hosting service that enables you to scale effortlessly, with no downtime for your site while it's moved from one hosting plan to another. Don't forget to check the cost of upgrading to a higher hosting plan on your prospective hosting provider.
Which Hosting Service Do We Recommend for Affiliate Marketing?
Affiliate marketers need web hosts that guarantee strong uptime rates, fast page load speeds, and good customer service. In most cases, web hosts offer hosting resources like a free domain and a free SSL certificate as part of your web hosting account.
The seven web hosts we've reviewed each have their strengths.
Overall, if you want to make the most out of your affiliate marketing business, you should invest in WPX.
Although it is slightly expensive compared to the other hosting providers on this list, WPX web hosting guarantees the best speed, uptime, automatic backups, and exceptional customer support.
In addition, they give you the all-around performance and server security that an affiliate marketer needs.
Our #1 Recommendation: WPX Hosting
Use coupon MATT90 to get 90% off your first month