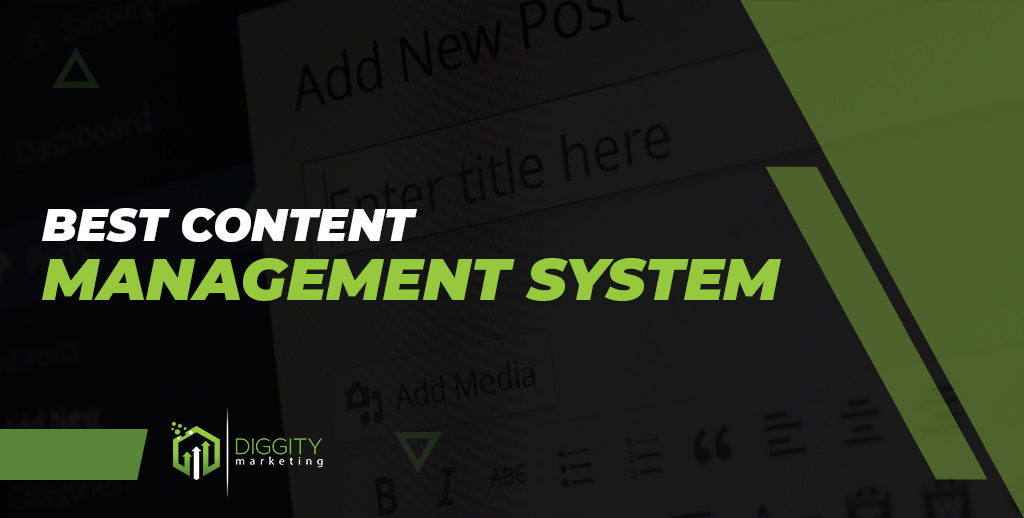 Are you wondering what the best CMS for your business is?
There are hundreds of CMS platforms on the market today! So finding the best one for your needs will require knowing what you want to get out of your website.
Drawing from years of personal experience working with various CMS platforms, I have gained invaluable insights that will help you make an informed decision when selecting the ideal CMS for your unique business requirements.
This list of the top 11 CMS platforms should help guide you in choosing the best CMS software for your business and use case, no matter what type of website you're building or your technical skills!
Top Open-Source Content Management Systems
Open-source CMCs are the most popular on the internet. These systems are the interim between a self-hosted website-building platform and a headless system.
Generally speaking, you will be able to build your ideal website on one of these platforms due to their level of customizability. However, you will need to arrange separate web hosting, domain name purchasing, and security to get the best functionality and protection.
Thanks to recent upgrades, open-source platforms are fast becoming more user-friendly for beginners and non-technical users.
1. WordPress
Hands down, the world's most popular CMS is WordPress. It powered over 455 million websites in 2021. That's about 35% of the internet, folks!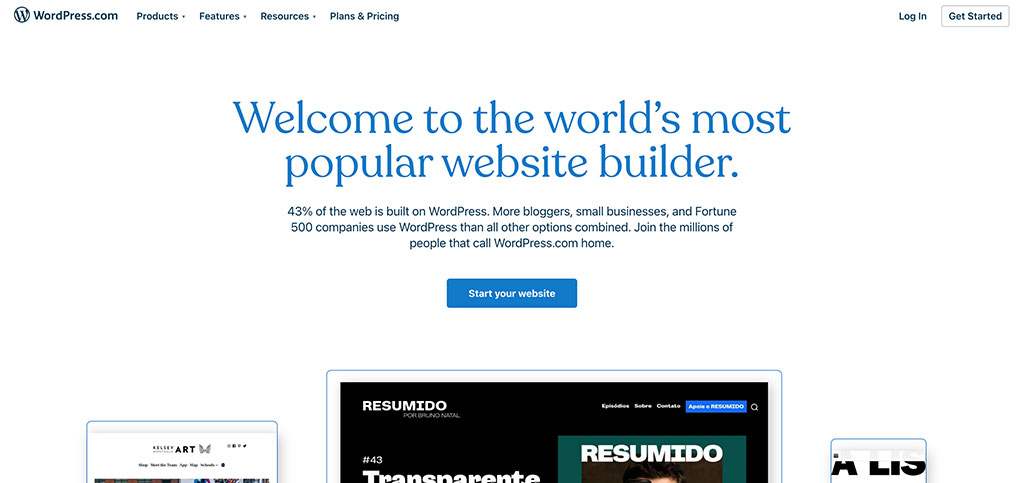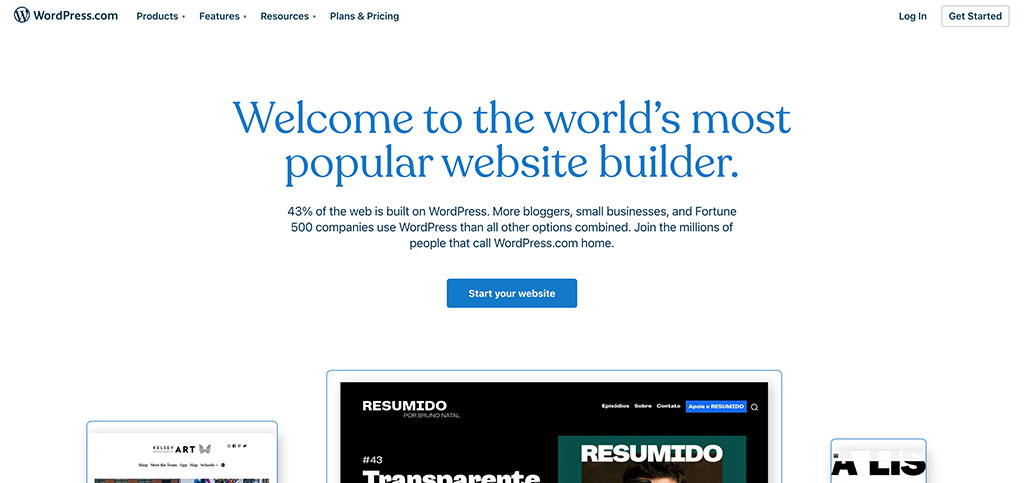 Since WordPress was originally launched as blogging software, it has been loved by web content creators worldwide (myself included) and currently powers over 96% of the top blogs[1] in the world. Other CMS platforms can hardly compete with the popularity of WordPress.
Out-of-the-box WordPress is a blank slate. It may seem a little challenging to navigate if you're using it for the first time and learning how to build a WordPress site on your own. This is due to the vast amount of customizability available on the platform.
However, when you add a theme and a few plugins to extend WordPress's built-in functionality, you've got yourself a versatile platform that can be molded to your exact requirements.
It's also relatively easy to find developers and advanced users who can work within WordPress code to customize your website further.
WordPress Pros
Highly customizable
Suitable for almost all types of websites
Versatile and scalable to organizations of any size
Beginner-friendly with the right plugins
The largest collection of plugins and themes
Solid community
Reasonably easy to find solutions to most common problems online
It is pretty cheap to build and maintain a website
WordPress Cons
Plugin and site maintenance can be time-consuming
There's a learning curve for first-time users
Costs can vary wildly from user to user
Without plugins, there's hardly any in-built functionality
Cannot easily share content outside of a website format
Limitations for enterprise sites requiring custom functionality
WordPress' Top Features
WordPress is the most popular platform due to its extensive collection of themes and plugins. It is mostly used by rank and rent websites, bloggers and small to large businesses who often want to DIY their website design. Their search engine optimization tools are amazing.
However, if you need an enterprise-level solution you may find a headless CMS system like Drupal or Magento to be a better provider for the enterprise-level functionality that you need.
Being a free platform with the most extensive collection of free and premium options, you can extend its functionality any way you like in a very affordable manner!
WordPress Pricing
As a platform, WordPress.org is entirely free.
However, you will need to invest in purchasing a custom domain name, a hosting plan, and some plugins to add functionality to your website. For most small business sites and blogs, you can get started for less than $100 a year.
Check out the video below, where I show you exactly how you can get started on a small budget.
Key Takeaways
WordPress is very versatile and is supported by a large, global community of web designers and developers. It takes a bit to get used to but is relatively easy to navigate once you've had a feel for it.
With the range and versatility of themes and plugins available for WordPress, you can't go wrong if you choose this open-source CMS platform.

---
2. Drupal
Drupal is another flexible open-source CMS software. Unlike WordPress, Drupal has a narrow audience and mainly targets developers, marketers, and agencies.
It is one of the best CMS for handling custom websites that have large volumes of data or heavy traffic volumes.
Unlike WordPress, Drupal is better suited to businesses with significant technical resources. To unlock its full power, an understanding of PHP, HTML, and CSS is necessary (among other coding languages).
Drupal Pros
Better suited to developers and advanced users
Great performance for data-heavy websites
Best reputation for security among open-source software
Decent selection of customizable modules and themes
Drupal Cons
Requires intermediate to advanced technical knowledge
Not suited to businesses with a low technical budget
Not intuitive to use
Takes more time to set up and configure
Expensive to set up and maintain in the long run
Drupal's Top Features
Drupal has earned a high reputation for its dedication to providing top-notch security. Not only is website security essential, but it is also a pain point of many other open-source platforms.
For instance, without security plugins, constant updates, and maintenance, WordPress users can frequently experience malware attacks and hacks.
With Drupal, you can sleep easy at night knowing you can get the best of an open-source platform without worrying about new security breaches popping up overnight.
Drupal Pricing
When you compare WordPress vs Drupal, Drupal costs businesses far more to set up and maintain.
The costs aren't in using the Drupal platform since it is also open-source, like WordPress. Instead, the bulk of Drupal's cost is in hiring a technical team to build and maintain your website.
A standard website built in Drupal costs between $30,000-$40,000 though you can expect to pay north of $100,000 if you require additional customization.
Key Takeaways
Drupal's focus on security and its ability to handle large, customized websites make it a top choice for organizations with in-house developers who can maintain the website.
It is not an affordable option for smaller businesses, so it is not a widely adopted CMS platform, like WordPress.
---
3. Joomla
Joomla is designed to be the middle ground solution between WordPress and Drupal. It is another open-source CMS that combines the technical power of Drupal with some of WordPress' ease of use and affordability.
While it's not as widely used as WordPress, it is still a popular CMS platform in today's market and currently holds about 2.5% market share in the CMS space. You can check our WordPress and Joomla direct comparison for an in-depth analysis.
Unlike Drupal, Joomla has over 6,000 available extensions. It also comes with more out-of-the-box functionality than most open-source CMS platforms.
However, most of Joomla's functionality is unlocked in the backend. Unlike visual drag-and-drop builders where you can design and build the functionality, you need at the same time (in the front-end), with Joomla you can't do both at the same time.
That's why many people find it more challenging. To unlock its full functionality, you will need to learn how to navigate Joomla's backend system.
It has a reasonably steep learning curve for beginners unfamiliar with using an open-source CMS.
For instance, unlike modern CMS platforms, you cannot edit your web pages using an intuitive drag-and-drop builder.
Jumla Pros
Robust functionality
6,000+ extensions available
More affordable than Drupal
Very customizable
Fewer technical skills are needed compared with Drupal
Jumla Cons
The largest amount of vulnerabilities in an open-source CMS platform
Lack of functionality for automatically scheduling updates
Most of the design happens in the back-end and is not very user-friendly
Many extensions are not easy to set up
Not suited to beginners or organizations with a low technical budget
Joomla's Top Features
Joomla's stand-out feature is the 6,000+ extensions available. Although these aren't as easy to navigate as WordPress plugins, they extend the built-in functionality of Joomla's platform further than most other open-source CMS systems.
Joomla Pricing
Joomla's pricing sits in between WordPress's and Drupal's. On average, it can cost between $700 to $6,500 to create and maintain a Joomla website.
Although this is not cheap compared with self-hosted CMS software, it is relatively inexpensive compared with Drupal.
Key Takeaways
Joomla is a decent platform worth checking out for organizations seeking the customizability of open-source software.
It offers more robust features than WordPress without the excessive cost and technical knowledge required to run an enterprise-level open-source CMS like Drupal.

---
Best CMS Platforms for An Online Store
If you are building an online shop, the CMS you choose will need to be able to do more than just manage content. For instance, the data, images, and videos related to each product in your store will need to be stored and easily accessed within your CMS.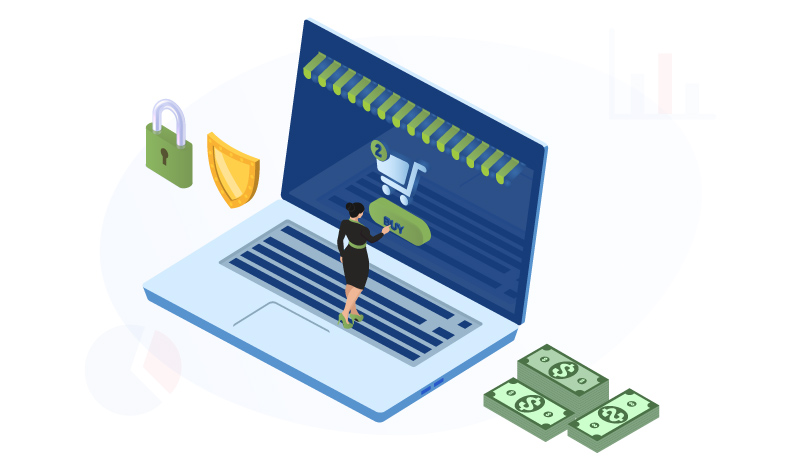 So the best CMS for eCommerce stores depends on how big your store will be and what technical specifications you wish to include.
Some platforms offer intuitive functionality as soon as you sign up, and few plugins and add-ons are needed.
However, they can become quite limited if you want further customizations. Others offer unlimited customizations but aren't as intuitive for non-technical users to get started with.
So here are our best CMS recommendations for both scenarios and for eCommerce sites of any size!
4. Shopify
Shopify is known and loved by many owners of eCommerce sites. It is a hosted solution for small business owners to set up and manage their online stores with ease. You can manage your entire store in Shopify's dashboard.
It is ideal if you are setting up an online shop for the first time and want a simple platform you can get started with right away. Shopify's native functionality is simple and intuitive so you won't need many technical skills to get started.
However, it is also a wonderful solution for larger stores that need robust integrations and omnichannel presence.
Shopify integrates with many 3rd party logistics providers, inventory management systems, and omnichannel platforms to help fulfill customers' orders.
Shopify Pros
Perfect for first-time online shop owners
It does not require much technical knowledge to set up
Security, hosting, and support are all included in all packages
Shopify's checkout process is smooth and seamless for your customers
End-to-end encryption and secure payment processing
It can come with a free domain, or you can add a custom, branded one
Shopify Cons
Poor SEO performance
Less control over the appearance and functionality of your store
Free plans are not available
The blogging module leaves a lot to be desired
Limited customization options
A limited selection of themes and apps
Shopify's Top Features
Shopify made a splash in the online world when it launched its proprietary checkout experience. Many customers can often feel frustrated during the checkout process, especially with clunky designs that are not user-friendly.
Shopify's checkout process is intuitive, beautiful, and runs seamlessly so your customers can experience less frustration during checkout.
Shopify Pricing
You can get started with Shopify for as little as $9/month with the Shopify Lite plan. This plan won't give you an entire store, but it lets you integrate Shopify's eCommerce capabilities into an existing website or blog, regardless of what platform you build it on.
If you'd like to build your online store on Shopify's platform, the lowest package starts at $29/month.
Shopify's pricing also scales up according to the needs of your store. If you run a large store and require enterprise features, Shopify Plus is the way to go.
Key Takeaways
Shopify is the preferred solution for setting up an eCommerce store among first-time online shop owners, people with limited technical skills, and small businesses.
It offers an intuitive and easy-to-use platform that makes the experience of selling online a breeze to get started with.

---
5. Magento
Owned by Adobe, Magento is an eCommerce platform that offers an unlimited amount of options for tech-savvy store owners. It is not as intuitive as Shopify. However, it offers so many more features!
There are two Magento products available. Magento Open Source is similar to Drupal. It's a highly flexible platform allowing you to push the limits of traditional eCommerce store functionality. However, it requires advanced technical skills to make the best use of it.
Magento Commerce, on the other hand, is a hosted version of Magento but is not as popular as the open-source variation, so we'll focus on Magento Open Source below.
Magento Open Source Pros
Ideal for experience eCommerce store owners
Over 3,800 add-ons available in Magento's marketplace
Customizable due to open source technology
Great for enterprise solutions
Excellent for large stores with a lot of data
Magento Open Source Cons
Security patches need to be manually installed
A steep learning curve, especially for beginners
Expensive to build and maintain
Requires technical and coding knowledge
Without expert maintenance, your store is vulnerable to security threats
Magento's Top Features
Much like Drupal, Magento's top features come down to its ability to be fully customized to your store's requirements. It is a platform best suited to online stores and offers over 3,800 add-ons and apps to help you get all the custom features you want in your store.
Magento Open Source Pricing
Magento Open Source is free to download and use; however, it incurs a rather hefty price tag when it comes to setting up your eCommerce store and maintaining it.
Compared with WordPress, your costs to host a Magento store are comparable. However, Magento's add-ons typically cost more than WordPress plugins do.
Since you're also going to need a developer to get the most customizable functions out of Magento, you'll be looking at a website set-up cost of over $20,000.
Key Takeaways
Magento is like an eCommerce-specific version of Drupal. It is open source and allows for quite a lot of customization.
However, it comes with a hefty price tag, and you will need to have developers on board in order to properly maintain your shop on an ongoing basis. Thus, Magento is better suited to large stores with a decent technical budget.
---
6. BigCommerce
Like Shopify, BigCommerce is a fully hosted CMS platform for building eCommerce sites. You can get your store set up, get sales and earn money straight away. With a range of themes and shop templates, it's easy for non-technical users to get started without needing to hire a developer.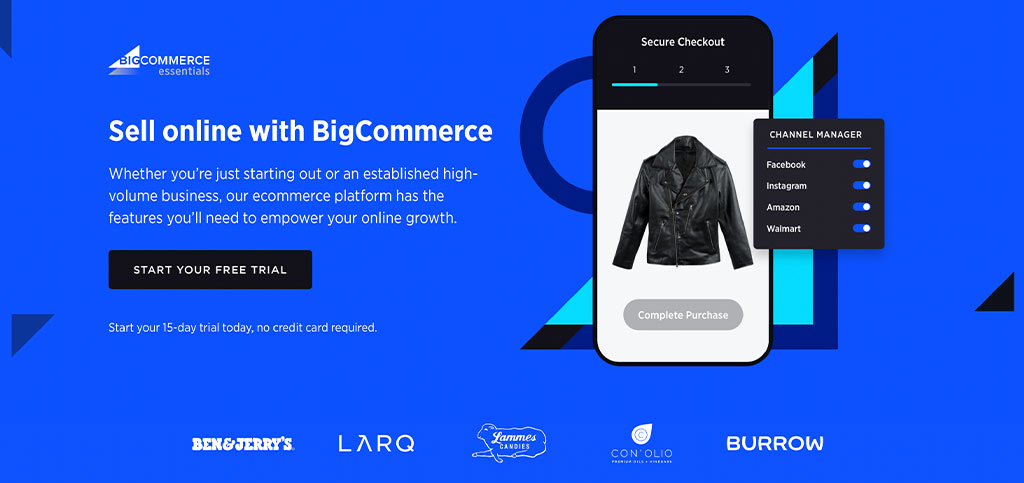 As an all-in-one, hosted CMS platform, you also don't need to worry about web hosting, security, or website maintenance as the BigCommerce team handles that on your behalf.
Perhaps the best feature you can utilize is the 24/7 support system. Unlike open-source content management platforms, where you need to Google things and find your own solution, BigCommerce has support staff on standby to help you out.
BigCommerce Pros
You can use a free domain from BigCommerce or set up a custom domain
You can set up your store and accept payments straight away
BigCommerce integrates with over 55 major payment processing companies like PayPal, Stripe, Amazon Pay, and Apple Pay
Support is available 24/7 via email, live chat, and more
Fantastic enterprise solutions such as headless commerce and omnichannel support
BigCommerce Cons
Limited control over your store
Somewhat limited themes and integrations
As your store grows, you will automatically be bumped up to a higher price tier
BigCommerce's Top Features
BigCommerce offers a great range of features suitable for small businesses and large enterprises alike.
With unique functionality, such as the "commerce-as-a-service" model and headless commerce, BigCommerce can support business models that steer away from the traditional eCommerce structure.
Unique commerce-related business models require custom technology, and BigCommerce makes it easy and relatively affordable to access diverse eCommerce-related functionality for any online store.
BigCommerce Pricing
For small business needs, BigComerce starts at $29.95 per month and scales up according to your store's growth.
Key Takeaways
No matter if your store is big or small, BigCommerce's solutions can scale with you as you grow.
With 24/7 support on standby and a range of unique commerce solutions available, many businesses are using BigCommerce as a multi-functional website builder with great success.
---
Top Headless CMS Platforms
A headless CMS may be the best CMS platform for enterprise business. Websites with design requirements that differ from their content management requirements can also benefit from a headless CMS.
In essence, a headless CMS platform is a management system that treats content like data that can be called over an API. It decouples the experience of creating content from specific design outputs.
For instance, when using a traditional CMS platform, your content is interwoven with design elements on a web page. It cannot be extracted or treated like a data input that can show up elsewhere.
With a headless CMS platform, your content can be called into an array of versatile platforms. Of course, the most popular application is for the web.
However, headless CMS platforms also allow content to be pulled into mobile applications, virtual and augmented reality systems and voice-operated devices.
For organizations that want to be a part of the "intent of things" or that require dynamic functionality for the display of content, a headless CMS may be the way to go. Here are some top picks to consider.
7. StoryBlok
Used by over 40,000 developers and marketers, StoryBlok is a headless CMS that gives you the closest experience you'll find to a drag-and-drop editor among such platforms.
With StoryBlok, your whole team will be able to use the CMS with ease. StoryBlok's unique visual editing tools and customizable blocks give a comparable experience to using a CMS like WordPress.
Sure, it looks and feels different, but it is the closest approximation compared to most other headless CMS software that tends to be developer-focused.
StoryBlok Pros
Great for developers and content marketers
Great suite of visual editing tools
Highly customizable block editing is available
Supported by a robust plugin system
Can localize content to different regions or based on language
Hosted on AWS with state of the art security features
StoryBlok Cons
Better suited to smaller businesses and may not meet all of the technical capabilities of enterprise companies.
It is not 100% beginner-friendly and requires some technical knowledge to set up properly.
StoryBlok's Top Features
In many ways, StoryBlok looks and feels similar to WordPress' Gutenberg editor without compromising on the features that developers need from a powerful headless CMS.
It is designed as an entry-level headless CMS solution for solopreneurs and small businesses that need the flexibility a headless CMS can deliver. By using AWS for hosting, StoryBlok can also ensure state-of-the-art security and data protection for users at every level.
StoryBlok Pricing
StoryBlok is a relatively low-cost solution for organizations that need a robust and flexible content management solution. Pricing starts with a free tier for a single user and scales up accordingly.
You'll find that StoryBlok is one of the more affordable solutions in the market for anyone looking for a headless system. The first paid tier is designed for personal projects and begins at only $7 per user per month.
Key Takeaways
StoryBlok is a great headless content management solution for teams that are just starting out or that have many non-technical content marketers who will be using the CMS frequently.
Not only is it affordable, but it is also built on AWS and offers a range of robust features for a fraction of the cost of other headless solutions. It is definitely worth checking out!
---
8. Contentful
Contentful is a popular cloud-based headless CMS among enterprise companies. Like StoryBlok, Contentful has a range of tools to create, edit and publish content and an API to publish it.
Contentful is ideal for your business if you're looking for a flexible CMS to create and manage your content in one place and with the flexibility to deliver it to any digital channel at any time.
Contentful Pros
Enterprise-level cloud CMS
Can create your own unique content model for your website
Powered by Amazon Web Services
Robust security features
Rich text editor suitable for marketers to use
Can integrate with any tech stack via API
Contentful Cons
Steep learning curve
Requires developers and advanced technical knowledge
API knowledge is necessary to display content across all channels
Difficult for smaller businesses to integrate
You are likely overpaying if you're not creating omnichannel digital experiences
Contentful's Top Features
Being able to use an API is a powerful feature of Contentful's CMS platform. With an API, you can integrate your existing technology stack into this CMS.
Even if you operate with applications built in-house or third-party cloud software, the API feature opens up a world of opportunities to get all your website tech to integrate with each other.
Since Contentful operates purely on Amazon Web Services (AWS), you'll also get the advantage of Amazon's state-of-the-art security features and data encryption.
Contentful Pricing
Contentful offers three pricing tiers. You can get started for free on the "Community" plan. On this plan, you'll access core functionality with some restrictions.
Small teams can upgrade as their content project expands. Team plans start at $489/month and can easily roll over into thousands of dollars a month on larger projects.
Key Takeaways
If you are looking for a powerful headless CMS that offers great security and can be integrated into your existing tech stack using APIs, Contentful is worth checking out.
Especially with a free tier available, you have no reason not to!

---
Top All-In-One Content Management Systems
The final category of CMS we explored is fully-hosted solutions. Typically, the platforms that fit into this category can also be known as website builders.
They are often locked platforms that do not allow much customization of the code structure. However, they are designed to be an all-in-one CMS and website builder that's suitable for people with limited technical knowledge.
9. HubSpot CMS Hub
As the only platform combining a content management system with a system for customer relationship management, HubSpot's CMS hub offers a range of unique functionality that no other CMS on our list offers.
We especially love how HubSpot CMS Hub merges the marketing needs of a business with their website.
At the end of the day, a website is a front-facing marketing tool that needs to draw in the right customers to help grow your business online. And CMS Hub helps you manage both your content and customers in one place.
Given HubSpot CMS Hub also scales with your business growth, it is suitable for small to medium enterprises that require lots of wiggle room for growth.
CMS Hub Pros
In-built drag and drop editor & SEO tools
Marketing automations are available with CRM integration
HubSpot website builder is easy for non-technical users
Advanced users and developers can also access serverless functions
A scalable solution as your business grows
Integrates with WordPress and WooCommerce
CMS Hub Cons
It is not free to use CMS Hub
Not suitable for eCommerce websites
Not suitable for enterprise websites
CMS Hub Top Features
The most powerful features of HubSpot's CMS Hub lie at the intersection of marketing automation and content management. Imagine if your website integrated with your CRM software so you can manage marketing, sales, and customer service all in the same system.
That's the power CMS Hub offers to businesses.
CMS Hub Pricing
Pricing starts at an affordable $25/month for the Starter package. If you need to build more complicated web applications that rely on dynamic personalization, you will need to look into the higher tiers, which cost much more.
Key Takeaways
HubSpot CMS Hub is the perfect blend between marketing automation, customer relationship management, and your content.
You can use content in far more creative (and personalized) ways due to the integration with HubSpot's CRM capabilities which is something that no other CMS offers natively at the moment.
---
10. Squarespace
If you're looking for a website builder that offers a beautiful design experience with intuitive drag-and-drop functionality, Squarespace is a great platform for you to consider.
With its award-winning template designs, Squarespace has made itself a staple among professional designers who want to bring their brand visions to life without the limitations of a clunky website builder.
Squarespace Pros
Ideal for creative professionals
Beautifully designed templates
Intuitive drag and drop builder
Some built-in marketing tools
Some eCommerce and blogging capabilities
Squarespace Cons
Limited customization options
SEO limitations for larger websites
Cannot build large eCommerce stores
Limited add-ons to unlock more functionality
Not suited to enterprise organizations
Squarespace's Top Features
As mentioned, Squarespace has made a name for itself by offering award-winning, beautiful designs. It is a favorite among creative professionals who are seeking an easy method for creating visually stunning websites.
As an all-in-one platform, Squarespace takes care of hosting, maintenance and security, so all you need to focus on is designing the website of your dreams.
Squarespace Pricing
For as little as $14 per month, you can get started with a Personal plan. All of Squarespace's plans include a free domain, SSL security, mobile optimization and unlimited bandwidth.
If you want the peace of mind of a platform that lets you stay in your creative zone as you bring to life your brand, Squarespace is the way to go.
Key Takeaways
---
11. Webflow
Another favorite among creative professionals is Webflow's website builder. A key differentiator between Webflow and other website building platforms is its focus on clean, lean code that can be migrated to any other platform on the web.
Webflow's design and content editor introduced streamlined widgets, which prevent the need for you to add sections within sections to create your ideal layout. Instead, Webflow's streamlined approach reduces code bloating, making it a stand-out compared with other drag-and-drop website builders.
With a focus on great design, unparalleled user experience, and mobile-friendliness, Webflow is the preferred website builder among UX designers.
You do not need to have technical or coding skills to get started with Webflow, though the CMS is structured a little differently compared to other more popular website builders on the market. It's more like using Photoshop as opposed to a traditional CMS.
Even so, it is still fairly easy to get started with!
Webflow Pros
Best suited to people with design skills
You have complete control over your website's design
Clean, lean, and beautiful code throughout
Focus on fast loading speed and mobile-friendly designs
SEO friendly (when built with SEO in mind)
Built-in security features
Webflow Cons
While you don't need to understand CSS and HTML to use Webflow, some design elements are best integrated if you do know these coding languages.
Limited amount of native integrations and plugins
Often need to embed third-party code to extend the functionality of your website
Some custom design options are only available on premium plans
Places limitations on how many records and pages you can create on your website
Webflow's Top Features
Webflow's Photoshop-like design editor is what sets it apart from other website builders and CMS systems. It is an intuitive design experience for creative professionals with design chops.
The platform's dedication to cleanly structured code that is also fast-loading and mobile-friendly is another key differentiator compared to some of the prevalent clunky and archaic CMS systems many organizations are still using.
Webflow Pricing
While it is completely free to build your site in Webflow, you will need to purchase a site plan with a custom domain when you're ready to launch. The lowest tier starts at $12/month. If you would like to unlock more customizations for your website, you will need to upgrade to one of the more expensive tiers.
Key Takeaways
If you're a creative professional looking for a platform that delivers the best user experience and clean code, Webflow is the platform for you. With its Photoshop-like design experience, Webflow is also definitely one to check out if you're a graphic or UX designer!
---
What Is A CMS Platform?
A  CMS platform is the name given to any type of software that organizes and manages your web content and helps you build a website. Popular CMS systems include WordPress, Joomla, and Drupal.
A website is simply a collection of various types of content. So effective CMS software helps you organize that content and display it on the internet without you needing to know how to code.
It sounds simple enough. However, there are many features to consider when evaluating the best CMS platforms. We'll go into detail on these later on.
Types Of CMS Platforms
CMS platforms have been around for a few decades.
Older CMS platforms typically focus on sharing content via the web first and foremost. For the most part, such systems are monolithic with old-school design and limited functionality.
Many newer CMS platforms embrace the digital age and allow rich content to be shared on channels beyond the web, such as voice-activated technology, augmented and virtual reality applications, smartwatches, and mobile apps.
So when discussing the types of CMS platforms out there, it comes down to a few things. Monolithic, rigid systems are primarily web-based. Newer systems are often called "headless" and can share content beyond the web.
In both cases, these are different from "website builders".
CMS Software Vs Website Builders
While CMS platforms have some similar functionality as website builders, technically, they are a little different from each other.
A true CMS platform runs on your web server and lets you create, store, search and manage content regardless of how that content appears on the front end of your website.
Essentially, a CMS platform is an essential component of a website builder, but not all CMSs are website builders.
For example, a headless CMS separates the front-facing website (i.e. the design that people see when they visit your website) from the database storing all your content. This separation allows a development team to use whatever technology they like to design the website so it looks exactly the way you want it to.
Then, the developers can pull in all the content from any other system it is stored in. All they need to do is connect the system with the content to the website design. As a result, enterprise organizations favor headless systems.
On the other hand, the world's most popular CMS for building websites is WordPress. While WordPress isn't a website builder out-of-the-box, it is a step closer than a headless CMS is.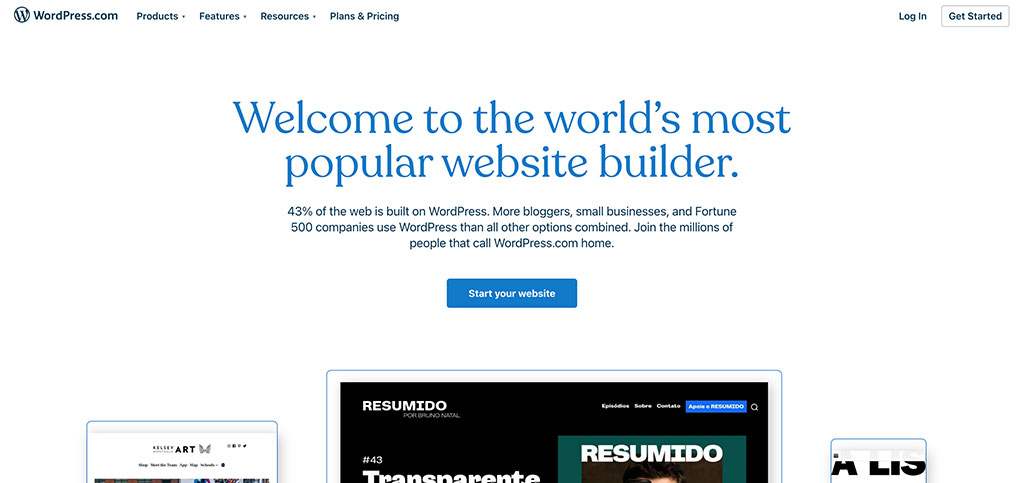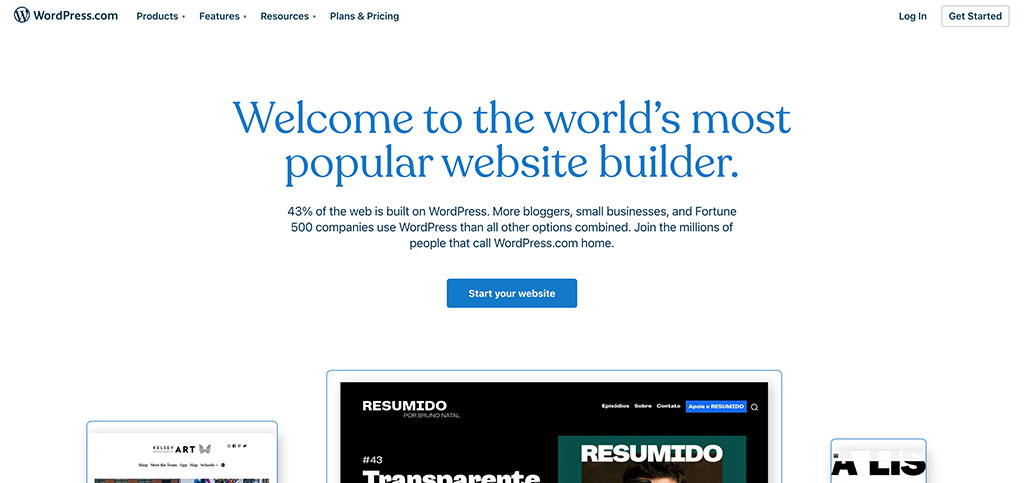 By using a variety of plugins, WordPress users can create content and design it on their websites simultaneously. Most businesses prefer platforms like WordPress due to their affordability, flexibility, and customizability.
Systems considered true "website builders" operate on a CMS, but also add a tonne of in-built features and functionality. These are builders like Wix and Squarespace. They are often fully hosted, all-in-one solutions (meaning that you do not need to worry about finding a server to store your content).
They also make building a website so much easier, especially if you're a beginner. Adding content is as simple as dragging and dropping elements on your screen as you create your website on the fly.
People who build DIY websites for the first time or have beginner-level technical skills typically prefer an all-in-one website builder.
So, in our post, we've considered CMS platforms that fit into all of the above categories to help you make the best decision for your website and your organization's content needs!
---
How to Choose the Best Content Management System
As you've probably noticed by now, every CMS has its unique blend of strengths and weaknesses. When choosing the best CMS for your business needs, you need to make sure the functionality a CMS platform offers is in alignment with your goals.
The most important factors for you to consider are:
Ease of use
Security
Customizability
Affordability
It also helps to consider additional elements like data portability, available extensions and add-ons, how much help and support you can access, and how popular a CMS platform is in today's market.
These additional features to consider are not often discussed, yet they make a world of difference when choosing the best CMS for your business! So here's what to look for.
1. Ease Of Use
The biggest obstacle to a content management system being used effectively is its ease of use for every member of your team.
Thankfully, with improvements in modern CMS systems, you can find platforms that are very easy to get started with. Even team members with limited technical skills can adopt many of the best CMSs available today fairly quickly.
The more user-friendly the platform, the easier it will be for your organization to stay ahead of the curve!
2. Security
A platform's security level is crucial to consider. If you are considering an open-source CMS, security is often something you need to organize separately as most open-source CMS platforms do not include out-of-the-box security features.
If you are considering an all-in-one solution, security is one of the things your monthly payment takes care of, and that will be a huge weight off your shoulders!
3. Pricing
The cheapest website solution on the market is WordPress. However, it can still rack up sizeable costs when paired with premium themes and plugins.
All-in-one CMS and website building platforms can also be affordable for beginners and small businesses who don't need a great deal of custom functionality on their websites.
For enterprise organizations requiring more robust technical systems, the best platforms to handle large volumes of traffic or data often require dedicated developers to build and maintain the website.
So the expense isn't so much in the CMS platform you select. Rather it is in the cost of the developers you'll need to run the website.
4. Customizability
In general, the more flexibility you need to customize your website, the better off you'll be with an open-source CMS platform.
All-in-one website builders typically offer the least flexibility and customizability. They are best suited to business owners who want to DIY their websites and don't need all the fancy bells and whistles to get started.
However, it's best if you consider how you want your website to grow. With an all-in-one platform, you won't be able to modify the code to suit your needs. Such CMSs also typically have fewer plugins and add-ons to extend the in-built functionality.
Open-source and headless CMS systems are a better option for websites that require customizability whether that is now or down the track.
5. Design Options
CMSs that are easy to use tend to offer plenty of website design templates for you to choose from.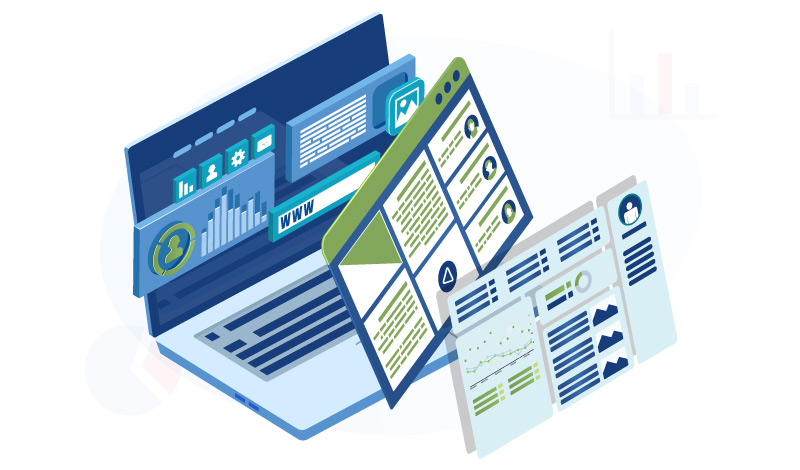 You can also typically design your web pages using a visual builder instead of relying on backend systems to influence the front-end design.
Most people will benefit from choosing a CMS platform that allows flexibility to design web pages without you needing to know how to code.
6. Data Portability
A great CMS platform will have built-in tools that allow you to export your data and move it elsewhere easily. If you choose to migrate your website to a different platform in the future, you will need to know you can access all your data easily.
7. Extensions & Addons
No CMS can come with all the out-of-the-box features your website will need. Every website is different and is molded over time.
That's why the number of available plugins, extensions, and add-ons will make a huge difference in whether you can build your ideal website or not. These extensions help you unlock extra functionality that will suit your website best.
8. Help & Support
A fully-hosted CMS platform will likely have support staff on hand who can help in a pinch. You can also access 24/7 support via chat, email, or a ticketing system with many of these platforms.
However, most CMSs won't come with this level of in-built support at all. You'll often be left to your own devices to figure out how to design something or how to resolve a technical problem in the CMS platform you choose.
The more people who use the platform, the better advice you'll be able to find to help you resolve any issues you're facing.
For example, WordPress has a thriving community of users from all over the world. There are many dedicated websites and forums helping people resolve all manner of WordPress-related problems.
---
What Makes a Great CMS?
What makes a great CMS are proper, intuitive user interfaces, content editing and publishing tools, SEO capabilities, and the ability to integrate with other applications. These comprehensive suites of features make content management easy and efficient.
A great CMS should offer scalability to grow with the user's needs. It should also be secure and reliable to provide users with the peace of mind that their content is safe.
---
Which CMS Is the Most Popular?
The most popular CMS in the world is WordPress, with an estimated 60 million users. It is easy to use, highly customizable, and offers many features and plugins. With WordPress, users can create stunning websites and blogs without coding or design experience.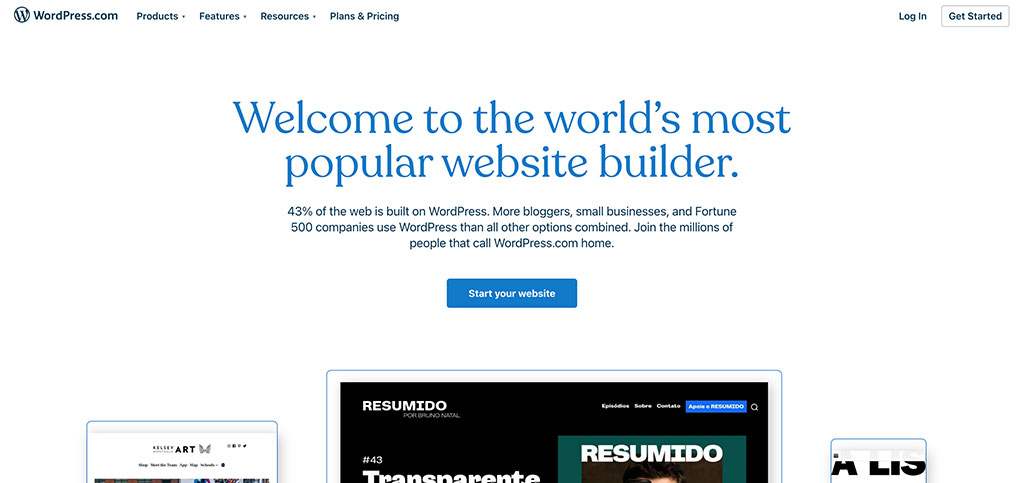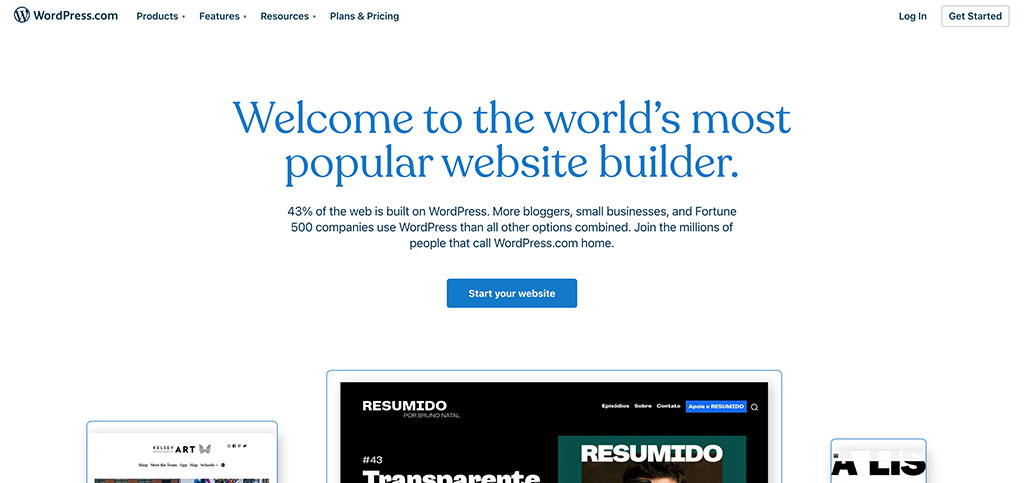 ---
How Do We Test CMS?
We test CMS by running a series of tests that evaluate the system's features, usability, and performance. This includes assessing the system's ability to create, store, and retrieve content and its capacity to integrate with other applications, and its security features.
---
FAQs:
Which CMS Platform Is Best for eCommerce?
The CMS platform best suited for eCommerce is Shopify. It offers a range of payment gateways, inventory management, and marketing tools, making it an ideal choice for businesses of all sizes. Shopify also offers add-on services, like analytics and marketing tools, which help companies optimize their eCommerce operations. 
Which CMS Platform Is Best To Build a Small Business Website?
The best CMS platform to build a small business website is StoryBlock. It's easy for developers and content marketers to use visual editing tools. Its low price point—starting at just $7 per user per month—makes it an attractive option for small businesses.  
Can You Use a CMS Platform Without a Domain Name or Hosting?
You can use a CMS platform without a domain name or hosting. But the website will not be available to the public on the internet. Instead, it will be run by a local server. This may not be a feasible option for your business.
Do You Need a CMS To Start a Blog?
No, you don't necessarily need a CMS to start a blog, but you would have to create web pages using HTML, CSS, and JavaScript, which is a tedious process. CMS helps you to create a professional and organized blog. Just create and upload your content, and the CMS will take care of the rest.
Which Is the Best CMS Software for Advanced Users?
WordPress is the best CMS software for advanced users due to its impressive user interface, ease of customization, and scalability.
WordPress has a lot of features and plugins that users can use to make their websites look and work the way they want. Its security features also make it highly secure and reliable for advanced users.
---
Which CMS Platform Do We Recommend?
Finding a good content management system takes a lot of time, especially if you are looking for a user-friendly and reliable platform. Shopify stands out as one of the best content management systems on the market and the best choice for an online store.
Shopify is very intuitive and easily integrates with many logistics providers and omnichannel platforms, which makes it easier to meet the customer's needs. It is perfect if you don't have too much knowledge on the topic and want to create a store seamlessly.
If you need a reliable and easy-to-use content management system, then you could check out Shopify and its offer.
Our #1 Recommendation: Shopify