As you embark on the journey to create a new website, choosing the ideal platform can be a daunting task. As an experienced web developer, I've faced this decision countless times and have extensively explored various content management systems (CMS).
WordPress and Drupal are among the top six content management systems used for websites worldwide. They are also among the most preferred systems used to help bloggers, business owners, and professional web developers get started with building websites.
Any type of website can be built with either of these two platforms. That's why I've examined the pros, cons, and performance of each in this head-to-head comparison.
So, check out our WordPress vs Drupal review below to find out which content management system is the best for your website.
Introducing WordPress
Without a doubt, a WordPress site is the most popular content management system used worldwide. It is ideal for most types of websites and well suited to anyone from a beginner right through to an advanced developer.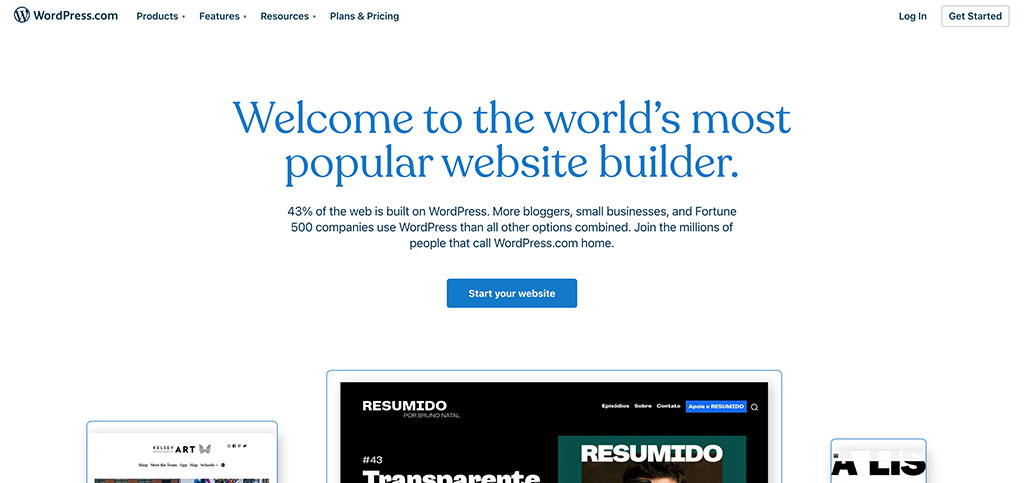 While it started as a blogging platform back in 2003, today WordPress powers over 43% of the internet because of its rich functionality and versatility.
The beauty of a platform like WordPress is that anyone can get started with it. It can also be molded to fit your exact requirements without you needing to know how to code!
What Is Drupal?
Drupal is an open-source platform just like WordPress (meaning you can access and modify the code if you desire). Surprisingly though, Drupal has been around for longer than WordPress.
However, despite the similarities with WordPress, Drupal targets a far narrower audience mainly consisting of developers, marketers, and agencies. As such, it is only used by 1.2% of websites today.
Unlike WordPress, Drupal is also better suited to businesses with significant technical resources. To unlock its full power, an understanding of PHP, HTML, and CSS is necessary (among other coding languages).
That's why it's often the preferred platform for building custom websites that have large volumes of data, state-of-the-art security needs, or heavy traffic volumes.
Either way, you can't go wrong by choosing either Drupal or WordPress website for your website as you'll have a robust platform supporting your website and your website's needs!
WordPress Vs Drupal: Feature & Performance Comparisons
To understand why Drupal and WordPress sites are better suited to different types of websites, let's take a closer look at their features and performance.
Ease Of Use
Between the two, WordPress is easier to use than Drupal since it doesn't require any advanced technical skills to get started with (or to maintain on an ongoing basis). This is one of the primary reasons some people prefer WordPress.
But, in saying that, neither WordPress nor Drupal is well-suited for absolute beginners with no technical skills since both are self-hosted, open-source content management systems.
This means that you will need to buy a domain name and set up hosting servers before you can use either WordPress or Drupal. You will also need to customize the functionality and design by setting up the right themes and plugins.
All open-source platforms take a little more setting up than platforms like Wix or Squarespace. And there's always a learning curve since they do not offer drag-and-drop design functionality from the moment you set them up.
But, thanks to beginner-friendly web hosting solutions like SiteGround and WPX, getting started is fairly straightforward and you don't need to know how to code!
On WordPress, you can also implement drag-and-drop design functionality with page builder plugins, like Elementor or Divi.
So in short, getting started with either a WordPress or Drupal site is pretty tricky if it's your first time. However, WordPress is the easier option between the two.
There is a learning curve you have to account for. But, once you go through the process, it's fairly straight forward and you can rely on beginner-friendly tools to help you unlock easier functionality and customizations.
Putting aside the set-up process, there are also some major differences between how easy it is to use WordPress and Drupal on an ongoing basis. Drupal will require coding skills to unlock its full functionality as it is not very intuitive to use.
If you know how to code in PHP, CSS, and HTML, you might not find it too tricky to get started in Drupal. For everyone else, what WordPress offers is definitely the way to go.
How Long Does It Take To Get Up And Running?
The time it takes to get up and running with a new website on WordPress or Drupal depends on many factors such as your experience with the platform, the complexity of the site, and the level of customization required. But if you want to go from having nothing to operating a functioning, good-looking website as soon as possible, WordPress wins again.
For a basic website or blog, you can easily find a free, professionally designed theme for your business and get set up in a day. Of course, the more complex your website build is, the longer it will take to get set up.
Even so, the length of time is often taken up by getting your images and content together as opposed to waiting for functionality to be custom-coded.
With Drupal, it's the complete opposite. Sure, some themes are ready to go and there are some available extensions. But, most Drupal websites are built on custom-coded themes.
Either way, you're going to need a developer to get something that looks the way you want it to.
There's also the matter of Drupal's dashboard being anything but intuitive! It's almost incomprehensible for most people without developer skills to find their way around.
Not to mention that a lot of the functionality you might be used to from other website-building platforms is also not available in Drupal without the need for custom coding.
All in all, WordPress is designed to help you get started with minimal friction. It offers the best combination between customizability and an intuitive experience.
Level Of Customization
The reason why open-source platforms are among the most popular for building websites comes down to their level of customizability.
The world is your oyster! Even if you do not have any technical or coding skills, an open-source platform still offers you a greater degree of customizability than a locked, all-in-one platform like Wix.
Between WordPress and Drupal, they are fairly even-footed as far as the ability to customize your website.
However, once again, with Drupal you will need the skills of a developer to unlock the full power of its customizations.
There's also the matter of add-ons you can access to help you unlock even more functionality from your website. WordPress calls their add-ons "plugins" whereas in Drupal they're called "modules".
WordPress has over 53,000 free plugins and a library of thousands of premium ones too. The sheer number of available plugins isn't enough to mean that WordPress is better.
But, it does often mean that you'll easily find a plugin for just about any type of feature or functionality you want to unlock within your WordPress site.
By comparison, there are over 39,000 Drupal modules. But when we consider how many are compatible with the latest version of Drupal, this number drops to around 4,000 Drupal modules.
So, if you're looking to unlock custom functionality without needing a developer, WordPress is the way to go. If you have the budget for an advanced developer and you also operate a larger website, Drupal is a better option for you.
Ease Of Getting Support
Neither WordPress nor Drupal offer live chat or 24/7 support in the same way software-as-a-service companies, like Wix, do. With any open-source software, you are required to build every element of your website from the ground up.
Thankfully, WordPress and Drupal both have strong global communities of developers and experts who contribute to each ecosystem and offer support.
At Diggity Marketing, we manage over 100 WordPress sites at any given time. In all the years we've been doing this, we've never been faced with an issue that we couldn't find a solution for in a WordPress forum, via a blog post, video, or just by Googling it.
Drupal community also has strong developers who actively participate in forums and offer Drupal-specific tutorials.
However, since Drupal requires more technical knowledge to use, it is less likely that beginners will receive the support they need online when getting started on this platform.
Costs
Both WordPress and Drupal are free. However, they also both require ongoing costs for hosting, any premium add-ons you customize your website with, and some development costs.
So let's explore each of the factors influencing your total costs.
WordPress Vs Drupal Hosting Costs
The best host for managing your Drupal site is Acquia, the founder of Drupal. To host a small website with Acquia, you're looking at a starting price of $141 USD/month.
However, you can still host a Drupal website with other companies too. Our top choice is SiteGround.
With WordPress, however, you can start with budget options of less than $2.99/month depending on which hosting company you choose and what deals they're running. Since WordPress is the most popular CMS out there, there are far better deals going for WordPress hosting options.
Drupal Vs WordPress Site Add-On Costs
As far as add-ons go, you can choose from a range of free options on either platform. The cost for premium add-ons is variable and depends on what kind of functionality your website requires. For instance, on either platform, eCommerce stores require more functionality than a simple blog.
But in general, WordPress plugins cost less than Drupal modules, especially when you factor in whether you need to have a developer set them up properly.
Drupal Vs WordPress: Cost Of The Learning Curve
Other than these tools and features, you should also factor in the cost of the learning curve that comes with each platform.
You should budget more time to learn Drupal and you may also decide to invest in a professional course to help speed up the learning process.
In saying that, both platforms have a wealth of documentation available for free online. So, you do not need to invest in learning how to use them if you don't want to. It's just a matter of how quickly you want to get up and running and whether you're willing to pay a professional developer to bypass the steep learning curve.
WordPress Vs Drupal Website Building & Maintenance Costs
The last lot of costs to consider comes down to the building and maintenance costs. For most small business sites and blogs, you can get started for as little as $100 a year.
Check out the video below, where I show you exactly how you can get started on a small budget.
The costs shared in the video are achievable on WordPress sites. After all, all the sites we build and maintain at Diggity Marketing are on WordPress.However, if you're leaning towards using Drupal, it's a very different picture. A standard website built in Drupal costs between $30,000-$40,000 though you can expect to pay north of $100,000 if you require additional customization.
Sure, there are ways to reduce this cost, especially if you outsource to Drupal developers in low-cost countries. However, either way, you're still looking at a starting cost of at least $8,000-$10,000 with a minimum monthly maintenance cost between $500 and $1,000.
So overall, WordPress is the more cost-effective platform of the two.
Security
Security is a feature your website just cannot do without these days, especially with the number of cyber-attacks and website hackers on the rise.
With a developer's help, you can get top-level security on either WordPress or Drupal. If you're looking for solutions without a developer's help, installing a decent security plugin on WordPress like Wordfence will go a long way.
The core versions of both Drupal and WordPress keep up with the latest security issues and work actively to prevent them. This is why it is very important that you maintain your website properly and keep your CMS updated with the latest version.
However, with WordPress's ability to extend your website functionality (by using third-party plugins) comes a serious risk of decreasing the overall security of your website. You are essentially introducing a bunch of wildcard security issues with every plugin you use.
In a 2021 analysis of hacked websites, performed by Sucuri, it was confirmed that vulnerable third party plugins and extensions account for more security issues and compromises than an out-of-date version of your content management system.
It was also found that on WordPress sites, most users do not set up secure admin login portals and they tend to maintain poor security configurations in their web hosting too.
As such a Drupal site will most likely experience better security but not because it is built as a more secure platform out of the box.
Rather, it comes down to the number of user errors on WordPress. Considering most people who use WordPress are not developers (and do not have the technical know-how that people who build in Drupal have) it makes sense why Drupal websites experience better security.
So, if you are looking for top-of-the-line security, and you don't have technical skills, WordPress is again the better option because most security breaches can be avoided by following a few key strategies.
The first thing you should do is install a decent security plugin like Wordfence. Wordfence will scan your files and let you know if you have any potential vulnerabilities. Another important practice is to keep your WordPress version, PHP version, and all plugins updated. This alone can prevent most security vulnerabilities from ever occurring, to begin with.
If you want to take things a step further you can use Wordfence to set up two-factor authentication. You can also change the login URL of your site by using a free plugin called WPS Hide Login.
Choosing a security-focused web hosting provider, like SiteGround, will also go a long way. If any of these steps are not completed, your site will be left vulnerable to security issues.
If your website requires more advanced security that scales across all functions of your website, Drupal is the better content management system for you. Many government and enterprise websites that require the strictest security are built on Drupal with custom server configurations.
Maintenance Required
Since maintenance is one of the best defenses against web spam and security threats, here's what you need to consider with each platform.
Both WordPress and Drupal upgrade their core code structures frequently to improve their security and fix bugs. However, it's a very different experience to integrate updates into your website with either platform.
For instance, you can easily set up automated processes to update WordPress themes, plugins, and the WordPress core code. Even if you choose to do it manually, it's not very difficult to do.
You do not need WordPress developers to re-design your entire website even if you have added custom code to your website's themes and plugins.
However, with Drupal, it's an entirely different kettle of fish. While Drupal themes and its database of files are upgradable, the code is not. Upgrading from one Drupal version to another is much more intensive and usually requires a re-design.
For instance, any content stored in the database will be able to be migrated to the new version. But, most of the code will need to be rewritten from scratch by professional website developers.
Drupal is getting better at future-proofing its platform against the need to completely re-write your code but it still requires a great deal more web development input than WordPress upgrades require.
Speed Performance
Fast-loading websites are favored by search engines due to providing a better user experience. To optimize your website's loading speed, you will need to implement caching technology, maintain clean and unbloated code and optimize the way your website files load.
Caching
Caching increases your website's speed without sacrificing design, code, or your content in the process. In addition to improving your site's loading speed, it also decreases the load of your servers when it is implemented correctly.
The Drupal core CMS has an in-built caching system that is very robust without any further tweaks or modules required.
On the other hand, the WordPress CMS doesn't. It requires a caching plugin to be set up and customized to offer the best performance.
It's also a matter of the type of web hosting you choose for your website and the level of caching already included. Caching at the hosting level will always be more effective than using a plugin. Check out our list of the fastest web hosting providers for our top picks.
Bloated Code
In 2021, Google's Core Web Vitals initiative focused on encouraging a cleaner technical structure of pages. It now rewards websites that offer a better user experience by cleaning up the code and removing code bloat.
Unfortunately, both WordPress and Drupal can suffer from bloated code if you are not careful with how you optimize them.
For instance, some page-building plugins can be great for adding user-friendly drag-and-drop functionality to your website. However, some can also add unnecessary code as well. For this reason, if you decide to use a plugin to build your pages, make sure to choose one that is lightweight and fast.
To some extent, every WordPress plugin injects code into your website in order to function. Some plugins add more code than others or the code they add is rather 'messy' and bloated.
But that doesn't mean that Drupal is off the hook. Drupal sites can also suffer from too many nested div tags and other code elements that make the code quite clunky. It comes down to how much the web developer building the website knows about proper optimization.
Responsive MoWebsite Design
Both Drupal and WordPress offer mobile responsive solutions but they do so in different ways.
For responsive website design, the biggest factor to consider is how each platform handles image resizing. It's rarely the case that images will automatically scale perfectly to each breakpoint.
With WordPress, most of the time the image breakpoints are managed in the functions.php file. However, some themes and plugins will override this and manage it in CSS instead. With some page builder plugins, you can also manage your breakpoints in the plugin's advanced settings.
If you notice issues with how your images are scaling, it may be due to conflicting plugins that are overriding the functions.php settings with CSS.
Now in Drupal sites, you can save yourself from dealing with PHP or CSS altogether. Drupal handles image responsivity within the admin panel. There's an Image Style module that you can use. Sure, it takes a little bit of time to set up properly but it makes things much easier down the track!
In either case, both of these popular CMS platforms have great responsive themes you can start with and they can help speed up development time.
Scalability For Large Websites
It's one thing to choose a website based on the functionality it offers your business right now versus what your website will need in the future.
Considering how you intend to grow your business, and the subsequent requirements your website will need to meet can help you scale without needing to switch platforms down the track.
Naturally, if you're starting with a bootstrapped budget, Drupal may be out of the question from the very start. However, if budget is no concern, here are some things to consider.
WordPress has a more intuitive user interface but it is only so because it also has a simpler model for managing content. By comparison, Drupal offers:
Custom taxonomies (like categories and tags)
Custom content types
Blocks
Views
And more!
There are simply more things you need to understand. The interdependencies of all these features are what add a greater learning curve to Drupal. However, if your site will have large volumes of content that will need to appear dynamically across the website or be organized in a particular way, that's what these features enable you to do in Drupal.
There's also the fact that Drupal was built with scalability in mind. Acquia, Drupal's founding company coined the phrase "Ambitious Digital Experiences" and built Drupal in a way so that it could deliver such experiences to enterprise organizations.
The following features are built into Drupal to provide these ambitious experiences for all Drupal users:
API integrations with third-party systems (such as ratings and reviews or CRM software)
Single sign-on (SSO) services for easy user authentications
Advanced caching and performance optimization for large websites
End-to-end customer experience integrations
Access control through custom user roles and permissions
Easy internationalization for multilingual sites
Enterprise-grade security
In short, if you anticipate that your website could reach enterprise-scale and you have the budget to get started on Drupal, go for it. Don't waste your time or budget trying to make WordPress work since it will not easily be able to scale to the level you need for enterprise-grade functionality.
SEO Friendliness
Search engine optimization (SEO) is crucial for any website that you wish to be discovered online.
Now, there's a myth we need to put to bed that WordPress sites are better for SEO than Drupal sites. Search engine optimization is platform agnostic. It doesn't matter what platform you build your website on, you can still do good SEO either way.
However, to implement good SEO, the developer building a site needs to know what they are doing. With Drupal, there's a greater margin for error than there is with WordPress. So if your Drupal developer isn't trained in SEO, it could mean that you end up with a website that is not SEO-friendly at all.
Here are some features to focus on that impact the SEO performance of your website with either WordPress or Drupal.
Page speed: as discussed above, loading speed is a critical user experience signal search engines use. Both platforms need to be set up with proper site speed optimization techniques to help you unlock the best performance.
User-friendly design: Google's Core Web Vitals are metrics that ultimately track the user-friendliness of your website. Make sure your website passes!
Custom URLs and taxonomies: Between the two, Drupal offers far greater flexibility for custom taxonomies, especially for eCommerce stores.
Custom post types: Both WordPress and Drupal have custom post type functionality though Drupal has more features to better assist websites with large content needs.
Essential on-page optimizations: Both platforms can easily be optimized for essential on-page SEO elements such as adding a meta title and description.
There are of course far more elements that influence results, however, both Drupal and WordPress can be optimized well for SEO. It's just a matter of the web developer's skill set.
WordPress Pros And Cons
WordPress Pros
Highly customizable
Suitable for almost all types of websites
Versatile and scalable to organizations of any size
Beginner-friendly with the right plugins
The largest collection of free themes and plugins
Solid community run by (and for) WordPress users
Reasonably easy to find solutions to most common problems online
It is fairly cheap to build and maintain a website
WordPress Cons
Plugin and site maintenance can be time-consuming
There's a bit of a learning curve for first-time users
Costs can vary wildly from user to user
Without plugins, there's hardly any in-built functionality
Cannot easily share content outside of a website format
Limitations for enterprise sites requiring custom functionality
Drupal Pros And Cons
Drupal Pros
Better suited to developers, advanced users, and complex projects
Great performance for data-heavy websites
Best reputation for security among open-source software
Decent selection of customizable Drupal modules and themes
Built-in functionality for multilingual sites
More versatile taxonomy structure for categories and tags
More robust access control and user permissions
More flexible custom content types
Strong community for Drupal support and troubleshooting
Drupal Cons
Requires intermediate to advanced technical knowledge
Not suited to businesses with a low technical budget
Not intuitive to use
Takes more time to set up and configure
Expensive to set up and maintain in the long run
Upgrading to new versions requires a website redesign
Which Is Better Between Drupal And WordPress?
Determining which is better Drupal or WordPress will depend on your specific needs, preferences, and goals. It's always going to be hard to advise you on the best CMS without knowing what type of website you intend on building and what functionality you will need.
If you're building any of the following, it's worth considering Drupal:
A complex site needing robust data organization
Multilingual site
Content-heavy news site
Content-heavy blog requiring flexible taxonomies
Large-scale eCommerce store
A site requiring enterprise-level security
Just remember that you will not be able to access most of Drupal's amazing features unless you are a developer or are willing to hire one full-time. This is a decent yardstick to use to help you make your final decision.
In the end, most people will choose WordPress. There's a reason it's the most popular content management system in the world. Not only is it more user-friendly than Drupal, it offers the most versatility for combining the following features:
Affordable costs
Drag and drop web design
Beginner-friendly dashboard
Largest range of free themes and plugins
User-friendly website development
That's why we recommend WordPress.
WordPress Vs Drupal: Our Final Verdict
Overall, for most people, WordPress is an easier and more cost-effective solution to get started with. It allows you to build fully-customizable websites packed with unbeatable features from its network of over 53,000 free and premium plugins.
You do not need to know how to code to get started and it's possible to launch a simple website within a day.
At Diggity Marketing, WordPress is our platform of choice and we recommend it to all our students and clients.
However, it's worth noting that for businesses that require state-of-the-art security and scalable website performance, Drupal is always a better option. It powers many governments and enterprise-level websites around the world.
Either way, you are sure to choose a robust content management system that is loved by thousands of people around the world. It really just depends on who will be building and maintaining the website within your organization.
For a low-code option, get started with WordPress today.
For an enterprise-grade option, check out Drupal.