If you are looking for web hosting services for your business you may have come across Liquid Web.
Liquid Web was formed in 1997 and has helped over 30,000 companies in over 150 countries and several prominent brands. They offer a range of cloud, dedicated, reseller, VPS hosting, and WordPress hosting.
We have spent months researching managed hosting services. We used Liquid Web's hosting packages to evaluate their features, price, quality, and more for your business to make the best choice in hosting. 
What Is Liquid Web?
Liquid Web started in 1997 and has helped host over 30,000 businesses with dedicated servers. Liquid Web offers excellent uptime, customer support, and constant commitment to increasing customer functionality.
Liquid Web takes advantage of the latest technologies and owns all of its hardware to control the options it can provide as a web host.
Our Rating
Load time:

4.9

Support:

4.8

Disk space:

4.8

Security:

4.9

Pricing:

4.9

Free Migration

: Yes
Pros
Dedicated VPS, reseller, and cloud hosting

Excellent customer service

High-end virtual private server

Excellent uptime

Choice of Liquid Web control panel
Cons
No shared hosting plans
---
How Does Liquid Web Work?
Liquid Web has three types of managed hosting services, not including their managed WordPress and WooCommerce solutions. You pay a small monthly premium for managed hosting. With Liquid Web handling infrastructure management, your business is free to focus on content and customers. 
Businesses can easily integrate with blogging software and eCommerce tools through the cPanel. Thanks to SSD storage, users get unlimited email accounts, secure access, and fast page loads.
---
Features
Liquid Web offers lots of great features with its dedicated hosting, including:
Pre-installed WordPress

Automatic updates for WordPress 

Automatic backups

Choice of WordPress dashboard, iThemes Sync Pro or cPanel

Fully managed network Infrastructure with 100 percent uptime guaranteed

Proactive monitoring 

Firewall, advanced DDos protection, and compliance assistance

Call, live chat, or email assistance from knowledgeable technicians

Response guaranteed within a minute of phone or chat requests

Free Ecommerce migrations, page builder plugin, etc.
---
Liquid Web Benefits
Liquid Web offers several benefits, including:
1. Dependable Uptime
Website uptime is a very important aspect of dedicated servers. Their uptime is consistently strong to keep your dedicated server and website up and running always.
The Liquid Web servers have a high uptime guarantee and a tested and proven regular uptime to keep your business website up and to run and serve your customers consistently. 
2. Excellent Customer Support
The Liquid Web team offers excellent support. Their support is full of knowledgeable technicians who assist you in under a minute, whether you contact them by phone, chat, or send a help desk ticket. Their team was thorough and highly responsive. 
3. Very Capable For A Big Business
Liquid Web is one of the most powerful hosts in the hosting industry. They have several packages available and excellent dedicated and VPS hosting that is great for even the most prominent businesses.
4. Reliability
Liquid Web has five privately owned data centers in the United States and Europe. They boast some of the fastest response times in the industry with state-of-the-art technology.
Liquid hosting promises 100 percent power and network uptime and 1,000 percent account credits for every unplanned outage. 
5. Free Website Transfers 
There are several cases where a business is doing well with one hosting platform but may suddenly need to switch to another, like Liquid hosting. They make it easy and provide free site transfers, so everyone can enjoy their services without the hassle of a complicated transfer process.
Your website is the key to your digital ecosystem, similar to a brick and mortar location; the experience matters as soon as a customer visits, just as much as the perception they have of your business before they walk through the door.
– Leland Dieno, Digital Content Administrator, Macht Marketing
6. Fully Managed Hosting 
Liquid Web offers a dedicated server with fully managed hosting to ensure that businesses don't have technical issues when using Liquid Web's hosting.
Their managed VPS hosting, managed WordPress hosting, and dedicated server hosting allow you to focus on your business without worrying about hosting solutions. 
7. Security
Liquid Web offers firewalls, SSL certificates, virtual private networks, malware removal and scanning, and more. Some of these features are combined in specific packages, and others can be purchased in add-ons.
Liquid Web also offers free nightly backups to safeguard your website.
Our focus on security is typically on the infrastructure itself. It's all about how you protect the network, the device, and the application that is relying on the server.
– John W. Thompson, Technology Executive and Chair, Illumina Inc
---
Downsides
There are some downsides you will experience with Liquid Web, including:
Liquid Web does not offer shared hosting solutions, which small businesses or individuals generally use.
This can be a downside for a small business looking for a provider with this type of hosting.
2. No Money Back Guarantee
Liquid Web doesn't offer any money-back guarantee. However, you aren't under a contract and can cancel the service anytime and research other web hosts.
If you prepaid for services, you could get your money back for any full month of services you didn't use if you give them notice before the month begins.
---
Liquid Web Pricing
Managed WordPress Hosting ($13.30 per month):

Includes plugin performance monitor, advanced automation, fast website, free migration, and priority support 24/7.

Managed VPS Hosting ($25 per month):

Includes 2GB of RAM, 40 GB SSD storage, 10 TB of bandwidth, Plesk Web Pro, cPanel admin, and 100GB of backups.

Cloud Dedicated Hosting Plan ($149 per month):

The cloud hosting plan includes four cores,

3.50 GHz base, 16GB RAM, 408 GB SSD RAID-1, Plesk Web Pro, cPanel Pro, and InterWorx. 

Dedicated Server Hosting Plan ($150 per month):

Includes four cores with a 3.50 GHz base, 16GB RAM, two 240GB SSD primary disks, 1 by 1 TB SATA backup disk, 5 TB of bandwidth, and 250 GB of backups.
---
How To Use Liquid Web
Liquid Web is relatively simple to use, and it's easy to create a website in minutes.
Create an account
Create a domain
Click the create website button
Select your domain and framework
Once the site is created, it will appear in your manage websites list 
Manage your website on the control panels
---
User Testimonials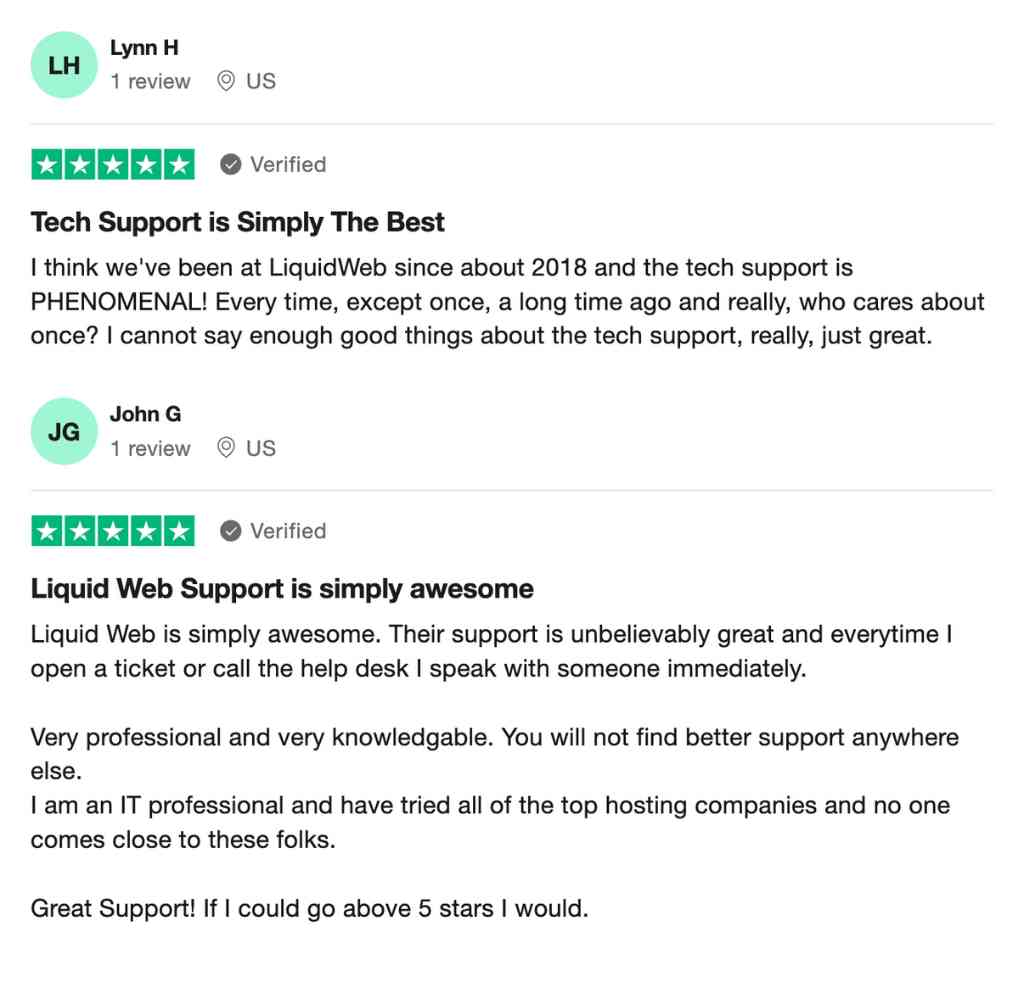 ---
Liquid Web Alternatives
1. WPX
WPX specializes in managed WordPress hosting that starts at $24.00 per month and allows you to host up to five WordPress sites.
They also offer multisite support, a built-in CDN, free SSL certificates, DDos protection, SSD storage, free domain privacy, email, and more. WPX's plans are variable by the number of websites you can host as well as the space and bandwidth.
Compared to Liquid Web, WPX is overall more affordable and includes a few additional features such as email, security features in every package, and the ability to host multiple sites. 
2. WP Engine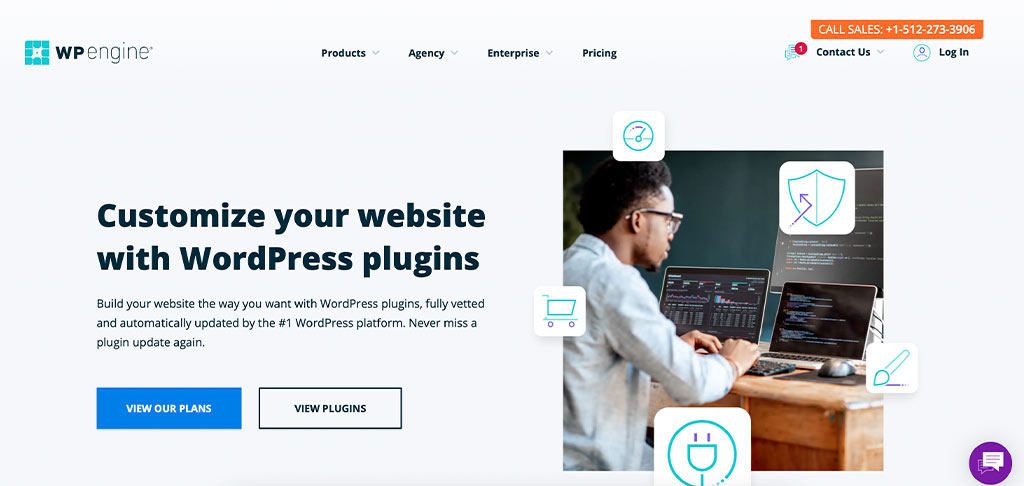 WP Engine offers managed hosting similar to Liquid Web's hosting. WP Engine provides a few features that Liquid Web doesn't, such as bulk domain management, external integrations, free Studio Press themes, up to three websites, and more.
Compared to WP Engine, Liquid Web is easier for the user, and WP Engine can even have a bit of a learning curve to using hosting. Liquid Web also offers faster responses for tech support and general customer support.
3. CloudWays
CloudWays offers managed hosting that starts at just $10 per month for 1GB of RAM, 1 core processor, 25 GB of storage, and 1 TB of bandwidth. CloudWay's hosting service is a more affordable option than Liquid Web.
CloudWays also offers a three-day trial, and Liquid Web provides no trial. CloudWays also offers over 65 data centers to choose from.
Compared to Liquid Web, Cloudways lacks a cPanel option and doesn't quite live up to the quickness and effectiveness of Liquid Web's customer service. 
---
FAQs
Is Liquid Web A Quality Hosting Provider?
Yes, Liquid Web is a great hosting provider. While their services are expensive to some, their quality makes up for the cost. They offer great features, excellent support, and reliable uptime.
What Is Liquid Web's Refund Policy?
Liquid Web doesn't offer a money-back guarantee or refund policy for their managed WordPress hosting, only for cloud VPS plans.
Is Liquid Web Good Web Hosting?
Yes, Liquid Web is good web hosting. With a great support team, high-powered SSDs, and their VPS platform, they are well regarded amongst managed web service providers. 
What Is Liquid Web For?
Liquid Web is for managed hosting. They offer reliable and high performing virtual, dedicated, and private cloud servers with 24/7 support.
---
Do We Recommend Liquid Web?
Liquid Web is definitely worth it. It offers dependable uptime, reliability, excellent customer support, great security, fully managed hosting, free website transfers, and more.
However, if you are looking to host multiple websites with additional features such as free SSL certificates, free domain privacy, email support, and more, choose WPX.
WPX is an overall more affordable choice for hosting, with a lot more to offer to businesses.
Our #1 Recommendation: WPX Hosting
15 GB of Storage
200 GB of Bandwidth
Custom CDN (34 global locations)
Staging area creation.
Unlimited site migrations to WPX.
Malware scanning
Free SSL certificates
24/7/365 customer support
Use coupon MATT90 to get 90% off your first month