Selecting the right hosting services is essential for creating a website that's fast and easy to use. The success of your business structure depends on your website performing well, and it won't be without good hosting.
As an expert in web hosting with over a decade of experience, I have tried various web hosts for my websites. None of them has proven to be as efficient as WPX – an exceptional choice in web hosting.
This article will discuss what makes WPX stand out among other hosting platforms and why it is the best choice for you.
What Is WPX Hosting?
WPX hosting is a WordPress web hosting provider designed to make establishing websites quick and simple.
This web hosting provider stands out for its speed and excellent customer support. It started in 2013 as an alternative to slower hosts or web hosts with poor customer support.
As WPX Hosting has become established, the company created its own CDN, added extras such as free Malware removal, and has pushed its way to a leading position in the website hosting industry.
A web hosting server is the life of your website. The server should be up and running 24/7.
– Dr. Chris Dayagdag, CEO of Marketlink Web Solutions
Our Rating
Load time:

4.9

Support:

4.9

Disk space:

4.9

Security:

4.9

Pricing:

4.8

Free Migration

: Yes
Pros
Managed WordPress hosting

Unlimited email accounts

Automatic daily backups

Fast customer service response time

30-day money-back guarantee
Cons
Live chat and ticket support only
---
How Does WPX Work?
WPX Hosting is the fastest WordPress hosting provider, and the service provides fast shared website hosting, a custom CDN for members to use, and domain registration.
WPX Hosting offers one of three plans dedicated to hosting fast websites. The Business plan supports up to five websites, the Professional can handle 15 sites, and the Elite plan is made to hold up to 35 websites.
Unlike managed WordPress hosting, you are free to establish any website you like on this platform.
---
Features
Although this provider only offers straightforward hosting services, each plan comes with extra features.
Support – The most important perk of this service provider is the support team. WPX support responds within 30 seconds on average, helping you get answers to your questions almost immediately.
WordPress Performance –

Besides having helpful support, you'll be stunned by the WordPress performance offered on this platform. Every customer benefits from a custom CDN with 33 endpoints for faster content delivery

.

This free CDN (content delivery network) is a powerful boost to your site speed, and it's just one of many features. WPX owns all its servers and relies on Litespeed caching for superior performance in speed tests

. 

Site Staging –

Each site also qualifies for free SSL encryption, and another one of the key features is a staging site. Staging sites are cloned websites you can modify and test before updating your live site. WPX hosting's customers also enjoy free migration services when transferring an existing site to the platform. 

Backups And Uptime –

28-day automatic backups are another included perk the site offers, along with a 99.95 uptime guarantee. The provider also boasts of its DDoS protection and is built to withstand DDoS attacks effectively without faltering

.  

Free Email –

Every site hosted on any WPX Hosting plan gives you access to free email. Quickly establish mailboxes using your domain for professional business emails and look more professional without an added cost.
---
WPX Benefits
1. CDN with 33 Endpoints
A CDN content delivery network is a temporary server when delivering information. The network gives host members server locations around the world. There are 33 endpoints in the network worldwide.
2. Fast Customer Support
Customer support reaches out and answers questions in minutes. Talk to support through the live chat or email tools and get answers rapidly.
3. SSL Certificates Provided 
A modern website isn't trusted unless secured by an SSL encryption certificate. Many hosting providers require you to pay for SSl protection. WPX offers SSL encryption to every casino account for reliability. 
4. Unlimited Site Migrations 
Moving websites is difficult. If you aren't sure what you're doing, use the site's unlimited site migration perks to move old sites over to the new web host without having to handle all the specific details yourself. 
5. Interactive Dashboard
WPX offers a very straightforward dashboard that is easy to use, even for beginners.
Within the account dashboard, users can manage their accounts and access traffic, bandwidth, and mail usage details for every website they host.
They also offer access to server space and the ability to upload themes and plugins.
6. Email Services
With every WPX hosting plan, you get a free email service. You can use email marketing with your domain name.
You can set up your free email directly from the WPX dashboard. You can access emails on your smartphone, Outlook, or webmail. They don't offer options to send bulk emails, however.
A website's success highly depends on the reliability of their chosen hosting service.
– Mike Bazar, CEO of Network Bazar
---
Downsides
While the web host offers a fast loading speed and the best support, it suffers in a few key areas.
1. Limited Email Accounts
WPX users get access to free email accounts, which are limited to approximately 50 emails every 30 minutes. The hosting account shares this limit and isn't per website hosted.
Anyone with serious email requirements should research pricing plans for other email services and utilize them along with WPX. 
All the email accounts on a single WPX hosting account are linked and limited on how many emails they can use every 30 minutes. All the accounts aren't allowed to send more than 50 emails every 30 minutes. 
2. Greater Downtime
This hosting provider has a higher percentage of downtime than other casinos. The increase in downtime could make your website perform worse and lead to serious rank issues.
Some users complain about more downtime than with other web hosts, but WPX verifies its servers are up 99.5% of the time.
---
How To Use WPX?
WPX offers affordable options for hosting, and more premium options, though it isn't the cheapest host you'll find today.
To use this provider, begin by visiting the WPX website and choosing "Start Now" in the top right corner, and following these steps:
Create a WPX account.

Check available domain names.

Select which server you want your domain to be hosted on

Fill out the form to submit your new account and create your domain.

Connect your WPX account with your email and other integrations.
---
WPX Pricing
The WPX Business plan is the most affordable plan at $24.99 monthly or $249.99 annually. This plan supports up to five websites and gives you 15 GB of storage space to hold plenty of files.
The site also allows 200 GB of bandwidth for mildly active websites.
WPX Professional is a mid-tier service that supports 15 websites while upping storage to 30 GB. You also get 400 GB of bandwidth which will support larger sites. This plan comes at a price of $49.99 per month, or $499.00 each year. 
The best hosting plan at WPX is the Elite plan. It isn't cheap and will cost you $99.00 each month or $999.00 annually.
Once you have the plan, you can host up to 35 websites on one platform while enjoying unlimited bandwidth.
This plan also gives you 60 GB of storage space, which should be enough for many websites. 
---
User Testimonials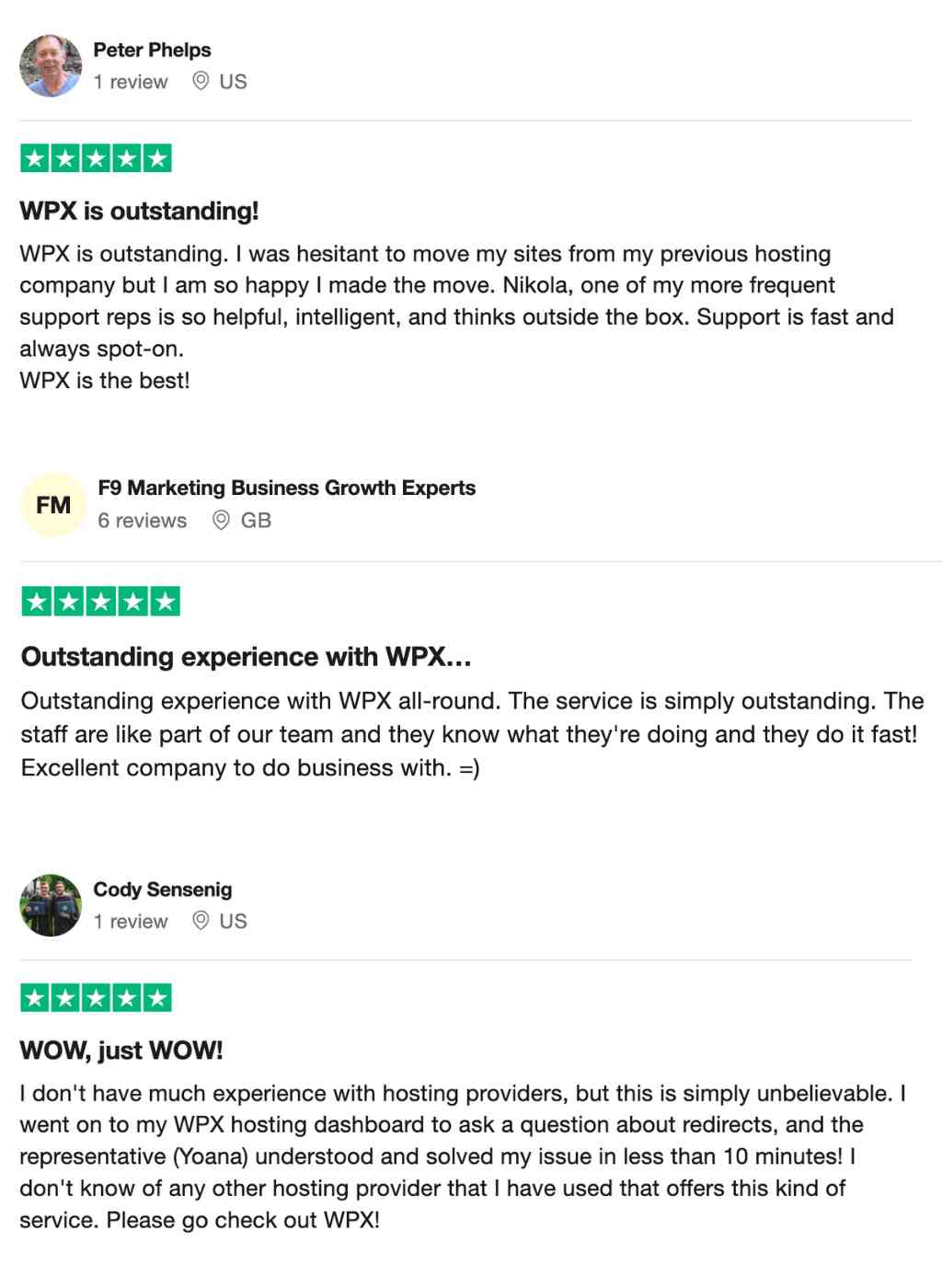 ---
Comparing WPX To Other Hosting Providers
WPX is a great web hosting solution; however, it may not be the ideal host for every business. Here, we will compare WPX to other hosting providers.
Kinsta
While Kinsta and WPX are both dedicated WordPress hosts, they approach the service in different ways. Kinsta is designed for enterprise customers with higher bandwidth requirements, larger installations, and more flexible build requirements. 
We recommend Kinsta if you want to build a huge business with WordPress, but we recommend WPX hosting if you care about finding a cost-effective solution that comes with all the features you need for a small to mid-sized business.
Kinsta uses Google Cloud hosting, while WPX owns its servers and uses the industry-leading Litespeed Cache plugin for the best speeds. 
SiteGround
When you compare SiteGround and WPX closely, you'll see that the providers are very similar. There are some critical differences between them worth pointing out, though.
The first is that WPX offers superior site speed optimization with faster load speeds. 
WPX offers premium features on all of its plans, while SiteGround only gives its premium features on higher-priced offerings. Other than those slight differences, support help is better at WPX, which is very important if you ever encounter a problem.
BlueHost
BlueHost is a leader in the hosting world, and even many beginners have heard of the provider before. BlueHost offers some of the cheapest hosting plans available today, and it's more affordable than WPX.
You can also get a free domain through BlueHost, which isn't something that WPX offers. BlueHost comes with a WordPress site that's pre-installed as well, while WPX requires its users to go through the 1-click install process, which is slightly more complex.
WPX stands out by offering its customers a custom CDN, faster load speeds, free SSL certificates, and superior ticket support than what BlueHost provides its users.
BlueHost may be a more straightforward solution for brand-new site owners, but WPX offers more premium features and a better overall value than BlueHost.
---
FAQs
Is WPX A Web Hosting Company?
Yes, WPX is a web hosting company offering services online today. This shared hosting provider offers essential features in straightforward packages.
Where Is WPX Hosting Based?
WPX hosting is based in Chicago, London, and Sydney, but WPX's CDN has 33 endpoints around the world and is offered free to every customer. This is how the service is so fast.
What Is WPX?
WPX is a WordPress site hosting company made to offer fast and simple hosting for entrepreneurs and new business owners. 
Does WordPress Premium Include Hosting?
Yes, WordPress Premium includes hosting. It is a hosted package that handles hosting your WordPress site for you.
When you pay the monthly fee, you don't have to worry about your WordPress installation because the company handles the technical details for you. 
How Do I Install WordPress On WPX?
You install WordPress on WPX by using the 1-click installer.
After your domain name is added to the plan, you select it and choose the WordPress installer to add your WordPress website rapidly.
Is WPX Hosting Good?
WPX hosting is good web hosting compared to other hosting companies. WPX's features make it excellent for business owners that want powerful support and fast response times.
WPX hosting pricing is reasonable, and you get a free CDN, free daily backups, and the best customer help for any issues you face.
Is WPX A Web Hosting Company?
Yes, WPX is a web hosting company that offers more resources and features at a reasonable hosting cost than most other platforms.
---
Do We Recommend WPX in 2023? 
A website's response time determines whether you're successful or not. We recommend WPX hosting for businesses looking for WordPress site hosting because it is the fastest provider with the best customer support. 
Choosing WPX will provide your website with premium features such as unlimited SSL certificates and security options such as malware removal. They also offer unlimited site migrations, an interactive dashboard, free email services, and more, all at an affordable price.
Try WPX today and get your website up and running in no time.
Our #1 Recommendation: WPX Hosting
15 GB of Storage
200 GB of Bandwidth
Custom CDN (34 global locations)
Staging area creation.
Unlimited site migrations to WPX.
Malware scanning
Free SSL certificates
24/7/365 customer support
Use coupon MATT90 to get 90% off your first month