DreamHost and Hostgator are two of the most popular web hosting companies around. With similar product offerings, it can be difficult to know which of these web hosts performs best.
Poor web hosting services could be costing you more than you realize. I've had to learn that the hard way.
Thanks to studies by Amazon, Deloitte, and Google, we already know that for every 500 ms of load time, you can lose up to 20% of traffic and 5% of revenue.
That's why in our head-to-head analysis of DreamHost vs Hostgator, we're putting each of these web hosting companies under the microscope.
Introducing DreamHost
Founded over 25 years ago, DreamHost has developed a solid presence in today's web hosting arena. They've also worked their way to the top and currently host over 1.5 million websites.
It's no surprise why WordPress.org recommends DreamHost as one of the best web hosting services on today's market.
DreamHost is also one of the last big, independently owned and operated web hosting companies around.
Add to this their dedication to delivering top-notch services and it's looking like a recipe for success right there. A tough contender to beat, that's for sure!
---
Introducing Hostgator
Now let's welcome Hostgator to the stage, a close match for DreamHost.
Founded in 2002, Hostgator is another web host that's made a decent dent in the market. With over 2.5 million websites hosted, the Hostgator team means serious business!
---
DreamHost vs Hostgator: Web Hosting Plans Compared
Let's start our DreamHost vs Hostgator analysis by comparing the plans each company offers.
| | DreamHost | Hostgator |
| --- | --- | --- |
| Cheap Shared Hosting | | |
| Managed WP Hosting | | |
| Managed Woocommerce Hosting | | |
| Cloud Hosting | | |
| Reseller Hosting | | |
| VPS | | |
| Dedicated Server Hosting | | |
Hostgator, on the other hand, lacks a couple of distinct options. Namely, managed Woocommerce hosting and cloud hosting.
The biggest standout is that DreamHost offers a wide range of web hosting solutions. No matter if you're looking for managed web hosting, cheap shared web hosting, WordPress-specific, or cloud hosting, they do it.
If you run a small e-commerce store, you might find that Hostgator's managed WordPress hosting is enough for your needs. However, a solution specifically designed for e-commerce, like the one offered by DreamHost, often means you don't need to worry about:
Configuring Woocommerce
Getting targeted support when you need it
Accepting payments from the get-go
Restoring your sales data if anything goes wrong
Cloud hosting is another option that Hostgator is lacking in its product suite.
Moving websites to the cloud is a smart move by web hosts since it allows their customers to leverage server scalability at a fair price.
When looking at DreamHost vs Hostgator pricing, first impressions can be deceiving. To secure the best pricing from either host, you need to sign up for a 36-month plan.
Otherwise, Hostgator's pricing works out to be slightly cheaper per month with a choice of three different pricing tiers.
Promotional Pricing
| Plan | DreamHost Plans | Hostgator Plans |
| --- | --- | --- |
| Lowest Tier | $2.59/month | $2.75/month |
| Middle Tier | $3.95/month | $3.50/month |
| Highest Tier | N/A | $5.25/month |
Renewal Pricing
| Plan | DreamHost Plans | Hostgator Plans |
| --- | --- | --- |
| Lowest Tier | $7.99/month | $6.95 - $10.95/month |
| Middle Tier | $13.99/month | $9.95 - $11.95/month |
| Highest Tier | N/A | $14.95 - $16.95/month |
Winner: If price is a concern for you, Hostgator comes in slightly cheaper. There's also a third tier offered, which gives you a happy medium between features and price if you want the best of both worlds.
2. Managed WordPress Hosting
Both Hostgator and DreamHost offer web hosting plans for WordPress. However, when you dig a little deeper, it becomes evident that DreamHost offers a wider selection of options.
Instead of just offering one option for this type of hosting, as most hosting companies typically do, DreamHost gives us a solid range to choose from.
Sure you get an option for managed WP hosting. But, DreamHost also offers a cheaper option in shared WP hosting and a more flexible option with their WordPress hosting.
No matter what scale of resources you need, DreamHost is sure to deliver! Hostgator offers much less than DreamHost.
We also love that DreamHost includes the following as part of their WP hosting plans:
WordPress optimized servers
Pre-installed WP
1-click staging and installations
Free migrations for WordPress sites
WP page builder
Unlimited storage
While Hostgator does offer some decent features, too, they're just not at the same level as DreamHost's. Besides, DreamHost offers free migrations and a 97-day money-back guarantee.
Check out our detailed Dreamhost review.
All in all, once you get past the initial WordPress installation, Hostgator's service doesn't have as many WordPress-specific features to offer.
Promotional Pricing
| Plan | DreamHost WordPress Hosting | Hostgator WordPress Hosting |
| --- | --- | --- |
| Shared Hosting for WP | From $2.59/month | From $2.75/month |
| Managed Hosting for WP | From $12/month | From $5.95/month |
| Managed Woocommerce | From $12/month | N/A |
| WordPress VPS | From $10/month | N/A |
Renewal Pricing
| Plan | DreamHost WordPress Hosting | Hostgator WordPress Hosting |
| --- | --- | --- |
| Shared WP | From $5.99 - $7.99/month | From $6.95/month |
| Managed WP | From $19.95/month | From $14.95/month |
| Managed Woocommerce | From $19.95/month | N/A |
| WordPress VPS | From $15/month | N/A |
Winner: As far as price goes, Hostgator scrapes by in the lead again. However, we're handing this round to DreamHost due to the number of features, the variety of plans DreamHost has, and the dedicated support for WordPress clients.
3. VPS & Dedicated Hosting Plans
When comparing VPS and dedicated hosting, and cloud hosting, there are some key things to note.
VPS hosting creates a virtual environment on a shared server imitating a dedicated server. You'll get a virtual partitioned space with all its resources to yourself.
Dedicated hosting allows you to work from your own server that no one else can access. It's recommended for sites with loads of traffic coming to them every month.
Cloud hosting operates across multiple servers in different locations. It helps minimize the risk of your website going down with a server if there's ever a problem.
Since Hostgator doesn't offer cloud hosting, and it's such a different solution to VPS and dedicated hosting, we can't compare these side by side.
However, we have compared DreamHost, and Hostgator's VPS and dedicated hosting below.
VPS Hosting
Promotional Pricing
Renewal Pricing
Plan
DreamHost
Hostgator
DreamHost
Hostgator
Lowest Tier (1GB Ram)
$10/month
-
$15/month
-
Middle Tier
(2GB Ram)
$20/month
$19.95/month
$30/month
$79.95/month
Highest tier
(4GB Ram)
$40/month
$29.95/month
$60/month
$119.95/month
Enterprise
(8GB Ram)
$80/month
$39.95/month
$120/month
$149.95/month
Winner: As far as price goes, DreamHost is a clear winner for VPS hosting once you consider renewal costs.
The features between DreamHost and Hostgator are also reasonably comparable. In other words, they offer fairly similar features and perks. Hostgator and DreamHost as well offer a tonne of info on their technical specs so you can choose the best option for your needs.
Check out DreamHost's VPS details[1], and Hostgator's VPS details[2] side by side if you're looking for specific features.
Dedicated Hosting
Promotional Pricing
Renewal Pricing
Plan
DreamHost
Hostgator
DreamHost
Hostgator
Lowest Tier
$149/month
$89.98/month
$169/month
$189/month
Middle Tier
$279/month
$119.98/month
$299/month
$249/month
Highest tier
$379/month
$139.99/month
$399/month
$289/month
Winner: We're handing it to DreamHost due to the broader range of prices and features. We also like that DreamHost offers a fully managed service.
At first glance, it appears as though Hostgator may be cheaper for dedicated hosting in the long run. However, DreamHost has 9 pricing tiers in total, which depend on the specific features and resources you're after.
---
Features Comparison
We share this data from tests we've run to quantitatively prove which is the better option between DreamHost and Hostgator.
1. Ease of Use
Hostgator's dashboard connects to a classic cPanel area where you can manage your hosting. For people just starting building websites, it can seem a little daunting to navigate a cPanel dashboard.
However, there are heaps of features and actions you can perform in this space once you get the hang of it.
DreamHost offers a custom dashboard with a range of intuitive 1-click features. We find the custom dashboard has less of a learning curve when compared to cPanel for many beginners.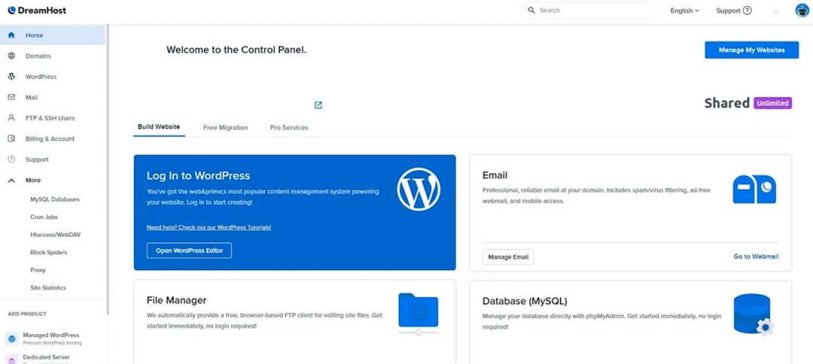 All in all, both options are reasonably intuitive and easy to use.
Winner: Both are fairly intuitive. If forced to pick a winner, we're leaning toward DreamHost based on the range of 1-click install options they have.
2. Speed
Website speed is hands down one of the most important factors for user experience, and it's also an SEO ranking factor.
So we put DreamHost and Hostgator to the test to see who puts their money where their mouth is.
Not gonna lie; the results were less than optimal for both companies. Here's what our testing uncovered.
GT Metrix
DreamHost

Hostgator

Performance Score
TTFB
Fully Loaded Time
Performance Score
TTFB
Fully Loaded Time
Vancouver
96%
66ms
7.2s
27%
1.6s
12.7s
London
87%
61ms
7.5s
24%
1.7s
7.1s
Sydney
82%
27ms
8.2s
27%
1.3s
9.5s
Pingdom
DreamHost

Hostgator

Pingdom Performance
Pingdom Load Time
Pingdom Performance
Pingdom Load Time
San Francisco
66
1.48s
70
3.24s
Frankfurt
66
1.63s
71
2.84s
Tokyo
66
1.94s
70
3.09s
London
66
5.28s
71
5.70s
Washington DC
66
1.45s
70
3.65s
Sydney
66
1.93s
70
3.41s
Winner: To be honest, these results are a bit of a mixed bag. We're going to hand it to DreamHost as their loading time is consistently better than Hostgator's.
Sure, their performance needs improvement, but for anyone using DreamHost, that's well within your realm to improve upon and can easily be controlled by you. Whereas loading time gets impacted by your hosting servers, and Hostgator just isn't up to scratch on that side of things.
If you're interested to see how DreamHost and Hostgator compare to other hosts, check out our post on the fastest web host.
3. Uptime
Uptime is a close second to speed as far as important performance factors go.
Any hosting service worth its salt should pay attention to server health and ensure high uptime levels. In saying that, DreamHost guarantees 100% uptime while Hostgator guarantees 99.99%.
Let's put them under the microscope and check out their actual performance.
We've gathered real uptime data from multiple third-party, unbiased sources. Let's find out if each hosting company lives up to its guarantees.
DreamHost Uptime
Since February 2020, DreamHost has experienced a total of 14 downtime events. These resulted in 238 minutes of total downtime. The top reasons for the downtime events were:
Connection timeout
Internal server errors
We also discovered that so far in 2021, there have been 108 minutes of total downtime – averaging 99.97% uptime.
In 2020, we worked it out to be 99.98%. Given DreamHost guarantees 100% uptime, this level of downtime events is concerning.
The other concerning thing is that downtime events occur for longer than 3 minutes more often than not.
Also, considering that historically, DreamHost was fulfilling its 100% uptime guarantee, we consider the current state of performance a decline in quality.
Hostgator Uptime
Unlike DreamHost, Hostgator had fewer outages overall, with a total of four downtime events since January 2019 recorded on a test site. This amounts to a total of 17 minutes of downtime.
Also, when looking at the historical data, there's a significant improvement in 2021 compared to previous years.
Before 2021, Hostgator had a difficult time maintaining 99.99% uptime as per its guarantee. However, it's on track for 2021.
| | 2019 Uptime | 2020 Uptime | 2021 Uptime |
| --- | --- | --- | --- |
| DreamHost | 100% | 99.98% | 99.97% |
| Hostgator | 99.94% | 99.91% | 99.99% |
Winner: Hostgator. Despite the historical trends being against Hostgator, we can't deny the results. Compared to DreamHost, Hostgator's uptime performance has only improved, whereas DreamHost has seen a decline.
4. Customer Support
Learning to build a website can be hard stuff. Technology is bound to fail you at some stage, and when it does, that's when you need to have stellar support by your side.
It makes a difference knowing you have experts in your corner who can help you navigate any sticky situation. That's why we consider poor customer support offered by hosting companies as a deal-breaking factor.
To compare the level of customer support between these two hosting providers, we turned to Trustpilot. You can access Hostgator's page here, and DreamHost's here.
Hostgator's rating on Trustpilot
DreamHost's rating on Trustpilot
Winner: DreamHost. Their support is leagues beyond HostGator's.
Even though both advertise 24/7 support, the votes are in. It's clear that customers love DreamHost customer service, and they feel Hostgator's leaves more to be desired.
5. Servers & Locations
For anyone targeting audiences in a specific location, it's worth looking at where your website's servers are located.
Both Hostgator and DreamHost use US-based data centers. That's not a problem if the bulk of your audience is in the US. But if it's not, then perhaps you might be better off choosing a hosting company with more options.
In any case, DreamHost's servers are located in Ashburn (Virginia), Hillsboro (Oregon), and Irvine (California). Hostgator's are in Provo (Utah) and Houston (Texas).
If you'd like to choose your data center location, you can do this with DreamHost by reaching out to their support. Hostgator, however, does not allow you to choose which data center houses your servers.
Winner: It's a tough call. We're calling it a tie since there isn't too significant a difference to name a winner.
6. Storage
Sites with lots of media files or high-resolution images require more storage space.
When comparing Hostgator and DreamHost, once again, their features are neck to neck.
Both offer options with unmetered bandwidth. Unmetered bandwidth simply means that your usage isn't tracked, and you're billed a flat rate each month instead of being billed based on how much you use.
For the dedicated and VPS options, both DreamHost and Hostgator offer lower-cost HDD and higher-cost SSD storage options. DreamHost offers a broader range of options and gives you more control over the technical setup of your servers.
Winner: DreamHost purely because of the range of options offered at reasonable prices.
7. Security
When shopping for a hosting service, it can be very difficult to go beyond the sales pitch on each web host's website.
They all usually have some version of "we provide the best security features" on there. Most of them offer a free SSL certificate among other hosting services as well nowadays. The question comes down to who's just talking and who follows through.
DreamHost has an internal team of dedicated security engineers. Internally, this team is known as Nightmare Labs.
So we dug deep into our research on this topic, and here's what we found:
| | Bluehost | Hostgator |
| --- | --- | --- |
| Free SSL Certificate | Yes (Let's Encrypt) | Yes (Let's Encrypt) |
| Free Domain Privacy | Only on Expensive Tiers | Paid Option |
| Hotlink Protection | Yes | Yes |
| Spam Protection | Yes (Akismet) | Paid Option - Spam Assassin |
| Free Automatic Backups | Only on Expensive Tiers | Yes (Weekly) |
| Web Application Firewall | Yes | Yes |
| DDoS Protection | Yes | Yes |
| Brute Force Protection | Yes | Yes |
| Bot Blocking | Yes | Yes - Manual |
| Malware Protection | Yes (Daily Automated) | Paid Option |
| 24/7 Server Monitoring | No | Yes |
| WP Security Plugin | No | No |
Winner: It's a tough call since many features sound the same on the surface. But, we're handing it to DreamHost, this time.
Not only do they take security very seriously, but they also offer a bunch of free inclusions out of the box.
With Hostgator, you could reach the same level of protection as DreamHost, but you need to pay your way to get there by using a bunch of different upsell services.
8. Backups
Worried about what would happen if something ever goes wrong on your website? You're not alone. This thought is enough to keep many internet entrepreneurs up at night!
Obviously, you'd want to be sure that your hosting company has your back in such times, right?
The best way to check if your web host can support you if something goes wrong is to check out their backup policy. Backups are like your insurance.
Both Hostgator and DreamHost mention free backups on their website, so let's look into the details.
Hostgator's Backup Policy
Hostgator makes it very clear that they take no responsibility for failed backups. They do offer free backups for customers, but they're not guaranteed[3] in any way.
Besides, they only take backups once a week on a random day. This can make it hard to plan big updates to your site without manually backing up your site every time.
And according to their site, "HostGator backups are provided as a courtesy and are not guaranteed. Customers are responsible for their own backups and web content and should make their own backups for extra protection."
Also, Hostgator doesn't offer redundant or mirrored backups.
Redundant data storage provides a real-time fail-safe against hard drive failure.
Mirrored backups are exact copies of your data. Another failsafe in case something goes wrong.
By neglecting to offer these types of backups, and since Hostgator will claim no responsibility if something does go wrong, it's a major red flag in our book.
DreamHost's Backup Policy
Unlike Hostgator, DreamHost's approach is more proactive. DreamHost offers free automatic daily backups. It also allows users to manually backup their site once a day for extra protection.
However, DreamHost also does not offer any further data protection. Your website files are only stored on one server, and if it goes down, you risk your website going down with it.
Winner: DreamHost due to backing up website files daily as opposed to weekly.
9. Domains
A nice perk offered by hosting companies is a free domain name bundled into a hosting service.
Both Hostgator and DreamHost include a free domain on many of their plans, including their lowest cost shared hosting plans.
DreamHost also offers free domain privacy on some plans too which Hostgator does not.
Winner: It's a close call. We like the bonus of free domain name privacy, so we're handing it to DreamHost. Other than this benefit, all else is fairly equal between the two.
10. Migrations
If you have an existing website or more, and you're considering switching to a new hosting provider, listen up. Website migrations will be part of your immediate future, and they can be difficult to handle!
DreamHost has a free migration plugin that can work well on many sites. But if something goes wrong, or if you have a more complicated setup, you'll likely have to pay for their migration service.
| | DreamHost | Hostgator |
| --- | --- | --- |
| Price | $149.99 | Free |
| Number of Sites | Up to 5 sites | Depends on your plan |
| Emails | Up to 20 Emails | Manual |
| Downtime? | No downtime, guaranteed | Not Mentioned |
| Availability | Not available on Reseller, VPS, or Dedicated Accounts | Available on all accounts with restrictions |
Winner: Hostgator because they offer free website migrations.
---
Pros & Cons
DreamHost Pros
Greater flexibility
More options for hosting packages
Better speed performance
Better security measures
Daily backups
Cloud hosting offered
97-Day money-back guarantee
Excellent support
Recommended WP hosting provider
DreamHost Cons
Uptime could be improved
Free migrations are only offered as a DIY option
HostGator Pros
Slightly cheaper than DreamHost
Free domain with most plans
Better uptime records over the last year
Based on cPanel
Free website migrations
Hostgator's money-back guarantee is 45 days
HostGator Cons
Poor speed performance
The Backups policy doesn't serve customers as well as DreamHost's does
Customer support could use improvement
---
F.A.Qs
How can I move a website from HostGator to DreamHost?
To move a website from HostGator to DreamHost, you must first register an account with DreamHost. Then, make a copy of your website's files and upload them to DreamHost. Before upgrading DNS, ensure that your website is working properly.  The last step is to point your DNS to DreamHost.
Can I transfer a domain from DreamHost to HostGator?
Yes, you can Transfer a domain from DreamHost to HostGator. To do this, you must unlock your domain and acquire the authorization key from DreamHost.  Finally, send HostGator a transfer request. Once all processes have been completed, wait 7 to 10 working days for completion.
Is DreamHost or HostGator better for beginners?
HostGator is much better for beginners. It uses an easy-to-understand cPanel and offers 24/7 customer assistance that can help you resolve issues in minutes.
How can I get a free domain from HostGator or DreamHost?
You can get a free domain from HostGator or DreamHost very easily. Even the most basic options provided by both companies include a free domain for one year. However, you will need to renew your domain names with both providers at the end of the year.
Does HostGator use SSD?
Yes, HostGator does use SSD. Shared, Cloud, and Reseller All HostGator plans use SSD storage. Nonetheless, basic VPS and Dedicated setups include HDDs. SSDs have only been added to higher-tier Dedicated subscriptions.
Is DreamHost good for an online store?
Yes, DreamHost is good for an online store. DreamHost offers a variety of WooCommerce hosting plans that support a large number of monthly visitors and include a variety of pre-installed features, like a storefront theme, Jetpack, and others.
---
Hostgator vs DreamHost: The Ultimate Winner
If you have a WordPress site and are choosing between these two popular hosting providers, our top pick is DreamHost.
Based on the data shared in our DreamHost vs Hostgator review, DreamHost comes out on top for many essential categories such as speed performance, customer support, and security.
Our #1 Recommendation: DreamHost