As a seasoned web hosting expert who has worked with numerous Magento websites, I understand the importance of selecting the right hosting provider to ensure optimal performance, security, and reliability.
Your website's success hinges on the foundation laid by your hosting provider, and my experience in the industry has given me invaluable insights into the most reliable options available for Magento users.
In this guide, I'll share my knowledge of the best Magento hosting providers, taking into account factors such as server performance, security, customer support, and scalability.
This comprehensive evaluation will help you make an informed decision when choosing the right hosting provider for your Magento-based website.
First, let's review the essential factors you need to consider when selecting the best Magento hosting provider, ensuring you have a solid understanding of your requirements and priorities.
Armed with this information, you'll be able to confidently choose a Magento hosting solution that aligns with your specific needs and goals.
Best Magento Hosting Providers Compared
Now that you've learned the key features to keep an eye out for when choosing the best Magento hosting providers, it's time to look at the seven best options.
Shared hosting, VPS, Dedicated, Magento, and Cloud hosting
Magento & Magento 2 Hosting
VPS, Dedicated, Magento, Cloud, and Shared hosting
1. SiteGround (

Editor's Choice

)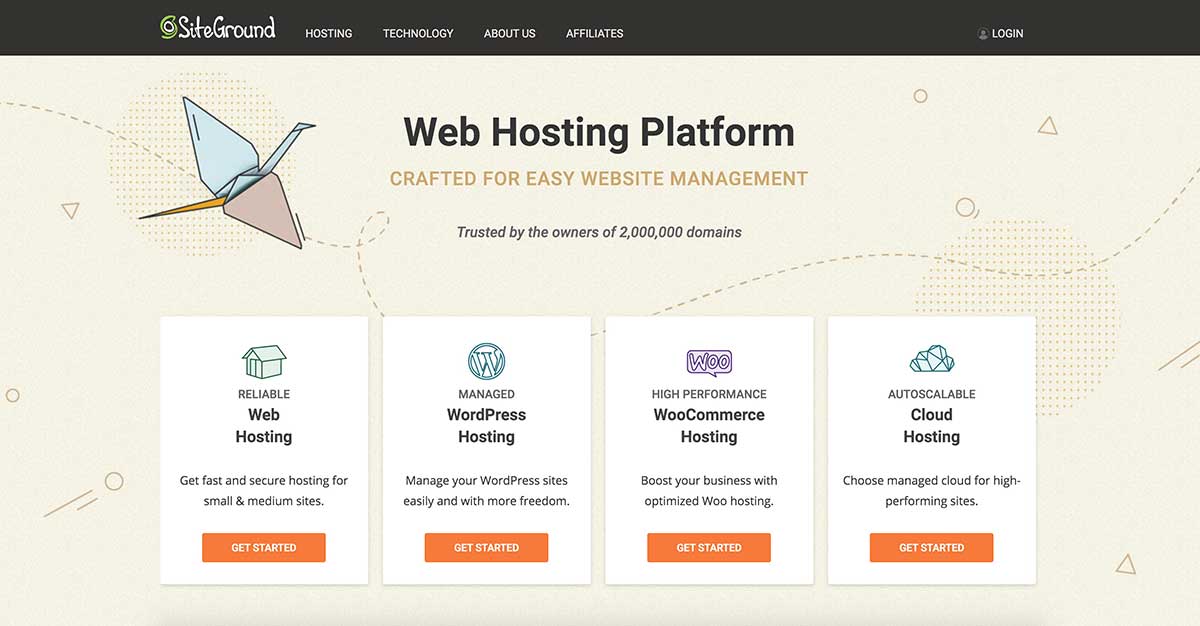 In my opinion, the best Magento hosting is SiteGround. With SiteGround, you get amazing tech support, Magento support, and security features on all hosting plans. You can choose from any of their Magento hosting plans.
The entry-level plan starts from around $5 a month. Hosting features of the Magento entry plan include 10GB of storage space, bandwidth for 10,000 site visits a month, and free backups.
Below is an overview of SiteGround and its key features.
Features
Customer Support: You can reach their customer service via phone, chat, and tickets at any time for Magento queries. You get immediate replies through on-site chat. They offer 24/7 phone support. The average response time for support tickets is less than 10 minutes.
Security: For any of their Magento hosting plans, you get a free TLS certificate. This will keep your site secured, allow you to process payments, and reduce the risk of intruders gaining access to data.
Pros
99% Uptime: With SiteGround, you are assured of almost no downtime for your Magento site. When there is an outage, you get notified via monitoring software. Most problems are fixed promptly.
Excellent speed. They offer an average website loading speed of 1.3 seconds. A fast site is important for converting visitors into customers and dominating the SERPs.
Multiple Data Centers: SiteGround has a data center on every major continent. You can choose the location of your data center, ensuring fast load times for your target audience.
Free Magento Installation: SiteGround makes it easy for you to install Magento. Support staff can install Magento for free.
Standard Security Features: With each plan, you get free SSL for any domain purchased through SiteGround. That will save you around $15 a year.
Cons
Storage Limitations: They have limitations on how much data you can store on your website. If you want to have more storage, you will have to upgrade to the next plan.
Expensive Renewals: The Magento plans are more expensive after the first year. Renewals start from $14.99 to $39.99 monthly.
Why SiteGround
SiteGround is the best Magento hosting provider. It has the features you need and expects from a great company.
That includes fast hosting and the option to select the data center where your content is hosted. This is great if you're targeting a certain geographic area.
Furthermore, SiteGround also provides good support. This is important for all Magento hosting providers, as you want to use a company that can answer your queries promptly and resolves issues just as fast.
All these reasons make SiteGround the best solution. Access SiteGround with a 60% discount by clicking the link below.
---
2. MageMojo/Webscale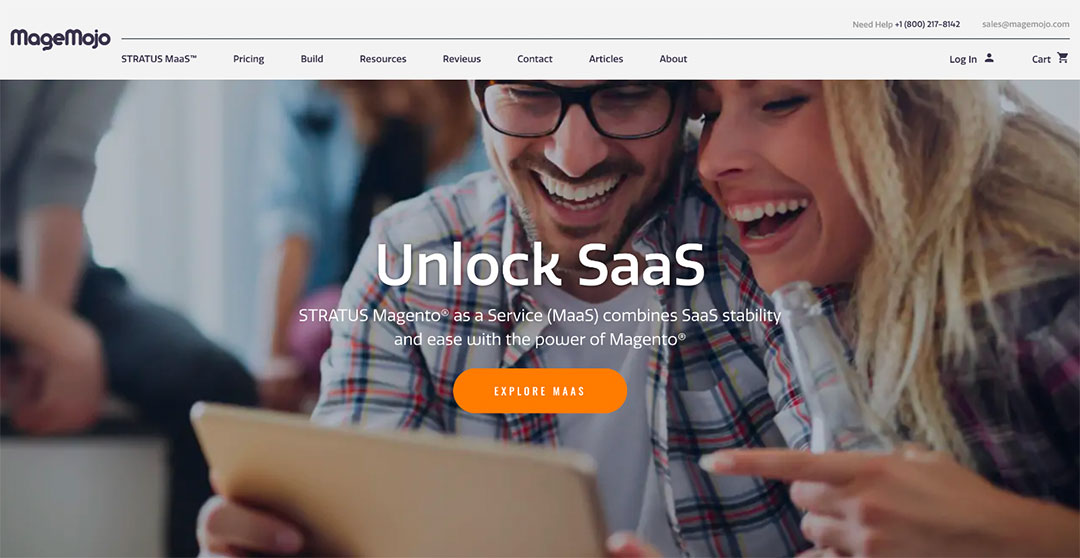 MageMojo (which has now rebranded to Webscale) is considered one of the best Magento hosting companies available today. Their technicians and staff can quickly resolve any problems with a Magento or Magento 2 website.
Below is an overview of MageMojo, so you can see what makes it stand out amongst other Magento hosting providers:
Features
Easy-to-use Interface: The MageMojo admin interface is simple and easy to navigate. From the control panel, you can manage your sites, invoicing, and more.
CloudFront CDN: One of the stand-out features of MageMojo is the CloudFront Content Delivery Network (CDN). The CDN is hosted through Amazon Web Services and saves a cached version of your site on servers worldwide. The CDN improves your site load time.
Pros
Fast Customer Support: MageMojo support staff and technicians respond fast to inquiries. The helpful staff can solve many problems on the first encounter.
Fast Servers: One of the stand-out features of MageMojo is the fast servers and website load times. Your site will likely load as fast or faster than most of your competitors with Magento hosting providers. You also get a dedicated server, IP address, and ample SSD storage. Furthermore, you can host unlimited websites on the more expensive plans.
Free CDN: The MageMojo CloudFront Cloud CDN will ensure that your website loads fast wherever in the world your customers happen to be based.
Great Uptime: Your Magento website will be online 99.95% of the time. In fact, with the CDN, you'll probably experience 100% uptime.
Automated Backups: MageMojo conducts backups of your site. You can reload a saved version of your site if it's hacked or you encounter any other problem.
Money-Back Guarantee: MageMojo offers 30-day compensation if you're not happy with their service for any reason.
Cons
Expensive Entry Plan: The cheapest hosting plan for MageMojo is $98 per month. It is more expensive than the other hosting solutions.
Why MageMojo
MageMojo is one of the best managed Magento hosting companies. The servers are Magento optimized, ensure fast load times, and can deal with traffic spikes.
That is critical because site speed impacts your search rankings and sales (a site that loads slowly has a lower conversion rate than fast sites).
In addition to features like fast site speeds, you'll have a great support team in place to help you resolve any issues. The customer service team responds quickly to inquiries.
Unfortunately, MageMojo is expensive compared to the other providers on this list. If you're looking for a Magento-optimized hosting provider, though, it is affordable. Click the link below to secure your discount.
---
3. Cloudways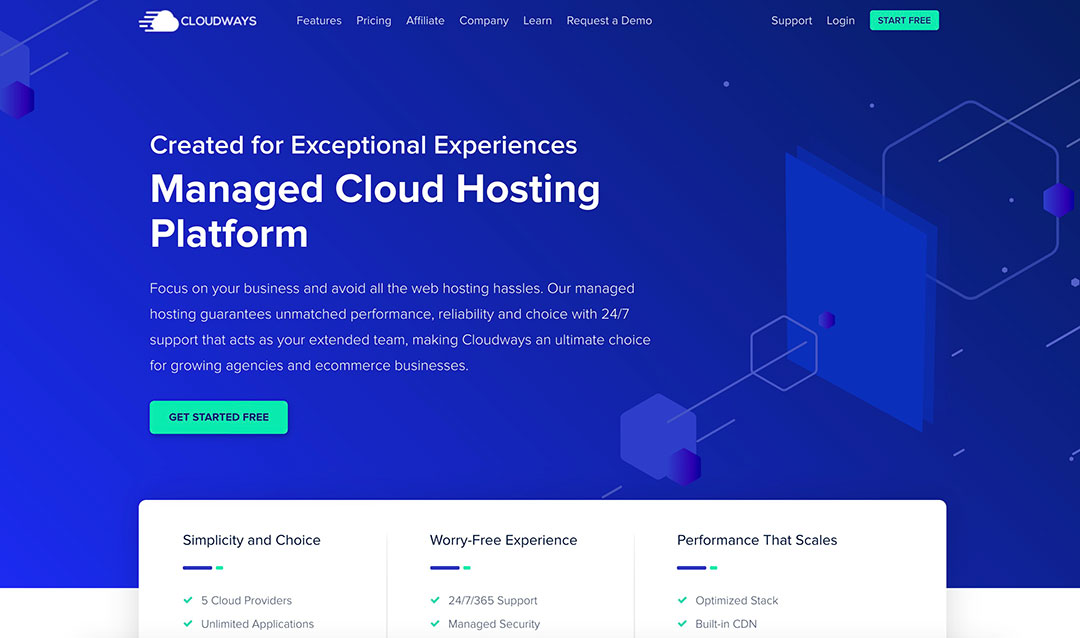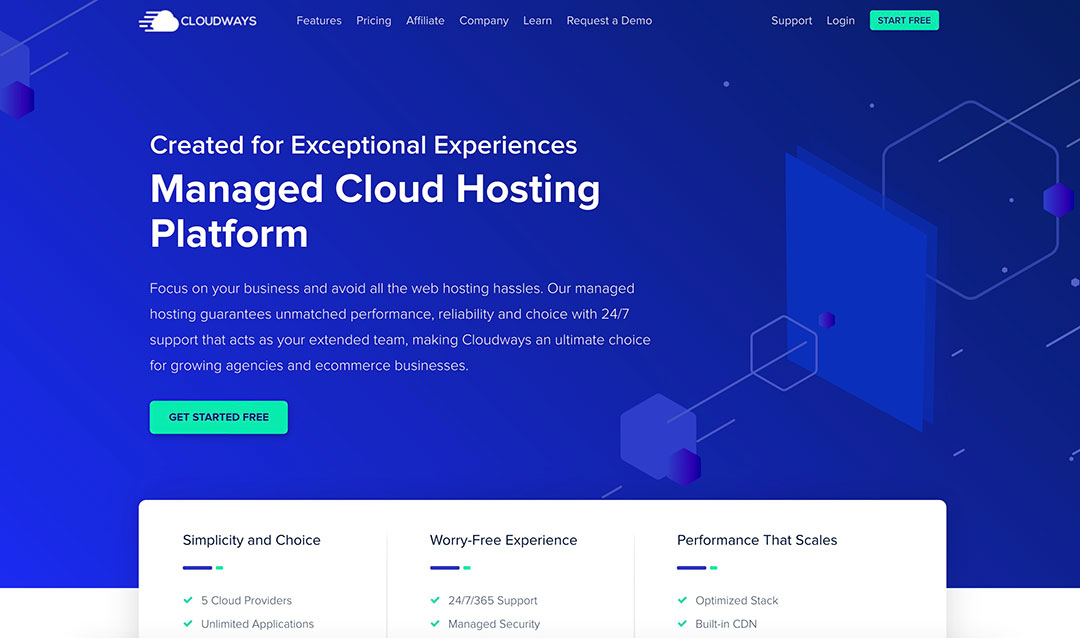 Cloudways is a good choice for anyone seeking the best Magento hosting services. What separates Cloudways from other Magento hosting providers is that it offers platform-as-a-service cloud hosting[1]. Below is an overview of the Magento hosting features and company strengths and weaknesses.
Features
Automatic Backups: Problems with your website, for instance, if you get hacked, will cripple your business. Fortunately, Cloudways automatically backs up your site data. You can restore a saved version of your site with a single click.
Real-time Server Monitoring: This feature helps you understand what's happening with your website. The CloudwaysBot monitors your site's performance and provides you with notifications about any web server issues.
Customer Support: Like most of hosting platforms, Magento hosting providers offer around-the-clock Cloudways support to address your concerns and queries.
Pros
Cloud hosting: With Cloudways, multiple copies of your data are stored on different web servers. If, for any reason, the main server stops working, your site's data will be safe in the cloud hosting. This is an important failsafe feature.
Self-Healing Servers: In case your web server goes down, Cloudways employs auto-healing to reduce downtime. Essentially, a cached version of your site will be accessible to visitors while the web server is fixed.
Impeccable Customer Support: Whether by live chat, phone call, or ticket, their personnel is always available. That's great because you never know when a problem might arise.
Cons
No cPanel or Plesk: Cloudways does not offer you access to the standard control panel or Plesk you might be used to. It's not a big issue, but it will be an inconvenience for some people.
Why Cloudways
Cloudways offers competitive pricing on all its Magento cloud hosting plans. The competitive pricing is backed up by fast load times and a good customer service team. Access Cloudways by clicking the button below.
---
4. HostGator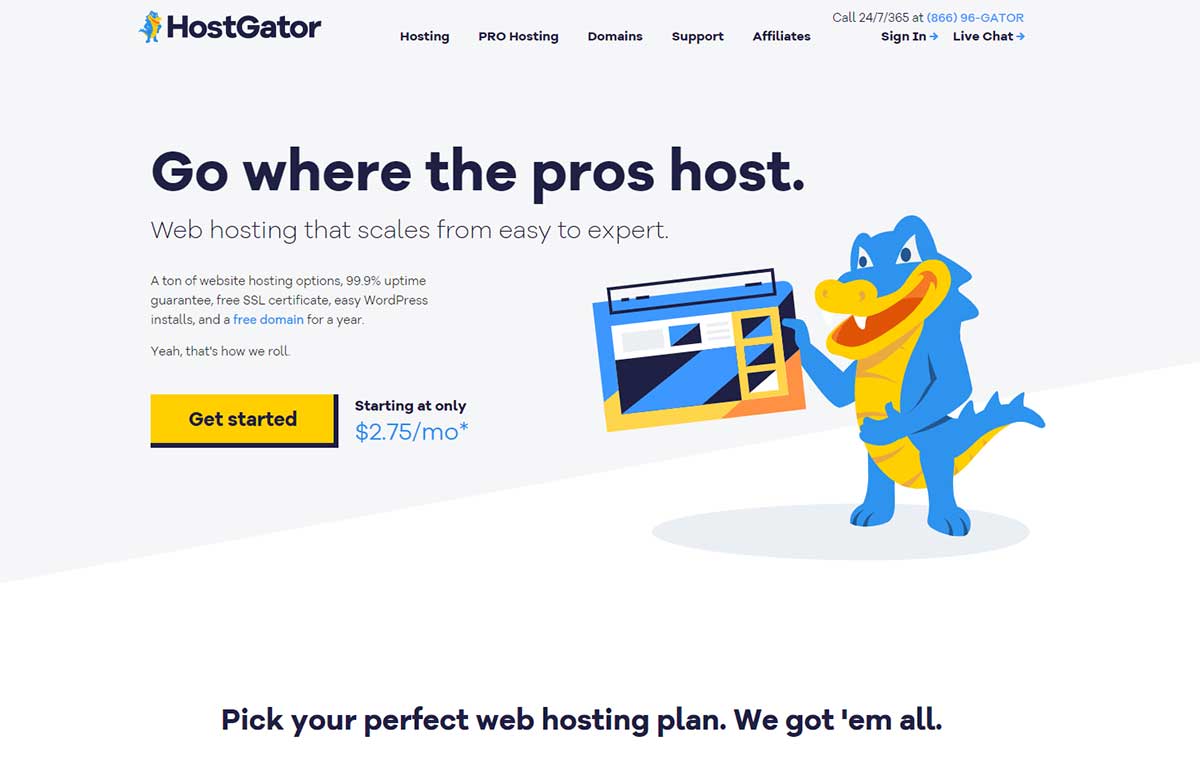 Hostgator is one of the cheapest Magento hosting providers. The company provides hosting services for more than 800,000 store owners. They offer VPS hosting, shared hosting, and dedicated hosting.
This Magento review will focus on the VPS hosting plans, which are recommended for eCommerce Magento store owners. The VPS plans start from $19.95 per month. This comes with 2GB RAM, 120 GB of storage, and unmetered bandwidth. You can host unlimited websites on their most expensive plans.
Below is an overview of everything you ought to know about Hostgator.
Features
Money-Back Guarantee: HostGator has a 45-day money-back guarantee if you are not satisfied with their services.
Free SSL Certificate: HostGator will help you secure your Magento store with a free SSL certificate. The certificate will protect your data and allow you to process online payments through the site.
Free Site Transfer: Within 30 days of signing up, you get a limited number of free transfers.
Impressive Uptime: If you sign up with HostGator, you are guaranteed 99.9% uptime. This means that your site will always be up with very little or no downtime.
Pros
High security: With HostGator, you get access to an SSL Certificate at no cost.
Good Uptime: Your site will almost always be available. You don't have to worry about losing visitors because of underperforming search rankings or a poor user experience.
Cons
Poor Customer Service/Support: Although they strive in other areas, HostGator lacks excellent support.
Restricted Features: Hostgator doesn't offer automatic backups as standard. Moreover, if you experience sudden traffic spikes, you'll probably have to upgrade your plan.
Why Hostgator
Hostgator leverages those economies of scale to provide affordable Magento plans. You can also host unlimited websites on the more expensive plans, and they have a competitive offering.
If you're hosting Magento websites, and customer service isn't your primary concern, Hostgator is a great option.
---
5. A2 Hosting
A2 Hosting uptime and loading speed are one of the best in the industry. They host Magento on their Turbo Boost and Turbo Max Plans. When it comes to security features, A2 is your best bet. The Turbo Boost plan comes with unlimited storage, free site migration, and automatic backups.
You also get access to 2GB RAM. This plan starts from around $10 per month. On the other hand, A2's Turbo Max plan starts at around $15 per month. The Turbo Max plan has the same features as the Turbo Boost plan, including 4GB RAM.
Below is a quick overview of A2 Hosting.
Features
24/7 Customer Support: A2 offers around-the-clock support via phone, email, live chat, and ticket. They are fast and respond to queries and resolve problems.
Security: To protect your sites from hackers, they provide free SSL certificates. You can be assured that your Magento store data will always be secure.
Pros
Good Loading Speed: A2 recorded an average loading speed of 268ms over the past twelve months. If your site loads fast, you'll provide visitors with a better site experience. You'll also improve your chances of ranking higher in the SERPs.
One-Click Installation: With A2, you get the Magento software preinstalled on shared hosting accounts.
Customer Support: If you have any concerns, you can reach A2's support staff via phone, email, ticket, or live chat. Expect to get an immediate response when you send a message.
Cons
High Renewal Rates: Although A2 hosting's introductory prices are low, the renewal prices are significantly higher. In addition to that, your A2 hosting plan will renew automatically if you don't cancel the service 15 days before the end of the contract.
Why A2 Hosting
A2 hosting is one of the best Magento hosting providers. One of the things that make the company stand out is the fast web servers.
They also offer great support. When considering their service, it's good to think of the first year as an introductory pricing offer.
Many Magento users select A2 because of their experience with Magento.
---
6. Hostinger
Hostinger offers some of the cheapest web hosting plans on the market for Magento users. They offer different web hosting services with different price packages.
You get access to bandwidth from 100 GB, with the most expensive plan giving you unlimited data transfer. Storage ranges from 10GB to 100GB based on your preferred price package. For Magento hosting, pricing starts at less than $10 per month.
You can find an overview of their Magento web hosting service below.
Features
Money-Back Guarantee: Hostinger offers a 30-day money-back guarantee if you are not satisfied with their service. That means you can try their service risk-free.
Impressive Load Time: Hostinger has maintained an average loading speed of less than one second for the past twelve months. Fast load times translate into an improved customer experience.
Easy to Use Interface: Hostinger provides a beginner-friendly control panel. It has everything you need to manage your site in one location.
Domain Name: All Hostinger web hosting payment plans come with free domain names for the first year.
Pros
Security: All shared hosting plans come with a free Let's Encrypt SSL Certificate.
Discounts: Hostinger regularly offers customer discounts and runs special offers. Discounts translate into more money in your pocket.
Unlimited Features: Signing up with Hostinger for Magento gives you access to features such as unlimited bandwidth and emails.
Cons
Lower Uptime: Whereas other hosting platforms offer impressive uptime, the same cannot be said for Hostinger. It has an average uptime of 99.74%. That's still very high, but not as good as some of the other companies on this list.
Why Hostinger
Hostinger provides cheap fast web hosting. If you're just starting and you're price-sensitive, the competitive pricing, regular discounts, and special offers make this company worth checking out.
Secure the best price with Hostinger by clicking the button below.
---
7. InMotion Hosting
InMotion hosting is a good choice for companies that have a customer base in North America. They have two data centers in Los Angeles and California.
InMotion offers amazing features such as a 90-day money-back promise and unlimited bandwidth. Their support staff can be reached through live chat, phone, and email.
The company has affordable hosting plans for people running Magento sites. They offer shared plans and dedicated servers. You can find more information about the company below.
Features
Fast Servers: The InMotion server farms ensure your site loads fast. You also get ample SSD storage for your site.
Daily Backups: InMotion provides backups to ensure that you do not lose important data. These types of security features are important. For instance, if your site is hacked, you can restore a backup from before the incident.
Security: InMotion provides a free SSL certificate through the cPanel control panel. All eCommerce websites need an SSL certificate.
Free Website Migration: InMotion allows you to migrate your Magento site from your previous host for free.
Money-Back Guarantee: InMotion offers a 90-day refund.
Pros
Amazing Uptime Guarantee: If your site is usually down, it might end up affecting the number of people that come to your site. InMotion guarantees uptime of 99.99%. With this, your site will experience very little or no downtime.
Domain Name: For the first year, InMotion gives you a domain name for free. They also provide a free SSL Certificate. This is limited to some specific plans.
90-Day Money Back: It is normal for hosting providers to provide a money-back guarantee within 30 or 45 days. InMotion takes this to a whole new level by giving you a 90-day money-back guarantee if you are not pleased with their services.
Cons
Slow Response Time: Although they provide 24/7 support through various channels, their response time is slow. This will be an issue when you have a problem with your Magento site.
No Free Backup: InMotion offers backup services. However, this is not free. This feature is a paid add-on.
Why InMotion
If you're looking for the best options for hosting Magento sites, InMotion should be on your list.
You can check our InMotion review. The company has fast servers and good infrastructure. The main issue is the support team is not fast at responding to inquiries.
Click the button below to learn more about the InMotion Magento packages.
---
8. GoDaddy
GoDaddy offers one of the best Magento packages on their VPS, Business, and shared plans. The shared and VPS plans start at under $10 per month, and the Business plan starts at around $20 a month. You can find more information about the company below.
Features
Customer Support: Customers enjoy around-the-clock support. You can contact their support via phone or live chat with any Magento-related queries. Take note, however, that their chat feature is only available Monday to Friday from 5:00 a.m. to 6:00 p.m.
Security: All packages come with SSL Certificates. This will secure your website, allow you to process payments, and protect the site from intruders.
Good Uptime: GoDaddy promises an uptime of 99.99%. This is to say that your Magento website will almost always be functional. Downtime can cost you, potential customers.
Pros
Domain Name: GoDaddy gives you access to free domain names with all yearly plans.
Money-Back Guarantee: For those who are not pleased with their services, GoDaddy offers a 30-day money-back guarantee.
24/7 Custom Support: If you have any concerns, you can reach their support team via phone and live chat.
Why GoDaddy
GoDaddy is a large, established company.  Because of their size, they can invest in server farms and provide you with low prices on their hosting plans. GoDaddy is not the best Magento hosting provider because you often lose that focus on great support with large companies.
---
Why Should You Choose Magento Hosting?
You should choose the best Magento hosting to ensure that your website is run as smoothly as possible. While general hosting could work for Magento online stores, choosing the best Magento hosting is the key factor for a well-run site. Below are some reasons you should choose Magento hosting.
1.   Managed Hosting
Setting up and maintaining your online store can quickly get technical. That's an issue if you are not tech-savvy. Magento hosting providers should have staff with hands-on expertise in handling issues that come with Magento websites.
You'll be able to get support with Magento-specific queries. That expertise translates into saving time and costs. You can quickly resolve any issues with your site so you can focus on making sales.
2.   Performance
A generic host may offer good hosting features; however, do they have their servers optimized for hosting Magento websites?
A relevant provider will also ensure your site is PCI compliant[2]. With a PCI-compliant site, you can offer integrated payment gateways and process credit cards securely.
3.   Increased Security
You wouldn't want to have to worry about hackers and malicious intruders when running your eCommerce store. Magento hosting providers typically have DDoS protection in place, along with a decent firewall and anti-malware strategy.
4.   Automated Daily Backups
If your website is hacked or compromised in any way, you can load a backup. A Magento web hosting provider can help with scheduled, daily automatic backups, often at no cost to you.
5.   Fast Load Times
Speed is important for online stores and is essential for Ecommerce SEO. Ideally, your Magento store will load in less than two seconds. The top Magento hosting platforms have their servers fully optimized for LiteMage Cache[3], the world's fastest Magento full-page cache.
6.   Affordable and Flexible
Most generic providers have a hosting plan and pricing that is not tailored for a Magento online store, which means they are more expensive than Magento hosting providers. A Magento web hosting service would have Magento-specific plans that save you costs.
---
4 Factors to Keep in Mind When Choosing a Hosting Provider
Magento works best when paired with a robust and agile infrastructure. The wrong choice of Magento hosts can lead to issues with site load time, using more data than you need to run your site, and more.
Problems like the two issues highlighted above result in direct and indirect costs to your business. For example, slow loading times can lead to you missing out on higher search rankings, losing sales, or ending up spending more than needed.
Here are four important factors to keep in mind when selecting Magento hosting providers that will enable you to sidestep these problems. Read on to learn more.
1. Server Optimization
First, make sure that the server you opt for has the minimum requirements for Magento hosting. For example, Magento 2.2 technology stack requirements include a Linux (x86-64) operating system and a memory requirement of up to 2 GB.
Your web host's servers should meet the following requirements:
| Requirement | Version |
| --- | --- |
| Linux | x86-64 |
| MySQL | 5.6+ |
| Apache | 2.x |
| Nginx (alternative to Apache) | 1.7x |
| PHP | 5.4+ |
One thing you should take note of is that Magento is a Hypertext Preprocessor or PHP-based content management system.
Thus, the web host you go with must optimize its servers for running PHP code. Magento 2 and higher recommend PHP 7.0 for peak performance.
Some hosting providers have auto-scaling [4] to ensure optimal server performance. Auto-scaling simply refers to the process of scaling down or reducing the servers allocated to your site.
With auto-scaling, your website will always have the required server resources for excellent performance at all times.
Another key factor to consider is whether or not your Magento hosting service provides managed hosting for the Magento store.
With managed Magento hosting, your host handles everything from managing and administering your site to monitoring and keeping your website optimized.
2. Server Speed
Websites that take more than two seconds to load have a significantly lower conversion rate than sites that load in less than 2 seconds. That's why you must choose Magento hosting, which prioritizes server speed.
First, make sure that the server location of your web host's data centers is close to your target market. That way, latency is reduced, and you can have fast-loading web pages. You should also check if the provider offers a Content Delivery Network (CDN).
A CDN will host caches of your site on different web server farms around the world. That means it will load fast wherever a visitor is accessing the site.
Also, find out if the Magento hosting solution you are considering is optimized with advanced caching. Advanced caching ensures that your website is fast.
Find out more and check out our site speed optimization guide.
3. Flexibility of plans
Flexible pricing is an important factor when choosing the best Magento hosting providers. The best Magento web hosts have an array of hosting plans you can choose from as your site grows. In general, your hosting platform will offer plans and pricing based on the type of server.
You can either use shared hosting, VPS hosting, dedicated hosting, or cloud hosting. Not all hosting plans offer Magento hosting on their shared hosting plans. It is a good idea to use VPS hosting if your online store is handling around 1,000 visitors a day.
Find out and compare the packages for each server tier before choosing your Magento hosting. Keep in mind that when it comes to Magento hosting plans, cheaper is not always better. Take a hard look at the features each plan offers before settling on one.
At the very least, your plan of choice should have free SSL /TLS certificates, 1-Click application installation, choice of server location, and protection from malware and other security threats.
Take note of any hidden charges when you want to upgrade or add extra features as well.
Some Magento hosting has a pay-as-you-go pricing model. This means you only pay for the resources you use. If you are keen on saving costs, you can consider this billing option. Above all, find out if the web hosting option provides a money-back guarantee.
4. Customer Support
Finally, one key factor to help you decide on your Magento hosting solution is support. You need your support team to respond quickly, ideally in less than 10 minutes, to all inquiries.
The last thing you want is a company that responds slowly to queries and can't solve your problem immediately.
Before you settle on a Magento hosting service, research the kind of support available.

Look for web hosting that guarantees round-the-clock support. That way, regardless of your timezone and location, you can reach out for hosting help. Their staff and technicians with a comprehensive understanding of Magento hosting are essential as well.
The staff should help with technical queries, hotfixes, patches, Magento development, and more. Good customer support would even help you with your e-commerce hosting strategy.
Find out the communication channels that are open for store owners as well. Can you call, email, or even have a live chat with support agents? Do they have an opening ticket system or an assigned account manager that can keep tabs on your site?
---
FAQs
Magento works well on shared hosting plans due to its high computational power requirements. Magento drastically slows down when using shared hosting plans. To ensure the best performance for Magento, use a dedicated server VPS to provide the necessary resources to run the platform.
Can I Use Magento and Still be PCI Compliant?
Yes, you can use Magento and still be PCI Compliant. Magento is a highly secure eCommerce platform that offers tools and features to help you become PCI compliant. It provides a payment bridge that meets security standards set forth by the PCI/DSS. 
What Is the Difference Between Magento and PHP Hosting?
The difference between Magento and PHP hosting is in the features they provide. Magento is an eCommerce platform that provides users with the tools and resources needed to create and manage an online store.
On the other hand, PHP hosting is a server-side scripting language that enables developers to create dynamic web pages.
---
Which Magento Hosting Provider Do We Recommend?
SiteGround is our top choice when it comes to great hosting features. They provide you with a fast server and the key features you're looking for from a Magento host.
If you're serious about the performance of your site, you need to invest in Magento hosting. Specialized Magento hosting is optimized to ensure you get the best speed and performance from your server.
This article explored the eight best Magento hosting providers for Magento stores to help you make an informed decision based on the features, pros, and cons of each company.
Our #1 Recommendation: Siteground