Whether you're an e-commerce manager or an SEO specialist, you've invested a considerable amount of time and energy into working out the best practice approach for tackling organic search for online stores.
An E-Commerce SEO Strategy Walk-Through
In this case study, I'll be showing you my agency The Search Initiative was able to double revenue by building a custom strategy for one of our e-commerce clients who operates within a small b2b furniture niche.
My goal with this case study is to introduce you to a wide range of new ideas that will help you to expand and improve your e-commerce SEO game and better serve your customers.
You'll learn the strategies we used to improve UX, technical stability, onsite optimization, content, and of course backlinks.
The approach that I will detail saw our e-commerce client grow their traffic by a massive 417% in 8 months.
It also earned them $48k in consistent additional monthly revenue. This took them from generating $43k a month to $91k a month, or a 112% increase in overall revenue.

The Challenge
Our client is in the b2b furniture and equipment business and they offer their products only within specific locations in the UK. As well as offering their products for sale to clients, they also offer their products for hire.
The client came to us with a solid foundation. They had an existing e-commerce business, a solid website, and a great brand. However, when setting up their company, SEO hadn't been a top priority.
Establishing E-commerce E-A-T (Expertise-Authority-Trust) & Earning Backlinks
If you have a high-quality site and with a keen desire to establish your brand (like our client does), your approach needs to be particularly focused on sustainable, long-term growth. You need to create quality content that represents the brand well and earn backlinks naturally.
In addition, focus on signalling trust in the online store and the brand by demonstrating transparency and authority.
We'll get to this later.
Despite several core algorithm changes occurring in Google Search along the journey, these goals for our client were indeed achieved.
Here's how we did it…
Step 1 – E-commerce User Experience
To enjoy the benefits of some quick wins, first focus on the low-hanging fruit.
User Experience
The client came to us with robust branding already established and a professional-looking website, but we were able to identify a few small tweaks that created a significantly better experience for potential customers.
Visual Changes
Optimize visitor experience by adjusting color contrast (here's a couple of great tools for choosing brand colors and color contrast), adjust placement and selection of images, and add zooming and scaling images to product pages to further improve user experience and increase the likelihood of generating a conversion.
Mobile Optimization
The majority of Internet traffic now originates from mobile devices, so local and mobile optimization are now crucial for small businesses.
Make these small changes to your site that make a big difference to those viewing on mobile:
Making phone numbers clickable
Making emails addresses clickable.
Increasing the font-size to a minimum of 16px for mobile users, as you can see in the screenshot below.

These small tweaks contributed towards significantly increased conversions on mobile.
Step 2 – Technical Auditing
The foundation of any SEO strategy is technical optimization of the website, and since we were dealing with an e-commerce site with many functions and pages, there were plenty of opportunities to identify and resolve technical problems.
They are as follows…
Google Index Management
This included removing all traces of their old website from the Google index, removing duplication in their category pages, managing index bloat, adding their XML sitemap to the robots.txt, and removing now-defunct meta keywords from their site.
The result of these efforts allows Google to focus on the pages that you do want them to focus on ranking… not the extraneous pages you don't want to rank.
For example, the client's login pages were indexed. In some cases, this type of unnecessary indexing can cause more valuable pages to be pushed out of the search results, or skipped over in a routine crawl, thus diluting your message.
HTTP Pages and URL Parameters
We also found HTTP pages and URL parameters in the index.
URL parameters are parameters whose value is set dynamically in a page's URL.
For example, you may have a search bar on your website where customers can search your catalog.
Whenever customers do an internal search, new URL parameters will be created, which ends up bloating the index with a bunch of URLs like:  website.com/category/search?pink+scarf
In order to make it clear to Google's Search algorithm what the different URL parameters do, specify them in Google Search Console.
Cleaning Up Legacy Strategies
Next, we looked at any technical issues caused by legacy strategies and began to clean them up.
One example of an issue was that the site included meta keywords on the pages, which have been considered defunct since Google confirmed that these self-defined keywords hold no weight in their algorithm.
Worse, competitors could look at your meta keywords and find a perfect list of keywords and niches that you're targeting.
We then looked at how the client's CMS might be causing issues without them even knowing it.
Managing Magento 2
Our client's site is built on the popular Magento 2 ecommerce website builder, which is notorious for not having a robots.txt and sitemap.xml configured out-of-the-box.
We created the sitemap ourselves using Screaming Frog web crawler, added it to robots.txt, submitted to Google Search Console, thus helping Google's search algorithm to better understand the layout of our client's site.
Finally, we dealt with a considerable site-wide issue. The site used canonical tags that were meant to be self-referencing, but were actually canonicalized different pages.
This is suboptimal because it confuses Google's web crawler bots, making it a mess when trying to rank. We cleaned it all up, so that Google knew exactly which pages should rank.
Step 3 – Internal Link Building
Once you have done a technical audit, earned some quick wins and solved some user experience issues, start to think about improving the internal link structure.
Adding Internal Links To Existing Content
Quickly, we noticed that while the client did have a blog on their domain, there was very little content on it and much of it was out of date. Also, there weren't many links between their blog and their category and product pages… a huge opportunity for spreading link juice and establishing topical relevance.
Our plan was to create more high-quality blog content and expand its scope, allowing us to build more internal links to relevant product and category pages.
We drew up a content strategy that involved producing a consistent number of new content pieces each month and went back through each old blog post, updating them with relevant links to product and category pages.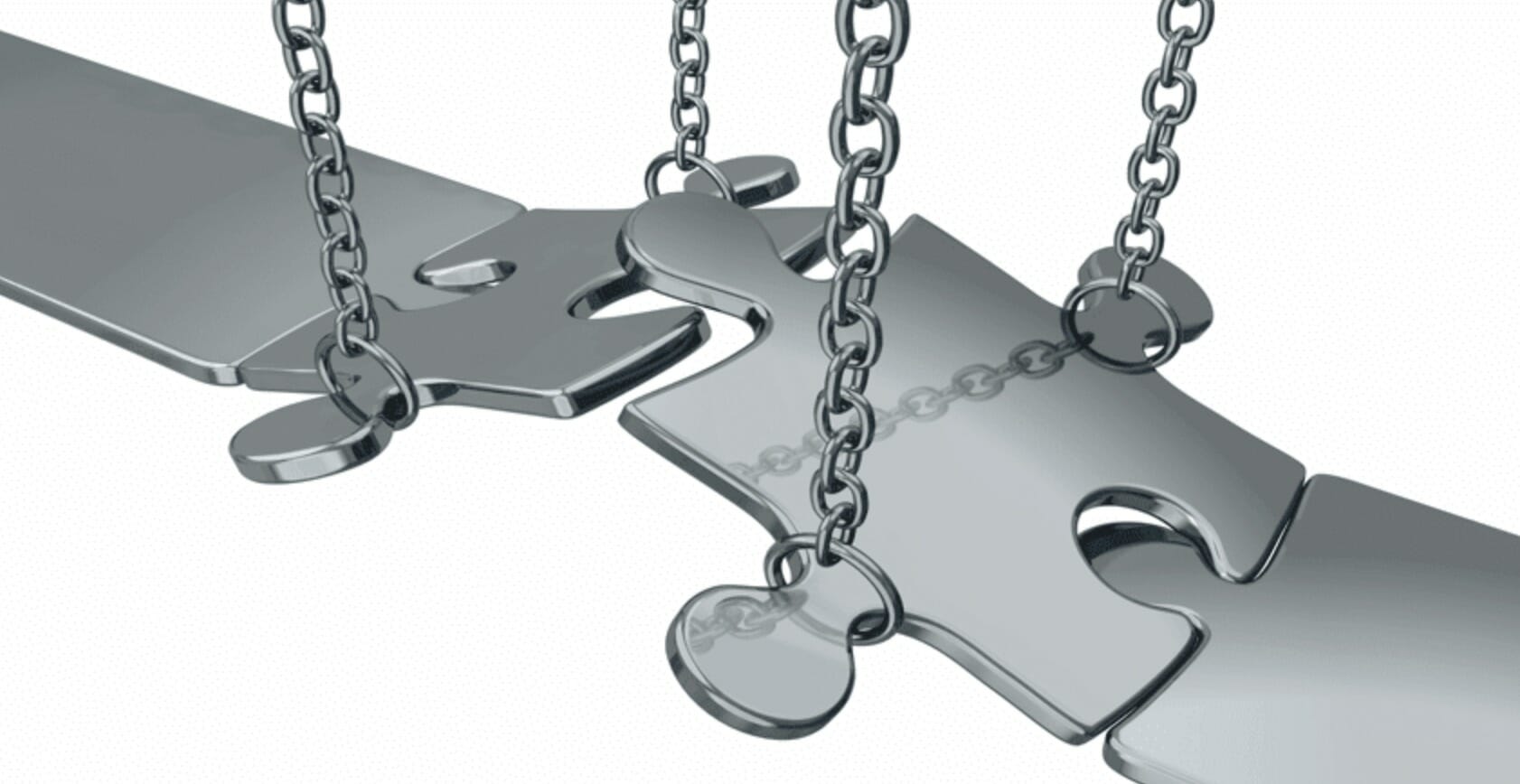 We'll get to the content plan in more detail later, but for now, let's really dig into internal linking.
E-commerce Topical Clustering
Create "topical clusters", which can be thought of as groups of pages that talk about different elements of the same key topic.
For example, "protein powder" might be the topical cluster. It would be made up of a cornerstone article that you hope to rank for the keyword "protein powder", as well as several other articles talking about sub-topics of "protein powder".
Some examples could be "How to Make Pancakes from Protein Powder", or "Can Protein Powder Help you Lose Weight?" or "10 Side Effects of Synthetic Protein". You would then create a content piece for each of these sub-topics and have each linking to the cornerstone article using a close anchor text to "protein powder".
Using this technique, you're able to pass value from the smaller articles to the main piece and have a better chance of ranking the main piece for "protein powder" in Google Search.
From these cornerstone articles, we were then able to link back to category and product pages, increasing their perceived authority too.
Step 4 – Content Strategy
Before you can implement a solid external backlink building strategy, you need to create a bedrock of content to be used to support your outreach.
I suggest giving your writers the following guidelines for creating content.
Evergreen, Algorithmically Optimized Content
Focus on evergreen content, preferably creating linkable assets such as infographics, slideshows or documents containing industry insights.
An example of an evergreen topic would be "why ergonomic chairs are good for your back". Conversely, "the best chairs in 2023" would not be evergreen, as it will obviously lose its relevance at the end of the year.
In the same line of thought, avoid using dates in the page title, headings or URL.
Quality and depth of content are absolutely essential to analyze in this day and age. Each query (keyword) needs to be answered thoroughly.
Look at the people ranking on page 1.  Ask yourself:
How many words did they write? Find the average and add 20% more.
What sub-topics did they cover? When discussing "How to lose belly fat", you'll see that it's necessary to talk about "avoiding trans fats".  Do the same.
What kind of layout are they going for? Are they presenting in tables?  Do the same.
And don't forget, write in an easy-to-read manner, and without any grammar mistakes.
E-A-T and E-commerce Content
Create content that referenced your products and services so that you can funnel users to your core landing pages.
This is good for both conversions, and for your rankings.
Google is becoming increasingly sophisticated, putting more and more weight on the importance of your website showing expertise, authority, and trust (E-A-T).
By creating content that shows you have a deep knowledge of the products you sell, you are improving your chances of ranking higher for relevant keyword phrases.
E-commerce Content & User-Intent
Ensuring that the content matches the user-intent across the entire conversion funnel is a great way to build awareness of your brand as well as helping with link acquisition and visibility.
Since we already had a website full of bottom-of-the-funnel conversion-focused content – we needed to expand upwards. To handle comparison focused keywords, we helped provide users with answers to their much-sought questions around the products.
Instead of just having protein powder product pages, we'd have funnel pieces talking about "The Pros and Cons of Protein Powder vs Natural Foods."
However, this still wasn't the highest level of user-intent that we could target.
We began crafting content for customers that didn't yet know they needed our client's products and services – and in doing so were able to place them as the brand to help the user help during the research stage of the potential customer's search.
An example of this might be "5 Ways to Maintain a Summer Body Throughout the Year."
Step 5 – On-Page Optimization
Next, focus on detailed analysis and optimization of individual pages.
Page-by-Page Product & Category Page Analysis
Here, we analyzed each page individually, comparing how many exact-match and partial-match keywords were on the page in comparison to the top 10 ranking pages for that keyword in Google.
For that, we used Surfer SEO.
We also used the tool to look at how many common backlinks the competitors had linking to their domain, how many keywords they had in their page titles and H1 tags and whether they were exact or partial-match.
We also looked into other key metrics such as page loading speeds in comparison to the top-ranking pages, the number of words in the content and the number of images.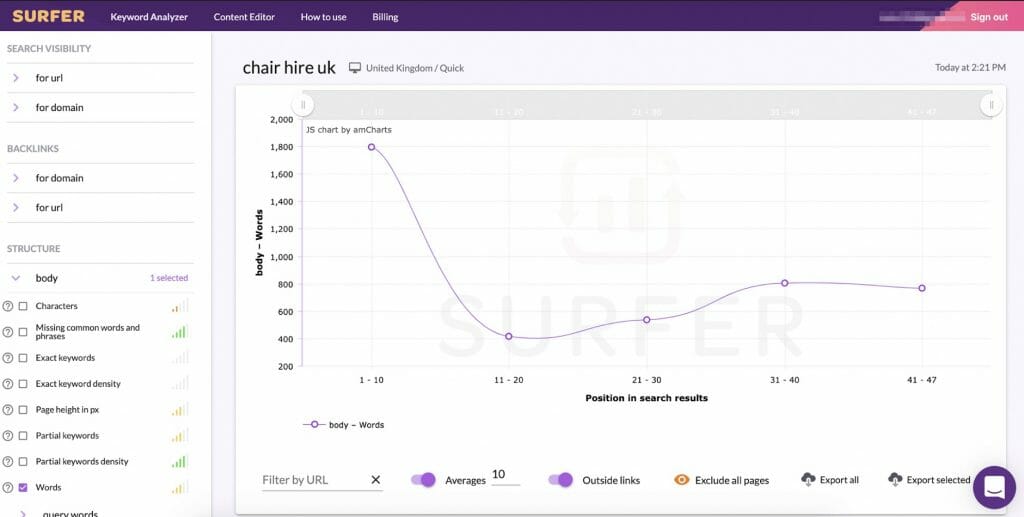 Step 6 – E-Commerce Link Building Strategy
Spammy Backlink Disavow
Our client came to us with a fairly underdeveloped existing backlink profile, meaning there was little need to spend too much time removing undesirable links to the site.
E-commerce sites may naturally pick-up lots of links like this over time; because they have so many pages within the index to link to.
We quickly disavowed some of the lowest-quality backlinks using the Google disavow tool and then turned our attention to our client's competitors.
E-Commerce Competitor Analysis
Use Ahrefs (or your favorite backlink tool) to review the backlink profiles of your top 3 competitors, who will offer similar products to the same target market.
E-commerce websites often have strong brand competitors. You can easily check out where these brands get their links and emulate their brand-building link strategies.
As your first targets, look for publishers that link to your competitors and have high domain ratings and monthly traffic.
Here's a solid guide on how to audit domains for link placements.
By following this strategy, we quickly found results.

A Natural Backlink Profile
It's always essential to grow your domain's backlink profile in a natural-looking way, especially if you have a low amount of existing backlinks, as was the case with our client.
With little previous history, there is a considerably higher risk of penalization by Google if your approach is not careful.
With this in mind, we spent two months building backlinks with safe branded anchor texts (read more) from overall medium quality domains (average DR, average traffic, etc).
In the third month, once these backlinks were established, we began to evolve the approach and slowly started gaining backlinks with targeted anchor text from increasingly higher-power domains.
Referral Traffic
Getting links from sites that pull traffic themselves can actually increase your own website's traffic.
Yes, it's actually a thing.
Comparing referral traffic figures from before and after the activity, we see that there's been a 625% increase in revenue from referral sources (based on client data).
By targeting industry-relevant websites with their own existing traffic we managed to both improve our client's backlink profile in a natural-looking was as well as providing a welcome boost to another channel.
Infographic Outreach
Another strategy that we used (that still sees great results) was creating infographics.
Chose a popular topic and outreach the asset.
To find what would make for suitable infographics, we reviewed strategies that had worked for our competitors – an approach that will always be viable as long as SEO exists.
I wrote about this last year as part of my scalable white hat link building strategies.
Local Citations
We also made a push to gain backlinks and citations from local publishers.
This helps users and Google's search algorithm to understand the business' location – particularly important as our client operates within a limited geographic range.
Back-Linking Results
To summarize, winning in SEO these days requires you to match and then beat every competitor's backlink profile.
Since working with The Search Initiative, our client has seen a huge growth in the number of referring domains and backlinks pointing to their website – from just a few hundred to more than 1,400.
VS

Campaign Results
I hope you're sitting down.  These results are tasty.
Keywords
The core high-value keywords targeted for their revenue potential increased by 1467 positions according to Agency Analytics, our main everyday tracking tool.
And according to Ahrefs data, the overall keywords within the top 100 increased from 391 to 2,494, a 637.8% increase.
Organic Traffic & Revenue
Our content strategy directly benefited the blog traffic. The blog now acquires 222% more new users and 74% more returning users than it did previously, which obviously opened up a new pool of potential customers.

And in terms of traffic across the whole domain, we saw a very nice uplift. Compared with the same time last year (before the client started to work with The Search Initiative), organic traffic has seen an increase of 417.29% in sessions and an increase of 452.49% in users.
*Based on the client's internal data these traffic increases directly impacted an increase in revenue by $48k extra in monthly orders.
All of this achieved within just 6 months.
This took them from generating $43k a month to $91k a month, or a 112% increase overall.
Conclusion
Through this case study, I hope I've illustrated the point on just how incredibly important it is to build content and backlinks at a controlled pace, in a way that looks natural.
The right content allows your e-commerce brand to showcase expertise and communicate authority within your niche, which increases your chances of ranking for tons of relevant keywords, both at the bottom and top of the funnel.
We also touched on the importance of combining technical SEO, user-experience considerations and internal linking to gain the most from all the pages within your e-commerce site.
Make sure as an e-commerce business or SEO operator, you're using a combination of each-and-every high-impact SEO strategy to maximize the potential of your domain and your products.
If you need any help with that, you know where to find us: The Search Initiative.
Get a Free Website Consultation from The Search Initiative: