Magento eCommerce platform is the old school but trusty magician of eCommerce and enterprise businesses worldwide. Powering 0.6% of all websites, Magento is known for the raw power it can offer your business.
However, as a digital marketer with extensive experience in the eCommerce industry and various platforms, I can say that it also requires the adept skills of an experienced web developer to unlock its full functionality. So, it may not be the best fit for every business.
Magentos' grit and talent requirements are well-matched by its extreme customizability, scalability, and richness in features.
If you're wondering whether this platform is worth using for your business, read our Magento review below to discover its full potential.
What Is Magento?
Magento is one of the most robust eCommerce platforms in today's market. It powers around 20% of the world's eCommerce solutions and 0.8% of PHP-powered websites globally.
Not to mention over $155 billion worth of transactions occur through eCommerce solutions powered by Magento each year.
The Magento eCommerce platform has earned its reputation for the sheer amount of customizability and power it offers enterprise-level businesses and large online stores.
Over the years it has scaled its performance and features to better serve enterprise-level businesses, no matter how large or complex their technical requirements are for selling online.
However, unlike the most popular platforms available today, such as Shopify or WordPress, this eCommerce platform is not an all-in-one, plug-and-play, hosted solution.
Because of this, even after its acquisition by Adobe (more on this in a moment), Magento's market share and adoption rate are relatively low compared to others.
As you'll see from our review, the Magento eCommerce platform is not suited to every business or every online store. It has a steep learning curve and requires a decent technical budget.
Who Does Magento Suit Best?
A Magento will suit best someone who has a talented web developer and wants an eCommerce website with many bells and whistles. It offers the ability to adapt and evolve your store on the fly, making it the ideal choice for scaling any type of eCommerce business.
You can also move so many parts in the Magento backend that makes the learning curve worth it if you want to grow your business-to-business (B2B) or direct-to-consumer (D2C) online store without having to re-platform later.
However, if you operate any of the following types of businesses, Magento will not be the right solution for you:
Small to medium online store
A business that does not sell many products online
A company with limited funds for technical development
Are Magento Commerce and Adobe Commerce the Same Thing?
Yes, Magento Commerce has now become Adobe Commerce. In 2018 Adobe announced its acquisition of the Magento eCommerce platform for $1.68 billion to expand its digital experience software into the world of business-to-business and direct-to-consumer eCommerce.
As such, new users of Magento typically call it "Adobe Commerce." However, developers, merchants, and business owners using Magento before the acquisition still call it "Magento" or "Magento Commerce."
Magento's name is now Adobe Commerce for official purposes, though we'll still refer to it as Magento in this article as that's what most people are most familiar with.
Are Magento Open Source and Magento Commerce the Same Thing?
Magento Open Source and Magento Commerce are not the same things. Before the acquisition of Magento, developers had a choice of two versions as well.
As the name suggests, Magento Open Source is an open-source platform that allows you to set up your store's own hosting and server environment.
Of course, as with any open-source software, you (or your developers) can also directly access the code and make any customizations you desire!
However, Magento Commerce (now known as Adobe Commerce) is a cloud-hosted eCommerce platform with more built-in features and functionality.
---
Features
With Magento's customization options, you can unlock a world of opportunity as long as you have the proper budget, resources, and technical skills.
1. Ease Of Use & Adoption
Magento has earned a reputation for its steep learning curve. It is not beginner-friendly, and it is also not suited to anyone who:
Has limited experience with building websites
Wants to manage their website themselves after it launches
Wants a no-frills online presence for their online store
Needs an eCommerce platform with minimal coding requirements
Magento opens up a world of options for businesses that intend to scale their online store or who want to push the boundaries of what's possible when selling online. It offers state-of-the-art scalability and flexibility through its native features and the range of Magento extensions available.
Without the skills to mold the platform to your needs, you would be missing out on the versatility and flexibility Magento is known for!
Thankfully, finding information to help you set up Magento stores is reasonably straightforward. If you're a developer, you can learn so much from the revamped Adobe documentation for Magento.
For example, you can study how Magento handles and stores data on its data storage page[1].
There is a specific set of standard tables formed in the backend of a MySQL database depending on which fields you activate for usage after the website goes live. You no longer need to piece together such information from forums and blog posts you find on Google.
Also, once you know how to navigate the folder structure and other backend features, Magento is much easier to configure to your requirements! Inventory management of your eCommerce store will be easier than ever.
As another example, in the app/design/frontend subfolder, you will find all the custom themes that you download from theme providers like Theme Forest. You can easily connect these to the Magento interface once you know your way around.
Like many other content management systems, the Magento interface also uses the Model View Controller or MVC configuration. However, from a technical side, the primary feature is that it uses blocks and helper functions to move data across the website.
The more experienced you are with developing websites using open-source platforms like Joomla or Drupal, the more accessible Magento will be for you to get started with.
2. Customizability
Magento's unbelievably powerful suite of features is its highest-rated perk. It has all the components of a fully functional eCommerce website rolled into one:
search engine optimization
website management
custom inventory or catalog management
a diverse amount of payment gateways supported
and, most of all, it's open-source and easily customizable.
Magento extensions and configurations (although requiring advanced technical skills) also provide enormous flexibility to customize your Magento store to your heart's content. In addition, you can check out the Magento marketplace to find thousands of extensions[2] for your store.
If the goal is simplicity or pushing a shop out as soon as possible, easier-to-use platforms, like Shopify, may be the best course of action.
But even with more intuitive eCommerce solutions and frameworks sprouting like daisies left and right, Magento is the best choice if you want a tried and tested framework with a massive track record, power in scalability, and flexibility in features.
3. Solid Website Management for Admins
If you are a business owner or developer, you are not just limited to one digital storefront when doing admin work within a Magento store. You can have a multi-site setup where you can manage or be an admin on multiple Magento sites at the same time, in the same view.
You can also add as many extensions as you want in the admin panel of any Magento-powered website. But you need to balance it with how much complexity you'll be adding to the process of website management.
Admin panel placement and design is one of the most prominent guidelines in Adobe's developer docs for best practices[3] of Magento, and it's worth a read before you change anything.
You can also proceed without adding a single Magento extension to customize the native admin panel. It's already tailor-fitted perfectly for the successful operations management of a dynamic eCommerce business. There are specific views for customers, products, product catalogs, reports, dashboards, and other systems.
4. Powerful Business Intelligence for eCommerce Platforms
Business intelligence is all the rage these days. As your store scales, the need for decent data channels and business intelligence grows. With Magento, you won't miss out on any insights into your customers.
A compelling feature of Magento is that it captures data on behavior that is specific to online shoppers and critical for your store's conversions.
For example, it is able to identify patterns in abandoned carts of customers who initially add items but leave the cart before the checkout and payment stages.
It also provides data on customer segments. However, many industry-leading technology professionals are also recommending that customer segments can be replaced by algorithmic marketing and recommendation engines.
With extensions on the Magento marketplace, you can unlock advanced functionality like this, which would otherwise be inaccessible on simpler platforms like Shopify.
Without any modifications, even Magento's native platform offers powerful business intelligence for online stores.
Compared with other open-source software, you do not need to configure your reports and analytics to show critical dashboards with powerful marketing and sales reporting insights.
However, if you are using a generic CMS that is not explicitly built as an eCommerce platform, you will have to code most of these reporting capabilities from scratch.
Given that Magento connects seamlessly to most types of databases, you are also not limited to specific data visualization tools.
You can use AWS Quicksight if you are in an Amazon Web Service cloud infrastructure. Alternatively, you can try its counterpart, Looker, if you are using the Google Cloud Platform.
Finally, if you are in a Microsoft-powered environment, PowerBI is also a good choice as a starting point for additional visualizations like customer location maps and more.
Suppose you are not using any of the above, and you're not completely satisfied with the standard reports of Magento. In that case, you can additionally plug the website's database into external data visualization tools such as Tableau.
It is beyond the scope of this Magento review to show you the full extent of its business intelligence capabilities for eCommerce. But you can check out a sample implementation of connecting a Magento database to a Tableau server[4] with this tutorial.
5. Inventory-Friendly Product Catalog Management
Another powerful feature of Magento, and a favorite for most Magento developers, is its highly customizable (and inventory-friendly) product management mechanism pre-built in its user interface.
This feature means that you do not have to manage your sales and product inventory in separate tools. With Magento, you can manage it all from one dashboard. Save yourself the leg work of building custom product catalog and inventory management views for your store managers and admin users!
As any store owner would know, not all products are created equal. If your store sells a mix of bundles, physical, virtual, recurring, or build-your-own products, you will require an intricate system to manage inventory effectively. Magento makes life much easier regarding inventory management for all of these types of products and more.
Each of these product types can also be clearly defined in the Magento ecosystem. It is acknowledged as an organized way of classifying products by default. So you can easily sort and arrange your products during the optimization of your storefront and in the analytics dashboards.
Product cataloging in Magento is also more enriched with the help of attributes and annotations. You can add unlimited amounts of attributes to all the products in your store with Magento's catalog management feature.
6. Payment Gateway Diversity
Magento Commerce offers a diverse range of payment gateway solutions. This diversity makes Magento a top choice for businesses that want versatile payment options and a seamless journey from checkout to fulfillment.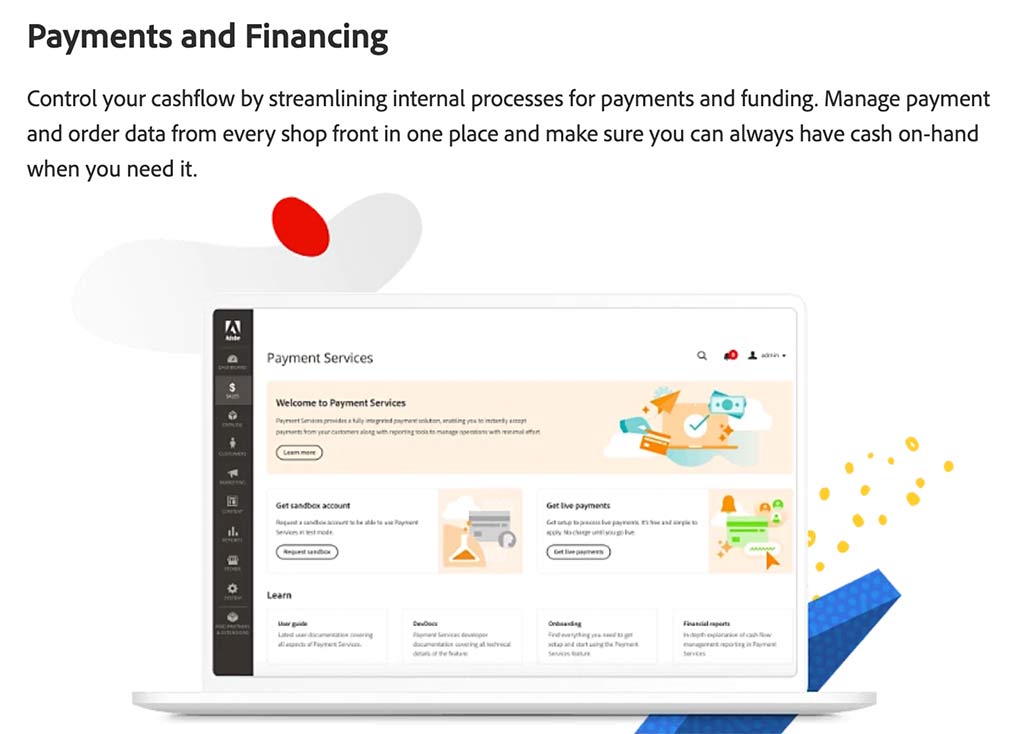 Magento supports popular payment gateways, including Skrill, Stripe, Alipay, SagePay, and Paypal (via Braintree).
Designing the ultimate checkout experience is also possible with Magento. Unlike platforms like Shopify, which retain complete control over the checkout design and functionality, you have options with the eCommerce features available in Magento.
For example, you can do a one-step checkout or a custom checkout process (where you can incorporate upselling or cross-selling promotional elements, for example).
If you would like to learn more about these features, Magento's payment gateway has a clear mechanism[5] that is defined in its documentation.
7. Robust Customer Account Management
Compared with other eCommerce solutions, Magento also excels at helping you manage customer accounts.
You can look at your customers from different lenses within the Magento interface. For example, zoom in on individual customer records for tracking orders and other operational processes. Or zoom out to see critical groupings based on customer or product segments that allow you to craft your campaigns properly.
Since Adobe acquired Magento, interesting business-to-business functionality has also been added. For instance, you can also track company details instead of just individual details.
Moreover, the Magento platform allows you to detect which of your users are online at any given time. With this feature, you can do ad hoc product push campaigns or real-time promotions for those who are already on the website and are close to the checkout process.
In a sense, Magento can combine essential CRM functionality within its dashboard so you can improve conversions in real-time. It's these kinds of powerful eCommerce-specific features Magento users appreciate that they cannot find on other platforms as easily.
[/su_list]
8. Help, Support & Documentation
Perhaps Magento's biggest limitation, which prevents more businesses from using it is the steep learning curve.
The documentation for Magento does not immediately scale the learning curve as fast as other easier frameworks do. As a result, it can be quite difficult to find information and troubleshoot problems you're facing in Magento.
Thankfully, Adobe has invested heavily in its Magento documentation and support. You can visit the Adobe Commerce Help Center to access a range of dedicated support tools and self-service troubleshooting options.
And don't forget that even after Adobe's acquisition, the Magento community still thrives. It has an active user base of generous developers who are able to help or assist with technical issues if you post in the right forums.
Depending on the level of complexity of the problem that you encountered, you can find a wealth of support within this professional community. There are, however, no guarantees for the resolution of any bugs or issues you face.
The official Magento website has a community forum page[6] with nearly half a million users. It allows people to post their common issues and problems with installing and configuring Magento and get help from others.
Other popular non-official channels for finding solutions to Magento problems include general developer forums like Stack Overflow.
Either way, with a little research, you'll be able to find solutions to many of the most common Magento problems that you may encounter.
9. Multi-Site Configuration Options for Big Businesses
If you need multiple product catalogs managed with a shared customer list, the multi-site configuration of Magento may make your website requirements much easier.

It really provides you with the advantage of managing multiple store views in a single admin interface. The simplicity on the management side and the coherence that customers experience with your different product catalogs make it a win-win situation.
If you need to have distinct businesses that may not necessarily be related to each other or websites for different clients, multi-site may not be the best way to go.
Either way, you have the option to customize your admin dashboard no matter how many businesses and websites you are managing. Few other eCommerce solutions are this versatile!
10. Secure Handling Of Sensitive Information & Data
The good thing about Magento is that it encrypts all the information from transactions and customer accounts. It has a built-in encryption and decryption protocol which allows the masking of sensitive information like customer and payment details.
You won't be able to find in-built encryption in other eCommerce CMS platforms, like WordPress, that do not natively encrypt the information.
It's worth noting that the level of additional security provided for your website depends on the Magento hosting provider you have selected.
Typically, reputable companies that specialize in hosting Magento websites are already Level-1 PCI compliant and securely handle sensitive information and data. However, you may face limitations with what kind of extensions you can use in order for your store to remain PCI compliant.
For instance, with Adobe Commerce's cloud-hosted infrastructure, you are not allowed to install third-party apps on your Magento site. This is because in order to maintain its PCI compliance, Adobe cannot guarantee the PCI compliance of 3rd part applications.
Most people get by without any problems as the secure handling of website data is critical.
11. Unparalleled Scalability for Online Stores Of All Sizes
You need a website that constantly grows with you, and Magento allows you to do exactly that.
First, in order to scale up, you will need comfortability with accessing your website's logs in order to test new functionality, troubleshoot problems and see how the website is being accessed.
If you follow the best practices in hosting Magento, you can see logs similar to what is available in Adobe Commerce, as detailed in the documentation[7].
You also need to monitor the performance of your database connections in Magento. For example, suppose you are using cloud services like Amazon Web Services.
In that case, you can build a load balancer and content delivery network to improve the website's performance and adjust when the traffic explodes during sales or for unknown reasons.
To host giveaways and sales for large audiences, you must invest in scalable infrastructure so your website doesn't crash during a peak period.
However, scalability on Magento is also about far more than the technical server capabilities. For instance, there are no limitations to how many products, customers, accounts, or websites you can manage in a Magento store.
Nor is there any limitation to the types of eCommerce solutions you can build with Magento's infrastructure. Thanks to its versatile scalability, the world is your oyster, and you can make anything you can dream of!
12. Magento's SEO Performance
Having a robust eCommerce website is not enough to grow a business these days. You need to make sure that it's optimizable for success by allowing your target customers to discover your brand online. That's where search engine optimization (SEO) comes in.

Some website frameworks are lightning-fast, but they sacrifice features like SEO capability. That is not the case with Magento.
With Magento, you can easily do the usual things that establish the foundations for SEO, like:
Meta tagging
Sitemap building
On-page SEO optimizations
Adding rich snippets
SEO-friendly URL structure
You can ensure all SEO details are optimized for each product or collection in your store. This is the run of the mill for most SEO extensions, even in other content-heavy frameworks based on PHP, like WordPress and Drupal.
However, Magento also specializes in providing image optimization features which are critical for online stores and eCommerce businesses in general.
Images contribute directly to your store's conversions. People are usually drawn to the visual qualities of most products when they are considering which product to buy. Images are also the basis for ranking in image-based search engines and can be input for advanced algorithms like recommendation engines that are powered by machine learning.
For more advanced technical SEO optimization tactics, there may be additional extensions required and will need the assistance of a Magento developer to build out and connect. No platform is truly SEO-friendly out of the box anyway, not even WordPress.
So knowing how to make your Magento website friendly for search engines is not too big of a leap from doing the same on any other platform. The technical difficulty is simply navigating the Magento ecosystem and knowing which Magento extensions are needed.
---
What We Don't Like
Despite The robust and versatile features of Magento's infrastructure, there are also some critical limitations you need to consider.
1. Customer Service Is Not Too Responsive
Although Magento has a strong network and community of professional developers, it doesn't have responsive customer support.
This means you'll often be left to your own devices to resolve issues that you can't find solutions to in forums and the online documentation provided by Adobe.
2. No Love for Rewards Systems
Magento's product inventory and cart journeys are on point, and pricing rules for discounts are good. But rewards incorporation is likely going to be an uphill climb.
Other platforms, like Shopify, are better able to manage rewards systems and affiliate systems easily. Even eCommerce plugins for WordPress websites are able to handle affiliate codes fairly quickly.
But Magento leaves much to be desired in its rewards system capabilities. If you want a rewards program established, you will need to custom code it or find the right extension that matches your requirements.
3. Limited Developer Talent Pool
As mentioned, it is quite difficult to learn Magento's features. In addition, it is not very simple to navigate, and the dashboard cannot be described as intuitive by any measure.
However, there are also considerably fewer developers who can build in Magento. There are around 87,000 Magento developers in the US, so talent is pretty scarce compared to other PHP frameworks like WordPress, Joomla, and Drupal.
Depending on technical skill and exposure, it may require anywhere between 6 months to a year to learn how to navigate and code in Magento for the first time. To learn Magento, you also need to invest in courses available through Magento University.
4. Magento Commerce Pricing
No matter if you deploy Magento Open Source or Magento Commerce, you will have a considerable cost to consider.
Magento Open Source allows you to access the Magento installation for free; however, you must also cover Magento pricing costs for hosting and extensions separately.
With Magento Commerce (aka Adobe Commerce), you will incur yearly fees, which include hosting and additional native features. For Adobe Commerce, the price range is between $22,000 to $125,000 per year, with a license for Adobe Commerce Cloud reaching as high as $190,000 per year.
In either case, Magento pricing is simply hard costs for the software stack you choose to run with. You'll also need to consider the costs for at least one full-time senior developer to maintain your online store.
Magneto's Pros
Jam-packed with powerful features
The structure allows for limitless extensions implemented by a skilled PHP developer
More secure compared to other open-source frameworks
Great fit for eCommerce use cases compared to other generic website frameworks
Uses PHP programming language, so it's highly compatible with most hosting options and cloud services
Generous commercial theme options are available via Theme Forest
Magneto's Cons
The learning curve is very steep
Talent is scarce for expertise in Magento
Magento developers are expensive due to the demand
Magento Commerce has large overheads and yearly bills
The documentation does not provide any beginner-friendly options
User experience leaves much to be desired since there are so many moving parts in the admin panel that it can paralyze you visually when you are new
---
Frequently Asked Questions
Given how many people are checking out Magento, we get many frequently asked questions about it.
We curated some of the most popular questions we get on Magento here for easy reference.
What Is The Difference Between Magento 1 Vs Magento 2?
The difference between Magento 1 and Magento 2 is in that Magento 1 is an older version of Magento, and Magento 2 is the newer version. If you are reading this, most likely, you are migrating to Magento 2 or opening a fresh site using Magento 2.
Magento 1 websites had many page loading issues, longer checkout steps, fewer payment gateways, and ran on older PHP versions.
Magento 2 is powered by the Zend framework and operates on later versions of PHP. It has also addressed a number of the above issues present in the Magento 1 framework.
All in all, there is not much issue here except that if you are considering a Magento website for the first time, get Magento 2 since this is the updated and currently supported framework.
What Is Magento Open Source?
Magento Open Source is a self-hosted version of Magento that contains the core components of the proprietary Adobe Commerce. It requires the assistance of a very skilled Magento web developer in order to set up.
Magento Open Source was formerly known as the Magento Community Edition platform.
The community edition is quite generous, but it does not contain some advanced features from the proprietary Adobe Commerce like B2B functionality, advanced marketing tools, and visual merchandising.
Who Owns Magento Now?
Adobe owns Magento now. It is yet unknown how this may affect Magento, however, you can be certain that the outcome will be positive.
Which Language Does Magento Use?
The programming language used by Magento is PHP.
Is Magento Better Than Shopify?
Magento is better than Shopify if you have the know-how. Both Magento and Shopify are good picks for an online store, but they operate in quite different ways.
Magento is a great option if you have the know-how and means to construct a website from scratch. The e-commerce platform Shopify is a good option if you want something that's almost finished and ready to go.
---
Is Magento Useful for Ecommerce Stores in 2023?
All things considered, Magento is totally worth pursuing eCommerce businesses that require versatility and scalability. Therefore, our rating is a solid 4 out of 5 when it comes to Magento's suitability for eCommerce.
However, as you no doubt noticed in our Magento review, there is room for improvement with its beastly learning curve and the large expense that is required to build and maintain a Magento website effectively.
If you are willing to scale the learning curve and get past the newbie curveballs, you will find this to be a powerful ally to bringing in leads to your eCommerce business, and you will not need to re-platform in the future when your business grows.
If you want start with Magento, you should also check out our guide on best Magento Hosting Services.