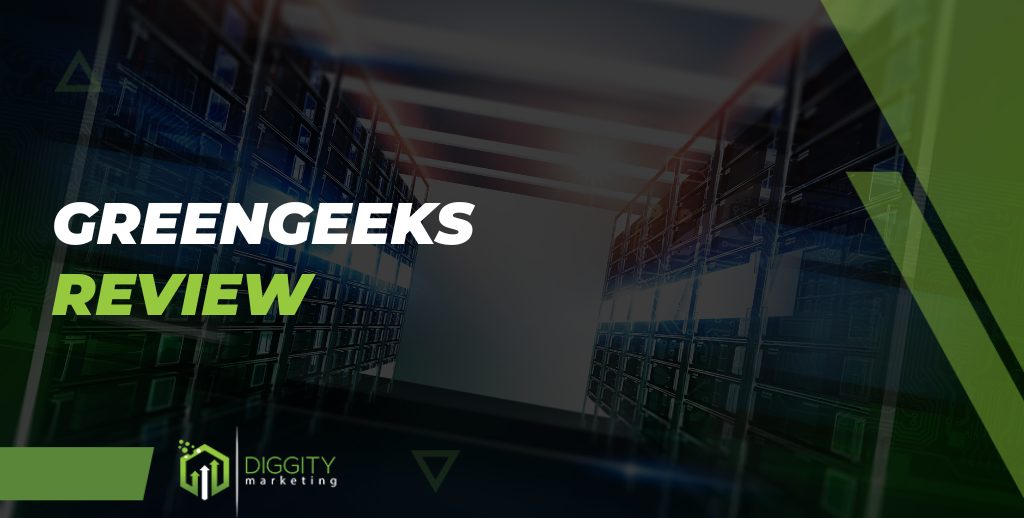 While many web hosting providers are out there, few can offer you the services and features needed for your website.
As a web hosting expert, I have used GreenGeeks and its features several times, and given my years of experience, this is one of the best web hosting platforms.
In this GreenGeeks web hosting review, I will reveal everything you need to know about the platform and how to use it to set up your website.
GreenGeeks Overview
GreenGeeks is a web hosting platform founded in 2008 to provide web hosting services to small businesses while contributing positively to the environment.
Over time, this platform has witnessed over 55,000 customers, hosted 600,000 websites, and over 615,000 kWh per year of energy replaced.
GreenGeeks was designed with energy efficiency in mind; it is optimized for maximum use and makes the utmost use of resources.
A tree is planted for every hosting account created on GreenGeeks, as it is proof the company supports reduced carbon footprints and clean energy resources.
Our Rating
Load time: 4.2
Support: 4.4
Disk space: 3.8
Security: 4.8
Pricing: 4.5
Free Migration: Yes
Pros
Has an unlimited web space

Comes with free data backup and restore functionality

Provides real-time security scanning

Provides eco-friendly and shared hosting
Cons
No website staging

SSL certificate is not activated automatically
---
How Does GreenGeeks Work?
GreenGeeks works with the Bonneville Environmental Foundation (BEF) to offer eco-friendly services because it believes that the internet is a large polluter of the environment.
Essentially, a 300% energy match allows GreenGeeks to be able to promote environmental sustainability while at the same time offering web hosting services.
It provides people with professional web hosting services worldwide.
---
Features
The GreenGeeks website boasts quite a fantastic array of features, which include the following:
1. SSD Storage Arrays
GreenGeeks provides solid-state RAID-10 storage arrays for fast page loads and maximum redundancy.
2. Best Speed Technologies
This platform can offer you some of the best speed technologies, such as LiteSpeed, LSCache, MariaDB, HTTP/2, PHP8, and a free CDN.
Also, you should focus on using a server close to your target audience if you want a solid page load speed.
To help with this, GreenGeeks offers six server options: Chicago, Phoenix, Toronto, Singapore, Montreal, and Amsterdam.
3. Built-In Scalability
GreenGeeks is highly scalable, as you can easily scale computing resources and upgrade your hosting without glitches.
4. Advanced Security
This web hosting provider is known to offer some of the best security services around, and you can be certain that your website will be well-secured.
It offers free SSL certificates and ID protection to ensure your data is well-secured [3].
5. SSL Certificate
GreenGeeks offers a premium SSL certificate (for sites conducting business or transmitting sensitive information) and a free SSL certificate (for sites not conducting business or transmitting sensitive information). 
6. 24/7 Support
With GreenGeeks' support and customer service, you can have all your feedback and complaints promptly attended to as they are available round the clock.
---
GreenGeeks Benefits
GreenGeeks offers amazing benefits to its clients worldwide, which include the following:
1. Fully Featured Web Hosting Services
Having used GreenGeeks dedicated hosting service for a while, I realized that this platform offered me some benefits I could not get from other web hosting providers.
With GreenGeeks, I got unlimited space and bandwidth, up-to-date scripts and email services, VPS hosting,  free domain registration, and much more, making it easier to get my website done.
2. Provides A 99.9% Uptime
GreenGeeks is a rare web hosting platform offering a 99.97% to 99.9% uptime range, making it a great choice for starting a website [4].
I have never experienced downtime with this platform, which is a major benefit for website building.
I didn't lose any of my clients, nor did they complain of site downtimes at any point in time.
3. Top Tier Green Web Hosting
GreenGeeks offers "green" web hosting, which you don't see with most web hosting providers. The US environmental protection agency has officially recognized the platform as a green power partner since 2009.
Their web hosting services are eco-friendly, which is a major plus considering that my website will use 300% wind energy, making its carbon footprint negative.
4. High Speed And Performance
GreenGeeks provided my website with high speed and performance, sending my website files to clients quickly and seamlessly.
In this age of wider reach and multi-device connections, operating at high speed is necessary, which GreenGeeks does quite well.
---
Downsides
GreenGeeks, for the most part, is an excellent web hosting provider. However, there are still some negatives, which hopefully will be rectified sometime soon.
For example, GreenGeeks does not have Windows server hosting services, and its hosting options for dedicated and VPS accounts are quite expensive.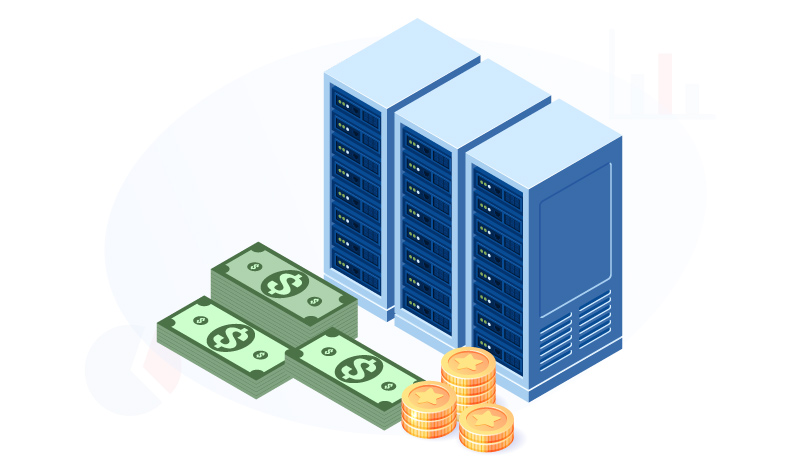 Also, GreenGeeks does not have 24/7 phone support, but you can still contact their customer care via other means, such as online chat support.
---
How To Use GreenGeeks
To use GreenGeeks, you first have to create an account with them. You will receive a thank you email and an information email containing your account overview and log-in details.
You will get a domain registration email if GreenGeeks is registering a domain name for you and an invoice email that contains the package and price details.
Once your domain name and email account are ready, you can build your website. You can use GreenGeeks' in-house site builder, powered by Sitepad.
You can install WordPress and use the free migration service offered by GreenGeeks if you have a website or upload files using FTP or File Manager.
Then you set up your billing preferences. With this, you can view your billing invoices, manage your renewals, change the term length of your hosting plan, and update your credit card information and contact email address.
Once all of these have been done, you can log in and begin using the platform fully.
GreenGeeks has provided some tutorials, a knowledge base, a help desk, and a support chat, which you can use to familiarize yourself with the platform.
---
GreenGeeks Pricing
GreenGeeks offers different pricing plans for each of the services that it offers.
This provider offers WordPress hosting, WooCommerce hosting, Reseller web hosting, and Virtual private servers.
For WordPress and WooCommerce hosting, there is the lite plan, which comes at a price of $2.95 per month; the pro plan, which comes at a price of $4.95 per month; and the premium plan, which comes at a price of $8.95 per month.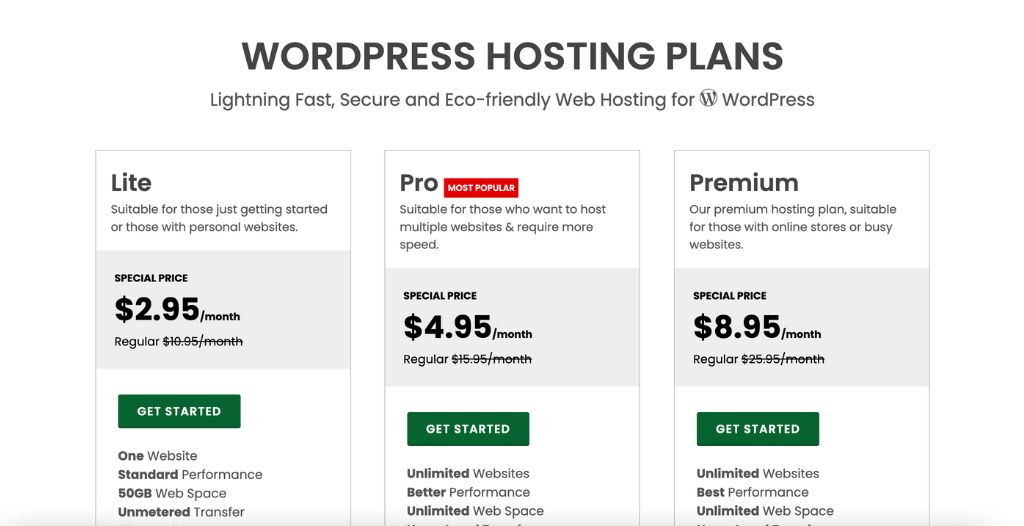 For reseller web hosting, there is the RH-25 plan, which starts at $19.95 per month with a prepaid price of $32.99 per month; the RH-50 plan starts at a price of $24.95 a month with a prepaid price of $44.99 a month; and the RH-80 plan starts at a price of $34.95 a month with a prepaid price of $67.99 a month.
When it comes to virtual private servers, the 2GB plan goes for $39.95 per month, the 4GB plan goes for $59.95 per month, and the 8GB plan goes for $109.95 per month.
All of these plans come with their respective features, so it is up to you to choose which one to go with.
First, it's wise to reevaluate hosting options as the business scales. Using on-premises Web hosting may be appropriate for businesses at certain stages, but utilising cloud Web hosting options will be appropriate at other stages. Second, Web developers should constantly evaluate their code and keep it lean to avoid unnecessary data traffic. Ideally, this will be institutionalized in a cadence.
– Roland Polzin, Founder of Wing Assistant
---
User Testimonials
---
Comparing GreenGeeks to Bluehost, A2 Hosting, And InMotion
GreenGeeks is a widely known web hosting provider that competes favorably with Bluehost, A2 Hosting, and InMotion.
GreenGeeks vs. Bluehost
GreenGeeks offers unlimited disc space, while Bluehost only gives you 50GB of disc space, which is insufficient  to build a decent website.
However, Bluehost is more affordable than GreenGeeks, with its starting price of $2.75 per month compared to that of GreenGeeks at $2.95 per month.
GreenGeeks vs. A2 Hosting
A2 Hosting doesn't offer free domains, unlike GreenGeeks, so it can be quite an investment for a beginner.
GreenGeeks is also more reliable and operates at faster speeds, which is the key to successful website building.
GreenGeeks vs. InMotion
InMotion does not offer free domains as GreenGeeks does. However, it is still more affordable than GreenGeeks, with a starting price of $2.29 per month compared to GreenGeek's starting price of $2.95 per month.
GreenGeeks also has better features and is much easier to navigate, which is why people usually choose it over InMotion.
One way a business can decrease its web hosting costs is by choosing a web hosting company that offers a discounted price for committing to a longer contract. For example, businesses that commit to a 36-month contract may receive up to a 50% discount on regular pricing.
– Dragos Rus, Co-Founder of WeSupply Labs
---
Frequently Asked Questions (FAQs)
How Do I Choose The Best Web Hosting Plan?
Choosing the best web hosting platform to go with depends on your business needs. If you run a large business, you will require a higher web hosting plan simply because you will need a large website. The reverse is also true if you need a small website for a small business.
Is GreenGeeks Good for the Environment?
GreenGeeks is good for the environment because the platform plants trees for every carbon emission they give off. They try to be as energy efficient as possible to promote environmental sustainability.
How Much Does GreenGeeks Cost?
GreenGeeks costs $2.95 per month for the lite plan, but there are other higher plans if you want to use its advanced features and services.
Does GreenGeeks Use cPanel?
GreenGeeks uses cPanel since it is a leading cPanel web hosting provider that offers you fantastic features at a reasonable price.
---
Do We Recommend GreenGeeks?
GreenGeeks is a top-tier web hosting platform that provides the web hosting services needed for your website.
Getting your existing or new website published can sometimes be a problem since you have to worry about uptime, servers, etc.
However, if you want a platform that can move all your sites and emails quickly, I recommend using WPX. WPX has expert WordPress features that can move your sites, emails, and other information to it within 24 hours without you having to pay a dime.
Check it out today and get a web hosting platform you can count on to complete the job seamlessly.
Our #1 Recommendation: WPX Hosting
Use coupon MATT90 to get 90% off your first month