Dedicated and virtual private servers provide better speed and reliability. Still, they are harder to maintain when the provider does not offer managed hosting service.
As a digital marketing expert with over a decade of experience, I have a deep understanding of web hosting services and have used Cloudways to launch websites.
In this Cloudways review, I will guide you on how it works, its best features, benefits, and downsides. I'll also discuss its pricing, user reviews, and comparison with similar products.
What Is Cloudways?
Cloudways is a managed web hosting service provider that supports PHP-based applications. It launched in 2010 in Mosta, Malta, before Digital Ocean acquired it in 2022.
This platform allows you to create and launch your website in minutes and manage it easily.
The applications that it supports include WordPress, PHP, Joomla, Laravel, Magento, and Drupal. It also works with cloud hosts like DigitalOcean, Amazon Web Service, Google Cloud, and Linode.
---
How Does Cloudways Work?
Cloudways works by allowing users to host, update SSL security components, scale, migrate, and perform staging and cloning under one roof.
Its Unique optimization tech, Thunderstack, combines features from different server technologies to optimize managed hosting.
---
Cloudways Features
Cloudways has dozens of tools and great attributes. However, I find the custom control panel, Cloudways Bot, Staging and Cloning, Advanced caching, and vertical scaling features most useful. Let's take a closer look.
1. Custom Control Panel
Cloudways provides an intuitive and modern cPanel that lets you manage all your servers, applications, projects, and teams. The applications tab lets you add tools such as WordPress and manage disk usage, domain, SSL certificates, migration tools, etc.
I especially like the one-click SSL installation, which provides free Let's Encrypt SSL certification in seconds. The control panel also enables monitoring of CPU usage and other server settings, such as configuring PHP AND MySQL.
2. Cloudways Bot
This bot is the first smart web hosting assistant in the world. It keeps you updated about the health of your site and server through email, Slack, or an API.
Some alert examples include auto-scaling, bandwidth, and hosting health. It also provides information on the Cloudways platform and its services.
3. Staging And Cloning
Cloudways' staging and cloning feature allows you to test changes before committing them to your website.
I use this feature to deploy a staging area and test changes, so I don't have to worry about introducing detrimental alterations that I can not reverse.
4. Advanced Caching
With a proprietary caching system called ThunderStack, Cloudway combines several server technologies for optimized hosting.
It caches your web pages on various servers in different international locations to increase speed and reliability.
5. Vertical Scaling
This feature allows you to upscale or downscale your server resources with a few clicks. It is a thoughtful option in any subscription plan because it allows businesses to start small and upgrade as they grow.
Moreover, it allows you to reduce your resources during specific seasons.
---
Cloudways Benefits
The benefits of Cloudways include ease of use, account management for teams, superb protection, affordability, free migration, and 24/7 live chat. Here's more on that.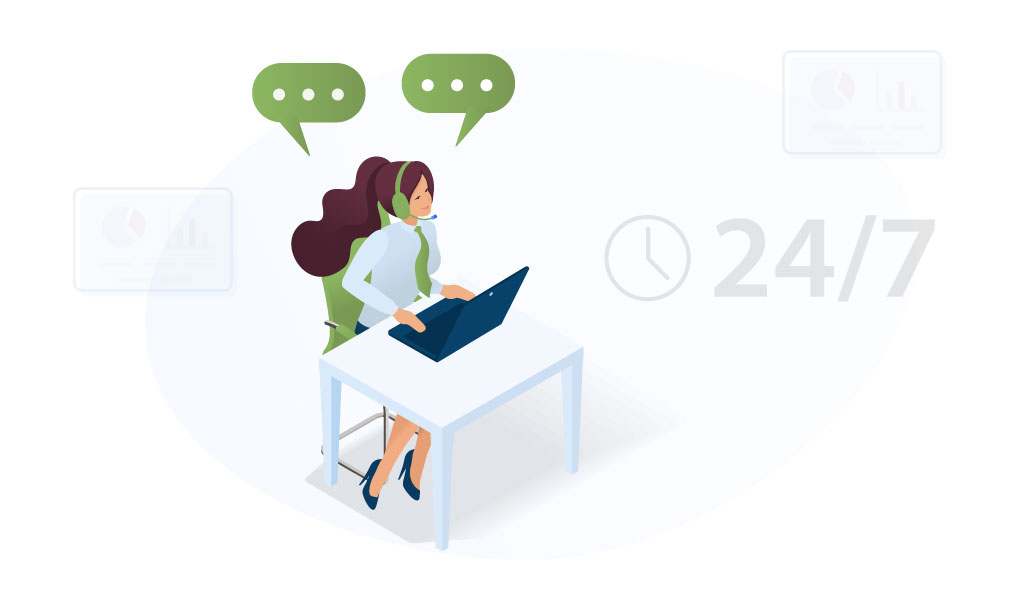 1. Easy To Use
Cloudways goes for straightforward and convenient cloud hosting. It provides one-click backups, restores, and installations. Moreover, it packs many handy tools for easy migration and site testing without traffic disruption.
2. Account Management 
You can create individual accounts for different team members and even restrict their access to key aspects of your servers through Cloudways. It is a perfect solution for teams where members only need to access special sections.
For example, you can let your system administrator work on web hosting settings but restrict your web designers to WordPress files.
3. Security
Cloudways has your back with security features such as:
Two-factor authentication (2FA)

Firewalls

OS patches

Auto-healing servers

Free SSL certificates

Automatic backups
4. Affordability
Cloudway keeps the price plans flexible by tacking hosting onto Infrastructure as a Service (IaaS). You can choose from several cloud providers with various predesigned hosting plans, bandwidth, and storage.
Moreover, Cloudways keeps the plans reasonable through a pay-as-you-go system. It lets you pay for as little as an hour, but you can also opt for a monthly or annual subscription.
5. Free Site Migration
If you don't have the expertise or time to perform site migration, the Cloudways engineers will do it on your behalf. Even better, the company won't charge a penny.
However, it is a one-off free migration deal, so you must learn the trade for your next migration.
6. 24/7 Customer Support
24/7 customer support is the golden standard today. However, making it available for live chat and phone makes all the difference.
I find it easier and faster to get things done via live chat than email, and it helps that Cloudways has an uptime of 99.99%, so I don't have a reason to keep contacting Cloudways support.
Customer service shouldn't be just a department; it should be the entire company.
– Tony Hsieh, CEO at Zappos
Pros
Easy to use

Free SSL certificates

Free Migration

Flexible price plan

24/7 Cloudways support

Account management for teams
Cons
Free site migration is only available once
Our Rating
Load time:

4.8

Support:

4.9

Disk space:

4.9

Security:

4.8

Pricing:

4.7

Free Migration:

Yes
---
Downsides Of Cloudways
Cloudways' downsides include the one-off free site migration, which means you'll have to learn how to do it if you change servers more than once. However, the site provides straightforward migration tools and learning materials to guide you.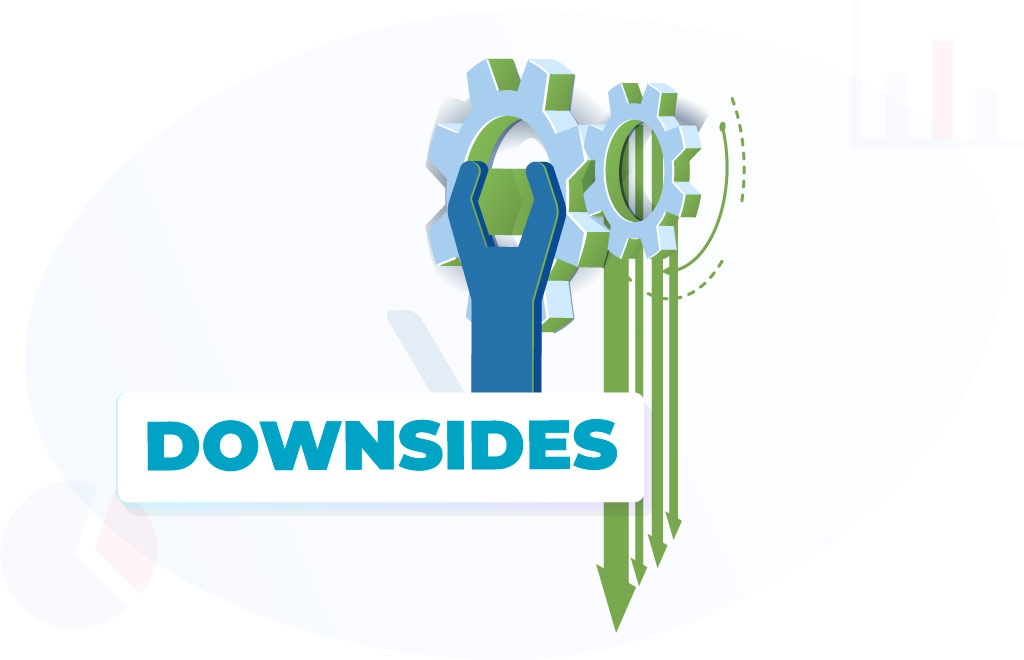 ---
How To Use Cloudways?
Getting started on Cloudways begins with the usual sign-up process. You enter your name, email, and password.
The form also asks about your business's nature and monthly hosting budget to recommend a specific plan. Once inside, you can subscribe immediately or continue using the limited free version.
You first want to deploy an application like WordPress or Magento. Next, you can choose your hosting provider, server's geographical location, and resources.
Now that your site is all set up, you can explore other Cloudways tools via the two main tabs on the dashboard; servers and applications. For example, you may do the following in the server's dashboard:
Monitoring

: keep track of your server's resources

Backups

: automate backups for your entire server

SMTP

: set up transactional emails at the server level

Vertical scaling

: increase or decrease your server's resources
On the other hand, clicking on the Applications tab provides a list of all your sites under Cloudways. Each site comes with a dashboard that provides access to site-specific details and tools, including:
Access credentials for WP admin, MySQL, FTP, etc.

Setting up cron jobs

Associating domains with your site

Deploying your site via Git

Managing backups

Installing free SSL certificates
---
Cloudways Pricing
Cloudways has many multiple pricing plans depending on the server you choose and the resource allocation for that server. For example:
DigitalOcean

: starting at $11/month or $0.0153/hour

AWS

: starting from $38.56/month or 0.0536/hour

Google Cloud Platform

: 37.33/month or 0.0518/hour
These basic plans also come with 2 GB of bandwidth, 10 GB of application storage, and 10 GB of database storage. You can scale up to 500 GB of bandwidth and terabytes of storage space.
---
Cloudways User Testimonials
If we do run into a problem or we have a question, the support team is far superior compared with other platforms we've used. They are helpful, polite, easy to communicate with, and most importantly, I always feel like I am working with Tier 1 support. I recommend Cloudways!
– Sandy, TrustPilot

I have been using Cloudways for a short time, and I am really satisfied with their service. The Cloudways control panel is easy to use and provides many useful features for server management. The speed and stability of their servers are excellent, and there are no issues with waiting times or downtime during usage.
– Sarah, TrustPilot
---
Cloudways Comparison With Other Products
I tested three other cloud hosting providers that compete with Cloudways, including Hostinger, Scala Hosting, and WP Engine. Let's see how they are fair.
Cloudways vs Hostinger
Hostinger is a web hosting provider with many features and good performance. It is also one of the cheapest, beginning at as low as $2.99/month for shared hosting or $9.99/month for cloud hosting.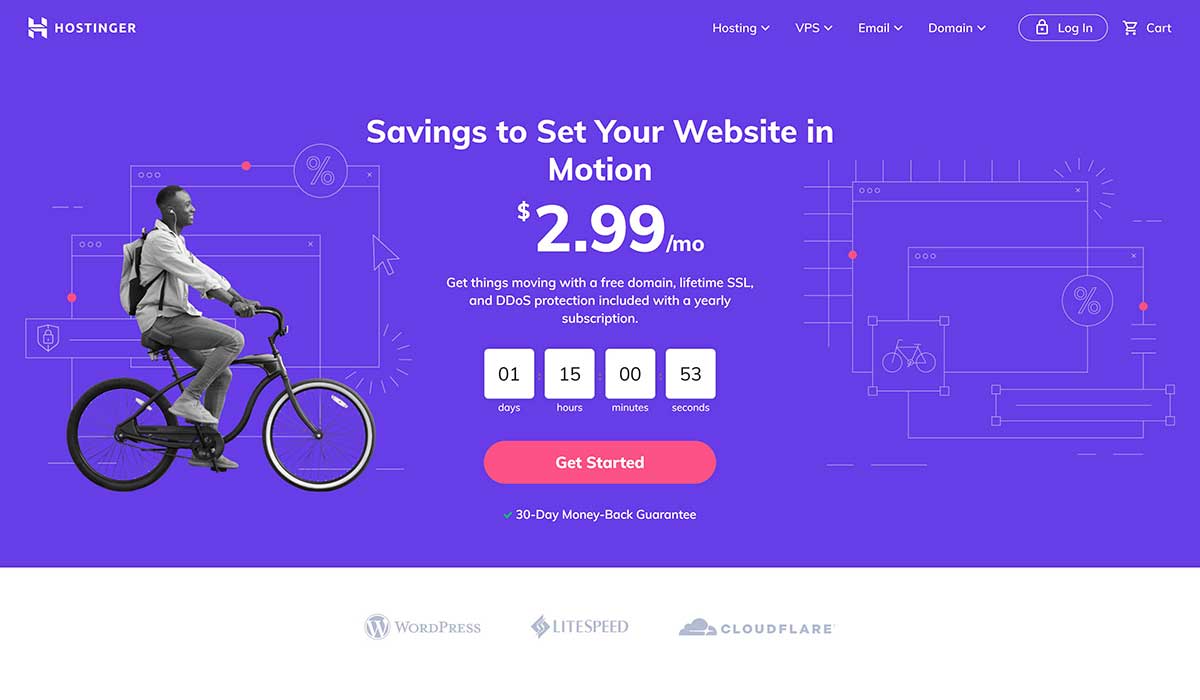 I established that the two balance out as the scales of security and performance go. They both have an effective CDN and multiple layers of security.
Hostinger also offers shared hosting in addition to cloud hosting, which Cloudways does not. Still, Cloudways provides fully managed services, while its counterpart only has semi-managed hosting.
However, Cloudways has more cloud servers and offers more advanced features. These advanced features include 1-click server cloning, auto-healing servers, and Cloudways Bot.
I also find Cloudways' customer support superior.
Cloudways vs Scala Hosting
Scala is a managed cloud hosting platform, just like Cloudways. It has an integrated cPanel. It also provides 24/7 support and has multiple security layers.
The CDN is not bad either, although it uses Cloudflare's free services, while Cloudways has its own CDN.
As far as migrations go, both platforms have unlimited migrations. Still, Cloudways does better by providing free migration services for the first time.
I also find Cloudways pricing plans more convenient. They start lower and have more options. Conversely, Scala hosting starts at $29.95, which is too steep.
It does not offer wholesale purchasing options either. Cloudways also performs better when you factor in scalability, uptime, and site speed, which are vital considerations.
Cloudways vs WP Engine
WP Engine is a WordPress shared web hosting provider with cloud capabilities. It provides excellent performance and ease of use, much like Cloudways.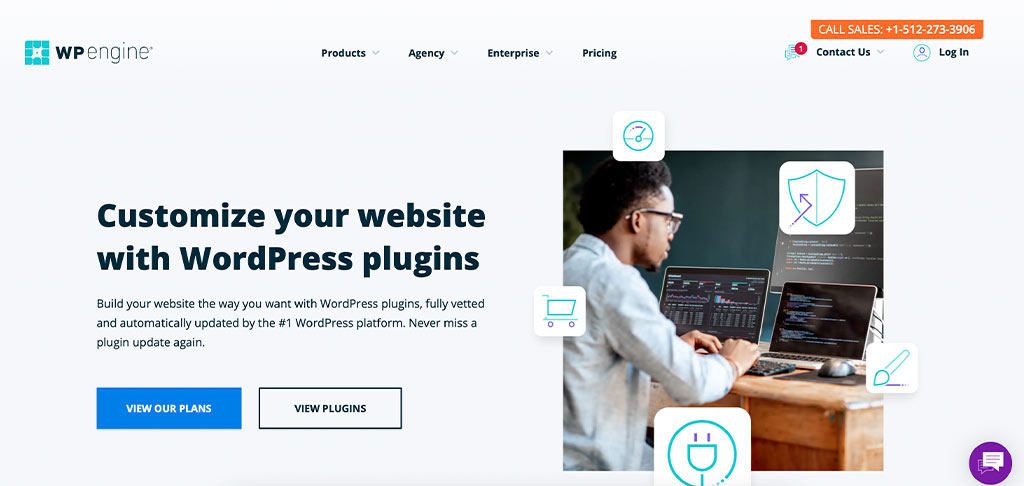 This platform also manages your server and WordPress installation while handling all your core and plugin updates.
You also get an extra WordPress feature, the Genesis Framework. It offers a convenient drag-and-drop interface for WordPress sites, simplifying website building.
However, I find Cloudways the superior managed web hosting provider in several vital aspects. For one, it has a higher uptime at 99.99%.
Cloudways also has triple the number of server locations and infrastructure partners. Not forgetting, it has flexible and affordable price plans, while WP Engine's plans are more rigid and steeper.
FAQs
Does Cloudways Offer A Free Trial?
Cloudways offers a three-day free trial, which does not require any credit card information. Additionally, the platform does not charge immediately when upgrading your account but rather in arrears.
Which Hosts/Servers Can I Use With Cloudways?
The hosts and servers you can use with Cloudways include DigitalOcean, Amazon Web Service, Google Cloud, and Linode.
Is Cloudways Worth Your Time?
Cloudways stands out as a top-tier cloud hosting platform, earning our wholehearted recommendation. With its user-friendly interface, seamless scalability, and support for multiple cloud providers, it empowers businesses of all sizes to optimize their online presence.
Whether you're a seasoned developer or a non-tech-savvy entrepreneur, Cloudways proves to be an ideal choice, offering flexibility, reliability, and cost-effectiveness in one comprehensive package.
Embrace the power of Cloudways today and elevate your online performance to new heights.
Our #1 Recommendation: Cloudways