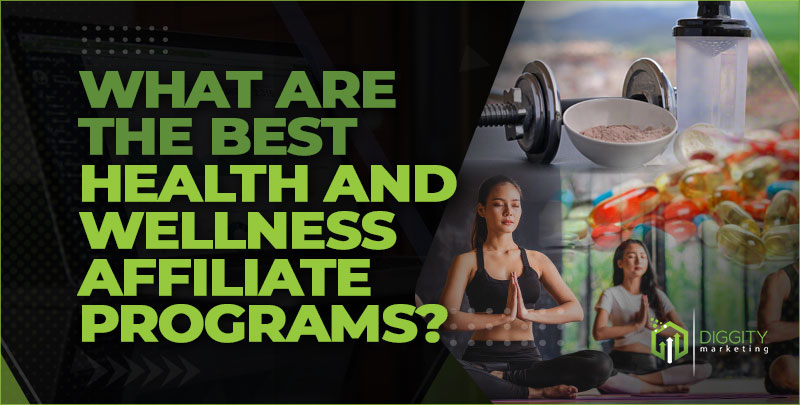 Did you know that the global health and wellness industry is currently worth US$4.5 trillion?
It's no wonder that so many people are interested in getting a slice of the action by promoting profitable health affiliate programs.
The beauty of health affiliate marketing is that it is an interesting and profitable vertical with a surprisingly broad range of sub-niches. You'll find great opportunities tucked away inside it, and it's entirely possible to earn up to $75 per sale.
To help you make the most of this thriving industry, our team of seasoned Affiliate Lab members, who have years of hands-on experience and remarkable ROI growth in the health niche, have collaborated to bring you the best insights and recommendations.
Together, we've compiled a list of the 10 best affiliate programs that are perfect for the average affiliate marketer.
1. Fanfuel By Wolfson
Fanfuel/Wolfson Brands is a UK-based health and fitness company whose mission is to inspire people to bring about positive change in their lives.
This company has far more depth to it than a clever sound bite.
Wolfson Brands created each of its supplements to target a very specific need for either fitness or general wellness.
For example, XYZ Collagen helps reduce the signs of premature aging by tightening and firming skin. NooCube, on the other hand, is designed to boost your cognitive function – yes, kinda like the pill from the movie "Limitless".
Their range contains many other nutraceuticals created to tackle other health and fitness challenges like losing weight, packing on more muscle, or even preventing hair loss.
So that gives you a broad selection of quality products to promote to several audiences, from hair care to bodybuilding, for example.
How does their commission rate compare to the other wellness affiliate programs here?
This affiliate program starts at 40% for their health supplements.
And on that note, Wolfson Brands pays its affiliates recurring commissions on every repeat order.
For life.
This means you can enjoy a reasonably predictable affiliate income and the financial stability that goes along with that, which is something all affiliate marketers want.
Why You Should Promote Fanfuel
They're a fresh and exciting wellness products brand with a range of high-quality nutraceuticals suitable for a large audience, backed by a mixture of influencers and top athletes.
They have the type of social clout that can influence how and where health enthusiasts spend their cash.
Commission: At least 40% per sale
Cookie Duration: 90 days
Payment Methods: Bank transfer, PayPal, wire transfer, and Payoneer
Products: Nutraceuticals and other supplements
---
2. MoreNiche
MoreNiche is another affiliate network specializing in the health niche, something they've done since 1999.
Their business model is similar to that of Market Health.
But where they're different from other health affiliate programs is that MoreNiche represents health supplements from separate merchants.
MoreNiche offers are more limited in number. But this also means they're more focused, specializing in bodybuilding supplements, weight loss products, teeth whitening solutions, and more adult-oriented items.
With that said, what they pay in commissions makes up for a more limited range of affiliate offers.
This health affiliate program also guarantees affiliate payments, so your net-15 payout isn't affected even if the merchant hasn't paid MoreNiche, giving affiliate marketers more security.
A bonus is that "Vouchercode affiliates" are not allowed[1] to operate on their network. These are the guys and gals who rank for "product coupon", "product discount", or "product voucher" type keywords, but nothing else. The result is an affiliate program safe from scams.
Furthermore, not competing with these types of affiliates means you'll earn your full commission on every referral.
MoreNiche also appears to have a slight edge over other programs or networks because they're proactive about working with bloggers, YouTubers, and other social media influencers as traffic sources.
They're also one of the few affiliate networks we've seen so far to offer payment via cryptocurrencies.
So that tells you they're thinking ahead of the game.
Why You Should Promote MoreNiche
They offer a focused range of supplements and beauty products with commission rates that pay as much as some credit card affiliate offers  
As these are known to affiliate marketers as some of the most lucrative offers, you can see the appeal of having such a rate associated with health affiliate programs.
Commission: Up to $50 per sale
Cookie Duration: Lifetime
Payment Methods: Wire, Skrill, Bitcoin, Paxum
Products: Health supplements
---
3. Market Health
Market Health is something of a hybrid in the world of health affiliate programs – it's an affiliate network that promotes its product range.
This offers several benefits to you as an affiliate marketer.
The first of these is that Market Health revise its offers based on what's working in the market right now.
So that eliminates the guesswork involved with certain health and beauty affiliate programs.
You also only have to deal with one central source of health and wellness products to promote.
One that supplies health products ranging from teeth whitening to colon health and weight loss products to pet health.
This is only an overview of their entire product line – it spans 200 items in total, available in 100 different countries.
The fact that they manufacture their supplements means you don't have to deal with multiple affiliate managers, program terms, and all the associated paperwork and headaches.
Affiliates promoting their health offers can choose from CPA or CPS payouts.
Their CPA offers range from $20 to $75 per sale. On the CPS side of things, you'll earn an average commission rate of 50% on all sales made through your affiliate links.
Why You Should Promote Market Health
They have a wide range of products covering most aspects of the health and wellness niche and better-than-average affiliate payouts.
Commission rate: Varies depending on CPA or CPS offer
Cookie Duration: 30 days
Payment Methods: Bank, check, Wire transfer, and Skrill
Products: Supplements and cosmeceuticals
---
4. Life Extension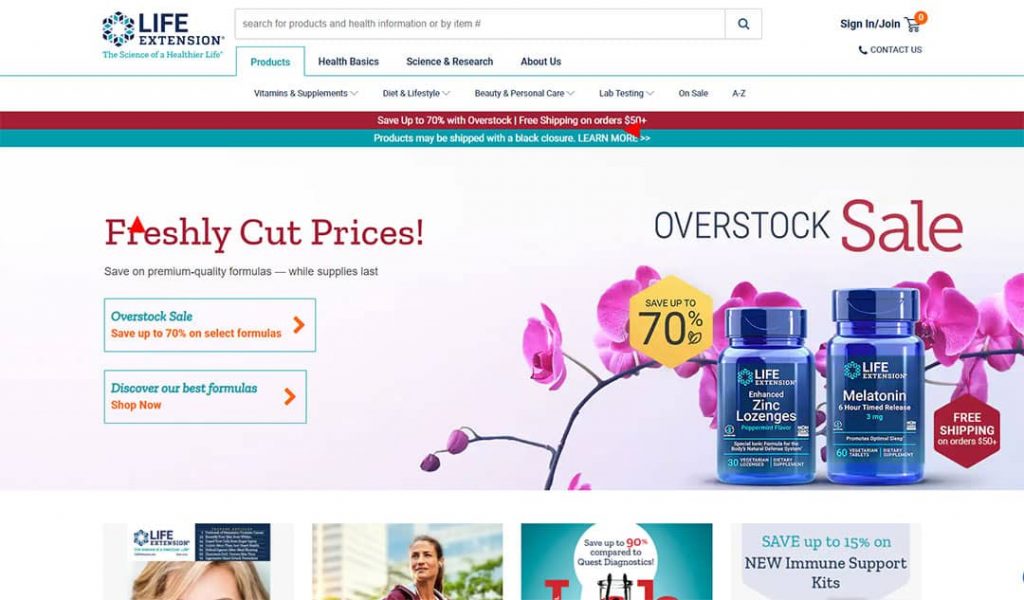 People now live an average of ten years longer than they did 50 years ago, thanks to the role played by improved healthcare and nutrition.
But companies like Life Extension have also contributed to this.
They sell a range of health and vitamin supplements designed to help you look as good on the outside as you feel on the inside.
Each item they sell is manufactured in the United States, but the ingredients are sourced from vetted suppliers worldwide.
Why You Should Promote Life Extension
This is an affiliate program worth considering because you have a huge range of products to promote.
The company has a very strong presence in the health market, and they also offer a tiered commission structure where you can earn up to 12% per sale, which while less than some other health affiliate programs, is still a considerable sum.
Commission: Up to 12%
Cookie Duration: 30 days
Payment Methods: Bank transfer, Payoneer
Products: Health, wellness supplements, and cosmeceuticals
---
5. Fitbit
The next entry on our list of health affiliate programs touches on consumer electronics.
Fitbits are the AirPods of the health and wellness products industry.
When you think "sports tracker" there's typically only one brand that pops into your head.
This works to your advantage as an affiliate marketer.
Their devices almost sell themselves thanks to widespread brand recognition.
All you have to do is leverage your content marketing to connect fans with whichever Fitbit suits their needs.
You should be able to find a ready audience that wants to become the best possible version of themselves.
The Fitbit affiliate program pays a 3% commission on all referred sales.
That might sound small but you're dealing with a mainstream brand which should lead to higher conversion rates for your site, evening out with other health affiliate programs in the end.
Why You Should Promote Fitbit
Fitbit is a market-leading brand in the activity tracker market, which means most of the work of affiliate pre-selling is already done for you.
Overall, this is one of the most convenient wellness affiliate programs out there, as it represents one of the largest health and wellness brands in existence.
Commission: 3% per sale
Cookie Duration: 15 days
Payment Methods: Bank transfer, Payoneer
Products: Sportswear
---
6. Tyent Water Ionizers
Tyent manufactures ionizers that allow you to drink water that's filtered twice to remove impurities, has a more alkaline pH, and is also packed with extra hydrogen molecules.
This results in water that some people have claimed is a healthier option than regular tap water.
Water filtration jugs are a regular feature in most modern homes.
So you're only up-selling an already health-conscious person on the additional benefits of ionized water.
Tyent also ships internationally, so you're not limited to selling to the North American market, unlike with some other affiliate programs.
Now for the really good news – the most hydrogenated water on the planet doesn't come cheap.
A typical Tyent ionizer costs a few thousand dollars.
So you can make a very worthwhile commission from a single referral.
Everyone wins.
Why You Should Promote Tyent Water Ionizers
Tyent has an average order value of $3,000 and pays anywhere up to 30% commission on referred sales. This means you could earn several hundred dollars in commission for a single referral.
Commission: Up to 30% per sale
Cookie Duration: 60 days
Payment Methods: Bank transfer, check, wire transfer
Products: Water filters
---
7. Life Line Screening
And now for something different in the realm of health and wellness affiliate programs.
Life Line Screening is a healthcare company that has provided advanced health screening tests since 1993.
Their blood, EKG, and Ultrasound tests allow board-certified physicians to detect serious health conditions such as stroke, heart attack, kidney disease, cancer, and osteoporosis.
So, one way to pitch this type of health is that their tests are far more advanced than anything offered by a family doctor.
If you're stuck for ideas, a "…prevention is better than cure" narrative should make for compelling content for your health affiliate program.
Life Line Screening tests are also very affordable so your potential audience is anyone who can afford to spend $150.
But the low cost of the tests won't impact how much money you can make.
Affiliates can earn $90 for each successful screening appointment booked, and they have 30 days for their cookie to convert from a lead to a sale.
Why You Should Promote Life Line Screening
At least 40% of all annual deaths[2] from cancer, heart disease, chronic respiratory disease, and stroke are preventable. Becoming an affiliate for Life Line Screening means you could play some small part in preventing such deaths.
Commission: $90 per booked appointment
Cookie Duration: 30 days
Payment Methods: ACH, Check
Products: Health and Wellness
---
8. Diamond CBD
The CBD oil industry in the United States alone has grown from zero to almost $3 billion per year[3] within a decade.
And it's projected to be worth somewhere between US$15 and $20 billion within the next five years.
This is a growth industry…pun intended.
Diamond CBD is one of the leading suppliers of CBD edibles and ointments in North America. They claim to manufacture the 10 most popular CBD items in their respective markets.
These range across CBD gummies, oils, hemp flowers, vape juices, pet health, and even bath salts.
So they have high-quality CBD goodies to suit a wide range of markets, and taste buds, many of which come with excellent reviews.
CBD treatments have become mainstream and are legal in the United States.
So you're no longer trying to appeal to a niche audience, but the tens of millions of consumers who either already use a CBD-based product or are curious about them.
What does this CBD affiliate program have to offer above other health affiliate programs?
You get a 30% commission rate on each product sold through your referral links, which should be music to the ears of most affiliate marketers.
Why You Should Promote Diamond CBD
They have a wide range of very affordable CBD products that are GMO-free, lab-tested to ensure quality, are organically grown and you get a 30% cut of anything you sell.
Commission: 30% per sale
Cookie Duration: 90 days
Payment Methods: Bank transfer, check, wire transfer
Products: Various CBD products
---
9. Brooklyn Bedding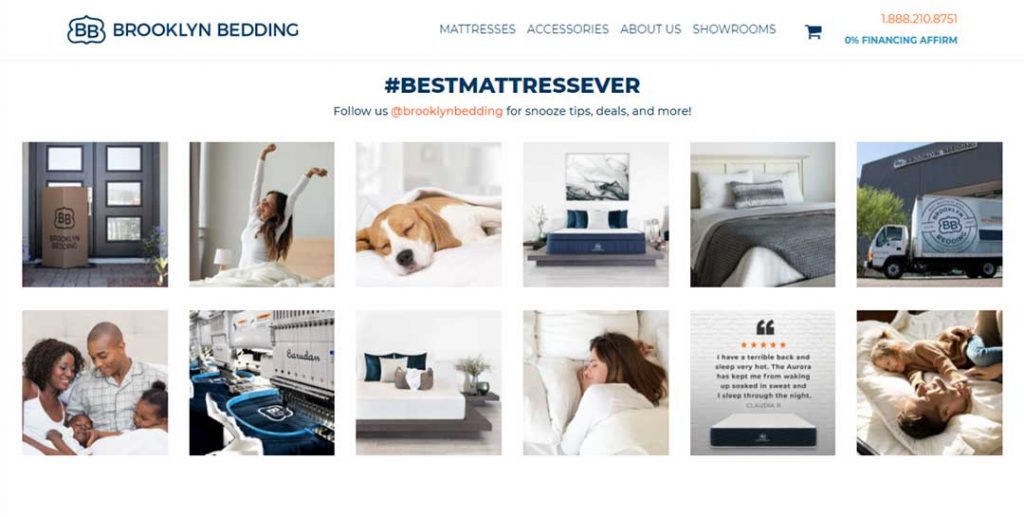 Brooklyn Bedding is family owned and run business that's been around since 1995.
The Eco Sleep mattress is their latest creation, designed to appeal to a more environmentally-conscious audience.
Or just those who want to enjoy a better night's sleep.
Mattresses might not seem like an exciting sub-niche of health and wellness but here are two things to consider:
Consumers are willing to pay a lot of money for the right mattress
Mattresses need to be replaced
So this is a product with both evergreen and ongoing profit potential.
Not sure how to pitch this offer to your visitors?
How about this – not getting a good night's sleep can lead to a wide range of health issues[4] including cognitive impairment, lack of libido, depression, or even a heart attack?
Something for affiliates to pay attention to here is the average order value – it's over $700.
That means you could earn at least $100 per sale – more than you'd earn promoting many financial service affiliate programs.
Why You Should Promote Brooklyn Bedding
This affiliate program taps into two distinct markets – consumers who are willing to spend more to buy environmentally friendly products and those with allergies that prevent them from sleeping.  Both of these are profitable audiences.
Commission:  5% per sale
Cookie Duration: 30 days
Payment Methods: Bank transfer, check, wire transfer
Products: Mattresses
---
10. Mountain Rose Herbs
No roundup of health and wellness affiliate programs would be complete without mentioning the most natural way to help the human body heal itself – herbs.
Mountain Rose Herbs specialize in organically grown dried herbs, herbal extracts, teas, aromatherapy products, and essential oil affiliate programs.
So their product range will appeal to several different blog audiences.
Foodies who want only the freshest herbs for their recipes.
Massage therapists who need organic essential oils instead of synthetic blends
Alternative health practitioners who need non-GMO herbs for their treatments
Or even just homemakers who want their houses to smell good.
Organic herbs and essential oils also have the potential to earn affiliates a lot of money.
A 1 oz. bottle of 'Rose Absolute' essential oil retails for over $200 in the Mountain Rose Herbs store, and you'd earn 10% of that sale.
Mountain Rose Herbs are one of those health affiliate programs with a lot of potential for affiliate marketers with the right mindset.
Why You Should Promote Mountain Rose Herbs
Organic products are very popular in the 18 – 29 demographic but also with the Boomer generation, so Mountain Rose Herbs' products have enough variety to appeal to both. Plus, you can promote any product knowing you're doing your bit to help the planet.
Commission:  10% per sale
Cookie Duration: 30 days
Payment Methods:  PayPal (via AspireIQ)
Products:  Herbs
---
How to Choose A Health And Wellness Affiliate Program
The health and wellness industry is worth over US$4.5 trillion – that's not a typo.
So everyone and their uncle wants to stake a claim.
This is also why you need to be careful about the health and wellness affiliate programs you choose to promote.
Here are some tips to help you make good choices.
1. Check Out Social Influencers
Picking random programs from the Internet could make you a lot of money…but murder your audience engagement levels if the products are duds.
One way to steer clear of this potential problem is to pay attention to the products that health and wellness influencers promote.
How much they can earn depends entirely on their online reputation, so they're likely to have done their due diligence around the affiliate programs they work with.
So, there's no need to reinvent the wheel here – just mirror what successful affiliate influencers are doing right now.
2. Review The Affiliate Networks
Failing that you can always fall back on the affiliate networks that are popular with health and wellness niche publishers.
CJ, ShareASale, and Awin should be at the top of your list, based on our research into who social influencers most often work with.
But there are several others worth considering, including Amazon's Associate Program which is popular with way more affiliates than you might think.
3. Conversion Rate And Commission
It's best practice to promote affiliate programs that offer worthwhile commissions but also have a solid conversion rate. Don't focus solely on how much the offer pays per sale/action.
For example, you'll earn 4x as much from a $10 product that converts at 20% than a $50 product that converts at 1%.
And finally, check out the landing page for the affiliate products you're sending your visitors to.
Does it make you want to whip out your credit card?
If not then why would you expect your visitors to behave any differently?
The quality of landing pages matters a lot more than most affiliates understand.
---
Start Earning With the Best Health and Wellness Affiliate Programs
The affiliate programs featured above are just our top pick of what's available right now.
There are hundreds of others you could work with.
And with more than enough variety to suit most audiences.
Hopefully, you can now see that this niche is far more interesting than you might have expected.
And that there's potential here to make life-changing money while giving your audience exactly what they want.
How far you take it is down to how much lateral thinking you're willing to do.
Not sure where to start?
Well, folks, that's what the Affiliate Lab is for.
I show you how to build, profit from, and then flip affiliate sites. So you get years of experience bundled into my very affordable training course.
Want to Become a PRO Affiliate?
Comprehensive lessons
Niche Grading tool
Step-by-step website building guide
Regular updates


Private Facebook community
Bonus courses
Lifetime course access