The thriving essential oils industry, valued at just under US$20 billion and projected to grow at a 7% annual rate in the coming years, is driven by the rising demand for natural and alternative medicine as well as chemical-free products like soaps. This presents a golden opportunity for affiliate marketers.
To capitalize on this potential, you'll need a selection of high-performing essential oils affiliate programs to promote. In our quest to provide you with the most effective resources, we turned to our Affiliate Lab community, a collective of seasoned and savvy marketers, soliciting their top choices based on personal success and satisfaction.
Discover the essential oils affiliate programs that our members favor and learn which ones can propel your success in this lucrative niche.
1. Organic Aromas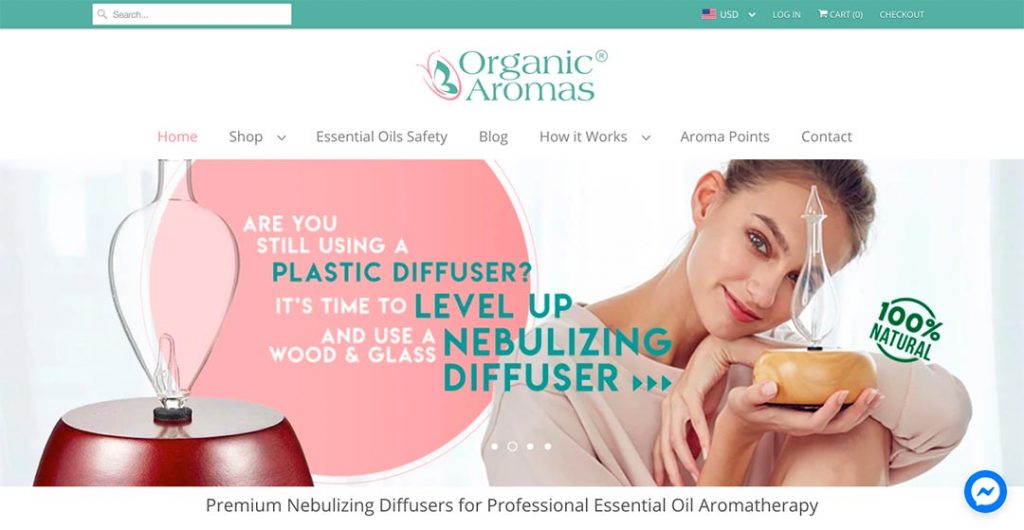 Founded in 2014 by a holistic health professional, Organic Aromas bring something different to the table in the form of oil diffusers.
They do sell high-quality oils, but their product line is split 50/50 between oils and diffusers or nebulizers.
Not only do they sell nebulizers, but they're also the company that invented them.
And they did that to ensure that their customers could benefit more from the use of therapeutic oils than with a standard diffuser.
Their products are affordable, but with a high enough retail price to make it worth your while promoting them.
Their affiliate program is run in-house and has a payment threshold of US$100.
But that shouldn't be too difficult to reach considering their nebulizers retail at around $100 each and affiliates are paid a 30% commission rate.
Why You Should Promote Organic Aromas
Commission: 30%
Cookie Duration: 180 days
Payment Methods: PayPal, check, Moneybookers, direct deposit
Products: Oils and diffusers
---
2. Barefut Essential Oils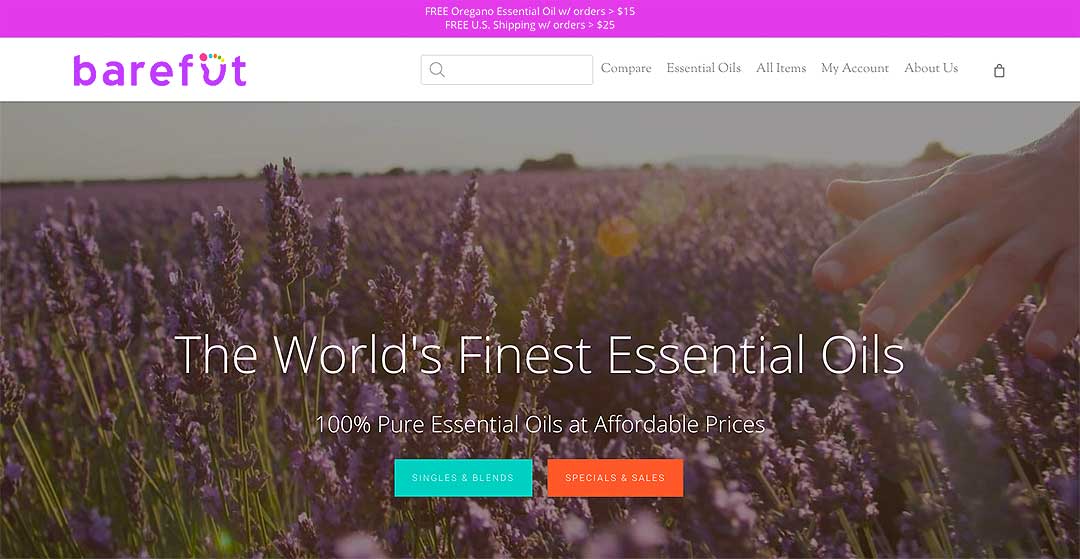 Barefut claims to sell, "the world's finest essential oils", but at affordable prices, from their facility in Utah.
This company was founded in 2010 by aromatherapists who are committed to selling only pure oils, harvested from organic sources and then produced without using chemicals.
What many amateur practitioners don't realize is that cheap oils are often diluted with alcohol and synthetic "filler" chemicals.
This means that you're paying for diluted (non-pure) oil with the risk of an adverse reaction from whatever chemicals are in the blend.
That's why Barefut charges $50+ for 15ml of pure Sandalwood oil while others only charge $9.
Barefut sells a full range of single oils, blends, kid-friendly products, subscription boxes, and even essential oil inspired-jewelry.
This affiliate program pays 20% for each initial referred order, but you also get 10% commission on all future orders made by customers sent through your affiliate link.
Barefut also offers its affiliates a 10% discount on their personal purchases, which is a nice touch.
Why You Should Promote Barefut
Commission:  20%
Cookie Duration: 1 year
Payment Methods: PayPal
Products: Oils
---
3. Rocky Mountain Oils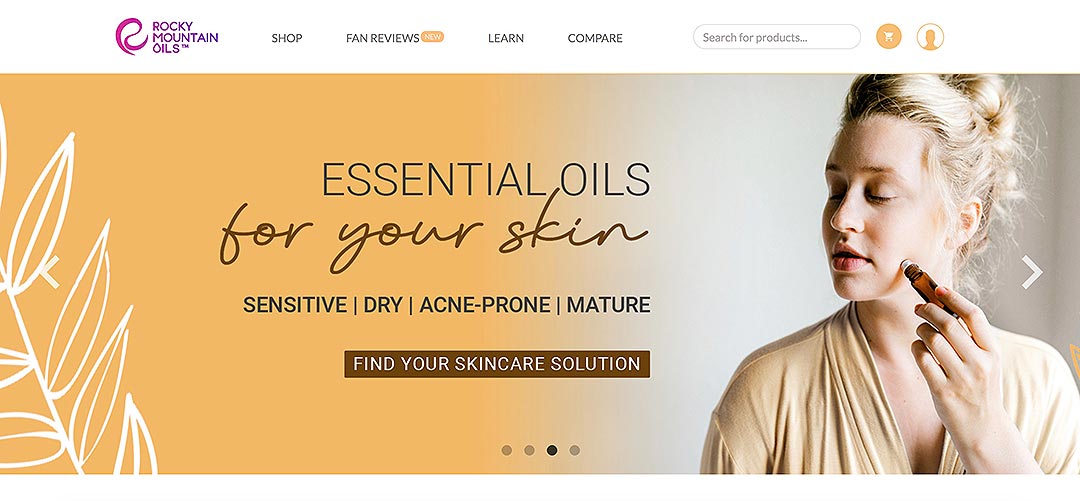 Next up is Rocky Mountain Oils.
This is a family-run essential oil company founded by a husband and wife team, one from an entrepreneurial background and the other who studied alternative medicine.
The net result is a company with a wide range of unique oils and oil-based products with a strong marketing sense and a desire to help people enjoy better health.
Your visitors can rely on Rocky Mountain Oils for pure essential oil singles, but also blends to assist with or treat specific ailments, health or lifestyle issues, such as mood, sleep, or to achieve increased mental focus.
They also sell a smaller range of USDA certified organic  oils for the more discerning consumer, and with a price tag to match.
The Rocky Mountain Oils store also sells essential oil kits which could make the ideal gift for the alternative health practitioner in your life.
Rocky Mountain Oils affiliate program pays a 5% commission rate. It's also one of the more active programs on the network, which usually indicates that affiliates are earning regular money from it.
Why You Should Promote Rocky Mountain Oils
Commission: 9%+
Cookie Duration: 45 days
Payment Methods: Check, direct deposit, Payoneer
Products: Oils and blends
---
4. Aurelia Essential Oils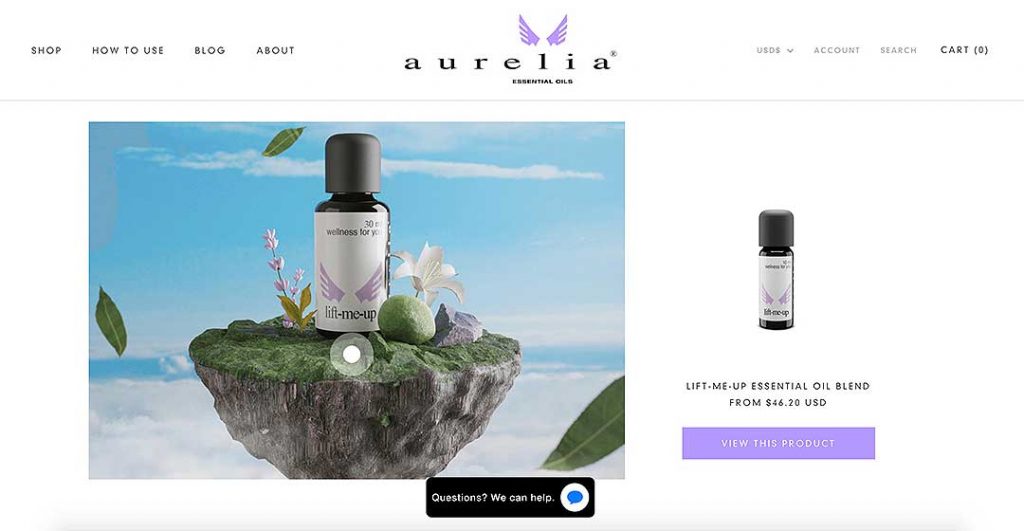 Aurelia Essential Oils has been in the business of creating handmade essential oil blends for three decades.
An oil blend is basically two or more essential oils mixed with a carrier oil to provide the desired therapeutic result.
And as of right now their online store has 100 different blend products in stock catering for everything from opening your chakras, and creativity to and sleep, to scar reduction and stress reduction.
If you can think of a potential lifestyle issue members of your audience might currently experience you'll be almost certain to find a matching treatment blend in the Aurelia store.
Each blend is available in 5ml, 10ml, or 30ml sizes and is very affordable considering they contain pesticide-free essential oils as their core ingredient.
This essential oils affiliate program offers a base commission rate of 15%, which is obviously open to negotiation if you can drive a lot of traffic and referrals.
Why You Should Promote Aurelia Essential Oils
Commission: 15%
Cookie Duration: 90 days
Payment Methods: PayPal, check, direct deposit, Payoneer
Products: Blended oils
---
5. Jade Bloom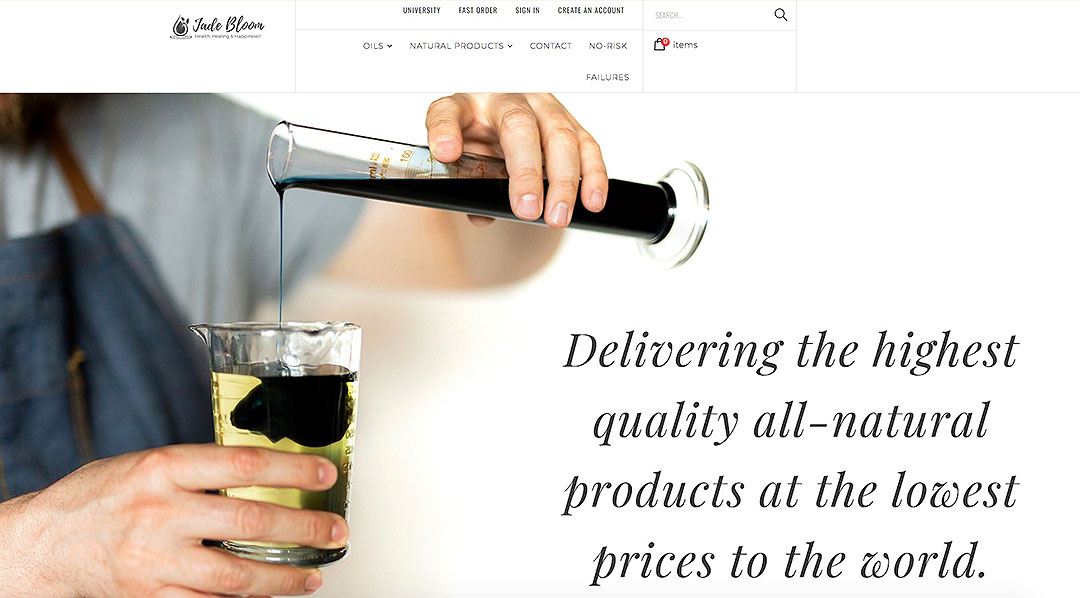 Jade Bloom sells organic essential oils and organic essential oils blends but also healthcare and lifestyle products that use these oils as core ingredient.
The company was founded with the goal of helping people find a more natural way to treat without depending on a diet of prescription medication and nothing else. They offer a lot of high quality essential oils.
Jade Bloom University takes this idea to the next level by offering free courses that teach you everything you could possibly need to know about essential oils.
Note: These courses also provide a way for affiliates to learn how this industry talks and thinks i.e. you should consider signing up for them.
Their store sells natural essential oils, blends, massage oils, kits, and products infused with essential oils. So any audience interested in essential oils should be able to find at least one item they're interested in.
You start with a base commission rate of 10% for a customer's first order and then a 5% commission on each additional order for the lifetime of that customer.
But if you can drive a high volume of qualified traffic your commission rate will bump up to 15% on the first order and then 10% of each order for the lifetime of the customer.
Why You Should Promote Jade Bloom
Commission: Up to 15%
Cookie Duration: Permanent
Payment Methods: PayPal, loyalty points
Products: Essential oils
---
6. Healtop 
Healtop is more of a healthcare brand than a dedicated company that just sells organic oils.
Although essential oils obviously do feature in their product line or they wouldn't have made their way into this roundup.
The company was founded by a group of like-minded individuals with the shared mission of helping you live a healthier and happier life through natural health supplements.
Your visitors will find skin and healthcare products in their online store as well as a range of essential oils and excellent oil blends.
Their products are more focused on blended oils than single extracts, so they're aimed more at a generalist audience taking their first steps into aromatherapy.
You'll need an account with the Awin affiliate network, and that means paying a $5 refundable fee and waiting for approval.
Once approved you can earn a 20% commission on all referred Healtop sales.
Why You Should Promote Healtop
Commission: 20%
Cookie Duration: 30 days
Payment Methods: Direct deposit, wire transfer
Products: Essential oils and blends
---
7. Your Oil Tools 
Next up we have something a little different in the world of affiliate programs – the accessories for using these oils as well as a large selection of oils and blends.
Your Oil Tools is a family business started by a landscaper who suffered scarring of his lungs in a truck fire.
Modern medication failed him so he started using the power of natural healing oils to treat his health challenges.
And the rest is history.
Their store stocks lots of essential oil-related items, including books, diffusers, rollers, bottles, droppers, as well as other products infused with these natural health remedies.
The only real downside to this program is that they do feature a handful of doTERRA products – they're an MLM brand.
So bear that in mind when choosing what to promote.
This essential oils affiliate program offers a base commission rate of 10% on the initial sale and then 6% on all other orders for six months.
Top performers who can drive a lot of sales can earn up to 20% on all referred sales, and 10% on successive sales for the full lifetime of that customer.
Why You Should Promote Oil Tools
Commission: Up to 20%
Cookie Duration: 180 days to Lifetime
Payment Methods: PayPal, Coinbase, direct deposit
Products: Essential oil accessories
---
8. Amoils 
Amoils – and their associated product line  'Healing Natural Oils' –  has been supplying aromatherapy practitioners and the aromatherapy market for over 20 years now.
Their products are pesticide and herbicide-free, aren't tested on animals, and have not been diluted with potentially harmful chemicals.
Each bottle of oil is put together in the United States and these containers are made from environmentally-friendly glass.
In terms of their actual oils, your visitors can choose from their single oils or dozens of blends designed to tackle specific health or skincare challenges.
Amoils also offers free shipping on all orders over $40.
You receive a 20% commission on all referred orders, so with an AoV (Average Order Value) of $62 you can expect to earn around $12 per sale.
Why You Should Promote Amoils
Commission: 20%
Cookie Duration: 60 days
Payment Methods: Check, direct deposit, Payoneer
Products: Essential oils
---
9. Spark Naturals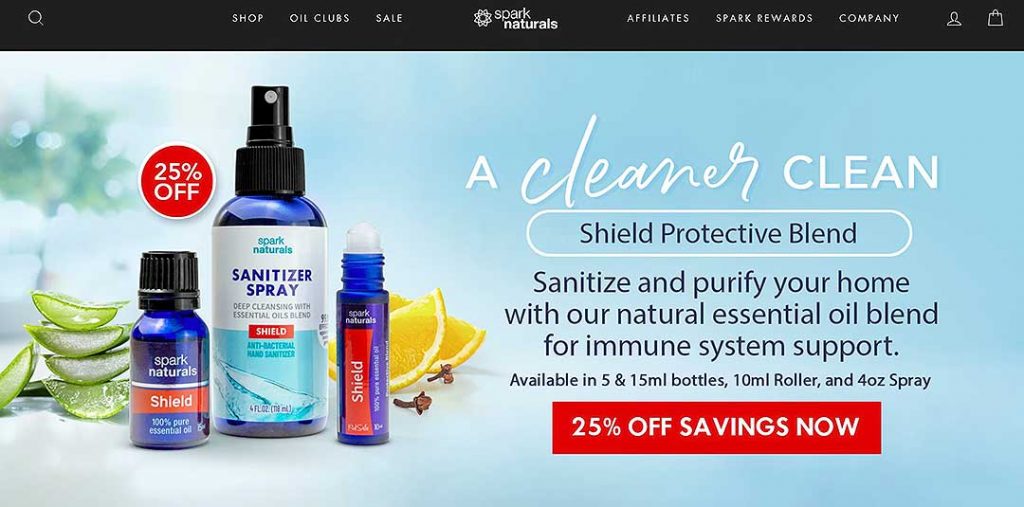 Spark Naturals has a product to suit pretty much anyone with even a passing interest in essential oils.
They obviously stock and sell essential oils and blended oils – including a range of scalp oils and facial oils.
But their product selection stretches to books, bags, bottles, diffusers, lip balms, hand sanitizers, and even jewelry.
And for the true fans of the scentual, they also offer a subscription box where you receive their 'Oil of the Month'.
Marketers promoting this essential oils affiliate program will earn a 15% commission on all sales, with an average payout of around $15 per transaction.
You can sign up for the Spark Naturals affiliate program at the link below or directly through ShareASale.
Why You Should Promote Spark Naturals
Commission: 15%
Cookie Duration: 60 days
Payment Methods: PayPal
Products: 60 days
---
10. Lisse Essential Oils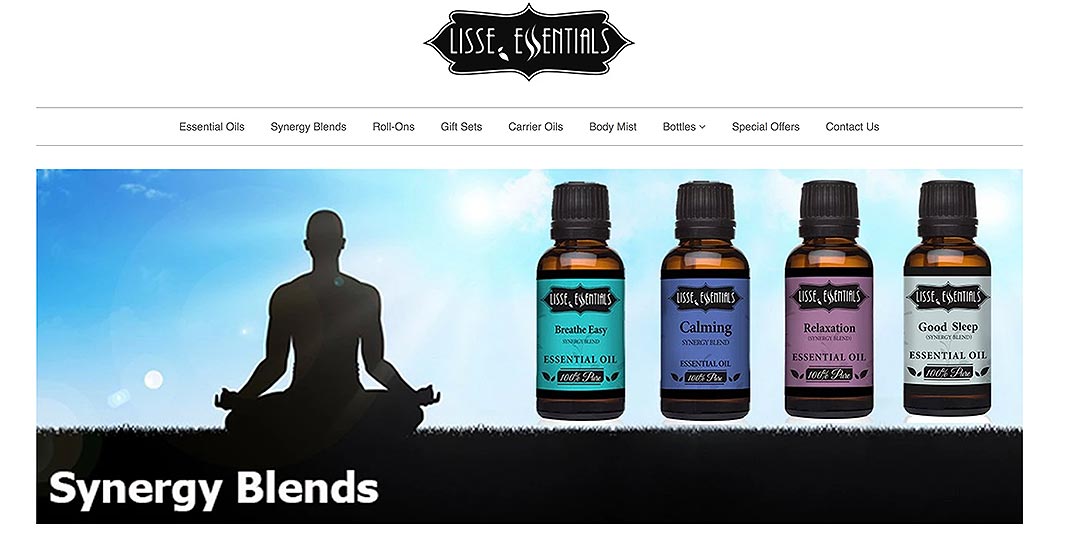 Lisse Essential Oils don't pretend to be a specialist supplier of 100% pure organic essential oils.
They're a Shopify store designed to appeal to the widest possible segment of the aromatherapy market i.e. consumers who want more affordable products.
The lack of an "About us" page is always a dead giveaway for a white label e-commerce brand.
So they sell dozens of pure organic essential oils in 10ml or 30ml bottles, including all the usual favorites like lavender oil, tea tree oil, frankincense oil, etc.
But they also supply roll-on products formulated specifically to help your visitors deal with everything from insect bites to pain relief and relaxation.
Just bear in mind that these are mass-market essential oils, which is why they cost less than say products from Barefut.
Why You Should Promote Lisse Essential Oils
Commission: 10%
Cookie Duration: 30 days
Payment Methods: PayPal, direct deposit
Products: Essential oils
---
11. Amrita Aromatherapy 
Amrita is a family-owned business that claims to be one of the biggest essential oil suppliers in the world, but also one of the longest established.
They're a USDA-certified business that's been around since 1989 and almost 100% of their products are sold to product manufacturers or professional aromatherapists.
In terms of their product line, your audience will find a large selection of pure essential oils divided into organic and non-organic oils – 150 of them in total
Apart from pure essential oils, they also sell blended essential oils, massage, and carrier oils, as well as dozens of different body and skincare products.
The Amrita affiliate program pays a 10% commission rate, with an average order value of $130+ per transaction.
Why You Should Promote Amrita Aromatherapy
They're a long-established and trusted name in the essential oils/health and wellness market in North America, with reasonably priced yet high-quality products.
Commission: 10%
Cookie Duration: 30 days
Payment Methods: Check, direct deposit, Payoneer
Products: Essential oils
---
12. Plant Therapy 
There are lots of suppliers of essential oils in this roundup, so what makes Plant Therapy any different from the rest of the affiliate programs featured?
The first thing is that they take the testing of their essential and carrier oils to the next level because each one is both USDA and 'Leaping' certified while also being non-GMO (genetic engineering-free).
So not only are their products made from high-quality essential oils but they're also cruelty-free.
Something else they do differently is that they also sell oil and wellness products for animals – specifically dogs and horses.
From an affiliate perspective, that presents you with the opportunity to pitch not just to a health and wellness audience, but to pet and canine owners too.
When you sign on to promote this affiliate program you get a dedicated support team if you need help, plus regular creatives, and special offers. But how much can you earn with this essential oils affiliate program?
The base commission rate is open to negotiation if you're a top performer, with the additional opportunity for pro affiliate marketers to earn bonuses.
Why You Should Promote Plant Therapy
Commission: 7.5%
Cookie Duration: 7 days
Payment Methods: PayPal, direct deposit
Products: Essential oils
---
13. Well.ca 
Well.ca is one for my Canadian affiliate buddies to work with, along with their North American friends.
As their brand name suggests, Well.ca is a Canadian company supplying over 40,000 products aimed at the health and wellness market.
They stock several thousand essential oils, and blends, massage oil blends, and more.
This includes a full range of organic, natural oils available in 5lm, 7.4ml, 10ml, and 15ml sizes.
Affiliates benefit from the different sizes because it means your audience will be able to afford their expensive yet favorite oil, just in a smaller bottle.
This essential oil affiliate program is run by CJ.com, so make sure you have an account with them and are approved for the program before you start promoting it.
Once approved you'll receive a 5% commission rate on everything you sell, with the exception of gift cards which pay a 0% commission rate.
Why You Should Promote Well.ca
They have a huge range of products, including thousands of varieties from dozens of different brands and suppliers.
Commission: 5%
Cookie Duration: 21 days
Payment Methods: Check, direct deposit, or Payoneer
Products: Health & wellness products
---
Are Essential Oils Affiliate Programs the Right Choice for You?
At face value, essential oils might seem like a pretty narrow niche.
But as usual, this type of research turns up all kinds of cool products like nebulizers.
Something else to love about this niche is the companies that are happy to pay recurring commissions.
Offers like that can generate life-changing income.
If you'd like to know how affiliate marketing can change your life, why not check out my Affiliate Lab course?
It covers the exact same processes I used to build 6-figure affiliate sites over and over again.
Want to Become a PRO Affiliate?
Comprehensive lessons
Niche Grading tool
Step-by-step website building guide
Regular updates


Private Facebook community
Bonus courses
Lifetime course access