Dogs are man's best friend. We love our dogs the same way we love our friends and family, which is why we spend so much on them. In 2019, the American pet industry reached an all-time high with over $95 billion spent on our furry friends.
Pet affiliate programs provide an excellent opportunity to profit from this lucrative niche. From organic dog treats to training gear, there's no shortage of products to promote to dog owners. The Affiliate Lab has many members who love this niche and its dedicated audience, and I have personally experienced success with them as well.
So I'm here today to break down the top 10 affiliate programs in the dog niche, providing you with information on how much you can potentially earn and how to get started.
Best Dog Affiliate Programs
Ready to rake in the big bucks? Here's everything you need to know about the best pet affiliate marketing programs in 2023.
1. Chewy
Chewy is an online pet store that sells a wide variety of products: food, dog treats, beds, toys, supplements, and even pet medications.
One of the best things about the store is that it doesn't only cater to cat and dog owners. There are products for birds, reptiles, fish, horses, and so much more.
So if you become an affiliate, you could potentially make a lot of money by catering to all kinds of pet owners. I know I was very satisfied with the results even in the first couple of weeks.
You can promote more than a thousand Chewy pet products through Partnerize, the store's affiliate program partner.
Unlike most affiliate marketing programs, you don't earn a commission on every sale; instead, you earn a flat rate of $15 for every new customer you bring in. The company defines a "new customer" as someone who hasn't bought a product from the Chewy store since 2012.
While the 15-day cookie is slightly below the industry average, the sheer variety of products on offer makes this program stand head-and-shoulders above the rest.
Why You Should Promote Chewy
With hundreds of dog products, affiliate marketing programs like Chewy's can be incredibly lucrative. And since you earn per new customer, you don't have to worry about pushing products.
Chewy affiliates enjoy one-on-one support from the affiliate team. It's also really easy to become an affiliate partner as long as your website meets their quality and content standards.
Chewy Details
Commission rate: $15 per new customer
Cookie duration: 15 days
---
2. FitBark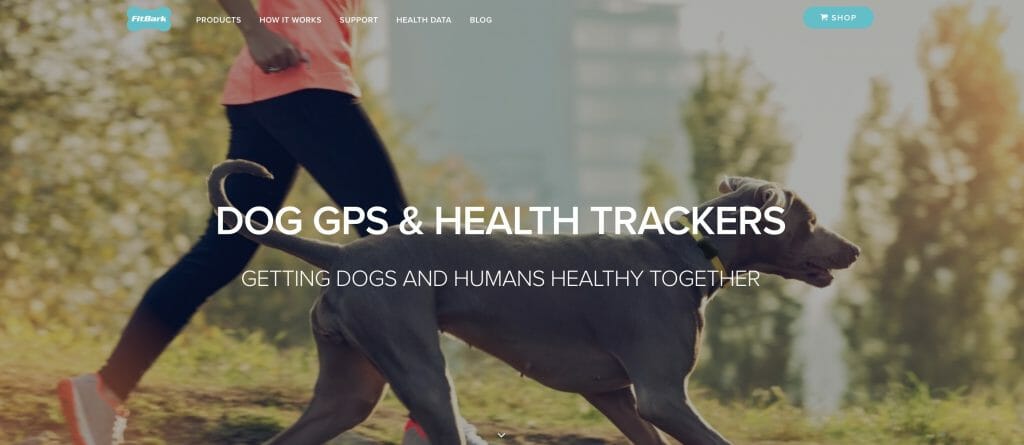 With more and more people trying to get healthy, it's no surprise that dog owners are taking their pets along their own fitness journey.
FitBark is a lightweight GPS tracker that also monitors your dog's health. Many pet owners appreciate this gadget. You can track their everyday activity, sleep patterns, and behavior – actionable insight that helps you (and your dog's vet) make more informed decisions. I use it on a daily.
With international shipping and customers in over 140 countries, this pet affiliate program has a lot of earning potential.
Commission rates start at 12%, but if you move a lot of product and become one of their high-volume affiliates, you can earn more. Considering that the average order is $100, you stand to earn $12 whenever you successfully make a sale.
The 60-day cookie means that you will still be credited with the sale even if the customer doesn't make a purchase right away. And you can earn on any FitBark product, including accessories, as long as they use your link.
Why You Should Promote Fitbark
FitBark boasts a decently long cookie duration, generous commissions, and large average orders. You can even earn commission on your purchases, which is pretty unusual for most affiliate programs.
This is why this niche is so great. Plus, all the data they get from their customers goes towards pet wellness research, so you're helping to advance science while also making money!
FitBark Details
Commission rate: Starting at 12%
Cookie duration: 60 days
---
3. King Kanine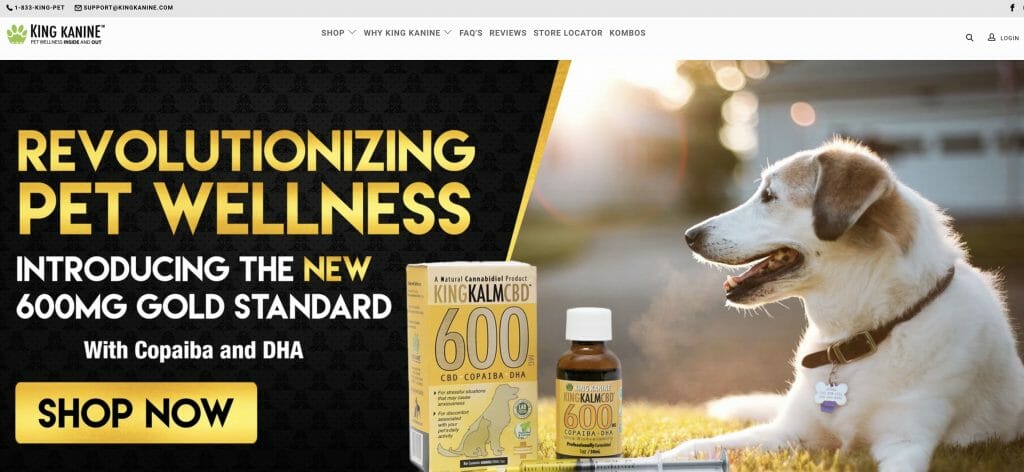 King Kanine is one of the most unusual brands in this niche. The company broke into the market with the King Komb, a grooming product that makes removing excess fur and dander from your furry friend much easier.
Now, they're also known for their CBD products for cats, canines, and horses.
Their line-up includes the typical oils but also extends to shampoos, sprays, and even CBD-infused treats for your pup.
While they don't have a huge range, their unique positioning in the pet market makes them a relatively easy sell to pet owners who are looking for natural ways to boost their dog's health.
King Kanine affiliates earn a 15% commission per sale they facilitate. With an average order of $77, that translates to $11.50 per sale whenever someone uses your affiliate link within 30 days of clicking it.
Why You Should Promote King Kanine
Between a relatively high commission, industry-standard cookie life, and immediate payouts, there's no reason you shouldn't tap into King Kanine's affiliate program. The brand does both domestic and international shipping, so you'll have plenty of potential customers to promote to.
King Kanine Details
Commission rate: 15%
Cookie duration: 30 days
---
4. Ollie
Ollie is, hands down, the best healthy dog food affiliate program in 2023. The company specializes in customized meal plans for your dog so that they get exactly what they need.
Each dish is designed by a real veterinarian, made with nutrient-packed ingredients, and delivered straight to your door. For me, this is ideal because it's an easy, no-fuss way to ensure a healthy diet for your furry friends.
You can earn up to $60 per sale so every time someone buys an Ollie subscription using your link. That's a pretty decent income per sale, especially compared to other pet affiliate marketing programs on this list.
There's also a possibility that successful affiliates get a higher flat fee. The cookie is good for 30 days, which is pretty standard for pet affiliate marketing programs.
Why You Should Promote Ollie
Subscription services diversify your product offerings, increasing the chance that you'll convert a customer.
Although a percentage commission is the industry standard, the Ollie fee is pretty generous, and you don't have to close too many sales to turn a profit. Plus, Ollie donates 1% of its revenue to shelters and rescue organizations, so you're also helping dogs in need.
Ollie Details
Commission rate: Up to $60 per sale
Cookie duration: 30 days
---
5. Petco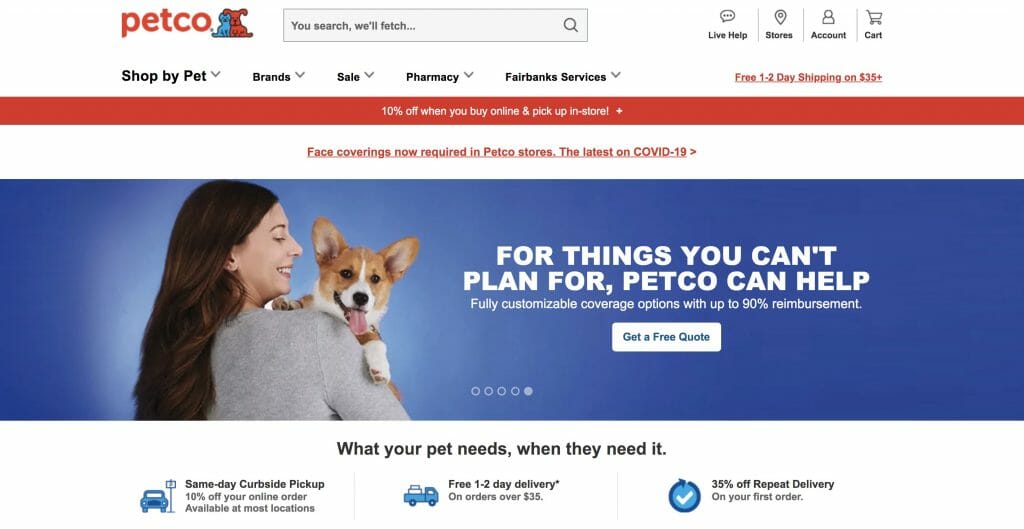 Petco is a one-stop-shop for pet owners. From dog treats, and pet care supplies, and dog toys to pet tech to even dog training services.
There's nothing I wasn't able to find at this pet care store. They carry exclusive and hard-to-find products, which means that you could potentially earn a lot more from picky consumers.
The specialty retailer makes it on this list because of its robust inventory. Compared to other pet affiliate programs, Petco's commission percentage and cookie life are quite low.
You only get 4% on qualified sales and a 7-day cookie, which is significantly less than the standard 30 days. The upside is that, as one of the biggest online pet stores in the United States, Petco makes it easy to target a much larger audience with the potential for repeat sales.
It's unclear if you can also earn a commission per sale for pet services like grooming, veterinary care, dog sitting, and the like. You'll have to ask your affiliate program manager about what kind of products and services you can get credit for.
Why You Should Promote Petco
Despite the low commission and limited cookie, it can be very beneficial to partner with a huge retailer like Petco. Since many people are already familiar with the brand, it's almost a guaranteed sale.
Petco Details
Commission rate: 4%
Cookie duration: 7 days
---
6. Brain Training for Dogs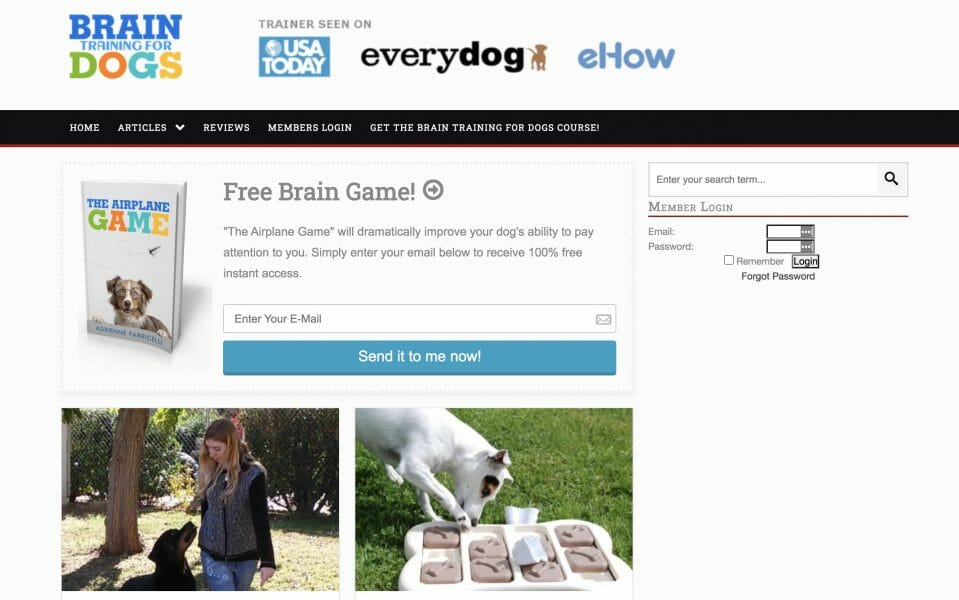 If you're looking for a dog training affiliate program to add to your arsenal, look no further than Brain Training for Dogs.
Brain Training is a course offered by certified dog trainer Adrienne Farricelli. Through 21 specially-designed activities and over 100 helpful articles, you can teach your dog new tricks, correct undesirable behavior, and strengthen your bond with your furry friend.
Dog training affiliate marketing programs are sought-after because they often have higher commission rates than other dog products.
While most affiliate marketing programs have a 10-20% commission, you earn a whopping 75% on every course sale – that's the highest possible rate for ClickBank. At $47 per sale, you could earn over $35 for just one sale.
The program also boasts a 60-day cookie, which is double the industry standard.
Why You Should Promote Brain Training For Dogs
This pet affiliate program has the highest quality score out of all the dog training products on ClickBank, so you know you're offering something valuable to your audience.
The commission percentage is practically unmatched, and you can earn thousands of dollars a month from this one pet affiliate program alone.
Plus, the dog education market isn't overly saturated with affiliates, so you have way less competition. Pet parents and animal lovers care a lot about the revival animal health, so pursuing this great affiliate program is a great choice.
Brain Training For Dogs Details
Commission rate: 75%
Cookie duration: 60 days
---
7. PetCube
Award-winning PetCube caters to a very specific demographic: pet owners who want the ultimate tech solutions for their dogs. They currently have two products, the more interesting of which is the Bites 2.
Bites 2 is an automatic treat dispenser that you can control remotely. It also comes with voice control (with Alexa built-in) as well as a wide-angle camera so that you can monitor your dogs no matter where you are.
There's also the Play 2, which also has a camera and voice control, but is more designed for cats.
If you want to promote this interactive pet camera, you can join their pets affiliate program. Although it's just at a 10% commission, PetCube products retail for a much higher price, which offsets the lower rate. Plus, they still offer higher rates than their closest competitor, Furbo.
PetCube makes up for the average income with a 60-day cookie. And if you perform well, your commission can get boosted to 15%.
Why You Should Promote PetCube
In the world of dog cameras, PetCube's affiliate program comes out on top in terms of cookie life and commission percentage.
Since the Bites 2 has a suggested retail price of $249, you can expect to earn a decent amount despite the so-so commission percentage. PetCube incentivizes new affiliate marketers by offering a 15% commission on all sales in your first month.
PetCube Details
Commission rate: Up to 15%
Cookie duration: 60 days
---
8. Cherrybrook
Cherrybrook has had a long history in the pet industry. In the last 50 years, they've grown from a small dog show merchant to an international pet supply brand. They stock more than 13,000 products, which means that you have more than enough to choose from for your website.
Their offerings range from grooming supplies, health products, learning materials, and gifts for your dog. They're also one of the few online retailers that allow customers to shop by breed to find the right product for their fur baby.
Commission is on a sliding scale, depending on how much you sell. The base rate is at 6%, but if you can hit more than $5,000 a month in sales, you'll earn a 10% commission.
If you can somehow hit $10,000 or more, your base rate will double to 12%. Cookie life is at 45 days, which is pretty decent for a dog affiliate program, although not the best.
Why You Should Promote Cherrybrook
Your target audience for Cherrybrook products doesn't just include pet owners, it includes dog breeders, groomers, and show dog professionals too. The company also incentivizes hard work with bigger commissions for higher sales volume.
Cherrybrook Details
Commission rate: Up to 12%
Cookie duration: 45 days
---
9. Pets Warehouse
Out of all the pet affiliate programs on this list, none of them offer as wide a range of products as Pets Warehouse.
This retail giant stocks more than 45,000 different items, with some costing as much as $3,000. And they are constantly expanding their inventory, so you'll never run out of products to promote.
The Pets Warehouse program starts at 6% for regular affiliates but goes up to 8% for super affiliates who surpass a sales threshold every month.
The average order is at $60, so that's just under $4 a sale in income. But if you think about how many products you can promote, it's easy to see the earning potential of this program.
Pets Warehouse used to have a cookie life of 30 days, but it's now down to just 10. If you want to sign up for this program, your website has to be about pets. They don't accept coupon or discount sites as affiliate partners.
Why You Should Promote Pets Warehouse
The biggest advantage of the Pets Warehouse program is that there's a huge selection of products. It won't be hard moving products, especially since pet owners are likely to buy from the site, again and again, thanks to their low prices.
Pets Warehouse Details
Commission rate: Up to 8%
Cookie duration: 10 days
---
10. TruDog
Support a small business by becoming an affiliate for TruDog, a family-owned pet food brand based in the United States. The company's founder started the business after her dog died, promoting pet wellness through wholesome nutrition and delicious doggie treats.
TruDog offers many different types of products, from food to supplements to dental care. They even have a custom subscription meal plan. You can earn 10% on all sales plus VIP rates and bonuses if you're one of their top performers.
Other benefits include a two-tier sign-up bonus program with the option to earn either a flat rate ($2) or a percentage commission. But the biggest draw of this program is that their cookies are good for 90 days, so you can potentially earn a lot more.
Why You Should Promote TruDog
All-natural, nutrient-rich dog food is on the rise as consumers become more health-conscious; not just for themselves but for their dogs as well.
There's a huge potential market for TruDog products. You'll get personal help from a dedicated affiliate manager if you have any questions. The 90-day cookie is the clincher, though.
TruDog Details
Commission rate: 10%
Cookie duration: 90 days
---
Pet Affiliate Website Ideas
The pet niche is one of the fastest-growing categories in affiliate marketing. As more and more people are jumping on this bandwagon, you'll want to set your website apart to rake in more profits.
Here are some ideas to get started:
Create breed-specific content. Most dog owners are looking for products that cater specifically to the type of dog that they have. Zero in on popular or challenging breeds like Dobermans, German shepherds, and the like.
Diversify the products that you promote. Check out specialty food, toys, carriers, accessories, training courses, dog grooming services, or maybe even a dog clothes affiliate program. The more variety you offer on your website, the bigger your chances of making a sale.
Focus on providing value. People care for their dogs like they do their own families, so they want the best for them. If you can establish trust by publishing useful content and being selective about the products you promote, that will go a long way toward helping your bottom line.
Introduce a section on pet health and wellness. Promote affiliate products like pet health supplements, pet insurance, and wellness products. This can also include advice on mental health for pets, which is a growing concern for many pet owners.
Consider a section for exotic pets. While dogs and cats are the most common pets, there are plenty of people who own birds, reptiles, rodents, and even insects. These pet owners often struggle to find reliable information and high-quality products.
Create a travel section for pet owners. With more people traveling with their pets, there's a demand for information on pet-friendly accommodations, travel gear, and tips for making the journey as comfortable as possible for the pet. You can affiliate with pet travel gear brands, pet-friendly hotels, or airlines. Expand into pet tech. There's an increasing amount of technology being developed for pets, from automatic feeders and litter boxes to GPS trackers and pet cameras. These can provide some high-ticket items to promote.
Consider running regular product reviews. You could run weekly or monthly features reviewing different products or services in the pet industry. This can drive traffic to your site and increase your conversion rates.
Build a community. Engage your readers with user-generated content, such as pet photo contests, story sharing, or ask-the-expert sections. This can foster a loyal audience who will return to your site regularly.
---
Boost Your Earnings with Dog Affiliate Programs
Make no mistake, there are dozens (if not hundreds) of dog affiliate programs to choose from. We covered just 10 of the best pet affiliate programs based on cookie life and commission, many others are worth your time as well.
The trick is to find the ones that not only offer great partner programs but also have great products that practically sell themselves.
If you want to learn more about how to succeed in affiliate marketing, the Affiliate Lab is the way to go. Learn how to build, rank, and even flip profitable websites from the master of affiliate marketing himself, Matt Diggity.
Want to Become a PRO Affiliate?
Comprehensive lessons
Niche Grading tool
Step-by-step website building guide
Regular updates


Private Facebook community
Bonus courses
Lifetime course access