One of the questions about affiliate marketing I get asked more often than anything else is, "Matt…which niche should I choose?"
I totally get why people ask that – they're afraid of investing 12 months of their life in an affiliate site that flops.
Being cautious is a good thing.
But newbie affiliates take this to an extreme where they spend months trying to come up with a niche site idea.
And they still can't choose one.
To save you time and effort, I've researched 58 niches of all shapes and sizes for you, which you won't find anywhere else.
You won't find these anywhere else.
Oh, and I've even included an example of a successful niche site for each topic.
Don't waste another minute trying to come up with a niche idea – leverage my expertise and insights to choose the perfect niche for your business and start generating revenue today.
Ideas for Food Niche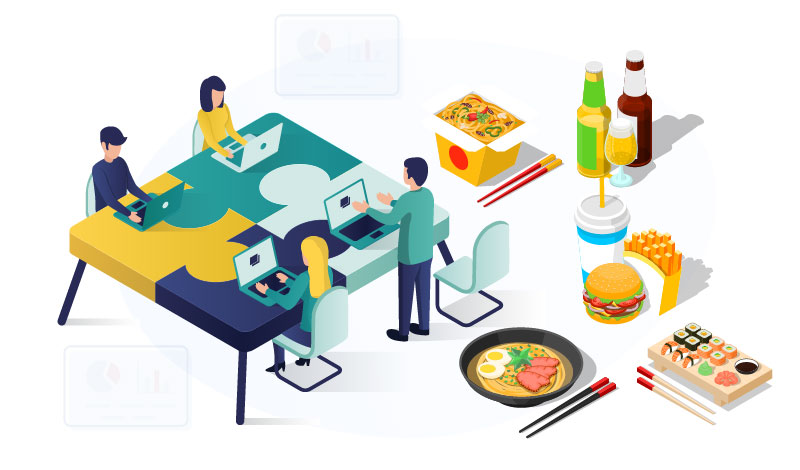 1. Microgreens
Microgreens are the juvenile (younger and smaller) leaves and stems of a range of larger plants, vegetables, and herbs.
Up to quite recently, they were only used as a garnish for a meal.
But an entire industry has sprung up around them in the last few years because they've become very fashionable among the foodies of the world.
There are even stories of CBD farmers quitting to become microgreen farmers instead.
They're also expensive to buy, which means there's profit potential for affiliates who want to build a site in this niche.
Gardening sites can be far more profitable than you might think – Kevin Espiritu's Epic Gardening is proof of that.
2. Hydroponics
Urban gardening and farming is something practiced by roughly 1/10th of the global population.
A drive towards sustainability in Western economies has seen a boom in products and services related to growing at least some of your own food.
But not everyone has a garden and soil to grow herbs, fruits, and vegetables in.
Enter home hydroponics systems, or what has now also become known as "aero gardening", where you can grow food on your kitchen table, a windowsill, or even a spare closet.

The home hydroponics niche has years of stable activity behind it, with an obvious search spike in 2020 before things settled down again.
As long as the current drive towards more environmentally friendly living continues, there'll be a constant demand for products and services in this niche.
3. Bread Recipes
Humans have made bread for around 10,000 years, and it's a surprisingly important part of who we are.
So there are always people looking for information on how to bake their first loaf of homemade bread i.e they need recipes.
The topic itself also lends itself to several audiences, including foodies, preppers, and parents looking for an activity to keep their kids busy.
That makes it an evergreen niche, so there should be ongoing demand for bread recipes for the foreseeable future.
4. Cheap Dinner ideas
This niche covers an evergreen subject – how to eat well but for not a lot of money.
Even outside times of economic uncertainty, most families are looking for ways to save money on their food bill.
To give you some perspective, the average cost of a homemade meal is $4 per person, compared to the average cost of eating out at $20 per person.
So, your potential audience is college students, struggling parents, single moms, and just plain old thrifty livers.
Interest in this niche has enjoyed steady growth over the last decade, with a somewhat unexpected drop in early 2020 before recovering again.
In short, there will always be a demand for ideas for cheap meals as a way to save money.
Ideas for Hobby Niche
5. Bass Guitars
You won't have to look far to find affiliate sites promoting guitars and guitar accessories.
But very few of them pay any attention to bass guitars, even though bass players are just as passionate about their music as any other musician.
You're not a bass player…?
Don't worry – you can always niche down a little further by targeting "bass guitar for beginners" and publish content about becoming a bass player.
After digging into this niche a little further, I found that most of the informational keyword slots in the SERPs are occupied by either generic forums, bass forums, or paid membership sites.
So there's a gap here for some really good affiliate sites to compete with the handful of authority sites.
6. Candle Making Kits
The arts and crafts market is expected to increase in value to almost US$50 billion within the next 5 years.
And candle-making is an integral part of that vertical.
Candle-making kits are an interesting sub-niche, particularly because there's a decent amount of traffic and not much competition.
But you could also expand a site about candle-making kits into a larger authority site once you have a solid foundation to work from.
This niche sees the peak of its activity during November, December, and January, so you'll need to factor that into your overall monetization plans.
Note: This is a micro-niche topic, so you might need to grow the site a little before it can generate enough money to replace your day job. Basically, the topic of "candle making kits" will eventually be a single category of a much larger site about candles and candle making.
7. RC Planes
Now we have a niche that appeals to both children and adults alike.
Kids want their first RC plane to play with, while grown men want to get their hands on the radio-controlled plane they always hoped to get as a gift but never did.
Like an F-16 or an A-10.
An additional perk here is that RC planes aren't cheap, with even a basic model costing a few hundred dollars.
So combined with consistent organic search trends, there's the potential for this to be a profitable niche.
Do bear in mind that RC plane fans are real enthusiasts, so they'll expect your content to be authoritative and your reviews to be real.
8. Sewing Machines
This is a niche with multiple potential audiences.
You could promote sewing machines and related accessories to homemakers and amateur fashion designers.
But there's also the homesteading and sustainable living audience to work with – people who believe in repairing clothing instead of discarding it.
And then there are the hobbyists who enjoy buying a sewing pattern and bringing it to life.
What they all have in common though, is they need information on the best sewing machines, sewing tips, etc.
You'll also find some affiliate sites already ranking in the SERPs, so you don't have to guess whether this niche will be worth the time and effort.
Ideas for Kids Niche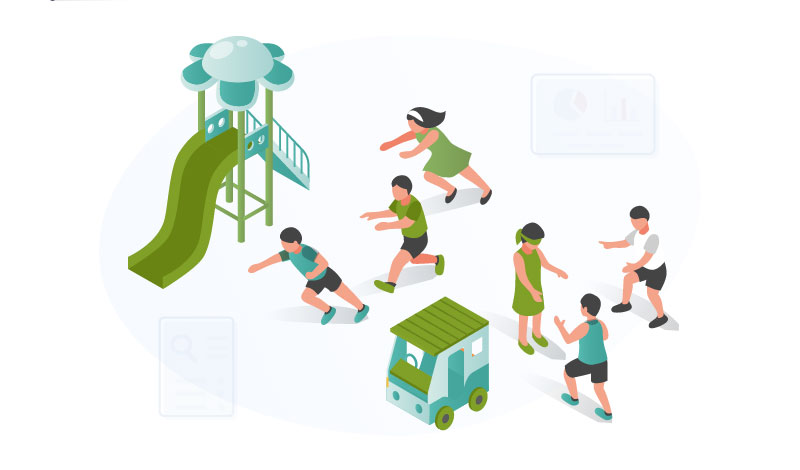 9. STEM Toys
STEM stands for Science Technology Engineering and Math, so STEM toys are designed to encourage kids to become more interested in these subjects.
The United States currently ranks 24th for science and 38th for math internationally.
So there's a push for kids to become far more active in these sciences.
But this is made fun because kids perform activities like building robots, solving puzzles, playing educational games, and learning how to code.
This is great news from an affiliate's perspective because it means there's a new generation of potential customers born every day.
STEM toys is a very seasonal niche where the bulk of your earnings will come in between November and January.
10. Birthday Party Ideas
Parents want their kids to have the kind of birthday they'll remember for years.
The challenge they face is coming up with a new idea for a party with each new birthday that rolls around.
And this problem is magnified if they have more than one kid to entertain.
So this is a niche with definite demand from frustrated parents who want their kids to have a great day…but have no idea how to make that happen.
They want an A-Z plan, with a theme thrown in and everything they need to order in one place.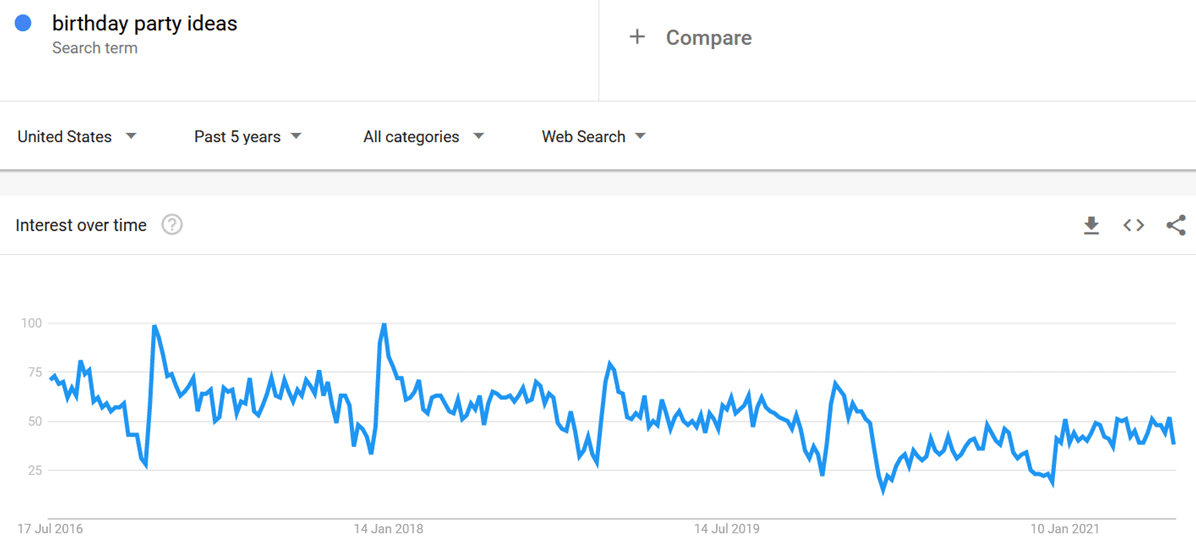 While this niche is focused on activities and themes for kids' birthdays, there's nothing to stop you from niching down to "Birthday party ideas for men" or "40th birthday party ideas for men", for example.
11. Dirt Bikes
Dirt bikes are becoming increasingly popular, with annual sales increasing by 4% to 6% each year.
And while adults do spend time and money on dirt bikes, they're also very popular with kids.
Deciding to purchase a dirt bike means knowing a lot about them, which is where you step in as an affiliate publisher.
Your audience will want information on everything from the type of dirt bike they should own to how to maintain it.
This is the type of niche where it's advisable to either own a dirt bike yourself or hire a content writer who does. Bikers are a very particular audience – they'll spot a faker a mile away.
Ideas for Technology Niche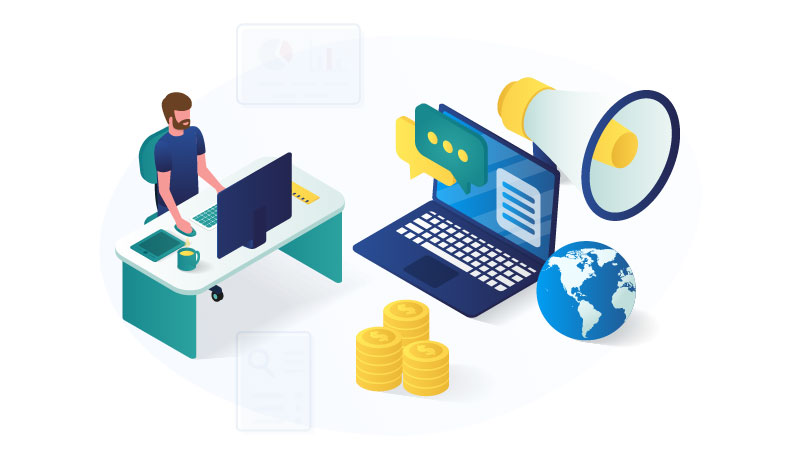 12. Gaming Keyboards And Mice
Gaming is big business, to the tune of US$120 billion of gaming gear and accessories sold in 2020 alone.
This means that the gaming industry is already worth more than Hollywood, and with 2% annual growth projected for the next several years.
The gaming niche is also one of those "rabid fan" verticals that can generate a lot of affiliate income.
This is because gamers are willing to spend $800 on a keyboard and mouse if they even suspect it will give them a competitive edge.
There's also been consistent interest in gaming keyboards and mice for the last 5 years, with a seasonal sales spike in December.
13. Kids Smartwatches
Smartwatches have proven themselves to be one of the most popular technology gadgets of the last decade, with roughly 22 million of them sold each year.
That should make it a worthwhile niche to target…except for the fact that it's a difficult niche.
The good news is that there's a relatively untapped sub-niche to work with – smartwatches for kids. It also happens to be a niche worth $530 million right now, but that's projected to increase to US$1.3 billion within a few years.
So you could score early adopter points by getting involved in this niche before everyone else does.
The only real downsides here are that most kid's smartwatches don't cost anything like the adult equivalent, and you'll make the bulk of your affiliate income during the Holiday season.
14. Affordable Gaming Laptops
A high-spec gaming laptop can cost anywhere from $1,300 to $5,000, which places them beyond the financial means of the average gamer.
But that doesn't take away the desire to own a gaming laptop.
So that leaves an entire segment of the gaming niche that needs information, tips, and reviews on where to find a gaming laptop they can afford.
That's where you step in with your niche site.
Something to like about this niche is that there's reasonably consistent organic search activity throughout the year, so your income will be somewhat predictable.
15. Portable TV
In a market dominated by TVs that seem to get bigger every month, it's hard to imagine that there would be demand for portable TVs.
But there is, and more than enough organic search volume to make it worth your while.
Potential audiences here include homesteaders, digital nomads, and people living the van life, for example.
Consumer interest in portable TVs has been consistent for several years.
This is another niche that most affiliates will overlook.
Ideas for Office Supply Niche
16. Standing Desks
Although the idea of a desk you stand at instead of sitting at might seem like a relatively recent innovation, it's not.
Standing desks were first used all the way back in the 1600s, so this is about an evergreen niche as you could hope to find.
These desks have enjoyed a resurgence in popularity more recently because of the focus on ergonomics in the workplace i.e., sitting down all day probably isn't good for you.
Another benefit of promoting products in this niche is they've become far more affordable.
So, where a standing desk might once have cost $500 – $1,000, you can now get basic motorized models for as little as $200.
There was a spike in interest around standing desks in early 2020.
That's since dropped off, but there will be continuing demand for these products from each new generation of remote workers.
17. Monitor Stands
The monitor stands we're referring to allow you to mount one or more computer screens on a single adjustable arm.
You can then adjust your displays' height, distance, and aspect ratio to suit the type of work you do, all while freeing up desk space.
A basic monitor stand has a mechanical arm that needs to be manually adjusted, but the more expensive models use gas-spring mechanisms to behave more like a hydraulic arm.
These devices should prove popular with the growing number of remote workers who have limited space for their home office.
But you can also grow your site to feature other office accessories so long as you don't choose a very niche domain name e.g. bestmonitorstands.com
18. Ergonomic Chairs
And it's fitting that we complete the office supplies list of niches with another niche focused on your physical health – office chairs.
Even fans of standing desks will need a chair to sit on for at least part of their working day.
And it makes sense that the chair they choose will be an ergonomic model featuring lots of lower back support.
My first successful affiliate site was all about ergonomic office chairs for those of you who don't know.
So I know this can be a profitable niche if you're willing to put the work into it.
Plus, these are products that are in-demand with both new and existing remote workers.
So you shouldn't run out of traffic any time in the near future, which is key to running the most successful niche sites.
Ideas for Spirituality Niche
19. Angel Numbers
Here's one of the more interesting niche website ideas you'll read today.
Based on surveys, 89% of Americans believe in a God, and 72% of the population believe in angels.
So this is a huge market comprised of hundreds of millions of potential buyers.
A sub-niche of the angel niche is something called "angel numbers" – these are the number sequences you see repeating in your daily life.
Like seeing 5:55 or 11:11 on a clock on a regular basis.
There's no specific reason I can see for the ongoing increase in search volume. It could be related to the fact that people tend to look for spiritual guidance when the world around them is in turmoil.
And yes, this topic is ideal for a profitable niche site – a 7-figure income is possible if you start producing your own information products for this audience.
20. Healing Crystals
Here's a basic rule for all affiliate marketers to remember, "You are not your market".
So your feelings on healing stones should come secondary to how you can serve this niche and make money online as a result.
Plus, this is a multi-billion dollar industry with more fans flocking to the practice of using healing crystals every single day, as illustrated by the data from Google Trends.
What's really going to surprise you is that right now, the market for crystals is better than the diamond and precious stone market.
It appears consumers are less inclined to wear expensive bling unless it has alleged health benefits…and is also endorsed by a celebrity "health expert".
21. Prayers for Healing, Strength, Etc
One of the things I love about niche research is that you never know what you're going to uncover.
And the prayer niche is a perfect example of this.
It's also a fitting topic to close off this section of our roundup of best niche site ideas with.
There is a surprising amount of search volume around keyword phrases that contain the term, "Prayers for".
"Prayers for healing" gets at least 32K organic searches per month, " prayers for strength" comes in at 6.6K searches per month, "prayers for anxiety" gets 5.0K searches.
And that's just the tip of the spiritual iceberg in terms of phrases you can target, the majority of which qualify as low competition keywords.
The organic search trends also indicate pretty consistent 5-year demand, which also counts as an evergreen niche.
Note: There's the potential to earn a lot of income in this niche once you select the best metaphysical affiliate programs. One prominent Internet marketing expert generates a 7-figure annual income from his spirituality niche sites and products.
Ideas for Jewelry Niche
22. Jewelry Boxes
This is an example of one of the thousands of smaller niches overlooked by affiliate marketers desperately trying to become the next WireCutter.
These items might not be as sexy as VPNs or gaming laptops, but you'll face a fraction of the competition from other sites when trying to rank for related keywords.
Jewelry boxes have been presented as gifts for over 500 years, so this is another niche that will remain evergreen for as long as people need a place to keep their jewelry.
A basic jewelry box retails for around $30, but you could also focus on sub-niches like more expensive designer jewelry boxes instead. Keyword research will be the key to feeding the search engines what they want.
23. Wedding Ring Sets
There are over 2 million weddings in the United States alone each year, each of which requires a set of wedding rings for the bride and groom.
And while the number of people getting married has declined over the last decade or so, it is highly unlikely that people will simply stop getting married.
This means there'll be ongoing demand for wedding rings.
And now down to the numbers for this specific niche.
The average wedding ring sets costs approximately $1,600, but that's the lower end of the market. At the upper end, a set of wedding bands can cost tens of thousands of dollars.
24.  Birthstones
People value birthstones for a number of reasons.
The first of these is because you're purchasing a piece of jewelry and want to have the recipient's birthstone set in the ring, pendant, necklace, or whatever.
But there's also a spiritual aspect to birthstones – the belief that wearing your birthstone will bring you health and good fortune.
And the spirituality niche can be incredibly profitable if approached with the right content and mindset.
Something which we discussed a little earlier.
Birthstones have year-round appeal, but there's a predictable spike in interest in them around the winter shopping season.
There's a ton of traffic to be had in this niche, but there's an equivalent level of competition from other sites. So be prepared to get deep into keyword research before even registering a domain for your own niche website.
Ideas for Education Niche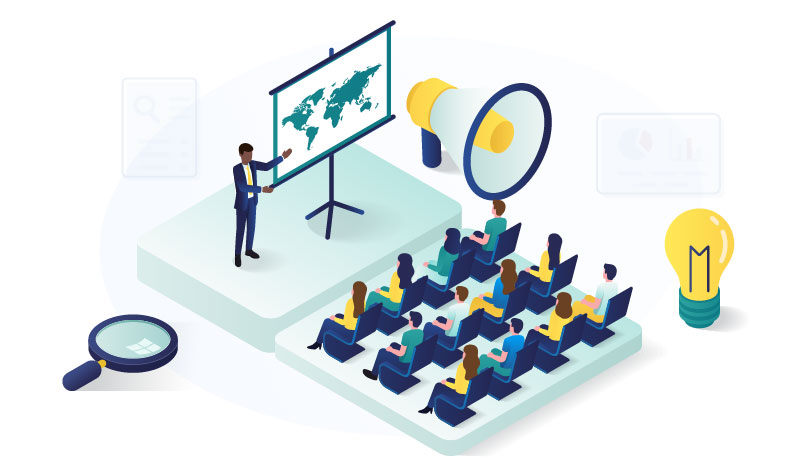 25. Homeschooling
We've already touched on the subject of an increasing number of people being encouraged to work remotely earlier in this list of niche website ideas.
An affiliate site focused on remote working has the potential to be quite profitable, but the idea of remote work is only half the picture.
That's because a natural progression towards a decentralized workforce would be an increased demand for homeschooling resources, equipment, etc.
Homeschooling was already popular in the run-up to the events of 2020/21 with 1.6 million students homeschooled each year in the US.
So this is a profitable niche you can enter and become an authority in long before it gets crowded 24 – 36 months from now.
That kind of early adopter move can result in life-changing money.
26. Teach English Online
Approximately 1.4 million people from all corners of the globe sign up for English language courses each year.
That's in addition to the existing 1.5 billion students who are currently studying it.
So that means an affiliate marketer in this niche can have a steady stream of new visitors to their site for years to come.
Or until another language takes the place of English as the international language of business.
But until that day comes, there's consistent demand for people to teach English online.
In fact, this niche was enjoying a surge in organic search until 2020 rolled around, but it does appear to be recovering as we speak.
27. Real Estate School
There is a fixed amount of habitable land on Earth and growing demand for housing.
So having a real estate license can be either a profitable side hustle or a full-time income for the motivated types.
There's also the tiny detail that a real estate license costs a few hundred dollars vs. the $120,000 the average American pays for a degree.
Your job as an affiliate is to provide an information portal for new real estate agents to find the study materials and courses they need.
It would be easy to assume that this niche would be negatively impacted by a serious economic downturn like the 2008 financial crisis.
The weird thing is that the number of practicing realtors only dropped by around 110,000 between 2009 and 2012.
But since then an average of 129,000 new realtors have been licensed each year.
Ideas for Finance Niche
I need to cover off an important detail here before we get into the niches themselves…
Yes, the finance niche is lucrative AF, but it is also extremely competitive – you're going to need time, patience, and resources to get traction.
In addition to this, finance is also classified as a YMYL niche, so you can't give financial advice unless you are professionally certified.
So, your site will be almost constantly under the watchful gaze of Google…with the potential for a penalty or de-ranking just around the corner.
28. Investing For Beginners
There'd already been steady growth around the topic of investing since 2018.
But the GameStop stock fiasco created a massive spike in interest because now the average person could compete with hedge funds.
Middle-class people suddenly had stock portfolios.
This niche sees new investment apps and platforms released regularly to try and capture some of the current surges in interest.
Affiliates covering this topic could also feature books on personal finance but need to avoid giving personal financial advice unless you're qualified to do so.
The reason, again, is because this is a YMYL (Your Money Your Life) niche.
29. Debt Consolidation Loan
The US is currently in the midst of a consumer debt crisis.
A large percentage of that debt is unsecured credit cards totaling $829 billion.
And that's without factoring in the hundreds of billions owed in-store card debt, personal loans, etc.
People carrying large debt burdens are eager to find a way to reduce or eliminate them, and debt consolidation loans are one path open to them.
The above data illustrates the downward trend in this niche from 2008 – 2012 after the banking and mortgage crisis.
30. Kids Debit Card
Personal finance is not a mandatory subject in high schools, even though it should be.
Not developing money management skills as a teenager is the quickest way to end up unmanageable debt by the time you're in your late 30s.
Giving kids access to a debit card makes sense because it teaches them personal finance skills in real-time.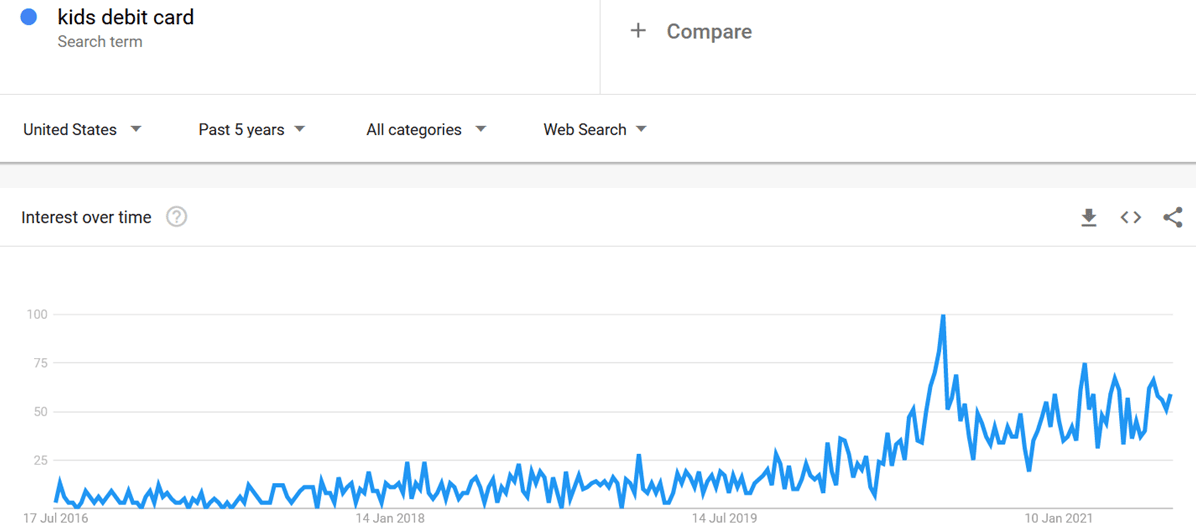 This is also a relatively new sub-niche of finance.
So based on the above trend data, you're reading this at just the right time to set up your own niche site on this subject.
Promoting debit cards for kids is fine.
Giving financial advice if you aren't qualified to do so is not because this is a YMYL niche.
Nope, that's not an echo – it's me trying to stop you from getting your site penalized or banned by Google. And that's beside the potential for being sued by somebody because you gave them unqualified financial advice.
Ideas for Bed and Bath Niche
31. Floor Pillows
I have to admit that I had no idea that floor pillows existed before researching this roundup of best niche website ideas.
And, yes, they are basically just large pillows or cushions that you place on the floor and then sit or lie down on.
A perk for affiliates is that they're relatively expensive, too – a single floor pillow retails for anywhere from $39 to $229.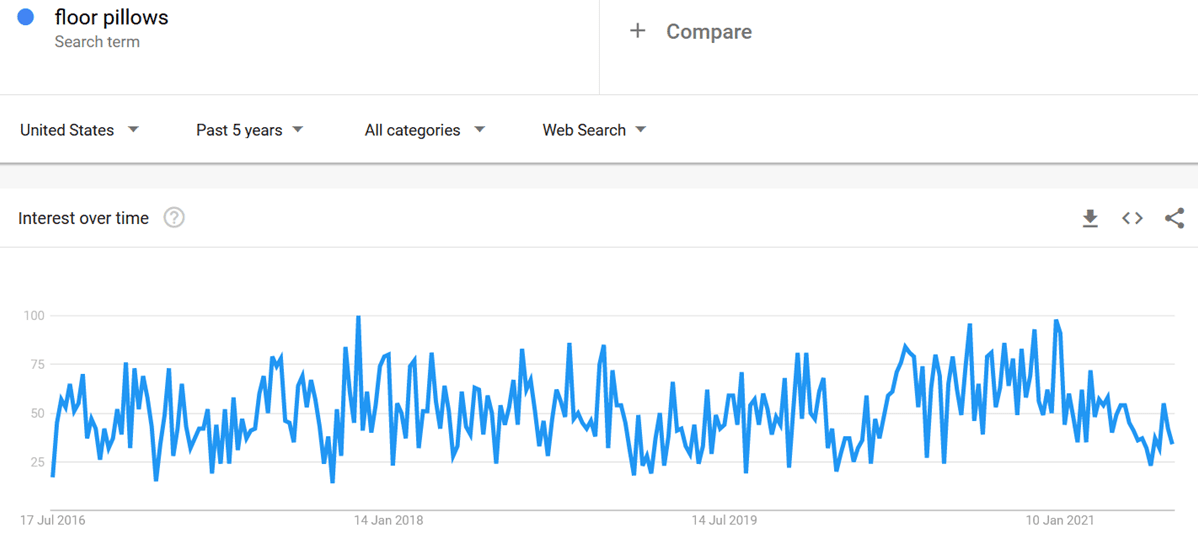 Something else to love about this particular niche is that there's very little competition, and it has relatively high search volume each month.
32. Throw Rugs
Next up, we have another soft covering topic in our list of ideas.
Throw rugs are – as they sound – rugs that can be thrown on the floor or over a chair or sofa.
Not exactly a thrilling subject to write about.
Except maybe when I tell you that this is another of those rare niches where there's almost no competition and more than enough organic search volume for it to be profitable.
Throw rugs also have consistent search volume over the last two decades, so this particular topic has evergreen qualities. After doing a deep keyword research, you will find plenty of opportunities to build a successful online business in this niche.
33.  Bathroom Remodel
Your bathroom is one of the most frequently used rooms in your home.
Combined with the fact that everything in that room is exposed to regular torrents of heat, steam, and water, it will eventually leave any bathroom looking past its prime.
Oddly enough, there's even an upwards trend for organic searches in this niche.
So that's good news for affiliates.
34. Futon
A futon is a type of wooden bed based on the traditional Japanese style of bedding, consisting of a foldable mattress placed on a straw mat.
Western futons, though, have rigid wooden frames and a much thicker mattress.
They were incredibly popular in the 90s and seem to be gaining popularity again as people try to find more natural ways to sleep.
And based on the above data, there's more than enough organic search to make this niche idea worth your while.
Note: The "sleep" niche is a very competitive niche, so new affiliates might struggle with it.
Ideas for Kitchen Niche
35. Garbage Disposal
I love finding a random successful niche like this one because it has obvious demand, commercial intent, and many products to choose from.
You could approach this from the angle of a standalone site providing information on garbage disposal maintenance, repair, and fitting, plus the obligatory "best x for x" style of reviews.
Garbage disposals are also seeing steady upward growth in organic search since at least 2015.
36. Knife Set
Here's another niche that could easily get overlooked by affiliates.
Every kitchen requires at least one set of knives, and they will eventually need to be replaced.
Then there's the fact that a basic knife set can cost as little as $50 but more than $200, depending on what you purchase.
There's also an upwards trend in organic search for this topic, with a huge seasonal spike in November and December.
37. Water Filters
A little over 1% of all the water on planet Earth is suitable for drinking.
So that means the demand for clean water will only increase as the global population races rapidly towards 8 billion.
Which might explain why Dr. Michael Burry – the guy who predicted the 2008 mortgage crisis – currently invests heavily in water.
This is also a niche with plenty of room for sideways expansion i.e., you can start out reviewing water filter jugs and later include high-end faucet filtration systems.
With that said, there is quite a lot of affiliate competition to work with, so niching down to a specific type of products/use case would be a good way to get started.
Ideas for Sports Niche
38. Kayaking
While indigenous peoples have used kayaks for thousands of years, they've only been used by Europeans for sports and recreational purposes since the 1800s.
Modern kayaks use synthetic skins and are popular with outdoors types and hunters because they're light enough to carry around with you.
But they're also popular with families who only go paddling at weekends.
So that gives you a broader market to promote your offers.
This is a seasonal niche but with a slump in November and December, which is typically peak shopping season in other niches.
39. Lacrosse Sticks
The broader topic of lacrosse gets a lot of traffic, but you're competing with huge sites.
But the same can't be said of the sub-niche of lacrosse sticks because it has good traffic and very little competition.
Plus, if you choose a broad domain, you can expand your site to include other low-competition lacrosse sub-niches such as cleats, balls, and lacrosse bags.
So this is a niche site idea where you can start small and grow from there.
Just make sure somebody with lacrosse experience writes your content – it probably won't convert well otherwise.
40. Fishing Rods
If you don't already know a fishing fan, they're on par with golfers in terms of being almost rabid about their sport.
That means they're willing to spend large sums of cash to perfect their fishing setup.
And that includes spending anywhere up to $500 on a fishing rod.
From an affiliate's perspective, there's a lot of product diversity to work with, like fly fishing rods, beach casting rods, deep water rods, etc.
So even though fishing rods might feel very micro-niche, it could take months to produce content to cover the entire topic.
And even when you do, you can easily expand your niche website to an authority model by adding in other items like reels, lines, lures, etc.
Ideas for Lifestyle Niche
41. Survival Food
Keeping a well-stock food cupboard or pantry was common practice for most families until the 1950s.
Convenience shopping took over from that point, so people stopped planning ahead.
People now realize how fragile the global supply chain is, and how important it is to have some "survival food" handy.
You could approach this topic from the point of view of a homesteader learning how to can and cure food for long-term storage.
Or you can promote the ready-made survival foods supplied by several different companies in the United States and elsewhere.
You could even do a combination of both, which would give you tons of informational keywords to target.
42. Vintage Clothing
Vintage clothing is a niche site idea you won't find anywhere else.
The vintage clothing vertical tends to be light on content-driven and successful niche websites and heavy on individual sites selling their own products.
Or stores selling vintage-inspired copies of actual vintage clothing items – there's an entire industry developing around faux-vintage clothes.
So, that means there's a gap for affiliates to have an impact here, and that's doubly true if you know anything about vintage clothing.
This niche is pretty hot right now, but it does appear to go through a slump every decade or so as fashion trends change.
43. Plus Size Bras
The average female bust size has increased from 34B to 34DD in just the last 50 years.
And that's just the average because data indicates that this trend is continuing almost in real-time.
The knock-on effect of this change in human physiology is increased demand for plus-size bras.
So this means there'll also be increased demand for information, reviews, tips, and advice for women trying to find the perfect bra.
The Google Trends data above is from 2004 onwards to give you an idea of where this niche is heading.
Ideas for Pet Niche
44. Dog Wheelchair
Pet healthcare is a niche site idea that will appeal to animal lovers.
Dogs can require wheelchairs for all kinds of reasons.
Sometimes it's because they've become injured, and sometimes it's because of a deformity at birth.
But pet owners also purchase wheelchairs for geriatric dogs in good health, except they can no longer use their hind legs.
This is the kind of item any pet owner is happy to spend money on for their fur-ever friend.
45. GPS Dog Collar
People who love dogs treat them like a member of the family.
They would do anything to keep their four-legged friend safe and happy, and that includes stopping them from being abducted or getting lost while out on a walk.
So you'll find a ready audience for dog GPS collars because every dog owner lives in fear of their best buddy going missing.
That's why there's an upward trend in organic search volume.
46. Dog Stroller
Okay, this is one of those niches that you can't believe exists…but it definitely does.
But the job of an affiliate marketer isn't to judge – it's to provide information on products that people either want or need.
In the case of dog strollers, the products retail for between $100 and $300.
This also isn't the kind of niche where you need to do lots of pre-selling – you just need to help anxious dog parents find the best stroller for their friend.
And, if the Google Trends data is accurate, you can expect to see a lot more dog strollers on the streets.
Ideas for Health Niche
This is hands-down one of my favorite niches to make money from.
Just an FYI and a reassurance that there's lots of money still to be made in the health & fitness niche.
47. Home Gym
There's a lot to like about the home gym niche.
Firstly, you have a lot of organic search from people who need to solve a problem i.e. get fit at home ASAP.
Secondly, home gym equipment isn't cheap, so you can make healthy amounts of money promoting free weights, weight racks, etc.
And finally, this niche has enjoyed consistent search volumes for two decades, if not longer.
There was an obvious spike in searches for home gym gear during 2020, and although there's been a downward trend in 2021 organic search is still up by around 50% on what it was in 2019.
48. Pre Workout
This niche covers pre-workout drinks, supplements, snacks, advice, etc.
So although it might look like a niche that's simply too narrow to be profitable, there's a lot of room here for publishing informational content, reviews, etc.
And you can, for example, expand your site to cover post-workout drinks and supplements once you've gained enough authority.
There's also a lot of growth in this niche, with a new upward trend starting in 2021.
49. Boxing Equipment
Traditional boxing training and boxercise offer as effective a workout as anything you'll find in a gym.
But with the side benefit of learning how to defend yourself.
That's why there's an increase in interest in boxing equipment, as you can see in the Google Trends data.
Boxing equipment covers everything from gloves and mouth guards to heavy and speed bags for training at home.
And many of these items will need to be replaced or upgraded as time goes on.
Ideas for Home Niche
50. Home Security Systems
There are over 2 million burglaries each year in the United States.
But for some weird reason, almost 50% of homes don't have any kind of home security system in place.
Even though it's the best deterrent against having your home broken into in the first place…
Your job as an affiliate marketer is to explain this to the millions of homeowners who don't have a home security system.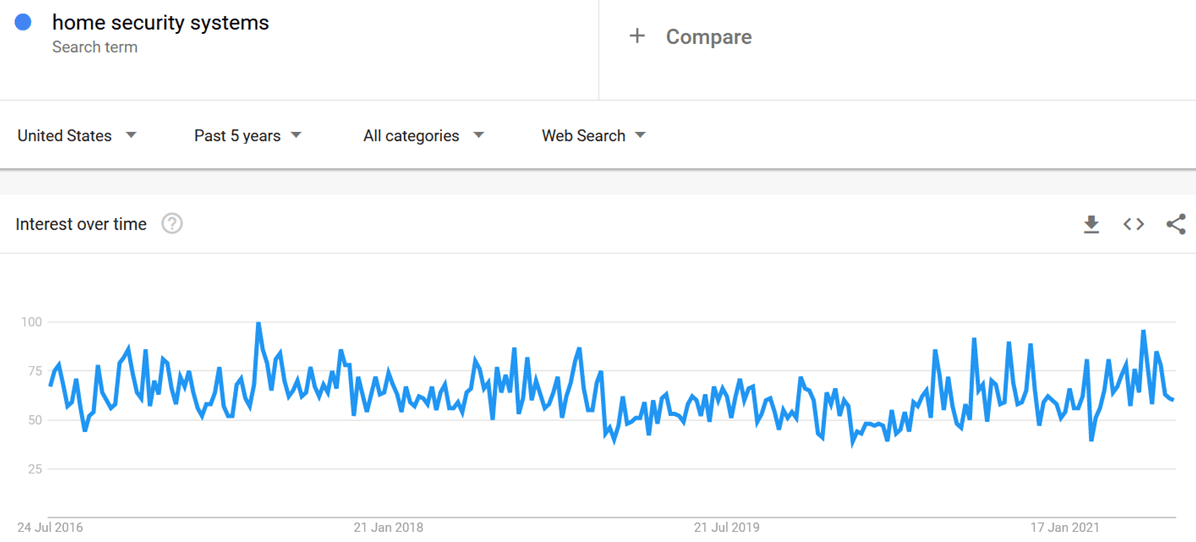 This is a competitive niche, but it is possible to make life-changing money if you can get enough traffic to your pages.
51. Van Life
If you're not familiar with the term "van life" it simply means that a growing number of people are choosing to sell their belongings and live in a van, traveling from city to city or country to country.
And now, with the option of being able to work remotely, more people than ever are considering living the van life.
And as you can see from the trend data, right now is a great time to establish yourself in this niche, especially if you have any interest in living a nomadic lifestyle.
It's also proof that running a profitable niche site doesn't need to be boring.
52. Pest Control
This is a niche site idea worth far more than you probably thought.
And that's down to one simple reason – people don't want pests or creepy crawlies in their home.
They gross people out, and then there are potential health issues to worry about.
So they're willing to pay others to make their pest problem go away.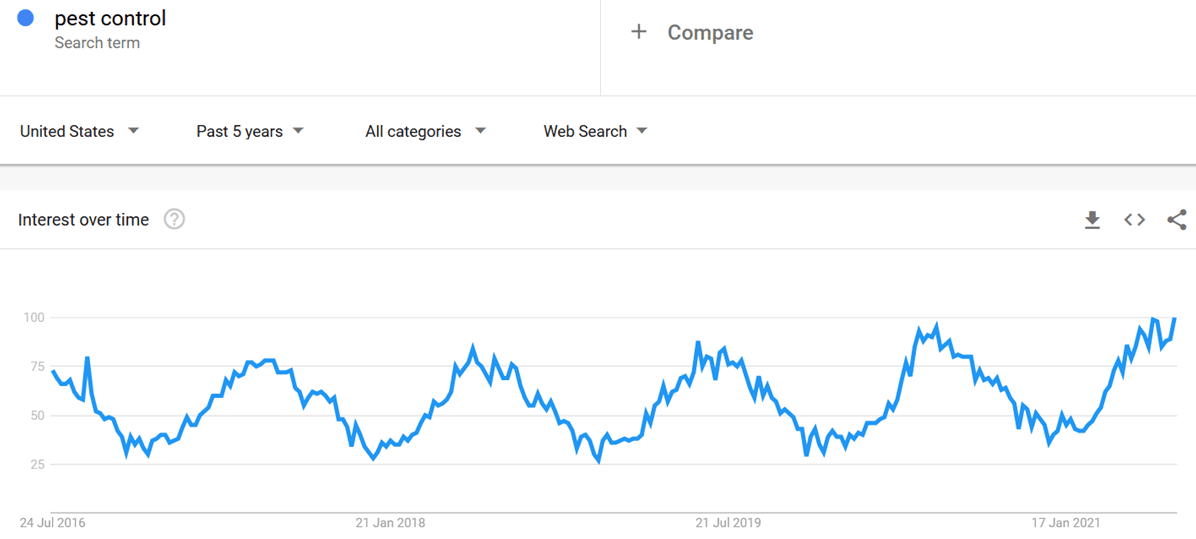 There's steady year-on-year growth in the pest control niche, and there has been since Google started recording data on it.
So this is a great niche in terms of what you can earn, and it's also evergreen.
Ideas for DIY

Niche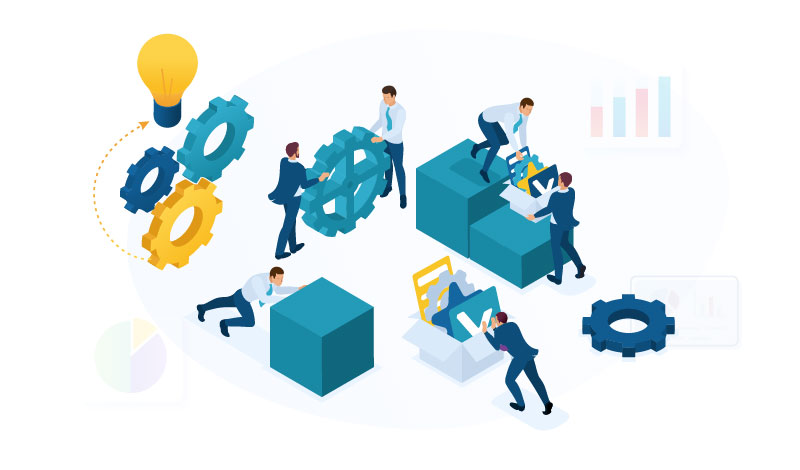 53. Soundproofing
This is an interesting niche for several reasons.
The first is that it's relatively untapped by affiliate marketers, so there's scope for competition.
And secondly, it offers a solution to a pressing problem for many people – both internal and external noise pollution in your home or office.
Organic search around this topic has been stable for several years, but you can expect further growth thanks to an increasingly decentralized workforce i.e. remote workers.
54. Solar Panel Kits
This niche ties in quite nicely with several others, including survivalists, van life, and homesteaders.
So you have more than one audience to pitch to.
One example is people who want to become less reliant on the power grid, reducing their carbon footprint. Then others want to utilize solar power to reduce their overall utility/electricity bill costs over the coming years.
The above, combined with the growing power demand, has created a market for people who need and want solar panel kits.
There are also tons of products that you can promote, from solar panel kits to allow people to live off-grid, to portable solar panels and battery storage solutions for excess power generated.
55. Garage Kits
A garage kit – as the name implies – is a prefabricated garage that you assemble.
These are ideal for homeowners that don't already have a garage but need one, and who also don't want to go to the expense of hiring contractors to build one.
Garage kits come in various shapes and sizes, from single car units to ones large enough to accommodate at least two cars or trucks.
They're also available in many materials, which allows them to blend in with the existing home design or color scheme.
There's consistent organic search around this topic throughout the United States except for Montana, Wyoming, and North and South Dakota.
Ideas for Outdoors

Niche
56. Sleeping Bags
Anyone planning a camping trip will need a sleeping bag, if not several, to cater for their entire family.
Then there are different types of sleeping bags for use in different climates and at different altitudes.
And people are willing to pay quite well for a good night's sleep.
So this is a simple problem/solution niche that you can participate in without being an expert on the outdoors.
You could also easily sell camping pads from the same niche blog before eventually expanding it to cover tents, cooking equipment, camping food, etc.
57. Hiking Clothes
Hiking clothes is a much broader niche than you might imagine and one with a lot of potential profit tied up inside it.
Fans of the great outdoors will need the following items to go hiking:
A good pair of hiking boots costs around $100, hiking pants cost $80, and a cap tops off the ensemble for another $30.
So that represents a $210 sale that you can then get a 5% – 10% cut of every single time a new hiker wants to purchase the right gear.
There are multiple niches within this one topic, so you can choose a "narrow" topic when you first start out and then expand into more of an authority site to target a broader market.
58. Hunting Rifles
And now we come to a more contentious niche site idea out there – hunting rifles.
But that doesn't take away from the fact that hunting is still a very popular activity based on the fact that 15 million Americans hunt on a regular basis.
Even celebrities like Joe Rogan hunt because he wants to know where his meat comes from.
Hunters will expect to find authoritative content on your site, and if not, they'll bounce.
So this is also a niche where you really do need domain experience, or your writer will need to be an experienced shooter.
Evergreen vs. Seasonal/Fad Niches
Building out a niche site requires quite a bit of planning, effort, and patience on your part.
If you are building a new site from scratch, it can take anywhere from 6 – 12 months before you see results in terms of rankings and at least some return on investment.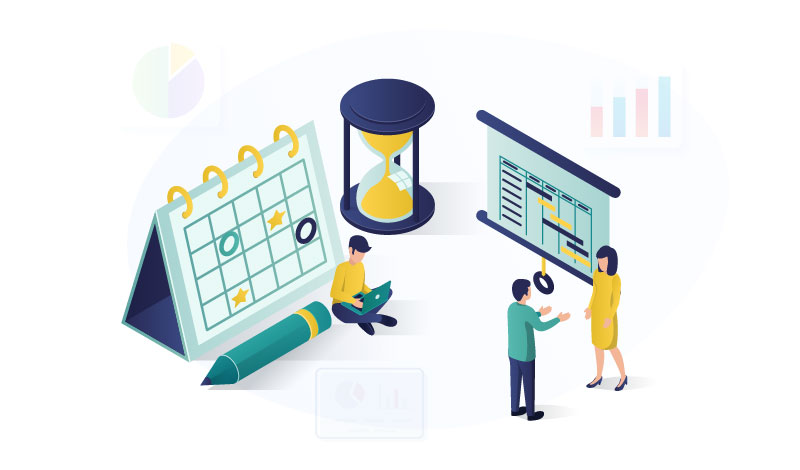 That's why it makes far more sense to build your site around a niche market that is likely to be around for several years and not some interesting fad that will be forgotten about almost overnight.
A perfect example is the mighty hoverboard.
They appeared out of nowhere; everyone wanted one…and then the world simply forgot about them.
So any micro niche sites about hoverboards are now dead in the water.
Compare that to the fitness niche, for example. The methods for getting and staying fit might change, but the core subject matter does not.
This allows a fitness niche blog to grow and change over time because it didn't niche itself into a corner.
Passion vs. Profit Niches
Here's an example of one of the weird niche marketing tips you've come to expect from me – don't choose a niche purely based on your "passions".
Or at least not if you want to make serious money.
The only exception here is if the specific niche you're passionate about also happens to pay really well.
But, they're pretty rare.
Should you at least be somewhat interested in the niche for your site?
Sure.
But if you're going to outsource the content…does it really matter?
Probably not.
How To Build Your Own Successful Niche Site
And that brings us to the end of our super-long article on niche site ideas.
Hopefully, you have at least one niche idea you want to use as a starting point and that the example niche sites showed you how much traffic you can get even in seemingly obscure markets.
Some of those smaller niche sites generate $3k – $5 per month for whoever runs them.
And these are just 58 ideas that I came up with during a short brainstorming session.
But there are literally thousands of other niches you could tap into for your own website.
How to find your niche is just some of the stuff you'll learn in my Affiliate Lab course.
So, if you liked what you read here…prepare to have your mind blown once you sign up.